April, 11, 2013
4/11/13
4:32
PM ET
The fine folks at ESPN Stats & Information never cease to amaze me with the nuggets they pass along.

They recently sent us some pre-draft stuff, and one item really jumped off the page.
It took SMU defensive end
Margus Hunt
an average of 2.36 seconds to get to the quarterback on his eight sacks last season. That was the best average of any BCS front-seven prospect rated in the top 80 by Scouts Inc.
And here's another nugget on Hunt. On all eight of his sacks, he was the first player to contact the quarterback. In other words, he wasn't cleaning up on what other people had started.
I'm mentioning this because I think Hunt could be a possibility for the
Atlanta Falcons
with the 30
th
pick in the draft. I know, the Falcons have a more glaring need at cornerback, but I'm not sure a good one will be available at No. 30. If the Falcons were to put Hunt out there with
Osi Umenyiora
, the pass rush might be good enough to make any cornerback look better.
By the way, Hunt's potential isn't even close to being tapped. He didn't even start playing football until 2009. Here's
a story
I did on Hunt a while back that details how he transformed from a track and field performer in Estonia to a potential first-round pick.
April, 5, 2013
4/05/13
9:35
AM ET
Time for a quick run through some headlines from around the division:
ATLANTA FALCONS
The offseason program doesn't start for a few more weeks. But running back Steven Jackson already is
working out
on his own and this is the first time we've seen him wearing the Falcons' logo.
CAROLINA PANTHERS
Mel Kiper Jr. thinks the Panthers
should take
a defensive tackle in the first round and a safety in the second. We already have talked plenty about Carolina's needs at defensive tackle, but the need at safety is almost as great. The Panthers should take a safety fairly early.
NEW ORLEANS SAINTS
Mike Triplett put the Saints at No. 5 in his
rankings
of the NFC teams. That may seem a little high for a team that went 7-9. But the Saints are in a unique situation with coach Sean Payton returning from suspension. That alone should provide a boost. If the Saints can just play a little defense, they should be a playoff team.
TAMPA BAY BUCCANEERS
SMU defensive end Margus Hunt, Oregon defensive end Dion Jordan and Alabama offensive tackle D.J. Fluker are among the players scheduled to make
pre-draft visits
to the Bucs. The team also had former LSU cornerback Tyrann Matheiu in for a visit Thursday. Matheiu comes with some baggage, but the Bucs have a big need at cornerback and could consider him in the middle rounds.
March, 25, 2013
3/25/13
9:50
AM ET
There are lots of reports out there that the
Atlanta Falcons
are close to signing defensive end
Osi Umenyiora
.
But nothing official has come yet. Even if it does, the Falcons might be wise to continue looking for help for the pass rush.
In theory, Umenyiora would take the place of
John Abraham
as the team's pass-rusher. Umenyiora, 31, is a slightly younger version of Abraham. Umenyiora had just six sacks for the
New York Giants
last season, but he's had several seasons of double-digit sacks scattered throughout his career.
The Falcons apparently think Umenyiora still can produce double-digit sacks. But even if he signs with Atlanta and puts up more than 10 sacks, the Falcons still need more of a pass rush.
Kroy Biermann
, the other starter, is a versatile defensive end, but not the kind of guy who's going to put up 10 sacks. Backups
Jonathan Massaquoi
and
Cliff Matthews
are projects.
Assuming the Falcons sign Umenyiora, they still need to get pressure from somewhere else and it wouldn't hurt to get a guy who can be a long-term answer. The way to do that is the draft.
Even if the Falcons sign Umenyiora, they still should consider taking a defensive end in the first round. Defensive ends like Bjoern Werner, Sam Montgomery and Margus Hunt could be available when Atlanta picks at No. 30 and the Falcons might be wise to get one of them.
March, 7, 2013
3/07/13
8:33
AM ET
Let's take a look at the morning headlines from around the division:
ATLANTA FALCONS
Wisconsin running back Montee Ball reportedly ran the 40-yard dash in
4.46 seconds
in his pro day workout. That's a big improvement from his time at the combine. I've said it before and I'll say it again: Don't be surprised if the Falcons take Ball sometime after the first round. Ball could be a nice complement to Jacquizz Rodgers.
The agent for Lawrence Sidbury said re-signing with the Falcons is
not an option
for his client. That's not surprising. Sidbury barely played last season, even though the Falcons had a glaring need for depth on the defensive line.
CAROLINA PANTHERS
Linebacker and special-teams regular Jordan Senn will remain with the Panthers. Senn has
agreed to a one-year deal
.
NEW ORLEANS SAINTS
Bradley Handwerger writes that three
foreign-born defensive ends
could be on the Saints' draft radar. Bjoern Werner, Ziggy Ansah and Margus Hunt each have lots of potential, and we all know the Saints need to add guys who can get after opposing quarterbacks.
TAMPA BAY BUCCANEERS
Roy Cummings writes that defensive end Michael Bennett and defensive tackle Roy Miller are likely to at least
test free agency
. I'm a little surprised the Bucs haven't already signed those two. With Bennett, Miller, Adrian Clayborn, Gerald McCoy and Da'Quan Bowers, the Bucs have the ingredients for a good defensive line. If Miller and Bennett leave, the Bucs will have to add some new personnel.
March, 6, 2013
3/06/13
2:03
PM ET
Todd McShay has the latest edition of his
Insider mock draft

up and he's going heavily with defense for most of the NFC South.
At No. 13, McShay has the
Tampa Bay Buccaneers
taking Texas safety
Kenny Vaccaro
. This seems to go hand in hand with the growing sentiment that veteran
Ronde Barber
won't be back (either by his choice or the team's choice). I'd like to see the Bucs get a cornerback in the first round, but there's no one available with good value in this scenario. Drafting Vaccaro a year after drafting safety
Mark Barron
might be a little unusual, but it would put the Bucs in good shape at safety for the long term.
At No. 14, McShay has Carolina taking Missouri defensive tackle
Sheldon Richardson
. If Richardson is indeed available at No. 14, I think this would be a great pick for Carolina. The defense improved last year and solidifying the middle of the line could turn the defense into an elite unit.
At No. 15, McShay has New Orleans taking Georgia linebacker
Alec Ogletree
. He's athletic and quick and that's what the Saints need at linebacker.
The only NFC South team McShay doesn't have going with a defensive player in the first round is Atlanta. He has the Falcons taking Stanford tight end
Zach Ertz
at No. 30. That makes plenty of sense if you believe
Tony Gonzalez
is going to retire. But I'm not convinced that's going to happen. I'd rather see the Falcons go with a defensive end here and take Texas A&M's
Damontre Moore
, LSU's
Sam Montgomery
or SMU's
Margus Hunt
.
February, 20, 2013
2/20/13
9:00
AM ET
BRADENTON, Fla. -- When he came to the United States from his native Estonia in 2008,
Margus Hunt
viewed America as the land of opportunity.
"My goal and vision was to be in the Olympics in 2012," Hunt said.
That didn't happen. Instead, Hunt will be going to the National Football League in 2013, which may be an even more amazing accomplishment than if he had gone to the Olympics.
[+] Enlarge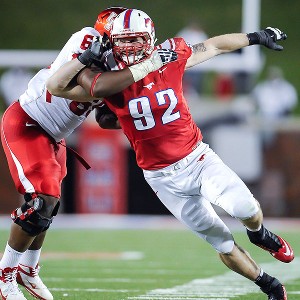 Jerome Miron-USA TODAY SportsMargus Hunt, a defensive end out of SMU, is headed to the NFL scouting combine this week.
The defensive end from SMU is being touted as a possible first-round pick in the April draft (he might even be a consideration for the
Atlanta Falcons
at No. 30 overall). IMG Academy director of football operations director
Chris Weinke
, who has been helping Hunt prepare for the scouting combine, said he expects his pupil to open some NFL eyes in Indianapolis.
"He's a unique individual," Weinke said. "He's a physical specimen. He's going to test out as well as anyone tests out over there. He hasn't played the game a ton. What I see from him is huge upside because of lack of experience. But he's got the mentality that he's going to do whatever it takes. He just needs to get into a system and continue to gain some experience and I think he's going to be around for a long time."
Just getting drafted would be quite a story for a guy that never played high school football and didn't start playing until the 2009 season at SMU.
"Growing up, I vaguely knew what the game was about," Hunt said. "I kind of knew there was a game out there like that, but that's about all I knew."
Part of that was because American football doesn't get a lot of attention in Estonia. But part of it was because Hunt's passion was track and field. Hunt won all sorts of junior championships in the shot put, discus and hammer throw and he thought his path to the Olympics would run through Dallas.
SMU had dropped its men's track program, but coach Dave Wollard was attempting to get it started again. Hunt enrolled at SMU on a part-time basis in 2008 and began working out privately with Wollard.
"After a while, nothing happened, so we had to find a different alternative," Hunt said. "My first option was to go to a different college altogether and work something out. But I really didn't want to leave SMU. The football coaches had always seen me in the weight room and were always bugging me about trying out for the football team. Eventually, coach (June) Jones agreed to let me have a tryout."
Jones must have seen plenty of potential in that tryout because he turned around and gave Hunt a football scholarship. That move paid off nicely for the Mustangs.
Hunt, 6-foot-8 and 277 pounds, recorded 31 tackles, eight sacks, 11.5 tackles for a loss, forced two fumbles and blocked three kicks in his final season.
The one knock is Hunt doesn't have a lot of football experience. But Weinke said that shouldn't be viewed as a negative.
"I've seen him develop a lot since he got here," Weinke said. "He's gotten a lot better technique wise. He's still not a finished product and that's what should be exciting to teams that are looking at him because there still is so much upside."
February, 18, 2013
2/18/13
5:37
PM ET
I just returned to NFC South headquarters after spending most of the day watching draft prospects prepare for the combine at IMG Academy.
I started off with this item on former Notre Dame linebacker
Manti Te'o
because he obviously has been one of the biggest stories of the last month or so and that will only continue when he gets to the combine. I don't know if Te'o will end up in the NFC South or not, but I did see several prospects I think could be natural fits in the division.
I sat down with Florida defensive tackle
Sharrif Floyd
, Missouri defensive tackle
Sheldon Richardson
, Notre Dame tight end
Tyler Eifert
, Wisconsin running back
Montee Ball
and SMU defensive end
Margus Hunt
. I've got a tape recorder filled with interviews to transcribe and I'll be writing about each of those players in the coming days.
In the meantime, why don't you have some fun and discuss in the comments section below where in the NFC South you can see Floyd, Richardson, Eifert, Ball and Hunt landing. In a couple of cases, I can see potential targets for more than one NFC South team.
February, 18, 2013
2/18/13
7:47
AM ET
I'm about to begin my annual pilgrimage down to IMG Academy in Bradenton, Fla. To do some pre-combine stories.
IMG has more than 30 prospects who have been doing its combine preparation, which is run by former NFL quarterback Chris Weinke. Ironically, or maybe no coincidence whatsoever, Weinke spent most of his career with Carolina and the Panthers have used their last two first-round picks on players who have trained at IMG (Cam Newton and Luke Kuechly).
I'll try to pin Weinke down and see if I can get an early read on who Carolina's top pick will be this year. I'm only kidding – sort of – on that part, but I'll be getting scouting reports from Weinke and talking to several players, and that will lead to several stories in the coming days. I'll be back later on after watching the workouts and doing interviews.
Here's the list of prospects who have been working out at the facility, according to IMG Academy:
Offensive tackle Luke Joeckel, Texas A&M
Quarterback Geno Smith, West Virginia
Defensive end Bjoern Werner, Florida State
Defensive tackle Sheldon Richardson, Missouri
Tight end Tyler Eifert, Notre Dame
Defensive tackle Sharrif Floyd, Florida
Receiver DeAndre Hopkins, Clemson
Safety Eric Reid, LSU
Guard/center Barrett Jones, Alabama
Quarterback Tyler Wilson, Arkansas
Receiver Justin Hunter, Tennessee
Quarterback Zac Dysert, Miami (Ohio)
Defensive end Margus Hunt, Southern Methodist
Running back Montee Ball, Wisconsin
Cornerback Blidi Wreh-Wilson, Connecticut
Cornerback Robert Alford, Southeastern Louisiana
Receiver Aaron Dobson, Marshall
Offensive tackle Menelik Watson, Florida State
Linebacker Trevardo Williams, Connecticut
Linebacker Gerald Hodges, Penn State
Defensive tackle Everett Dawkins, Florida State
Defensive tackle Kwame Geathers, Georgia
Fullback Tommy Bohanon, Wake Forest
Tight end Gavin Escobar, San Diego State
Fullback Zach Line, Southern Methodist
Tight end Vance McDonald, Rice
Guard J.C. Tretter, Cornell
Linebacker Albert Rosette, Nevada
Offensive tackle John Wetzel, Boston College
Linebacker Ty Powell, Harding
Offensive lineman Garrett Gilkey, Chadron State
Cornerback Devin Smith, Wisconsin
Defensive tackle Nick Williams, Stanford
Running back Covaughn DeBoskie-Johnson
January, 16, 2013
1/16/13
2:02
PM ET
Mel Kiper Jr. has put out his first
mock draft

, so let's take a look at what he's projecting from the NFC South in the first round.
Tampa Bay Buccaneers.
He has Tampa Bay taking Georgia linebacker Alec Ogletree. In some ways, I like this call. Put Ogletree with
Lavonte David
and
Mason Foster
and the Bucs could have a very good linebacker corps for a long time. But part of me would like to see the Bucs get a cornerback with this pick. They certainly have a huge need at that position. But Kiper has Alabama's Dee Milliner going in the top five. Florida State's Xavier Rhodes is the only other cornerback he has going (late) in the first round. Maybe Milliner's stock drops between now and the draft, but I doubt it. The more likely scenario is that Rhodes or some other cornerback climbs draft boards with good workouts.
Carolina Panthers.
Kiper has them taking Missouri defensive tackle Sheldon Richardson. I'm all for that move. The Panthers have been weak at defensive tackle since
Kris Jenkins
left the team after the 2007 season. It's time to invest an early draft pick in the position.
New Orleans Saints.
Kiper also has the Saints taking a defensive tackle -- Ohio State's Jonathan Hankins. This one also makes plenty of sense. Former first-round pick
Sedrick Ellis
never has become a star and he's about to become a free agent.
Atlanta Falcons.
We don't know Atlanta's exact draft position yet, but it will be late in the first round. Kiper has the Falcons taking SMU defensive end Margus Hunt. That's logical because the Falcons need to get John Abraham's eventual replacement. But you can't lock in on any one player or position when you're drafting as late as the Falcons will be. Depending on if they keep
Brent Grimes
and
Sam Baker
, I could see them drafting a cornerback or a left tackle. I could also see them drafting a tight end to replace
Tony Gonzalez
.

NFC SOUTH SCOREBOARD
Thursday, 9/18
Sunday, 9/21