October, 8, 2010
10/08/10
1:00
PM ET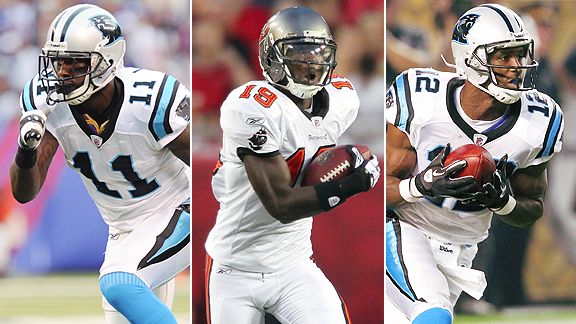 Icon SMI, AP PhotoRookie receivers Brandon LaFell, Mike Williams and David Gettis are expected to start this Sunday.
TAMPA, Fla. -- When you're watching NFC South teams this Sunday, keep an eye on the wide receivers. By choice and by circumstance, you're going to see something rare.
You're going to see a whole bunch of rookie wide receivers starting or playing a lot. That's rare because there's a school of thought, and most NFC South teams have backed it up through the years, that you shouldn't ask too much of rookie receivers too soon.
We're almost certainly going to see at least three rookies start at receiver for NFC South teams on Sunday and a fourth will get considerable playing time. A fifth might even be active for the first time in his career. In Week 5 of the NFL season, it's kind of amazing that NFC South teams are leaning so heavily on rookie wide receivers, especially when not a single one of them was a first-round draft pick.
Tampa Bay's been starting
Mike Williams
, a fourth-round pick, since the start of the season. Tampa Bay coach Raheem Morris hinted strongly during the bye week that second-round pick
Arrelious Benn
will get increased playing time going forward, probably splitting time with second-year pro
Sammie Stroughter
. The Bucs play at Cincinnati on Sunday.
In Carolina, it appears highly likely the Panthers will start two rookies at receiver on Sunday against Chicago. They likely will go with third-round pick
Brandon LaFell
and sixth-round pick
David Gettis
as the starters.
Armanti Edwards
, who is converting from playing quarterback in college, might be on the game-day active list for the first time this season.
In Carolina, this wasn't exactly the plan. The Panthers, who traditionally have been very patient in playing young receivers, wanted LaFell starting as a rookie, but they thought Gettis and Edwards would have time to develop. But that's all changed because the Panthers are likely to be without
Steve Smith
due to an ankle injury. They cut veteran
Dwayne Jarrett
after he was charged with driving while impaired Tuesday morning. The rookie receivers will be working with rookie quarterback
Jimmy Clausen
.
While putting rookie receivers around a young quarterback might sound like a formula for disaster, that's actually the plan the Buccaneers have had since draft day.
"We made the conscious decision to draft these young guys and let [quarterback] Josh [Freeman] grow with them," Morris said.
Morris then pointed to the
New Orleans Saints
and how they let a young crew of receivers grow up around
Drew Brees
. Not a bad example, although Brees had been a starter in San Diego before coming to New Orleans in 2006. Freeman's only been starting since the second half of last season.
"They, and I'm talking the wide receivers and Josh, always talk about growing up together," Tampa Bay receivers coach Eric Yarber said. "We talk about that as a staff. We've got a lot of young guys, but eventually these guys are going to become big-time players in this league."
Williams already has shown promise. In three games, he has 12 catches for 139 yards and two touchdowns. Although Benn was the higher draft pick, he hasn't been much of a factor so far after missing some preseason time with an injury. But the Bucs are saying that's about to change.
[+] Enlarge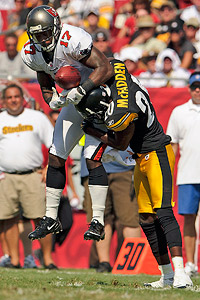 AP Photo/Paul AbellSecond-round pick Arrelious Benn is expected to see more playing time for the Bucs.
"Arrelious is coming on very well," Yarber said. "Early on, he had to spend a lot of time in the playbook. But now that he's got the plays down, he's playing much faster and we're seeing the real Arrelious Benn now."
Still, is it wise or even productive to rely on rookie receivers so early? History has shown it's a position that often takes time to grow into. Atlanta's
Roddy White
, now the best receiver in the NFC South, didn't really produce until his third year and he was a first-round pick. Smith spent a year as a kick returner before even getting a chance at wide receiver. Then, there's a pretty lengthy list of guys who never really developed.
Carolina drafted Jarrett,
Keary Colbert
and
Drew Carter
and got very little from them. Tampa Bay used early picks on
Michael Clayton
and
Dexter Jackson
. Clayton had a big rookie year, but did nothing after that. Jackson never even made an impact and couldn't make Carolina's roster in the preseason.
Yarber admits there are challenges to playing rookie receivers right away.
"It is difficult because of the physicality on the outside against bump and run," Yarber said. "The guys in college are going against maybe one good DB that's physical. On this level, every DB they face is physical and good at rerouting you. They've got to get used to the physicality on the outside.''
But it's far from just being a physical thing. The Panthers have been historically hesitant to play rookie receivers too much because they believe the mental adjustment takes time. In four seasons, Jarrett never was able to grasp the playbook. They don't have much choice but to go with rookies now.
In Tampa Bay, the choice was made deliberately. The Buccaneers let veterans
Antonio Bryant
and
Mark Bradley
go to clear the way for Williams and Benn. They held onto Clayton through the preseason, but cut him once they were comfortable with the way the rookies were progressing.
Still, the Bucs admit their receiving corps is very much a work in progress and that affects the entire offense.
"You have to scale back a little bit," Yarber said. "You want to get them out there, but you don't want to give them too much. That's when you get to paralysis by analysis. They're thinking so much that they can't play fast. You need a happy medium that you don't taper the offense down too much, but you don't want to put too much in so that they're thinking too much and they don't play fast.
"One thing that can be a detriment to young guys early on is if you give them too much, they can lose confidence. You don't want to give them too much too soon. You want them to have some success that they can build on and develop confidence and play better."
For better or worse, much of the NFC South is turning to rookie wide receivers.
June, 16, 2010
6/16/10
4:31
PM ET
TAMPA, Fla. -- One last bit of minor news before I leave One Buccaneer Place. The Bucs just announced they have signed sixth-round pick
Brent Bowden
. They also released receiver
Mark Bradley
.
The Bowden news is no surprise. He's a punter the Bucs selected out of Virginia Tech and this is the time of year when late-round picks sign their contracts. The Bradley news actually is a bit more interesting. He was a guy the Bucs claimed off waivers from Kansas City late last season and some people in the organization thought he had some upside at the time.
Apparently, the opinion changed during offseason workouts. Also, it's probably a sign the Bucs are pleased with how rookie receivers
Arrelious Benn
and
Mike Williams
are progressing.
May, 17, 2010
5/17/10
3:35
PM ET
TAMPA, Fla. -- One of the big topics out at Monday's media session with the
Tampa Bay Buccaneers
was the future of wide receiver
Michael Clayton
.
Seems like every year since Clayton's second in the league, everyone's been wondering why he's never been able to produce like he did as a rookie. At this point, there are even some people wondering why Clayton remains on the roster. That's a question that has some validity, and this thing is far from done.
[+] Enlarge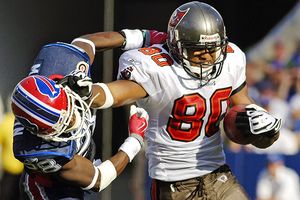 AP Photo/Don HeupelMichael Clayton caught just 16 passes for 230 yards last season.
Between now and the start of the regular season, I'm thinking Clayton could end up anywhere from being a starter to being cut.
"He has to define his role, just like we all do,'' coach Raheem Morris said.
Here's the situation: The Bucs let their No. 1 wide receiver,
Antonio Bryant
, walk as a free agent. They don't have a true No. 1 yet, but they've got high hopes for draft picks
Arrelious Benn
and
Mike Williams
and second-year pro
Sammie Stroughter
. In fact, I think there's a chance those could be the top three guys at wide receiver. The Bucs also like
Mark Bradley
, and veteran
Maurice Stovall
has some special-teams value.
But it's hard to know for sure if Benn and Williams can start immediately. The Bucs could fall back to Clayton as an insurance policy. He knows the system and is a good blocker in the running game. Clayton's also a good locker-room guy, which is kind of rare for a receiver. Clayton also made a point that the Bucs have had a lot of turnover at quarterback and that could be part of the reason for his dismal statistics. The Bucs now have designated
Josh Freeman
as their franchise quarterback and they expect big things in his second season.
"When you have a quarterback that is set, and is going to be the guy -- we haven't had that consistency in a long time -- at wide receiver that plays a huge part on what goes on in the perimeter," said Clayton. "[Freeman] is going to make that easy for all of us. [What] it is going to all boil down to is, who is out there at a specific time to make the plays? The ball is definitely going to be thrown there. We are all going to have opportunities."
Morris and general manager Mark Dominik gave Clayton a big contract extension last year, and Morris wouldn't argue with the talk of past inconsistency and uncertainty at quarterback.
"That is very valid," Morris said. "I would never sit up here and give an excuse for anybody, but Clayton has had three changes at the quarterback position in any given season. Those guys usually don't end up with the luxury that they would like to have or the success that they'd like to have in the win-loss record for the most part. I'm going to have to agree with him that would have to affect him, but you have to overcome your deal. That's the beauty of Josh Freeman, so to speak -- going into the offseason knowing who your guy is."
The Bucs know who their guy is at quarterback. Over the next few months, they're going to find out if Clayton still is one of their guys at wide receiver.
March, 29, 2010
3/29/10
10:54
AM ET
At long last, we've got some movement at One Buccaneer Place. The Bucs, who have been very quiet in recent weeks, just announced that they have re-signed linebacker
Angelo Crowell
to a one-year contract.
You can assume it's not a real big deal because Crowell didn't live up to the expectations the Bucs had when they signed him as a free agent last year. He couldn't crack the starting lineup and ended up getting hurt. But Crowell had some potential, once upon a time, and the Bucs are giving him another shot.
In other news, the Bucs announced restricted free agent
Mark Bradley
has signed his tender offer. Generally, we don't waste time or space reporting on the signing of tender offers because it's basically a formality. But, as long as we had the Crowell signing, we'll slip the Bradley note in there as well.
March, 5, 2010
3/05/10
12:42
PM ET
There have been a lot of reports out there in recent days about restricted free agents and the tenders they received. Most of the reports were accurate, but a few were not. For clarity's sake, I thought I would share with you the NFC South portion of the official list of restricted free agents and tenders sent out by the NFL this morning. ROFR stands for right of first refusal.

Atlanta
Carolina
New Orleans
Tampa Bay

December, 30, 2009
12/30/09
6:05
PM ET
You may have seen the
news story
earlier about how more than 200 players could lose their status as unrestricted free agents in 2010 if a new labor deal isn't reached.
I've obtained the entire list of players that could be impacted by this. Instead of becoming unrestricted free agents they would become restricted free agents, meaning their current teams could match any offer or receive draft-pick compensation. That's why we haven't seen a lot of clubs re-signing their own players recently. Here's the breakdown for each NFC South team.
Atlanta Falcons:
Tyson Clabo
,
Harvey Dahl
,
Jamaal Fudge
,
Michael Koenen
,
Jerious Norwood
,
Quinn Ojinnaka
and
Charlie Peprah
.
Carolina Panthers:
James Anderson
,
Thomas Davis
,
Jeff King
,
Richard Marshall
and
Rob Petitti
.
New Orleans Saints:
Mike Bell
,
Jammal Brown
,
Jahri Evans
,
Anthony Hargrove
,
Roman Harper
,
Herana-Daze Jones
,
Lance Moore
,
Courtney Roby
,
Zach Strief
,
David Thomas
and
Leigh Torrence
.
Tampa Bay Buccaneers:
Mark Bradley
,
Brian Clark
,
Matt McCoy
,
Donald Penn
,
Barrett Ruud
,
Maurice Stovall
,
Jeremy Trueblood
, Carnell ("Cadillac'') Williams and
Rod Wilson
.