May, 25, 2014
May 25
10:15
AM ET
The
St. Louis Rams
had one of the most prolific offenses in NFL history from 1999 to 2001. Wide receivers
Isaac Bruce
, Torry Holt,
Az-Zahir Hakim
and
Ricky Proehl
, along with the running back
Marshall Faulk
and triggerman
Kurt Warner
, were so dynamic that they became known as "The Greatest Show On Turf.''
Proehl, now the wide receivers coach of the
Carolina Panthers
, is planning a reunion.
Sort of.
Proehl, according to his Twitter account, wants to bring Holt, Bruce and Hakim to training camp in Spartanburg, S.C., to help develop his new receiving corps. Here's what he wrote:
"The Greatest Show on Turf'' was awesome, setting all kinds of league records with Mike Martz attack-oriented offense that scored 500-plus points in three consecutive seasons.
Proehl isn't trying to reincarnate that. The Panthers still plan to run a more conservative, ball-control offense.
But he wants to pull on the experience the Rams receivers had when they all came together in 1999 as he replaces the top four receivers from last season.
Perhaps he even sees the similarities the 1999 Rams receivers have with what the Panthers are building.
In Holt, St. Louis had a 22-year-old rookie that burst onto the scene with 53 catches for 788 yards and six touchdowns. That could be
Kelvin Benjamin
, the 28th pick of the recent NFL draft, for Carolina.
In Bruce, the Rams had a 26-year-old veteran that already had been selected to one Pro Bowl. The Panthers don't have a Pro Bowler, but they do have a couple of proven veterans in
Jason Avant
, 31, and
Jerricho Cotchery
, 31.
In Hakim, the Rams had a second-year player who had shown glimpses of potential but done little. That could be
Tiquan Underwood
,
Brenton Bersin
,
Marvin McNutt
or
Tavarres King
for the Panthers.
In Proehl, the Rams had a 31-year-old journeyman known for his precise route running and ability to make clutch catches. Avant and Cotchery probably would fall more into that category for Carolina.
The Rams went from 4-12 in 1998 to 13-3 and Super Bowl champions in 1999.
The latter is what Proehl ultimately would like to duplicate.
He hopes reuniting "The Greatest Show On Turf''' can help jumpstart that process.
March, 26, 2014
Mar 26
12:34
PM ET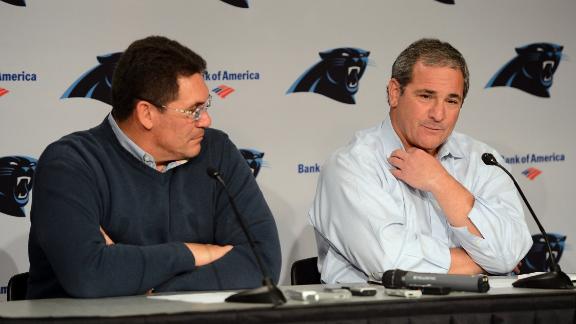 ORLANDO, Fla. -- One by one reporters from around the NFL stopped by the table of
Carolina Panthers
coach Ron Rivera, who under strict orders from his wife was eating a healthy plate of fruit at Wednesday's NFC coaches' breakfast.
One by one they asked about wide receiver
Steve Smith
and Carolina's decision to cut its all-time leading receiver, which Rivera and management believe was healthy for the Panthers.
The rest of those at the NFL owners meeting apparently aren't so sure. I've had my doubts as well. So Rivera spent well over half of his 45-minute interview period talking about the newest addition to the
Baltimore Ravens
.
He finally had enough.
He finally became animated -- at least for him -- and defended general manager Dave Gettleman's decision to part ways with one of the most popular players in team history. He talked passionately about how Gettleman took a hit for the team.
He expressed his frustration over reports that it was personal and that Smith was a distraction to the locker room. He made it clear that it was neither.
Finally.
Had he done this two weeks ago, we might have moved on to another topic for the defending NFC South champions.
And it is time to move on.
The Panthers have. They believe they are headed in the right direction even though much of the league believes they are headed for a hard crash after a 12-4 season.
Smith
That is understandable. Even Rivera was a bit nervous when it became obvious the Panthers would not have their top four wide receivers from last season and quarterback
Cam Newton
needed ankle surgery.
But as I said early in the process, what did they really lose? Not that Rivera wanted to lose
Brandon LaFell
, or even
Ted Ginn Jr.
But when he explained that Carolina averaged more than 100 yards rushing in 15 of 16 games last season, and in doing so the wide receivers collectively averaged 10 catches a game, you knew what he meant.
Ten catches? That's not much to replace.
The likes of veteran
Jerricho Cotchery
, along with his kiddie corps of
Tiquan Underwood
,
Marvin McNutt
,
Tavarres King
and whoever else you want to throw into the mix, surely can catch 10 passes cumulatively.
Now, many of those have to be the big catches. While Smith's numbers were down last season, he still made many of the big third- or fourth-down receptions that made 2013's turnaround possible.
None were bigger than the 19-yard catch into double coverage on fourth-and-10 from deep in Miami territory with 2:33 remaining. That led to a last-minute 20-16 victory that extended Carolina's winning streak to seven straight.
But surely Cotchery, 31, can replace that. He had 10 touchdown catches last season for Pittsburgh. That is more than Smith (4) and No. 2 LaFell (5) combined for in 2013.
A funny aside. The Panthers never intended to go an entire week after releasing Smith without signing a wide receiver, which added to the anxiety of many. They wanted to bring Cotchery in early, but he was on vacation and couldn't.
[+] Enlarge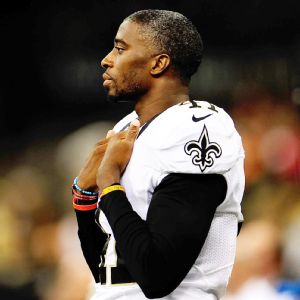 Stacy Revere/Getty ImagesCoach Ron Rivera is confident the additions of veterans like safety Roman Harper will keep Carolina on track despite its losses in free agency.
"I really do wish people and hope people will understand there's a process," Rivera said of the team's plan. "If you do things the right way you have a chance going forward. That to me is what we've done."
And the Panthers aren't done. They plan to add other pieces in free agency and the draft. Some of them will be key.
But with the front seven of the league's No. 2 defense intact, and with Newton expected to be better than ever after surgery for a left ankle issue that has been lingering since college, Rivera has just as much or more to work with now than he had a year ago.
It's not like he has the
Jacksonville Jaguars
' roster.
There still are some key areas -- the secondary and offensive line at the top of the list -- that must be addressed. If the season started today, right tackle
Byron Bell
likely would start at left tackle, with
Nate Chandler
or
Garry Williams
on the right side.
But is that so bad? Rivera really likes Bell, who played left tackle in college, even though public sentiment is that this is a disaster. Sometimes you have to trust the coach's instinct.
The Panthers already have a Pro Bowl center in
Ryan Kalil
, and the guard situation is solid with
Amini Silatolu
and
Edmund Kugbila
back from injuries that kept them from starting last season.
So the line could be as good or better than a year ago.
The biggest concern in the secondary is the nickel back. Rivera likes the competition he has for the two cornerback spots in
Antoine Cason
,
Melvin White
,
Josh Norman
and
Josh Thomas
.
He believes
Charles Godfrey
, if he returns healthy from last season's Achilles injury, can play the nickel as well as free safety. He's thrilled to have New Orleans free agent
Roman Harper
at strong safety, and if Godfrey doesn't return, Rivera has
Robert Lester
and a few other young players who played well in spurts last season.
It's really no different than it was this past August when the big questions were the offensive line and secondary.
So Rivera is upbeat. He's ready to talk about something -- no offense -- other than Smith.
"We're headed in the direction of being a better team," he insisted.
Think of it like his breakfast. Sometimes you have to eat fresh fruit instead of bacon and eggs that taste good but aren't exactly good for you in the long run.
March, 12, 2014
Mar 12
4:40
PM ET
So this is how
Steve Smith
's career with the
Carolina Panthers
is going to end. Not with an emotional, animated outburst that defined him much of the past 13 seasons, but with a inspirational quote surrounded by clouds on Twitter.
"Some people are going to leave, but that's not the end of the End of your Story. That's the End of their Part in your Story," said the
quote Smith put on Twitter Tuesday afternoon
.
Above the quote Smith wrote: "God has a plan... sometimes it just hurts [to] find out what it is."
Carolina's all-time leading receiver is taking the high road. He declined to comment on his agent, Derrick Fox, saying he is "not going to play for the Panthers next year."
That doesn't sound like the player the Panthers feel could threaten the leadership of quarterback
Cam Newton
, which before this past season wasn't considered a leader at all by many of his teammates.
Fox told me on Tuesday he hasn't heard from the Panthers, just as he has said practically every day since general manager Dave Gettleman said his client's future with the team was under evaluation, just as he has said since reports surfaced that the team was trying to trade Smith.
But Fox "knows" the end is coming, whether it's in a trade that won't happen because of Smith's contract or an outright release that will cost Carolina $3 million in guaranteed money and another $2 million in deferred bonus.
Exactly when that day will come -- only Gettleman knows. And Gettleman hasn't commented on Smith since he told reporters at the NFL combine in Indianapolis that "Steve's had a great career. None of us are here forever."
Since then, Smith has gotten public sentiment.
Gettleman? Not so much.
I'm sure Gettleman has a plan for the wide receiver position even though Smith apparently won't be there and none of the team's next three wide receivers from 2013 are under contract. No. 2 receiver
Brandon LaFell
is
visiting New England
and is getting interest from Denver and the Jets.
No. 3 receiver
Ted Ginn Jr.
is visiting Tampa Bay. No. 4 receiver
Domenik Hixon
is getting interest from Chicago.
That leaves ...
Marvin McNutt
.
Remember that one pass he caught from Newton? Yeah, the one that was out of bounds.
Imagine telling that to
Hakeem Nicks
or any other free-agent receiver you're trying to build a new receiving corps around.
In other words, as much good as Gettleman did building up his reputation a year ago, he's tearing it down the way he's handling this.
According to Fox, the 34-year-old Smith hasn't been asked to restructure his contract or asked to take on a lesser role and play as the slot receiver. He said Smith actually wants to play in the slot.
Now even if Carolina wanted that, which apparently it doesn't, that won't happen.
The damage is done.
Or as Fox said, "irreparable."
The Panthers have backed themselves into a corner where, according to Fox, Smith won't be able to play for them next season.
In the past, when Smith has been backed into a corner, he's come out swinging.
Now he's taking the high road that he hasn't always taken in his career, and that is making Gettleman look bad -- particularly if the Panthers have to pay Smith $3 million to play for another team in 2014.
There already are reports that Baltimore or Tampa Bay might be interested in his services.
So this is how it will end, with Smith sending out flowery tweets that tug on the heartstrings of his long-time fans while those same fans pound away at Carolina management.
Smith also tweeted Wednesday:
But I still have a lil bit of football left in me.... #agent89 Out. #iceupson

— Steve Smith (@89SteveSmith) March 12, 2014
OK, so the #iceupson wasn't so flowery.