February, 14, 2013
Feb 14
3:28
PM ET
Right after the regular season ended, Tampa Bay coach Greg Schiano caused a bit of a stir when he said he'd like to bring in some competition for quarterback
Josh Freeman
.

Any time there's talk of movement at the quarterback position, people tend to get excited. But, as I look at the crop of free-agent quarterbacks, I can feel my pulse slow. Aside from
Joe Flacco
, who is not going to get out of Baltimore, there's absolutely nothing to get excited about.
Byron Leftwich
?
Josh Johnson
?
Luke McCown
?
Bruce Gradkowski
?
They've all cycled through Tampa Bay once, and the Bucs don't need to take a step back.
Matt Leinart
?
Brady Quinn
?
David Carr
?
They're all busts, high draft picks that have turned out to be nothing more than backups.
Is there any potential free agent out there that really would be much of an upgrade over current backup
Dan Orlovsky
?
The only two guys I'm seeing that intrigue me (just a little) are
Jason Campbell
and
Matt Moore
. I thought Campbell never really got a fair shake in his Washington days. Moore's not going to wow anyone. But when he's had the chance to play in Miami and Carolina, he's shown some intangibles. Given the right circumstances, I think Campbell and Moore would at least have a shot at succeeding if they ended up as a starter.
There's no doubt the current list of free agents will grow as teams release players before the start of free agency. And there could be some decent quarterbacks available via trade (
Alex Smith
?). The draft also is an option, but this isn't the best year to be looking for a quarterback.
This will play out in time, and like I said, the pool could get deeper. But, for right now, the Bucs might as well hang onto Orlovsky.
December, 23, 2012
12/23/12
3:59
PM ET
Thoughts on the
Carolina Panthers
'
17-6 victory
against the
Oakland Raiders
on Sunday at Bank of America Stadium:
What it means:
It's the third straight win for the Panthers and puts them at 6-9. The Panthers even have a chance to finish outside of last place in the NFC South, which seemed like something they had locked up only a few weeks ago. That's far too little too late after a disastrous start to the season. But spirits have been raised and the Panthers will head to the offseason with some positives to build on, no matter who is coaching the team or serving as its general manager.


Rivera watch:
The winning streak helps coach Ron Rivera's quest to keep his job tremendously. In fact, Rivera might already have done enough to stay employed. Quarterback
Cam Newton
has played well the second half of the season and owner Jerry Richardson might be hesitant to change coaching staffs because that might hamper Newton's development.
Don't get too excited:
Yes, it's very nice that the Carolina defense held Oakland to two field goals. But let's keep this in perspective. The Panthers were playing the Raiders, who were using
Matt Leinart
as their quarterback.
On the plus side:
One more thing that has to help Rivera's cause is that his team was able to protect a fourth-quarter lead. That's something that was a major problem earlier in the season.
What's next:
The Panthers conclude their season next Sunday against the
New Orleans Saints
at the Mercedes-Benz Superdome.
April, 19, 2012
4/19/12
10:03
AM ET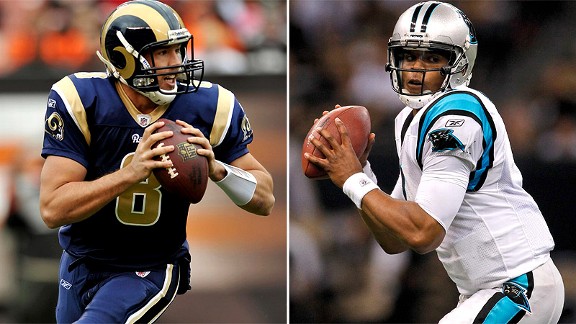 US PresswireSt. Louis' Sam Bradford, left, and Carolina's Cam Newton have helped change the thinking that a Heisman Trophy-winning quarterback won't be successful in the NFL.
There was a time -- like pretty much the last 50 years -- when a Heisman Trophy wasn't a very good thing for a quarterback to have on his résumé as he entered the NFL.
When Baylor's
Robert Griffin III
gets taken early in next week's NFL draft, he could be the latest piece in the trend of turning around the apparent curse on quarterbacks who won the Heisman. It has started to change only recently, but all of the sudden it's looking like the trophy isn't an anchor guaranteeing NFL mediocrity or obscurity for a quarterback.
Look back at 2010 winner
Cam Newton
. He was last year's offensive rookie of the year for the
Carolina Panthers
and set all sorts of rookie passing (and rushing) records. There's big hope in St. Louis that 2008 winner
Sam Bradford
can get back to the promise he showed as a rookie after struggling through a rough 2010 season. Then there's 2007 winner
Tim Tebow
. He couldn't throw spirals in Denver, but he won games. That at least created a market for Tebow to get traded to the
New York Jets
, where it remains to be seen if he'll ever be able to win the starting job away from
Mark Sanchez
.
But there's at least hope that Griffin, Newton, Bradford and Tebow can go on to have long and prosperous NFL careers. Before they came along, there were decades of evidence that suggested quarterbacks should just quit the game after winning the Heisman.
Remember
Troy Smith
,
Eric Crouch
,
Danny Wuerffel
, Charlie Ward and
Gino Torretta
? How about
Ty Detmer
,
Andre Ware
or Pat Sullivan?
They had little to no success in the NFL.
And remember Jason White?
I honestly did not at first. I had to go back and look up White, who won the trophy not all that long ago. He won it in 2003 while putting up some gaudy numbers at the University of Oklahoma. White didn't even get drafted and quit football altogether after a short training-camp stint with the
Tennessee Titans
. He never even played in a regular-season NFL game.
[+] Enlarge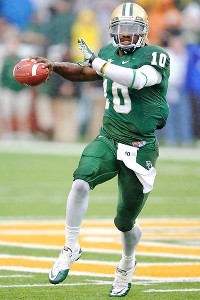 Jerome Miron/US PresswireRobert Griffin III threw for 4,293 yards and 37 touchdowns on his way to winning the Heisman Trophy last season.
Guys like White, Smith, Crouch, Wuerffel, Ward, Torretta, Detmer, Ware and Sullivan all had some things in common. In general, they were able to win the Heisman because they put up big statistics at programs where they were surrounded by elite players. They also had limitations -- usually in size, speed or arm strength -- that prevented them from being taken very seriously by NFL talent evaluators.
But those same evaluators also missed on some Heisman winners who seemed to have what the NFL wanted. Remember
Matt Leinart
?
He came from one of those football factories (USC), where he was surrounded by guys like
Reggie Bush
, but Leinart was supposed to be the one whose college success could transfer to the NFL. That's why the
Arizona Cardinals
drafted him in the first round. But Leinart was nothing short of a tremendous disappointment.
When he flopped, it looked like there really was something to the Heisman Curse.
Prior to Tebow, Bradford, Newton and Griffin, you've got to look at a list of 18 quarterbacks who won the Heisman before you find one who really made it big. You've got to go all the way back to Roger Staubach, who won it for Navy in 1963. He went on to have a great career for the
Dallas Cowboys
and earned a spot in the Pro Football Hall of Fame. Since Staubach won the Heisman, other quarterbacks have had to settle for just getting into the College Football Hall of Fame.
Sure, there have been a few Heisman winners to come out and have some success. Jim Plunkett won two Super Bowls, but his career didn't really take off until he landed with the Raiders after mediocre stints in New England and San Francisco.
Vinny Testaverde had an extremely long NFL career and the longevity led to some impressive career statistics. But Testaverde never had the kind of career so many people imagined when he was coming out of the University of Miami and taken No. 1 overall by the
Tampa Bay Buccaneers
in 1987.
Guys like Steve Spurrier and
Doug Flutie
bounced around and had some success. Then there's
Carson Palmer
, who has had some bright moments, but still is trying to fully live up to the Heisman hype.
But Newton, Griffin, Tebow and Bradford finally might be able to put a stop to the near-half-decade drought of Heisman Trophy winners truly excelling in the NFL.
"Cam Newton is the best thing to ever happen to Robert Griffin III,'' former NFL quarterback
Chris Weinke
said as we discussed this year's crop of quarterbacks back in February. "Just like
Drew Brees
is the best thing to happen to [Wisconsin draft prospect Russell Wilson]. Cam showed that a big, athletic quarterback that can run can be great in the NFL. Brees showed that a guy that's not 6-foot-4 or 6-foot-5 can throw for 5,000 yards in an NFL season. We all know the NFL is a copycat league. Cam's success and Drew's success helps the draft stock of guys like Robert and Russell.''
Ironically, Weinke's name is another one on that
Heisman list
. His story might be the most unique of all the Heisman-winning quarterbacks. Weinke enrolled at Florida State after giving up a minor-league baseball career. He won the Heisman in 2000 and seemed to have the talent of a classic drop-back passer, but the fact he would turn 29 in his rookie training camp, pushed him into the fourth round of the 2001 draft. The Carolina Panthers took him and he started under coach George Seifert as a rookie, but never could quite won over John Fox, who took over the next year.
Weinke spent the next five seasons as a backup in Carolina and finished his career in 2007 with San Francisco.
These days, Weinke has carved a niche as a quarterback guru. He is the director of football operations at IMG Academies in Bradenton, Fla. He has worked extensively with Newton and some other quarterback prospects over the past few years.
Weinke says he's seen the game change just since his playing days ended. Like just about everyone else, he says the NFL has become more driven by quarterbacks. He says natural talent is a prerequisite for NFL success and he points to guys like Newton and Griffin, saying they could be a new prototype. And he goes back to his point about the NFL being a copycat league.
"People are always looking for what works,'' Weinke said. "Cam obviously had a fantastic rookie season. So people look at Robert and say he can do the same thing because the skill sets are similar.''
For Griffin, Newton and Bradford -- and perhaps even Tebow in his own way -- maybe the skill sets are so good that it no longer matters if a quarterback is lugging around a Heisman Trophy.
December, 2, 2011
12/02/11
1:30
PM ET
»
NFC Final Word
:
East
|
West
|
North
|
South
»
AFC
:
East
|
West
|
North
|
South
Five nuggets of knowledge about Week 13:
[+] Enlarge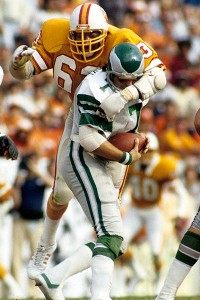 Manny Rubio/US PresswireThe Bucs will wear throwback uniforms Sunday, hoping for results like the teams led by Lee Roy Selmon used to get.
Creamsicle time:
The Buccaneers will be wearing their throwback uniforms against Carolina. Yeah, the orange and white uniforms are back. Might not be a bad thing, because at least in the days of Lee Roy Selmon and John McKay the Bucs actually were capable of playing very good defense. Tampa Bay has a (slightly) better record than Carolina, and the Bucs are playing at home. But I have a tough time seeing a Tampa Bay win, unless the defense suddenly starts making some tackles. Since Week 5, the Bucs have allowed an average of 30.6 points per game. Only the Colts (31.3) have allowed more. The Bucs also are allowing a league-worst 6.5 yards per play in that span.
Breaking in the rookie:
After losing
Matt Schaub
and
Matt Leinart
to injuries, the Texans are expected to start rookie quarterback
T.J. Yates
against the Falcons. Good luck with that. Since 2002, the Falcons are 11-1 when facing a rookie quarterback. According to ESPN Stats & Information, the only team with a better record against rookie quarterbacks in that span is the Steelers (14-1).
Happy (almost) anniversary:
Atlanta's defense is coming up on what would be a very big milestone. The Falcons have not allowed an individual running back to rush for 100 yards in 14 straight games. The last time it happened was when Carolina's
Jonathan Stewart
went over 100 yards on Dec. 12, 2010.
A tip for the Detroit defense:
Hey, any defense going up against the Saints can use all the help it can get. If it's third down, you might want to put some tight coverage on New Orleans tight end
Jimmy Graham
. He's caught 13 passes on third downs this season. All 13 have been turned into first downs.
Shades of 2009:
I've said several times that the Saints of this season are starting to remind me of the Saints of 2009, who went on to win the Super Bowl. Here's the latest example. A victory against the Lions would put the Saints at 6-0 in the Mercedes-Benz Superdome for only the second time in franchise history. The only other time that happened was 2009.
November, 28, 2011
11/28/11
8:47
AM ET
If you're a fan of the
Atlanta Falcons
, you're probably asking yourself this question: Who is T.J. Yates?
First off, he'll probably be the guy starting for the
Houston Texans
against the Falcons on Sunday. We all know starter
Matt Schaub
suffered an injury last week. On Sunday, replacement
Matt Leinart
, who at least was a name, suffered a shoulder injury Sunday that could sideline him for the rest of the season.
That leaves Yates, unless Houston goes out and brings back
Warren Moon
or Dan Pastorini.
So here's a quick overview of Yates:
The Texans picked him in the fifth round (No. 152 overall) in this year's draft.
Yates played at North Carolina from 2007 through 2010.
He holds 37 North Carolina records, including career and single-season passing yards.
Yates appeared in his first NFL game Sunday after Leinart was injured. He completed eight of 15 passes for 70 yards.
November, 23, 2011
11/23/11
1:03
PM ET
Earlier Wednesday, I ran my weekly league-wide
QB Watch column
. This week, I focused on how the Bears and Texans still can make the playoffs even though they've lost their starting quarterbacks to injury.
My point on this was the Bears and Texans are good teams. They're both 7-3. Even with
Caleb Hanie
and
Matt Leinart
now moving into starting roles, it's not a given that the Bears and Texans suddenly will fall apart. If Hanie and Leinart simply can be adequate, the players around them are good enough to get those teams to the playoffs.
But let's take the time to get NFC South specific now. Let's take a look at the backup quarterback situation for each team and think about what would happen right now if
Drew Brees
,
Matt Ryan
,
Josh Freeman
or
Cam Newton
went down with an injury.
Saints.
There's no question Brees is the most important player on the Saints. He's on pace for record numbers and he's well on his way to the Pro Football Hall of Fame. Backup
Chase Daniel
has been in the NFL for three seasons and has attempted precisely three passes. But I don't think the Saints would simply crumble if Daniel suddenly had to play. Just like the Bears and Texans, the Saints are 7-3. They might not have a defense as good as the Saints or the Bears. But I think you could plug Daniel into New Orleans' system and the Saints still could win enough to get into the playoffs. Sean Payton's offense is mapped out so well that Daniel wouldn't have much of a problem getting the ball into the hands of someone who can make a big play at any time.
Falcons.
Chris Redman
is – by far – the division's most seasoned backup. He's 34 and first arrived in the league in 2000. Redman is not Ryan. But the Falcons are 6-4 and the rest of their schedule isn't that difficult. If Redman had to play, he could hand the ball to
Michael Turner
and occasionally find
Roddy White
,
Julio Jones
and
Tony Gonzalez
enough to keep the offense moving. I could see the Falcons getting to 10 wins if Redman had to step in.
Buccaneers.
Let's be clear that Tampa Bay isn't in the same situation as the Texans, Bears, Saints and Falcons. At 4-6, the Bucs probably aren't going to make the playoffs even if Freeman stays healthy. They'd suddenly have to instantly fix a lot of flaws that have held them back all season and run the table. During Tampa Bay's current four-game losing streak, I've had readers suggest the Bucs should turn to backup
Josh Johnson
. Really? Trust me, that's not the answer. Johnson's very athletic. He throws the ball better than
Tim Tebow
and can run pretty well. But the Bucs have so many other issues that they probably wouldn't win again this season if Johnson had to play the rest of the way. That's saying a lot because Carolina's on the schedule twice.
Panthers
. Like the Bucs, the Panthers aren't in a situation where a backup could step in, play reasonably well, get some significant help from his team and still make the playoffs. But let's say the Panthers were 7-3 right now and Cam Newton couldn't play. In that scenario, the Panthers wouldn't necessarily be headed for disaster. They've got
Derek Anderson
, a relatively experienced backup, and he might be able to get them a few wins in a pinch. But, at this point in the season, I doubt the Panthers would turn to Anderson if Newton couldn't play. In their current situation, it would make more sense to take one last look at
Jimmy Clausen
, just to see if there's even a remote chance he can figure into the team's future plans. I'm thinking the team already feels Clausen won't be around long and it's significant to note that he can collect a roster bonus of nearly $1 million if he's still with Carolina in March. But, right now, it would make more sense to play Clausen than Anderson.
November, 23, 2011
11/23/11
10:26
AM ET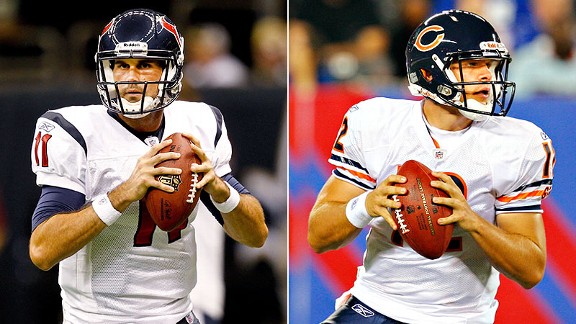 Jim O'Connor/US PresswireBecause of injuries to Matt Schaub and Jay Cutler, Matt Leinart, left, and Caleb Hanie, right, will take over the starting quarterback job for their respective teams.
Don't feel too sad for the
Houston Texans
and
Chicago Bears
.
Sure, they each have lost their starting quarterback to injuries. But the Texans still might be on a path to the playoffs for the first time in franchise history even without
Matt Schaub
. The Bears were in the playoffs last season, but, at least in the short term, they'll have to go on without
Jay Cutler
.
Schaub suffered a foot injury that's likely to keep him from playing again this season. Cutler
reportedly will have surgery
on his thumb Wednesday and the Bears say there is some hope he could return sometime around the end of the regular season.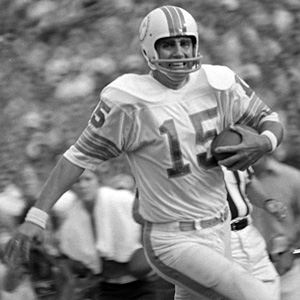 AP Photo/Steve StarrEarl Morrall (15) filled in for an injured Bob Griese during the Miami Dolphins' 1972 Super Bowl run.
If you're thinking the Texans and the Bears will fall apart with
Matt Leinart
and
Caleb Hanie
as their respective starters, you might be wrong. There's a moral to this story. It's the story of Earl Morrall.
This story of a backup stepping in for a long haul and the team not missing a beat would not apply to just any team. But the Texans and the Bears fit the profile quite nicely because they're already 7-3.
Morrall wasn't the most talented backup in the history of the world. He got traded several times, started and backed up, but never really did much of anything until finding the perfect landing spot -- twice.
In 1968, Johnny Unitas got hurt and Morrall stepped in and led the Baltimore Colts all the way to the Super Bowl before losing to Joe Namath and the Jets. Don Shula was the coach of that Baltimore team and was coaching the
Miami Dolphins
in 1972 when he spotted Morrall's name on the waiver wire. Shula spent $100 and claimed Morrall.
"I happen to have a good memory," Shula said at the time. "I remember what Earl did for me in 1968."
When Bob Griese went down in October of 1972, Morrall stepped in and helped the Dolphins complete an unbeaten regular season. Morrall started a couple of playoff games before Griese returned to lead the Dolphins to a Super Bowl victory.
The best news of all for the Texans and Bears might be that Schaub and Cutler certainly never will be confused with Unitas. Maybe not even Griese. They're decent quarterbacks who've looked good this year because they have good teams around them.
Leinart and Hanie could be confused with Morrall, who, when it came right down to it, was "just a guy." Morrall worked his magic with excellent players all around him.
You could even draw parallels to when
Jeff Hostetler
took over for an injured
Phil Simms
late in the 1990 season and led the
New York Giants
to a Super Bowl win. Hostetler also was "just a guy" who suddenly found himself playing quarterback for a good team.
It's not all that difficult to imagine Leinart taking the Texans into the postseason. He's got
Arian Foster
to hand off to, and Foster's presence means that Leinart, who hasn't thrown an NFL pass since 2009, should get some wide-open shots at
Andre Johnson
. Plus, Houston's defense isn't going to give up a lot of points. Even if the Texans go 3-3 the rest of the way, they probably make the playoffs.
Hanie faces a similar situation. Although he has only minimal NFL experience, he can rely on running back
Matt Forte
and a very good defense.
Leinart and Hanie don't have to carry the Texans and Bears. They can hop on the backs of their teammates and, as long as they hold on, everything could work out just fine.

TRENDING UP

TRENDING DOWN
August, 4, 2011
8/04/11
12:16
AM ET
It's kind of ironic that right after the
Carolina Panthers
brought in
Derek Anderson
partly to serve as a mentor for
Cam Newton
and
Jimmy Clausen
, a former teammate said the quarterback refused to take on that role last year.
In a
radio interview
with KTAR Radio in Phoenix,
Arizona Cardinals
quarterback
John Skelton
said he got no help from Anderson or
Matt Leinart
when he was a rookie last year. Skelton was asked if Anderson and Leinart reached out to help him last season.
"To be honest, no they didn't,'' Skelton said.
Skelton wound up starting late last season after Anderson and Leinart both struggled.
"Derek and Matt in camp kind of did their own thing," Skelton said. "They were established guys. They'd been around. They knew the ropes. They kind of had their own agendas.''
With Anderson and Leinart both out of Arizona and
Kevin Kolb
on board, Skelton said things are better this year.
"I think the chemistry in the quarterback room alone is 10 times better than it was last year,'' Skelton said.
June, 24, 2011
6/24/11
11:42
AM ET
We already have talked quite a bit about players from the NFC South who are expected to become unrestricted free agents. We're going on the assumption that players not under contract who have at least four accrued seasons can become unrestricted free agents.
With that in mind, and with some help from ESPN Stats & Information, let's take a look at some of the more prominent potential free agents from the rest of the league.
QUARTERBACKS:
Marc Bulger
,
Kerry Collins
,
Rex Grossman
,
Matt Hasselbeck
,
Patrick Ramsey
,
Alex Smith
,
Billy Volek
,
Kellen Clemens
,
Brodie Croyle
,
Trent Edwards
,
Bruce Gradkowski
, Tarvaris Jackson,
Matt Leinart
,
Troy Smith
and
Tyler Thigpen
.
RUNNING BACKS:
Cedric Benson
,
Ronnie Brown
,
Kevin Faulk
,
Mewelde Moore
,
Sammy Morris
,
Clinton Portis
,
Dominic Rhodes
,
Tony Richardson
,
Kevin Smith
,
Darren Sproles
,
Fred Taylor
,
Brian Westbrook
,
Ricky Williams
,
Joseph Addai
,
Ahmad Bradshaw
,
Jerome Harrison
,
Brandon Jackson
,
Laurence Maroney
and LeRon McClain.
WIDE RECEIVERS
:
Mark Clayton
,
Braylon Edwards
,
T.J. Houshmandzadeh
,
Randy Moss
,
Santana Moss
,
Terrell Owens
, Donte' Stallworth,
Steve Breaston
,
Malcom Floyd
,
Santonio Holmes
,
James Jones
,
Sidney Rice
,
Mike Sims-Walker
,
Brad Smith
and
Steve Smith
(of the
New York Giants
, not the Steve Smith of Carolina).
TIGHT ENDS:
Desmond Clark
,
Donald Lee
,
Randy McMichael
,
Bo Scaife
,
Kevin Boss
,
Owen Daniels
,
Daniel Fells
,
Zach Miller
,
Ben Patrick
and
Matt Spaeth
.
OFFENSIVE LINEMEN:
David Baas
,
Jammal Brown
,
Robert Gallery
,
Adam Goldberg
,
Kyle Kosier
,
Olin Kreutz
,
Matt Light
,
Sean Locklear
,
Casey Rabach
,
Chris Spencer
,
Langston Walker
,
Casey Wiegmann
,
Floyd Womack
,
Damien Woody
,
Chris Chester
,
Jeromey Clary
,
Daryn Colledge
,
Willie Colon
,
Doug Free
,
Jared Gaither
,
Charlie Johnson
,
Deuce Lutui
,
Samson Satele
,
Lyle Sendlein
and
Marshal Yanda
.
DEFENSIVE TACKLES:
Aubrayo Franklin
,
Tommie Harris
,
Chris Hoke
,
Chris Hovan
,
Kris Jenkins
,
Bryan Robinson
,
Gerard Warren
,
Jamal Williams
,
Pat Williams
,
Alan Branch
,
Barry Cofield
,
John McCargo
and
Brandon Mebane
.
DEFENSIVE ENDS:
Jason Babin
,
Dave Ball
,
Raheem Brock
,
Andre Carter
,
Shaun Ellis
,
Cullen Jenkins
,
Travis LaBoy
,
Trevor Pryce
,
Marcus Spears
,
Ray Edwards
and
Mathias Kiwanuka
.
LINEBACKERS:
Akin Ayodele
,
Keith Bulluck
,
Kevin Burnett
,
Dhani Jones
,
Kirk Morrison
,
Julian Peterson
,
Matt Roth
,
Takeo Spikes
,
Jason Taylor
,
Mike Vrabel
,
Stewart Bradley
,
Bobby Carpenter
,
Manny Lawson
,
Paul Posluszny
,
Ernie Sims
and
Stephen Tulloch
.
CORNERBACKS:
Nnamdi Asomugha
,
Phillip Buchanon
,
Chris Carr
,
Drayton Florence
,
Ellis Hobbs
,
Carlos Rogers
,
Lito Sheppard
,
Ike Taylor
,
Fabian Washington
,
Drew Coleman
,
Antonio Cromartie
,
Chris Houston
,
Johnathan Joseph
,
Dimitri Patterson
,
Josh Wilson
and
Eric Wright
.
SAFETIES:
Aaron Francisco
,
Ken Hamlin
,
Michael Lewis
,
Brandon McGowan
,
Quintin Mikell
,
Lawyer Milloy
,
Brodney Pool
,
Gerald Sensabaugh
,
Roy Williams
,
Gibril Wilson
,
Atari Bigby
,
Melvin Bullitt
,
Abram Elam
,
Dashon Goldson
,
Michael Huff
,
Dawan Landry
,
Danieal Manning
,
Bernard Pollard
,
Eric Weddle
and
Donte Whitner
.
April, 29, 2011
4/29/11
9:28
AM ET
Nice nugget from ESPN Stats & Information on multiple Heisman Trophy winners selected in the same draft and this one has big NFC South implications.
With
Cam Newton
and
Mark Ingram
both selected in the first round Thursday night, the 2011 draft marked just the seventh draft since 1967 in which more than one Heisman Trophy winner has entered the league in the same year.
Newton was picked No. 1 overall and he was college football's Heisman Trophy winner last season. Ingram was taken at No. 28, after the Saints traded back into the first round to get him. Ingram won the Heisman in the 2009 college season.
The feat also happened in last year's draft, when
Sam Bradford
and
Tim Tebow
both came with the trophy. Prior to that,
Reggie Bush
and
Matt Leinart
came in together in 2006.
Beyond that, there was a much bigger gap in the time frame. Desmond Howard and Ty Detmer came in the 1992 draft. Vinny Testaverde and Bo Jackson were picked in the 1987 draft. Herschel Walker and Doug Flutie were selected in 1985. Billy Sims and Charles White were drafted in 1980.
April, 13, 2011
4/13/11
3:38
PM ET
We have a very interesting story over on our news side that reveals the National Football League
has proposed to divert about $300 million a year from guaranteed money for rookies
to benefits and salaries for veterans.
We've gone a little further into that because the resolution of the labor situation and how rookies are paid could have a huge and direct impact on the
Carolina Panthers
, who hold the No. 1 pick in the draft.
Under the old system, that pick likely would make somewhere around $50 million in guaranteed money. According to figures obtained by ESPN.com, the past five No. 1 overall draft picks have received $180.8 million in guaranteed compensation before ever playing a down in the NFL. That's an average of $36.169 million per player.
Last year's top draft pick, St. Louis quarterback
Sam Bradford
, got $50 million guaranteed in his contract.
Matthew Stafford
, the top pick in 2009, was given a deal with $41.7 million in guaranteed money. Miami's
Jake Long
got $30 million guaranteed when he was taken in 2008. Oakland's
JaMarcus Russell
, one of the biggest busts in recent years, was given $32.019 million in 2007 and 2006 top pick
Mario Williams
got $27.125 million in guaranteed money.
Much of the pre-draft speculation has Carolina taking a quarterback at No. 1, and Auburn's Cam Newton and Missouri's Blaine Gabbert are the names that have come up most often. But drafting a quarterback early doesn't always mean success, although it has meant big money.
The last 15 quarterbacks selected in the top 10 (going back to
Michael Vick
in 2001) have had contracts that guaranteed them more than $367 million. That's an average of $24.474 million per player, and only six of those 15 quarterbacks have been selected to a Pro Bowl.
Here's a list of those quarterbacks that includes their draft year, team and guaranteed money.
2010 Sam Bradford, Rams, $50 million
2009 Matthew Stafford, Lions, $41.7 million
2009 Mark Sanchez, Jets, $28 million
2008 Matt Ryan, Falcons, $34.75 million
2007 JaMarcus Russell, Raiders, $32.019 million
2006 Vince Young, Titans, $30.115 million
2006 Matt Leinart, Cardinals, $12.91 million
2005 Alex Smith, 49ers, $24 million
2004 Eli Manning, Giants, $24.034 million
2004 Philip Rivers, Chargers, $17.955 million
2003 Carson Palmer, Bengals $15.08 million
2003 Byron Leftwich, Jaguars, $12.282 million
2002 David Carr, Texans, $15.04 million
2002 Joey Harrington, Lions, $13.925 million
2001 Michael Vick, Falcons, $15.3 million
April, 6, 2011
4/06/11
8:30
AM ET
I said last week the
Carolina Panthers
need
to take
Auburn quarterback
Cam Newton
with the first overall pick in the upcoming draft. I also said there are pretty good indications the Panthers are at least giving very serious thought to using the pick on Newton or Missouri quarterback
Blaine Gabbert
.
Nothing's changed in my eyes and my ears tell me nothing's changed in how the Panthers are thinking.
But as I was working ahead on our weekly Draft Watch post, I realized something that adds even more reason for the Panthers to go ahead and draft a quarterback. I thought about the rest of the NFC South.
[+] Enlarge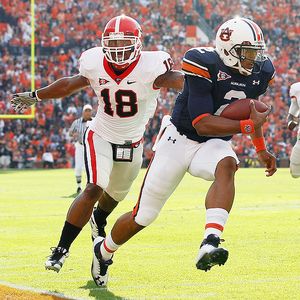 Kevin C. Cox/Getty ImagesThe Panthers may try to follow fellow NFC South members and try to get a franchise quarterback like Cam Newton or Blaine Gabbert.
What's the first thing New Orleans coach Sean Payton, Atlanta coach
Mike Smith
and Tampa Bay coach Raheem Morris did when they were hired? The methods varied and they each had some help from their general manager, but Payton, Smith and Morris went out and got a franchise quarterback.
You can't argue with the results. Payton won a Super Bowl title, Smith has had three straight winning seasons and Morris took the Bucs from 3-13 to 10-6 last season.
You know Payton got
Drew Brees
, Smith brought in
Matt Ryan
and Morris found
Josh Freeman
. But what you might not realize is how specifically each of those three coaches targeted each of those three guys.
Coming into New Orleans the season after Hurricane Katrina, Payton decided quickly he wasn't going to go draft
Matt Leinart
. In his book "Home Team,'' Payton describes at length how he and general manager Mickey Loomis saw a rare opportunity to get an established franchise quarterback. The
San Diego Chargers
were letting Brees walk into free agency because they had
Philip Rivers
and Brees was coming off major shoulder surgery.
In his book, Payton wrote that the Saints were competing with the
Miami Dolphins
for Brees. Payton and Loomis decided they had to "overpay'' to get Brees to avoid the comforts of Miami and come to a city and a franchise that was in a total rebuilding mode. The Saints jacked up their offer, got Brees and it turned out to be the best move in franchise history.
When Smith took over, the Falcons had needs just about everywhere. But Smith and Dimitroff realized you might as well start building a program with a quarterback and they took Ryan with the third overall pick, after spending some nervous nights worrying the Dolphins and Rams might botch their plans. But Miami and St. Louis passed on Ryan and Atlanta's been winning ever since.
It was basically the same thing in Tampa Bay. Although fans and media were screaming for defense, mainly because that's what the Bucs had trained people to do since the franchise started, general manager Mark Dominik and Morris decided they had to get a quarterback. There are some, mainly Doug Williams, who will tell you the Bucs wanted
Mark Sanchez
. But Dominik and Morris have said all along Freeman was the guy they wanted. In fact, they initially were slated to draft at No. 19. But, fearing someone would jump into the No. 18 spot to get Freeman, the Bucs moved up to No. 17 and got their quarterback.
New Carolina coach Ron Rivera comes from a defensive background. But, in his hiring process, it was established the organization now realizes the NFL is a quarterback-driven league. General manager Marty Hurney is fully committed to giving Rivera the kind of quarterback he needs to win.
Could there be someone like Brees out there if the lockout ends and free agency and trades are allowed? It's not real likely. The names you hear might be available are guys like
Donovan McNabb
,
Carson Palmer
,
Vince Young
and
Kevin Kolb
. McNabb was a franchise quarterback for a long time, but he's on the downside of his career. Palmer might have briefly been a franchise quarterback, but his career has regressed. Young was drafted to be a franchise quarterback, but hasn't come close. Kolb's basically a career backup with some upside, but it's a stretch to envision him as a franchise quarterback.
More and more I think Hurney and Rivera need to do what the other three franchises did when their current regimes started. They need to go out and get a franchise quarterback and it's looking like the draft is the only spot to do that this year.
September, 1, 2010
9/01/10
3:37
PM ET
Time for another edition of the NFC South mailbag. Kind of interesting that the first three questions all come from Texas. Could we be taking over the territory of "The Beast''?
Brendan in Dallas writes:
How do you feel about Darren Sharper coming off this knee surgery? Do you think that he'll be able to have the great season like he did last year or should we expect more of
Malcolm Jenkins
this season? I myself like how Jenkins' been doing this preseason so I wouldn't mind having a younger guy like Jenkins out there.
Pat Yasinskas:
I am extremely interested to see what the Saints do about Sharper in the next few days. All indications are he's not ready to contribute right now and the Saints will have to make a difficult decision. I think the likely scenario is they'll place him on the physically-unable-to-perform list, hope he can heal up and bring him back as insurance for the second half of the season. But I also wouldn't rule out the possibility of the Saints cutting Sharper or him deciding to retire. It's been very clear for some time now that Jenkins will open the season as the starter at free safety. Jenkins is young and very talented. I don't think it's out of the question that he can put up numbers similar to what Sharper did last season.
---
Victor in El Paso, Texas writes:
Now that the Bucs have cut
Derrick Ward
do you think the Bucs will get another running back?
Pat Yasinskas:
I would not totally rule out the Bucs picking up a running back when other teams make their cuts. The Bucs constantly monitor the waiver wire and are always looking to upgrade a roster that clearly still needs some upgrading. But I don't think it's an absolute necessity that the Bucs get a running back. They appear content to head into the season with
Cadillac Williams
and
Kareem Huggins
as their top two running backs.
Clifton Smith
might factor in as a situational player. Plus, fullback
Earnest Graham
has some history at tailback and can always move back over there.
---
Robert in Dallas Texas writes:
Keep up the great work! Two quick questions for you: Do you think the Bucs should make a move on a trade for
Matt Leinart
? Would he be an upgrade compared to
Josh Johnson
?
Pat Yasinskas:
I'm not completely sold on Josh Johnson as a No. 2 quarterback yet. I think he's a legitimate No. 3 with upside. I would like to see the Bucs add a backup with some legitimate NFL experience. But I'm not sure Leinart is the guy they should be looking at. First off, if Arizona's trying to trade the guy they went through the offseason planning to start, that should raise some serious red flags. He's a guy that was a high draft pick and has never done much in the NFL. We might be looking at another Heather Shuler or Ryan Leaf. I'd rather see the Bucs pick up some veteran with a little bit of starting experience that can come in, accept his role as No. 2 to
Josh Freeman
and fit well in the locker room. If the Saints, who may carry only two quarterbacks, decide to cut
Patrick Ramsey
, that's a guy I think the Bucs should be all over.
---
Harris in Weaverville, N.C. writes:
I am a hard-core Panthers fan. However, I can't say that I keep up with every team in the NFL enough to know the answer to this question: Are there any teams in the NFL that are so loaded with wide receivers that there will be some decent pickings when the final cuts are due on Saturday? What are the chances that the Panthers will make a WR move from the waivers?
Pat Yasinskas:
You can bet that Marty Hurney and his staff will be watching to see what wide receivers get cut by other teams by Saturday afternoon's deadline. Given the fact the Panthers don't have a lot of depth at receiver, I think a move is entirely possible. Just to throw a couple of names out there from other NFC South teams that might be available -- Tampa Bay's
Michael Clayton
and New Orleans'
Adrian Arrington
. Yes, Clayton largely has been a bust in Tampa Bay, but he could fit better in Carolina's system. He is a good run blocker and might be a scaled-down version of
Muhsin Muhammad
. Arrington's a guy who's been held back by injuries and a very deep receiving corps in New Orleans, but he's got plenty of upside.
---
Greg in Tampa writes:
Can you explain to us Bucs fans why the NFL waited a whole YEAR to suspend
Aqib Talib
? One would think the league would act when the courts do.
Pat Yasinskas:
A good question and something I've also wondered about. More than anything, I think this one got caught up in red tape. It took some time for the legal system to play out and that's why the NFL didn't take action last year. But couldn't this suspension have been determined much earlier this year? You would think so. But I'm guessing Talib's file was a little lower on Roger Goodell's desk than Ben Roethlisberger's. Goodell has the ultimate say on all suspensions and it sometimes takes some time for that to happen. But it's not like the Bucs didn't see this one coming. They pretty much knew from the end of last season that they'd be opening the season without Talib.