NFC South:

Maurice Jones-Drew
January, 22, 2015
Jan 22
8:26
AM ET
Dirk Koetter, the new offensive coordinator for the Buccaneers, won't be running the exact same offense he did in his previous job with Atlanta. And he won't be using the same system he did while with Jacksonville from 2007 through 2011.
"Dirk is running our offense, but what Dirk would say is that he's running our
Tampa Bay Buccaneers
offense that we're putting together, and it hasn't been run before," coach Lovie Smith
told reporters
at the Senior Bowl on Wednesday. "We're going to put all of our ideas together with that."
Smith said Koetter has a history of being flexible and playing to the strengths of his personnel.
"I think you can go back to everybody's history and see some things that they like to do," Smith said. "Looking at Dirk, in Jacksonville, they had Maurice Jones-Drew and they were a running attack. And of course with the receivers,
Matt Ryan
and that crew, Devin Hester and those guys, they passed it more in Atlanta. That's what we're looking for. We feel like he can bring balance, and in order for us to win that's what we need."
The Bucs have many of the ingredients needed for a balanced attack. In the passing game, they have a pair of 1,000-yard receivers,
Mike Evans
and
Vincent Jackson
. In the running game, there is talent with
Doug Martin
and
Charles Sims
.
But the offensive line needs some major work, and it remains to be seen who the quarterback will be.
Josh McCown
is the incumbent, but the Bucs could use the first overall pick in the draft on Florida State's
Jameis Winston
or Oregon's
Marcus Mariota
.
Whichever way the Bucs go, Smith said the goal will be to have balance on offense.
"To win in the league, you have to be able to run the football when you want to, not just when you have to," Smith said. "You need to be able to pass the football because you want to, not because you have to. Right now, we're just going to be pretty broad with that."
August, 23, 2012
8/23/12
12:22
PM ET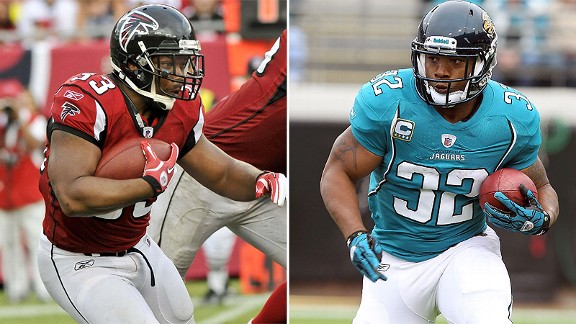 US PresswireReplacing Michael Turner, left, with the younger Maurice Jones-Drew would upgrade the running back position, but at what cost?
One of the things I like best about this job is that any time there's even a rumbling that a player might be on the trading block, the questions start coming.
It generally doesn't matter who the player is. Would the ____ be interested? And you can fill in the blank with the Buccaneers, Falcons, Panthers or Saints.
But the recent reports that Jacksonville running back
Maurice Jones-Drew
is
open to a trade
have brought a variation of the usual pattern.
I haven't gotten a single question about if the Panthers, Saints or Buccaneers might be interested in Jones-Drew. That's mainly because the Panthers and Saints already have an abundance of quality running backs and the Bucs are hoping rookies
Doug Martin
and
Michael Smith
can help push them into that category.
The Atlanta fans, however, have been out in full force. They aren't simply asking about potential interest in Jones-Drew. They're going ahead and suggesting terms of the trade -- Jones-Drew in exchange for
Michael Turner
, straight up.
I can see some of the reasons for the rapid speculation. New Atlanta offensive coordinator Dirk Koetter had a lot of success with Jones-Drew in Jacksonville. New Atlanta coach Mike Mularkey had a lot of success with Turner when he was offensive coordinator in Atlanta. Jones-Drew would bring a lot more variety to Atlanta's backfield. Turner could bring stability to Jacksonville's backfield and that's important as Mularkey tries to develop second-year quarterback
Blaine Gabbert
.
But there are more compelling reasons why I don't see Jones-Drew ending up in Atlanta. Let's run through them:
1. Do you really think the Jaguars would give up Jones-Drew for Turner?
Jones-Drew is 27 and Turner is 30. That's a huge age difference when you're talking about running backs. Their value simply isn't the same. The Falcons would have to give up more than Turner to get Jones-Drew.
2. I'm not sure the Falcons really need Jones-Drew.
Don't get me wrong, the guy is a tremendous running back. He led the NFL in rushing yards last season and he also can catch the ball out of the backfield. The Falcons already have made it clear they don't want Turner getting more than 300 carries this season. The automatic assumption is they want to keep Turner fresh and there's some truth to that. But I also think a big part of the reason the Falcons don't want to run Turner so much is because they want to be more of a passing team. If they bring in Jones-Drew, they might be tempted to fall back on the running game and that would take away from the plans they have for
Matt Ryan
,
Roddy White
,
Julio Jones
and
Tony Gonzalez
in the passing game.
3. I can't help but wonder if the Falcons might look at this scenario and think about their recent history.
They paid a lot of money to cornerback
Dunta Robinson
because he thought he might be the missing link to a Super Bowl championship. They did the same thing with defensive end
Ray Edwards
. They gave up a lot in terms of draft picks to get Jones last season. So far, the Falcons haven't reached a Super Bowl. If they still were in the one-player-away mode, wouldn't they have at least made a run at
Mario Williams
in free agency? There obviously is urgency for the Falcons to win big quickly, but they spent the offseason keeping what they had and tweaking it. It sure don't seem like their current mindset would be to make an explosive move right before the start of the regular season.
4. The thing that's being overlooked in all this is the very reason Jones-Drew is holding out in Jacksonville.
He has two years remaining on his current contract and wants a new deal. When players like Jones-Drew hold out, it's because they want to be among the top-paid players at their position.
Adrian Peterson
averages $14.2 million a season.
Chris Johnson
averages $13.5 million. Jones-Drew wants something comparable -- no matter where he plays. The Falcons really aren't in a position to spend that kind of money. They already have $117 million committed toward a 2013 salary cap that's likely to be somewhere around $123 million and they might have to factor in a contract extension for Ryan before then (and there's also the matter of re-signing some potential free agents and signing next year's draft class). Plus, let's go back to Jones-Drew's age. Do you really want to tie up huge money in a running back that's averaged over 300 carries a season the past three years? Do you really want to tie up huge money in a guy that's going to be in the same situation as Turner in two or three years?
August, 21, 2012
8/21/12
3:12
PM ET
It's the third week of the preseason, which is significant. That's because teams usually take the third game more seriously and play their starters into the second half.
With that in mind, let's take a look at some storylines for each of this week's NFC South games:
Atlanta at Miami, Friday
Preseason results may not matter. But the Falcons have the NFL's longest active preseason losing streak (seven games). Atlanta's first-team offense and defense have looked good in the first two weeks. It's the backups that have cost the Falcons victories. You can bet Mike Smith has been stressing the importance of "finishing."
Rookie tackle
Lamar Holmes
missed the first two preseason games with a broken toe. But Holmes is expected to play against the Dolphins and all eyes will be on him. With veteran
Will Svitek
out with a season-ending injury, Holmes becomes the next option after
Sam Baker
.
New England at Tampa Bay, Friday
Buccaneers coach Greg Schiano has said he's patterned a lot of what he does after New England coach Bill Belichick. The two coaches are friendly and their teams will hold joint workouts in Tampa on Wednesday and Thursday.
I know coaches hold a lot back in the preseason and there's nothing wrong with that. But I would like to see the Tampa Bay combination of
Josh Freeman
and
Vincent Jackson
at least click a little bit. Jackson has only one catch in the preseason.
Houston at New Orleans, Saturday
Against a Jacksonville team that didn't have
Maurice Jones-Drew
and did have quarterback
Blaine Gabbert
last week, the New Orleans first defense didn't look good. Coordinator Steve Spagnuolo still is teaching his system, but this is the last real audition for the Saints (who are playing their fourth preseason game) to grasp it.
With backup
Chris Chamberlain
lost for the season and starters
Curtis Lofton
and
David Hawthorne
banged up, linebacker suddenly has become a hot topic for the Saints. Some young linebackers that came into camp with little apparent chance to make the roster, now have a shot to be contributors early in the season.
Carolina at New York Jets, Sunday
Coach Ron Rivera has hinted that linebacker
Thomas Davis
could make his preseason debut in this game. According to Carolina's medical staff, Davis is attempting to become the first NFL player to come back from three torn ACLs.
Cam Newton
and
Tim Tebow
will be in the same stadium. That alone is significant because of the hype they bring. But they also have history. Newton once was a backup to Tebow at the University of Florida.
August, 17, 2012
8/17/12
11:35
PM ET
Some quick observations on the New Orleans Saints'
27-24 loss
to the
Jacksonville Jaguars
on Friday night at the Mercedes-Benz Superdome:
After looking very good in the first two preseason games, the first-team defense didn't have a good outing against the Jaguars. It is only the preseason and, ordinarily, you could say the Saints still are getting into Steve Spagnuolo's scheme. But this one deserves at least a little concern. Jacksonville quarterback Blaine Gabbert looked better than he did at any point in his rookie season. Gabbert completed 13 of 16 passes for 112 yards. Plus, it wasn't like Gabbert had Maurice Jones-Drew in the backfield. Instead, Rashad Jennings was the main ball carrier and he had 62 yards on 11 carries in the first half. The Jaguars had 101 rushing yards in the first half.
There were a couple of Saints' injuries that didn't look good. Linebacker Chris Chamberlain appeared to injure his knee and receiver Andy Tanner was carted off with an apparent injury to his left leg. No details on the injuries were available immediately, but losing either player for an extended period could hurt. Tanner, who had a nice training camp and start to the preseason, is competing for a roster spot as the fourth or fifth receiver. Chamberlain, who played for Spagnuolo in St. Louis, has a shot at being a starter or key backup.
Drew Brees didn't get a lot of help from his offensive line early on. Brees was sacked and lost a fumble with 9:00 left in the second quarter. But Brees bounced back and the Saints had a nice drive late in the first half to cut Jacksonville's lead to 17-10. Brees finished the night completing 10 of 13 passes for 133 yards and a touchdown.
Backup quarterback Chase Daniel had a very efficient outing. He completed 16 of 21 passes for 185 yards and two touchdown. Daniel led what should have been the game-winning drive, connecting with running back Travaris Cadet on a 24-yard touchdown pass late in the fourth quarter. But Jacksonville rallied for a touchdown with 13 seconds left to keep Daniel and Cadet from being the heroes.
Defensive end Junior Galette continued his strong preseason, putting pressure on Gabbert several times. I think Galette could end up starting as Will Smith serves a suspension for the first four games. After that, Galette could be a regular in the rotation because he has some explosiveness as a pass-rusher.
Giving 110 percent, as Raheem Morris said he always did, cornerback Elbert Mack tipped a third-quarter pass that turned into an interception for Isa Abdul-Quddus. Mack, who came over from Tampa Bay, has a chance at a roster spot as a backup cornerback and special-teams player.
February, 24, 2012
2/24/12
11:22
AM ET
There's a debate among Tampa Bay fans about whether the Buccaneers should draft LSU cornerback
Morris Claiborne
or Alabama running back
Trent Richardson
with their first-round pick.
I don't think either would be a mistake because the Bucs have needs at both positions. But there's a longstanding rule of thumb in the NFL that you don't take a running back early in the draft.
If you think that theory is outdated, you may want to take a look at this
Insider post
from Football Outsiders. It lays out some pretty convincing evidence that there's not a lot to be gained by drafting a running back early in the first round.
The five leading rushers over the last five seasons are
Adrian Peterson
,
Maurice Jones-Drew
,
Steven Jackson
,
Chris Johnson
and
Michael Turner
. Those five have combined for two playoff wins as starting running backs (and that doesn't include two playoff victories Turner had as a backup to
LaDainian Tomlinson
with the 2007 Chargers).
The column then points to the backfields of the two Super Bowl teams. The
New York Giants
had
Ahmad Bradshaw
(a seventh-round pick) and
Brandon Jacobs
(a fourth-round pick). The
New England Patriots
had a pair of undrafted running backs in
BenJarvus Green-Ellis
and
Danny Woodhead
as well as third-round pick
Stevan Ridley
.
Yes, the Bucs need someone to pair in the backfield with
LeGarrette Blount
. But, unless they believe Richardson is the kind of player who can be an exception to a rule, they might be wise to wait until later in the draft -- or use free agency -- to add a running back.
December, 23, 2011
12/23/11
10:46
AM ET
Atlanta running back
Michael Turner
is one of the NFL's best at making things happen after taking a hit.
Turner has gained 621 of his 1,129 rushing yards after contact, according to ESPN Stats & Information. Only Jacksonville's
Maurice Jones-Drew
(687) has gained more yards after contact. Turner has had 55 percent of his yards come after contact. That percentage puts him in a tie for fourth in the league and he averages 2.3 yards after contact.
Tampa Bay's
LeGarrette Blount
also has gained 55 percent of his yards after contact. Blount has gained 417 yards (No. 20 in the NFL) after the first hit and averages 2.4 yards after contact.
After Turner and Blount, there's a steep drop off to the other NFC South running backs. Carolina's
Jonathan Stewart
has 314 yards after contact and teammate
DeAngelo Williams
has 289 yards.
New Orleans'
Pierre Thomas
has 217 yards after contact and
Mark Ingram
has 201 yards.
The only other NFC South player among the top 50 in this category is Carolina quarterback
Cam Newton
. He has 164 yards after contact. He's one of only two quarterbacks on the list. The other is Denver's
Tim Tebow
, who has 230 yards after contact.
December, 22, 2011
12/22/11
1:06
PM ET
Call it icing on the cake, padding the stats or whatever you want. But the
Atlanta Falcons
now are up to a whopping 68 total yards on screen passes. Yep, the Falcons gained seven yards on a screen in their victory against Jacksonville.

For those who don't get sarcasm, this is it. At various points throughout the season, we've been tracking how little the Falcons use the screen pass. Quarterback
Matt Ryan
has completed 16 of 19 screens. Of the quarterbacks who have started every game, Ryan has less attempts and less yards than anyone. Of the quarterbacks on the list from ESPN Stats and Information, Kansas City's
Matt Cassel
comes the closest to Ryan and the Falcons. Cassel has completed 11 of 15 screens for 17 yards. But Cassel has dealt with injuries and started just nine games.
For the sake of comparison, let's take a look at what the other NFC South quarterbacks have done on screen passes. Carolina rookie
Cam Newton
has thrown for a league-high 439 yards while completing 50 of 55 screens.
New Orleans'
Drew Brees
is No. 4 in the league with 367 yards while completing 47 of 54 attempts. Tampa Bay's
Josh Freeman
has completed 34 of 39 screens for 263 yards.
Memo to Atlanta offensive coordinator Mike Mularkey: I get it that
Michael Turner
isn't the best receiver in the league out of the backfield and that you want to save his energy for rushing attempts. But
Jason Snelling
's the kind of back that can run over people if he gets a running start, and rookie
Jacquizz Rodgers
is the kind of back that at least has the potential to blow by defenders any time he touches the ball. Besides, if you end up in that head-coaching job in Jacksonville, there's a guy named
Maurice Jones-Drew
who can have a pretty big impact on screens. So it might be a good idea to at least try a few more screens.
December, 16, 2011
12/16/11
1:30
PM ET
»
NFC Final Word
:
East
|
West
|
North
|
South
»
AFC
:
East
|
West
|
North
|
South
Five nuggets of knowledge about Week 15:
Time for a comeback?
Before things got out of hand over the past couple of months, Tampa Bay quarterback
Josh Freeman
had built a reputation for leading his team to fourth-quarter comebacks. The Bucs might not be capable of that these days, but there is some encouraging news on this front. The Cowboys, Tampa Bay's opponent Saturday, have lost three games this season after leading by at least 12 points in the fourth quarter. In the 51 seasons prior to this one, Dallas had lost only twice after leading by 12 or more points in the fourth quarter.
[+] Enlarge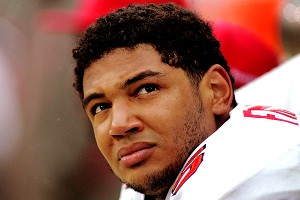 Jake Roth/US PRESSWIRETampa Bay quarterback Josh Freeman's 18 interceptions leads the NFL.
On a record pace.
Freeman has thrown 18 interceptions to lead the league. That's triple his total from the 2010 season. He has a chance to join an infamous club. Since 1990, only two Tampa Bay quarterbacks have thrown at least 20 interceptions.
Brad Johnson
had 21 in 2003 and
Craig Erickson
had 21 in 1993.
On a record pace II.
New Orleans tight end
Jimmy Graham
has a streak of five games in which he has had at least five receptions. Graham is on pace for 98 catches and 1,355 receiving yards.
Marques Colston
set the team record with 98 receptions in 2007. The franchise record for receiving yards in a season is 1,399, set by
Joe Horn
in 2004.
Chasing Manning.
Carolina quarterback
Cam Newton
already has thrown for 3,573 yards. He needs 167 more yards to break the rookie record that was set by
Peyton Manning
in 1998.
Coughing it up.
Tampa Bay running back
LeGarrette Blount
fumbled twice last Sunday and lost one. Blount now has five fumbles for the season. That ranks him No. 2 in the league among running backs. Only Jacksonville's
Maurice Jones-Drew
(six) has more fumbles.
December, 15, 2011
12/15/11
10:43
AM ET
ATLANTA -- Five things to watch in Thursday night's game between the
Atlanta Falcons
and
Jacksonville Jaguars
:


Julio Jones.
The rookie wide receiver has had some ups and downs throughout the season, but he's coming off perhaps his best game of the year. Jones caught two second-half touchdown passes in Sunday's come-from-behind victory against Carolina. There's never been any doubt Jones is an exceptional talent, but he and the Falcons experienced some early growing pains. A game like the one in Carolina might bring Jones' confidence level to a new high and quarterback
Matt Ryan
and the coaching staff might trust him to do even more. Jones might be hitting the point where he's turning from rookie to veteran.
Atlanta's pass rush.
The Falcons have only 25 sacks on the season and that puts them in a tie for No. 24 in the league. If they want to really take control of this game and take another step toward solidifying a playoff berth, the pass rush has to be better. Jacksonville rookie quarterback
Blaine Gabbert
still is very capable of making big mistakes. But the Falcons have to force him into mistakes.
Who's watching MJD?
About the only really good thing the Jaguars have going for them is running back
Maurice Jones-Drew
. Atlanta's run defense has been pretty good all season, but Jones-Drew presents a different challenge than the typical running back. He can run inside and outside and also catch passes. Second-year linebacker
Sean Weatherspoon
has been emerging as a star. This could be the game where he really establishes himself. Weatherspoon is the one Atlanta linebacker with enough speed to keep Jones-Drew from getting into the secondary too often.
The secret weapon.
Jones isn't the only rookie who is emerging for the Falcons on offense. Running back
Jacquizz Rodgers
gradually has been getting more touches and he caught a pass for a touchdown against Carolina. Even though
Michael Turner
has been bothered by a groin injury in recent weeks, he still is going to get the bulk of the carries for the Falcons. Rodgers took some time to learn the playbook and earn the trust of his coaches, but he's at a point where he can ease Turner's load a bit and bring an element of speed out of the backfield that the Falcons didn't have before.
Four for four.
If the Falcons win, they'll have nine victories. That would mark the fourth straight winning season for Atlanta, which is far more remarkable than it first sounds when you put it into historical context. Before coach
Mike Smith
arrived in 2008, the Falcons never had back-to-back winning seasons. Smith hasn't had a losing season yet and you can go ahead and start calling him the best coach in franchise history.
October, 2, 2011
10/02/11
2:33
PM ET
A few random thoughts on the two early NFC South games at halftime.
Carolina's very much in its game with the Bears. Chicago leads 24-20, but rookie quarterback Cam Newton is having a nice day. He bounced back after throwing an early interception that was returned for a touchdown. Newton's thrown for 199 yards and run for two touchdowns.
Carolina's Steve Smith is having a huge day. He already has six catches for 153 yards. Makes you wonder why Atlanta's receivers had so much trouble getting open deep against the vaunted Cover Two in the season opener?
The Bears have kept the ball out of Jay Cutler's hands as much as possible. He's attempted only four passes. If Carolina can get a lead and force the Bears to throw, Chicago's protection issues could be exposed in the second half.
Things aren't going as smoothly as you might have expected for the Saints in Jacksonville. They are leading 14-10, but this game is much closer than it should be.
New Orleans hasn't been able to force many mistakes by rookie quarterback Blaine Gabbert. He's thrown for 165 yards and a touchdown, and hasn't been pressured all that much.
Drew Brees made an uncharacteristic mistake by throwing an interception near the end of the first half. That led to a Jacksonville field goal.
Surprisingly, the Jaguars have come out throwing and haven't really gotten Maurice Jones-Drew involved in the running game.
I'll be back with wrap-ups on both games soon after they end.
August, 28, 2010
8/28/10
10:56
PM ET
TAMPA, Fla. -- Time for some observations on the Bucs from their 19-13 loss to the
Jacksonville Jaguars
.
[+] Enlarge

Al Messerschmidt/Getty ImagesBackup quarterback Josh Johnson had a decent start in place of injured Bucs starter Josh Freeman.

The Bucs showed some signs of having a bend-but-don't-break defense. That's super. But let's keep it in perspective. Jacksonville's offense, minus Maurice Jones-Drew, isn't going to break any defense.
Rookie defensive tackle Gerald McCoy looked pretty good. He got good pressure on David Garrard on an incompletion in the second quarter. Right after that, McCoy did a nice job running Garrard out of bounds after a snap sailed over the quarterback's head. That play resulted in a 10-yard loss.
Where else might the Bucs get a pass rush from? Believe it or not, Kyle Moore was in Garrard's face as he threw a second-quarter interception (more on that in just a second). Looks like Moore's going to have a starting job.
On to the previously-mentioned interception. It was made by (drum roll please) … Barrett Ruud. Yep, the middle linebacker made the kind of big play he needs to make to get himself that big contract he wants. Ruud even ran 80 yards after making the grab. Do that in the regular season a few times and Ruud's wish will come true.
Return man Clifton Smith, who missed a chunk of last season after concussion problems, fumbled the first time he touched the ball this preseason. Not really a good sign for Smith because the Bucs have other options in the return game.
Josh Johnson had decent numbers (9 of 14 for 122 yards) while starting in place of injured starting quarterback Josh Freeman. But I still don't think it would be a bad idea for the Bucs to pluck a legitimate backup quarterback off the waiver wire before the season starts.
Then again, maybe the Bucs are just like the Vikings. After all, they've got a quarterback who spent virtually all of training camp hanging out in Mississippi. That's Jevan Snead, the guy they cut on the first day of training camp and re-signed when Freeman got hurt.
I thought the biggest positive for the Bucs was rookie receiver Mike Williams. He's been making big plays since he arrived in Tampa Bay. It's great when he can do that with Freeman, but it's even more impressive that he's still making big plays when he's catching passes from another quarterback.
The Bucs just gave an injury update on Sabby Piscitelli, who went down in the fourth quarter. The team said he has a mild concussion.