NFC South:

MetLife Stadium
September, 8, 2013
9/08/13
7:23
PM ET
EAST RUTHERFORD, N.J. -- Guard
Carl Nicks
was out with a MRSA staph infection. Fullback
Erik Lorig
sat out with a calf injury. Even the radio system used to call the offensive plays wasn't working at times.
[+] Enlarge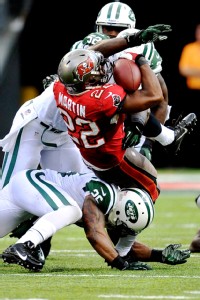 Joe Camporeale/USA TODAY SportsDoug Martin averaged just 2.7 yards per carry against the Jets.
But the
Tampa Bay Buccaneers
have no legitimate excuse for how their offense performed in Sunday's
18-17 loss
to the
New York Jets
at MetLife Stadium.
Yes, there were two touchdowns, but one of them was a gift -- a 5-yard run that came after the defense recovered a fumble. Oh, and there was that 37-yard pass from
Josh Freeman
to
Vincent Jackson
that set up what could have ended up being a game-winning field goal.
But that's where the highlights ended for the Bucs, which was more than a little surprising. Say what you want about Freeman, who is a mystery to many. But the Bucs appear to be loaded at the other offensive skill positions.
"It's frustrating to everyone because we have good players and we will find a rhythm with this offense but we certainly haven't found it yet,'' coach Greg Schiano said.
The Bucs never got into anything close to a rhythm as they managed only 250 yards of total offense. Freeman's been known to struggle at times, but the fact that the running game was ineffective is far more troubling.
Doug Martin
, who had such a big rookie year, averaged only 2.7 yards per carry while rushing 24 times for 65 yards.
"We have a special talent in Doug,'' Freeman said.
But the Bucs didn't get as much as they should out of Martin's talent or the rest of their talent on offense.
"I'd say the next 24 hours (are) going to be rough on everyone,'' Freeman said. Everybody's going to be going back, watching the film and critiquing everything they did.''
The offensive meeting rooms at One Buccaneer Place aren't going to be a pleasant place on Monday.
January, 10, 2013
1/10/13
1:00
PM ET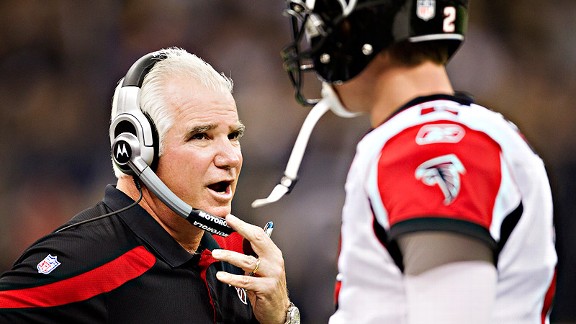 Wesley Hitt/Getty ImagesFalcons coach Mike Smith and QB Matt Ryan are 0-3 in the playoffs together.
The question has become so prevalent that the answer has gotten lost in the shuffle.
"When will the
Atlanta Falcons
win a playoff game?'' is the question that's been building since soon after coach Mike Smith and quarterback
Matt Ryan
arrived in town.
There are all sorts of theories floating out there on why Smith, Ryan and the Falcons keep making early exits in January, but I don't buy them.
I've got the answer right here: The Falcons will win a playoff game when they
should
win a playoff game.
That's Sunday against the
Seattle Seahawks
in the Georgia Dome.
The logic is simple: It's the first time in the Smith-Ryan era you can unequivocally say the Falcons should win in the postseason.
Everybody likes to talk about how this Atlanta team is different from previous ones.
"We're a much more mature team because of our experiences,'' Smith said this week. "I think you learn from your previous experiences in the playoffs.''
There's some truth in saying this team is different, but I don't think that's going to be the difference Sunday.
What's different now compared to the 2008, 2010 and 2011 postseasons -- which all ended in early exits for the Falcons -- is the circumstances. Think about it for a second.
Did anybody really expect the Falcons to go up to MetLife Stadium last January and beat the
New York Giants
? I sure didn't. I mean, I thought Atlanta at least had a chance, but I think the realistic expectation was for the Falcons to lose by a score of something like 24-17. They lost 24-2 on a day when their offense forgot to show up, and that only made the two previous playoff losses seem worse than they were.
And we're going to go out of order here, so bear with me, but think about those other two losses for a second.
Did anybody really expect the Falcons to go to Arizona and knock off the Cardinals at the end of the 2008 season, when Ryan was just a rookie? I'm not saying the word "dynasty'' should ever be used in the same sentence as the
Arizona Cardinals
, but that Arizona team had
Kurt Warner
and was playing at home. Just like last year's Giants, those Cardinals knocked off the Falcons and strolled to the Super Bowl.
Speaking of Super Bowl teams, think for a second about the other team the Falcons lost to in their past three playoff tries.
Yep, that was the
Green Bay Packers
back in a 2010 season during which Atlanta went 13-3 and had the No. 1 seed in the NFC. But, even then, you couldn't look at things objectively and say Atlanta was the overwhelming favorite. The Packers had playoff mystique and they had
Aaron Rodgers
, and you knew Green Bay had a chance to come into the Georgia Dome and win.
Like last year's Giants, those Packers thumped the Falcons and went on to win the Super Bowl.
[+] Enlarge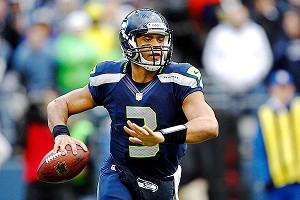 Joe Nicholson/USA TODAY SportsRookie Russell Wilson will be leading his team into a hostile playoff environment for the second straight week.
But let's not go comparing the current Seahawks to the 2010 Packers, because they're not. Yes, Seattle is red-hot after winning its final five games of the regular season and knocking off the
Washington Redskins
in its playoff opener last week. Yes, the Seahawks have a very good defense and an excellent running back in
Marshawn Lynch
.
But the Seahawks are not the Packers. They're not the Giants or the Cardinals. They don't have Rodgers,
Eli Manning
or Warner.
They have
Russell Wilson
.
Don't get me wrong, Wilson has had a marvelous season, and he's going to have a very long and prosperous career. But he's a rookie coming into a noisy and hostile dome.
The Seahawks are what the Falcons were back on that day they went into Arizona -- a team with a rookie quarterback, happy just to be in the playoffs, making a cross-country trip.
Wilson won't be the best quarterback in Atlanta on Sunday. That honor belongs to Ryan, who has continued to mature and has produced the best statistical season of his career.
In his three previous playoff games, Ryan wasn't the best quarterback on the field. This time he is, at least on paper.
If Ryan goes out and plays the way he should (and Smith doesn't try to slow down his offense by force-feeding the ball to aging running back
Michael Turner
), Ryan will be the best quarterback on the field in reality as well. Once he wins a playoff game, Ryan finally will be knighted with that "elite'' title everyone likes to toss around, and the Falcons no longer will have to hear about their postseason woes.
All Ryan has to do is play his game and get the ball to
Roddy White
,
Julio Jones
and
Tony Gonzalez
. All the Falcons -- who now have a defense with swagger thanks to cornerback
Asante Samuel
and linebacker
Sean Weatherspoon
-- have to do is play their game.
Just go out and be the best team on the field.
If that happens, the Falcons will win -- because, for the first time in the postseason in this era, they should win.
December, 9, 2012
12/09/12
7:37
PM ET
Thoughts on the New Orleans Saints'
52-27 loss
to the
New York Giants
on Sunday at MetLife Stadium:
What it means:
That dream scenario of the Saints making the playoffs after an 0-4 start and all that off-field turmoil probably can be forgotten. The Saints now are 5-8 and only a game ahead of the last-place
Carolina Panthers
in the NFC South standings.


Point of no return:
The Saints had all sorts of problems with kickoff coverage. They allowed a 97-yard return for a touchdown by
David Wilson
, and
Jerrel Jernigan
had another return for 60 yards. A lot of people like to talk about how bad New Orleans' defense is, but that unit wasn't the real culprit against the Giants. New York's special teams and a defense that picked off
Drew Brees
twice and forced two fumbles repeatedly gave the Giants good field position.
One thing that's obvious:
The Saints need a speed receiver. Aside from
Joe Morgan
, who still is being worked into the offense, the wide receivers weren't getting any separation against the Giants. That forced Brees to lock in on tight end
Jimmy Graham
way too often. Both of Brees' interceptions came on throws for Graham -- one went off the tight end's hands, and the other was underthrown against good coverage.
What's next:
The Saints host the
Tampa Bay Buccaneers
on Sunday.
September, 14, 2012
9/14/12
9:35
AM ET
Time for a Friday morning look at the top headlines from around the NFC South.
TAMPA BAY BUCCANEERS
Wide receiver Arrelious Benn is
expected to play
Sunday after missing the opener and the preseason with a sprained knee. A second-round pick in 2010, Benn's career has been limited by injuries. But there clearly is some talent here. Benn may have to prove himself at first to start climbing the depth chart, but, if he can stay healthy, it shouldn't take him long to become the No. 3 receiver after Vincent Jackson and Mike Williams.
Eric LeGrand, the paralyzed former Rutgers player who was signed by the Bucs after the draft,
will be at MetLife Stadium
on Sunday. LeGrand has maintained a close relationship with Tampa Bay coach Greg Schiano and, even though he officially was released before training camp started, has maintained a presence around the Bucs.
NEW ORLEANS SAINTS
ESPN analyst and former NFL quarterback Trent Dilfer said that the New Orleans receivers did not do a good job of
getting separation
in the season opener. That would help explain why Drew Brees wasn't as accurate as we're used to seeing him. But there's no guarantee that will be fixed immediately. The Saints may have to play young receiver Joe Morgan and newly signed veteran Greg Camarillo extensively this week because Devery Henderson is dealing with a concussion.
Cornerback Jabari Greer is expected to
make his return
Sunday after sports hernia surgery. Greer has been out for over a month and, under ideal circumstances, the Saints probably would ease him back into the lineup. But with cornerback Johnny Patrick dealing with an injury, that might not be an option. Greer might have to play the entire game.
CAROLINA PANTHERS
In two meetings with Brees last season, the Carolina defense gave up
748 passing yards
and seven touchdowns. The Panthers showed some signs in the opener that their defense might be improved from last year. But Brees and the Saints should provide a much stronger offensive challenge than Tampa Bay did.
Center Ryan Kalil took out a newspaper ad, promising a Super Bowl victory, prior to the season. Now, coach Ron Rivera has
outfitted his players
with T-shirts that say, "I have Ryan Kalil's back." Nothing wrong with using every motivational tactic you can come up with.
ATLANTA FALCONS
In his time as a coordinator and head coach, Atlanta defensive coordinator Mike Nolan is
1-6 against Peyton Manning
. No shame in that. A lot of coaches have poor records against Manning. But Nolan certainly has experience with Manning. He's got defensive talent to work with this time and simply slowing Manning might be enough because Atlanta has an offense that should score points.
Jeff Schultz writes that if the loss of cornerback Brent Grimes to a
season-ending injury
is enough to derail the Falcons' Super Bowl dream, they weren't going anyway. He's right. Grimes was an important player, but not the most important player on the defense. Teams are going to have injuries and the ones that can compensate for them are the teams that will succeed.
September, 9, 2012
9/09/12
8:00
PM ET
Thoughts on the
Tampa Bay Buccaneers' 16-10 victory
against the
Carolina Panthers
on Sunday at Raymond James Stadium.


What it means:
One game doesn't make a season, but the Buccaneers could be a lot better than many people expected and the Panthers might be worse. In coach Greg Schiano's first game, the Bucs snapped a 10-game losing streak that dated back to last October. They also gave their fan base a show of promise and that could help the crowds start coming back to a stadium that has sold out only twice in the past two seasons.
Not so special:
The Panthers put a lot of effort into attempting to upgrade their special teams during the offseason. But it looks like they still have issues. Tampa Bay's
Aqib Talib
broke free and blocked a punt by rookie
Brad Nortman
.
Defense rises:
I had some serious doubts about Tampa Bay's defense coming into the season. But the Bucs went out and put together a solid defensive effort against an offense that was very explosive last year. The Panthers had only 10 net rushing yards and the Bucs intercepted
Cam Newton
twice. The Bucs also sacked Newton three times.
Ronde's big day:
The Bucs had a big celebration because veteran defensive back
Ronde Barber
was making his 200
th
consecutive start. Barber, who has made the move from cornerback to free safety, ended up having a big day. Barber had a sack and an interception.
New feature back:
The Bucs made it pretty clear
Doug Martin
would be their feature back when they traded back into the first round to draft him. For those who were skeptical and thought
LeGarrette Blount
would hold onto the job, take a look at the numbers. Martin carried 24 times for 95 yards. Blount carried three times for eight yards. Martin also caught four passes for 23 yards. Blount caught 15 passes in all of last season.
What's next:
The Panthers host the
New Orleans Saints
next Sunday in a battle between the NFC South's only winless teams. The Buccaneers play the
New York Giants
next Sunday at MetLife Stadium.
February, 6, 2012
2/06/12
10:20
AM ET
It looks like there's at least a chance the New Orleans Saints could be playing in the season's first game for the third straight year.

As the defending champion Super Bowl champion, the New York Giants will host the Thursday night opener at MetLife Stadium. That game will be played Sept. 6.

I'm just looking at the eight teams the Giants are scheduled to host in 2012 and the Saints look like one of the three leading candidates, along with Green Bay and Pittsburgh. The league doesn't usually schedule division opponents in the opener.

You also can probably scratch the Buccaneers and Browns from the list since they're not marquee teams. Green Bay and Pittsburgh each have national followings and the Giants and Packers could be paired in a rematch of the playoff game in which New York went into Lambeau Field and defeated the Packers.

But don't count out the Saints. They also draw strong television ratings and they played the Thursday night opening game at Green Bay in 2011 and hosted it against Minnesota in 2010.
January, 8, 2012
1/08/12
7:09
PM ET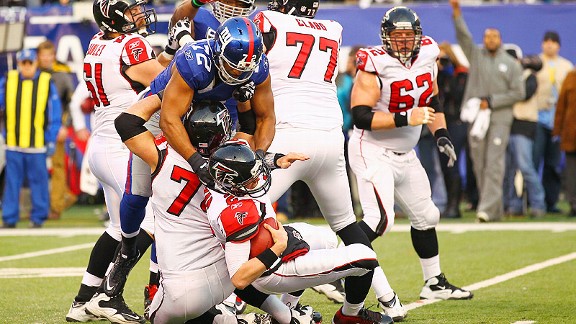 Al Bello/Getty ImagesMatt Ryan and the Falcons struggled mightily against the Giants, ending an uneven season.
EAST RUTHERFORD, N.J. -- Their season ended sooner than expected, so the
Atlanta Falcons
haven't had time to come up with a title for their highlight film.
I'll throw them a few suggestions:
"Fourth-and-inches: Next year, we'll just kick it."
"Explosive or implosion?'"
"How I lost that Jacksonville job," narrated by Mike Mularkey.
"That Allstate commercial is not going to happen, but maybe I can fill in for that Mayhem guy," hosted by Roddy White.
Hey, wait, we just got a submission from Atlanta coach Mike Smith.
"It was a lot like our season, very inconsistent," Smith said after his Falcons lost 24-2 to the
New York Giants
in the wild-card round Sunday at MetLife Stadium. "We played some that were good. We played some that were not so good. I think that's really the story of our 2011 season."
Take any of those suggestions or add your own. There are seemingly endless ways to summarize how a team with Super Bowl expectations came up dramatically short.
Since the arrival of Smith and quarterback
Matt Ryan
in 2008, the Falcons had been to the playoffs twice before. They lost both those games, including a home game against Green Bay last season when the Falcons were the No. 1 seed in the NFC.
But this loss was far worse because the Falcons weren't even competitive. That was mostly their own fault, because the Giants were as inconsistent as the Falcons during the regular season. On Sunday, the Falcons made the Giants look like champions.
The offense White referred to as "The Greatest Show on Turf'' in the preseason didn't score. Atlanta's points came on a safety. How does an offense that has Ryan, White,
Julio Jones
,
Tony Gonzalez
and
Michael Turner
get blanked?
"I have no idea,'' said White, who finished with five catches for 52 yards and dropped at least two passes, after leading the NFL in drops during the regular season.
Since White has no idea, I'll throw out a few quickies: The Falcons couldn't run the ball (Turner finished with 41 yards on 15 carries), Ryan was held to 199 passing yards and Smith (and offensive coordinator Mike Mularkey) got outcoached by Tom Coughlin and his staff. All that calls out for more detail.
Let's start with the coaching, because this has been a huge issue before. On two different occasions, Smith elected to go for it on fourth-and-inches. On two different occasions, that decision failed miserably. Smith decided on the same thing, with the same result, in overtime during a regular-season loss to New Orleans.
The first decision to go for it on fourth down came on the first play of the second quarter. The second came with 4:21 left in the third quarter, when the Falcons were trailing only 10-2. Both times, the Falcons had Ryan, who will never be confused with
Michael Vick
as a runner, try a quarterback sneak. Both times Ryan came up short. The second one was far more damaging, and even more insulting to anyone with common sense. It came with Ryan lining up with an empty backfield, a clear signal of what was coming.
"It was about half a yard, maybe even less than that,'' Smith said. "That was the play. We go through the sequence all through the week, and we felt like that was the play that we had up and we just didn't execute it. We felt like at any point in time that we ought to be able to move the football less than half a yard with a quarterback sneak.''
Forget the fact the Falcons could have handed the ball to Turner, who has gained more than a half yard plenty of times in his career. The Falcons tried that approach in the New Orleans loss and that didn't work, either.
What's more disturbing is that, unlike the Turner play against the Saints, both of these opportunities came when the Falcons were in position to attempt a field goal. Both opportunities came at points in the game when a field goal would have meant a lot.
"You could have gone ahead and attempted the field goal,'' Smith said. "I felt and we felt as a staff, with our offense, that we could move the ball and we wanted to get seven points.''
Instead, the Falcons ended up with two points for the day. That's not the sum total of just a couple of coaching decisions and play calls. That's a sign of much larger problems for a team that clearly was shooting for the Super Bowl when it dealt draft picks to trade up to get Jones in April and paid a ton for free-agent defensive end
Ray Edwards
as soon as the lockout ended.
[+] Enlarge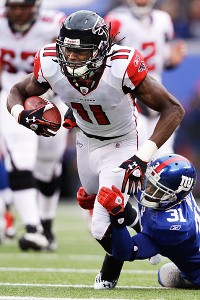 AP Photo/Matt SlocumJulio Jones and Atlanta never got going on offense against the Giants.
Both decisions were based almost entirely on what Smith and general manager Thomas Dimitroff decided was lacking after last season's playoff loss to Green Bay. They talked repeatedly about how Jones and Edwards would add "explosiveness."
Instead, the Falcons ended up with a dud of a season. People are going to start to question if Smith and Ryan ever can win a playoff game. They're also going to start to question if the trade for Jones was wise, especially as the 2012 draft approaches and the Falcons are looking to rebuild an offensive line that was built for run blocking and showed it can't pass block no matter how many receiving weapons the Falcons have.
"Well, I think that's a mistake,'' Falcons owner Arthur Blank said after he was reminded the Jones trade is officially open to criticism. "Julio stepped up and did everything we wanted him to do this year. He's going to be an outstanding receiver and player in the league. He has certainly proved his worth this year. He clearly showed his explosive capability throughout the year. You saw that in a number of games. You didn't see it today.''
You didn't see much of anything offensively against the Giants and that took a toll on Atlanta's defense as the game went on, which just compounded Atlanta's problems.
"Our expectations for our football team and our organization are much higher than just making an appearance in the playoffs,'' Smith said.
Blank didn't sound like a man who was ready to do anything rash. But he sounded frustrated and made it clear he expects Smith and Dimitroff to do some serious introspective thinking as they look back at the season.
"I think the answer is you've got to do a thorough diagnostic on the team, the players, the coaches and personnel area on why we didn't perform the way that we're capable of,'' Blank said. "The beauty of Smitty and Thomas is that they will do that. They're not, by nature, defensive individuals. They're thoughtful, they're bright and they care obviously about the franchise and winning. They will do what I would want them to do which is to be objective and go through a detailed analysis and not be emotional about it. Do it from a thoughtful standpoint. Where that takes us, I can't tell you. That's not up to me to tell you. That's up to them to figure it out and we'll work on it organizationally.''
One hint to Smith and Dimitroff: As you found out with fourth-and-inches, doing the same thing repeatedly isn't going to work. Don't do what you did last year and just fix two glaring holes. Fix every little hole on your team or you'll never win a playoff game.
January, 8, 2012
1/08/12
3:59
PM ET
EAST RUTHERFORD, N.J. -- Thoughts on the
Atlanta Falcons
' 24-2
playoff loss
to the
New York Giants
at MetLife Stadium on Sunday.


What it means:
This was much more than just a loss. This was devastating for the entire Falcons organization. Yeah, give the Giants credit for winning the game. But give the Falcons plenty of blame for losing. This team had sent out a strong signal that the Super Bowl was the goal when it traded up to draft
Julio Jones
and signed free-agent defensive end
Ray Edwards
. The Falcons didn't even come close to the Super Bowl. For the second straight year -- and the third time in four years -- the Falcons lost their opening playoff game.
When you have those expectations and those results, you can't expect owner Arthur Blank to remain patient forever. Coach Mike Smith and quarterback
Matt Ryan
never have won a postseason game. Their jobs aren't in jeopardy -- yet. But everyone around them (assistant coaches, offensive linemen and receivers who can't hang onto passes) is suddenly on the hot seat. This loss will prompt some changes in Atlanta.
Fourth-and-nowhere:
Smith elected to go for it on fourth-and-inches twice when he could have kicked field goals. That didn't work either time. Smith also failed when he went for it in overtime against the Saints during the regular season. Anyone notice a theme here? I think you'll be reading a lot more about this in my follow-up column.
What happened to the offense?
This was a legitimate question during the regular season, but it really showed in the playoff game. The Falcons have no offensive identity, no idea whether they're a running or passing team. Against the Giants, they weren't either; they simply were a terrible offense. That's a far cry from those lofty expectations I mentioned above.
Big players make big drops:
Atlanta receiver
Roddy White
led the NFL in drops during the regular season. He escalated that in the postseason. White dropped at least two passes, possibly three and maybe even four. I'm not sure how or why, but White went from being one of the league's most sure-handed receivers in 2010 to a drop machine this season. I'm not saying White's done in Atlanta by any means. But he's getting up in age, he comes with a high price tag and it wouldn't totally shock me if he's dangled for trade in the offseason.
Total mismatch:
Atlanta's offensive line was totally destroyed by the Giants' pass rush. Not surprising, really. The Falcons built this line for run -- not pass -- blocking. Ryan was bad, largely because he had no chance. The Falcons already had given up on
Sam Baker
at left tackle. Journeyman replacement
Will Svitek
got exploited and showed he's not a long-term answer. The Falcons need to get a left tackle. Problem is, they won't have a first-round draft pick (that went in the deal for Jones), and the list of left tackles coming available in free agency isn't too promising. Remember what I mentioned about perhaps shopping White. Oh, and
Joe Hawley
doesn't look like the answer at right guard.
What's next:
An offseason of change at the Falcons' Flowery Branch facility. This team has a ton of talent, and it won't be blown up. But there will be significant tweaks in different areas.
January, 8, 2012
1/08/12
10:38
AM ET
EAST RUTHERFORD, N.J. -- It's a relatively gorgeous day here at MetLife Stadium for the playoff game between the Falcons and Giants.

It's sunny and the temperature has to be in the 40s already. There's a bit of wind. But, when you consider this is January and I was bracing myself for the worst, this feels like Miami. If the Falcons lose this one, the weather can't be an excuse.

I'm set up in the press box. The Falcons' buses arrived as I was going through the security line and a couple of players already are out jogging. Some of the Giants also are on the field.

I'll be back with the inactives about 90 minutes before kickoff and will weigh in with any other pregame notes. We'll also be doing the Countdown Live chat throughout the game.

New Orleans fans, I'll try to do a post before the game in which I share some interesting numbers on the Saints' victory last night.
January, 7, 2012
1/07/12
3:00
PM ET
TAMPA, Fla. -- Time to get ready for one of the biggest 24-hour periods in NFC South history.
I'm about to fly to New Jersey, where I'll be covering Sunday's playoff game between the
Atlanta Falcons
and
New York Giants
. But, before we even get to that game, we've got another NFC South playoff contest.
The
New Orleans Saints
host the
Detroit Lions
on Saturday night. Colleagues Kevin Seifert and Jeff Chadiha will be at the Mercedes-Benz Superdome. I'll be watching the game from my hotel room and providing a wrap-up as soon as it's over. I'll also jump into our Countdown Live chat during the game between the Saints and Lions.
On Sunday morning, I'll join NFC East colleague Dan Graziano and Sal Paolantonio from our television side out at MetLife Stadium. I'll get you the inactives about 90 minutes before kickoff and also will keep you up to date on any pregame news or notes.
Once the game starts, Graziano and I will be jumping into the Countdown Live chat along with Matt Williamson from Scouts Inc., ESPN Stats & Information and the folks from ESPNNew York.com.
January, 7, 2012
1/07/12
10:22
AM ET
Time to take a look at the top Saturday morning headlines from around the NFC South. Obviously, this will be heavy on the Saints and Falcons because they have playoff games this weekend.
Bob Marshall has a column about how Detroit fans are
like New Orleans fans a few years back
. New Orleans went through Hurricane Katrina and the Saints helped pull the city back together. Detroit has been through some difficult economic times but the Lions have given people something to rally around.
Jeff Duncan writes that the Saints can
set themselves apart
if the defense steps up in the postseason. No doubt, the New Orleans offense always will put points on the board. But the defense is going to have to make some plays along the way if the Saints are going to get to the Super Bowl.
The Saints said they're
prepared for
Detroit defensive tackle Ndamukong Suh. He didn't play against them in the regular season because he was serving a suspension.
Largely due to the position he plays, Atlanta center Todd McClure doesn't get a lot of attention. But that sometimes changes in the postseason. Here's a very
nice feature
on McClure in The Wall Street Journal. I'm guessing the Giants' defensive line doesn't think the Atlanta offensive linemen read The Wall Street Journal.
Here's a bit of good news for Atlanta fans. You don't hear a lot about kicker Matt Bryant. But I can tell you he's a very competitive guy who is motivated by perceived slights. Bryant started his career with the Giants, but was
cut soon after the arrival
of coach Tom Coughlin. Keep that in mind if Sunday's game comes down to a Bryant kick because I can assure you that will be on Bryant's mind.
Atlanta wide receiver Harry Douglas has a brother, Toney, who
plays for the New York Knicks
. Toney Douglas will be at MetLife Stadium on Sunday to watch is brother.
The Jacksonville Jaguars
reportedly interviewed
Carolina offensive coordinator Rob Chudzinski for their job as head coach. Atlanta offensive coordinator Mike Mularkey also has been given permission to talk to the Jaguars. I wouldn't be surprised if the Tampa Bay Buccaneers attempt to interview one or both of these coordinators soon.
Tampa Bay veteran cornerback Ronde Barber
will have surgery
on his fractured right arm, according to his brother, Tiki. After the surgery, Barber also will decide if he wants to retire or continue playing. Barber previously suggested he might retire if the Bucs fired coach Raheem Morris and they did. There's no big rush here. Barber can wait to see who is hired as the new coach and decide if he wants to continue playing and if he fits into the plans of the new coach.
January, 6, 2012
1/06/12
1:30
PM ET
»
Wild-Card Final Word
:
Bengals-Texans
|
Lions-Saints
|
Falcons-Giants
|
Steelers-Broncos
Three nuggets of knowledge about Sunday's Falcons-Giants playoff game:
[+] Enlarge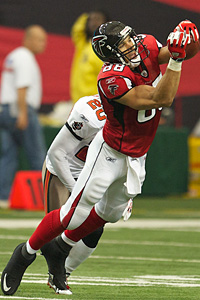 Dale Zanine/US PresswireWill star Falcons tight end Tony Gonzalez finally notch his first playoff win on Sunday?
Not a hard road.
The Falcons aren't known as a great road team, especially when they have to play outdoors. But traveling to MetLife Stadium shouldn't be as frightening as many people think. The home-field advantage isn't as big a deal as one might consider. Since 2004, home teams are 13-15 in wild-card playoff games.
Protecting Matty Ice.
It already has been established that one of the biggest matchups in this game will be Atlanta's offensive line against New York's pass rush. The Falcons had a tough time protecting
Matt Ryan
early in the season, even against base defenses. But Atlanta's offensive line has been better of late. In his past seven games, Ryan has 12 touchdowns and no interceptions against four or fewer pass rushers. But, with
Osi Umenyiora
,
Justin Tuck
and
Jason Pierre-Paul
, the Giants are one of the league's best at generating a pass rush from their front four.
Gonzo's unlucky streak.
Atlanta tight end
Tony Gonzalez
probably will be a first-ballot selection to the Pro Football Hall of Fame. He already holds virtually every receiving record for tight ends. But there's one thing Gonzalez never has done. He's gone through his entire career without winning a playoff game. Gonzalez's 238 regular-season games without a playoff win are the most by a position player in the Super Bowl era. Gonzalez played in three playoff games with Kansas City and was with Atlanta last season when the Falcons lost to the Packers.
January, 6, 2012
1/06/12
12:00
PM ET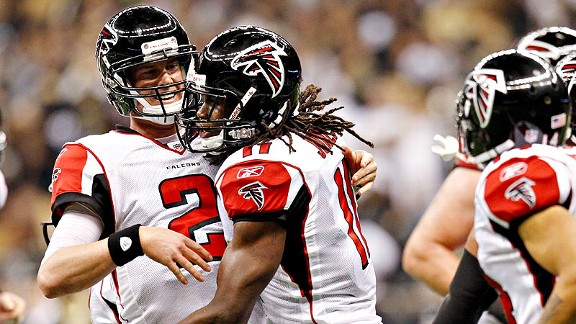 Derick E. Hingle/US PresswireMatt Ryan will surely be looking to star rookie Julio Jones for help in winning their first playoff game.
Take a look at Atlanta's
Mike Smith
and
Matt Ryan
. On the surface, they look like the perfect coach-quarterback combination.
On the heels of the fiascos involving
Michael Vick
and Bobby Petrino, Smith and Ryan arrived in Atlanta back in 2008. Instantly, they brought stability and credibility to a franchise that had fallen into disarray.
They've been winning, comfortably and calmly, ever since. They've had four straight winning seasons together, and that's been joyful for a franchise that hadn't had back-to-back winning seasons before Smith and Ryan arrived. Three of those seasons have included 10 or more wins. The Falcons are also about to make their third playoff appearance in four seasons, and Ryan established career bests for passing yards and touchdowns during the regular season.
Everything looks just fantastic for the Falcons.
But let's push a little beyond the surface, and you'll see this is a franchise at a critical juncture.
When the Falcons play the
New York Giants
on Sunday at MetLife Stadium, anything less than a victory will be a major disappointment for the Falcons. The franchise has fallen on good times, but there's a problem with that.
[+] Enlarge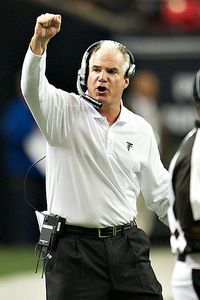 Dale Zanine/US PresswirePrior to Mike Smith's arrival, the Falcons had never recorded consecutive winning seasons.
It's not enough simply to be good every year. Smith has talked several times about how the organization's goal is not just to make the playoffs.
Smith and Ryan have never won a playoff game. They lost one they were expected to lose to Arizona in the 2008 season. They lost another to Green Bay last season when they were the No. 1 seed and the Packers were the No. 6 seed.
"There was a common theme in terms of that you can't turn the football over,'' Smith said. "That was the most pressing thing and both of them happened right, if you remember correctly, they both happened, one right before halftime last season and Arizona I think was the first or second play of the second half. We came out and turned the ball over and it was returned for a touchdown as well. It's no different than regular-season football, but we've got to make sure that we have ball security. We cannot turn the football over in the postseason. It's imperative.''
Yeah, the turnovers were a common theme in the previous two playoff losses, and there's no shame in losing to teams that went on to the Super Bowl. But here's where that tension beneath the surface starts to ooze out.
The Falcons can't continue to lose playoff games. A loss to the Giants will start the rumblings that Smith might be the second coming of Norv Turner -- a really nice guy who can't win when it matters. Right after that, you'll start hearing how Ryan's not an elite quarterback because he can't win big games.
When you talk to him, Ryan is as smooth a conversationalist as you'll find. He calls reporters by name and he'll chitchat about their hometowns or the hat of the college football team they're wearing. He's nicknamed Matty Ice, and he'll tell you he doesn't feel pressure to get the playoff monkey off his back.
"Not that much,'' Ryan said. "I think the past doesn't really make a difference. We had opportunities; we didn't take advantage of those. What matters is we put ourselves in this position again and we have an opportunity to move forward. So I don't worry about it too much. I kind of just focus on trying to prepare and play well this week and doing everything we can to take advantage of the opportunity that we have."
One thing has become clear so far in Ryan's career: He's always going to say the right thing. But there is pressure percolating just under the surface for Ryan, Smith and the rest of the Falcons and, despite their denials and calm demeanor, they have to be starting to feel it.
Forget that playoff loss to Arizona in the 2008 season. That was Ryan's rookie year, the Falcons were on the road and Arizona was a team of destiny. But that loss to the Packers in the Georgia Dome in last season's playoffs?
Point to that as the source of all the pressure that's growing around the Falcons now. Atlanta went 13-3 last season and had a first-round bye. The Falcons were rested and healthy, but the Packers came to town and blew them out, 48-21.
After the game, Smith and Ryan looked as flustered as they've ever been. General manager Thomas Dimitroff and owner Arthur Blank are two other guys who look pretty calm most of the time, but you could almost see the smoke coming out of their ears that day, because they had seen a team that they thought was going to the Super Bowl get thoroughly embarrassed.
After things settled down a bit, Smith, Dimitroff and Blank sat down and decided they weren't too far away. What they learned from the Green Bay loss was that they needed more explosiveness on both sides of the ball.
That's why the Falcons made the daring trade that allowed them to draft wide receiver
Julio Jones
, and that's why they signed defensive end
Ray Edwards
to a big contract in free agency. A lot of people said the Falcons were shooting for the Super Bowl or bust.
The expectations were raised but not met during the regular season. The Falcons struggled with inconsistency and finished 10-6. At times they were very good; at other times they were ordinary. But the playoffs bring a chance for Atlanta to finally meet those expectations.
"It's more intense,'' Smith said. "I think it's more intense in your preparation as a football team. It starts early in the week and I think it becomes a very intense, energetic time when you're playing in the playoffs because it's a situation where you're not going to have another game if you don't win. Everybody's playing to play through the end of January and into February."
But the Falcons haven't made it to the end of January or anywhere close to February in their previous tries. They're on very stable ground, but you can't stand still forever.
Blank has learned from and grown from past mistakes. He's thrilled with the stability Smith and Ryan have brought to his franchise. But Blank's also a competitive guy and he's not going to be patient forever.
The same is true of the Atlanta fans. The consistent winning for four seasons has been nice.
But if Smith, Ryan and the rest of the Falcons are going to ease the pressure that's simmering just below the surface, they need to win a playoff game. If they don't, the peace and calm that's surrounded the Falcons the past four years will start to disappear.