NFC South:

Michael Sam and the NFL
April, 2, 2014
4/02/14
7:00
AM ET
Many have voiced support for
Michael Sam
as he aspires to be the first openly gay player in the NFL. Add
Atlanta Falcons
linebacker
Sean Weatherspoon
to his list of supporters.
Weatherspoon was a senior at Missouri in 2009 when Sam was a redshirt freshman.
"I was happy Mike was able to come out and be himself," Weatherspoon said Monday, his first public comments about his former college teammate. "I think the thing right now is that he would rather focus on football. But it's kind of tough, with everybody just wanting to talk about the potential of a gay player being in the locker room. To me, it's not a problem. I've already been in the locker room with Michael. Guys didn't talk about it, but we all kind of knew."
Sam publicly acknowledged his sexuality in February. Several months earlier, before the 2013 college football season, he came out to his Missouri teammates. Weatherspoon, who remains close to the Missouri program and attends Tigers game when possible, knew about that meeting.
"In training camp is when they talked about it," Weatherspoon said. "And that's when I knew about [Sam's sexuality], because I have young little brothers still there."
The Missouri players kept word of Sam's announcement inside the program, respecting their teammate's decision to come out publicly on his own terms.
"That's just how we are out there," Weatherspoon said of the tight bond between members of the program. "It's really a different place. ... That support is there. The coaches do a good job of attracting guys that are about family. And you get that family feel. Like people say, 'Family is everything.' Even though it's an extended family, it's still our family."
The next phase for Sam is proving to NFL personnel that he's more than a "tweener" and is capable of making plays as a pass rusher in either a 4-3 or 3-4 defensive scheme. He wasn't overly impressive at the NFL combine, although he did improve his numbers during Missouri's pro day. ESPN draft analyst Todd McShay initially gave Sam a fourth-round grade.
"For right now, my advice to Mike is just to make sure you stay in shape because at the end of the day, it doesn't matter who you date," Weatherspoon said. "It's all about what you do on Sundays. That's going to determine how long you play here. The main thing is football.
"We are in a time where the locker room has not matured yet. But Mike, he's a guy with a great sense of humor. I think after a while, it won't be a big deal at all. Hopefully it's not going to be a big deal to the team he goes to."
February, 11, 2014
2/11/14
11:15
AM ET
Atlanta Falcons
general manager Thomas Dimitroff made clear the team's stance it terms of how openly gay prospect Michael Sam will be evaluated prior to draft.
"We recognize and appreciate the courage that Michael Sam demonstrated with his recent announcement," Dimitroff said in a statement "The NFL has always valued inclusion and diversity. As a team-builder, our job is to judge players on their talent, character and potential. His announcement will have no bearing on how we evaluate him as a football player."

Sam, the co-SEC Defensive Player of the Year from Missouri, worked closely with the Falcons' coaching staff during the Senior Bowl. If Sam happened to end up in Atlanta, Dimitroff is confident in how his locker room would handle the situation.
"We've always taken pride in the locker room that we've put together," Dimitroff told ESPN.com in a follow-up conversation. "In the end, this about the individuals and how they adhere to our team concepts, our team approach. And it's about the individual's character and his ability to make this team better."
There has been a lot of discussion about how much of a distraction it would be for any team that decided to draft Sam, based on the increased media attention sure to follow an openly gay athlete. Dimitroff addressed the matter in general terms.
"First, I believe it has become quite en vogue in this league to monitor distractions," Dimitroff said. "It's very important to make sure that distractions are kept in check. That said, every organization has a different definition of what a distraction is or distractions are. And I truly believe that's something that is going to be dealt with from team to team."
Now that Sam has gone public, it is fair to wonder if the topic of his sexuality will be discussed when he sits down with teams prior to the draft. Those questions might surface during the upcoming NFL combine. But the Falcons won't engage in such inquiries, according to Dimitroff.
"An individual's sexual preference is not part of our research," Dimitroff said.
February, 10, 2014
2/10/14
11:10
PM ET
New Orleans Saints
linebacker
Jonathan Vilma
appeared on CNN's Anderson Cooper 360 on Monday night to try and clarify recent comments he made about doubting if an openly gay NFL player would be widely accepted in the NFL.
Vilma's first comments appeared earlier this month on a NFL Network special about locker room culture, in which he said, "I think that he would not be accepted as much as we think he would be accepted. I don't want people to just naturally assume, like, 'Oh, we're all homophobic.' That's really not the case. ... Imagine if he's the guy next to me and, you know, I get dressed, naked, taking a shower, the whole nine, and it just so happens he looks at me. How am I supposed to respond?"
Vilma's comments were widely circulated Monday after Missouri defensive end Michael Sam said that he is gay, which will likely make Sam the first openly gay player in the NFL once he is drafted in May.
Vilma
So Vilma said on Twitter that he was appearing on the CNN program because, "I definitely need to clear the air."
During the CNN interview, Vilma apologized for his shower example and described it as a "poor choice" and a "poor illustration."
"There is no concern. The point I was trying to make or the context I was trying to take it in is that I've never been put in that situation. No player in the NFL has been put in that situation. So it's not as simple as anyone saying, 'Well, there's nothing wrong with it,'" Vilma said. "I don't see anything wrong with it. You have other players that may, you have other players that may not. I don't know, and the players don't know because this is the first time that you have a Michael Sam, who will by all accounts be drafted, openly gay, come into a locker room. No one in the NFL for the past however many years has experienced this before, so this is all new to everybody. This is new territory."
Earlier in the interview, Vilma made a similar point: "I was trying to explain that whenever you present someone like a Michael Sam, who is extremely, extremely confident and a powerful man in himself within his own rights, into an NFL culture that's used to one thing, there's going to naturally be that first level, first wave of resistance before you have the transition."
When asked what specifically will lead to resistance, Vilma said, "Because you have many different dynamics within the locker room. You have people that can be more outgoing, more open-minded. You have people that are a little more close-minded. Some people grew up with or without the acceptance of gays within their families. You have a lot of different elements within the locker room that you just don't see right now. Me being on the inside for 10 years, inside the locker room, I've been around that.
"And it's not to say that the locker rooms are bad. It's to say that there are going to be people that accept it willingly as soon as he comes in, welcome him with open arms. And then unfortunately, there will be some -- I'm about 99 percent sure the minority -- will say, well, they're not comfortable with that yet, they don't know how to respond to that. That's just what's going to happen in the first whatever, the first year, two years. (When) you have more players like Michael Sam coming out and saying that they're gay, the transition will be a lot smoother."
Vilma was later asked in the interview if he really thinks he has never showered with a gay teammate before.
"That's the funny thing about it, I looked back on my transcript when I was interviewed by Andrea Kremer. And she said that," Vilma said of a portion of the NFL Network interview that didn't air. "She said, 'You really don't think anyone's gay?' And I said, 'Of course, odds are that you have 2 percent, 5 percent of the locker room is gay.' And she said, 'Do you think they're looking at you?' I was like, 'I'm not that good looking, so I don't think they're looking at me, and that's neither here nor there.' So I'm well aware that the stats say that. But the facts are that no player before Michael Sam has come out before getting drafted or during his career in the NFL and openly said, 'I am gay.' And I'm sticking strictly to that context."
Vilma later added, "As I told Andrea Kremer in that interview, as long as he can play football, I am A-OK with it. It doesn't bother me at all."
Vilma also said that he doesn't think the culture in the locker room would be difficult for a guy like Sam, because, "You can tell (Sam) is extremely comfortable, extremely confident in himself, he's a very good football player. So there is nothing for him to be worried about. He's going to step in and he's going to play football and he's going to be a football player. That's exactly what he is. For other guys, who may not be as strong-minded, strong-willed as a Michael Sam, they may be a little timid, and then there may be times they don't know how to react or assert themselves or whatever the situation is."
When asked what he would say to his teammates if the Saints drafted Sam, Vilma (who is scheduled to be a free agent next month), said, "There's really nothing to say. The first thing that matters is, 'Can he play football?' ... For me as a captain, it's really about holding everybody accountable to the level that we set."
February, 10, 2014
2/10/14
6:00
AM ET
Plenty of teams have done their homework on
Michael Sam
, but the
Atlanta Falcons
got a chance to dissect his ability a little more closely than others.
The Missouri defensive end, who acknowledged publicly that he is gay in an
interview with ESPN's "Outside the Lines"
on Sunday, was on the North team coached by the Falcons staff at the Senior Bowl. Sam received instruction from defensive coordinator Mike Nolan and the rest of the defensive staff throughout the week.
During the early portion of Senior Bowl practices, new Falcons defensive line coach Bryan Cox was asked about the 6-foot-1, 260-pound Sam making the transition from end to linebacker, which he would have to do if playing in a 3-4 defense rather than a 4-3 scheme.
"Good athleticism," Cox said of Sam. "You know what he was in college in terms of big plays that he made for Missouri. And you look at the [Cotton] bowl game when he had the big strip at the end of the game to win it for the team. So you know that he has some pass-rush ability.
[+] Enlarge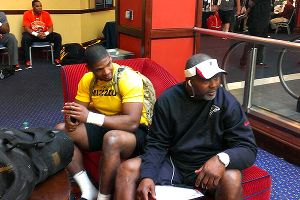 Vaughn McClure/ESPN.com Michael Sam, shown here with Falcons defensive line coach Bryan Cox, was coached by the Atlanta staff at this year's Senior Bowl.
"You're looking for his versatility; kind of showcase his ability to play linebacker as well as playing the defensive front. He's just trying to showcase who he is. He's a very talented guy."
So would a Falcons team in need of help along the defensive line consider drafting Sam? It all depends on what type of impression he left on them during the Senior Bowl week and how he performs at the upcoming NFL scouting combine. General manager Thomas Dimitroff, assistant general manager Scott Pioli and player personnel director Lionel Vital no doubt have an idea of what type of player Sam could be in Nolan's system. Although undersized, Sam showed the ability to rush off the edge, accumulating 11.5 sacks on his way to becoming an All-American and the SEC Defensive Player of the Year.
Some say Sam hurt his draft status by struggling to make the transition to linebacker at the Senior Bowl, although he had a sack in the game. ESPN draft expert Mel Kiper Jr. said Sam is a fourth-rounder as of right now, with the possibility of him going in the third round.
The Falcons could address a portion of their defensive line needs via free agency, and the chance remains for them to possibly trade up from the sixth overall spot to land South Carolina defensive end
Jadeveon Clowney
, projected as a top-five pick. Making such moves might result in them addressing other needs in later rounds rather than looking to add another pass-rusher such as Sam.
The Falcons also would have to consider if they are willing to deal with the distractions that are sure to surround Sam's arrival. No matter where he ends up, he would be a focus of attention, regardless of his playing status. For a team coming off a 4-12 season, such a factor has to be examined.
But here's another factor in Sam's favor: The Falcons have a strong locker room led by two former Missouri Tigers, linebacker
Sean Weatherspoon
and safety
William Moore
. Sam redshirted during Weatherspoon's final college season in 2009. Weatherspoon and Moore were on the sideline this year for Missouri's Cotton Bowl win over Oklahoma State, as reported by Comcast Sports Southeast's Ashley Zavala. So Weatherspoon and Moore had a close view of Sam's big play.
We'll see if Falcons fans get a close view of Sam at training camp.