October, 25, 2012
10/25/12
10:41
AM ET
Let's take a look at the top Thursday morning headlines from around the division:
ATLANTA FALCONS
D. Orlando Ledbetter reflects on
the comment
the elder Jim Mora once made about Michael Vick being a "coach killer." Vick's inconsistency led to Dan Reeves and the younger Jim Mora getting fired in Atlanta. With Vick turning the ball over a lot, Philadelphia coach Andy Reid suddenly appears to be on the hot seat. I get the argument. But there also have been some times throughout his career when Vick has made coaches look good.
Daniel Cox writes that the Falcons are
tuning out
talk about them being the best team in the NFL. That's a smart approach. It doesn't really matter who is the best team in October. It matters who's at the top of their game in December and January.
CAROLINA PANTHERS
Ron Rivera still is the coach, but I think it's fair to speculate because everything appears to be in chaos with the Panthers. Charlie Campbell speculates that Mike Holmgren might be a
good fit
as a coach in Carolina, if Rivera goes. Makes some sense. Holmgren has developed quarterbacks and the Panthers need to get Cam Newton playing to his potential. But owner Jerry Richardson might not go that route. The only time he hired a recycled head coach was when he brought in George Seifert and that was a disaster.
After his firing as general manager Monday, Marty Hurney said the Panthers needed more guys to step up and be leaders. Newton said he's taking that as
a challenge
to be more of a leader. If that works, that comment could end up being Hurney's final significant contribution to the Panthers.
Charlotte city leaders, who are expected to be asked for help with Bank of America Stadium renovations,
toured
MetLife Stadium, to get a look at a state-of-the art facility. The Panthers haven't officially asked for government help yet, but city officials seem to expect that's coming. The best way to get tax payers to go along with this willingly might be for the Panthers to put a better product on the field.
NEW ORLEANS
Cornerback Tracy Porter spent the last four years with the Saints before joining Denver as a free agent. Porter said there are
no hard feelings
and playing the Saints doesn't make the game special for him. But Porter admitted it will be weird lining up against his teammates.
It took until Wednesday, but defensive end Cameron Jordan finally
got credit
for a sack and a forced fumble in Sunday's win at Tampa Bay. Linebacker Will Herring initially got the credit. But the NFL office reviewed film of the play and gave the credit to Jordan.
TAMPA BAY BUCCANEERS
Rick Stroud writes that the pass defense
needs to improve
. That's pretty obvious after Drew Brees tore up the Bucs last week. The Bucs have some talent in the secondary, but they've had some trouble with miscommunications. It might also help if the Bucs start generating more of a pass rush than they did Sunday, when Brees wasn't pressured at all.
Speaking of the Tampa Bay pass rush, Dory LeBlanc has her
five keys
for Thursday night's game with the Vikings and one of them is for defensive tackle Gerald McCoy and defensive end Michael Bennett to be more active. If any of Tampa Bay's defensive linemen have a chance to put consistent pressure on Christian Ponder, it's these two. They have to get more pressure on Ponder than they did on Brees.
March, 1, 2011
3/01/11
3:10
PM ET
For those of you who have sort of forgotten about Rich McKay since he left his role as the
Atlanta Falcons
general manager after the 2007 season, here's a reminder that he still remains a powerful force in the NFC South and the NFL. Heck, aside from Jerry Richardson who's heading the owners in the labor talks, I think you could make an argument that McKay is the most important figure in the NFC South.
The league announced Tuesday that McKay will serve as chairman of the NFL's competition committee. McKay's been on the committee since 1994, when he was the general manager for the
Tampa Bay Buccaneers
, and started serving as co-chairman in 1998. But this latest move is a step up for McKay, who had been co-chairman with Jeff Fisher since 2001. With Fisher leaving the
Tennessee Titans
and no longer coaching, McKay is now a one-man show at the top of this committee.
McKay became Atlanta's team president in 2008 when the Falcons hired general manager Thomas Dimitroff. A lot of people think McKay's role was narrowed strictly to running the team's business operations. But that's never really been the true story.
While Dimitroff handles the traditional roles of a general manager, McKay has continued to help with salary-cap management and is sometimes turned to for advice on football matters. He also is the point man for the new open-air stadium owner Arthur Blank wants built in downtown Atlanta.
McKay also has been Atlanta's main liaison to the league, and that now has been underscored with his role as chairman. He should help give the Falcons some clout when it comes to proposed rule changes and similar matters.
For the record, McKay is the only NFC South representative on the competition committee. The other members are Stephen Jones (
Dallas Cowboys
), Marvin Lewis (
Cincinnati Bengals
), John Mara (
New York Giants
), Ozzie Newsome (
Baltimore Ravens
), Bill Polian (
Indianapolis Colts
) and Rick Smith (
Houston Texans
).
There also is a coaches' subcommittee to the competition committee and there is one NFC South figure there. That's
New Orleans Saints
' Sean Payton. The other members of the subcommittee are John Madden, John Harbaugh (Ravens), Mike Holmgren (
Cleveland Browns
), Andy Reid (
Philadelphia Eagles
), Steve Spagnuolo (
St. Louis Rams
), Mike Tomlin (
Pittsburgh Steelers
), Norv Turner (
San Diego Chargers
) and Ken Whisenhunt (
Arizona Cardinals
).
September, 11, 2010
9/11/10
4:30
PM ET

Greg in Salisbury, NC writes:
I have to agree with you. John Fox is probably gone after this year. I really hate to see that happen but sometimes change can be good. Can you tell us who you think the top possibilities would be to take over as Carolina's coach if Fox does walk away? Thanks and keep up the great work!
Pat Yasinskas:
Yes, I think Fox probably will be gone after this season. It's just a matter of if the Panthers don't do well, he won't be offered a contract. If they do well, he might get an offer to stay, but I don't think he will if there's an attractive job elsewhere. I know Carolina fans have been clamoring for Bill Cowher for a couple years, but I don't think that's going to happen. I don't see Jerry Richardson hiring a big-name coach. I think he'd hire a younger coach that is viewed as being on the rise. If Fox leaves, one name I'd keep an eye on is Denver offensive coordinator Mike McCoy. He had a long stint with the Panthers as quarterbacks coach and is well thought of within the organization.
---
Jeffrey in Boone, NC writes:
I have been telling people I could see John Fox going to coach the Browns. He is, despite what Jerry Richardson and some spoiled Carolina fans think, one of the top coaches in the NFL. A winning record as an NFL head coach is a hard thing to come by. Here is the thing, there is a zero percent chance in my mind of the Browns keeping Mangini. Fox could get an extension, but like you said, he is a proud guy. Fox seems like a perfect fit for that job. I don't personally know him, but I gotta imagine working with Mike Holmgren would be enjoyable.
Pat Yasinskas:
There has been some speculation around the league that Fox could land in Cleveland. It makes some sense. He and Holmgren are friendly and share the same agent. Plus, Fox isn't a guy who wants complete control over everything. He believes just coaching is time consuming enough, so there wouldn't be any sort of power struggle between him and Holmgren.
---
Brandon in Raleigh, NC writes:
Hey Pat, I really enjoy your work and insight. I need to make a comment regarding your John Fox "Resume Game" post, though. I know you have some unique perspective on the Panthers since you lived and worked in CLT, but I've lived my whole life here and attended both the first Panthers game at Clemson and the first game in CLT. Panthers fans DO want to hear that Fox will be gone after this year! We are so tired of his continued inability to field a consistent playoff team with the talent we've had over the past 5 years. His flashes of excellence have been more than offset by his long stretches of mediocrity.
Pat Yasinskas:
I'm sure Fox has detractors as well as fans. But he is the only coach in the history of this franchise to have true success. He's had some disappointing seasons, but he's always kept the Panthers competitive. It's true he's never been able to put together back-to-back playoff berths and that's part of the reason he hasn't been given a new contract. Sometimes change can be good for an organization and I think change probably will come in Carolina.
---
Matt in Asheville, NC writes:
I am a little confused about the choice of Tyler Brayton to be a captain for Carolina. I know that players vote on these things but wouldn't Chris Gamble be the better option? Gamble and Jon Beason are the best two players on that defense and Brayton was cut by the Panthers at the end of last season.
Pat Yasinskas:
I agree that Gamble is probably Carolina's second best player on defense. However, Gamble is a very quiet guy and keeps to himself. Brayton is a popular figure in the locker room and I think that's why his teammates elected him as a captain.
March, 18, 2010
3/18/10
3:47
PM ET
Time for another edition of the NFC South mailbag.
Matt in Calhoun, Ga., writes:
If
Deon Grant
came cheap enough, is that a veteran player the Falcons could possibly bring in to add depth and experience to the defensive backfield?
Pat Yasinskas:
Only if the price tag is really cheap. The Falcons spent a big chunk of their free-agent budget on cornerback
Dunta Robinson
. They really are committed to building through the draft. They also have safety
William Moore
coming back after missing most of last season with an injury. Grant would be nothing but depth, and I suspect there would only be interest if his price tag is very low.
---
Kyle in Chapel, Hill N.C., writes:
Now that the Panthers have re-signed
Tyler Brayton
, do you believe they will sign a DT in free agency or go for one in the draft to fill the holes at that position?
Pat Yasinskas:
I think you might see them do both. They need more than one defensive tackle. I think they'll sign some mid-level free agent and also use one of their earlier picks on a defensive tackle. Last year showed the importance of depth at that position.
---
Lee in Columbia, S.C., writes:
Charlotte now has two pro sports teams owned by locally grown former players. I know the Bobcats are the first NBA team to be owned by a former player, are any other NFL teams owned by former players?
Pat Yasinskas:
Good trivia question there. Jerry Richardson is the only former player to be a majority owner in the NFL. Warrick Dunn just joined the Falcons, but that is as a limited partner. Prior to Richardson, the last former player to be a majority owner was George Halas.
---
Kyle in Bossier City, La., writes:
Can you explain why some restricted free agents are worth a draft pick and some are not? Example:
Mike Bell
v.
Anthony Hargrove
?
Pat Yasinskas:
Sure. As restricted free agents, players receive tenders from their current teams. It's up to the team to decide the tender and it's tied to price. Bell received the lowest tender and no draft-pick compensation comes with that tender, but the Saints do have the right to match any offer he receives elsewhere. Hargrove received a higher tender and the compensation would be a third-round pick, the same round he came out of in the draft. The Saints also can match any offer he receives. There are five different tenders this year and the compensation can go as high as a first- and a third-round pick.
---
Maurice in Charlotte writes:
The other day I was at the airport and I saw the
Philadelphia Eagles
jet. Could this have some significance given the
Michael Vick
rumors or is it common place?
Pat Yasinskas:
Don't get too excited. Not sure that it was the actual team plane. Having lived in Charlotte and knowing it's a USAirways hub, I've seen lots of planes at that airport with logos for the Eagles, Panthers and Steelers. They're just regular passenger planes, but USAirways has marketing deals with some teams and uses their logos.
---
Keith in Schafter, Calif., writes:
Do you think there is any truth to the rumors that the Browns are paving the way for John Fox to be head coach in 2011 (more likely '12)? Some are suggesting recent personnel movements, particularly the signing of QB Delhomme, indicate Eric Mangini is no longer in charge. Also, I understand Fox,
Jake Delhomme
and Mike Holmgren all have the same agent.
Pat Yasinskas:
I think you're getting way ahead of the game there. If Fox wins this year, he could get a long-term deal with the Panthers. If Mangini wins, he suddenly is very safe in Cleveland. Besides, do you really think Fox would be anxious to take a job where Delhomme at 36 or 37 is his quarterback? Also, it's true Fox and Holmgren have the same agent. But Delhomme has another agent with no ties to Fox or Holmgren.
---
JP in Inverness, Fla., writes:
I know that the Bucs just signed
Sean Jones
and we may still get some secondary help in the draft, but with the Bears releasing Nathan Vashar, might we take a look at him? I worked in restaurants for a time and am one of those that when you're starting out (rebuilding) you hire everyone you can and then weed through them. What do you think?
Pat Yasinskas:
Like your philosophy. Haven't heard anything about the Bucs showing interest in Vasher at this point. You never rule anything out, and Vasher played for Lovie Smith, who runs a defense similar to Tampa Bay's. But the Bucs are pretty committed to building through the draft, and I think that mainly will be where anymore secondary help comes from.
---
Mark in Orlando writes:
I saw that Raheem Morris was in attendance for Tim Tebow's pro day do you know what that is about or was he just there for late-round prospects like Riley Cooper?
Pat Yasinskas:
Yes, but don't read too much into Morris showing up. Florida had a lot of other prospects working out and I'm sure Morris was there mainly to watch them. Morris got his quarterback,
Josh Freeman
, last year.
February, 5, 2010
2/05/10
7:15
AM ET
MIAMI -- There has been a lot of talk this week about where Sean Payton's style of coaching comes from.
[+] Enlarge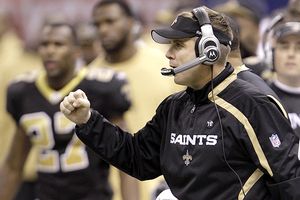 AP Photo/David J. PhillipPlayers describe Payton's style as "balanced."
He spent time with Bill Parcells, Jon Gruden and Jim Fassel. But Payton really isn't a clone of any one of those coaches. The best way to describe him might be that he's a blend of all those guys and even a few others he never worked for.
"I know that Jon (Gruden) worked under Mike Holmgren, and my first years in Philadelphia were really coming up in that system and cutting my teeth on the terminology," Payton said. "The systems in our league and how you call plays vary. There's probably three or four different strains, if you will. And yet they end up being more just like computer programs. You can get the same play design, the same type of play. One system might call it a word and the other system might use a number. In the end, that just becomes merely the language.
"The key to a good offense is deeper than that. That being said, Jon was with Holmgren in Green Bay, and Mike was with Bill Walsh. When a terminology carries through coaches, there are always tweaks and changes to it. I would say there's a portion of it there, and some of it from Dallas."
Payton's offensive roots might stem from guys like Gruden, Fassel, Holmgren and Walsh. But don't underestimate the influence of Bill Parcells, who Payton worked for in Dallas. Parcells had a reputation for being a bit of a control freak and often came across as surly.
Although Payton isn't as extreme, he does have some of those qualities and some recent columns have described him as arrogant. The reports detailed how he and the Saints repeatedly tried to ban a reporter from a New Orleans Web site, even though the NFL repeatedly advised them against such a move.
That may be one side of Payton, but he also has been described as a players' coach at times this week. He doesn't like that at all.
"The whole players' coach thing … I cringe a little bit," Payton said. "I'm not going to describe myself -- it would probably be better for a player to (do so). I think it's important that you're demanding. I think it's important that you're fair. I think you don't want to settle for anything less than exactly what you're looking for. It's not our job to be the players' friend. It's our job to teach and motivate, give them a plan to be successful and make tough decisions.
"I think what's important is that at some point, we are also selling a game plan offensively and defensively and kicking game, and selling a system and creating that confidence within the team. I think those are all things that are important. So I don't know how they'd describe me."
Well, it wasn't hard to find out how players describe Payton. As soon as his press conference ended Thursday, we put the question to veteran linebacker Scott Fujita.
"Sean's more balanced than any coach I've ever been with and I've been with some great coaches, like Parcells," Fujita said. "Sean balances things really well and has such a good sense of knowing his team and what it needs. He's a young coach and he's in touch. He's got young kids and he can understand what we're going through at home with young kids. He's perfectly in tune with our needs and our obstacles."
Balance might be the best word to describe Payton's style. He's not a true players' coach, but he's not a Parcells replica either. He's somewhere in between and that might represent the best of all worlds.
September, 3, 2009
9/03/09
3:29
PM ET
| | |
| --- | --- |
| | |
| | US PRESSWIRE |
| | Buccaneers coach Raheem Morris (left) is raising eyebrows after the sudden firing of offensive coordinator Jeff Jagodzinski. |

Posted by ESPN.com's Pat Yasinskas
TAMPA, Fla. -- I'm writing this from the luxurious media room at the palace that is One Buccaneer Place. But suddenly it feels like I'm back in that lovely little trailer that used to house the media when the Bucs were headquartered at their not-so-palatial compound right off an airport runway.
Anybody seen Sam Wyche?
Those days of "Wicky Whacky Wyche,'' as he was dubbed by a radio announcer, seem to be back. Children of all ages, welcome to the circus.
Just when you thought the days of then-quarterback
Trent Dilfer
muttering something about Barnum & Bailey at the end of the Wyche tenure were long forgotten, it's looking like a big top has been thrown over Raymond James Stadium.
The relative calm ushered in by Tony Dungy and Rich McKay and carried on, to some degree and perhaps only by extension, by Jon Gruden and Bruce Allen seems to be gone. Is it only a matter of time before Raheem Morris has his team practice its halftime routine and publicly tells wide receivers not to drop their paychecks, the way Wyche once did? Are the Bucs back to the point where they're only entertaining because of a comedy of errors as they pile up double-digit losses?
Since the January day when the Bucs made Morris, then 32, the league's youngest head coach, I've been trying to give the guy every benefit of the doubt. There long has been a school of thought that Morris and general manager Mark Dominik are in way over their heads.
It's getting real difficult to argue that point. The latest evidence came Thursday morning (just a few hours after kicker Matt Bryant basically
ripped anyone in his path
) when the Bucs
fired offensive coordinator Jeff Jagodzinki
, the same guy they gloated about getting back in January. In simple terms, the reason for Jagodzinski's firing was the Bucs came to the conclusion he didn't have the wherewithal to be a coordinator. He didn't even call his own plays, his practice methods didn't make a lot of sense and there was overwhelming doubt that he could develop this offense into anything close to a competitive unit.
Well, weird things can happen in the NFL, but sometimes you create your own problems and this situation raises a lot of concern about Morris and Dominik.
After all, couldn't the Jagodzinski debacle been avoided with a little homework? Sure, Jagodzinski had been the head coach at Boston College. But he also had a reputation around the NFL of perhaps being a guy who was more style than substance, more name than proven commodity. Quarterbacks coach Greg Olson, who now takes over as offensive coordinator, didn't even get an interview for the coordinator job when it first was open and he probably has a better reputation around the league than Jagodzinski.
Surely, the Bucs talked to some people around the league before making the Jagodzinski hire?
You would hope, but this isn't the first time moves by Morris and Dominik have raised eyebrows around the league. In fact, they're building quite a list of moves that can be questioned.
Start with what's been described both as a last-minute jump or an exploratory look into the
Matt Cassel
sweepstakes. Either way, the Bucs didn't succeed. Or jump over to the decision to trade up in the draft to take quarterback
Josh Freeman
. The move was immediately booed by fans, who were hoping for a defensive player, at a draft party at the stadium.
As long as we're talking quarterbacks, let's talk about how the new regime has handled that position. It hasn't quite been like the Gruden days when the Bucs seemed to sign three quarterbacks a week, and Morris and Dominik have made it clear from the beginning that they don't want to play Freeman right away.
But everything else the Bucs have done at this position has come with no rhyme or reason. Early in their tenure, Morris and Dominik re-signed
Luke McCown
to a fairly large contract and told him he'd be given a chance to compete for the starting job.
Then, they turned around and signed
Byron Leftwich
. Although there was no clear-cut reason to think Leftwich outplayed McCown in the preseason, Morris handed him the starting job.
But there already were more red flags than usual flying at Raymond James Stadium even before the quarterback "battle'' ended in a cease fire.
Morris and Dominik gutted the very core of everything good that ever has happened to this franchise in February when they unceremoniously cut
Derrick Brooks
. Sometimes you have to make difficult decisions and there is something to be said for getting younger.
You look for the flip side of that move and you wonder how the Bucs have replaced Brooks' strong and positive influence in the locker room.
Trade for
Kellen Winslow
Jr. and give him a massive new contract?
Yeah, there's a brilliant idea with no potential for absolute disaster. Hitch your wagon to a tight end, who -- without question -- is enormously talented and -- with absolutely no question -- has the ability to drain the life out of a locker room faster than anyone this side of
Terrell Owens
.
Again, let's remember Morris at least gets a little benefit of the doubt until he actually loses a few games. But let's be realistic: The doubt is getting really deep around here.
No, that actually wasn't Wyche you saw cruising down Dale Mabry Highway this afternoon. But keep an eye out. There might be some Bill Cowher, Mike Shanahan or Mike Holmgren sightings in Tampa if the circus atmosphere continues.