September, 12, 2012
9/12/12
9:26
AM ET
Since the
Tampa Bay Buccaneers
are playing on the road Sunday, we don't have to wait for the Thursday afternoon deadline to find out if their game will be televised locally.
Let's turn to
the506.com
for our weekly look at which markets the NFC South games will be available in.
The Bucs' 1 p.m. ET game will air live in the Tampa Bay area and throughout almost all of Florida. It also will get play in New York, New Jersey, Connecticut, half of Pennsylvania and good chunks of Nevada and California. The game will be carried by FOX with Joe Buck and Troy Aikman as the announcers.
The game between the
New Orleans Saints
and
Carolina Panthers
will be played at the same time. That game will be carried throughout the Southeastern states (except for Florida) and right over to the Texas border. The FOX crew for that game is Ron Pitts and Mike Martz.
The
Atlanta Falcons
will have the largest exposure of any NFC South team in Week 2. That's because they'll be hosting Denver in the Monday night contest, and that game will go out to a national and international audience on ESPN. Mike Tirico and Jon Gruden will be the announcers.
September, 7, 2012
9/07/12
11:19
AM ET
After a turbulent offseason, the
New Orleans Saints
will remain in the spotlight in the first week of the NFL season.
Their 1 p.m. ET game on FOX, with Kenny Albert and Daryl Johnston in the booth, will be televised throughout most of the nation.
Let's turn to
the506.com
for a look at what markets Sunday's NFC South games will be shown in.
The Saints and Redskins will be shown in the vast majority of markets. The few exceptions are markets that will air a game that features a local team. One of those will be the
Atlanta Falcons
at
Kansas City Chiefs
. That game also will be on FOX with Thom Brennaman and Brian Billick as the announcers. The Atlanta game will air throughout Georgia and Missouri. Other than that, it will be pretty much limited to Colorado and Kansas.
The late-afternoon game between Carolina and Tampa Bay (on FOX with Ron Pitts and Mike Martz) won't get wide exposure. Since it didn't sell out, the game will be blacked out in the Tampa Bay area. It will air in the Carolinas, Georgia, parts of Louisiana and a couple of isolated pockets of Florida. The game between San Francisco and Green Bay will air in the majority of the country during that time slot.
April, 12, 2012
4/12/12
6:02
PM ET
On the surface, Joe Vitt's tenure as an interim head coach in St. Louis doesn't look very pretty.
But dig beneath the surface a little bit and you'll find a different story. I spoke with several people who observed Vitt's time as the Rams' head coach in 2005, and they said he did a nice job of weathering the storm.
Vitt will be taking over as the interim head coach of the
New Orleans Saints
on Monday when Sean Payton begins his season-long suspension. Vitt, who has been Payton's assistant head coach since 2006, will run the team through the offseason program, training camp and the regular season. But Vitt will have to step away at the start of the regular season and serve a six-game suspension for his role in the Saints' bounty program. After that, Vitt will return as head coach.
[+] Enlarge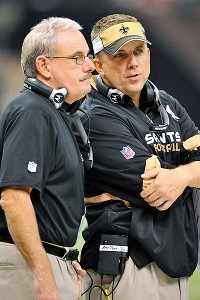 Kirby Lee/Image of Sport/US PresswireJoe Vitt, left, who will lead the Saints while head coach Sean Payton serves a suspension, dealt with similar circumstances while with the Rams in 2005.
General manager Mickey Loomis will serve an eight-game suspension to start the season. The Saints also could have players suspended.
There are turbulent times ahead for the Saints, but Vitt has experience in handling situations like this.
Back in 2005, he was the assistant head coach and linebackers coach in St. Louis. The Rams already were ending "The Greatest Show on Turf'' era. With Mike Martz as the head coach, the Rams got off to a 2-3 start and there was a well-publicized feud brewing between Martz and the front office. Martz came down with a bacterial infection in his heart after five games, and Vitt was elevated to interim head coach.
By that point, injuries already were piling up. With quarterback
Marc Bulger
injured, the Rams had to go through a lot of that season with Jamie Martin and
Ryan Fitzpatrick
at quarterback. Wide receiver Isaac Bruce was dealing with injuries and near the end of his career, and nothing was easy. The Rams went 4-7 under Vitt, but several people that were associated with the team or observed the Rams closely in those days said Vitt made the most out of a difficult situation.
They said Vitt kept his players playing hard. He's known as a motivator in New Orleans, and it was the same way in St. Louis. Vitt used to show the Rams a movie the night before a game, and it always was tied to a motivational message. One movie was "Gladiator,'' which emphasized the importance of sticking together. Under Vitt, the Rams started off 3-3, highlighted by Fitzpatrick coming off the bench to rally them to a 33-27 victory against Houston.
After that, the Rams endured a four-game losing streak, but most of those games were close. The last two were a one-point loss to Philadelphia and a four-point loss to San Francisco. Vitt wrapped up his tenure with a season-ending victory against Dallas, a team that included Payton on its staff. After that, Payton got hired by the Saints, and one of the first moves he made was hiring Vitt.
On Monday, Payton will hand over his team to Vitt. It's not an ideal situation by any means. But Vitt has made the most out of a tough situation before, and the Saints are counting on him to do it again.
July, 28, 2011
7/28/11
6:29
PM ET
The
Carolina Panthers
apparently are very serious about making their tight ends a bigger part of the passing game.
They've
just traded
for
Chicago Bears
tight end
Greg Olsen
, according to a report by the Chicago Tribune's Brad Biggs. That comes after the Panthers signed
Jeremy Shockey
before the lockout started. They also recently agreed to terms with veteran
Ben Hartsock
, but he's viewed as a run-blocking specialist.
Olsen and Shockey are pass catchers and offensive coordinator Rob Chudzinski has said he wants a passing game where the tight ends are heavily involved.
The compensation for Olsen is not yet clear, but Biggs reports it involves a draft pick and a player.
While adding Olsen after signing Shockey might seem a little excessive, consider it insurance. Shockey has plenty of wear and tear and may be nearing the end of his career. The Panthers may be planning to use Shockey as a situational player. Olsen is still in his prime. He caught 41 passes and five touchdowns last season, but had bigger numbers before coordinator Mike Martz arrived and reduced the role of the tight ends in Chicago's passing game.
October, 30, 2009
10/30/09
8:57
AM ET
Posted by ESPN.com's Pat Yasinskas
Mike Martz recently was a guest on ESPN Radio St. Louis and he was
asked to compare
the New Orleans offense to the "Greatest Show on Turf'' he ran with the Rams.
Martz, who never has lacked for ego, favored the Rams of his day, but said the Saints compare pretty well.
"Well I think they're very similar,'' Martz said." I think the track is very quick that they play on down there. I do think that the multiple receivers that they have, I don't know if any one of the receivers is of the quality that we had in our top two guys. But the quarterback (
Drew Brees
) is obviously a great player, he can get the ball out quick. I think they do so much that's really hard to defend because they've got the quick step, the deep drop, the hard play-actions, they formation, they do all those things so well I think there's a lot of similarities that I like to think we did as well.
Martz said the biggest difference is at running back.
" They don't have Marshall Faulk -- they just don't have him. And I think that is probably the single most difference. And obviously Kurt (Warner) -- you know how biased I am to our guys, so I just always felt like we had better players. But I love (Sean) Payton and what he's doing. I think he's very creative; I think he's the top offensive mind in the league right now. He takes advantage of his talent and the offensive line is real good. They had that left tackle go down, they just filled in the ranks and kind of kept motoring. So they're going to score a lot of points and I do believe they'll be in the Super Bowl. I think they have a real chance of doing that and that would be my pick.'
With all due respect to Martz, I'll take Brees over
Kurt Warner
in his prime any day. I won't argue with him about Faulk, but I think the Saints have a nice combination at running back with
Pierre Thomas
,
Mike Bell
and
Reggie Bush
.