March, 7, 2013
3/07/13
10:42
AM ET
We've shown you the lists of potential NFC South free agents before. But let's do it again because there have been some minor moves and the free-agency period is getting ready to start Tuesday.
Here's the list of potential free agents for all four NFC South teams:
Atlanta Falcons.
Tony Gonzalez
,
Brent Grimes
,
Sam Baker
,
William Moore
,
Will Svitek
,
Mike Cox
,
Todd McClure
,
Luke McCown
,
Christopher Owens
,
Mike Peterson
,
Garrett Reynolds
,
Lawrence Sidbury
and
Vance Walker
all can become unrestricted free agents.
Michael Palmer
can become a restricted free agent.
Carolina Panthers.
The potential unrestricted free agents are
Derek Anderson
,
Antwan Applewhite
,
Gary Barnidge
,
Dwan Edwards
,
Ben Hartsock
,
Sherrod Martin
,
Captain Munnerlyn
,
Louis Murphy
and
Mike Pollak
.
Richie Brockel
can become an exclusive-rights free agent.
Andre Neblett
,
Nate Ness
and
Jason Phillips
are scheduled to become restricted free agents.
New Orleans Saints.
Jermon Bushrod
,
Jonathan Casillas
,
Chase Daniel
,
Sedrick Ellis
,
Devery Henderson
,
Ramon Humber
,
Elbert Mack
,
Turk McBride
,
Will Robinson
,
Courtney Roby
and
Scott Shanle
can become unrestricted free agents.
Brian De La Puente
,
Justin Drescher
,
Junior Galette
and
Chris Ivory
are scheduled to become restricted free agents.
Eric Olsen
and
Michael Higgins
can become exclusive-rights free agents.
Tampa Bay Buccaneers.
Ronde Barber
,
Dallas Clark
,
Michael Bennett
,
E.J. Biggers
,
Andrew Economos
,
Roy Miller
,
Roscoe Parrish
,
Sammie Stroughter
and
Jeremy Trueblood
can become unrestricted free agents.
LeGarrette Blount
,
Jacob Cutrera
,
Corvey Irvin
and
Daniel Te'o-Nesheim
are scheduled to become restricted free agents.
February, 11, 2013
2/11/13
11:18
AM ET
Let's continue our look at the NFC South's potential free agents with the
Carolina Panthers
.

The bad news is the Panthers don't have the salary-cap room to re-sign many of their own free agents. The good news is it's unlikely they'll have a strong desire to keep many of those guys.
Their potential unrestricted free agents are quarterback
Derek Anderson
, defensive end
Antwan Applewhite
, tight end
Gary Barnidge
, defensive tackle
Dwan Edwards
, tight end
Ben Hartsock
, safety
Sherrod Martin
, cornerback
Captain Munnerlyn
, receiver
Louis Murphy
, guard
Mike Pollak
and linebacker
Jordan Senn
. Fullback/tight end
Richie Brockel
can become an exclusive-rights frree agent and defensive tackle
Andre Neblett
, safety
Nate Ness
and linebacker
Jason Phillips
are scheduled to become restricted free agents.
There's not a single name on that list that the Panthers have to keep, although there are several role players that could have increased because the team is going to have to part with several veteran starters to get under the salary cap.
Applewhite, Edwards and Munnerlyn are likely to be the top targets for retention. But Munnerlyn, who the Panthers prefer to use only against slot receivers, believes he can be an every-down corner and may try to find a team that will use him as a full-time starter.
Martin is a former starter, but his career might be better off with a fresh start elsewhere. Anderson has been a veteran backup for
Cam Newton
the last two years, but I don't think re-signing him is a high priority. The Panthers also have
Jimmy Clausen
under contract and, by now, he should know the offense as well as Anderson.
December, 4, 2012
12/04/12
5:03
PM ET
When a team's season goes bad, one common response is to point to injuries.
Sometimes that holds merit and sometimes it doesn't. We don't have to look any further than the
Carolina Panthers
and
Tampa Bay Buccaneers
to see that.
At least at the moment, the Panthers lead the division with 13 players on injured reserve. They are linebacker
Jon Beason
, defensive tackle
Ron Edwards
, cornerback
Chris Gamble
, center
Ryan Kalil
, defensive end
Thomas Keiser
, cornerback
Nate Ness
, linebacker
Kenny Onatolu
, receiver
Kealoha Pilares
, guard
Mike Pollak
, safety Sherrod Martin, defensive lineman Antwan Applewhite, running back
Tauren Poole
and tackle
Lee Ziemba
.
The Buccaneers are right behind them with 10 players on injured reserve. They are receiver
Arrelious Benn
, linebacker
Quincy Black
, defensive end
Adrian Clayborn
, safety
Cody Grimm
, guard
Davin Joseph
, guard
Carl Nicks
, tight end
Danny Noble
, receiver
Sammie Stroughter
, tackle
Jeremy Trueblood
and offensive lineman
Desmond Wynn
.
Beason, Edwards, Gamble and Kalil were starters and Pilares was the kick returner. No doubt those injuries have hurt the Panthers.
But, guess what? Tampa Bay's injury situation is virtually the same. Black, Clayborn, Joseph and Nicks were starters and Benn was returning kicks before he went down.
The difference is Tampa Bay has used its next-man-up philosophy, especially on the offensive line, and fared pretty well. The Panthers are 3-9 and I've got a hunch their record might be pretty close to the same even if all the injured guys were healthy.
Injuries matter but they're not a cover-it-all excuse. We can look to the other two NFC South teams for proof of that. The
Atlanta Falcons
and
New Orleans Saints
each have eight players on injured reserve.
Atlanta's injured players are fullback
Bradie Ewing
, tight end
Tommy Gallarda
, receiver
Kerry Meier
, tight end
Adam Nissley
, guard
Garrett Reynolds
, safety
Shann Schillinger
and tackle
Will Svitek
.
New Orleans' injured reserve list includes linebacker
Chris Chamberlain
, receiver
Chris Givens
, tackle
Bryce Harris
, tackle
Marcel Jones
, defensive end
Greg Romeus
, guard
Andrew Tiller
, receiver
Nick Toon
and tackle
Fenuki Tupou
.
Grimes was a starter for the Falcons and Ewing might have been. Reynolds was starting up until his injury, but I think there's a chance the Falcons still might have put rookie
Peter Konz
into the lineup. Chamberlain might have been a full-time starter for the Saints, but none of the rest of their injured guys would have been key players.
You could make a case the Falcons were hit harder than the Saints by injuries. But the Falcons are 11-1 and the Saints are 5-7.
September, 30, 2012
9/30/12
11:40
AM ET
ATLANTA --
Carolina Panthers
middle linebacker
Jon Beason
, who was listed as questionable with knee and shoulder injuries, will be active for Sunday's game with the
Atlanta Falcons
.
The biggest item of note on Carolina's list of inactives is that rookie receiver/return man
Joe Adams
will not play. Adams muffed a punt and fumbled on a kickoff return last week.
Kealoha Pilares
is expected to handle kickoff returns and
Armanti Edwards
is likely to handle punt returns.
Carolina's other inactives are
Jimmy Clausen
,
D.J. Campbell
,
Bruce Campbell
,
Mike Pollak
,
Antwan Applewhite
and
Frank Kearse
.
As expected, Atlanta fullback
Lousaka Polite
, cornerback
Chris Owens
, tight end
Michael Palmer
and running back
Antone Smith
are inactive due to injuries. The other inactives for the Falcons are
Dominique Davis
,
Lamar Holmes
and
Jonathan Massaquoi
.
September, 20, 2012
9/20/12
7:06
PM ET
September, 16, 2012
9/16/12
11:42
AM ET
CHARLOTTE, N.C. -- As expected, the
New Orleans Saints
will be without two injured starters. Receiver
Devery Henderson
(concussion) and cornerback
Johnny Patrick
(thigh) are inactive for Sunday's game with Carolina.
The other inactives are running back
Chris Ivory
, running back
Travaris Cadet
, defensive lineman
Tyrunn Walker
, offensive lineman
Bryce Harris
and defensive end
Turk McBride
.
Lance Moore
is likely to start in Henderson's place with
Greg Camarillo
and
Joe Morgan
getting time as the third and fourth receivers.
Jabari Greer
returns after missing last week's game and will start at cornerback opposite
Patrick Robinson
. Rookie
Corey White
is expected to be used as the third cornerback.
Also, rookie defensive tackle
Akiem Hicks
will be active for the first time.
Carolina's inactives are quarterback
Jimmy Clausen
, defensive back
D.J. Campbell
, linebacker
Kenny Onatolu
, tackle
Bruce Campbell
, guard
Mike Pollak
, tight end
Ben Hartsock
and defensive tackle
Frank Kearse
. Receiver
Steve Smith
and running back
Jonathan Stewart
, who had been listed as questionable, are active for Carolina.
August, 13, 2012
8/13/12
10:05
AM ET
All four NFC South teams now have played a preseason game and the
New Orleans Saints
have played two. That's given us a chance to see which players seem to be on the rise and which seem to be falling. Let's take a look:
FALLING
Chris Ivory, Saints.
New Orleans already had a wealth of riches at running back entering training camp. Now, the Saints look deeper than ever with undrafted rookie
Travaris Cadet
having a very nice preseason. Ivory entered camp clearly as the fourth running back. But Cadet has made that a little murky. Cadet has shown he can run and catch the ball and pass protect. He also has return skills, which make him more versatile. Maybe the Saints keep Ivory and try to stash Cadet on the practice squad. But that would be a risky tactic because 31 other teams have been watching tape of his preseason.
Akeem Dent, Falcons.
Dent probably still will end up as the opening-day starter at middle linebacker after playing almost exclusively on special teams last season, though he needs all the practice time he can get to get used to his new role. But a concussion suffered in the preseason opener means Dent will miss some practice and probably a preseason game or two.
[+] Enlarge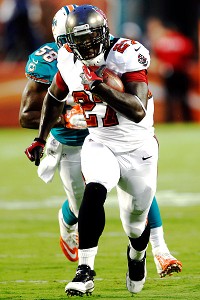 AP Photo/Alan DiazThe work LeGarrette Blount has put into his game showed during Friday's game against Miami.
Mike Pollak, Panthers.
Although they didn't pay him big money, the Panthers did go out and sign Pollak in free agency. The thinking was that he could start at guard or, at very least, be one of the top backup offensive linemen. But rookie
Amini Silatolu
seems destined to start at guard. Pollak has been banged up and hasn't been a factor in training camp.
Bruce Campbell
, another free-agent pickup, can play both guard and tackle. Pollak might not even make the roster.
RISING
LeGarrette Blount, Buccaneers.
You have to give the running back a ton of credit for the way he's handled every challenge the Bucs have thrown at him. Some thought Blount would fold the tent after the Bucs used a first-round draft pick on
Doug Martin
, and that he might not even last until the regular season. But Blount has worked on his ball security, pass-catching and blocking -- and it showed in the first preseason game. Obviously, the Bucs have big plans for Martin. But Blount, who still might be one miscue away from being gone, has done everything right so far and that means he could have a fairly prominent role in this backfield.
Matt Ryan and Julio Jones, Falcons.
The quarterback and receiver were spectacular in the preseason opener. They played only a quarter, but put up big numbers and showed explosiveness. If they can continue that into the regular season, new offensive coordinator Dirk Koetter is going to look like a genius.
Courtney Roby, Saints.
He's been on the roster since 2008, mainly as a special-teams player. But Roby is making an impact as a receiver this summer. He has nine catches in two preseason games.
Adrian Arrington
and
Nick Toon
, who have been banged up, were supposed to be the favorites to be the fourth receiver. But it looks like Roby might have moved ahead of them. For that matter,
Andy Tanner
also might have edged ahead of Arrington and Toon.
August, 7, 2012
8/07/12
5:29
PM ET
SPARTANBURG, S.C. -- The
Carolina Panthers
put out their first depth chart Tuesday afternoon. Let me emphasize this is an unofficial depth chart, but there are several things that jump out at me.

Let's start with one thing that's very atypical for the Panthers, who generally are the most conservative team in the NFC South when it comes to such matters. The Panthers are listing rookie
Amini Silatolu
as the No. 1 left guard. That probably will be the case come opening day, but the Panthers generally don't list rookies as starters on their first preseason depth chart. Instead, they give veterans every benefit of the doubt. But I think this is a pretty good sign that the Panthers aren't really counting on veterans like
Mike Pollak
or
Bruce Campbell
to start. I'd say an injury is about the only thing that would prevent Silatolu from being the starter when the regular season opens.
But the flip side of this is that the Panthers are listing first-round draft choice
Luke Kuechly
as the No. 2 weak-side linebacker behind veteran
Thomas Davis
. Kuechly has been working with the first team throughout training camp. This one purely is a courtesy to Davis, who is trying to come back from his third torn ACL. Kuechly is pretty much guaranteed a starting job in the regular season.
Another item worth noting is that
Derek Anderson
is listed as the No. 2 quarterback behind
Cam Newton
and
Jimmy Clausen
is No. 3. Coach Ron Rivera was asked after Tuesday's practice if Anderson was the backup and the coach didn't hesitate to affirm that. It looks like Clausen, who started as a rookie in 2010, is looking at another season of being the third quarterback.
The Panthers are listing
Sherrod Martin
as their starting free safety and that could end up being the case in the regular season. But all indications out of Carolina's camp are that Martin is very much in competition with free-agent addition
Haruki Nakamura
for the starting job.
I've also been told that the Panthers view the punter and kicker jobs as serious competitions. They're listing veteran
Olindo Mare
No. 1 and
Justin Medlock
No. 2 at kicker and
Nick Harris
as the No. 1 punter with rookie
Brad Nortman
as No. 2. But the order at both spots could change, depending on what happens in the preseason games.
May, 1, 2012
5/01/12
11:17
AM ET
The NFL draft is over and the
Carolina Panthers
have added at least one new starter.
That's linebacker
Luke Kuechly
, who was drafted with the No. 9 overall pick. It just remains to be seen if he'll start in the middle or on the outside.

Let's take a look at Carolina's projected depth chart as I see it at the moment.
OFFENSE
DEFENSE
MLB Jon Beason or Kuechly (one of them will move outside)
SPECIALISTS
P Brad Mortman (at least one rookie besides Kuechly will play a lot)
PR Joe Adams (the rookie also could get some time as the slot receiver)
April, 27, 2012
4/27/12
7:51
PM ET
The need wasn't immediate, but that didn't stop the
Carolina Panthers
.
They just selected Midwestern State offensive lineman
Amini Silatolu
in the second round (40
th
overall).
This one comes as a bit of a surprise. Most of Carolina's remaining needs are on defense and their offensive line is in pretty good shape.
Silatolu played left tackle in college, but projects as an NFL guard. The Panthers appear to be set there with
Geoff Hangartner
and
Mike Pollak
as the likely starters and
Byron Bell
providing some depth. But this pick wasn't about immediate need.
Silatolu is a guy with huge upside, but he likely will need a little time to develop. He'll get that time with Hangartner and Pollak ahead of him. But the Panthers want to protect quarterback
Cam Newton
for the long term. Pollak was signed only to a one-year contract and Hangartner isn't much better than average. The Panthers obviously are hoping Silatolu can be better than average in a year or two.
It also is possible the Panthers could view Silatolu as a tackle. There is some uncertainty at right tackle because of
Jeff Otah
's injury problems. But the Panthers already have some depth there with
Garry Williams
and Bell.
March, 29, 2012
3/29/12
11:00
AM ET
»
AFC Assessments
:
East
|
West
|
North
|
South
»
NFC
:
East
|
West
|
North
|
South
Atlanta Falcons

Key additions:
LB
Lofa Tatupu
, G
Vince Manuwai
Key losses:
LB
Curtis Lofton
, WR/KR
Eric Weems
Keeping their own:
Much to the chagrin of their fans, the Falcons chose not to pursue defensive end
Mario Williams
or any other big-name free agent. Instead, they focused hard on keeping their own guys. That started before the season ended with tight end
Tony Gonzalez
re-signing and continued into free agency as the Falcons made it a point to lock up guys like receiver
Harry Douglas
, defensive end
John Abraham
and running back
Jason Snelling
. They also protected cornerback
Brent Grimes
with the franchise tag.
The only loss that really hurt was Lofton. The Falcons liked him, but new defensive coordinator Mike Nolan didn't view him as a three-down player. The Falcons still made an effort to keep Lofton, but weren't willing to pay big money. They brought in the veteran Tatupu, who could be a short-term answer. But there's a hope within the organization that second-year pro
Akeem Dent
can step forward and win the job immediately because he's the guy that's going to end up there for the long term.
What's next:
Don't completely rule out the addition of a minor or mid-level free agent or two, but the Falcons are focusing mainly on the draft. Even with Abraham back, they're still looking to improve their pass rush and defensive ends could be in play. But the Falcons also could add a defensive tackle because
Jonathan Babineaux
and
Peria Jerry
are coming off sub-par seasons. Some depth in the secondary and a kick returner also are possible targets.

Key additions:
RB/FB
Mike Tolbert
, G
Mike Pollak
Key losses:
G
Travelle Wharton
The splash came last year:
The Panthers haven't been very active in free agency. That's largely because they made their big moves coming out of the lockout last year. They signed defensive end
Charles Johnson
, running back
DeAngelo Williams
, linebacker
Jon Beason
, defensive tackle
Ron Edwards
and linebacker
Thomas Davis
to huge deals, and that's why they had very little salary-cap room to work with this year.
But the Panthers didn't really reap the rewards of some of those signings because Beason, Davis and Edwards all suffered early injuries. That took a toll on the defense. But all three of those guys are back and healthy and that should improve the defense immediately. Carolina developed an explosive offense last season and a strong defense could turn the Panthers into playoff contenders.
What's next:
The Panthers have very little cap room and don't figure to make many more moves in free agency. They're focused in on the draft and there needs have been narrowed. They're likely to address cornerback and defensive tackle early in the draft. But don't be surprised if they take a linebacker somewhere in the first three or four rounds, and it's even possible they could target one in the first or second. Davis is coming off his torn ACL and the Panthers don't know if he'll be anything close to what he was before the injuries.
New Orleans Saints

Key additions:
LB Curtis Lofton, DT
Brodrick Bunkley
, G
Ben Grubbs
Key losses:
G
Carl Nicks
, CB
Tracy Porter
Miracle workers:
Faced with an extremely tight salary-cap situation and some bizarre off-field events, it's somewhat amazing the Saints were able to keep as much as they did. They didn't want to lose Nicks, who might be the best guard in the league and is in his prime. But that's the price they had to pay to make sure they kept quarterback
Drew Brees
and receiver
Marques Colston
, as well as adding players like Lofton, Grubbs and Bunkley.
The Brees situation remains complicated. He's still carrying the franchise tag. The Saints need to get him signed to a long-term deal quickly. Even more than ever, the Saints need Brees' leadership abilities. They need him signed and happy before their offseason program starts April 16.
What's next:
With the possibility of multiple defensive players facing possible suspensions as a result of the bounty program, the Saints still could be looking to make significant moves. It will be hard to draft players that will make an instant impact because the Saints are without picks in the first two rounds. That means they might have to pull some more help out of free agency, even with limited cap space. They could use another pass-rusher to complement
Will Smith
. Even after adding Lofton and Bunkley, the Saints still could use depth at linebacker and defensive tackle.
Tampa Bay Buccaneers

Key additions:
WR
Vincent Jackson
, G Carl Nicks, CB
Eric Wright
Key losses:
C
Jeff Faine
Locking them up:
Part of the reason the Bucs didn't lose much of anything in free agency is because they've done a nice job of locking up some core players in recent years. They made it a point to make sure offensive linemen
Donald Penn
,
Davin Joseph
and
Jeremy Zuttah
never got close to leaving. Add Nicks to that group and the Bucs have a chance to have one of the league's better offensive lines. As the season gets going, some other young players will be rewarded with contract extensions as they show they fit in coach Greg Schiano's system.
What's next:
After making the initial splash, the Bucs said they're done with free agency and are focused on the draft. That's largely true, although the team is keeping a close eye on what remains on the market. This is a team that still is building and will still have needs after the draft. The Bucs have a big need at running back, where they have to find at least one player to complement
LeGarrette Blount
. The cornerback position could be an early target in the draft even after
Ronde Barber
decided to return for a 16th season. There also is some uncertainty about
Aqib Talib
's future. Even if he remains with the team, the Bucs need depth at the position. There also is uncertainty at linebacker and a need for depth at safety and tight end.
March, 23, 2012
3/23/12
2:10
PM ET
The
Carolina Panthers
,
New Orleans Saints
and
Atlanta Falcons
have less salary-cap room than all of the NFL's 29 other teams.
According to numbers obtained by ESPN.com, the Panthers have the league's least cap room at $1.08 million. That includes
the deal
signed by guard
Mike Pollak
on Thursday. That one-year deal is worth a $700,000 base salary. But the Panthers took advantage of the NFL's minimum salary benefit to lessen Pollak's cap hit. The benefit allows the Panthers to count only $540,000 of Pollak's base salary toward the cap. Throw in his $65,000 signing bonus and his cap figure for this year is $605,000.
Even after signing defensive tackle
Brodrick Bunkley
to a
cap-friendly deal
, the Saints are second behind the Panthers with only $1.28 million in available cap space. They've got a major issue on their hands with the
Drew Brees
situation. He currently is on the books for the $16 million franchise tag. Even if the Saints are able to work a long-term deal with Brees, it's likely his cap number will climb unless the team gets really creative in structuring the deal. The Saints are going to have to cut some players at some point and probably also will have to restructure some contracts (they already did that with
Will Smith
and
Jahri Evans
).
The Falcons are No. 3 with only $2.02 million in available cap space and that would explain why they haven't been active in free agency, although they have re-signed some of their own players, such as
John Abraham
and
Harry Douglas
. The Falcons still have some wiggle room because there are several players that could be released and contracts that could be restructured to clear cap space.
The
Tampa Bay Buccaneers
are the only team in the NFC South without major salary-cap issues. I can't give you an exact number on how much cap space the Bucs have right now because we have yet to see how much
Ronde Barber
's
new contract
will impact the cap. But the Bucs were roughly $16 million under the cap a few days ago and they cleared $1.5 million off the books by
releasing
defensive ends
Tim Crowder
and
Nick Reed
.
March, 22, 2012
3/22/12
5:41
PM ET
The
Carolina Panthers
continued their offseason overhaul of the offensive line Thursday.
The team has signed free-agent guard
Mike Pollak
, who spent most of the past four seasons as a starter for the
Indianapolis Colts
. A second-round pick out of Arizona State in 2008, Pollak started 41 of 58 games for the Colts.
His signing came after the Panthers released veteran
Travelle Wharton
in a salary-cap move. The team re-signed
Geoff Hangartner
, the other starter from last season. The Panthers also think highly of
Garry Williams
, who was injured last preseason.
It's expected the Panthers will go to camp and let Pollak, Hangartner and Williams compete for the two starting spots.