NFC South:

Mike Singletary
November, 22, 2010
11/22/10
12:49
PM ET
With Monday's news that the
Minnesota Vikings
have fired coach Brad Childress, the question becomes is John Fox next?
Carolina is 1-9 and Fox doesn't have a contract beyond this season. It's common knowledge that Fox won't be back with the Panthers next season. But will he make it through the rest of this season?
That's going to be up to owner Jerry Richardson and history suggests he'll let this thing drag on. In 2001, Richardson stuck with George Seifert even as the Panthers were losing their final 15 games.
Although they're certainly not playing well, the Panthers are at least playing hard. That's a sign that Fox still has some respect in the locker room. Without a labor agreement for next season, Richardson's not going to do anything drastic. This season is lost and going with an interim head coach isn't going to accomplish anything.
The only way I see that changing is if Fox forces the issue and takes some strong shots at ownership or the front office. Otherwise, Fox will get to finish his contract and the search for his replacement will begin as soon as the season ends.
Speaking of Fox, it looks like he's become something of a sympathetic figure in Carolina. Although he has the league's worst record, Fox is not at the bottom of
the latest SportsNation NFL Head Coach Approval Ratings
. At the moment, Fox has a 19 percent approval rating, which puts him ahead of Childress, Marvin Lewis, Mike Singletary and Gary Kubiak.
The rest of the NFC South coaches are way up the ladder. Atlanta's
Mike Smith
is fourth in the league at 86 percent and Tampa Bay's Raheem Morris is one spot behind him at 84 percent. New Orleans' Sean Payton is seventh at 81 percent.
October, 7, 2010
10/07/10
4:02
PM ET
Time for a trip through a bunch of news and notes from around the NFC South.
San Francisco coach Mike Singletary said Wednesday he
was wrong for not shaking hands
with Atlanta coach Mike Smith on Sunday after the Falcons beat the 49ers. Look, I know it's an emotional game and coaches are under enormous stress and can make poor decisions in the heat of the moment. But they also each are part of a 32-man fraternity. Smith is as much of a gentleman as any coach I've ever covered. No matter if you're team just won or lost against the Falcons, you owe it to the man to shake his hand.
Leave it to Cincinnati receiver
Chad Ochocinco
to come up with a
new nickname
for Tampa Bay cornerback
Ronde Barber
. It's a pretty flattering comparison.
Houston running back
Derrick Ward
took some
pretty strong shots at the Buccaneers
and said he's blocked out his time in Tampa Bay. That's good because the Bucs blocked that time out when they cut him. I'm going to stand up for the Bucs on this one. Ward came to Tampa last season with a bad attitude that never got better and he created his own destiny with the Bucs.
As you might have expected, Tampa Bay center
Jeff Faine
took exception
to some of Ward's comments.
Jon Beason
, who questioned Julius Peppers' intensity in a radio about a year ago, is
singing a different tune
about his former teammate these days. With the Bears coming to Carolina on Sunday, Beason said Peppers might go down as one of the best ever.
Maybe it's in honor of Peppers' homecoming, but Matt Williamson ranks the
top 10 pass rushers in the league
. Peppers is on the list. But there's not a single guy on the list from the NFC South.
At least the winless Panthers may be catching one break this week. The Bears have said quarterback
Jay Cutler
will sit out after suffering a concussion. Veteran backup
Todd Collins
will start in his place
.
Falcons quarterback
Matt Ryan
is a Philadelphia guy at heart. He was born and raised in the suburbs, talks with what some might call a Philadelphia accent (sounds normal to me) and grew up a Phillies fan. But he's smart enough to know it's
not a good idea to wear a Phillies hat
in Atlanta.
September, 18, 2010
9/18/10
11:00
AM ET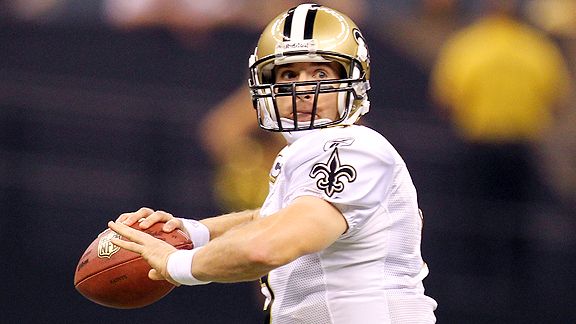 Ronald Martinez/Getty ImagesDon't expect Drew Brees and the New Orleans Saints to look past the San Francisco 49ers.
On the surface, Monday night's game in San Francisco (ESPN, 8:30 ET) looks like the classic trap game for the
New Orleans Saints
.
It has all the elements. A seemingly easy game against a wounded opponent at a time when the Saints still might be celebrating their season-opening win against
Brett Favre
and the
Minnesota Vikings
. It's on the West Coast. It's on a national stage, where anything less than a decisive victory might not be good enough. There's a short work week on the back side, with the
Atlanta Falcons
-- the one team that might be able to challenge the Saints in the NFC South -- playing at New Orleans in Week 3.
It all makes it very easy for the Saints to overlook the 49ers. I'm saying it's not going to happen because, in this case, the trap is too obvious. Here are five reasons why:
1. Sean Payton and his coaching staff won't let it happen.
Yeah, the Saints won that big opener against the Vikings, but it wasn't all that pretty. Payton and his staff are perfectionists, and they didn't see many signs of perfection against Minnesota. There were things to be fixed and the extra time off has given the coaching staff more time to work. If there's going to be a letdown game for the Saints, it's not going to be in a game like this. The Atlanta game actually might be a better candidate.
[+] Enlarge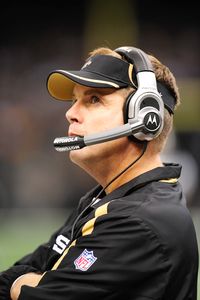 AP Photo/Jim MahoneyExpect Sean Payton and his staff to have the Saints ready for Monday night.
Payton has preached to his players that they shouldn't take the 49ers lightly just because San Francisco got thumped, 31-6, by Seattle in the opener.
"When you're playing a team that's coming off a tough loss, you know that they'll be ready, especially when they're opening up at home on Monday night in a prime-time game,'' Payton said.
2. The Saints know how to play in prime time.
We'll let Payton explain that.
"This will be the fifth game in a row now that we've been on in prime time, going back to Arizona, Minnesota, Indianapolis, Minnesota again and now Monday night. Our guys have gotten used to that,'' Payton said. "I think more important is the weather, the wind, some of the logistics of playing on the road, more than just the fact that you're playing in front of a national TV audience."
3. The weather, the wind and the logistics won't be a problem.
Sure, San Francisco can be a tough place to play. Wind and rain often are factors there and going to the West Coast is never easy. The Saints left Saturday afternoon and will spend Sunday adjusting to the time difference. But this is a team that has learned how to handle travel. In recent years, the Saints have gone to London and evacuated home when hurricanes have approached. The impact of the travel might be a worry on the back end, with the Saints facing a short week to get ready for Atlanta. But travel shouldn't be a problem on the front end of this trip.
As far as the possibility of wind and rain, yeah, you can make the case that the Saints are a dome team and are built around a passing game. But I'll make the case that they've become a well-rounded team that can adjust its style of play to fit the circumstances, if necessary. If they need to run the ball to win, they'll do it. If they have to win with defense, they're capable of doing it.
"If you're playing that schedule, you're probably on a team that has had success,'' Payton said. "I would say that certainly our players understand the challenges that come with some of those dates and some of those times."
4. Mike Singletary might have done the Saints a huge favor by saying the 49ers will handle Drew Brees.
The coach of the 49ers simply might have been trying to show confidence in his defense. But the NFL isn't much different than high school in some regards.
You can bet that quote
has been waved under the noses of the Saints in an effort to fire them up.
5. The bottom line is the Saints are the better team.
Brees vs.
Alex Smith
? Come on, I don't care if there's heavy lake-effect snow coming off the Bay and the wind is blowing at 70 mph. I'll still take a team led by Brees, even if he has to hand off 50 times.
September, 18, 2010
9/18/10
7:30
AM ET
Chris in Knoxville, Tenn., writes:
I appreciate
the Bucs/Panthers rivalry article
, it brought back lots of great memories. With
Kris Jenkins
out for the season and possibly done with his stellar career, could you get a debate going between fans on who really was a better DL, Jenkins or
Warren Sapp
? My take, Jenkins was the better player but Sapp was more marketable, and they both make the HOF.
Pat Yasinskas:
We'll let readers hash this one out in the comments section below. But here's my take. Sapp will make the Hall of Fame and Jenkins will not. The reason I say that is because Sapp had relatively high production throughout his career. Jenkins has had his career interrupted by injuries too many times to put together a body of work worthy of the Hall of Fame. The only way he'd have a shot is if he comes back from this injury, has a couple more big years and the Jets win a Super Bowl. I think there's a chance Jenkins might just decide to retire after his injury. But, for a couple of years, at the height of the Carolina/Tampa Bay rivalry and before the injuries started, Jenkins actually was better than Sapp.
---
Mookie in Snelville, Ga., writes:
Tell me you heard Mike Singletary say,"We will not try to stop
Drew Brees
, We will stop Drew Brees." ? Do you think that type of talk gets back to Drew, and do you think Singletary is dancing with the Devil making comments like that ?
Pat Yasinskas:
I seem to recall hearing something about that. I know how things work in the NFL, and I feel pretty safe in saying that quote just might be taped up somewhere in the New Orleans locker room. Not sure it's really a good idea to fire up Brees and the rest of his team.
---
Jessica in Bowie, Md., writes:
Is there any chance that the Panthers could trade off for
Vincent Jackson
? I know it's been only one game, but I have that vibe that another season will continue with no help for
Steve Smith
.
Pat Yasinskas:
I get this question a lot and I understand where fans are coming from. But the short answer is I don't see the Panthers doing anything like that. Owner Jerry Richardson and general manager Marty Hurney don't seem to be looking for any quick fixes these days. Coach John Fox might feel a bit differently, but I don't know that he's the most important man in that building right now.
---
Nick in San Marcos writes:
I'm tired of the QB bashing that has been going on for some time in Carolina, first
Jake Delhomme
now
Matt Moore
. I watched the Giants game and, yes, Moore made some mistakes but he was put into a situation no undrafted, barely named, starter should ever be in. Why in the world are the Panthers throwing 35 times a game and running 25 if that? That is just stupid, The Panthers were in this game, along with a bunch from last year and the years before ... When is everyone going to realize the REAL problem in Carolina... JEFF DAVIDSON. I feel like people overlook him.
Pat Yasinskas:
I question some of the play calls Davidson makes. But before Davidson, a lot of people questioned Dan Henning. I really don't see much difference between the two. The common thread there is Fox is the head coach, and the offensive coordinator is going to call the game the way the head coach wants.
---
Andy in Atlanta writes:
I can't help but wonder about a young cornerstone player who is no longer with the Bucs --
Arron Sears
. 1) Will the complete story of Sears' mysterious departure after the '08 season ever by revealed? 2) What is he doing now? 3) Is there a chance he'll ever return to the NFL?
Pat Yasinskas:
The only way the Sears story can come out (legally and ethically) is if he decides to tell his story about what the team would only refer to as a "personal situation''. I know Sears and the Bucs tried to work together, but the Bucs finally gave up because they saw no chance of things ending well. I honestly don't know what Sears is doing now. From what I know, the chances of him returning to the NFL are pretty slim.
---
Ryan in Charlotte writes:
Question. What exactly are the blackout rules? Does every team absolutely have to sell out all home games to prevent a local television blackout? That's the impression I keep getting, and if so, seems kind of unreasonable I think.
Pat Yasinskas:
In a nutshell, the home team has to sell out 72 hours prior to kickoff. If that doesn't happen, the game cannot be aired live on local television, which means a 75-mile radius.
---
Rum in Avondale, La., writes:
After reading your Falcons mailbag -- did you catch Inside The NFL (on Showtime) last night? The guys on the show were ripping Matty Ice and the Falcons for their pitiful performance against the Steelers. You might want to let the Falcon fans know about it so they'll see what others are saying about losing to a 3rd-string QB.
Pat Yasinskas:
No, I didn't happen to catch it, but I'm sure the Falcons got their share of criticism throughout the media. I'm also pretty sure
Mike Smith
and his staff weren't going around the building this week saying, "You guys were great in Pittsburgh''. I'm sure the Falcons took a lot of heat from within this week, and it will be interesting to see if they can bounce back with a strong performance against Arizona.
---
Amit in Atlanta writes:
When will
Jerious Norwood
get the carries he deserves? He seems to be healthy this year and the few touches he got against the Steelers were more positive than the touches
Michael Turner
got. Is there any chance Norwood will get at least 10 carries a game that he deserves?
Pat Yasinskas:
Norwood is healthy at the moment. But the problem is he's never been able to stay healthy for very long. I'd like to see him get at least a few more carries, too. But I don't think the Falcons are ready to give up on Michael Turner and suddenly make Norwood a feature back.