November, 11, 2013
11/11/13
8:00
AM ET
TAMPA, Fla. -- Five things to watch in Monday night's game between the
Tampa Bay Buccaneers
and
Miami Dolphins
.


Cameron Wake vs. Demar Dotson.
This matchup does not appear favorable for the Bucs. Wake has 5.5 sacks and has the ability to put a lot of pressure on rookie quarterback
Mike Glennon
. Dotson, who plays right tackle, likely will get some help from the tight ends.
Glennon's pitch count.
After averaging 45 attempts in his first four games, Glennon attempted only 23 passes against Seattle. That's the kind of territory the Bucs would like to keep Glennon in. But they would like to swap out some of the dinks and dunks with some short passes.
Mike James and the running game.
Part of the reason the Bucs didn't have Glennon throwing very much against Seattle was because James was running so well. The rookie, who has taken over for the injured
Doug Martin
, rushed for 158 yards against the Seahawks. Miami's run defense ranks No. 21.
Mike Wallace vs. Darrelle Revis.
In recent weeks, Revis has shown he's getting back to full health and that's meant a gradual increase in man-to-man coverage. He might not be on Wallace every single play, but Revis is likely to shadow Miami's top receiver most of the night.
Lamar Miller vs. Tampa Bay's run defense.
After leading the NFL in rushing defense last season, the Bucs have fallen to No. 13. Look for the Dolphins to test the Tampa Bay run defense with Lamar Miller,who has averaged 97 rushing yards in the past two games.
October, 1, 2013
10/01/13
1:35
AM ET
NEW ORLEANS -- Observed in the locker room after the
New Orleans Saints
' 38-17
victory
over the
Miami Dolphins
:
Don't eat the cheese:
One of Sean Payton's favorite mantras was heard often from players this week: "Don't eat the cheese." In other words, don't fall into the trap of overconfidence. Clearly, it still applies -- at least with
Drew Brees
, who wasn't satisfied with his performance. Brees said the Saints' offense still missed too many opportunities and hasn't played its best game yet.
Lewis
Jersey swap:
A cool moment postgame when Saints cornerback
Keenan Lewis
and Dolphins receiver
Mike Wallace
swapped their game jerseys on the field as souvenirs. It was the first time these two lifelong friends from New Orleans played against each other as opponents.
Injury watch:
Lewis was in and out of the game with a leg strain but insisted it's nothing major. Meanwhile, receiver
Lance Moore
admitted it was tough to miss out on the offensive fireworks with a hand injury. He didn't specify how long he'll be out but said it just needs time to heal and hopes it's sooner rather than later.
Galette unimpressed:
The Saints torched Miami's offensive line with four second-half sacks. Then the onslaught continued postgame, with Saints linebacker
Junior Galette
's harsh words. "I wish we could play them again so I could tee off on them again," said the always-animated Galette, who said he was fired up because the Dolphins' linemen were talking trash even while they were down big. "I didn't think that team was as good as everybody was saying. ... I think we know who the real 3-0 team was."
September, 27, 2013
9/27/13
12:00
PM ET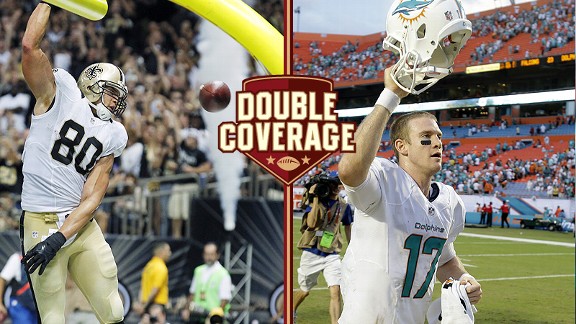 AP PhotoJimmy Graham has as many touchdown catches (4) as Ryan Tannehill has TD throws.
One team is the biggest surprise in the NFL. The other has worked its way back to prominence after the return of its Super Bowl-winning head coach.
That leads to a monumental matchup of undefeated teams when the
Miami Dolphins
travel to face the
New Orleans Saints
on ESPN's "Monday Night Football." This is the only matchup of unbeatens in Week 4.
Is Miami ready for prime time? Can the Saints stay hot?
ESPN.com's Dolphins reporter James Walker and Saints reporter Mike Triplett weigh in.
James Walker:
Mike, I don't know whether we can have this discussion without starting at the top with the head coaches of both teams. Joe Philbin in Miami and Sean Payton in New Orleans have done a tremendous job through three games. Dare I say we could be looking at two early coach of the year candidates if the Dolphins and Saints maintain their winning ways. For Philbin, I've really been impressed with his game planning and his attention to detail in his second year. Miami has committed just two penalties for 13 yards in the past two games. This is a team that doesn't beat itself. Miami also is outscoring opponents 41-16 in the second half, a credit to the coaching staff's ability to make halftime adjustments. Mike, you saw the impact of Payton when he was suspended in 2012. How much has Payton meant to New Orleans' fast start?
Mike Triplett:
Well, let's start with those two traits you just mentioned: game planning and attention to detail. I think Payton has been the best game planner and offensive schemer in the league during his tenure in New Orleans, especially exploiting mismatches in the passing game. Also, when asked that same question you just posed, players such as quarterback
Drew Brees
have said Payton's attention to detail and ability to focus on what's most important are what make him stand out. But I think, more than anything, there is just a confidence and comfort level that has returned along with Payton. The Saints believe that Payton is going to put them in the right situations to win -- and have an answer when things aren't working. I think that played a big part in their down-to-the-wire victories over the
Atlanta Falcons
and the
Tampa Bay Buccaneers
in Week 1 and Week 2.
I have to imagine that "trust" and "confidence" are some words that are starting to be used to describe Philbin and quarterback
Ryan Tannehill
around Miami. I'll admit that from afar I didn't expect this much out of Tannehill in his second season. What's working so well?
Walker:
I've seen Tannehill up close and personal from his first minicamp in 2012 after he was drafted, and even I'm surprised with how well he is playing in Year 2. If you told me before the season that Tannehill would have a better passer rating (94.3) than Brees (91.4) after three games, I would have thought you were crazy. But there really are not a lot of quarterbacks playing better football right now than Tannehill. He has outdueled
Andrew Luck
and
Matt Ryan
in back-to-back weeks. On top of that, he has made key drives in the fourth quarter in both games, something I did not see from Tannehill in his rookie year. His growth involves more than statistics. Tannehill's confidence has skyrocketed, and the game appears easier and is slowing down for him. But a big concern has been pass protection. Miami has allowed 14 sacks and faces an aggressive Saints defense. How do you view that matchup, Mike?
Triplett:
The Saints' young defense has been just as surprising -- especially the way it has been able to generate consistent pressure with its four-man front. The Saints have eight sacks (four of them last week). End
Cameron Jordan
and outside linebacker
Junior Galette
have been particularly disruptive. And players are clearly responding to new coordinator Rob Ryan's versatile schemes (a mix of 3-4 and 4-3). They're still a work in progress, but, if Miami's pass protection is suspect, the Saints sure look prepared to exploit it.
Tell me about the Dolphins' defense. I know it's been solid, but will it have answers for matchup problems such as
Jimmy Graham
,
Darren Sproles
and
Marques Colston
?
Walker:
I'm not sure Miami has a lot of answers for New Orleans defensively. That's why I think the Saints are a tough matchup for the Dolphins. Miami has had trouble for years defending tight ends. It was one of the reasons the Dolphins upgraded at linebacker in free agency, signing
Dannell Ellerbe
and
Philip Wheeler
. But Miami still struggled until the second half last week against
Tony Gonzalez
of Atlanta. Graham's athleticism over the middle could be a nightmare for the Dolphins.
Brent Grimes
has been terrific for Miami and has a good track record against the Saints. But New Orleans could have a lot of success attacking the Dolphins' second and third corners. I think Miami's best chance to disrupt the Saints is with its pass rush. Pro Bowl defensive end Cameron Wake's (knee) status is up in the air, but the Dolphins' blitz packages have been a strength. How would you assess New Orleans' offensive line, and can it improve?
Triplett:
The Saints' pass protection has been surprisingly porous. Brees has been sacked 10 times, the most in any three-game stretch since he arrived in 2006. The Saints have actually allowed the fewest sacks in the NFL over that stretch -- so it's a problem I think they'll correct. It will be huge for them if they can get All-Pro right guard
Jahri Evans
back healthy. While he was out last week with a hamstring injury, his rookie backup
Tim Lelito
allowed three sacks. But the rest of the line is still solid, including new left tackle
Charles Brown
. And Brees and Payton are savvy enough to keep him clean. The bigger issue for the Saints' offense has been its lack of a consistent run game. I think it'll still be pretty pass-heavy this week against Miami. Sounds like the run game has been an issue for the Dolphins, too?
Walker:
The only way I can describe Miami's running game, Mike, is sluggish. It just hasn't looked good, and various parts aren't on the same page. Sometimes, it's the offensive line missing blocks. Other times, it's the running backs not eluding tacklers. The play calling on runs, too, has been predictable. Add this up and you have a Dolphins team averaging 3.2 yards per carry. Miami running backs
Lamar Miller
and
Daniel Thomas
still have a lot to prove. They haven't showed much in three weeks, but Monday's game is a good opportunity. The Saints' defense has allowed 5.3 yards per carry. It's the one hole I've seen so far in the New Orleans defense. Look for Miami's offense to try to grind out yards on the ground and control the clock to some degree. That will be big playing on the road. Speaking of which, a big topic in Miami this week is playing in the Mercedes-Benz Superdome. The Dolphins are 2-0 on the road, but this could be their biggest challenge to date. How much will home-field advantage affect this game, especially in front of a rowdy Monday night crowd?
Triplett:
The Saints' home-field advantage is no joke, especially for these prime-time night games. The Saints have won 10 straight night games at home, including the playoffs, and 13 of their past 14. Whatever advantage you can get from a loud dome and a frenzied crowd, the Saints obviously seem to feed off it. I asked new Saints tight end
Benjamin Watson
about it earlier this year, and he said the loudest game he ever played in was a regular-season Monday night game in the Dome when he was with the
New England Patriots
in 2009. And you hear that kind of stuff quite a bit from visiting players. At least some folks in the crowd will be cheering for NOLA native
Mike Wallace
, though.
All right, speed round. If the Dolphins win Monday night, who will get the game ball?
Walker:
It would have to come down to Miami's defense. I don't see the Dolphins beating the Saints on the road in an offensive shootout. Someone in the secondary must have a big game for Miami to pull this out. The top two candidates are probably Grimes and safety
Reshad Jones
. Brees is going to throw the ball in the Superdome -- a lot. Someone such as Grimes or Jones probably has to get a big turnover or two to give the Dolphins momentum. Jones believes he's one of the NFL's top young safeties, and he's being paid like one after his summer contract extension. This is the type of national game to prove it, especially when matched up against Graham. Which key player could thrive for New Orleans?
Triplett:
I'm cheating if I say Brees or Graham, right? I'll give you two other names, as well -- Sproles on offense and Galette on defense. I think Sproles looks as dynamic as ever as a runner/receiver, so it might be his turn to bust out if the Dolphins concentrate too much on stopping Graham. And Galette is the Saints' speed-rusher who could best exploit the Dolphins' pass-protection issues.
.
September, 26, 2013
9/26/13
8:53
PM ET
METAIRIE, La. --
Miami Dolphins
receiver
Mike Wallace
didn't start playing football seriously until the 11
th
grade. He said lifelong friend and current
New Orleans Saints
cornerback
Keenan Lewis
was one of the people most responsible for talking him into it.
Lewis hopes he won't regret that after Monday night.
For the first time since they were about 7- or 8-years old, the two New Orleans-area natives and former
Pittsburgh Steelers
teammates will face off on opposite teams. In the Mercedes-Benz Superdome of all places, right across the river from where they grew up together.
And they'll likely see a lot of each other since they typically line up on the same side of the field.
"We've been looking forward to this," Lewis said. "This is a guy who talked the whole summer, trash-talking how he was going to do this and how he was going to do that. So I'm pretty sure he's heated up right now and I'm heated up."
[+] Enlarge
Derick E. Hingle/USA TODAY SportsKeenan Lewis intercepts a pass in front of Arizona receiver Michael Floyd in Week 3.
"It's feeling kind of weird having to go against him," Lewis added. "But I guess it's going to be what it's going to be."
Wallace and Lewis repeatedly described themselves as "brothers" and estimated they talk about five times per week. They grew up going to school together, running track together and spending time at each other's houses since their families were close. Then eventually they started playing football together for high school football powerhouse O. Perry Walker, after Lewis and one of Wallace's cousins convinced Wallace to join the team.
When asked who has gotten the better of the other when they've faced off in practice over the years, Wallace said, "I killed him," followed by a big laugh.
"Nah, sometimes he got me and sometimes I got him," Wallace said. "Keenan is a great player. He's a smart guy, he's going to play really well. That's my brother. I have all the confidence in the world in him. But I'm against him this week, so you know I'm out to kill him."
The stakes couldn't be higher for their first showdown in 20 years.
Both teams are 3-0, and both players were among the marquee free-agent signings around the NFL this offseason. Wallace signed a whopping five-year, $60 million contract to give the Dolphins a big play threat they were lacking. Lewis signed a five-year, $26.3 million contract to help the Saints tighten up the back end of their defense.
So far, Wallace has been up and down. He had one catch for 15 yards in Week 1, nine catches for 115 yards and a touchdown in Week 2 and two catches for 22 yards in Week 3.
Lewis, meanwhile, has helped turn the Saints defense into one of the NFL's most surprisingly stout units. He and fellow starting cornerback
Jabari Greer
have done an outstanding job of preventing big plays from wide receivers down the field -- against the likes of Atlanta's
Julio Jones
and
Roddy White
, Tampa Bay's
Vincent Jackson
and Arizona's
Larry Fitzgerald
.
Lewis had his first interception as a Saint during last Sunday's 31-7 victory over the Cardinals. ... Alas, Wallace gave him more grief for the one he dropped earlier in the game.
"As soon as he called me after the game, he said he caught an interception. I told him that he dropped two," Wallace said. "That's my brother, so I don't see the good things he does, I only see the bad."
Wallace insisted that Lewis is the bigger trash-talker of the two -- and the biggest trash-talker he's ever met. But despite their friendly jabs, they clearly have a ton of respect for each other and each other's games.
"He's real good. I feel as though he's probably one of the best in the league. I rate him up there with all the top guys," Lewis said. "You look at his numbers, he's been successful since he's been in the league. (He's a) good deep threat. They underestimate his route-running and things like that, but I've been going against him and working with him. I feel it's going to be a tough challenge."
Just to be safe, though, Wallace said he doesn't plan to join Lewis for any meals before the game.
"He might try to put something in my food," said Wallace, who also plans to avoid the traditional New Orleans Monday staple of red beans and rice.
"You know what red beans do to you. So I don't know if that's a good thing for me to eat," Wallace said. "I'm going to keep it light. I have to be running real fast on Monday night."
Otherwise he'll never hear the end of it.
February, 27, 2013
2/27/13
3:17
PM ET
A lot of folks in the Carolinas are all excited after Panthers coach Ron Rivera
vaguely implied
his team might be interested in free-agent receiver
Mike Wallace
.

Wallace
That's understandable, because Wallace has big-play potential. He could be an immediate complement to
Steve Smith
and also could be Smith's eventual replacement as the No. 1 receiver. It all sounds great in theory.
I don't ever like to suggest that fans should curb their enthusiasm. But, in this case, I feel obligated to say Carolina fans should curb their enthusiasm.
There's one huge obstacle to bringing in Wallace. That's the salary cap.
Fact is, I just can't see how the Panthers possibly could make Wallace fit in their cap situation. I doubt Wallace will command
Vincent Jackson
money (five years for $55 million), but he still is likely to get some decent offers, and I think it's doubtful that one will come from the Panthers.
At the moment, they're about $10 million over the anticipated salary cap. They'll get under it by March 12 because they have to.
They'll release some players and restructure some contracts. But it's going to be hard for the Panthers to get far enough under the cap to make a run at Wallace, or any other free agent of consequence.
The Panthers can't restructure too many more contracts and spread money into the future. The Panthers already have $139 million committed toward the 2014 salary cap.
They might have to just sit out free agency.
March, 13, 2012
3/13/12
10:38
AM ET
I shared my thoughts Monday on why I think San Diego wide receiver
Vincent Jackson
could
be a perfect fit
for the
Tampa Bay Buccaneers
.
Jackson
In short, he'd give them a legitimate No. 1 receiver and a deep threat.
But let's turn to ESPN Stats & Information to elaborate a little more on what Jackson brings to the table. Of all the receivers with a minimum of 100 receptions since 2008, Jackson ranks third with an average of 18 yards per catch. Only
Mike Wallace
(18.8) and
Malcolm Floyd
(18.5) had higher averages.
Since 2008, Jackson has 37 catches on passes thrown more than 20 yards downfield. That ranks No. 4 in the NFL. Jackson's 11 touchdowns on throws of 20 yards or more in that same span tie him for No. 6 in the NFL.
Last season, 54 of Jackson's 60 receptions resulted in a first down. That's a 90 percent conversion rate. Floyd, his teammate, was the only receiver with at least 40 catches to post a better conversion rate (95.3 percent).
March, 12, 2012
3/12/12
4:26
PM ET
Just about everywhere you look or listen there is speculation the
Tampa Bay Buccaneers
will be in hot pursuit of wide receiver
Vincent Jackson
.
It makes sense on many levels, starting with the facts that the Bucs need a true No. 1 receiver and Jackson probably is the best available in free agency. There's likely to be competition from Chicago and Washington and perhaps some other teams. The
San Diego Chargers
are also holding out a bit of hope that they can re-sign Jackson.
[+] Enlarge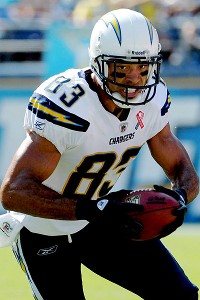 Kirby Lee/US PRESSWIREVincent Jackson, a proven No. 1 receiver, could help the Bucs win more games in the NFC South.
But the Chargers will only do that if his price tag is somewhere around $11 million a season. If it gets higher than that, he likely will walk and Tampa Bay's a very logical place for one of the top members of this free-agent class.
The Bucs have about $43 million in salary-cap space and it's become increasingly clear the Bucs want to do everything possible to put quarterback
Josh Freeman
in position to succeed. Jackson certainly would help in that regard.
At 6-foot-5 and 230 pounds, Jackson may not sound like the deep threat so many think the Bucs need. But Jackson is a bit of a freak of nature when it comes to his speed, plus he uses his strength to get separation.
Just look at his numbers when it comes to yards per catch. Last season, Jackson averaged 18.4 yards per catch. That's the second-highest total of his career and the highest (19.7) came in his rookie season when he was used as a third receiver.
That shows Jackson isn't losing a step, which is a concern for a receiver who just turned 29. It looks like Jackson has several good years left and the Bucs shouldn't let their infamous history of bringing in receivers scare them off. Jackson's not
Alvin Harper
or
Bert Emanuel
, guys that were No. 2 receivers elsewhere that the Bucs thought could emerge as No. 1 guys. Jackson also isn't
Keyshawn Johnson
,
Joey Galloway
or
Antonio Bryant
, guys who produced in the short term, but, for various reasons, didn't last in the long term.
Jackson is a proven No. 1 receiver. Although he had some off-field problems, those appear to be behind him and teammates and media members who have covered him say Jackson doesn't have the "diva'' personality so many receivers do. He's described as very quiet and always has been liked by his coaches.
If the Bucs are going to get Jackson, it likely will cost them around $12-$13 million a year. That's a lot, but the Bucs have indicated they're ready to spend money after going lightly in free agency in recent years.
Jackson is the one guy out there that seems like a sure thing. Pittsburgh's
Mike Wallace
is a restricted free agent and I don't think the Bucs are looking to give up draft picks. New Orleans
Marques Colston
isn't a speed guy and he's been banged up at times in the past.
If the Bucs don't get Jackson, then they need to look in a different direction.
Robert Meachem
(Saints),
Mario Manningham
(Giants) and
Laurent Robinson
(Cowboys) are guys that can stretch the field, but none of them is a true No. 1 receiver, although they'd come at a much lower price tag than Jackson. But even adding a speed guy could make it easier for Tampa Bay's current group of receivers –
Mike Williams
,
Arrelious Benn
,
Dezmon Briscoe
,
Preston Parker
and
Sammie Stroughter
— to get open.
February, 27, 2012
2/27/12
3:37
PM ET
Tampa Bay sometimes gets a rap as a region that doesn't care all that much about the Buccaneers. You can point to attendance to back that up. But that doesn't tell the whole story.
It's late February and one little bit of news has caused a pretty major buzz in these parts. With
Mario Manningham
saying he
doesn't expect to return
to the
New York Giants
, there's suddenly a lot of speculation that he'll end up in Tampa Bay. I heard a couple guys talking about it at my gym earlier Monday and it's making the rounds on sports radio.
In one regard, it makes sense. Tampa Bay offensive coordinator Mike Sullivan was the quarterbacks coach for the Giants the past two years. Before that he coached receivers. He knows Manningham and Sullivan's offense is likely to be somewhat similar to what the Giants run.
Manningham to Tampa Bay certainly could happen, but I don't think this is the kind of move that's going to solve all the Bucs' problems. Manningham is a good, but not great, receiver. He did play well in the postseason, but he never has caught more than 60 passes in a year.
He might be a good No. 2 or No. 3 receiver, but it's not a good idea to project a guy like that into the No. 1 spot. The Bucs did that years ago with
Alvin Harper
and
Bert Emanuel
and neither worked out all that well.
Plus, Manningham's style isn't dramatically different from what the Bucs have in
Mike Williams
and
Arrelious Benn
. He could compete with them, push them and maybe share playing time with them. But what the Bucs really need at wide receiver is someone who can stretch the field.
Manningham could be a nice piece in Tampa Bay's receiving corps. But the Bucs may have their eye on something bigger -- or at least faster -- in free agency. Adding someone like
Mike Wallace
,
Vincent Jackson
or
DeSean Jackson
-- if they hit free agency -- could give the Bucs a piece they need even more.
April, 9, 2009
4/09/09
1:17
PM ET
Posted by ESPN.com's Pat Yasinskas
ESPN's Mel Kiper has unveiled his latest mock draft. There's plenty of logic in his picks, which speak for themselves.
Mel may be right on all three first-round picks for the NFC South teams. But I see some alternatives for all three picks. I still think the Saints will go defense, possibly with defensive backs Malcolm Jenkins or Vontae Davis at No. 14.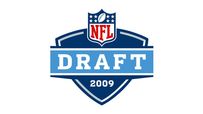 Mel's been consistent with quarterback Josh Freeman to the Bucs and that could happen. But I think the Bucs may go wide receiver (Darrius Heyward-Bey), defensive tackle (Peria Jerry) or cornerback (Jenkins or Davis, if available) at No. 19.
Mel lines up the Falcons with Brandon Pettigrew at No. 24. That wouldn't surprise me, but I still think the Falcons go with a linebacker, defensive end, defensive tackle or defensive back here.
Anyway, here are Mel's picks for the first four rounds for NFC South teams:
SAINTS
1: 14, Chris "Beanie" Wells, RB, Ohio State
4: 116, Tyrone McKenzie, LB, South Florida
4: 118, A.Q. Shipley, C, Penn State
BUCCANEERS
1: 19, Josh Freeman, QB, Kansas State
3: 81, Alex Magee, DT, Purdue
3: 90, Antoine Caldwell, C, Alabama
4: 120, Austin Collie, WR, BYU
FALCONS
1: 24, Brandon Pettigrew, TE, Oklahoma State
2: 55, Sherrod Martin, DB, Troy
4: 125, Brandon Gibson, WR, Washington State
PANTHERS
2: 59, Roy Miller, DT, Texas
3: 93, Kraig Urbik, G, Wisconsin
4: 128, Mike Wallace, WR, Mississippi