March, 8, 2013
3/08/13
5:17
PM ET
Let's take a team-by-team look at the highlights from Friday's NFC South chat:
ATLANTA FALCONS
CB (Charleston):
I really like your idea of the Falcons going after Avril. He's young and could lock down the defense for a while. With around 20 mill in cap space right now, it seems that we have a ton of room to work with. Resign Moore and Baker - go after a CB in FA, and draft Eddie Lacy. sound good?
Pat Yasinskas:
Well, it won't be a ton of cap space if they re-sign Moore, Baker and Grimes. But they could do some more restructures to free up more room. Falcons are always good for one big splash move an offseason.
Dustin (Charlotte):
Is Dimitroff looking to resign Grimes or explore free agency for a new CB?
PY:
I think they're at least attempting to re-sign Grimes, but have to have alternative plan in place in case he goes elsewhere.
Kyle (Atlanta):
Let's say Atlanta drafts
Montee Ball
. Do you think that Ball would become our Feature Every Down Back behind his Wisconsin FB and C in running packages, share evenly with Rodgers, or (share but) backup Rodgers?
PY:
Wouldn't have to be a feature back. Could share time with Rodgers. They're pass-first offense now. They don't need a true feature back.
CAROLINA PANTHERS
katie (panther fan relocated to LA):
The cornerback position is worrying me. With gamble now cut what is the possibility of getting Talib?
PY:
He certainly is a talent worth considering. But I don't know if Jerry Richardson would want him.
Ben (Atlanta):
Do you have any sense that Gettleman is more of a risk taker with respect to character issue players than Hurney was? If so, will that override Richardson's reputation for avoiding those types of guys?
PY:
Richardson still is the owner, so I doubt things will change in that regard.
Brett (Charlotte, NC):
Not a high priority position, but with Anderson as a free agent, what does Carolina do to shore up the #2 QB spot? Entrust Clausen or find a free agent with some experience?
PY:
I say go with Clausen. He knows the offense. And, as long as Cam stays healthy, he'll never have to play.
NEW ORLEANS SAINTS
Scottie (NJ):
Why are the Saints switching to the 3-4? Does Sean Payton think Rob Ryan can bring back the "Dome Patrol"?
PY:
It's a copy-cat league and teams have been having success with 3-4 lately. But you have to have the right personnel to pull it off.
Seth Poczatek (Green Bay WI):
Ed Reed
in Black and Gold?
Malcolm Jenkins
tweeted something about it yesterday. I see him and the corner from the steelers coming Home to the Dome! Do you?
PY:
I could see Ed Reed in New Orleans. Sharper was a similar situation a few years ago and that worked out well.
Martin (Orlando):
Any chance the Saints try to trade
Pierre Thomas
? They don't seem to have many trade-able pieces outside of him and Colston. We both know Colston isn't going anywhere.
PY:
Think that's always a possibility since Saints have so much depth at RB. Plus, Pierre's good enough that there should be a market for him.
TAMPA BAY BUCCANEERS
Ryan (NJ):
Any new info about Revis and Tampa? I know they said they weren't going to be big spenders, but Revis is the best player at a position where the Bucs desperately need improvement on. Also, any new word on Welker?
PY:
Bucs will be rumored to be interested in every big name because they have so much cap space. They won't all be true. But I expect them to make a few big moves and Revis and Welker would both make sense.
Red (NY):
why haven't the bucs released wright yet?
PY:
Excellent question. Simply because they don't have to. They're in good cap shape. So they can wait to see how things play out in free agency and maybe even draft. If they can't get CBs they want, they could keep Wright with a pay reduction. But I still think he'll be released in due time.
Darin (Louisville, Ky):
Hey with Bowers looking at jail time and Bennett heading for the open market, do bucs offseason needs at all? Like DE....
PY:
Think Bucs are fairly optimistic that Bowers will come out of that all right.
Here's the
complete transcript
of Friday's NFC South chat.
March, 7, 2013
3/07/13
8:33
AM ET
Let's take a look at the morning headlines from around the division:
ATLANTA FALCONS
Wisconsin running back Montee Ball reportedly ran the 40-yard dash in
4.46 seconds
in his pro day workout. That's a big improvement from his time at the combine. I've said it before and I'll say it again: Don't be surprised if the Falcons take Ball sometime after the first round. Ball could be a nice complement to Jacquizz Rodgers.
The agent for Lawrence Sidbury said re-signing with the Falcons is
not an option
for his client. That's not surprising. Sidbury barely played last season, even though the Falcons had a glaring need for depth on the defensive line.
CAROLINA PANTHERS
Linebacker and special-teams regular Jordan Senn will remain with the Panthers. Senn has
agreed to a one-year deal
.
NEW ORLEANS SAINTS
Bradley Handwerger writes that three
foreign-born defensive ends
could be on the Saints' draft radar. Bjoern Werner, Ziggy Ansah and Margus Hunt each have lots of potential, and we all know the Saints need to add guys who can get after opposing quarterbacks.
TAMPA BAY BUCCANEERS
Roy Cummings writes that defensive end Michael Bennett and defensive tackle Roy Miller are likely to at least
test free agency
. I'm a little surprised the Bucs haven't already signed those two. With Bennett, Miller, Adrian Clayborn, Gerald McCoy and Da'Quan Bowers, the Bucs have the ingredients for a good defensive line. If Miller and Bennett leave, the Bucs will have to add some new personnel.
March, 3, 2013
3/03/13
12:22
PM ET
Since we didn't have an NFC South chat Friday, let's make up for it with an NFC South mailbag:
Cory in Cardington, Ohio
asks what the Falcons will do at running back now that
Michael Turner
has been released.
Pat Yasinskas:
I know there's been a lot of talk about
Steven Jackson
. That may be a possibility, but I'm against it. Jackson's would be a short-term upgrade over Turner. But he's not much younger than Turner and wouldn't be a long-term solution. Personally, I think the best route for the Falcons is to draft a running back (someone like Wisconsin's
Montee Ball
) and pair him with
Jacquizz Rodgers
. The Falcons are a pass-first team now. They don't need a superstar running back. They just need a young set of legs to pair with Rodgers.
---
Carlito in Newberry, S.C.
asks about the possibility of the
Tampa Bay Buccaneers
pursuing cornerback
Dunta Robinson
.
PY:
I think that's something the Bucs have to at least look at. Robinson's an experienced cornerback with plenty left in the tank. Fans in Atlanta will tell you he was a bust. While it's true he never played up to his huge contract, he wasn't horrible. The Bucs could do a lot worse than Robinson. But, even if they sign Robinson, they need to add at least one other starting-caliber cornerback.
---
Jeremy in Lafayette, La.
asks where the Saints stand in relation to the salary cap.
PY:
It's a very fluid situation, but the Saints are getting close. Not all the reported restructures have been turned yet. But, if the reports are right, my calculations put the Saints somewhere between $2.5 and $3 million over the cap. Of course, there also is the possibility there have been other restructures that we don't know about yet and the Saints still could release some veterans to create more space. But the bottom line is they're getting close to the cap and they'll be under it by March 12.
---
Justo in Los Angeles
asks if any of the young players on Carolina's roster are capable of stepping into the No. 1 cornerback role if the Panthers release
Chris Gamble
.
PY:
Josh Norman
and
Josh Thomas
are promising young cornerbacks. But, at this point, I don't see them being ready to be more than No. 2 or No. 3 guys. If Gamble goes, the Panthers have to get a No. 1 cornerback. The draft certainly is a possibility if a good corner makes it to the middle of the first round. If not, the Panthers will have to go the free-agency route. But the problem there is good cornerbacks aren't cheap and the Panthers aren't going to have a lot of salary-cap room.
February, 18, 2013
2/18/13
5:37
PM ET
I just returned to NFC South headquarters after spending most of the day watching draft prospects prepare for the combine at IMG Academy.
I started off with this item on former Notre Dame linebacker
Manti Te'o
because he obviously has been one of the biggest stories of the last month or so and that will only continue when he gets to the combine. I don't know if Te'o will end up in the NFC South or not, but I did see several prospects I think could be natural fits in the division.
I sat down with Florida defensive tackle
Sharrif Floyd
, Missouri defensive tackle
Sheldon Richardson
, Notre Dame tight end
Tyler Eifert
, Wisconsin running back
Montee Ball
and SMU defensive end
Margus Hunt
. I've got a tape recorder filled with interviews to transcribe and I'll be writing about each of those players in the coming days.
In the meantime, why don't you have some fun and discuss in the comments section below where in the NFC South you can see Floyd, Richardson, Eifert, Ball and Hunt landing. In a couple of cases, I can see potential targets for more than one NFC South team.
February, 18, 2013
2/18/13
7:47
AM ET
I'm about to begin my annual pilgrimage down to IMG Academy in Bradenton, Fla. To do some pre-combine stories.
IMG has more than 30 prospects who have been doing its combine preparation, which is run by former NFL quarterback Chris Weinke. Ironically, or maybe no coincidence whatsoever, Weinke spent most of his career with Carolina and the Panthers have used their last two first-round picks on players who have trained at IMG (Cam Newton and Luke Kuechly).
I'll try to pin Weinke down and see if I can get an early read on who Carolina's top pick will be this year. I'm only kidding – sort of – on that part, but I'll be getting scouting reports from Weinke and talking to several players, and that will lead to several stories in the coming days. I'll be back later on after watching the workouts and doing interviews.
Here's the list of prospects who have been working out at the facility, according to IMG Academy:
Offensive tackle Luke Joeckel, Texas A&M
Quarterback Geno Smith, West Virginia
Defensive end Bjoern Werner, Florida State
Defensive tackle Sheldon Richardson, Missouri
Tight end Tyler Eifert, Notre Dame
Defensive tackle Sharrif Floyd, Florida
Receiver DeAndre Hopkins, Clemson
Safety Eric Reid, LSU
Guard/center Barrett Jones, Alabama
Quarterback Tyler Wilson, Arkansas
Receiver Justin Hunter, Tennessee
Quarterback Zac Dysert, Miami (Ohio)
Defensive end Margus Hunt, Southern Methodist
Running back Montee Ball, Wisconsin
Cornerback Blidi Wreh-Wilson, Connecticut
Cornerback Robert Alford, Southeastern Louisiana
Receiver Aaron Dobson, Marshall
Offensive tackle Menelik Watson, Florida State
Linebacker Trevardo Williams, Connecticut
Linebacker Gerald Hodges, Penn State
Defensive tackle Everett Dawkins, Florida State
Defensive tackle Kwame Geathers, Georgia
Fullback Tommy Bohanon, Wake Forest
Tight end Gavin Escobar, San Diego State
Fullback Zach Line, Southern Methodist
Tight end Vance McDonald, Rice
Guard J.C. Tretter, Cornell
Linebacker Albert Rosette, Nevada
Offensive tackle John Wetzel, Boston College
Linebacker Ty Powell, Harding
Offensive lineman Garrett Gilkey, Chadron State
Cornerback Devin Smith, Wisconsin
Defensive tackle Nick Williams, Stanford
Running back Covaughn DeBoskie-Johnson
February, 14, 2013
2/14/13
1:00
PM ET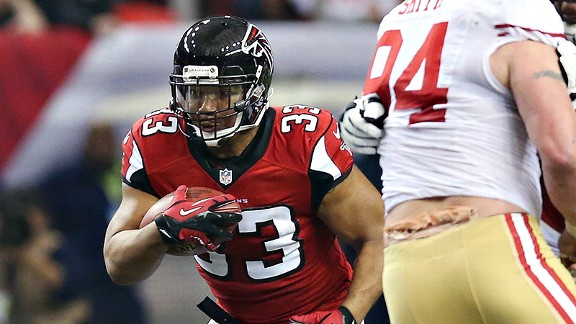 Matthew Emmons/USA TODAY SportsWith his production dropping and a high cap figure, Michael Turner's run in Atlanta may be over.
Let's give
Michael Turner
his props. If he's not the best running back in the history of the
Atlanta Falcons
, he certainly is close to that.
Turner is a major reason the Falcons made the playoffs in four of the past five seasons. He gave the Falcons four wonderful seasons and one mediocre one.
That last part is why the Falcons need to make the cold, hard business decision and give Turner his walking papers sometime between now and the start of free agency. Yeah, it may sound cruel for a guy that's played so well and been a good teammate, but it clearly is time for a change.
Heck, you can just look back at last season and make a very strong argument that it's past time for a change. Turner was visibly slower in 2012, and that came in a season when the Falcons limited his playing time.
Turner turned 31 on Wednesday, and I think it's safe to say he's not going to get any faster or better. He helped get the Falcons to the cusp of being a Super Bowl team, but they're not going to turn things into a Jerome Bettis farewell tour if they let Turner stick around for the final year of his contract. They'll just stand still, or lose ground.
It's time for the Falcons to pull the plug for many reasons.
Let's start where you always should start with this type of situation. Let's start with the money.
Turner is scheduled to count $8.9 million against the 2013 salary cap. Releasing him would instantly free up $6.4 million.
That would be significant money for a team that's barely under the salary cap and needs to make efforts to prevent cornerback
Brent Grimes
, left tackle
Sam Baker
and strong safety
William Moore
from walking away as free agents.
[+] Enlarge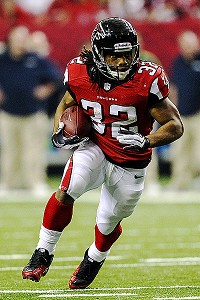 Daniel Shirey/USA TODAY SportsFalcons running back Jacquizz Rodgers could receive an increased role in 2013.
Could the Falcons restructure Turner's contract and make it more cap-friendly? Sure, but there's not much point in that.
That's where the football part comes in. Atlanta doesn't run the same offense it did in Turner's first four seasons. When offensive coordinator Dirk Koetter arrived last offseason, he made the Falcons a pass-first team.
That's why fans who are screaming for the Falcons to go out and get
Steven Jackson
,
Ahmad Bradshaw
or
Reggie Bush
are missing the mark by a mile -- or at least visions of a 1,000-yard season. They all come with wear and tear, and they all would come with hefty price tags.
In case you haven't noticed, it's no longer practical in the NFL to pay huge money to running backs. That's especially true when you have an offense that's built around quarterback
Matt Ryan
and receivers
Julio Jones
and
Roddy White
.
The Falcons no longer need a running back who's going to give them 20 to 25 carries a game and rush for 1,300 yards a season.
What Atlanta needs is someone to work in tandem with
Jacquizz Rodgers
, who was paired with Turner last season. Rodgers showed he can do a little bit of everything and can do it pretty well. He might be able to take on an even bigger role next season.
But Rodgers needs someone to share the backfield duties, and I'm not sure third-stringer
Jason Snelling
will ever be ready to take on a bigger role than he has had.
The best thing the Falcons can do is let Turner walk away (he can contribute somewhere else for a year or two) and go out and get a fresh set of legs for the backfield.
There's an easy and inexpensive way to do that. It's called the NFL draft.
Running back is a position where it's easy to make an instant impact. Just look at what
Doug Martin
did in Tampa Bay last season. And you don't have to be a first-round pick like Martin to have sudden success. Look again to Tampa Bay, where
LeGarrette Blount
, who wasn't even drafted, had a 1,000-yard season in 2010.
Blount might have been a one-hit wonder, but the point is you don't need to use a first- or second-round pick to get a running back who can help immediately.
Guys such as Oklahoma State's Joseph Randle, Rutgers' Jawan Jamison, Stanford's Stepfan Taylor, Florida's Mike Gillislee, Michigan State's Le'Veon Bell, Nevada's Stefphon Jefferson, Wisconsin's Montee Ball and UCLA's Johnathan Franklin will likely be available any time from the late second round on, a place where salaries aren't that high.
They all have their merits, and each has his flaws. But the Falcons don't need a perfect running back.
They just need someone who can complement what Rodgers brings to help them take the next step forward, because they've gone as far as they can with Turner.