January, 13, 2013
1/13/13
6:59
PM ET
Five things to know about the San Francisco 49ers' matchup against the Atlanta Falcons in the NFC Championship Game on Sunday in the Georgia Dome:
1. Same thing all over again?
At least on paper, this matchup looks awfully similar to the one Atlanta won against Seattle on Sunday. Like the Seahawks, the 49ers have a young quarterback in
Colin Kaepernick
who can run out of the read option and a strong defense. The last time the Falcons and 49ers played, the game ended in a very similar way to the victory against the Seahawks -- with a decisive last minute field goal. In Week 4 of the 2010 season, San Francisco defensive back
Nate Clements
had a late interception of
Matt Ryan
. If Clements simply went down, the 49ers would have been able to run out the clock. But Clements attempted to return the interception and Atlanta receiver
Roddy White
made a great hustle play. White chased down Clements and stripped the ball. Guard
Harvey Dahl
recovered and Ryan led a quick drive that ended with
Matt Bryant
kicking a 43-yard field goal for the win.
2. New territory:
The Falcons, who came into the league in 1966, are going to the NFC Championship Game for only the third time in franchise history. They won it in the 1998 season and lost it in the 2004 season. This will be the first time the Falcons have hosted an NFC Championship Game. That could weigh heavily in Atlanta's favor. Since the arrival of coach
Mike Smith
in 2008, the Falcons are 34-8 in the Georgia Dome (regular season and postseason).
3. It's up to the O-line:
One of the biggest keys to the game will be Atlanta's offensive line. The Falcons did a great job protecting Ryan against the Seahawks. He wasn't sacked while attempting 35 passes. But the 49ers thrive on their pass rush and it's a big part of the reason why they're in the NFC Championship Game. In their divisional round victory against Green Bay, the 49ers put
Aaron Rodgers
under duress or sacked him on 11 of his 43 dropbacks, according to ESPN Stats & Information. In those situations, Rodgers completed just two of nine passes for 13 yards.
4. Pounding on the ground:
Atlanta's running game, which struggled through most of the regular season, might be coming together at the right time. The Falcons rushed for 167 yards against the Seahawks, with
Michael Turner
leading the way with 98 yards on 14 carries. The Falcons had 88 rush yards after contact. The Falcons had 76 rush yards after contact in the first half, which is the most Atlanta has had in an opening half in the last four seasons, according to ESPN Stats & Information.
5. Opening the airways:
The improved play from the running game might mean more play-action passing against San Francisco. Against Seattle, play action worked very well. Ryan was eight of 12 for 87 yards and three touchdowns when using play action.
January, 5, 2011
1/05/11
9:48
AM ET
Time for a morning trip through the headlines across the NFC South.
Stephen Holder
ponders the future of center Jeff Faine
with the Buccaneers. It's a very valid question. Faine is 30 and he's missed a lot of time with injuries the past two seasons. With some young linemen showing promise, Faine might not fit into Tampa Bay's youth movement.
The Bucs
signed the eight guys on their practice squad
to futures contracts.
The Panthers reportedly
have asked for permission to interview
San Francisco defensive coordinator Greg Manusky. They also are expected to interview New York Giants defensive coordinator Perry Fewell and San Diego defensive coordinator Ron Rivera in the near future.
Jeff Duncan has his
weekly film review
on the Saints and attributes their loss to the Buccaneers to some bad breaks, injuries and a few questionable calls by the officials.
New Orleans linebacker Jonathan Vilma
has been added to the Pro Bowl roster
. Vilma initially was a first alternate, but an injury to San Francisco's Patrick Willis cleared a roster spot.
D. Orlando Ledbetter has a list of the Falcons'
10 most memorable plays
of the season. You can't argue with his choice for No. 1 – Roddy White's strip of Nate Clements against San Francisco. That play saved the Falcons from what would have been an embarrassing loss.
October, 6, 2010
10/06/10
10:24
AM ET
We've been singing the praises of Atlanta wide receiver
Roddy White
a lot lately. We're going to do it again now.
I declared White to be the
NFC South's best wide receiver
last week and we've mentioned several times the
huge play
he made in chasing down
Nate Clements
after an interception and forcing a fumble in Sunday's victory against San Francisco. In fact, if I had to pick an NFC South most valuable player after four game, it would be White.
Here's another accolade for White. When it comes to catch percentage, White is one of 15 receivers in the league that's been targeted at least 20 times who has not dropped a pass. White's been targeted a league-high 49 times and has 32 receptions, according to ESPN Stats & Information.
New Orleans'
Marques Colston
is the only other NFC South receiver who has met the target criteria to hold a 100 percent catch percentage.
On the flip side, New Orleans'
Devery Henderson
is tied for fifth in the league with three dropped passes.
October, 6, 2010
10/06/10
10:00
AM ET
»
NFC Stock Watch
:
East
|
West
|
North
|
South
»
AFC
:
East
|
West
|
North
|
South
FALLING
[+] Enlarge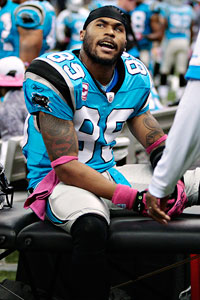 AP Photo/Bill HaberSteve Smith's injury leaves the Carolina Panthers with no established big-play threats at wide receiver.
1. Cadillac Williams, running back, Tampa Bay.
One thing about coach Raheem Morris that sets him apart from most other coaches is he's not afraid to telegraph his moves. During the bye week, he made it pretty clear that the Bucs are going to cut down on Williams' carries and try to insert
LeGarrette Blount
and
Kareem Huggins
more often.
2. Carolina's wide receivers.
With
Steve Smith
likely out with an ankle injury and
Dwayne Jarrett
released after he was charged with driving while impaired, the Panthers are down to rookie receivers
Brandon LaFell
,
David Gettis
and
Armanti Edwards
. They also claimed
David Clowney
off waivers Tuesday. Edwards has yet to be active on game day. Rookie quarterback
Jimmy Clausen
doesn't exactly have a stellar cast to throw to.
3. New Orleans' offensive line.
It's not what it was a year ago. That's a little disappointing because the line returned intact, but it hasn't been dominant.
Drew Brees
is getting pressured more than usual, the running game's been only ordinary and All-Pro guard
Jahri Evans
has developed a sudden knack for getting called for holding penalties.
RISING
1. Curtis Lofton, linebacker, Falcons.
He's been a pretty good middle linebacker in his first two seasons. But the knock on Lofton was that he didn't make big plays, and he talked this summer about how he wanted to change that. It's happening. In Sunday's victory against San Francisco, Lofton had nine tackles, a sack and an interception. A few more big plays and Lofton could be a strong candidate for the Pro Bowl.
2. Roddy White, receiver, Falcons.
It's hard to put White's stock much higher than it already was. We declared him the best receiver in the NFC South last week. But White went out and took his game to a higher level Sunday. He made one of the most incredible plays of his career and it didn't even involve him catching the ball. After
Nate Clements
had a late interception, White ran him down from behind and popped the ball loose to cause a fumble that the Falcons recovered. Atlanta then went on a drive and kicked the game-winning field goal.
3. Usama Young, safety, Saints.
He's usually just a special-teams player. But a series of injuries forced him into the strong safety spot in Sunday's victory against Carolina. With the Panthers close to the range where they could kick a game-winning field goal, Young stepped up and had a tackle where he dropped
DeAngelo Williams
for a four-yard loss. That and a sack by free safety
Malcolm Jenkins
on the next play took the Panthers definitively out of field-goal range.
October, 5, 2010
10/05/10
1:00
PM ET
»
NFC Decisive Moments
:
East
|
West
|
North
|
South
»
AFC
:
East
|
West
|
North
|
South
I wrote last week about how Atlanta's
Roddy White
has
become one of the best wide receivers in the NFL
. I neglected to tell you White also has become one of the best all-around players in the NFL, so he went out and showed us Sunday.

In a play that showcased his athletic ability, instincts and intelligence, White basically won Sunday's game against San Francisco. With the 49ers leading 14-13 late in the fourth quarter, Atlanta quarterback
Matt Ryan
was intercepted by cornerback
Nate Clements
, a play that seemingly sealed the game for the 49ers.
But White took off after Clements down the sideline, caught him from behind and punched the ball loose for a fumble. Guard
Harvey Dahl
recovered and that gave the Falcons another chance. This time, the Falcons didn't give anything away.
They moved the ball within field goal range and
Matt Bryant
made the winning 43-yard kick with two seconds left.
October, 3, 2010
10/03/10
6:28
PM ET
Wrapping up Atlanta's
16-14 win
against the 49ers:
What it means:
Much like the Saints, who won an ugly game against Carolina, the Falcons struggled with a winless San Francisco team for most of the day. But, just like the Saints, the Falcons won it at the end. That means Atlanta, which might have been a bit worn out by last week's big win against New Orleans, remains tied with the Saints at
3-1
atop the NFC South.


What's next:
The Falcons travel to Cleveland next week. After that, there's a big storyline developing on the horizon. On Oct. 17, Atlanta goes to Philadelphia to face the Eagles and quarterback
Michael Vick
.
Hero:
Matt Bryant
. For the second straight week, Bryant hit a late field goal to give the Falcons a win. Bryant's become pretty much what the Falcons thought they had in
Jason Elam
last year – a steady veteran who doesn't miss clutch kicks.
Unsung hero:
Roddy White
. Yeah, he's a Pro Bowl receiver, so it's kind of hard to call him unsung. But White made a big play in a unique role against the 49ers. He hustled down the field and forced a fumble by cornerback
Nate Clements
, who had just intercepted a pass. The Falcons recovered and that helped set up the winning kick.
What I liked:
After last week's victory in New Orleans, the Falcons talked about a "character win''. That was true, but I think you also could call this one a character win. Anytime you aren't playing at the top of your game and still win, it shows you have character.