December, 15, 2014
Dec 15
7:35
PM ET
CHICAGO -- The
Chicago Bears
and
New Orleans Saints
announced their respective lists of inactives for Monday's contest at Soldier Field.
The Bears go into the matchup without kicker
Robbie Gould
(right quadriceps) and free safety
Chris Conte
(back), along with cornerback
Terrance Mitchell
, offensive lineman
Michael Ola
, defensive end
Trevor Scott
, defensive tackle
Brandon Dunn
and quarterback
David Fales
.
Saints outside linebacker
Junior Galette
and left tackle
Terron Armstead
are both active after being listed as questionable, and both are big assets for New Orleans. Galette, who suffered a knee injury last week, is the Saints' best pass-rusher.
The biggest surprise among the Saints' inactives is cornerback
Corey White
, who has been a starter for most of the season. The Saints are expected to shuffle up their secondary, with strong safety
Kenny Vaccaro
likely shifting back into the nickel role where he thrived last year. Cornerback
Terrence Frederick
and safety
Jamarca Sanford
could see elevated roles.
Chicago defensive tackle
Jeremiah Ratliff
returns to the starting lineup for the first time since the club's Nov. 23 win over the
Tampa Bay Buccaneers
. He's been active the last two games due to a knee injury.
Conte, meanwhile, will miss his first outing since Chicago's loss on Oct. 19 to the Miami Dolphins.
Conte suffered his back injury during the third quarter Dec. 4 in a loss to the
Dallas Cowboys
. Prior to that, Conte left the club's loss at Detroit on Thanksgiving because of an eye injury. Conte has been diagnosed with two concussions this season, in addition to missing time with sprains of both shoulders.
Rookie
Brock Vereen
will start at free safety in Conte's place.
The Saints activated veteran
Robert Meachem
as their fourth receiver after releasing Joe Morgan earlier this week. Recently-promoted rookie receiver
Seantavius Jones
is inactive.
Also inactive for the Saints: cornerback
Stanley Jean-Baptiste
, linebackers
Ronald Powell
and
Moise Fokou
, defensive tackle
Lawrence Virgil
and offensive tackle
Nick Becton
.
December, 12, 2014
Dec 12
8:00
AM ET
When:
8:30 p.m. ET, Monday.
Where:
Soldier Field, Chicago.
TV:
ESPN.
Call it the Disappointment Cup, Underachievers Bowl, The Battle of We're-Not-What-We-Thought-We-Were teams. But any way you bill it, Monday night's game between the
New Orleans Saints
(5-8) and
Chicago Bears
(5-8) at Soldier Field makes for an intriguing matchup, even if Bears receiver
Brandon Marshall
believes ESPN should take the teams off "Monday Night Football."
Despite New Orleans' dismal record, there's still plenty of incentive to win, considering the Saints remain alive in the playoff hunt. The same can't be said of Chicago, but how this club finishes should go a long way toward determining the extent of upcoming changes this offseason, whether in personnel, the front office or the coaching staff.
ESPN Bears reporter Michael C. Wright and Saints reporter Mike Triplett break down the matchup:
Wright:
Team leaders have called the Saints' effort in the loss to the
Carolina Panthers
unprofessional, which frankly is odd considering the Saints are still playing for a postseason berth. How is the team handling the situation moving forward because it has the easiest remaining schedule in the league based on average DVOA of opponent?
Triplett:
First of all, the Saints' remaining schedule is pretty meaningless considering the opponent hasn't mattered much this year. When the Saints have shown up, they've beaten the
Green Bay Packers
by 21 points at home and played great in a win at Pittsburgh, among others. When they haven't, they've been blown out at home by Carolina and Cincinnati, among others. And that's the point the leaders were getting at when they talked about professionalism. As veteran offensive tackle
Zach Strief
put it, you can't just show up and expect to win. They have to treat every game with the same season-on-the-line intensity that they showed in those good games.
Clearly they still have a high ceiling, but the consistency hasn't been there. The loss to Carolina this past week was extremely disturbing, and it led to a major roster shake-up. There's clearly no excuse for a lack of urgency at this point.
I obviously haven't been too impressed by what I've seen from the Bears in their recent national TV appearances. And I know how much they'll miss Marshall. But I still see a lot of talented playmakers on that offense and think they could cause big problems for a Saints defense that is struggling in all areas. Am I wrong?
Wright:
No, you're correct. But it all comes down to execution, and we haven't seen any evidence the Bears can do that on a consistent basis, which has been the group's main problem all year. Even without Marshall in the lineup, there are still plenty of weapons in running back
Matt Forte
, receiver
Alshon Jeffery
and tight end
Martellus Bennett
. My expectation is the Bears will lean on Forte early and try to use him to set up play-action so the Bears can go deep to Jeffery or hit Bennett down the seam or on intermediate crossing routes. Forte is the key here, and one of the main issues we've seen with this offense is the Bears never truly commit to establish the rushing attack, which eventually forces them to be one-dimensional, thus much easier to defend.
New Orleans and Chicago play similar offenses, which should make for an intriguing matchup. What has gone wrong with the Saints, offensively?
Triplett:
The Saints' offense has been good at times, especially since they now have a consistent run game to balance their prolific passing offense. The two problems that have crept up most are turnovers and the disappearance of the downfield passing game.
Drew Brees
has been sharp at times. He's on pace for another 4,900 passing yards and he's leading the NFL with a completion percentage of 69.3. But he has turned the ball over way too many times in big spots (12 interceptions and two lost fumbles). A big part of the problem is that he's pressing too much to do it all by himself with the Saints' defense struggling so badly. Their other star, tight end
Jimmy Graham
, has also been too up-and-down.
And defenses have done a great job of taking away deep passes and forcing the Saints to patiently work their way down the field. The Saints are decent at that; they lead the NFL in third-down efficiency. But that also increases the opportunity for mistakes.
When I look back on past Saints-Bears matchups, I think of the Cover 2 defense that forced the Saints to patiently work their way down the field (something they finally did successfully last year). Is that still the case -- on their good days, at least?
Wright:
Mike, I don't think so. They've moved away from playing Lovie Smith's Tampa 2 style of defense and become more of a traditional under 4-3 that plays a variety of coverages on the back end based on that week's game plan. Against a quarterback such as Brees, the Bears would probably play more Cover 2 early on to force him to slowly move the ball down the field. But if the Bears can't generate consistent pressure with the front four, they'll try to manufacture pressure via the blitz. Chicago fares well against average quarterbacks protected by average to below average offensive lines. But when this team comes up against the top quarterbacks and good offensive lines, they struggle tremendously, and the main reason for that is the inability to consistently generate pressure with just the front four. When Chicago can't do that, it dials up the blitz. But if the rushers can't get home -- which is often the case -- it puts this team's horrid secondary in coverage situations it can't handle.
How "real" is this rift between Sean Payton and Rob Ryan, and how do you think the situation will affect how the Saints perform the rest of the way?
Triplett:
Both guys went to great lengths to downplay it and insist they have a ton of respect for each other. And I haven't heard otherwise from sources I've talked to. So I think that story was overblown at least a little bit. And the sideline shouting matches are typical of Payton, as he has explained, so I also don't read much into that.
But there's no question that Ryan must be sitting on an extremely hot seat with a defense that is by far the worst in the league, according to ESPN Stats & Information's efficiency rating. This defense was supposed to be a great strength after they finished fourth in the NFL in yards allowed last year, and they've totally imploded with everything from a lack of a pass rush, a lack of turnovers, a woeful run defense, missed tackles and assignment breakdowns in the secondary. That doesn't all fall on Ryan, but the results are unacceptable.
That offensive line has become New Orleans North. Was sorry to see Brian de la Puente wind up on injured reserve. How are
Jermon Bushrod
and offensive coordinator Aaron Kromer faring?
Wright:
I guess the answer to that question depends on perspective with regard to Bushrod. New Orleans didn't mind letting Bushrod walk for a reason, in my opinion. The Bears overpaid Bushrod to anchor that offensive line, but the truth is he has struggled, especially during the second half of the season. Going into the team's loss to the
Dallas Cowboys
, Bushrod produced four consecutive games with negative ratings, according to Pro Football Focus, and that registers among the worst in the league. As for Kromer, it's difficult to determine how he's faring because nobody really knows how much input he has in what's going on offensively. Even though Kromer holds the title of offensive coordinator, head coach Marc Trestman actually calls all the plays. The truth is it would be nice if Trestman relinquished those duties over the team's final three games to see what Kromer can do. Just based on interviews with Kromer, it seems his philosophies differ a little from Trestman's. I definitely sense Kromer is more committed to establishing the run than Trestman is.
November, 21, 2014
Nov 21
8:00
AM ET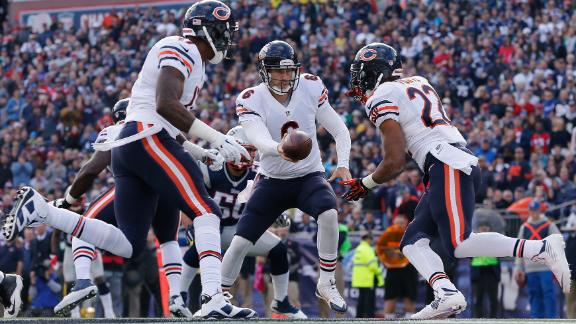 When:
1 p.m. ET, Sunday
Where:
Soldier Field, Chicago
TV:
Fox
The records scrub away some of the shine for Sunday's matchup at Soldier Field between the
Tampa Bay Buccaneers
and
Chicago Bears
, but the storylines involved remain interesting for what should be a competitive contest.
First off, there's the obvious with Lovie Smith coming to town to coach against his former team, which is led by former Bears backup quarterback
Josh McCown
. But even with the Bucs owning a 2-8 record, they're just two games out of first place in the NFC South.
The Bears, meanwhile, are looking to win back-to-back contests for the first time this season since Weeks 2 and 3.
Remember, the Bears fired Smith after a 2012 season in which he led the team to a 10-6 record. The club hasn't recorded a double-digit win season since, and doesn't appear to be on the way to doing it this year, either.
Bears reporter Michael C. Wright takes a look at the matchup with Buccaneers reporter Pat Yasinkas:
Wright:
Pat, the Buccaneers are coming off a big road win at Washington, and I've long thought they were a much more talented team than the record indicated. Obviously, it's probably too late to save the season. But how's the atmosphere out there coming off this win, and what's the next step for the Bucs?
Yasinkas:
The atmosphere is a lot better than you would expect from a 2-8 team. That's mainly due to the fact the Bucs are only two games behind Atlanta and New Orleans in the NFC South. And, you're right, this is a talented team. If the Bucs can put that talent together down the stretch, they could end up being a playoff team. It may sound crazy, but they're not far off the pace in the NFC South.
I thought last year's strong finish by Chicago would carry over into this season. But it hasn't. What's gone wrong for the Bears?
Wright:
Where do I start? I think people put too much faith in the offense, expecting it to perform at the same level or better than it did in 2013. But what folks don't understand is the Bears sort of caught teams by surprise last season because opponents didn't know exactly what to expect out of a Marc Trestman offense. Opponents adjusted in 2014 to what the Bears put on film in 2013, and they've had trouble coming up with a sufficient counterpunch. On the other side of the ball, the Bears revamped the front four, but haven't received the production commensurate with the investment. The Bears miscalculated what the staff would be able to get out of the linebacking corps, which has struggled, not to mention the secondary.
Surely, there's quite a bit of disappointment about Tampa Bay's record, especially when considering how the Bucs have squandered fourth-quarter leads five times this season. Why haven't the Bucs been able to hold leads, and overall, what's the thought out there regarding the job done so far by former Bears coach Lovie Smith?
Yasinkas:
The Bucs have had their share of disappointing losses. They've blown five fourth-quarter leads and the reasons for that are collapses by the defense and an inability by the offense to protect a lead. That has been very disappointing and you can make a strong case that the Bucs should have a much better record than they do. Fans aren't very pleased with what Lovie Smith has done so far. He has been stubborn, sticking to a Tampa 2 defense that may be antiquated and an offense that's conservative. But the Washington game was a good example of what "Lovie Ball" can be when it works properly. Smith's record isn't very good, but he's not on the hot seat. Ownership believes he can show some promise down the stretch and turn things around with another offseason.
There has been a lot of talk about
Jay Cutler
's future in Chicago. Does he have one?
Wright:
Boy, that's a good question that I'm not sure I can answer at this point. Obviously with the contract, Cutler is sort of handcuffed to the team for the next couple of seasons. But if Cutler doesn't improve down the stretch, I could see the Bears looking for ways to cut ties (a trade perhaps?). The Bears gave Cutler a $126.7 million contract, and he certainly hasn't produced at the level you'd expect a player making that type of money. So if the arrow isn't pointing up for Cutler at the conclusion of the season, it certainly wouldn't surprise me if the Bears entered 2015 with an open competition at the position or looked to trade him in the offseason.
Speaking of quarterbacks, when Josh McCown left Chicago to sign with the Buccaneers, it seemed like an ideal match, especially when considering how he performed in 2013 as the fill-in for Cutler. Can you give me a rundown as to why has McCown struggled this season?
Yasinkas:
McCown admitted recently that he was pressing too much in the first three games. He was trying to make something happen out of nothing and that led to some mistakes. But McCown got five games to sit back and watch while he dealt with a thumb injury. In the past two games, he has been much more efficient. The Washington game was similar to what he did in Chicago last year. If he can continue to do that the rest of the season, the Bucs will be very happy.
I know it's only Year 2, but this league doesn't have much patience anymore. Is Marc Trestman on the hot seat?
Wright:
Similar to Cutler's situation, I think it all depends on how the team performs down the stretch. At this point, I don't think general manager Phil Emery is inclined to fire Trestman in part because of the investment in Cutler. Prior to Trestman's arrival, Cutler had played for three different offensive coordinators in three different systems over four seasons. So for Emery, gaining some level of stability for Cutler was important, which is what the GM believed he did in bringing aboard Trestman and offensive coordinator Aaron Kromer. Remember, the Bears signed Cutler to a seven-year contract, and Emery doesn't want his quarterback playing in yet another system for another coach. So unless the Bears totally nose dive over the last six games, Trestman's job is safe. Certainly, there will be scapegoats let go at the conclusion of the season regardless of what happens. But I don't think Trestman is on the hot seat. He'll get another season unless things go totally awry.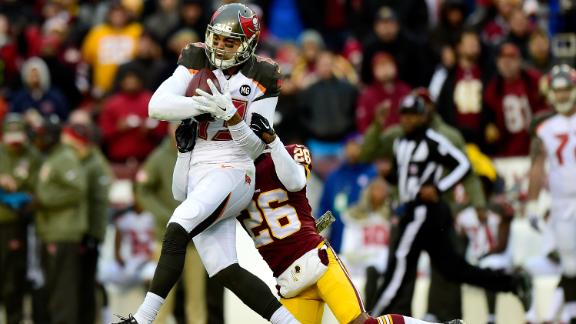 January, 1, 2014
Jan 1
10:29
PM ET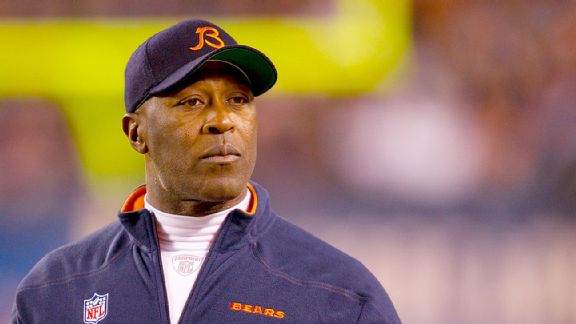 Dilip Vishwanat/Getty ImagesConsidering Lovie Smith's success and professionalism, it's about time a team gave him another chance.
The
Tampa Bay Buccaneers
hired Lovie Smith on Wednesday as their next head coach, according to ESPN NFL Insider Adam Schefter and Jay Glazer of Fox.
My reaction to the news: About time somebody snatched him up. Smith should've gone into the 2013 NFL season as a head coach. But after a couple of interviews, he emerged as a potential coordinator instead of leader of men, and a coordinator position was something he wasn't interested in accepting. So, good for Smith he waited for a head coaching gig instead of settling for a job as a coordinator.
Ask any of Smith's holdovers on Chicago's roster and they'll tell you Smith is more than deserving of a second chance as a head coach in the NFL.
Smith spent nine seasons as the head coach for the
Chicago Bears
before being fired at the end of 2012's 10-6 season. During his tenure in Chicago, Smith posted a record of 84-66, in addition to winning three division titles and leading the Bears to an appearance in Super Bowl XLI.
Given what's transpired in Chicago (the demise of the once vaunted defense), several hypothetical scenarios involving Smith have been mentioned. But for one minute, let's forget about those and salute Smith for his latest accomplishment. Having spent five years with the Bucs before leaving to become the defensive coordinator of the
St. Louis Rams
in 2001, Smith has familiarity with Tampa Bay's organization.
But more than that, Smith paid his dues toiling as an assistant all those years before actually proving himself as a winner and galvanizing force with the Bears.
Smith didn't return calls seeking comment about his latest move, likely because that's just not his style.
Smith is a results-oriented coach, who ultimately understood he didn't get it done in Chicago to the organization's standards and accepted his fate as gracefully as one could. That's why Smith never made salacious headlines, why he never talked about the current state of the Chicago Bears or why he never gave his side about being fired despite putting up a 10-6 record in his final season.
What stands out the most about Smith is how his players reacted to him. During training camp going into the 2012 season, three players in a restaurant one night gave distinctive accounts about what made Smith stand apart. Every one of those players spoke about Smith's calm demeanor, how he never became overly emotional no matter how dire the situation.
But what stuck out is how each of those players never wanted to disappoint Smith. One player talked about making a mistake in a game and getting "the look" from Smith that made him feel as if he disappointed his own father. It was enough to make that player vow to never do it again, and that conversation took place a few years after that player committed the original transgression. That's the type of power Smith carried, and it was one of the most underrated of Smith's attributes in the public eye.
Either way, the Tampa Bay Buccaneers scored big with the hiring of Smith, who served as the franchise's linebackers coach from 1996 to 2000. With Smith in control of Chicago's defense, the Bears surrendered just 1.4 points per drive, which ranked as third-best during his time as the team's head coach.
Perhaps former Tampa Bay head coach Tony Dungy summed it up best on Twitter when he said, "I think they made a very good choice in hiring Lovie Smith. Now I'm excited about watching the Bucs next year!"
Despite being way up here in frozen Chicago, I feel the same way. Bucs ownership will, too, with Smith at the controls.
December, 2, 2008
12/02/08
12:25
PM ET
Kordell Stewart and Jamal Anderson discuss the playoff races in the AFC East, NFC North, AFC North, and NFC South.