NFC South:

NFC South Most Valuable Player
January, 24, 2011
1/24/11
2:56
PM ET
Time to take a plunge into the NFC South mailbag to see what's on your minds.
Rob in Houston Texas (and numerous others)
asks if
Carson Palmer
, who reportedly wants out of Cincinnati, could be a possibility for the
Carolina Panthers
.
Pat Yasinskas:
I can see the logic in this and, personally, like the idea. If there isn't really a franchise quarterback in this draft, Palmer could come in and allow the Panthers to try to develop
Jimmy Clausen
slowly or at least give them another year for Andrew Luck to enter the draft. But it's really going to be up to Carolina general manager Marty Hurney, new coach Ron Rivera, offensive coordinator Rob Chudzinski and quarterbacks coach Mike Shula. They're all just getting started with the scouting process and they're at the Senior Bowl in Mobile, Ala. this week. They have to see if there is a quarterback they really like in this draft. Hurney supervised the start of a youth movement last year and I don't anticipate the Panthers veering too far from that. But, if they don't like the quarterback prospects in the draft, I could see the Panthers making an exception and going after Palmer or some other veteran. Last season showed the importance of the quarterback position for the Panthers. They have some good players elsewhere, but the struggles at quarterback dragged the whole team down. A short-term fix might be a consideration.
---
Brian in Columbus, Ga.
asks if there is any chance the Falcons fire defensive coordinator Brian VanGorder.
Pat Yasinskas
: Don't think so. If that was going to happen, it already would have. Yes, the defense had a horrible outing against Green Bay in the playoff loss, but it wasn't bad during the regular season. It's easy to put the blame on one guy. But coach Mike Smith has a strong defensive background and is heavily involved in how that defense is run.
---
Chris in Virginia
says it would be a huge mistake for the Buccaneers to let
Davin Joseph
go and they need to re-sign him before he escapes as a free agent.
Pat Yasinskas:
Agree that letting Joseph go as a free agent would be a big mistake. He's a top-notch guard and he and left tackle
Donald Penn
give the Bucs the nucleus for a strong offensive line. I suspect the Bucs will try to re-sign Joseph. They know he's a good player and they will have plenty of salary-cap room. But I don't anticipate anything happening until a new labor deal is reached. The Bucs and every other team in the league are waiting to see how the labor situation sorts out.
---
Matt in Ventura, Calif.
asks what are the chances of
Tanard Jackson
returning to the Buccaneers next season.
Pat Yasinskas:
Jackson was suspended for violating the league's substance-abuse policy for one year and that started in late September 2010. He's not eligible to apply for reinstatement until late September of this year. The Bucs cannot release or trade him while he is on the suspended list. His contract ran only through the 2010 season, so his status is very much in limbo right now. He's a talented player and I believe the Bucs would like to keep him if he gets reinstated and has his life under control. But they have to prepare to at least go the first few games of next season without him.
---
Mike in New Orleans
says he has no problem with my
selection of
Josh Freeman
as the NFC South's Most Valuable Player. But he argues that the New Orleans offense is "nothing'' without Brees and the Saints probably win only two or three games without him. He asks if I can say the same thing about Tampa Bay.
Pat Yasinskas:
If you look back at the column, I took it even further with Tampa Bay. I said it's my belief the Bucs would have gone 0-16 without Freeman. I've seen
Josh Johnson
and
Rudy Carpenter
in practice and I don't think either one of them would be effective. I agree the hypothetical loss of Brees would hurt the New Orleans offense. But I think you could plug
Chase Daniel
in with that cast of receivers and still have a competitive offense and, aside from the postseason, the defense was pretty good. The Saints still would win some games without Brees, but it would help if their running game was a bit more consistent than it was last season.
January, 21, 2011
1/21/11
11:11
AM ET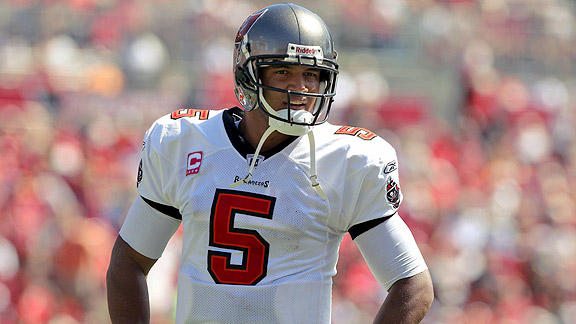 Kim Klement/US PresswireJosh Freeman threw for 3,451 yards this season, with 25 touchdown passes and six interceptions.
Let's not even bother with the setup. Let's just open the envelope and read what's inside.
The NFC South Most Valuable Player for the 2010 season is ...
Josh Freeman
.
Go ahead, start yelling and screaming in New Orleans and Atlanta. Throw eggs or whatever, but just be aware that I've got the alarm system on and since
Jahri Evans
,
Carl Nicks
,
Harvey Dahl
and
Justin Blalock
are worried about the possibility of a lockout, I've hired them as guards.
Yep, I picked Freeman over
Drew Brees
and
Matt Ryan
. I picked him over
Michael Turner
and
Roddy White
too.
Let's be real clear: I'm not saying Freeman is a better quarterback than Brees, who is going to the Hall of Fame someday. I'm not even saying Freeman's better than Ryan, who has had three very nice years. I'm not even saying Freeman had a better season than Brees and Ryan or even Turner and White.
Go back and read the second paragraph and circle the word valuable. That's really the crux of all this. There are lots of ways you can give out MVP awards. But if you put the emphasis solely on the value a player had to his team, Freeman wins in a landslide.
That thought hit me Sunday morning on a plane from Atlanta to Tampa. I'd given some thought to Turner and White, but was pretty much ready to flip a coin to decide between Brees and Ryan. They both had nice regular seasons and they both got bounced in their first playoff games.
In other words, Brees and Ryan did exactly what was expected of them in the regular season, and I don't mean to sell that short as an accomplishment because the bar was set sky high for both of them. But did either of them really do anything special? Anything that was beyond expectations?
When I thought about it in those terms, that's when Freeman's name hit me and this decision was made.
"I think the most important thing is, in just about every game this season, Josh at least had us in a position to win the game,'' Tampa Bay general manager Mark Dominik said. "With a young team, that was hugely important, and he allowed us to accelerate our process. That made him incredibly valuable to us.''
I'll take it a little further than Dominik and say Freeman meant everything to the Buccaneers. He carried that team all season. For those who weren't paying attention, like the 30,000 who weren't showing up for games at Raymond James Stadium or the millions who couldn't watch Tampa Bay's games because they were blacked out on local television, the Bucs went from being 3-13 and a national embarrassment in 2009 to a 10-6 team that barely missed the playoffs.
Nobody expected anything close to that. And nobody expected anything like that from a quarterback who didn't celebrate his 23rd birthday until after the season was over, and who created an instant army of critics when Dominik made the then-ridiculous move of trading a sixth-round pick to move up and draft Freeman in 2009.
Everything Dominik and coach Raheem Morris did in 2009 seemed ridiculous. They signed
Derrick Ward
, fired both coordinators by midseason and lost a lot of games. But it turned out they did one thing right.
They drafted Freeman and, in his first season as a full-time starter, he made a lot of other things look right. He threw for 3,451 yards, 25 touchdowns and six interceptions. His touchdown-to-interception ratio was one of the 10 best in history, and he also used his legs to win games.
More than anything, Freeman used his back to carry the Buccaneers. Tampa Bay had the league's lowest payroll and had the youngest roster in the league and, if you really look at that roster, it wasn't all that good. Yes, some bright spots (running back
LeGarrette Blount
and receiver
Mike Williams
) emerged, but part of the reason they emerged was because they were playing with Freeman.
The Bucs had so many injuries on the offensive line that, by the end of the season, they were starting
Ted Larsen
,
Jeremy Zuttah
and
Derek Hardman
at the three interior positions. If you're not a close relative and had heard of any of those three before they were starting, it might be time to develop some other hobbies.
With all the changes around him, Freeman was the one constant. Other than his six interceptions, his stats didn't compare favorably to the numbers Brees and Ryan put up.
But let's do a little exercise here. Picture the Saints without Brees for a season. Put
Chase Daniel
in with all those weapons and Sean Payton calling the plays and the Saints still win a fair amount of games. Picture the Falcons with
Chris Redman
in for Ryan. It's the same thing. The Saints and the Falcons would at least be competitive without Brees and Ryan.
Now, picture the 2010 Buccaneers without Freeman. I say they would have been 0-16. If you disagree, go out to training camp this summer and watch a few plays with backups
Josh Johnson
and
Rudy Carpenter
under center.
That's why Freeman did more for his team than any NFC South player in 2010.
"The thing is people forget that he was only 22 this season,'' Dominik said. "He took big steps this year and that helped our whole team take some big steps. He's only going to get better in the future, and that's only going to help everyone around him get better in the future.''
Remember, all I'm saying is Freeman was more valuable to his team this year than anyone else. If what Dominik said about the progression of Freeman and the Bucs comes true in the future, then I might be back here with an update. I might end up writing that Freeman is a better quarterback than Brees and Ryan.
December, 18, 2009
12/18/09
12:27
PM ET
As we get to the end of the regular season, some of my colleagues have been writing about who should be the most valuable player in their respective divisions.
We won't do that here because, quite frankly, I'd be insulting you if I threw it out there as a question.
Drew Brees
is so clearly the MVP of the NFC South that there's not even room for the discussion. Heck, if I had to pick someone else, it probably would be New Orleans safety
Darren Sharper
. Or New Orleans linebacker
Jonathan Vilma
. If you made a rule that those three couldn't win it, I'd still probably go with a New Orleans player and take receiver
Marques Colston
. Heck, even guard
Jahri Evans
probably deserves some consideration if you want to go this deep into it.
But in this year when the Saints are magical and everything else in the NFC South is mediocre – or worse – let's have a little fun. Let's close our eyes for a second and imagine the Saints are not in the NFC South (and I know a lot of readers that follow the Bucs, Panthers and Falcons wish that were the case, but we've got to deal with the reality that the Saints are "the'' story in the division and in the entire league most of the time).
Let's get hypothetical and say no one from the Saints is allowed to win the award. Let's pick a Most Valuable Player from among the other NFC South teams.
Think about that one for a second. I don't have anyone really jumping to mind.
Look at the Falcons and
Tony Gonzalez
probably is the best candidate, but can a tight end really be the MVP of a division? Running back
Michael Turner
is extremely valuable to that team, but he's been hurt and his numbers aren't what they were a year ago. Linebackers
Curtis Lofton
and
Mike Peterson
have been bright spots for a defense that hasn't had many.
Think about Carolina and the first name that pops to mind is linebacker
Jon Beason
. He's having a great season even though his team is struggling. I suppose you could throw running back
DeAngelo Williams
and defensive end
Julius Peppers
at least into the argument. Sad part is receiver
Steve Smith
is probably the most talented (non-New Orleans player) in the division, but the little fella probably isn't a candidate because his numbers are so far off his usual pace -- through no fault of his own.
And, finally, we've got to at least throw out a candidate for Tampa Bay. Tight end Kellen Winslow is quietly putting together a very nice season. And you've got to throw him some points for doing it quietly because he hasn't always been this quiet and well behaved.
Really, I don't see any one of these candidates totally jumping out. I guess I'd have to go with either Beason or Gonzalez.
But let's hear what you think and maybe I've inadvertently left out a candidate or two. Hit the comments section below or my mailbag. We'll see if you can come up with a consensus of some sort. At the very least, it should be a fun conversation.
Real quick: The rules again are you can't vote for any New Orleans players. If you want to wait until this weekend's games, that's fine. I'm going to be traveling to New Orleans tonight, covering the Saints and Cowboys on Saturday, traveling back home Sunday morning and monitoring the Sunday games, so I won't get a real chance to see your votes until Monday.
Sometime next week, I'll tally them up and do a post on the non-New Orleans MVP for the NFC South.