NFC South:

NFC South Stock Watch
December, 20, 2011
12/20/11
1:00
PM ET
»
NFC Stock Watch
:
East
|
West
|
North
|
South
»
AFC
:
East
|
West
|
North
|
South
FALLING
1. Mike Williams, Tampa Bay Buccaneers receiver.
For the first time in his career, Williams failed to record a reception in Saturday night's loss to the
Dallas Cowboys
. Heck, Williams wasn't even targeted a single time. Early in the season, it was easy to say Williams was getting more attention from defenses after catching 65 passes for 964 yards and 11 touchdowns as a rookie. But Williams isn't getting a lot of extra attention these days because defenses aren't worried about him. He has failed to get separation, his routes haven't been precise and he's among the league leaders in dropped passes. Williams did show up for some of the player workouts in Tampa during the lockout. But several teammates said during the summer that Williams wasn't there as much as most of the other receivers and spent much of his offseason in Buffalo. In hindsight, you could make the case Williams might have been better served spending more time working out with his teammates.
[+] Enlarge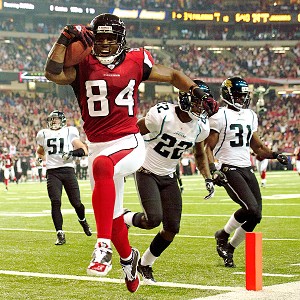 Dale Zanine/US PresswireRoddy White had one of his best games of the season in a blowout win over Jacksonville.
2. Dominique Franks and Christopher Owens, Atlanta Falcons cornerbacks.
They've each done a decent job while getting increased playing time while
Brent Grimes
and
Kelvin Hayden
were injured. But it's looking like Grimes and Hayden will be ready to return for Monday night's game with the
New Orleans Saints
. No offense to Franks and Owens, but I'm pretty sure coach Mike Smith will elect to put Grimes, the best overall athlete on the team, back in the starting lineup and put Hayden, who's more experienced than Owens and Franks, at nickel back. When you're going up against
Drew Brees
, you want your best guys on the field.
3. Kellen Winslow, Buccaneers tight end.
Unlike Williams, Winslow was a fixture at the offseason workouts and he and quarterback
Josh Freeman
seemed to be enhancing their chemistry. But that hasn't translated into success. Winslow has only two touchdown catches this season and the most recent came Nov. 6. In the past four games, Winslow hasn't finished with more than five catches and 52 yards. In Saturday's loss to Dallas, Winslow had four catches for 37 yards. He did have a 17-yard catch, but I remember thinking the Winslow of a few years ago would have gone for at least 30 yards on that play. I'm not sure if his knees, his age or all that's wrong with the Buccaneers is catching up to Winslow, but he's not having anything close to a good season.
RISING
1. Roddy White, Falcons receiver.
We've had our share of fun with White's season-long struggle with dropping passes. But the fact is, White has been playing a lot better of late. He had 10 catches for 135 yards and two touchdowns in Thursday night's win against the
Jacksonville Jaguars
. White has five touchdown catches in his past four games and has his season receiving yardage total up to 1,100 yards, which is much more than respectable. White relinquished his title as the NFC South's best receiver to the
Carolina Panthers
'
Steve Smith
, who previously held it for a long time. But White is at least the second-best receiver in the NFC South these days.
2. Roman Harper, Saints strong safety.
Fans rip on Harper because he's not great in coverage and opponents have called him a dirty player. But the fact is, Harper does what he's supposed to do. The strong safety is usually the weakest guy in coverage in your secondary. Their real job is to tackle and play almost like a linebacker. That's exactly what Harper does. He recorded another sack in Sunday's win against the
Minnesota Vikings
. That gives Harper 7.5 sacks this season. Time to put in a call to ESPN Stats & Information to find out what the record for sacks by a safety in a season is.
3. Jordan Senn, Panthers linebacker.
This guy has been in the league for five years and was a backup and special-teams player until moving into the starting lineup after the Panthers had a slew of injuries at linebacker. Senn has played well in five starts, but he was never better than in Sunday's upset victory against the
Houston Texans
. Senn had a team-high 14 tackles, forced a fumble and came up with a key interception. With all the defensive injuries, coach Ron Rivera has been looking for guys to step up all season and not getting much in the way of results. But Senn has made the most of his opportunity and this guy is going to have a job next year.
December, 13, 2011
12/13/11
1:00
PM ET
»
NFC Stock Watch
:
East
|
West
|
North
|
South
»
AFC
:
East
|
West
|
North
|
South
FALLING
1. Greg Olson, Buccaneers offensive coordinator.
Coming into the season, Olson was getting some mention as one of the "hot'' coordinators and could have ended up with a shot at a job as a head coach with another good season. That hasn't come anywhere close to happening. Like everything else with the Bucs, Olson's offense has taken a step back. Heck, even if the Bucs wanted to fire coach Raheem Morris right now, they probably would be very hesitant to do it because Olson would be the likely candidate to take over on an interim basis and his season has been just as bad as Morris'.
2. Olindo Mare, Panthers kicker.
Carolina made a controversial move in the offseason, letting go of kicker
John Kasay
, the last remaining member of the 1995 expansion team. They brought in Mare with a contract worth $12 million over four years. The thinking was the team could save a roster spot because Kasay hadn't kicked off in years and the team had carried a kickoff specialist. Mare has been as good as any kicker in the league in recent years and the team believed he could be at least as accurate as Kasay on field goals and might be able to make some longer kicks. Well, Mare missed a 36-yard attempt in Sunday's loss to Atlanta. He also missed a 31-yard attempt that would have sent an earlier game against Minnesota to overtime. Coach Ron Rivera said Monday the Panthers may take a look at some other kickers.
3. Donald Penn, Buccaneers left tackle.
For most of the season, Penn has been the least of Tampa Bay's troubles. But that changed in Jacksonville. Penn allowed a sack that led to a
Josh Freeman
fumble and didn't have a good game all the way around. That comes at a bad time because Dallas'
DeMarcus Ware
, who has 15 sacks, is coming to town Saturday night.
RISING
[+] Enlarge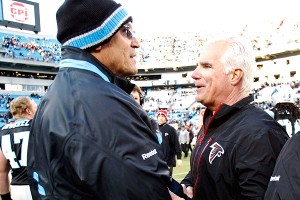 Bob Donnan/US PresswirePanthers coach Ron Rivera and Falcons coach Mike Smith shake hands following their Week 14 game.
1. Mike Smith, Falcons coach.
He was back at practice Monday night after having to check into a Charlotte hospital following Sunday's victory against the Panthers. Smith declined to go into any specifics about his health, but said a series of tests showed no major problems. Smith said it will be business as usual as the Falcons prepare for Thursday night's game against Jacksonville. But maybe somewhere in all of this, there is a lesson for Smith and every other coach in the NFL. They're in a very competitive business and work ridiculous hours with almost no time off once training camp starts. But even in those circumstances, coaches need a little balance. An extra hour of rest or exercise here and there might do just as much overall good as an extra hour in the film room.
2. Gregg Williams, Saints defensive coordinator.
His defense came up with two big stops late in the victory against Tennessee and has looked better overall in recent weeks. Williams needs to keep building on this positive momentum. Although
Drew Brees
and the offense generally have carried the Saints, they're going to need some good outings from the defense if they want to get by San Francisco and Green Bay in the NFC playoffs.
3. Julio Jones, Falcons receiver.
It sure looks like Jones is maturing right in front of our eyes. He came off a bad game against Houston and got off to a rough start Sunday against Carolina. But the coaching staff and quarterback
Matt Ryan
kept faith in Jones. That was rewarded in the second half as Jones had two touchdown catches to help the Falcons rally to a victory.
December, 6, 2011
12/06/11
1:00
PM ET
»
NFC Stock Watch
:
East
|
West
|
North
|
South
»
AFC
:
East
|
West
|
North
|
South
FALLING
1. Raheem Morris, Buccaneers coach.
He has become a weekly contestant in the "Falling'' category of Stock Watch. That's only because his stock has continued to fall every week for about the past month. How much lower can it go? Well, think about this: The Bucs play Jacksonville on Sunday. You put together back-to-back losses to the Panthers and Jaguars and that's as bad as it gets. The defense, which Morris coordinates, is a mess. Weird things keep happening around One Buccaneer Place (see Morris,
cursing and ripping
on defensive tackle
Brian Price
in the latest episode). This is really starting to look like the final bizarre days of Sam Wyche all over again. I'm just hoping Morris doesn't do what Wyche did and go on a 45-minute diatribe/meltdown on Christmas Eve.
2. Julio Jones, Falcons receiver.
When he has been healthy, the rookie receiver has had a pretty good season. But Jones played like a rookie Sunday. He dropped two passes and was called for a couple of costly penalties.
3. Mike Mularkey, Falcons offensive coordinator.
Atlanta came out very aggressively, throwing a couple of quick deep passes against Houston. That didn't work. Didn't the Falcons learn anything early in the year when they were trying to force things downfield? Their offensive line isn't really good enough to block for the deep ball, unless
Michael Turner
and the running game have softened up a defense first. If the Falcons somehow don't make the playoffs or have an early exit, there's probably going to be a scapegoat because expectations were so high at the start of the season. Mularkey's looking like the leader in the scapegoat clubhouse.
RISING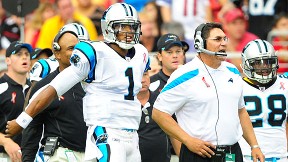 Mark J. Rebilas/US PresswireRon Rivera looks to have the beginnings of a solid turnaround with Carolina and Cam Newton, left.
1. Ron Rivera, Panthers coach.
Carolina has won two in a row, which is more significant than it sounds. In my newspaper days, I covered two dramatic turnarounds. I saw Tony Dungy take over a bad Tampa Bay team in 1996 and put it in the playoffs the next season. I saw John Fox take over a terrible Carolina team in 2002 and put it in the Super Bowl the next season. Each of those teams showed some progress and built momentum at the end of the first season that clearly was a stepping-stone to success the next year. What Rivera is doing looks an awful lot like what Dungy and Fox did at the end of their first seasons.
2. Robert Meachem, Saints receiver.
About as quietly as you can put up 119 receiving yards and one touchdown, Meachem did that in Sunday night's victory against Detroit. It's easy to get lost in a receiving corps that also includes
Lance Moore
,
Marques Colston
and
Devery Henderson
, and don't forget tight end
Jimmy Graham
and the running back trio of
Darren Sproles
,
Pierre Thomas
and
Mark Ingram
. People always say
Drew Brees
makes everyone around him look better, and that's got a lot of truth to it. But Brees also benefits from working with an amazing collection of talent -- and Meachem is part of that collection.
3. Tony Gonzalez, Falcons tight end.
On a day when not much went right for the Falcons, Gonzalez put up 100 yards on seven catches. This guy is amazing. There were times last season when I thought Gonzalez was near the end of the road. If you threw him a 7-yard pass, he'd give you 7 yards. This season, Gonzalez looks faster and is making some things happen after the catch.
November, 29, 2011
11/29/11
1:00
PM ET
»
NFC Stock Watch
:
East
|
West
|
North
|
South
»
AFC
:
East
|
West
|
North
|
South
FALLING
1. Raheem Morris, Buccaneers coach.
Morris is becoming a fixture in this category and that's only because he has earned it. Predecessor Jon Gruden got fired largely because his run defense couldn't stop anything in the last four games of the 2008 season. Morris and the front office have used a lot of draft picks and money on defensive linemen and linebackers to try to fix this problem. Three years later, the run defense might be worse than it was in Gruden's final days.
[+] Enlarge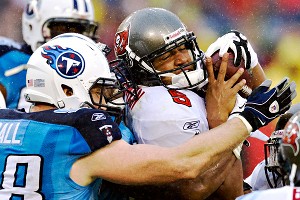 Wesley Hitt/Getty ImagesJosh Freeman couldn't come through in the clutch as the Bucs dropped their fifth game in a row.
2. Kellen Winslow, Buccaneers tight end
. As we've noted many times this season, Winslow's not putting up big numbers as a receiver. In Sunday's loss to Tennessee, Winslow hurt the Bucs in another way. He was called for a holding penalty that wiped out a nice run by
LeGarrette Blount
.
3. Josh Freeman, Buccaneers quarterback
. I've got to make it a complete sweep for the Bucs, since they were the only NFC South team to lose this week. I still think Freeman is more a victim of problems around him than anything. But last year and early this season, if the Bucs just stayed close to an opponent into the fourth quarter, it seemed as though Freeman found a way to win. He had that chance against Tennessee, but didn't come close to generating any miracle.
RISING
1. Drew Brees, Saints quarterback
. I know, I've been heaping all sorts of praise on Brees. But I'll do it again. Since we started the ESPN.com Blog Network in 2008, I've seen every game Brees has played. He has played a bunch of great ones. But I've never seen him better than he was Monday night. In fact, I'll go as far as to say I've never covered a quarterback who had a better game. Well, maybe
Craig Erickson
back in Tampa Bay or
Chris Weinke
in Carolina. No, seriously, I've never seen anything as impressive as what Brees did Monday night.
2. Sean Weatherspoon, Falcons linebacker.
With Carolina's
Jon Beason
and
Thomas Davis
and New Orleans'
Jonathan Vilma
all injured and no Tampa Bay linebackers doing much of anything, Weatherspoon might be the NFC South's best linebacker at the moment. Teammate
Curtis Lofton
is the only other player even in the conversation. After dealing with injuries as a rookie, Weatherspoon has emerged as a star in his second season. He had a huge stop on a goal-line stand in Sunday's victory against Minnesota.
3. Sherrod Martin, Panthers safety.
He redeemed himself with an interception to seal a victory. Moments before, Martin had missed a tackle as
Reggie Wayne
went for a long touchdown. Sunday was a day of redemption for Martin and a Carolina defense that has struggled most of the season. This defense is far from perfect and several key players are out for the season with injuries. This defense isn't going to experience any major turnaround until next season, when the injured guys come back and some new talent has been added. But the fact that Carolina's defense is showing something that looks like improvement at this point in the season is encouraging.
November, 29, 2011
11/29/11
11:00
AM ET
NEW ORLEANS -- I'll be traveling most of the day and won't arrive back at NFC South Blog headquarters until late this afternoon.

I might check in from an airport or a plane (if either of my flights is equipped with wireless internet). In the meantime, keep an eye on the "headlines'' section of our main NFL page for any breaking news.

But you'll also see a few items pop up on this page Tuesday afternoon. I've already scheduled my weekly NFC South Stock Watch item. You'll also see another item pop up that will break down where the NFC South teams are in ESPN.com's weekly Power Rankings.
November, 28, 2011
11/28/11
4:00
PM ET
NEW ORLEANS – I'm about to head over to the Mercedes-Benz Superdome to cover Monday night's game between the Saints and Giants.

Yeah, I know it's very early, but I'd rather get into the building and work on Tuesday's NFC South Stock Watch and some other things than get caught up in the pre-game traffic, which will be getting pretty heavy if I wait any longer.

I'll check back in once I get settled and will get you the inactives for the Saints about 90 minutes before kickoff. NFC East colleague Dan Graziano will bring you any other pregame news and notes.

Once the game starts, we'll be jumping into Monday Night Live to chat throughout the game. We'll be joined by Scouts Inc.'s Matt Williamson, "Football Scientist'' KC Joyner and ESPN Stats & Information. If you want to join the chat, just check back on the NFC South Blog as the game gets closer. Just look for the Monday Night Live post and you'll be able to get directly into the chat.
December, 30, 2010
12/30/10
10:34
AM ET
I just jumped into the mailbag for the first time in several days due to the fact I was a bit tied up covering the Monday Night Football game between the Saints and Falcons, flying back home and taking care of some other assignments. But the mailbag was overflowing, mostly from the Atlanta and New Orleans precincts, but I also included questions on Carolina and Tampa Bay. So let's look at what's on the minds of fans around the NFC South.
Numerous New Orleans fans
wrote to ask why I'm making such a "big deal'' out of some Saints posing for pictures on the Falcons logo after Monday night's game.
Pat Yasinskas:
It's part of my job description. Perhaps New Orleans fans have been a bit spoiled because just about every word written about the Saints over the past year has been justifiably glowing. This was an incident that angered a lot of people outside of New Orleans, and it had to be mentioned because it is a big deal in Atlanta and other places. I don't think I really ripped the Saints -- although I did say what they did might not have been a great idea -- nearly as much as some other media members. I've had several follow-up items because the Saints and Falcons continue to talk about it.
---
Numerous Atlanta fans
wrote to ask why I didn't use a certain vulgar quote that was used by a New Orleans player to describe what the Saints were doing.
Pat Yasinskas
: I wasn't there to hear Remi Ayodele's quote, so I couldn't use it. But, if I had tried, I don't think our editors would have run it. We have some pretty strict rules on that sort of thing. In fairness to Ayodele, I believe he was talking only in a figurative sense.
---
Numerous New Orleans fans
said I gave
Roddy White
a pass on his Twitter comments.
Pat Yasinskas
: Final word, for now, on this shouting match between the Saints and Falcons fans, although I'm sure it will continue in the comments section. Look at Wednesday's NFC South Stock Watch. In
the first two items
, I was critical of the Saints and White. Both teams were at fault and that's been pointed out. This spat isn't about me. It's about the Saints and Falcons. They were going back and forth before the game and they're still doing it. That is part of the beauty of a rivalry. And, hey, it's not a stretch to think New Orleans and Atlanta will meet again in the playoffs, so all this stuff could come up again.
---
Harris in Weaverville, N.C., writes:
Do you have any insight on how Carolina's process for looking for a new coach will go and how long that process might take.
Pat Yasinskas:
As I've written several times, general manager Marty Hurney will stay with the team as coach John Fox leaves. Hurney will join with team president Danny Morrison to spearhead the search. That's kind of the same approach the Panthers took in 2002 when they hired Fox. At that time, Hurney and former team president Mark Richardson led the search and owner Jerry Richardson had the final say. It will be the same thing this time, except Morrison will take over the Mark Richardson role. Jerry Richardson is more tied up in the league's labor situation than most people realize. He'll let Hurney and Morrison do the groundwork and he'll get involved when the list is narrowed down. Knowing how Hurney operates, I'd expect this to be a very methodical search with the Panthers looking at several candidates and perhaps bringing several back for a second round of interviews. I still suspect the winner will be someone that hasn't been a head coach in the NFL before and probably will be a current NFL assistant. But the Panthers aren't closing any doors and it's possible they will at least look at a college coach or two. As far as a time frame, my best guess is it will take a couple of weeks. When Fox was hired, the process took about three weeks.
---
Victor in Texas writes:
Will Tampa Bay's success this year translate into some prime-time television games next season.
Pat Yasinskas:
Yes, I expect that will happen. The Bucs are a team on the rise and they've got some potential big names in
Josh Freeman
,
Mike Williams
and
LeGarrette Blount
. That gives them a bit of star power, but I don't think you'll see more than one or two prime-time games next season. For the Bucs to get four or five prime-time games, they need to continue winning, Freeman, Williams and Blount need to continue building their star power, and it wouldn't hurt if Raymond James Stadium starts selling out again. I don't think the NFL wants to show many prime-time games with a half-empty stadium in the background.
December, 29, 2010
12/29/10
12:24
PM ET
»
NFC Stock Watch
:
East
|
West
|
North
|
South
»
AFC
:
East
|
West
|
North
|
South
FALLING
1. Certain New Orleans linebackers and defensive linemen.
There's no exact list, but it was guys from those two position groups who went out and posed for pictures on the Atlanta Falcons' logo after Monday night's game. The Saints say it was harmless and that they frequently take pictures to commemorate big victories. But there are unwritten rules in the NFL and these guys might have broken a big one by at least giving the appearance they were gloating. Not a real good idea because the Saints could end up coming back to the Georgia Dome in the playoffs and you can bet that Atlanta coach Mike Smith is going to have photos of the Saints celebrating hanging all over his locker room.
2. Roddy White, wide receiver, Falcons.
If you're going to spout off on Twitter or anywhere, it's a good idea to come out and back it up. White didn't quite do that with his 43 receiving yards in Monday night's loss to the Saints.
3. Matt Ryan, quarterback, Falcons.
He didn't have a disastrous game against the Saints, but Ryan needs to win a few more games like that before we firmly put him in the elite category or put him ahead of
Drew Brees
.
[+] Enlarge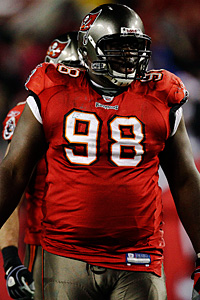 AP Photo/Chris O'MearaFrank Okam stepped up in a big way for the Bucs on Sunday.
RISING
1. Frank Okam, defensive tackle, Buccaneers.
It's only one game, but Okam took a big stride in possibly shedding the underachiever label that's been with him for most of his career. In Sunday's victory against Seattle, Okam played a major role in shutting down the running game. With rookie starters
Gerald McCoy
and
Brian Price
lost to injuries, Okam stepped in and produced seven tackles, including two for losses. With McCoy, Price and
Roy Miller
all returning next year, Okam has a good chance to stick around as the fourth tackle for the long haul.
2. Drew Brees, quarterback, Saints.
He didn't have a great game by any measure Monday night. But, when it mattered most, Brees drove his team 90 yards to victory. That's why he's firmly in the "elite'' category.
3. Myron Lewis and E.J. Biggers, cornerbacks, Buccaneers.
Things really could have gotten out of hand after
Aqib Talib
, Tampa Bay's best cornerback, went down with a season-ending injury. But Biggers and Lewis have stepped up and kept Tampa Bay's secondary respectable. Biggers has been starting and Lewis, who wasn't a factor early in his rookie season, has taken over as the nickelback and played well. Biggers and Lewis were part of the reason Seattle's
Mike Williams
caught only two passes Sunday.
April, 29, 2010
4/29/10
1:00
PM ET
»
NFC Stock Watch
:
East
|
West
|
North
|
South
»
AFC
:
East
|
West
|
North
|
South
Falling

Darren Sharper, safety, Saints.
He's been dangling out there in free agency and it doesn't sound as if the Saints have budged from their initial offer. There were rumblings they had a plan in place to slide cornerback
Malcolm Jenkins
to free safety.
Those rumblings grew a lot stronger when the Saints drafted cornerback
Patrick Robinson
with their first-round pick. That pick cleared the way for Jenkins to make a move. This one was a tough call because Sharper had nine interceptions last year. But the fact he's 34 was something the Saints never lost sight of. They wanted Sharper back, but only if the price was right. Now, Sharper's making his free-agent tour. Kind of ironic how the guy who was the last piece in New Orleans' championship puzzle is now up for grabs. But it's another reminder that this is a business, not a game.
Rising

Josh Freeman, quarterback, Buccaneers.
The guy who is supposed to be the franchise in Tampa Bay got what he needed most -- some help. The Bucs drafted receivers
Arrelious Benn
and
Mike Williams
. It might take a little time to learn the system, but they come in instantly with better physical skills than any of the receivers the Bucs had on the roster before the draft.
November, 3, 2009
11/03/09
11:00
AM ET
»
NFC Stock Watch
:
East
|
West
|
North
|
South
»
AFC
:
East
|
West
|
North
|
South
Posted by ESPN.com's Pat Yasinskas
Falling:
Aqib Talib, cornerback, Buccaneers.
Reports have surfaced that Talib missed curfew while the Bucs were in London before their bye week. To clarify, Talib missed curfew the night of the game, not the night before it. The Bucs weren't flying back to Tampa until that Monday morning and they spent that Sunday night in London.
But this is still a pretty big deal because Talib has had some problems in the past and the Bucs are growing more than a little weary of this trend. Talib still could face a suspension for his involvement in an alleged assault on a cab driver in August. The Bucs once viewed Talib as a cornerstone of their rebuilding program, but the concerns about his off-field behavior continue to grow.
Matt Ryan, quarterback, Atlanta.
Yes, he threw for 289 yards against the Saints and made some nice plays. But Ryan completed less than 50 percent (19 of 42) of his passes. This is the second straight game where I've seen him make more than one or two bad decisions and I couldn't say that often last year.
I don't think there's any sophomore slump and I still think Ryan is a very good quarterback. But to get to the next level, he has got to get that completion percentage up and make better decisions.
Reggie Bush, undeclared, Saints.
The roster says Bush is a running back, but I don't think that really fits anymore. He had two carries for three yards (and a touchdown) against the Falcons. So much for all that offseason talk about how this was the year Bush was going to prove he could run between the tackles. Instead,
Pierre Thomas
and
Mike Bell
are showing they can do that.
Bush has been relegated to part-time duty as a running back, receiver and return man and he's not excelling at any one of them.
Rising:
Will Smith, defensive end, Saints.
People have categorized Smith and fellow defensive end
Charles Grant
as underachievers in recent years. Forget that tag. Smith sacked Matt Ryan twice Monday night and had two quarterback hurries.
Pretty strong performance for a supposed underachiever. Looks like this might be the year Smith and Grant become achievers.
Thomas DeCoud, safety, Falcons.
DeCoud was about the only member of Atlanta's 2008 draft class that didn't make a big impact as a rookie. Well, he has caught up. Although the Falcons drafted
William Moore
in this year's draft with the intention of starting him, DeCoud won the job in training camp.
He has got a firm grasp on it now and that's not just because Moore is out for the season with an injury. DeCoud has been improving each week and he made a huge play against the Saints. On a blitz, he sacked
Drew Brees
and forced a fumble that defensive end
Kroy Biermann
, also a member of last year's draft class, grabbed the ball for a touchdown.
Julius Peppers, defensive end, Panthers.
The $18 million man played like it against the Cardinals. He intercepted a pass and returned it for a touchdown on a play that makes you remember Peppers is one of the most athletic players in the league. He also harassed Arizona quarterback
Kurt Warner
throughout the game.
If Peppers could play like that every week, he'd wipe out the criticism that he takes plays, sometimes entire games, off.
October, 27, 2009
10/27/09
11:00
AM ET
»
NFC Stock Watch
:
East
|
West
|
North
|
South
»
AFC
:
East
|
West
|
North
|
South
Posted by ESPN.com's Pat Yasinskas
Falling
1. Jake Delhomme, quarterback, Panthers.
It's over. Sad to say because Delhomme's done a lot for this franchise through the years and there might not be a nicer guy in the NFL. But he's not getting the job done and Carolina's season is quickly spinning out of control.
John Fox is scrambling for his job and that means he'll probably turn to
Matt Moore
or
A.J. Feeley
(like either of those guys will make any difference). But Carolina clearly has to do something drastic and that means benching Delhomme.

2. Brent Grimes, Chris Houston and Chevis Jackson, cornerbacks, Falcons.
We've known since the preseason that this was a problem spot for the Falcons. They brought in veteran
Brian Williams
and he briefly stabilized things. But Williams is gone for the season with an injury.
It's time for the kids to stand on their own feet, but against the Cowboys they just kept stumbling and other teams are watching the film. Think Sean Payton might have a few ideas on how he can exploit these guys Monday night?
3. John Abraham, defensive end, Falcons.
The effort is still there, so I'm not saying Abraham's pulling a
Julius Peppers
. But maybe age is catching up to a guy who's been an elite pass-rusher throughout his career.
Abraham's not showing up very much and that leaves the Falcons without very much of a pass rush. That's another reason why the cornerbacks are struggling.
Rising
1. Drew Brees, quarterback, Saints.
Brees' stock has been at an all-time high pretty much all season, so it's hard to make a case that it got stronger. But that's exactly what happened Sunday against the Dolphins. Brees added to his lore in a new way.
He started off terribly, throwing three interceptions as the Saints fell behind by 21 points. Then, he rallied his team to victory. That's the mark of a true leader. That's the mark of an elite quarterback. All further proof that Brees deserves to be at or very near the top in discussions of elite quarterbacks.
2. Darren Sharper, safety, Saints.
Another week, another interception return for a touchdown. It seems like this guy makes big plays every week. Has there been a better free-agent pickup than Sharper anywhere this season? I don't think so.
At this point, Sharper has to be a strong candidate for the defensive player of the year award. Heck, he's producing more offense than Tampa Bay's offense.
3. Josh Freeman, quarterback, Buccaneers.
We're not saying his stock is soaring because of anything he did in his brief debut in London. We're just saying it's obvious the Bucs are ready to hand things off to their first-round draft pick.
Maybe the change can provide some sort of spark for a team that has nothing positive going for it. But don't expect this kid to come right in and be a miracle-worker right from the start. He's got a lousy team around him.
October, 13, 2009
10/13/09
11:00
AM ET
»
NFC Stock Watch
:
East
|
West
|
North
|
South
»
AFC
:
East
|
West
|
North
|
South

Posted by ESPN.com's Pat Yasinskas
Falling
Michael Clayton, wide receiver, Buccaneers.
Depending on how you want to count them, he dropped either three or four passes against Philadelphia on Sunday. Prior to that, Clayton hadn't really done anything positive season having a nice season opener.
After spending the last few years in Jon Gruden's doghouse, the new regime surprised everyone by re-signing Clayton and giving him a fresh start. Now, he might have played his way out of a starting job. After the opener, coach Raheem Morris challenged anyone in the media to question why the Bucs re-signed Clayton. I'll take that challenge, but I think I'm already standing in a long line.
Antonio Bryant, wide receiver, Buccaneers.
The only thing keeping Bryant from getting totally bashed is that he's got a nice lightning rod in Clayton. Bryant dropped two, maybe three passes Sunday.
That's two or three more than a wide receiver who is making $10 million under the franchise tag should drop. Bryant was more than a little bit upset when the Bucs franchised him instead of giving him a massive and lengthy extension after he had a big season last year. Part of the reason the Bucs didn't lock Bryant up was because they weren't sure he could do it again. So far, he hasn't.
DeAngelo Williams, running back, Panthers.
Remember back in the preseason when Gruden, in his new role as a television analyst, said Williams might be the best running back in the league and got everyone stirred up? Carolina fans made the mistake of buying into that and expecting Williams to post even loftier numbers than he did last season.
So far, Williams is posting
Nick Goings
numbers. We'll put some of the blame on the offensive line. But a guy with Williams' talent should be doing far more than this.
Rising
Roddy White, wide receiver, Falcons.
He set a franchise record with 210 receiving yards Sunday against what was supposed to be a good San Francisco defense. White had started slowly after getting a big contract in the preseason. He said he put too much pressure on himself in the first three games and broke his slump only when he relaxed and went back to the same mentality he followed last year.
White has suddenly put himself back in contention for a Pro Bowl berth and is challenging New Orleans'
Marques Colston
for the title as the NFC South's best wide receiver.
Steve Smith, wide receiver, Panthers.
Yes, we know his numbers are drastically off. But we're going to project here. Smith goes up against Tampa Bay's secondary Sunday and he could shred a group that hasn't been good this season.
Heck, by the time Smith's done with the Bucs, he might vault back ahead of Colston and White and reclaim his spot as the division's best receiver.
Julius Peppers, defensive end, Panthers.
For one week anyway, the heat is off Peppers. He produced two sacks as Carolina beat Washington to get its first win.
People expect Peppers to get two or three sacks every week and that's not even close to realistic. But Peppers can win over a lot of fans if he can just play with Sunday's type of effort every week.