NFC South:

NFL Nation: 4 Downs
June, 26, 2014
6/26/14
10:00
AM ET
By
ESPN.com staff
| ESPN.com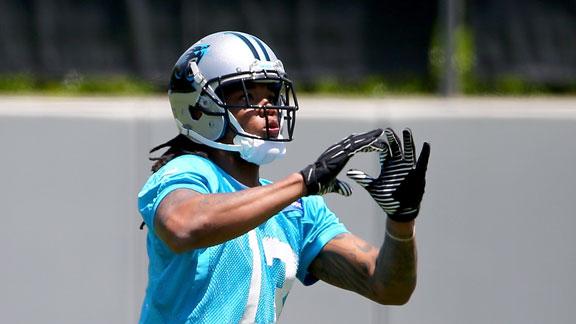 The NFC South too shall pass.
Three of the division's first-round picks in May were wide receivers:
Mike Evans
of the
Tampa Bay Buccaneers
(at No. 7),
Brandin Cooks
of the
New Orleans Saints
(No. 20) and
Kelvin Benjamin
of the
Carolina Panthers
(No. 28). And offensive tackle
Jake Matthews
, drafted sixth overall by the
Atlanta Falcons
, should give quarterback
Matt Ryan
more time to throw to his star wideouts.
The Bucs had a void opposite Pro Bowl veteran
Vincent Jackson
and filled it with Evans, giving the team a pair of 6-foot-5 receivers. The Saints parted with
Lance Moore
and
Darren Sproles
, two key components in their pass-happy offense. In steps versatile Cooks, who hauled in 128 receptions for 1,730 yards last season at Oregon State. The Panthers released their No. 1 receiver -- diminutive, 35-year-old
Steve Smith
-- and replaced him with 6-5 Benjamin.
First-round picks aren't the only NFC South rookies with a chance to make some noise. Keep an eye on Bucs tight end
Austin Seferian-Jenkins
, Falcons running back
Devonta Freeman
and Saints cornerback
Stanley Jean-Baptiste
.
The four writers who cover the division -- Vaughn McClure in Atlanta, David Newton for Carolina, Mike Triplett in New Orleans and Pat Yasinskas for Tampa Bay -- offered their insights on the division's rookies, among other topics. They also polled their Twitter followers to find out whether they saw the issues differently.

Which NFC South rookie will make the biggest impact this season?
Vaughn McClure: Tampa Bay receiver Mike Evans should get plenty of chances to show he was worthy of a top-10 selection. His size (6-5, 230 pounds) is enough to give opponents fits. Having a proven big receiver such as Vincent Jackson on the other side should help Evans make a smooth transition. Josh McCown is a smart quarterback who won't put Evans in bad situations. And Lovie Smith is the right head coach in terms of helping a rookie adjust to new surroundings. Evans has to overcome some of the knocks on him, including that he's too stiff and doesn't have great speed. It still will be hard to match up against him one-on-one, though, because the former basketball player will win the jump balls. And he has already impressed coaches with his range.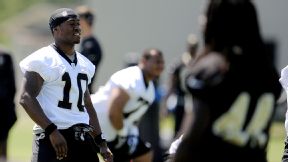 David Newton: This is a tough one because I really like the first-round picks for all four division teams. Each will make his team significantly better. But for me, it comes down to New Orleans' Brandin Cooks and Carolina's Kelvin Benjamin because both receivers will get plenty of opportunities. I'm going with Cooks because he has quarterback Drew Brees and a veteran unit around him. Rookie receivers often struggle. Cooks will break that trend with 60-plus catches.
Mike Triplett: I'll go with Saints receiver Brandin Cooks because I think he'll have the flashiest season. You could make a great case for all four first-round picks, and Jake Matthews will probably play the most vital role because of the Falcons' need at offensive tackle. But I think Cooks will make the biggest splash -- and even be a strong contender for NFL Offensive Rookie of the Year. Even though New Orleans spreads the ball around so much, I expect Cooks to catch a high volume of passes and hit some home runs with deep balls and a punt return or two.
Pat Yasinskas: That's an easy one. I'm going with Tampa Bay wide receiver Mike Evans. He's going to be an instant starter, and he's going to be active in the passing game. Vincent Jackson remains the top receiver, but Evans will be a nice No. 2 to start his career. Evans someday will be a No. 1 receiver, but for now he'll be a complement to Jackson. Evans and Jackson, both 6-5, will form one of the league's largest starting receiver tandems, and that's going to cause problems for opposing defenses.
@PatYazESPN Jake Matthews. He instantly makes the line bigger and more physical. Matt Ryan may actually have time to get rid of the ball.

— James Niemeyer (@jrniemeyer) June 10, 2014
---

What is your team's top position battle to monitor in training camp?
McClure: Although there will be plenty of competition among Falcons linebackers, I'm turning my attention to the running backs. Steven Jackson is the starter. He turns 31 next month and probably has one good season left in him -- but if he is slowed by nagging injuries, the Falcons will turn to someone else. They drafted Devonta Freeman in the fourth round with thoughts of grooming him as the three-down back of the future. If he looks as good in pads as he did in shorts, Jackson might have a battle on his hands. Even the battle for the third running back will be interesting with Jacquizz Rodgers and Antone Smith in the mix. The running backs, as a whole, have an improved offensive line to run behind. Let's see whether that helps them.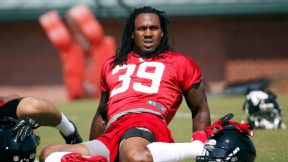 Newton: Most might say the left tackle battle between Byron Bell and Nate Chandler. And although finding a replacement for retired Jordan Gross is key, the Carolina competition that intrigues me the most will be between Charles Godfrey and Melvin White at cornerback. Godfrey is making the transition from safety to corner after missing most of last season with an Achilles injury. It's a homecoming of sorts, since Godfrey played cornerback for most of his college career at Iowa before the former Panthers coaching staff moved him to safety in 2008. Although White was adequate last season, Godfrey is a more physical player with the potential to be a shutdown corner. If he can win that battle, it's a huge upgrade for the league's No. 2 defense.
Triplett: The battle at cornerback is by far the most compelling on the Saints' roster. For one thing, it's a vital position in today's NFL. For another thing, the Saints are loaded with fascinating candidates behind No. 1 cornerback Keenan Lewis. Does surefire Hall of Famer Champ Bailey have enough left in the tank? Can former first-round pick Patrick Robinson bounce back from injury? Can third-year pro Corey White take that next step? Can rookie Stanley Jean-Baptiste make an instant impact? Can second-year pro Rod Sweeting or someone else emerge as a dark horse? And did I mention this is an important position?
Yasinskas: The best competition will be at tight end. The fact Austin Seferian-Jenkins was drafted in the second round probably means he'll get the first shot at the starting position, but don't overlook his competition -- theoretically, the Bucs have four guys who could end up as the starter. Free-agent pickup Brandon Myers can catch and block. Tim Wright had 54 catches last season and has worked to improve his blocking. Veteran Luke Stocker is returning from injury; he isn't a huge threat as a receiver, but he could play a big role as a blocker.
@DNewtonespn OG and OT, biggest concern on team IMO is protecting Cam

— William Harkness (@NCBillyHarkness) June 6, 2014
---

Which veteran on your team is poised for a breakout season?
McClure: I like safety William Moore taking on more of a leadership role and sparking the Falcons' defense, and I like receiver Roddy White rebounding from last year's injury-plagued campaign. But the guy I'm going to single out is return man Devin Hester. After his role diminished in Chicago, people forgot he was the greatest return man of all time. All Hester needed was a change of scenery: In watching him during organized team activities, it was evident he still has his quickness. With special-teams mastermind Keith Armstrong drawing up the blocking scheme, Hester could be the X factor in the Falcons' quest to return to playoff contention. Whatever Hester accomplishes on offense would be a bonus.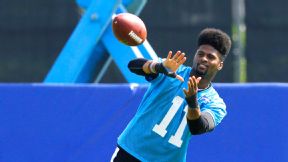 Newton: It feels strange calling wide receiver Tiquan Underwood a veteran since this is his first season with the Panthers, but the sixth-year player out of Rutgers was the first to come to mind with this question. Underwood was brought in to replace Ted Ginn Jr. as the speed receiver. Ginn went from two catches with San Francisco in 2012 to 36 for five touchdowns with the Panthers last season before moving on to Arizona. Underwood had 24 catches for four touchdowns in Tampa Bay last season. Offensive coordinator Mike Shula was high on him when they worked together in Jacksonville. Throw in what wide receivers coach Ricky Proehl will teach Underwood, I could see him doubling his production in 2014.
Triplett: I've been touting Saints defensive end/tackle Akiem Hicks all offseason. He's a third-year guy who's big and really powerful at 6-5, 324 pounds, but athletic for his size. A former third-round pick out of the University of Regina in Canada, he had 4.5 sacks last year in his first stint as a full-time starter. I'm not sure Hicks will post 10-plus sacks as an interior guy, which means he might not crack the Pro Bowl. But that's the level of impact he can have as someone who can both push the pocket and stuff the run. Opposing offensive linemen in the NFC South certainly know who he is.
Yasinskas: Middle linebacker Mason Foster is set up for a big season. Foster has had a decent career to this point, but he's about to get a lot better. Hardy Nickerson and Brian Urlacher excelled as middle linebackers in coach Lovie Smith's defense, and now it might be Foster's turn. Weakside linebacker Lavonte David is the star of this unit, but Foster has a chance to be a nice complementary player. Smith likes to have his middle linebackers call the defensive plays, and that means Foster will be putting on the radio helmet this year.
@vxmcclure23 I think William Moore will start getting Natl recognition after this season and appearance on Hard Knocks.

— Tootie Quivers (@TootieQuivers) June 13, 2014
---

What is your predicted order of finish in the NFC South standings?
McClure: That's a tough one. I see a lot of parity within the division, and the Buccaneers really have a chance to close the gap based on their offseason moves, including the hiring of Smith as coach. But I'm going to go with New Orleans, Atlanta, Tampa Bay, Carolina. As long as the Saints have Drew Brees in the lineup, they have a chance to be contenders. The Falcons bulked up on both sides of the line, which should bode well for them in terms of putting up points on offense and preventing big plays on defense. The Bucs' defense could be devastating. Carolina will sorely miss Jordan Gross and Steve Smith -- and it will show.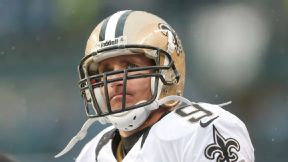 Newton: Since nobody has repeated as NFC South champion since the division was formed in 2002, it would seem a bit crazy to pick the Panthers, who edged New Orleans for the title last season. The Saints are considered the favorites by most, and it's hard to argue otherwise with Brees and tight end Jimmy Graham on offense. But I'm a believer that defense wins, and even with changes to the secondary, there's not a better defense in the division than Carolina's. I like what Atlanta has done in free agency and the draft, so I look for the Falcons to finish second with the Saints third and Tampa Bay fourth. Having said that, I could see the division winner going 9-7 or 10-6. It's going to be tight.
Triplett: I'm confident the Saints will finish first with at least 11 wins. Although their offense lost some key pieces, it's still one of the NFL's elite, and their defense is legit. After that it's a virtual three-way tie. I wouldn't be surprised to see any of the others flirt with a playoff run or finish last. I'll go with the Buccaneers second because they're on the rise. They have a great defense and run game and now seem to have a solid coach and quarterback. I'll pick Carolina third because it lost so much in the receiving corps and secondary. As much as I like the Falcons' passing attack, there are questions everywhere else.
Yasinskas: Saints, Falcons, Buccaneers and Panthers. This was a tough call because all four teams have a chance to be good. I gave the nod to the Saints because they have Brees, the best quarterback in the division. I think Atlanta will have a dramatic turnaround after last season's debacle. Tampa Bay is going to be much more competitive than last year. Carolina might have taken a step back with some of its offseason moves, but I still wouldn't count the Panthers out.
@MikeTriplett 1.Saints-more talent allaround 2.Bucs-sleeper, good coach, talent 3.Falcons-improved, still struggle 4.Panthers-lost too much

— Brad Powell (@PowellBrad) June 11, 2014
May, 1, 2014
5/01/14
10:01
AM ET
By
ESPN.com staff
| ESPN.com
The NFC South might have had the most dramatic offseason of any division in the NFL.
The
Tampa Bay Buccaneers
loaded up on enticing newcomers, starting with a new coach in Lovie Smith, a new quarterback in
Josh McCown
and a new pass-rusher in
Michael Johnson
, leading many analysts to believe they had the best offseason of any team in the league.
Meanwhile, the defending-champion
Carolina Panthers
lost several core players, including the face of their franchise,
Steve Smith
, leading many analysts to believe they had one of the worst.
And the
New Orleans Saints
did a little of both, parting ways with several longtime veterans while making a big splash with the addition of safety
Jairus Byrd
.
Throw in the
Atlanta Falcons
, who get star receiver
Julio Jones
back from injury and just plain get to start over with a clean slate and you can see why all four teams feel as if they have legitimate shots to make a playoff run in 2014.
The four writers who cover the division -- Vaughn McClure in Atlanta, David Newton in Carolina, Mike Triplett in New Orleans and Pat Yasinskas in Tampa Bay -- offered their insights on the division shakeup among other topics. They also polled their Twitter followers to find out whether they saw the issues differently.

Has any team made moves that could alter the balance of power in the NFC South?
Vaughn McClure: The Buccaneers made a significant move by hiring Lovie Smith as their coach. After seeing the Bucs demolish the Falcons at home last season, it was easy to tell they were a talented team that just needed better leadership. Smith is a proven winner who took the Chicago Bears to the Super Bowl behind a suffocating defense. One could argue Smith has even better defensive parts to work with in Tampa than in Chicago. If he can assemble a solid offensive attack behind coordinator Jeff Tedford, Smith could have his team in contention for the NFC South title immediately.

David Newton
: Tampa Bay made the most significant moves, from cutting
Darrelle Revis
to signing defensive end
Michael Johnson
, tackle
Anthony Collins
, quarterback
Josh McCown
and cornerback
Alterraun Verner
. The Bucs needed to make changes with a new head coach inheriting a team with a 4-12 record. I'm not ready to say that has altered the balance of power in the NFC South, though. I'm still not sold on McCown and what the Bucs will be offensively. If the balance of power shifts, I believe it will go to Atlanta. The Falcons should improve defensively with the addition of nose tackle
Paul Soliai
. With a healthy
Julio Jones
back at wide receiver and a revamped offensive line, they should return to the team that averaged 11.2 wins a season from 2008 to 2012.
Mike Triplett: All of them have, to some degree. But the teams that stood out most were the Buccaneers (for better) and the Panthers (for worse). I loved a lot of the moves Tampa Bay made, starting with a solid coach and quarterback. The Bucs already had a very good defense and run game. I could easily see an eight-win season. There won't be any easy wins in this division. The Saints should be the favorites to overtake Carolina now that their defense is even more stacked with Jairus Byrd. But both teams have new question marks after letting a lot of veterans go. The Panthers, especially, seemed to lose several guys who were key players last season.

Pat Yasinskas: Tampa Bay has been the division's most active team this offseason, and I think that will make the Bucs a lot better than they were a year ago. The Bucs have the ingredients to have an excellent defense, and that should keep them competitive. If the offense can be at least average, this team has a shot at being a playoff contender.

@DNewtonespn The #CarolinaPanthers jettisoned their entire WR corps and did little to replace the admittedly average production #FourDowns

- Andy Briggs (@ambriggs) April 18, 2014
---

Which newcomer to the NFC South will have the biggest impact?
McClure: The jury is still out because the Falcons and Bucs each have top-10 draft picks and could move up. If the Falcons secure a pass-rusher such as Jadeveon Clowney or Khalil Mack, either player could change the complexion of the defense. And if the Bucs land a receiver such as Sammy Watkins or Mike Evans to join Vincent Jackson, defensive backfields around the division could be in serious trouble. For now, I'll say safety Jairus Byrd from the Saints. A guy making $9 million a year had better make a strong impact. Byrd is a playmaker who showed a knack for intercepting the ball in 2009 as a rookie in Buffalo. He had a pretty good teacher over the years in Buccaneers cornerbacks coach Gill Byrd, his father.

Newton
: Lovie Smith. Greg Schiano never seemed to have the respect in the locker room that it takes to win. Smith should have that immediately, based on his success at Chicago that resulted in three NFC North titles and one NFC championship. But before anybody crowns the Bucs as NFC South champions, remember it took Smith a year to turn things around in Chicago. His first team was 5-11. He's facing many of the same issues in Tampa that he did with the Bears in rebuilding the offense. In his favor is the nucleus for a strong defense that should keep the team in most games. My newcomer pick might change if Atlanta can find a way to move up and get Jadeveon Clowney in the draft. I just don't see the Texans passing on him with the first pick.
Triplett: Josh McCown. I don't think he'll be the best player of all the newcomers in the division. And I doubt he'll even be as good as he was last year for the Bears. But the quarterback position is so vital -- and it was the one element the Buccaneers were really missing. McCown should provide some stability there. And, as I said, their defense and run game are both excellent. This is suddenly a well-rounded and dangerous team. If Julio Jones counted, I would have picked him instead. His return from injury will be huge for the Falcons.

Yasinskas: I'm not going with a player. I'm going with a coach: Lovie Smith. I view Smith's arrival as the best thing to happen to Tampa Bay in a very long time. Smith is exactly what this franchise needs -- a coach who stays on an even keel and knows how to win. After the Greg Schiano era, Smith should provide a lot of fresh air for the Bucs.

@vxmcclure23 Paul Soliai, going to be the anchor of this shift to a 3-4 hybrid. #FourDowns

- Matt de Lisle (@MdeLisle84) April 21, 2014
---

Which departing NFC South player leaves the biggest void?
McClure: Wide receiver Steve Smith, although the Panthers and Cam Newton are sure to feel the loss of tackle Jordan Gross, as well. Smith isn't the same player he used to be, but he's such a tough competitor. Although he's only 5-foot-9, he always does an outstanding job of securing the ball at its highest point. He has seven 1,000-yard seasons to his credit, and two of those came in the past three seasons with Carolina. I remember how Smith used to give Charles Tillman and the Bears fits whenever Chicago matched up with Carolina. The Panthers will realize how much they miss him when they face Smith and the Baltimore Ravens in the regular season.

Newton
: Jordan Gross, because his retirement in essence forces the Panthers to start over with new players at two positions if the team winds up moving right tackle
Byron Bell
to the left side. I'm not sold on Bell, which is why I believe Carolina will take a tackle with the 28th pick of the draft. But for a team that depends on a power running game, having solid tackles is a must. Replacing Smith's 64 catches won't be nearly as hard. He hasn't been a No. 1 receiver for a few years. If I had to pick a player other than Gross, it would be
Tony Gonzalez
. Replacing a tight end who caught 83 passes and eight touchdowns -- in his 17th season -- is a tall task. You easily could make the argument he'll leave the biggest void.
Triplett: Steve Smith because of everything he has meant to the Panthers. It feels as if they lost part of their identity -- and I don't see an obvious replacement plan in place. Carolina was already thin at receiver before it let him go. I also think the Panthers will miss Mike Mitchell and Captain Munnerlyn in their secondary quite a bit. I thought both of those guys were a big part of their defensive surge last year. Darrelle Revis and Darren Sproles are obviously worth noting, but Tampa Bay and New Orleans have good fallback options.

Yasinskas: It would be easy to point to some big names such as Tony Gonzalez, Steve Smith or Darrelle Revis. But I'm going with former Carolina player Jordan Gross. I think his retirement will have a huge impact on the Panthers. For years, Gross was a solid left tackle. Without him, the Panthers are going to have to scramble for a replacement.

@PatYazESPN Steve Smith. Was the heart of that team for a long, long time. Even as an opponent, we'll miss him in Tampa Bay.

- Matt Holden (@JaedenStormes) April 21, 2014
---

Which NFC South non-quarterback would you pick to start your own team?
McClure: Tough question, but I would have to go with Greg Hardy. Teams without a consistent pass rush can appreciate what Hardy brings to the table. He has 26 sacks over the past two seasons and seems impossible to stop at times, particularly when Charles Johnson is getting it done at the other defensive end spot. That's why the Panthers led the league with 60 sacks last season. Carolina rode a strong defense to the NFC South title, then kept Hardy in the fold by slapping the franchise tag on him. He'll get his big payday because he brings plenty of value to the team. For a non-quarterback, he would be a pretty solid cornerstone.

Newton
: Bucs defensive tackle
Gerald McCoy
. Hands down. Put him in the middle of any defense and that unit is going to be much improved. He's not only the best defensive tackle in the division, he's the best in pro football. He's stout against the run and can pressure the quarterback (9.5 sacks last season). He'll require double-teams, which will free up the ends. The only other player I considered here was Panthers middle linebacker
Luke Kuechly
, the reigning NFL Defensive Player of the Year. He really is, as advertised, a tackling machine. His 24-tackle performance against New Orleans last season was amazing. Like McCoy, he's going to make any defense much improved. McCoy got the vote from me here only because it's harder to find a tackle with that kind of game-changing ability.
Triplett: This was, by far, the most difficult question for me to answer. The first two names that came to mind were Jimmy Graham and Julio Jones. I think both of them rank among the top 10 playmakers in the NFL. But, man, this division is absolutely stacked with defensive talent, from linemen such as Greg Hardy, Cameron Jordan and Gerald McCoy to linebackers such as Lavonte David, Luke Kuechly and Thomas Davis to defensive backs such as Alterraun Verner, Jairus Byrd and Keenan Lewis. … OK, I'm hemming and hawing now. I'll go with Jones because I figure he'd earn the biggest contract on the open market. But Graham's an awfully nice fit for what the Saints like to do.

Yasinskas: I'm going to go with a guy who hasn't even started to get his due. That's Tampa Bay defensive tackle Gerald McCoy. He began his career with two injury-plagued seasons, but has followed that up with two stellar seasons. McCoy should only continue to get better because his position is so crucial in the Bucs' new defensive scheme. McCoy might be on the verge of being the league's best defensive tackle.

@MikeTriplett Keuchly. Already best defensive player IMO. Would be my first pick of any non-qb not named Calvin Johnson in entire NFL

- JetNet (@Bengeauxhornets) April 22, 2014