NFC South:

NFL owners' meeting
May, 23, 2011
5/23/11
10:38
AM ET
Fans and media have speculated about the Bucs pursuing cornerback
Nnamdi Asomugha
when free agency opens. Tampa Bay coach Raheem Morris even spoke at the NFL owners meeting in March about the possibility of the Bucs being somewhat active in free agency this year.
Don't rule that out. Coming off a 10-6 season the Bucs could make a big splash such as Asomugha or a few smaller ones. About the same time Morris was talking, a more important, but seldom-heard voice was asked if the Bucs might suddenly go on a free-agent frenzy to try to get over the top.
That person was team co-chairman Joel Glazer. I ran
part of my owners meeting interview
with him previously. But we spent a lot of time working on draft previews and wrap-ups and I just cleaned up my tape recorder and found the rest of the Glazer interview. I'll share some more with you soon, but thought you'd want to hear what Glazer said when asked if last year's success might prompt the Bucs to suddenly make a big splurge in free agency.
"We have a fundamental philosophy,'' Glazer said. "If you look around the National Football League, the successful teams share the same philosophy -- building through the draft, developing guys well, re-signing their own guys and building that team chemistry and building a team that fans can connect with and relate to and staying disciplined throughout that. I would say that the big winners in March and April historically are not the big winners standing at the podium in January or February. We're going to stay true to that. There are always certain situations that you have to stay flexible and react to, but, fundamentally we want to stay disciplined in building our team internally.''
I know there are some Glazer detractors who will interpret this as another sign that Tampa Bay's ownership is "cheap.'' But that's not what Glazer said. That part about remaining flexible means the Bucs could pursue a player like Asomugha to enhance what they've got, but they're not going out and buying a whole new team. They're sticking with a youth movement that sure seems to be working.
Besides, is being fiscally responsible really that bad a thing? The Bucs went 10-6 last season with the league's lowest payroll. There were plenty of other teams out there with payrolls over $100,000,000 who didn't even have winning records.
March, 30, 2011
3/30/11
9:33
AM ET
Any time a player gets in trouble off the field, it reflects poorly on the entire franchise. In most cases, the head coach is the one who sets the tone and, ultimately, the one responsible for the actions of his players.
In Tampa Bay, Raheem Morris was under the microscope last season as the Bucs had a series of off-field problems. Now, things have intensified with cornerback
Aqib Talib
dealing with a serious legal issue
, after a series of other problems including one that caused him to be suspended for the first game of last season.
Morris has been accused by some fans of running something of a loose ship. What's he got to say about that and about character in general?
Well, even though the league's in a lockout right now and the Bucs could only issue a
short and very general statement
on the Talib situation, it just so happens that Morris talked at length about such matters at the NFL owners meeting in New Orleans last week and I just pulled out the transcript.
One note before we get to what Morris had to say, this all came before Talib's latest problems became public.
"Everybody in our league has issues,'' Morris said. "For us, it's about who we bring in and how we can control those guys. We look for captains (on college teams), guys with high upstanding quality. Every once in a while, you get a guy who's not kind of the upstanding kind of guy that you want, and his talent surpasses some of the things that you may settle for. And you've got to figure out when you can take him, when you cannot take him and the calculated risk you take as an organization.
"Myself and (general manager) Mark Dominik hold ourselves accountable for helping those young men come along. But we can't raise them. We can only pick them, get them in the building. You've got to be harsh. Unfortunately,
Jerramy Stevens
is not on our football team anymore. Unfortunately,
Tanard Jackson
had to sit out a whole year. I'm never going to be a coach who disciplines publicly. We do almost everything in-house.''
Morris said he's talked to his team frequently about avoiding off-field problems.
"The clear message is: you've either got to straighten it out or you won't be here for long,'' Morris said. "It's the Not For Long League. Unfortunately, we had a few players learn the hard way. Fining guys is how I help the community. I'm highly involved in our player development program, how they're handling their family life at home. I tell them, come in my office on Friday and let's rap. You're trying to help develop young men. Somebody's got to do it and I don't just put it on my player-development guy. I try to be active and lead them.''
March, 24, 2011
3/24/11
2:45
PM ET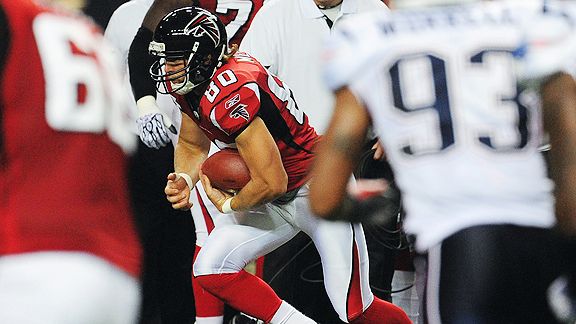 Scott Cunningham/Getty ImagesThe Falcons are expecting big things from 2010 fifth-rounder Kerry Meier.
If you know anything about Atlanta general manager Thomas Dimitroff and coach Mike Smith, you know these guys aren't the types to show a lot of excitement.
They're calm, methodical and live firmly in a world where public expectations almost always are toned down in a calculated attempt to avoid disappointments. So why was it every time
Kerry Meier
's name came up during the NFL owners meeting in New Orleans earlier this week, Dimitroff and Smith sounded -- by their standards -- giddy? They sounded like the clock had been pushed ahead a month and they had just drafted Meier. Or they sounded like they did last year when they really did draft Meier.
Two very mature and understated men couldn't help themselves from sounding like kids with a new toy when they talked about the guy they drafted in the fifth round (No. 165 overall) last year. Their eyes lit up and their voices carried an extra decibel of excitement when they talked about their hopes for Meier this year.
"He's a guy who has a really large number of the attributes that translate into success in the NFL,'' Smith said.
Meier has yet to do a thing in his NFL career, but Smith and Dimitroff expect that to change quickly. They drafted Meier as a wide receiver out of Kansas last year, but they believe they drafted much more than a wide receiver. Meier is one of those guys who can do just about anything on the football field.
He played some quarterback in college. He also made a quick and smooth switch to receiver and put up some huge numbers. He even held for extra points and field goals and served as a backup punter. When the Falcons drafted Meier last year, there was even some talk about him having the ability to play some at H-back or tight end.
All that potential is still there, but the Falcons have yet to have the chance to see it in an NFL game. Drafted only a week after his older brother, Dylan, died in a hiking accident on a family outing, Meier's rookie season ended before it started. He tore his anterior cruciate ligament in the preseason and spent the season on injured reserve.
The Falcons aren't getting regular reports on Meier during the lockout because teams aren't allowed to have contact with players. But the last medical update on Meier is a big part of the reason Smith and Dimitroff are so excited about his prospects for the upcoming season.
"Kerry has done an outstanding job with his rehabilitation,'' Smith said. "When we had our end-of-year physicals, Kerry was way ahead of schedule.''
The mere fact Smith is giving injury updates in March is hugely significant. This is a guy, who like most coaches, usually talks about injuries only in the broadest of terms and the fact he's saying Meier is way ahead of schedule must mean the receiver could step onto the field at whatever moment the lockout ends.
[+] Enlarge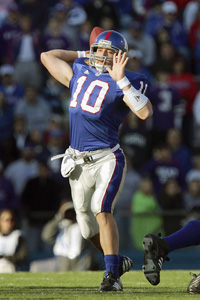 Brian Bahr/Getty ImagesKerry Meier began his career at Kansas as a quarterback, throwing for almost 1,200 yards his freshman season in 2006.
"I don't want to lay out any timetable right now, but, yes, Kerry is way ahead of schedule,'' Dimitroff said. "This is an individual who we are so proud to have on our team because his approach to everything is so top-notch. He's a quality guy. He's an intelligent guy and he has the skill set that we're looking for as the next bigger receiver.''
Yes, the next bigger receiver could be the next big thing in Atlanta's offense. Let's make it clear the Falcons aren't looking at Meier as the speed receiver so many people think they need. That's not his game.
He's 6-foot-2 and 224 pounds and never has been known for his downfield speed. The Falcons can fill that role with
Harry Douglas
, if the receiver
continues to progress from the knee injury
that kept him out for the 2009 season or they can go out and draft a speed guy.
Meier's role isn't nearly as one-dimensional. The Falcons view him as the jack-of-all-trades receiver veteran
Brian Finneran
has been. Finneran's a potential free agent and isn't likely to be offered a contract to return. That's because the Falcons believe Meier can do all the things Finneran did and more.
In the short term, the Falcons want to use Meier in a receiver group in which
Roddy White
is the total package,
Michael Jenkins
is a complementary player who excels as a possession receiver and blocker and Douglas,
Eric Weems
and whoever might come in the draft, will compete for the slot-receiver spot.
The plan is to let Meier play a variety of roles to maximize his versatility. Smith isn't about to give away the playbook, but it's not hard to imagine Meier getting some time at receiver on running downs or lining up at H-back or tight end. He's also likely to be a regular on special teams. Heck, it's not anywhere near a stretch to picture Meier taking on another of Finneran's former roles -- lining up on defense at safety and using his height to knock down Hail Mary passes or his strength to make an open field tackle in a pinch.
"Kerry and his family went through such a difficult time last summer and then he got hurt,'' Smith said. "In that kind of situation, a lot of guys would have gone into a shell and just disappeared. Kerry never did. He just threw himself into his rehabilitation and he's been absolutely hammering it.''
The long-term plans for Meier could be even more significant. The Falcons believe he can be much more than just a Finneran clone. They view him as a guy who, over time, could develop into a starter because he can do many of the same things Jenkins can do.
But that's down the road. For now, the Falcons just want to get Meier back on the field and into their offense.
"We got a look at his skill set in training camp and in the preseason games he played in last year,'' Dimitroff said. "This is a guy we think can really help us in a lot of ways. We want him back. We want him back because we think he can be a very integral part of our offense.''
March, 22, 2011
3/22/11
10:12
AM ET
NEW ORLEANS -- Let's make it very clear that Carolina wide receiver
Steve Smith
is not on the official trading block right now. But, the more I see and hear, the more I think that's only because there isn't an official trading block right now.
Smith
The NFL players are locked out and, as long as they are, there can be no trades or roster moves. But after spending lots of time around Carolina officials at the NFL owners meeting, it's obvious there's a real chance Smith could be gone from the only team he's ever played for as soon as the lockout ends.
The Panthers aren't going to just give away perhaps the best player in franchise history. But it sure seems like they'd be willing to listen to trade offers as coach Ron Rivera begins a new regime and Smith's own wishes might only help facilitate a trade.
As Rivera met with the media Tuesday morning, he didn't offer any specifics on Smith staying or going. The coach and the player met before the lockout to get acquainted and, even before that meeting, the player was told by team officials that he needed to ponder his future and decide if he would be happy staying in Carolina.
"The one thing was, he expressed his opinions and feelings on things,'' Rivera said. "I told him quite frankly that the one thing we have to do is go through the process.
"I told Steve that we've got to go through this process and we'll go from there. We'll have a decision. But we'll go through the process first."
At the moment, Smith can't talk to team officials and they can't talk to him. As soon as the lockout is over, though, the rules change and you get the feeling that when that time comes Smith and the Panthers quickly could be talking to other teams. Heck, Rivera wouldn't even touch the question when asked if the Panthers had any trade talks with other teams about Smith before the lockout started.
"I don't want to talk about that,'' Rivera said. "That's something we'll go through if it happens.''
March, 22, 2011
3/22/11
6:54
AM ET
March, 21, 2011
3/21/11
9:45
PM ET
NEW ORLEANS -- The Glazer family, which owns the
Tampa Bay Buccaneers
, often gets labeled as reclusive by fans and the media.
That's kind of strange, because the guy I just spent 20 minutes talking to might have been the most gregarious person I ran into all day. That would be Bucs co-chairman Joel Glazer.
At an NFL owners meeting, where a lot of people are walking around looking worried or sad about the labor situation, Glazer was a notable exception. He spent time individually with reporters from the two main newspapers in the Tampa Bay area and with the NFC South Blog. In my portion, which was roughly 20 minutes, Glazer was almost effervescent.
[+] Enlarge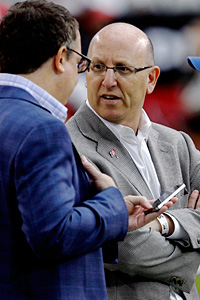 AP Photo/Ross D. FranklinTampa Bay Buccaneers co-chairman Joel Glazer is excited about the future of his team.
He did most of the talking and was animated and happy almost the entire time. There's a reason for that. Glazer, along with brothers Bryan and Ed, is presiding over a team that's clearly in a good spot. Glazer didn't want to talk much about the lockout but said he's confident the labor situation will be resolved at some point and his team will be ready to jump out of the gate.
"I couldn't be more excited about where this team is at,'' Glazer said. "When we set out on this path two years ago, there was a plan in place. We said we're going to be disciplined in that plan. We're not going to deviate from that plan. The one thing we recognized was when you're doing something like this, you have to have thick skin and endure the early part of the plan. There are a lot of people with opinions. Their opinions are immediate and reactionary. To see the plan to start unfolding and for last year to play out like it did was one of the most exciting, fun seasons I've ever experienced in football.
"What's most exciting is the fact that we're the youngest team in the National Football League and the exciting players we have and where we can go from here.''
You know the story, so we'll keep the recap very short. After a 9-7 season in 2008, the Buccaneers fired coach Jon Gruden and general manager Bruce Allen and replaced them with Raheem Morris and Mark Dominik. Veteran players like
Derrick Brooks
were shown the door and, at times, Morris and Dominik looked like they didn't know what they were doing.
The Bucs went 3-13 in 2009, but things turned in a big way last season, and the Bucs went 10-6.
The Glazers get labeled as detached owners because they're not as visible as some others in the league. But I think that's a huge misconception. Although you don't see the Glazers on the sidelines like some others, they're far from absentee owners. It's not unusual to run into them at One Buccaneer Place or see them roaming Raymond James Stadium. Back when Malcolm Glazer, the father of Joel, Bryan and Ed, first bought the team, one of the reasons he cited for making the move was his sons' love of the game.
"I love football,'' Joel Glazer said. "I haven't missed a Tampa Bay Buccaneers game since we've owned the team and gone all the way to Japan. I live for Sundays. I live for the wins and can't stand the losses. Anybody who knows myself or knows my family knows this is a true love. To have a young team that you know is going to get better and to compete for the ultimate prize, that's what you're in this for and that's why it's so exciting.''
Glazer even is excited about the one thing that wasn't a positive last season -- attendance. The Bucs didn't sell out a game at Raymond James Stadium, and none of their home games was shown on local television. Before last season, the Bucs had sold out every home game since their stadium opened in 1998.
"Our new sales in January, February and March have been stronger than I ever remember them being,'' Glazer said. "Renewals are extremely high. The sense you get is that the community is reacting to what they saw last year. That excitement is starting to percolate throughout the community, and it is translating into ticket sales.''
Glazer's not ready to guarantee sellouts, but he's optimistic things are headed in the right direction.
"There's still a lot of work to do,'' Glazer said. "Even before the season ended, we sat down and we started to change our pricing to reflect the economy and what's going on and trying to find ways to make something available for everybody. The one thing that hasn't been lost on us is Florida has been hit very hard. Unemployment is very high in Florida. You can't just ignore that. You have to adapt to the situation.''
By the way, you're going to hear a good bit more from Glazer in the coming days. He filled up my tape recorder, which is something reclusive people generally don't do. But, hey, maybe, as Glazer said, he and the Bucs are adapting to the situation.
March, 21, 2011
3/21/11
5:36
PM ET
NEW ORLEANS – Some quick hits from around the division as we work on a variety of things at the NFL owners meeting.
New Orleans Saints owner/executive vice president Rita Benson LeBlanc
has been selected
to Sports Business Journal's "Forty Under 40'' list. It's the third time she's been chosen.
Ira Kaufman writes about how the NFC South just
might be the league's toughest division
. In these parts, we call that preaching to the choir.
Matt Williamson
breaks down the NFC South's quarterbacks
. We all know plenty about Drew Brees, Josh Freeman and Matt Ryan. Carolina is the wild card, and Williamson's got a pretty strong opinion on what the Panthers should do at that position going forward.
March, 21, 2011
3/21/11
2:09
PM ET
NEW ORLEANS -- The compensatory picks that usually are announced at the NFL owners meeting apparently won't be this year.

A league official said those picks will be announced at a later date. Carolina general manager Marty Hurney and Atlanta general manager Thomas Dimitroff have said they've been advised they'll have to wait a bit to receive the list of picks.

Compensatory picks aren't a major issue in the NFC South this year, except when it comes to the Panthers. They likely will add picks in the third and sixth rounds and it's possible they could get a seventh-round choice.

Tampa Bay and New Orleans each could add a seventh-round choice. Atlanta isn't expected to receive compensatory picks.
March, 21, 2011
3/21/11
1:33
PM ET
NEW ORLEANS – Carolina general manager Marty Hurney is at the NFL owners meeting -- at the moment.
If you ignore the labor situation, Hurney just might be the busiest and most important man in the NFL right now. He holds the No. 1 pick in the 2011 draft. Right now, the draft is the only thing we know for sure that will take place this year.
[+] Enlarge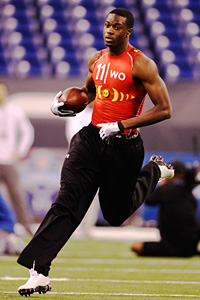 AP Photo/Darron CummingsGeorgia wide receiver AJ Green is one of the five to seven players the Panthers are considering at the No. 1 pick, according to GM Marty Hurney.
But Hurney's going to be leaving New Orleans later today. His next stop will be Athens, Ga. For the University of Georgia's pro day on Tuesday. Hurney, who can be pretty guarded about personnel matters at times, didn't even try to hide the fact he and some other Carolina officials and coaches are going to Georgia to see receiver
A.J. Green
.
Hurney admitted Green is one of the five to seven players the Panthers are considering at the No. 1 pick. Although recent private and public workouts of Auburn's
Cam Newton
and Missouri's
Blaine Gabbert
have a lot of people thinking the Panthers have decided on taking a quarterback, Hurney said that's not the case.
"That group hasn't changed,'' Hurney said. "We're keeping our options. You never know what might happen in the meantime. As we get closer, day to day and week to week, you always have an order in your mind. That order can change.''
Like LSU cornerback
Patrick Peterson
, Green plays a position that teams often shy away from taking at No. 1. But the Panthers went to Peterson's pro day and met with him privately. They'll do the same with Green and it's likely he and Peterson are on a list with the two quarterbacks and several defensive linemen.
"That's where we're at,'' Hurney said. "We certainly are going to look at the quarterbacks, but we're also in the process of trying to gather as much information as possible on the other players that we think qualify for that area.''
In year's past, some teams holding the No. 1 pick have gone ahead and made their intentions clear days or weeks before the draft. Don't count on that happening with the Panthers.
"At this point, with the way things are, there's no reason to do that,'' Hurney said.
With the league in a lockout, teams can't reach out to the agents for top prospects to get a feel for potential salary demands.
"If there's no reason to say that, why say that because you can keep all your options open?'' Hurney said. "You go through your process and do your homework. When that time comes, you'll know.
"The most important thing is selecting the right player. If you find the right player, everything else is going to take care of itself. You should get a good player with the first pick. But you've got to find the player who is going to give you the most impact on your football team and in your organization.''
March, 23, 2009
3/23/09
1:45
PM ET
Posted by ESPN.com's Pat Yasinskas
Time for a quick trip through the mailbag as we wait for news out of the NFL owners' meeting.
Shane in Hickory, NC writes: Hey Pat, I just wanted to know if you can tell me when you guys are going to do the "On the Clock" series for the Panthers... they don't have a first rounder right now and I know that's the order they're going in, so when are we going to get it?? Thanks!
Pat Yasinskas: Hang loose just a bit. Right now, we've got the Panthers and Cowboys, who don't have first-round picks to run later in April as part of the On the Clock series. But, hey, there's always the possibility we'll have to shuffle that if the Panthers trade for a first-round pick.
---
Tim in MN writes: Hey Pat, I like the blog. I am wondering two things, what would you think of the Bucs getting Derek Anderson to give Luke some competition, what would they have to give up for that? Second, who are the three most likely/available DT's the Bucs could snag before the draft?
Pat Yasinskas: Let's assume that the Broncos don't trade Jay Cutler or they do, but the price tag is too steep for the Bucs. I think Cleveland, where the Browns have Derek Anderson and Brady Quinn and could shop one for trade, would be a logical spot for the Bucs to look. The price tag for one of the Cleveland quarterbacks would be a lot cheaper than Cutler. The Bucs have said all along they want competition for Luke McCown. Whether it's Cutler, Anderson, Quinn or some other quarterback, I think the Bucs will have a legitimate challenger to McCown before they go to training camp. As for defensive tackle, it sure sounds like Shaun Rogers could be available. Tank Johnson's already available. That's about it as far as "names," right now.
---
Sean in White Plains, NY writes: Pat - After reading your column about the Falcons options at LB, one play that you didn't mention was Robert James, who was drafted last year but didn't play due to injury. Is he another option at LB or are they waiting to see how he comes back from the injury?
Pat Yasinskas: Robert James should be in the mix for a backup job and a role on special teams. But I think Mike Peterson, Coy Wire and Stephen Nicholas are the guys the Falcons are looking at now for the starting jobs at outside linebacker.
---
Adam in Pensacola writes: I believe everybody will agree that the New Orleans secondary did not really do what they needed to but in their defense half of the starters were out with injuries. I believe New Orleans have the talent to have a top ten secondary so long as they stay healthy. I think they should look to trade up and maybe get Aaron Curry or Brian cushing to compliment the already talented Vilma. A lot of mock drafts have New Orleans taking cornerback. What do you think?
Pat Yasinskas: I like what the Saints have done so far with their secondary, bringing in cornerback Jabari Greer and safety Darren Sharper. I think getting some of the injured guys, like Tracy Porter, back should help a lot. I think the Saints now have the talent to have a good secondary. They still could draft a defensive back at No. 14, but they have other options and needs. I don't see them moving up in the draft, simply because they have only three other draft picks as ammunition. In fact, a trade down is more likely and that would allow the Saints to add a pick or two. If they stay at No. 14, I think a linebacker like Brian Cushing is a possibility as well as a defensive back. But don't rule out a defensive lineman or a running back.