NFC South:

NFL scenarios 2012
May, 25, 2012
5/25/12
1:00
PM ET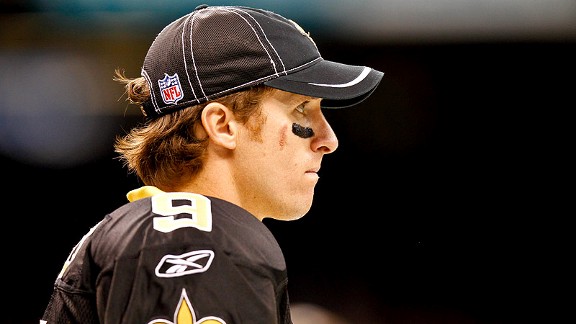 Derick E. Hingle/US PresswireIf Drew Brees opted to sit out this coming season, the Saints could tumble back into mediocrity.
The title of a project on the division blogs this week is "
Dream/Nightmare scenarios''
for each NFL team. When I first received the instructions, I called my boss.
I asked about the possibility of taking it one step further. I asked if I could write about the nightmare of all nightmares.
Let's be clear: It's not something that I think will happen. But nightmares, after all, are supposed to be the worst thing you can concoct. And there's one remotely possible scenario in the NFC South that would go way beyond
the run-of-the-mill nightmare scenario I cooked up
in the team post on the Saints.
What if quarterback
Drew Brees
doesn't get a long-term deal and somehow ends up sitting out the entire 2012 season?
If you're a
New Orleans Saints
fan, this is where your stage of sleep goes from just dozing off to the start of the worst nightmare ever. This is where all the good feeling Brees has brought to New Orleans since 2006, and especially since the start of the 2009 season, disappears. This is where the Saints go from being the elite team they've been the past few years back to the mediocrity that was their trademark through almost their entire previous existence. This is where
Chase Daniel
takes the first snap of the season at home against the
Washington Redskins
on Sept. 9 and starts through the regular-season finale Dec. 30 at home against Carolina.
This is the land of 8-8, or maybe even 6-10.
Unlikely? Highly. I still believe Brees will sign a long-term contract, straighten out what's been a mess of an offseason for the Saints and carry the team to another postseason berth, no matter how many coaches and other players are suspended.
But with each day that passes without Brees having that long-term deal, Saints fans must start worrying a little bit more. Brees carries the franchise tag, and the deadline for him to finalize a long-term contract is July 16. If he doesn't have a deal by then, he has only one option -- sign the franchise tag and play for a little more than $16 million this season.
Wait, there is actually a second option. Brees could just decide to sit out the season.
Public perception is that Brees never would do that because he's such a competitor. I'm not here to rain on Brees' public perception. My experience around him leads me to believe he is what he's perceived to be -- and that's not true of all the people I cover. Brees really is a fierce competitor.
But that's part of the problem. It's hard to say exactly what he would do if the deadline passed with no deal. At this point, Brees himself might not even know what he would do. But my impression of him leads me to believe there's at least the possibility he could feel like he has been wronged by the Saints and could swing back as strongly as possible.
Brees has made it clear he despises the idea of playing without any long-term security, so maybe he just doesn't play. That would be beyond disastrous for the franchise.
This team might have lost its mastermind when head coach Sean Payton was suspended, but I think the Saints could go on nicely with Brees around. If he's not, this team loses its heart, soul and at least as many games (eight) as it did the past two seasons combined.
Take Brees away from the Saints and you have the
Jacksonville Jaguars
. Wait, at least the Jaguars have
Blaine Gabbert
. Yeah, he was terrible as a rookie, but there were at least some reasons why he was a first-round draft pick.
Daniel, who was undrafted in 2009, has completed only six passes in his NFL career. Some people like to say Daniel is the second coming of Brees. He's not. The only things Brees and Daniel have in common are that they're short by NFL quarterback standards and know the Saints' playbook. Brees is a once-in-a-lifetime talent. Daniel might look fine in preseason games when he's plugged into Payton's system. But start him over an entire regular season, especially one in which Payton isn't around, and you'll get a quick reminder of why teams generally avoid quarterbacks who are 6 feet or shorter.
Daniel doesn't have Brees' arm, experience in the offense or his magic. Yeah, I know there's a school of thought that says you could throw any quarterback out there with the likes of
Jimmy Graham
,
Darren Sproles
,
Marques Colston
,
Devery Henderson
and
Lance Moore
and he'd do just fine.
I don't buy it. Daniel could get the Saints through a game or two (maybe a little more if Payton were around) if Brees were banged up. Brees could get the Saints through a season without Payton.
But Payton's not going to be around. If, somehow, Brees joins him, the Saints suddenly would become a team with a defense that might or might not be average, some good skill-position players on offense and no threat at quarterback.
That sounds like a formula for instant mediocrity -- and a huge nightmare for a franchise and a fan base that has gotten very used to winning big.
May, 25, 2012
5/25/12
11:22
AM ET
Yes, the start of training camps is two months away, but it's never too early to consider the coming season. A look at the best-case and worst-case scenarios for the Saints in 2012.

Dream scenario (13-3):
The ending of this dream is simple. It ends exactly where it starts -- in the Mercedes-Benz Superdome. That's the site of this season's Super Bowl and there's no sweeter vision in the eyes of Saints fans than watching their team win the NFL's biggest spectacle at home. If revenge is sweet, this would be 1,000 times sweeter.
New Orleans fans and players are mad about how severely the NFL punished the Saints for their bounty program. They would love it if Roger Goodell handed the Saints the Lombardi trophy in their own building.
It actually could happen. Think about it: Other than suspended coach Sean Payton, the Saints really haven't lost that much from a team that went 13-3 last season. Linebacker
Jonathan Vilma
also is suspended for the entire season, but Vilma's age (30) started to show last season. The Saints are better off with
Curtis Lofton
at middle linebacker. The Saints also will have to get through the first four games without suspended defensive end
Will Smith
.
But other than that, this team remains loaded with talent.
Drew Brees
and the offense always will put up a bunch of points. If new coordinator Steve Spagnuolo can make the defense better, the Saints easily are a playoff team. They'll be motivated by an us-against-the-world mentality, so anything is at least possible.
Nightmare scenario (6-10):
It's easy to say Payton had a great system in place and a veteran team, so the assistants can just run the show and it will be business as usual. I tend to agree with that theory. But what if the importance of a head coach is even greater than we realized? And what if the emotional weight of the most turbulent offseason in NFL history catches up to the Saints?
That's when all bets are off and when things could start falling apart. Since winning the Super Bowl in the 2009 season, the defense hasn't been very good. The greatness of the offense has been enough to carry the Saints to the playoffs the past two seasons, but it hasn't been great enough to carry them deep into the postseason. There's no doubting Spagnuolo has a good defensive mind, but he might not have all the personnel he needs to run his scheme successfully.
Well, the easy thing to say is that the offense will carry this team no matter what. But even if Payton wasn't suspended, it's hard to imagine the offense being even more productive than last season. Take Brees and the offense back down to what they were in 2007 and '08, give New Orleans a defense that's no better than last season's, and the Saints could tumble to a middle-of-the-pack team.
May, 25, 2012
5/25/12
10:17
AM ET
»
AFC Scenarios
:
East
|
West
|
North
|
South
»
NFC
:
East
|
West
|
North
|
South
Yes, the start of training camps is two months away, but it's never too early to consider the coming season. A look at the best-case and worst-case scenarios for the Panthers in 2012.
Dream scenario (11-5):
With the Saints dealing with turmoil and the Falcons facing enormous pressure, it's at least possible that the two teams that have dominated the NFC South in recent years won't win it in 2012. The Panthers are the next logical choice, and there are all sorts of reasons for optimism.

Coach Ron Rivera's entering his second season and so is quarterback
Cam Newton
, who was the NFL's Offensive Rookie of the Year despite not having an offseason with his coaches and their playbook. Newton should only continue to improve, a scary thought for a guy who lit up defenses with his arm and his legs last season. He has
Steve Smith
still going strong, a backfield that includes
Jonathan Stewart
and
DeAngelo Williams
, and has added fullback/tailback
Mike Tolbert
.
There are far fewer questions about Carolina's offense than there were a year ago. It's obvious the Panthers are going to score some points on offense. But the defense will tell the story. If this team is going to make the playoffs,
Jon Beason
and
Ron Edwards
must make strong comebacks from injuries and rookie linebacker
Luke Kuechly
must make an instant impact.
Nightmare scenario (6-10):
Anything less than last year's 6-10 record would be a huge disappointment. Although I don't think it's likely, it's at least possible that Newton will take a step back. If he does, then maybe Smith no longer looks so young and maybe that loaded backfield doesn't look so good. Then there's the matter of the defense that was so bad a year ago. A lot of people seem to assume the return of Beason and Edwards and the addition of Kuechly will solve everything. But maybe Beason and Edwards aren't the players they were before their injuries, and maybe Kuechly doesn't live up to his billing.
If all that happens, then the Panthers really aren't going to be any different than they were the last couple of seasons.
May, 25, 2012
5/25/12
9:09
AM ET
»
AFC Scenarios
:
East
|
West
|
North
|
South
»
NFC
:
East
|
West
|
North
|
South
Yes, the start of training camps is two months away, but it's never too early to consider the coming season. A look at the best-case and worst-case scenarios for the Buccaneers in 2012.

Dream scenario (10-6):
This will only happen if coach Greg Schiano makes the transition from college to the NFL more like Jim Harbaugh than Nick Saban or Bobby Petrino. Harbaugh isn't the norm in this category, but it's possible Schiano could follow in his tracks. The cupboard isn't bare, it just needs organizing. The Bucs have assembled a lot of young talent in recent drafts --
Josh Freeman
,
Gerald McCoy
,
Brian Price
,
Mike Williams
,
Arrelious Benn
,
Adrian Clayborn
,
Mark Barron
,
Doug Martin
and
Lavonte David
-- and Schiano showed he can build during his time at Rutgers.
The key to it all is Freeman. Is he the quarterback who threw 25 touchdowns and six interceptions in a 10-6 season in 2010 or the guy that threw 22 interceptions and looked awfully anxious last season? Schiano and his staff firmly believe the 2010 version was the real Freeman and they've done everything possible to upgrade his supporting cast. They brought in
Vincent Jackson
to be the No. 1 receiver and guard
Carl Nicks
to bolster an offensive line that has a chance to be very good. They also drafted Martin and plan to use him as an every-down running back.
If Freeman is for real, he should bounce back strong from last year's debacle. Lots of coaches and scouts around the league still believe in Freeman, but we'll soon find out if he still believes in himself or if last year forever shattered his confidence. But even if Freeman improves, the Bucs must be a lot better on defense than they were last season when they allowed more points (494) than any team in franchise history.
Nightmare scenario (4-12):
As demonstrated by the likes of Saban and Petrino, NFL players don't always respond well to hard-charging college coaches. There's no doubt this team needs some order after the Wild West days of Raheem Morris, but Schiano must get his players to buy into the new order in their worlds or he could be in for trouble. Although ownership showed a willingness to spend in free agency and the Bucs have had some early draft picks in recent years, this job is far from paradise.
Few, if any, of those early draft picks have shown that they are the real deal. Maybe all they need is better coaching, but maybe the Bucs just haven't drafted very well. If Freeman struggles again, the Bucs suddenly have a quarterback quandary on their hands. If they struggle on offense, there's no way they can win games in the NFC South. You don't win a lot of games with defense in the modern NFL and, at least on paper, Tampa Bay's offense is much more talented than its defense.
If Freeman doesn't take a step forward and the defense doesn't show improvement, it will become last season all over again. This is not a franchise that can handle a lot more misery. Attendance has been lacking in recent years, and the Bucs aren't going to fill up their stadium until they escape obscurity and win consistently.
May, 25, 2012
5/25/12
8:06
AM ET
Yes, the start of training camps is two months away, but it's never too early to consider the coming season. A look at the best-case and worst-case scenarios for the Falcons in 2012.

Dream scenario (13-3):
Let's note right up front that that dream record would also include at least two postseason wins, which would be a first in the era of coach Mike Smith, general manager Thomas Dimitroff and
Matt Ryan
. In their time, the Falcons have played the days after Christmas exactly like they're the days after Christmas. There's been a huge letdown when January has rolled around.
That's putting an enormous amount of pressure on the Falcons. But that might be a good thing. Smith has said postseason failures have caused him to rethink how he does a lot of things. There's little doubt those failures played a role in the hiring of new offensive coordinator Dirk Koetter and defensive coordinator Mike Nolan, moves that might get the Falcons over the hump.
There are a lot of scouts and coaches around the league who believe Ryan was held back by former offensive coordinator Mike Mularkey and the defense never established any sort of identity under Brian VanGorder. The Falcons can score with any team if Ryan is allowed (and has time) to throw the ball downfield to
Roddy White
and
Julio Jones
. Nolan is preaching about the need to be more aggressive on defense.
Nightmare scenario (8-8 or anything worse):
Let's face it: The only way the Falcons are a .500 (or worse) team is if they have several major injuries or a huge implosion. This is a team that is loaded with individual talent on both sides of the ball. Or so it seems.
When coordinators go, head coaches and key players tend to lose their insulation. If Koetter can't get more out of Ryan than Mularkey did, the Falcons suddenly have a huge issue at quarterback. If Nolan can't get guys like
Ray Edwards
and
Dunta Robinson
to do more than they did for VanGorder, then maybe it's not all about the coordinators or offensive and defensive schemes.
Owner Arthur Blank has said Smith isn't on the hot seat, no matter what happens this season. But I think Smith is at least entering the same territory Tony Dungy once did in Tampa Bay. Smith is being labeled as a nice guy who can win a lot of games in the regular season but can't win in January. If this team doesn't win a playoff game, Smith officially is on the hot seat. If this team somehow fails to even make the playoffs, Blank might be forced to rethink his statement. This team is too talented not to win.