August, 27, 2012
8/27/12
3:16
PM ET
Olindo Mare
, who received a huge contract from the
Carolina Panthers
last year, won't be handling the kickoff duties for the team this year.

The Panthers announced Monday that Mare has been released. Presumably, that means former Canadian League player
Justin Medlock
has won what was a competition for Carolina's kicking job throughout the preseason.
Mare's signing last year caused controversy because the Panthers released
John Kasay
, the final remaining player from their 1995 expansion team, to make room for Mare. The thinking was that Mare was as accurate as Kasay and could also handle kickoff duties. But Mare had a disappointing 2011 season and missed some crucial field-goal attempts. The Panthers brought Medlock in as competition and decided to let Mare go.
Although the Panthers gave Mare a four-year, $12 million contract last year, the salary-cap implications of his release are minimal. Mare was scheduled to count $3.2 million against this year's salary cap. By releasing him, the Panthers still will be responsible for $3.1 million.
The kicker job isn't the only area where the Panthers are going in a younger direction. They also released veteran
Nick Harris
. That means the Panthers are ready to go with rookie
Brad Nortman
as their punter. The Panthers drafted Nortman in the sixth round. They brought in Harris to compete with him and Nortman won the job.
As Carolina trimmed its roster to 75 players, there were several other moves of note.
Receiver
David Gettis
, who missed last season with a knee injury, has been placed on the physically unable to perform list. Gettis, who had been considered a candidate to start, wasn't able to get healthy enough during the preseason. By going on PUP, Gettis now can be activated after six games. The Panthers also placed cornerback
Brandon Hogan
on the reserve/injured list. Hogan had been considered a candidate for significant playing time, but he also was slow in recovering from a knee issue. In the next five days, it will be decided if Hogan will take an injury settlement, be placed on injured reserve for the entire season or be released.
The Panthers also waived receiver
Darvin Adams
, guard
Roger Allen
, receiver
Michael Avila
, receiver
Brenton Bersin
, guard
Will Blackwell
, defensive end
Eric Norwood
, running back
Lyndon Rowells
, tight end
Greg Smith
, running back
Josh Vaughan
and receiver
Rico Wallace
.
August, 21, 2012
8/21/12
9:45
AM ET
A look at the Tuesday morning headlines from around the division:
ATLANTA FALCONS
At first, there were signs that undrafted rookie Dominique Davis could push John Parker Wilson for the third quarterback job. Now, there's
speculation
he could move ahead of Chris Redman as the backup. I think that's a little premature. Davis has a lot of upside and could end up as the backup down the road. But, if something happens to Matt Ryan, I think the Falcons would feel much safer leaving the team in the hands of Redman for the short term.
Jacquizz Rodgers never returned a kickoff in college. But it looks as if he'll
fill that role
for the Falcons this season. Makes sense, because Rodgers is one of the team's fastest players and has the potential to deliver long returns.
The Falcons, who had only one fight throughout training camp, had
two scuffles
break out Monday.
CAROLINA PANTHERS
After spending the entire offseason working to improve the defense, Carolina coach Ron Rivera said he still is concerned about an inability to get offenses
off the field
on third downs. He's got two preseason games left to fix that.
It might not be the flashiest of positions, but the battle for the punting job might be the most
intense competition
in Carolina's preseason. Veteran Nick Harris and rookie Brad Nortman are the candidates, and they've been even so far. Punting was a problem last season, and the Panthers want to upgrade over Jason Baker, who was let go after last season.
NEW ORLEANS SAINTS
Bradley Handwerger writes that having to make a trade for veteran linebacker Barrett Ruud so late in the preseason was less than ideal, but it was the
best move
the Saints could make after suffering three significant injuries at linebacker. Ruud is a long way removed from the days when he was a top middle linebacker in Tampa Bay, but he's smart enough to come in and run the defense in the absence of Curtis Lofton. With Ruud in the middle, the Saints will look to start him along with Scott Shanle and Jonathan Casillas until Lofton and David Hawthorne are healthy enough to return.
Former New Orleans special-teams star Steve Gleason said comments he made to HBO's "Real Sports'' have been
misinterpreted
by the media. Preview material of the episode, which is scheduled to air Tuesday night, have touted Gleason as being surprised that no one reacted to former defensive coordinator Gregg Williams' speech the night before last season's playoff loss to San Francisco. Gleason now says he wasn't questioning the lack of a reaction by players and coaches. He says he was surprised others in his immediate group, and not with the team, didn't seem to react when Williams made the comments.
TAMPA BAY BUCCANEERS
With the New England Patriots coming to town for
joint practices
Wednesday and Thursday, the Buccaneers are healthier than they've been most of the preseason. Running back LeGarrette Blount, left tackle Donald Penn, cornerback Aqib Talib and tight end Luke Stocker, who all have been banged up, are expected to be ready to practice against the Patriots.
Safety Ahmad Black is making a
strong case
for a roster spot. Ronde Barber and Mark Barron are set as the starters, so Black will have to climb over the likes of Cody Grimm, Larry Asante, Tramain Thomas and Keith Tandy.
August, 12, 2012
8/12/12
12:00
PM ET
SPARTANBURG, S.C. -- In one sentence, Ron Rivera can take the 2011
Carolina Panthers
and make them 9-7 instead of 6-10.

"I look at the Minnesota game, I look at the Detroit game and I look at the second Atlanta game," the Carolina coach said after practice on a recent morning.
No need to go back and look up those games. There's one very common thread -- the Carolina defense crumbled when it mattered most. Despite hitting the jackpot drafting quarterback
Cam Newton
and suddenly having the most explosive offense in franchise history, the Panthers still finished third in the NFC South.
"It was hard for [defensive coordinator] Sean [McDermott], because he really had to pull back on what he likes to do, and disappointing for me because I wanted more from our defense," Rivera said. "But I think the toughest part of all is when you look back and see certain opportunities where if somebody just stepped up and made a play on the defensive side of the ball, it's a totally different result to the ballgame."
But Rivera and the Panthers aren't doing too much reflecting these days. Instead, Rivera's looking at a fully stocked defense, and that's reason enough for optimism.
Jon Beason
, who missed almost all of last season with a torn Achilles tendon, is back. So is defensive tackle
Ron Edwards
, who suffered a season-ending injury early in training camp. There is even hope that outside linebacker
Thomas Davis
, who once seemed to be on the verge of becoming a superstar, can fully recover from his third torn ACL and contribute at least as a role player.
The Panthers used their first-round pick on Boston College linebacker
Luke Kuechly
, who can play inside or outside, chase down running backs and rush the passer. There were other moves here and there for depth, and that's why veteran left tackle
Jordan Gross
is looking across the line and seeing a defense that looks nothing like last season's.
"I don't think people truly realize how much we lost with the injuries last year," Gross said. "Missing Beas was a big deal as far as football, but it was an even bigger deal in the locker room. He's the constant on that defense. He's the guy that's always chiming in on any team issue and getting on guys or encouraging guys. There really wasn't a leader out there last year, once he was gone.
"Having Ron Edwards back also is huge, because he's a big-body guy that we haven't had in awhile, and that's going to help the entire defense. Kuechly obviously is a guy that's going to make some plays, and I think our pass rush has gotten better, just from having experience thrust upon them last year. Just practicing against them in camp, I can tell you that defense is going to be a whole lot better."
If Gross is right, Carolina fans could be very happy. This team hasn't had a winning season since 2008. That could change with some improvement from the defense, because the world already knows Newton and the offense are going to score. If the defense can make just a few more of those plays Rivera talked about, the Panthers could be in the playoffs.
THREE HOT ISSUES
1. The No. 2 cornerback spot.
The Panthers have made it pretty clear they don't want
Captain Munnerlyn
starting at cornerback. He brings athleticism and swagger but lacks the size to be an effective every-down cornerback. Ideally, the Panthers would like to slide Munnerlyn inside and let him line up with slot receivers in the nickel package.
That makes all sorts of sense, but there's one big catch. At the moment, the Panthers aren't sure they have anyone who can take Munnerlyn's place as the starter. They got all excited about rookie
Josh Norman
in June workouts, and he still might end up in that role, but his fast track to a starting job stalled when he missed some time with an injury early in camp. There also was hope that second-year pro
Brandon Hogan
could claim the spot. But Hogan's knee, which he injured in his final year of college, still doesn't allow him to stay on the practice field with anything approaching consistency.
Maybe Norman steps up in what's left of the preseason. If not, the Panthers might give
Darius Butler
, who spent two seasons with New England before joining the Panthers last season, the starting job. Or maybe they still start Munnerlyn, but slide him inside in nickel situations and let Butler take his spot on the outside.
[+] Enlarge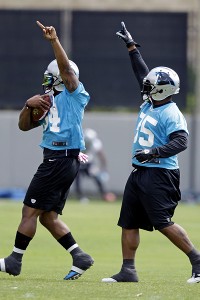 AP Photo/Chuck BurtonThe addition of Mike Tolbert, right, further crowds a backfield that includes DeAngelo Williams, left, and Jonathan Stewart.
2. The workload at running back.
You can make a case that the Panthers underused running backs
DeAngelo Williams
and
Jonathan Stewart
last season. So what did the Panthers do in the offseason? They added
Mike Tolbert
as a free agent from San Diego. The Panthers say Tolbert will be a fullback but also say he'll get some time at tailback and will be asked to catch passes out of the backfield.
That sure makes it sound like the number of carries for Williams and Stewart, who each have had 1,000-yard seasons in the past, will be reduced even more. But I think people are missing the point. Offensive coordinator Rob Chudzinski was riding the hot hand with Newton last season, and the Panthers frequently played from behind. When the coaching staff reflected on last season, I think it concluded that the running backs weren't involved enough. Count on a conscious effort to get Williams and Stewart more carries.
It might look like Tolbert just complicates things. But players don't call Chudzinski "The Mad Scientist" for no reason. They know he has big plans for this backfield. We could end up seeing all sorts of combinations of Williams, Stewart and Tolbert, and there could be all sorts of new plays. It sure beats the heck out of the old days in Carolina when variety in the backfield meant a draw play to Nick Goings.
3. The lineup at linebacker.
When the Panthers drafted Kuechly, fans wondered what that meant for Beason. Kuechly played the middle in college, and the natural assumption was that he would do the same in the NFL. Kuechly might end up in the middle someday, but not while Beason is around.
Beason is a natural in the middle, and the Panthers aren't going to move him. They'll use Kuechly on the weak side. Davis' comeback is a great story, but it almost certainly isn't going to end with his return as a full-time starter.
James Anderson
will be the other starter. If the Panthers get anything out of Davis, it will be viewed as a bonus. At best, the Panthers plan to use Davis as a situational player in some nickel packages. They could resort to the 3-4 defense a little more often, but the 4-3 is going to remain their base defense.
REASON FOR OPTIMISM
[+] Enlarge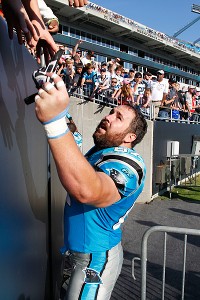 AP Photo/Bob LeveroneCenter Ryan Kalil took out a full-page ad in the Charlotte Observer, declaring fans will be rewarded for their support with a "one hundred-percent, sterling silver victory -- the Lombardi Trophy."
One of the biggest signs of optimism I've ever seen came a few days before camp when center
Ryan Kalil
took out a full-page ad in The Charlotte Observer, promising a Super Bowl victory this season. Let's turn to Kalil for an explanation.
"The idea behind the letter wasn't to spark anything with the team, but really to let the fans in on how the culture was changing here," Kalil said. "I think in recent years, the culture has been too much of, 'If the Panthers win, great. And, if not, nobody expects much from us.' I think Ron Rivera came in here and the mindset has just changed. There's a sense of urgency, and a winning attitude that I haven't seen since I've been here. That was the idea behind the letter -- just to get the fans excited, because we haven't given them a whole lot to cheer about in recent years, and they've been very supportive of us. They deserve a better team, and we're going to give them years of better things to come."
I've gotten to know Kalil pretty well, and he's not the kind of guy who would pull a stunt like this just for show. Kalil was used to winning at USC and, if he was willing to go out on a limb like this, he must feel pretty confident that what he's seen in the offseason program is about to translate into something special.
REASON FOR PESSIMISM
There's no question the presence of Kuechly and Beason will make the linebackers better, and there's no doubt Edwards will help the run defense. But, outside of
Charles Johnson
, where's the pass rush? There was almost no pass rush outside of Johnson last season, and it's not like the Panthers made any dramatic moves in that area this offseason.
Maybe this is the year
Greg Hardy
and
Eric Norwood
finally reach their potential, but it's not as if they've had major flashes in the past. There's been a little buzz in camp about
Thomas Keiser
. I'm not sure he's ready to be a full-time starter, but he could be a situational player. The Panthers might have to make more active use of the blitz. If they don't, then a secondary that's not exceptionally talented could be in for another long season.
OBSERVATION DECK
The special teams were almost as big a problem as the defense last season. That's why the jobs at punter and kicker are completely wide open. There are no favorites here. The Panthers are simply going to go through the preseason and see whether Olindo Mare or Justin Medlock kicks better. If Medlock emerges, the Panthers will be happy to swallow their pride after giving Mare a big contract last season. They just want consistency. It's the same at punter, where the Panthers let Jason Baker go after last season. They invested a draft pick in Brad Nortman but went out and signed veteran Nick Harris. They're not indebted to either.
Brandon LaFell pretty much has locked up the No. 2 wide receiver job opposite Steve Smith. But there's a logjam of receivers after that. David Gettis, Louis Murphy and Seyi Ajirotutu seem to be competing for the No. 3 spot. But they might not all make the team. The Panthers also are high on younger receivers Kealoha Pilares, Joe Adams and Armanti Edwards, each of whom can contribute in the return game. Edwards, whom the Panthers drafted as a project in 2010, has shown some promise in camp but probably isn't going to make the roster ahead of Adams and Pilares.
There was a lot of talk about competition at right tackle and left guard entering camp. But those competitions didn't turn into much. The Panthers already were locked in on Byron Bell as their right tackle after he played so well there last season. They also seem fully prepared to go with rookie Amini Silatolu at left guard. Veterans Mike Pollak and Bruce Campbell were brought in, but the Panthers are viewing them as quality backups.
There's been a buzz around camp about how well third-year quarterback Jimmy Clausen has played. Sad part is, it doesn't really matter. Newton's set as the franchise quarterback for at least the next decade, and Chudzinski has strong ties to veteran backup Derek Anderson. Clausen is stuck at No. 3. The Panthers might as well try to showcase him in the preseason games. If he really is playing that well, someone might be willing to trade a draft pick for him.
The Panthers brought in Haruki Nakamura as an alternative to Sherrod Martin at safety. The thinking was Nakamura, who was Ed Reed's backup in Baltimore, could end up beating Martin out. As it turns out, the acquisition seems to have ignited a fire under Martin. He's having a nice training camp, and it looks like he'll hold onto the starting job if he can continue playing well through the preseason.

The Panthers aren't the slightest bit worried about Newton's running into "the sophomore slump." There is good reason for that. Newton had one of the best statistical seasons ever by a quarterback, and he did that coming out of a lockout during which he wasn't able to spend any offseason time with his coaches. Newton has had an entire offseason this year, and all indications are he spent as much time around the facility as possible. The Panthers fully believe Newton didn't even come close to hitting his full potential last season.
August, 7, 2012
8/07/12
5:29
PM ET
SPARTANBURG, S.C. -- The
Carolina Panthers
put out their first depth chart Tuesday afternoon. Let me emphasize this is an unofficial depth chart, but there are several things that jump out at me.

Let's start with one thing that's very atypical for the Panthers, who generally are the most conservative team in the NFC South when it comes to such matters. The Panthers are listing rookie
Amini Silatolu
as the No. 1 left guard. That probably will be the case come opening day, but the Panthers generally don't list rookies as starters on their first preseason depth chart. Instead, they give veterans every benefit of the doubt. But I think this is a pretty good sign that the Panthers aren't really counting on veterans like
Mike Pollak
or
Bruce Campbell
to start. I'd say an injury is about the only thing that would prevent Silatolu from being the starter when the regular season opens.
But the flip side of this is that the Panthers are listing first-round draft choice
Luke Kuechly
as the No. 2 weak-side linebacker behind veteran
Thomas Davis
. Kuechly has been working with the first team throughout training camp. This one purely is a courtesy to Davis, who is trying to come back from his third torn ACL. Kuechly is pretty much guaranteed a starting job in the regular season.
Another item worth noting is that
Derek Anderson
is listed as the No. 2 quarterback behind
Cam Newton
and
Jimmy Clausen
is No. 3. Coach Ron Rivera was asked after Tuesday's practice if Anderson was the backup and the coach didn't hesitate to affirm that. It looks like Clausen, who started as a rookie in 2010, is looking at another season of being the third quarterback.
The Panthers are listing
Sherrod Martin
as their starting free safety and that could end up being the case in the regular season. But all indications out of Carolina's camp are that Martin is very much in competition with free-agent addition
Haruki Nakamura
for the starting job.
I've also been told that the Panthers view the punter and kicker jobs as serious competitions. They're listing veteran
Olindo Mare
No. 1 and
Justin Medlock
No. 2 at kicker and
Nick Harris
as the No. 1 punter with rookie
Brad Nortman
as No. 2. But the order at both spots could change, depending on what happens in the preseason games.
June, 27, 2012
6/27/12
12:00
PM ET
»
AFC hidden treasures
:
West
|
North
|
South
|
East
»
NFC
:
West
|
North
|
South
|
East
Examining a position group that could exceed its preseason expectations:
Carolina's special teams were among the worst in the league last year. That's why the Panthers didn't sit still in the offseason. They went out and made a bunch of moves that should help their special teams.

Safety
Haruki Nakamura
, linebacker
Kenny Onatolu
and fullback
Mike Tolbert
all have been productive on the coverage units in previous stops. The Panthers also used two draft picks on two players they expect to be regulars on special teams. Wide receiver
Joe Adams
has excellent potential as a return man. The Panthers also drafted punter Josh Nortman, but the job doesn't automatically belong to him. The Panthers also brought in veteran
Nick Harris
to compete with Nortman, after they released
Jason Baker
earlier in the offseason.
Even kicker
Olindo Mare
, who had some big misses last season, is going to have to win his job. The Panthers brought in former Canadian Football League kicker
Justin Medlock
to compete with Mare. There's competition everywhere. That's a good thing. Injuries left the Panthers very short-handed on special teams at times last season. This offseason, general manager Marty Hurney has gone out of his way to make sure the Panthers have plenty of talent and depth there. If the special teams and the defense can be better than last year, Carolina has a chance to challenge for a playoff spot.
May, 9, 2012
5/09/12
10:45
AM ET
By
ESPN.com staff
| ESPN.com
May, 8, 2012
5/08/12
9:35
AM ET
By
ESPN.com staff
| ESPN.com
Atlanta Falcons
D. Orlando Ledbetter of the Atlanta Journal-Constitution says Sean Weatherspoon will be the
focal point of Mike Nolan's defense
. Weatherspoon: "I'm not sure exactly what I'll be doing all of the time. I'm definitely looking forward to the challenge. I think I'm ready for that, to do a little bit more and step out there and do some different things. I look forward to the challenge. I think it's going to be fun."
Carolina Panthers
The Panthers added more depth to their special teams by
signing veteran punter Nick Harris
to a one-year deal.
New Orleans Saints
Interim New Orleans coach Joe Vitt
denies the allegations made by Anthony Hargrove
about the bounty scandal.
John DeShazier of The Times-Picayune
on Hargrove: "[I]t's impossible not to feel sympathy for the former Saints defensive lineman who was suspended for his role in the bounty program, and for lying to the league in 2010 about the program's existence."
Tampa Bay Buccaneers
Former Rutgers receiver Tiquan Underwood reunites
with his former coach Greg Schiano in Tampa Bay, writes Rick Stroud in the Tampa Bay Times.
Seventh-round draft picks
Michael Smith and Drake Dunsmore made the roster
as the Bucs signed 13 other rookies at the end of rookie camp.