November, 17, 2013
11/17/13
6:51
PM ET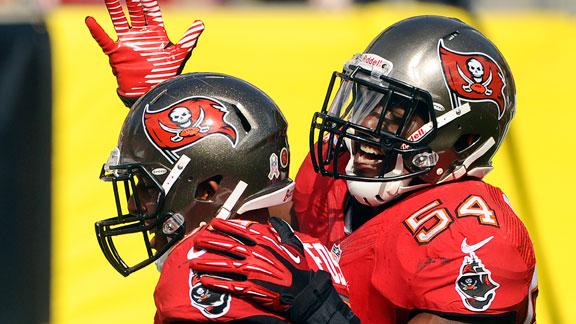 TAMPA, Fla. -- For weeks now, coach Greg Schiano steadfastly has said that once the
Tampa Bay Buccaneers
started winning football games, they wouldn't stop.
We all laughed.
As it turns out, maybe the man had a point. Maybe, just maybe, Schiano will have a job next year that many expected him to lose.
The Buccaneers defeated the
Atlanta Falcons
, 41-28, on Sunday at Raymond James Stadium. That came six days after the Bucs got a Monday night win against the
Miami Dolphins
for their first victory of the season.
"It's something that we can build on, for sure," Schiano said.
[+] Enlarge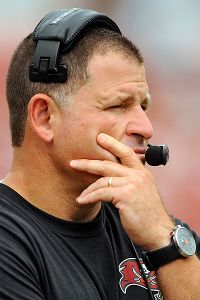 AP Photo/Brian BlancoGreg Schiano had the Buccaneers playing hard despite an 0-8 start. The result? Two straight victories.
Let's make no mistake: The Bucs are 2-8 and Schiano remains very much on the hot seat. But that seat is a little cooler than it was a few weeks ago. It might seem hard to imagine, but maybe the billboards calling for Schiano's firing will come down, maybe fans will jump off his back and onto his bandwagon, and maybe he still will be the coach in 2014.
"We've got a lot of pride," left tackle
Donald Penn
said. "We've got to play for our coach. Everybody's doubting our coach. We're behind him 120 percent."
That's the very reason I've held off on joining the masses in calling for Schiano's job. I'm not saying Schiano is a great coach, and I still don't know if his ways will work in the NFL. But the fact is, he never lost the locker room during an 0-8 start. His players never stopped playing hard.
I saw Tampa Bay teams totally pack it in at the end of the Raheem Morris and Sam Wyche eras. That, along with dismal records, is why Morris and Wyche were fired.
"A lot of people could have just folded," Penn said. "We're still fighting. Hopefully, we can keep building. I'm happy. For once, I can say I'm happy."
Let's not get too carried away with the sudden happiness. Schiano's record (9-17 overall) is dismal. Schiano has lost a lot of games, but he hasn't lost his players.
That counts for a lot, in my eyes.
Schiano is still facing an uphill battle. But I can see a scenario in which he could end up sticking around. I don't know if the Glazer family, which owns the team, has some magic number of wins in mind for Schiano to keep his job. Maybe Schiano needs to run the table, win the next six games and finish 8-8. Or maybe something like winning six of the final eight games will be enough to bring Schiano back.
He does have three more years left on his contract, and ownership likely won't be eager to pay the salaries for two head coaches at once. Or maybe the Bucs lose their next six and Schiano follows the route of Bobby Petrino, Steve Spurrier and Nick Saban and goes back to coaching a college program.
But the point is Schiano still has a shot in the NFL, if he can win some more games down the stretch. That no longer seems as unfathomable as it did a few weeks ago.
If the Bucs can play the rest of the way like they did Sunday, they could win more than they lose in their remaining games. It could happen.
It could happen because
Gerald McCoy
(three sacks on Sunday) suddenly is playing as well as any defensive tackle in the league. It could happen because the Bucs appear to have found a hidden gem in running back
Bobby Rainey
(163 rushing yards). It could happen because rookie quarterback
Mike Glennon
(only three incompletions against the Falcons) continues to get better each week.
And let's not overlook the possibility that Schiano might be starting to catch onto what the NFL is all about. Did you see the onside kick, the tailback pass and Glennon's two deep throws to
Vincent Jackson
? This team isn't playing nearly as conservatively as it did early in the season. Maybe Schiano is changing -- for the better.
In recent weeks, it hasn't taken too much observation to see a difference in Schiano. On the practice field, he has been joking around more with his players. When talking to the media, Schiano has seemed more relaxed, even approaching humor at times.
Maybe Schiano realized he needed to be less stubborn and stern. Maybe changing his personality and his play calling is Schiano's way of fighting for his job.
And, as long has his team keeps fighting, maybe he'll get to keep it.
May, 8, 2013
5/08/13
12:51
PM ET
ESPN Boston's Mike Reiss reached out to me this morning for a post he was doing on former Tampa Bay and current New England running back
LeGarrette Blount
. You can read the full product
here
.

Belichick

Schiano
But the last question Reiss asked me brought up a point that's worthy of a post here. Reiss asked for my thoughts on the close relationship between New England coach Bill Belichick and Tampa Bay coach Greg Schiano.
The following is my answer to Reiss:
"It's pretty fascinating to watch. Coming into the NFL, Schiano talked about how much he respected Belichick and viewed him as his mentor. Turns out, that wasn't just lip service. The admiration seems to run both ways, with Belichick bringing in so many former Rutgers players. I know some of Tampa Bay's coaches were scheduled to meet with New England's staff this week. Supposedly, the purpose was to plan out joint practices during the preseason.
"But, given the relationship of the two head coaches, you have to wonder if this meeting also is a bit of 'think tank.' The AFC East and NFC South teams play each other this year. Belichick isn't going to give Schiano a blueprint of how to beat the Patriots. But it would help Belichick if Schiano and the Bucs can give the Jets, Dolphins and Bills a loss. And it would help Schiano if Belichick and the Patriots can knock off the Falcons, Saints and Panthers.''
I then played a little quid pro quo and asked Reiss for his thoughts on the relationship between Belichick and Schiano.
"The Belichick-Schiano dynamic reminds me a little bit of Belichick's previous connection with Florida coach Urban Meyer,'' Reiss said. "Over the years, Belichick has had a few known allies -- Meyer, Nick Saban etc. -- that are 'go-to' guys for him and whose opinions and trust trump most everything else. Schiano is definitely in that category.
"My opinion is that part of it is that Belichick's son, Steven, played for Schiano at Rutgers, which obviously hits close to home, and so Belichick got a real up-close view of how things were done at Rutgers. What he saw was pretty much reflective of how he tries to run his own program. Belichick has said as much, most recently noting that the team's three Rutgers draft picks are probably as ready for the NFL as any prospect in the draft.
"I'm sure there is more to it than that, and in the end, it comes down to trust. I'm not sure Belichick would have traded for
Aqib Talib
last year if Schiano wasn't on the other end of the trade, giving him information that he felt was genuine and accurate. Ditto for this year's trade for running back LeGarrette Blount. I'm also surprised that the teams are probably going to hold joint practices this preseason (mid-August) because they will be playing a game that counts about one month later. I think that also speaks to how strongly Belichick feels about Schiano.''
December, 27, 2012
12/27/12
12:30
PM ET
»
NFC Season Wraps
:
East
|
West
|
North
|
South
»
AFC
:
East
|
West
|
North
|
South
Five things to know and my all-division team.
Division MVP:
Matt Ryan
, Falcons. You can make a case for him as the MVP of the entire league. With one game remaining in his fifth season, Ryan already has career highs in completions (394), passing yards (4,481) and touchdown passes (31). His 69.0 completion percentage also is far above his career average.
[+] Enlarge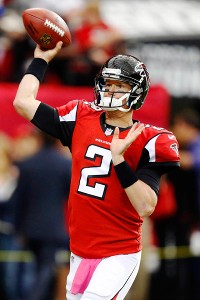 Josh D. Weiss/US PresswireFalcons QB Matt Ryan has made a case to be the league's MVP.
But the most impressive thing about Ryan's season might be the 13 wins he already has led the Falcons to. It all has come in a season in which the Falcons have overhauled their offense to make the passing game a priority. With the running game posing almost no threat, Ryan has carried this offense.
Biggest disappointment:
The
Carolina Panthers
. Back in the preseason, the Panthers were a trendy pick as a team on the rise. The media, myself included, thought quarterback
Cam Newton
would only build on a fantastic rookie season and that Carolina had fixed its defense. Fans got giddy, and even center
Ryan Kalil
joined the fray, taking out a full-page ad in The Charlotte Observer that promised a Super Bowl victory.
Instead, the Panthers didn't even come close to making the playoffs. They started so poorly that general manager Marty Hurney was fired in October and coach Ron Rivera clearly is on the hot seat. The current three-game winning streak might get Rivera another year. But you have to wonder why a team with this much talent didn't open the season playing the way it is now.
The story that never stopped:
The
New Orleans Saints
dominated the offseason headlines for the entire league (maybe the entire sports world) when the NFL exposed their three-year bounty program. Coach Sean Payton drew a season-long suspension, general manager Mickey Loomis got eight games, and assistant head coach Joe Vitt was suspended for the first six games. Linebacker
Jonathan Vilma
was given a season-long suspension and defensive end
Will Smith
was hit with a four-game suspension.
While all that was going on, fans also started sweating as contract negotiations between quarterback
Drew Brees
and the team dragged on far too long. Brees finally signed, and Vilma and Smith tied things up in the appeals process before eventually having their suspensions vacated. All the drama took a toll as the Saints started 0-4 before getting on a bit of a roll and briefly entering the playoff picture. But the soap opera isn't over. During the season, it was revealed that the NFL had voided the contract extension Payton signed last year. He could end up being a free agent when he is reinstated.
Has the window closed?
Even if Payton does return to the Saints, they might not automatically be the winning team they were the previous three seasons. This team will face major salary-cap issues in the offseason, and veterans such as Vilma, Smith and
Roman Harper
could be gone.
The defense needs lots of work up front and more help in the secondary. Left tackle
Jermon Bushrod
is eligible to be a free agent, and the wide receivers are getting older. No matter who is coaching the Saints, they're going to need some major work in the offseason.
The turnaround that wasn't:
Right from the start of the season, it appeared that new Buccaneers coach Greg Schiano was having a huge positive impact. At first, the Bucs were piling up moral victories by playing close against good teams. Then they started winning and got to 6-4; the playoffs looked like a possibility and
Josh Freeman
was looking like a franchise quarterback.
But things have gone horribly wrong the past five games. Freeman suddenly reverted to his 2011 form, the pass defense has been ridiculously bad, and the Bucs are having a second straight miserable December. That makes you wonder whether the team is buying into Schiano's hard-line style. It works for guys such as Bill Belichick and Tom Coughlin because they win. But when a coach like that is losing, you have to wonder if he's another Nick Saban or Ray Perkins.
All-Division Team
You will quickly notice that the Falcons dominate the All-NFC South team. That's largely because they ran away with the division, and winning counts for a lot in my eyes. That's why I took
Julio Jones
as the second receiver over
Vincent Jackson
,
Steve Smith
and
Marques Colston
. Those three had stats as good or better than Jones, but his play has helped the Falcons win 13 games so far. I also used that logic in choosing both of Atlanta's starting cornerbacks, although it certainly helped that the other three teams had major problems at cornerback.
August, 22, 2012
8/22/12
2:11
PM ET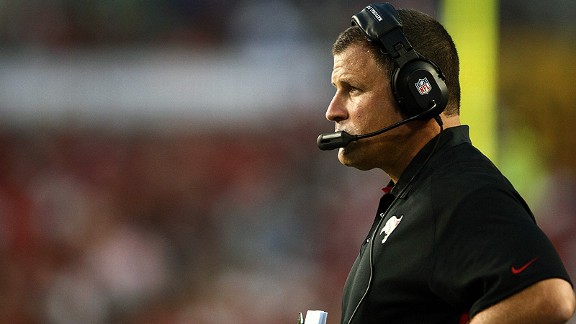 Douglas Jones/US PresswireNew Tampa Bay Buccaneers coach Greg Schiano is making the most of his week coaching against Patriots coach Bill Belichick.
TAMPA, Fla. -- The two coaches who stood at the podium in the media room at One Buccaneer Place on Wednesday sounded almost exactly alike.
They spewed the usual clichés coaches say this time of year, about how they're working to get their teams ready for the regular season. They were equally vague about injuries, personnel and their plans for Friday night's preseason game.
But there's one big difference between Bill Belichick and Greg Schiano -- 175 regular-season wins in the National Football League.
"I'd be foolish not to learn from Coach Belichick today, and I did," said Schiano, who has taken over the
Tampa Bay Buccaneers
after running the program at Rutgers since 2001.
[+] Enlarge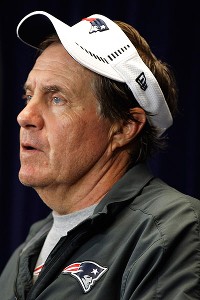 AP Photo/Stephan SavoiaPatriots coach Bill Belichick's "media savvy" is among the many leads new Bucs coach Greg Schiano is trying to follow.
That came after Schiano put his Bucs through a joint workout with Belichick's
New England Patriots
. They'll do it again Thursday and they'll play each other Friday night at Raymond James Stadium.
Belichick probably is on his way to the Pro Football Hall of Fame, and Schiano is a rookie NFL head coach. But there already is a lot of familiarity between the two, and that should come as some comfort to Tampa Bay fans who are worried about having a head coach whose only NFL experience was as an assistant with the
Chicago Bears
for three seasons in the 1990s.
"I'm sure he'll do well," Belichick said of Schiano.
That's a nice endorsement of Schiano by perhaps the greatest coach of this era. But the endorsement Belichick gave Schiano back in January likely was more grandiose.
Team officials have said they spoke to Belichick about Schiano when they were looking for a coach to replace Raheem Morris, and the message carried plenty of weight. Belichick wouldn't go into specific detail about what he told the Glazer family, who owns the Bucs, and general manager Mark Dominik about Schiano.
"All I can do is just be honest," Belichick said Wednesday . "I think the world of Greg. I think he's a good coach. He's got a good personality, he treats his players well, he's smart, he's tough. He did a great job with the Rutgers program without some of the opportunities that some other programs that he was going against had. But he competed really well in that conference and against those teams. I've always been impressed with the way his teams performed. I have no problem saying that at all."
The relationship between the two isn't the casual one that many NFL and college coaches share. Belichick's son, Steven, was the long-snapper on Schiano's final team at Rutgers. Even before that, the two had a bond, and Schiano sometimes went to New England to observe practices.
In his brief time in Tampa Bay, Schiano frequently has mentioned Belichick as one of the coaches he admires most and tries to pattern himself after.
"[Belichick] has a way of simplifying things," Schiano said. "I'll hear some coaches do a three-page essay on how to handle a situation. Bill will say it in a sentence. That to me is being so familiar and the experience that he has that he's able to see it clearly. Any good leader can do that, take the stuff that's all over the place and bring it right to here."
Schiano already has mastered the art of getting straight to the point. His session with the media lasted 8 minutes, 36 seconds (according to my recorder). Belichick's lasted nearly 17 minutes. But coaching is about a lot more than dealing with the media.
Some college coaches (Jim Harbaugh) have experienced success in making the jump to the NFL. Others (Bobby Petrino and Nick Saban) have not. Belichick said he doesn't think Schiano will have trouble with the adjustment.
"I think he's a very experienced guy," Belichick said. "He's won a lot of games, he's coached a lot of players. He's coached NFL players, they just were in college, that's all. The Vince Wilforks, the Devin McCourtys, all the guys that he's coached, they're NFL players, they just weren't in the NFL yet. And he's coached in the NFL. So he knows what he's doing. He'll be fine."
It sounds easy, but Schiano is taking over a team that went 4-12 and lost its final 10 games last season.
"Well, it's a big process," Belichick said when asked what it's like to take over a team. "I don't think there's any one thing. There's no magic wand. It's pretty much everything."
When you reflect on Belichick's career, it hasn't been as smooth as you might think. His first stint as a head coach was in Cleveland from 1991-95. His teams went 36-44, and the franchise moved to Baltimore immediately after Belichick's final season. Even in New England, the Patriots went 5-11 in Belichick's first season (2000).
But 10 straight winning seasons -- and those three Super Bowl titles -- followed.
Belichick obviously has evolved over time and he often has talked about learning from his mistakes in the early years. I'm sure Schiano has asked him about some of those lessons.
It's true that there is no magic wand, but maybe having Belichick as his mentor can make the process a little easier for Schiano.
May, 25, 2012
5/25/12
9:09
AM ET
»
AFC Scenarios
:
East
|
West
|
North
|
South
»
NFC
:
East
|
West
|
North
|
South
Yes, the start of training camps is two months away, but it's never too early to consider the coming season. A look at the best-case and worst-case scenarios for the Buccaneers in 2012.

Dream scenario (10-6):
This will only happen if coach Greg Schiano makes the transition from college to the NFL more like Jim Harbaugh than Nick Saban or Bobby Petrino. Harbaugh isn't the norm in this category, but it's possible Schiano could follow in his tracks. The cupboard isn't bare, it just needs organizing. The Bucs have assembled a lot of young talent in recent drafts --
Josh Freeman
,
Gerald McCoy
,
Brian Price
,
Mike Williams
,
Arrelious Benn
,
Adrian Clayborn
,
Mark Barron
,
Doug Martin
and
Lavonte David
-- and Schiano showed he can build during his time at Rutgers.
The key to it all is Freeman. Is he the quarterback who threw 25 touchdowns and six interceptions in a 10-6 season in 2010 or the guy that threw 22 interceptions and looked awfully anxious last season? Schiano and his staff firmly believe the 2010 version was the real Freeman and they've done everything possible to upgrade his supporting cast. They brought in
Vincent Jackson
to be the No. 1 receiver and guard
Carl Nicks
to bolster an offensive line that has a chance to be very good. They also drafted Martin and plan to use him as an every-down running back.
If Freeman is for real, he should bounce back strong from last year's debacle. Lots of coaches and scouts around the league still believe in Freeman, but we'll soon find out if he still believes in himself or if last year forever shattered his confidence. But even if Freeman improves, the Bucs must be a lot better on defense than they were last season when they allowed more points (494) than any team in franchise history.
Nightmare scenario (4-12):
As demonstrated by the likes of Saban and Petrino, NFL players don't always respond well to hard-charging college coaches. There's no doubt this team needs some order after the Wild West days of Raheem Morris, but Schiano must get his players to buy into the new order in their worlds or he could be in for trouble. Although ownership showed a willingness to spend in free agency and the Bucs have had some early draft picks in recent years, this job is far from paradise.
Few, if any, of those early draft picks have shown that they are the real deal. Maybe all they need is better coaching, but maybe the Bucs just haven't drafted very well. If Freeman struggles again, the Bucs suddenly have a quarterback quandary on their hands. If they struggle on offense, there's no way they can win games in the NFC South. You don't win a lot of games with defense in the modern NFL and, at least on paper, Tampa Bay's offense is much more talented than its defense.
If Freeman doesn't take a step forward and the defense doesn't show improvement, it will become last season all over again. This is not a franchise that can handle a lot more misery. Attendance has been lacking in recent years, and the Bucs aren't going to fill up their stadium until they escape obscurity and win consistently.
January, 26, 2012
1/26/12
6:31
PM ET
By
Patrick Yasinskas
| ESPN.com
With Greg Schiano leaving Rutgers to take over the
Tampa Bay Buccaneers
, it naturally brings to mind other college coaches who have gone to the NFL.
The general rule of thumb, at least in recent years, is most of those guys don't have a lot of success. But San Francisco's Jim Harbaugh kind of broke that rule in 2011.
With some help from ESPN Stats & Information, let's take a look at some notable coaches who have jumped from college to the NFL and their records in their first pro year:
2011 Jim Harbaugh, 49ers, 13-3
2010-11 Pete Carroll, Seahawks, (Carroll previously was an NFL head coach twice)
2007 Bobby Petrino, Falcons, 3-10
2005-06 Nick Saban, Dolphins, 15-17
2002-03 Steve Spurrier, Redskins, 12-20
2001-04 Butch Davis, Browns, 24-34
1999-2001 Mike Riley, Chargers, 14-34
January, 24, 2012
1/24/12
6:04
PM ET
Time for a look at Tuesday's top headlines from around the NFC South.
There's been a lot of speculation that the Panthers will use an early draft pick on a cornerback this year. It could happen, but there was one guy that showed up at the Senior Bowl that
doesn't think that's a great idea
. That's starting cornerback Captain Munnerlyn, who lives in Alabama in the offseason. Munnerlyn pledged to beat out any cornerback the Panthers draft. Munnerlyn is one of those undersized guys that plays with a chip on his shoulder. Nothing wrong with that. You want all your players to be competitive and that's a trait that comes in especially handy at cornerback.
This is just speculation, but Charlie Campbell suggests the Bucs
might want to consider
New York Giants offensive coordinator Kevin Gilbride for their open coaching spot. That's actually not a bad idea. Although he's best known for taking a sideline punch from Buddy Ryan, that was a long time ago and Gilbride has a reputation as a solid offensive coach. He might be better than some of the guys the Bucs have talked to.
There's no agreement yet, but the executive director of the Georgia World Congress Center said
negotiations are continuing
with the Falcons about a proposed open-air stadium.
Alabama coach Nick Saban, who coached Julio Jones at Alabama,
praised the Falcons
for trading up to get the receiver in last year's draft.
Former Carolina defensive backs coach Ron Meek has
landed the same position
with San Diego. Ironically, Meeks' replacement with the Panthers, Steve Wilks, had been the secondary coach for the Chargers.
Georgia cornerback Brandon Boykin
has interviewed
with the Falcons and Panthers at the Senior Bowl. As I do every year at this time, don't put too much stock into which teams interview which players in the pre-draft events and what coaches are supposedly watching certain position groups during practices and games. All teams do their homework on every player eligible for the draft. Heck, sometimes a bad interview gets a prospect pulled of a team's draft board.
This
Insider piece
says the Carolina Panthers were one of the top five underachieving teams in 2011. Let's just say I respectfully disagree with that. The Panthers won two games in 2010. They tripled their win total in 2011 and they did that in a year with no offseason, while they hurriedly installed a new offense and turned things over to rookie quarterback Cam Newton, who had a record-setting season. Yeah, the Panthers had some big problems on defense, but I think injuries to linebackers Jon Beason and Thomas Davis and defensive tackle Ron Edwards played a big roles in the defensive issues.
February, 1, 2010
2/01/10
7:14
PM ET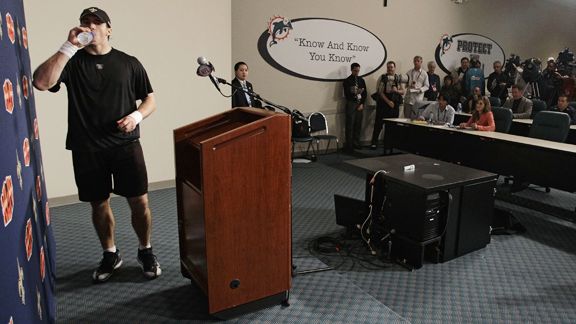 AP Photo/Mark HumphreyOn Monday in the Dolphins' media room, Drew Brees reflected on how he almost signed with Miami in 2006.
DAVIE, Fla. --
Drew Brees
stood under a
Miami Dolphins
logo Monday and talked about playing in the Super Bowl.
Funny, but that's exactly how it was supposed to be just about four years ago. It's funny, but just about everything about Brees and Super Bowl XLIV is soaked in irony several times over.
It was totally by accident that Brees wound up talking in the auditorium at the Dolphins' practice facility Monday evening. The Saints arrived at Miami International Airport near noontime and were supposed to have a practice at the University of Miami.
But heavy rains ruined that and left the league and the Saints scrambling for alternatives. They wound up calling on the Dolphins, who have a practice bubble at their complex.
"That bubble wasn't here when I was here, but everything else brought back memories of that free agency period and 2006,'' Brees said.
Brees almost landed with the Dolphins, instead of the Saints. History might have been altered on many levels when Brees made that decision back in 2006. Had it gone the other way, maybe Nick Saban still would be coaching the Dolphins, maybe the Saints still would have
Aaron Brooks
and a losing record and nothing else going for them.
Truth be told, the Dolphins were very much in the mix for Brees when he was a free agent coming out of San Diego. The Chargers had turned Brees loose because he had surgery on his throwing shoulder and they already had
Philip Rivers
waiting to take over.
There's a story that's been told for years about how Saban called Brees at 12:01 a.m. on the day free agency started. Turns out that's not true.
"He probably called me before that,'' Brees said with a laugh.
Saban's free and clear from a rules violation because he's back coaching in college after a disappointing tenure with the Dolphins.
It's almost laughable now, but the Dolphins and the Saints really were the only teams showing any interest in Brees back then. Brees has talked before about how the Dolphins told him their medical personnel thought there was only a 25-percent chance of his shoulder being healthy enough to play in the NFL again.
He didn't go through that story on Monday and had nothing but nice things to say about the Dolphins, in addition to the Saints.
"I have great respect for both organizations,'' Brees said. "In the end, I felt New Orleans was my calling, not only to play football but to help that whole region rebuild. It goes way beyond football.''