January, 11, 2013
Jan 11
10:09
AM ET
With Rob Chudzinski leaving to become the head coach of the
Cleveland Browns
, a lot of Carolina fans have been clamoring for Norv Turner to become the new offensive coordinator.
But that might not even be possible. There are reports out there that Turner is likely to join Chudzinski in Cleveland.

If the Panthers don't get Turner, who is close with Carolina coach Ron Rivera, it might not be as catastrophic as Carolina fans think. Maybe the best guy for the job already is on staff.
I say the Panthers simply should promote quarterbacks coach Mike Shula.
He knows Chudzinski's offense. He has a close relationship with franchise quarterback
Cam Newton
and, now in his mid-40s, Shula is more than ready for the job.
Shula has his detractors, who point to his time as Tampa Bay's offensive coordinator and as the University of Alabama's head coach. Those people say Shula got those jobs simply because he was the son of Hall of Fame coach Don Shula.
I don't think that was the case either time, but I can see where that perception came from. That kind of talk is only natural when you're the son of Don Shula. A lot of people said Shula was too young to be the offensive coordinator in Tampa Bay back in the 1990s, and too young to be the head coach at Alabama.
I don't buy into that either. I covered Shula in his Tampa Bay days, and he was mature and studious. He just wasn't in a good situation. Tampa Bay coach Tony Dungy didn't want a flashy offense, and the Bucs didn't have the personnel to run one.
Shula ran an offense that was heavy on the running game and he got labeled as conservative, but I think that was only because his hands were tied by Dungy and the personnel he had to work with. Shula eventually was fired.
Shula then went to work as quarterbacks coach for the
Miami Dolphins
. But he was thrust back into the spotlight in 2003 when he was hired as Alabama's coach. That came on the heels of the Mike Price fiasco, Dennis Franchione's departure and NCAA sanctions. It was an impossible situation.
Shula lasted four seasons at Alabama. He then did a stint as the quarterbacks coach in Jacksonville before moving to Carolina in 2011.
There are a lot of people out there that say Shula is just fine as a quarterbacks coach, but shouldn't be anything more.
I'm not one of those people. I think Shula can succeed as an offensive coordinator -- under the right circumstances.
And I think Shula is a natural fit as Carolina's offensive coordinator. He would provide continuity for Newton, and that might be the best thing you can do for a young quarterback. The current Panthers have way more offensive weapons than the Bucs did when Shula was calling their plays, and I don't think he'd be nearly as conservative.
Unlike Tampa Bay and Alabama, this job would be a good situation for Shula.
It would be a situation where a good coach finally would have a chance to thrive.
January, 10, 2013
Jan 10
10:55
PM ET
Although there was speculation
Cam Newton
would be dealing with a new head coach, that didn't happen. But the quarterback of the
Carolina Panthers
will be dealing with a new offensive coordinator.

Rob Chudzinski was reportedly
hired away
by the
Cleveland Browns
on Thursday night.
That's good news for Chudzinski, but not necessarily good news for Newton and the Panthers. Chudzinski was the mastermind behind an offensive scheme that helped Newton set all sorts of records as a rookie. Chudzinski also got Newton back on track after he got off to a rocky start in the 2012 season.
This creates a big void, and Carolina coach Ron Rivera needs to make the right call on hiring a replacement for Chudzinski. Rivera's future -- and the future of the Panthers -- depends on Newton continuing to grow because he is the franchise in Carolina.
But the good news is there are some attractive options out there. Former San Diego coach Norv Turner, who employed Rivera and Chudzinski with the Chargers, is available. Chudzinski's offense contains a lot of the same principles of Turner's offense. Rivera and Turner have a strong relationship and I don't think Rivera would hesitate to hire Turner -- if he can land him. Turner also could be pursued by Chudzinski.
If Rivera can't get Turner, there's another solid option already on the staff. That's quarterbacks coach Mike Shula, who knows Chudzinski's offense well and has been with Newton from the start. Shula previously was an offensive coordinator with Tampa Bay, where he was criticized for being too conservative.
But, if the Panthers promote Shula, I'd expect him to stick with the offense Chudzinski already put in place.
January, 9, 2013
Jan 9
12:18
PM ET
The
Carolina Panthers
fired three coaches
Tuesday. They could end up losing another -- unwillingly.
Offensive coordinator Rob Chudzinski is
interviewing
to be the head coach in Cleveland, according to The Plain Dealer's Mary Kay Cabot.
Losing Chudzinski would be a blow to the Panthers. He was viewed as a big reason why
Cam Newton
had a record-setting rookie season. Chudzinski also made some nice adjustments to get Newton back on track in the second half of the 2012 season.
If Chudzinski ends up leaving, quarterbacks coach Mike Shula might be a logical candidate to take his place. But head coach Ron Rivera is close to former San Diego coach Norv Turner, who has a strong history as an offensive coordinator.
December, 14, 2012
12/14/12
9:03
AM ET
Time for a look at the top Friday morning headlines from around the division:
ATLANTA FALCONS
Dan Reeves, who coached the 1998 team to a Super Bowl berth,
reflects
on that magical season.
D. Orlando Ledbetter writes that linebacker Sean Weatherspoon has
thrived
since taking over as the leader of the defense. With the departure of Curtis Lofton in the offseason, Weatherpsoon took on the duties of wearing the radio helmet and calling the defensive signals. Besides that he's also become a better player and a more vocal leader.
CAROLINA PANTHERS
On a Carolina coaching staff that has many ties to San Diego, none
runs deeper
than that of offensive quality-control coach Scott Turner. He's the son of Chargers coach Norv Turner. They usually talk on the phone every day, but they've put that practice on hold this week as their teams get ready to play.
NEW ORLEANS SAINTS
Mike Triplett brings up a good point when he writes that
speculation
about the future of coach Sean Payton is sure to heat up next week when the Saints play at Dallas. Payton still is not officially under contract next season. He has deep Dallas ties. He worked there as an assistant and has a strong relationship with Cowboys owner Jerry Jones. Although Payton still is serving his suspension, the Saints are allowed to talk to him about a contract. There's one easy way to avoid the speculation that would heat up when the Saints play the Cowboys. That would be to get Payton signed to a new contract before then.
The Saints will
honor
their newest Hall of Famer, offensive tackle Willie Roaf, at halftime of Sunday's game.
TAMPA BAY BUCCANEERS
Although the Bucs don't run an offense that's going to complete a high percentage of its passes, quarterback Josh Freeman said he's
got to be better
than he was when he completed just 48 percent of his throws in the loss to Philadelphia.
January, 6, 2012
1/06/12
12:00
PM ET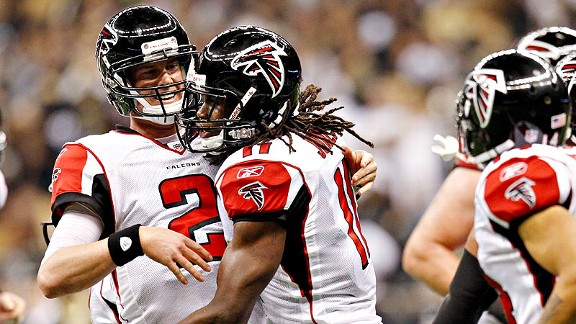 Derick E. Hingle/US PresswireMatt Ryan will surely be looking to star rookie Julio Jones for help in winning their first playoff game.
Take a look at Atlanta's
Mike Smith
and
Matt Ryan
. On the surface, they look like the perfect coach-quarterback combination.
On the heels of the fiascos involving
Michael Vick
and Bobby Petrino, Smith and Ryan arrived in Atlanta back in 2008. Instantly, they brought stability and credibility to a franchise that had fallen into disarray.
They've been winning, comfortably and calmly, ever since. They've had four straight winning seasons together, and that's been joyful for a franchise that hadn't had back-to-back winning seasons before Smith and Ryan arrived. Three of those seasons have included 10 or more wins. The Falcons are also about to make their third playoff appearance in four seasons, and Ryan established career bests for passing yards and touchdowns during the regular season.
Everything looks just fantastic for the Falcons.
But let's push a little beyond the surface, and you'll see this is a franchise at a critical juncture.
When the Falcons play the
New York Giants
on Sunday at MetLife Stadium, anything less than a victory will be a major disappointment for the Falcons. The franchise has fallen on good times, but there's a problem with that.
[+] Enlarge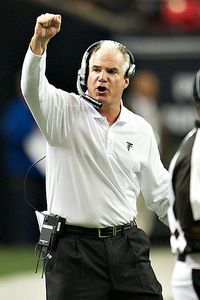 Dale Zanine/US PresswirePrior to Mike Smith's arrival, the Falcons had never recorded consecutive winning seasons.
It's not enough simply to be good every year. Smith has talked several times about how the organization's goal is not just to make the playoffs.
Smith and Ryan have never won a playoff game. They lost one they were expected to lose to Arizona in the 2008 season. They lost another to Green Bay last season when they were the No. 1 seed and the Packers were the No. 6 seed.
"There was a common theme in terms of that you can't turn the football over,'' Smith said. "That was the most pressing thing and both of them happened right, if you remember correctly, they both happened, one right before halftime last season and Arizona I think was the first or second play of the second half. We came out and turned the ball over and it was returned for a touchdown as well. It's no different than regular-season football, but we've got to make sure that we have ball security. We cannot turn the football over in the postseason. It's imperative.''
Yeah, the turnovers were a common theme in the previous two playoff losses, and there's no shame in losing to teams that went on to the Super Bowl. But here's where that tension beneath the surface starts to ooze out.
The Falcons can't continue to lose playoff games. A loss to the Giants will start the rumblings that Smith might be the second coming of Norv Turner -- a really nice guy who can't win when it matters. Right after that, you'll start hearing how Ryan's not an elite quarterback because he can't win big games.
When you talk to him, Ryan is as smooth a conversationalist as you'll find. He calls reporters by name and he'll chitchat about their hometowns or the hat of the college football team they're wearing. He's nicknamed Matty Ice, and he'll tell you he doesn't feel pressure to get the playoff monkey off his back.
"Not that much,'' Ryan said. "I think the past doesn't really make a difference. We had opportunities; we didn't take advantage of those. What matters is we put ourselves in this position again and we have an opportunity to move forward. So I don't worry about it too much. I kind of just focus on trying to prepare and play well this week and doing everything we can to take advantage of the opportunity that we have."
One thing has become clear so far in Ryan's career: He's always going to say the right thing. But there is pressure percolating just under the surface for Ryan, Smith and the rest of the Falcons and, despite their denials and calm demeanor, they have to be starting to feel it.
Forget that playoff loss to Arizona in the 2008 season. That was Ryan's rookie year, the Falcons were on the road and Arizona was a team of destiny. But that loss to the Packers in the Georgia Dome in last season's playoffs?
Point to that as the source of all the pressure that's growing around the Falcons now. Atlanta went 13-3 last season and had a first-round bye. The Falcons were rested and healthy, but the Packers came to town and blew them out, 48-21.
After the game, Smith and Ryan looked as flustered as they've ever been. General manager Thomas Dimitroff and owner Arthur Blank are two other guys who look pretty calm most of the time, but you could almost see the smoke coming out of their ears that day, because they had seen a team that they thought was going to the Super Bowl get thoroughly embarrassed.
After things settled down a bit, Smith, Dimitroff and Blank sat down and decided they weren't too far away. What they learned from the Green Bay loss was that they needed more explosiveness on both sides of the ball.
That's why the Falcons made the daring trade that allowed them to draft wide receiver
Julio Jones
, and that's why they signed defensive end
Ray Edwards
to a big contract in free agency. A lot of people said the Falcons were shooting for the Super Bowl or bust.
The expectations were raised but not met during the regular season. The Falcons struggled with inconsistency and finished 10-6. At times they were very good; at other times they were ordinary. But the playoffs bring a chance for Atlanta to finally meet those expectations.
"It's more intense,'' Smith said. "I think it's more intense in your preparation as a football team. It starts early in the week and I think it becomes a very intense, energetic time when you're playing in the playoffs because it's a situation where you're not going to have another game if you don't win. Everybody's playing to play through the end of January and into February."
But the Falcons haven't made it to the end of January or anywhere close to February in their previous tries. They're on very stable ground, but you can't stand still forever.
Blank has learned from and grown from past mistakes. He's thrilled with the stability Smith and Ryan have brought to his franchise. But Blank's also a competitive guy and he's not going to be patient forever.
The same is true of the Atlanta fans. The consistent winning for four seasons has been nice.
But if Smith, Ryan and the rest of the Falcons are going to ease the pressure that's simmering just below the surface, they need to win a playoff game. If they don't, the peace and calm that's surrounded the Falcons the past four years will start to disappear.
December, 30, 2011
12/30/11
3:23
PM ET
We completed our final NFC South chat of the regular season Friday. I'm sure we'll be chatting more in the postseason, so stay tuned for details on that.
Here are some highlights of Friday's NFC South chat:
Chris (ATL):
Safe to say Matt Ryan took a step forward this season?
Pat Yasinskas:
A small one, yes. He's going to have best stats of his career. Would have liked to see him be a little more consistent. Also would help if he wins a playoff game.
Bryant (Charlotte, NC):
Hey Pat, any rookie that isn't named Cam Newton that has made the biggest impact in the NFC South?
Pat Yasinskas:
I'd have to say Julio Jones. Adrian Clayborn in Tampa Bay has had a good first year too.
Carson (Atlanta):
Do you feel that Atlanta will/should lose both Coordinators during the offseason? Who is rumored as replacements? I would love to see either Norv Turner or Josh McDaniels replace Mularky. I haven't got an idea about defense because it is a Mike Smith defense scheme. Any thoughts?
Pat Yasinskas:
We'll see. Mularkey could end up with head coaching job. If they don't win a playoff game or two, I could see one of the coordinators being the scapegoat. They came into this season with huge expectations. Regular season hasn't gone the way they would have liked, so there could be change.
Kevin (Hamilton):
Pat do u think the Saints have a chance to advance to the Super Bowl?
Pat Yasinskas:
Yes, definitely have a chance. Obviously, they'll have to go through Green Bay or San Francisco. But I think Saints are capable of beating either on a given day.
Jimmy (Houston, TX):
all these people saying Dalton over Cam for ROY are total nuts, Give cam bengals defense he has 12 wins easy, am I wrong?
Pat Yasinskas:
You are not wrong at all. Dalton's had a very nice rookie year, no doubt. But Cam has broken just about every rookie record. He'll win ROY easily.
Java (Tampa):
Morris gone on Monday? Or do the Glazers take a little time?
Pat Yasinskas:
Could be Monday. But Glazers' history has shown they sometimes take a little time.
Daniel (Metairie):
If you had to let one go next season, would it be let Colston walk or Carl Nicks?
Pat Yasinskas:
Neither. You find a way to keep both. There are some other ways to create cap room. They could cut some guys or restructure some contracts.
Here's the
complete transcript
of Friday's NFC South chat.
March, 1, 2011
3/01/11
3:10
PM ET
For those of you who have sort of forgotten about Rich McKay since he left his role as the
Atlanta Falcons
general manager after the 2007 season, here's a reminder that he still remains a powerful force in the NFC South and the NFL. Heck, aside from Jerry Richardson who's heading the owners in the labor talks, I think you could make an argument that McKay is the most important figure in the NFC South.
The league announced Tuesday that McKay will serve as chairman of the NFL's competition committee. McKay's been on the committee since 1994, when he was the general manager for the
Tampa Bay Buccaneers
, and started serving as co-chairman in 1998. But this latest move is a step up for McKay, who had been co-chairman with Jeff Fisher since 2001. With Fisher leaving the
Tennessee Titans
and no longer coaching, McKay is now a one-man show at the top of this committee.
McKay became Atlanta's team president in 2008 when the Falcons hired general manager Thomas Dimitroff. A lot of people think McKay's role was narrowed strictly to running the team's business operations. But that's never really been the true story.
While Dimitroff handles the traditional roles of a general manager, McKay has continued to help with salary-cap management and is sometimes turned to for advice on football matters. He also is the point man for the new open-air stadium owner Arthur Blank wants built in downtown Atlanta.
McKay also has been Atlanta's main liaison to the league, and that now has been underscored with his role as chairman. He should help give the Falcons some clout when it comes to proposed rule changes and similar matters.
For the record, McKay is the only NFC South representative on the competition committee. The other members are Stephen Jones (
Dallas Cowboys
), Marvin Lewis (
Cincinnati Bengals
), John Mara (
New York Giants
), Ozzie Newsome (
Baltimore Ravens
), Bill Polian (
Indianapolis Colts
) and Rick Smith (
Houston Texans
).
There also is a coaches' subcommittee to the competition committee and there is one NFC South figure there. That's
New Orleans Saints
' Sean Payton. The other members of the subcommittee are John Madden, John Harbaugh (Ravens), Mike Holmgren (
Cleveland Browns
), Andy Reid (
Philadelphia Eagles
), Steve Spagnuolo (
St. Louis Rams
), Mike Tomlin (
Pittsburgh Steelers
), Norv Turner (
San Diego Chargers
) and Ken Whisenhunt (
Arizona Cardinals
).
February, 4, 2011
2/04/11
12:15
PM ET
I would not have known about this if AFC South colleague Paul Kuharsky hadn't shared (gloated might be a better term) this
note about preseason predictions.
But, heck, Kuarsky's got a right to be happy. His predictions were among the best in the business.
Mine were in the middle of the pack. You can look back at
all the ESPN.com predictions
and you'll see I would have been right up there with Kuharsky if I had just done the smart thing and picked the Steelers to reach the Super Bowl or even picked any other AFC team that actually made the playoffs to reach the Super Bowl.
I can't really remember my reasoning at the time, but I picked the
San Diego Chargers
to represent the AFC in the Super Bowl. I also picked San Diego's Norv Turner as Coach of the Year. As best as I can recall, I looked at the rest of the AFC West and thought it was so bad that there was no way the Chargers could underachieve. But they underachieved tremendously.
I also picked the Saints to represent the NFC and to win the Super Bowl. I recall my logic on this one clearly. No one else seemed to be giving the Saints any shot at repeating. I'm the NFC South guy, so I felt obligated to pick them and I thought they at least had a chance.
Most of you know I generally avoid predictions, and what was above might be evidence as to why I follow that route. But, since the Super Bowl is two days away, I'll go ahead and make one more prediction.
I'll say the Packers defeat the Steelers, 24-21. Call it a hunch that
Aaron Rodgers
continues to play like he's from another world. But take that for what it's worth.
If you want a prediction from one of the world's elite predictors, go check what Kuharsky is saying.