NFC South:

Packers-Falcons 2010 playoffs
January, 16, 2011
1/16/11
10:46
AM ET
ATLANTA -- Time for some final numbers from ESPN Stats & Information on Saturday night's playoff game between the Falcons and Packers.
Atlanta quarterback Matt Ryan threw his first of two interceptions with 2 minutes, 20 seconds left in the first half. It came on a pass attempt to Michael Jenkins in the end zone. That led to a Green Bay touchdown and the Packers led the rest of the way. Ryan went the entire regular season without being intercepted when throwing into the end zone.
Ryan's second interception came at the end of the first half. That was intercepted by Tramon Williams, who also picked off the first turnover, and returned for a touchdown to give Green Bay a 28-14 halftime lead. Ryan's pass attempt was thrown 5 yards downfield. In the regular season, Ryan was intercepted just once on throws of 5 yards or fewer.
The Falcons blitzed Green Bay quarterback Aaron Rodgers fairly often. Maybe they should have done it even more. Rodgers faced four or fewer rushers on 62.5 percent of his dropbacks. In those situations, he completed 90.9 percent of his passes, averaged 12 yards per attempt, threw for two touchdowns and ran for another while compiling a 147.0 passer rating.
The Falcons didn't use a lot of three- or four-receiver sets during the regular season. But they had success when they did use those formations in their first 16 games. Ryan averaged 7.8 yards per attempt with eight touchdowns and two interceptions and was sacked only twice while posting a league-best 108.4 passer rating. It was a different story in the Green Bay game. Ryan averaged 6.1 yards per attempt, threw for one touchdowns and was intercepted once and had an 86.2 passer rating. More importantly, Ryan was sacked four times when the Falcons used three or more receivers Saturday.
January, 16, 2011
1/16/11
1:53
AM ET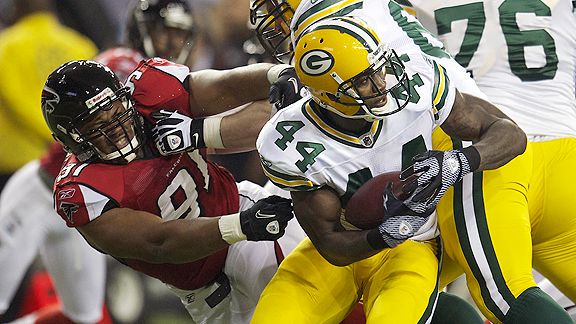 Dale Zanine/US PresswireThe Falcons' defense couldn't corral running back James Starks and the Packers.
ATLANTA -- Their season is over. That "process'' that the
Atlanta Falcons
always talk about? Well, we found out Saturday night that it's far from complete.
After showing signs (a 13-3 record and the No. 1 seed in the NFC playoffs) all season that they had turned a corner and had a shot at the first Super Bowl championship in franchise history, the Falcons got a hard dose of reality. Despite all those bright spots, the Falcons haven't arrived just yet.
You can't be a championship team -- or anything really close to it -- when you're getting trounced by the sixth-seeded
Green Bay Packers
48-21
in your home building. What happened in the Georgia Dome might not take all that long to sink in because the flaws were so obvious.
Green Bay quarterback
Aaron Rodgers
(31-of-36 for 366 yards, three touchdowns and a 136.8 passer rating) had a game for the ages. Atlanta's defense had a game that clearly showed that, even after two offseasons of focusing on upgrading that side of the ball, it still needs some pretty major work.
"It was a very disappointing evening for our football team and for our fans,'' Atlanta coach Mike Smith said. "We will come back from it. I can assure you of that.''
Smith uses the "process'' theme more than anyone and has since the day he arrived in Atlanta in 2008. Now, it's going to be up to Smith and general manager Thomas Dimitroff to figure out how to take the next steps in going from a team that's very good in the regular season to one that can carry that right through the postseason.
When they watch the film of the Green Bay game, there will be some pretty huge clues and most of them stem from the defensive side. It first should be noted that the Falcons were playing without injured nickel back
Brian Williams
. But it also should be noted that playing without an injured nickel back shouldn't be reason enough for a good team to lose.
[+] Enlarge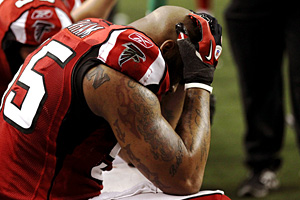 Streeter Lecka/Getty ImagesJohn Abraham and the Falcons sacked Aaron Rodgers twice but could have had more.
Second-year pro
Christopher Owens
struggled mightily filling in for Williams. But Owens shouldn't be singled out for making mistakes. A lot of other guys on the defense had problems too, but Owens serves nicely as a symbol for where this defense truly is.
After working mostly on the offense (bringing in quarterback
Matt Ryan
and running back
Michael Turner
in their first year), Smith and Dimitroff spent the past two seasons trying to get the defense to catch up with the offense. Rodgers' performance showed the defense isn't where it needs to be yet.
The Falcons need players such as Owens, linebacker
Sean Weatherspoon
(this season's first-round pick) and defensive tackle
Peria Jerry
(last season's first-round pick) to become impact players. But it's not just about young guys stepping up.
Cornerback
Dunta Robinson
, Atlanta's lone significant free-agent pickup this season, was beaten several times as Green Bay put together four touchdown drives of 80 yards or more. Safeties
Thomas DeCoud
and
William Moore
, who showed most of the season that they are developing more quickly than Weatherspoon and Jerry, also deserve some blame for Green Bay's success. And let's not forget the pass rush, which was a major problem for the Falcons last season. Despite that, the Falcons didn't make any major personnel moves up front this season. Instead, they gambled that signing Robinson would provide better coverage that would lead to more sacks and they took a leap of faith that veteran defensive end
John Abraham
would bounce back after a quiet 2009 season.
Those gambles worked in the regular season as Abraham produced 13 sacks. But the regular season looked like a mirage Saturday night. The Falcons sacked Rodgers twice.
"We had opportunities to get him on the ground,'' Smith said. "We had free runners, but we didn't convert.''
Speaking of converting, the usually efficient Atlanta offense didn't do much of that. Ryan, who now is 0-2 in the postseason, could only watch as Rodgers had a game that firmly established him as one of the league's elite quarterbacks. Ryan started off well, but that quickly faded. He threw two interceptions, including one that was returned 70 yards by
Tramon Williams
on the final play of the first half to give Green Bay a 28-14 lead. With Turner getting only one carry in the second half and finishing the game with 10 carries for 39 yards, the Falcons produced only two offensive touchdowns (the third came on a kickoff return by
Eric Weems
). Ryan completed 20 of 29 passes for one touchdown and had a 69.0 passer rating.
"Any time you're in the playoffs, you have an opportunity to go win it all,'' Ryan said. "It's disappointing when that doesn't happen.''
There was plenty of disappointment in the Atlanta locker room after the game. But there also were some strong undercurrents of hope for the future.
"We will learn from it,'' Smith said. "There's a whole body of work that we put together and that can't be forgotten.''
"We're still a very young team in the big scope of things,'' Dimitroff said. "We have a lot of third- and fourth-year players as our core and we've been very encouraged by their development. They need to keep developing and we need to keep moving forward.''
There is change with every NFL team every year and the Falcons won't be an exception. Smith and Dimitroff won't sit still. They'll continue with the process and they'll address the needs that became so obvious against the Packers.
"We've got a lot of good things to build on from what we did this year,'' Ryan said.
He's got a point. Players such as Ryan,
Roddy White
,
Curtis Lofton
and
Jonathan Babineaux
all are in their prime or nearing it. Players such as Abraham, center
Todd McClure
and tight end
Tony Gonzalez
are aging, but they also still played at a high level this season and could keep going.
"The future of this team is bright,'' said Gonzalez, who is 34 and said he won't make any decision about his future until he has a little time to relax and think a bit, but added he still loves football and feels healthy. "This is going to be one of the glamour teams of the NFL for the next five or six years. I guarantee you that.''
Well, a guarantee might be a little strong. But the point is, the Falcons have the core in place. They just need to make a few more moves to finish the process.
January, 15, 2011
1/15/11
11:18
PM ET
ATLANTA -- I'm heading downstairs for interviews and will be back in a bit with much more analysis on the
Atlanta Falcons
' 48-21
loss
to the
Green Bay Packers
.


What it means:
A 13-3 season and the No. 1 seed in the NFC playoffs were squandered in a loss to the No. 6 seed. Does that mean Atlanta's season was a failure? No. But it was a disappointing loss for a team that seemed to be on the cusp of challenging for a Super Bowl title. The future still is bright because this team has a relatively young core, but this game exposed some very big flaws. The defense, which has spent the past two offseasons making many personnel moves that were supposed to be upgrades, will spend a third straight offseason looking to improve. Defensive end
John Abraham
is nearing the end of his career and the Falcons don't have much else in the way of a pass rush. Green Bay quarterback
Aaron Rodgers
also exploited their lack of depth at cornerback.
Goat:
Matt Ryan
. He is the quarterback and that means he's going to get too much credit when things go well and too much blame when they don't. Put some blame on Ryan for this one. He threw two interceptions and remained winless in the postseason. But don't put all the blame for this one on him. The defense was a much bigger culprit. You aren't going to win very many playoff games when you allow more than 40 points.
What I didn't like:
The fact that Atlanta's defense got totally destroyed. The Falcons thought they had turned the corner on defense. This one showed they're not even close. This was the kind of loss that can force personnel moves and changes on the coaching staff.
What I liked:
Atlanta fans, often accused of not being die-hards, showed up early and had the Georgia Dome rocking. The fans did their part, but their team did not. The crowd left early this time, but that is understandable.
Injury of note:
Tight end
Tony Gonzalez
, who wasn't much of a factor, hobbled off the field in the second half. We don't know the nature of the injury yet. But it's the end of the season, so that means you have to wonder if it's also the end of Gonzalez's career. He's 34 and he's hinted at retirement here and there.
What's next:
The Falcons begin an offseason of uncertainty. They're scheduled to start offseason workouts in March, but the labor situation could result in a lockout. The Falcons also are scheduled to start training camp in late July.
January, 15, 2011
1/15/11
7:12
PM ET
ATLANTA -- As expected, Atlanta cornerback
Brian Williams
will miss tonight's playoff game against Green Bay.
He didn't practice all week due to a knee injury and has been put on the inactive list tonight. That means
Christopher Owens
will have to step into Williams' role as a nickel back. A second-year pro, Owens isn't nearly as experienced as Williams. Owens runs well, but is undersized and isn't known as a physical player. The Packers may try to target Owens when he's on the field.
Also inactive for the Falcons are linebacker
Spencer Adkins
, offensive tackle
Garrett Reynolds
, guard
Mike Johnson
, tight end
Michael Palmer
, defensive end
Lawrence Sidbury
and defensive tackle
Trey Lewis
.
John Parker Wilson
has been designated as the third quarterback.