NFC South:

Packers-Falcons11282010
November, 28, 2010
11/28/10
7:01
PM ET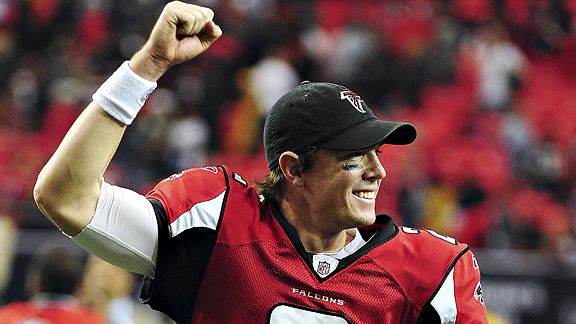 Scott Cunningham/Getty ImagesMatt Ryan and the Falcons have grabbed a place among the NFL's elite teams.
ATLANTA -- To fully understand how far the Atlanta Falcons have come in three seasons -- or even one year -- all you really need to know is this: The ninth victory of a season no longer is a reason for major celebration.
In the moments after Sunday's
20-17
victory against Green Bay, there was no mention that the Falcons had just clinched their third straight winning season. When the Falcons got their ninth win last season, it was a milestone because they had just completed back-to-back winning seasons for the first time in what was then a 44-year franchise history. At 45, the Falcons have fully hit maturity.
"You know, I didn't even think about the winning season until you brought it up,'' said general manager Thomas Dimitroff, who came in with coach Mike Smith in 2008 and began turning around the franchise. "That's totally a sidebar right now, another cherry on top.''
The Falcons got their fifth straight win and the ninth in their past 10 games. They played a franchise record fourth straight game without a turnover and they did it against what might have been the best opponent they've seen so far.
Is there any doubt that, at 9-2, the Falcons are one of the top teams in the league this season?
"There's no question we need to prove more,'' Dimitroff said. "This was our most complete game so far, but we need to play complete games consistently.''
In a year in which their marketing campaign is "Rise Up," there's no doubt the Falcons are standing very firmly. But they're not standing still.
"We've come a long way in three years,'' said middle linebacker
Curtis Lofton
, who was drafted along with franchise quarterback
Matt Ryan
in 2008. "We expect to win now. But this is just another step along the way.''
They've made a habit of winning close games, especially at home, and this one fit the profile perfectly.
"Just another day at the [Georgia] Dome, huh?'' Smith said a few minutes after
Matt Bryant
made a 47-yard field goal to give the Falcons the victory. "It's part of the makeup of what we feel you have to do to be successful. You have to be able to score points in the fourth quarter.''
The Falcons absolutely had to score points in the final quarter to win this one. Make that the final 56 seconds to be exact. That's when
Aaron Rodgers
hit
Jordy Nelson
with a 10-yard pass to tie the score 17-17.
A nice kickoff return coupled with a face-mask penalty on Green Bay gave the Falcons the ball at the Green Bay 49-yard line. With Ryan completing four out of his five pass attempts, Atlanta moved the ball to the 29-yard line. That's where Bryant came on, with 13 seconds remaining, to give the Falcons another last-minute victory.
The Falcons have lost only three games in the Georgia Dome in three years and haven't lost at home this season. They've lost only once at home with Ryan as their starting quarterback, and that came in 2008. That kind of success could come in handy if the Falcons have home-field advantage throughout the playoffs.
If the season ended right now, they would. With wins against Green Bay, New Orleans and Baltimore, it's not at all a stretch to imagine this team playing late into January or even February.
"We've got confidence once we're in here that we're going to win,'' said running back
Michael Turner
, who rushed for 110 yards and a touchdown on 23 carries. "We're ready for the next step.''
The next step comes next week. Although Atlanta has the lead, New Orleans and Tampa Bay remain within striking distance in the NFC South. The Falcons travel to Tampa next Sunday.
"We've got to stay on top,'' Turner said.
For one of the few times all season, Smith talked about how he saw good things from the offense, defense and special teams on the same day. But the coach also was quick to point out that it wasn't a perfect game.
"It's great to get a winning season,'' Smith said. "But our expectations and goals are a lot higher than that. We're progressing on our journey.''
It's a journey that started when Smith and Dimitroff took over the mess left by Bobby Petrino and
Michael Vick
. The first winning season was a surprise. The second was a bit bitter because it came without a playoff berth. The third might be the one in which the journey truly reaches its destination.
"The last three years, we have all grown together,'' defensive tackle
Jonathan Babineaux
said. "Everybody's comfortable with the system and the coaches and with each other. I think everybody's starting to recognize how good we can be.''
Even before the win against Green Bay, there was talk of the Falcons being the best team in the NFC. Maybe even the best team in the NFL. The latest evidence doesn't take anything away from either of those arguments.
The Falcons have been careful not to declare themselves the best at anything, but you get the impression they're starting to see that they might end up in that category. At least now, they're willing to admit they think they are "among'' the best.
"I think so,'' Lofton said. "We're just going to go out and keep winning. It really doesn't matter who's the best now. It matters who's the best at the end, and I think we can be that team.''
November, 28, 2010
11/28/10
6:09
PM ET
ATLANTA -- Let's turn to ESPN Stats & Information and the Falcons' media relations department for notes on Atlanta's 20-17 victory against Green Bay.
Atlanta quarterback Matt Ryan had success throwing out of personnel packages with at least three wide receivers, completing 14 of 17 passes for 109 yards, a touchdown and a 113.0 passer rating.
Ryan was outstanding when the Packers put five or more defensive backs on the field. Green Bay actually came into the game in great shape in that category. The Packers had allowed passers a 58.5 completion percentage and a 69.0 passer rating in the first 11 weeks. Ryan completed 83.3 percent of his passes for a 112.7 passer rating.
Ryan did much of his damage in the short passing game. On throws shorter than 15 yards, he completed 91.3 percent of his passes for seven yards per attempt and a 114.7 passer rating. In the first 11 weeks, Ryan had a 66.0 completion percentage, averaged 5.5 yards per attempts and an 89.7 passer rating.
Atlanta running back Michael Turner wasn't slowed a bit when he faced eight or more defenders in the box. In those situations, Turner averaged 5.8 yards per carry, ran for four first downs and one touchdown. Against seven or fewer defenders in the box, Turner averaged 3.8 yards per carry and had one first down and zero touchdowns.
Atlanta's Matt Bryant had his 12th career winning field goal and his third for the Falcons this season.
The Falcons now have played a franchise-record four straight games without a turnover.
Receiver Roddy White became the 12th receiver in NFL history to have four consecutive seasons with at least 80 catches and 1,000 yards. White is on pace for 122 catches 1,550 yards and 10 touchdowns.
Ryan has now thrown a touchdown in 10 straight games. In his career, the Falcons are 26-7 when Ryan passes for a touchdown.
November, 28, 2010
11/28/10
3:51
PM ET
ATLANTA -- I'm heading down to the locker room for interviews and will be back in a bit with a full column. But, first, here's Rapid Reaction on Atlanta's
20-17
victory against Green Bay.


What it means
: The Falcons are 9-2 and no team in the league has more wins. This was the kind of victory -- against a very good team -- the Falcons needed if they truly want to be viewed as the class of the NFC.
Hero
:
Matt Bryant
. Atlanta's kicker made a 47-yard field goal to give the Falcons a victory. Bryant actually made the kick twice. He made it while still kicking after the Packers called a timeout to ice him. Then, he followed it up and made it again.
Unsung hero:
Eric Weems
. He had a nice run on Atlanta's final kickoff return. He also drew a face-mask penalty at the end of the drive that gave the Falcons 15 extra yards and very good field position.
What I liked
: Atlanta's overall defense. It wasn't perfect by any means. But the Falcons held
Aaron Rodgers
and the Packers to 17 points on a day when they could have had a lot more.
What I didn't like:
Atlanta's pass rush. The Falcons barely touched Rodgers all day. On the final play of the game-tying drive with just under a minute left, the Falcons didn't even try for pressure. They only sent two pass rushers.
What's next:
The Falcons travel to Tampa Bay next Sunday.
November, 28, 2010
11/28/10
11:34
AM ET
November, 28, 2010
11/28/10
11:17
AM ET
ATLANTA --We won't receive the full list of inactives for another 20 minutes or so, but early indications are that Atlanta defensive end
John Abraham
will play today against the
Green Bay Packers
.
Abraham missed last week's victory against St. Louis with a groin injury and had been listed as questionable. Abraham leads the Falcons with eight sacks and his presence could provide a big boost for the defense.
November, 28, 2010
11/28/10
10:44
AM ET
ATLANTA --Perhaps the most eligible bachelor in Atlanta is officially off the market.
Atlanta quarterback
Matt Ryan
is engaged. Although it happened several weeks ago, it didn't become public knowledge until Saturday night when Ryan announced it on WXIA-TV in Atlanta.
Ryan said he and former Boston College basketball player Sarah Marshall, who have been dating for about seven years, are engaged. Ryan said he and Marshall will marry sometime in the offseason.
November, 28, 2010
11/28/10
10:36
AM ET
ATLANTA -- I just arrived in the Georgia Dome, where we have a full ESPN.com team in place for the meeting between the
Atlanta Falcons
and the
Green Bay Packers
.
I've got the great John Clayton to my left and NFC North colleague Kevin Seifert to my right. We'll bring you all the news, notes and analysis throughout the day.
Kevin and I will be joining Matt Williamson on Countdown Live and chatting throughout the game. I'll be back here with the inactives as soon as we get them.