May, 17, 2011
5/17/11
3:33
PM ET
There will be two new members inducted into the Saints Hall of Fame this fall. Former safety Sammy Knight and longtime radio and television announcer Bruce Miller have been
named as the newest selections
.
Each NFC South team has some way of honoring its former players. For instance, the Bucs do it with their Ring of Honor, which, so far, includes only Lee Roy Selmon and John McKay.
We'll see how long this lockout lasts, but I'm thinking if it drags into the middle of June or later, we might go ahead and do some Call It polls to let you select who belongs in the NFC South Hall of Fame. There's no such thing right now, but, even if it's just for fun, it might be a good time to start one.
Here's a list of past inductees into the Saints Hall of Fame.
1988 -- Archie Manning and Danny Abramowicz
1989 -- Tommy Myers and Tom Dempsey
1990 -- Billy Kilmer
1991 -- Tony Galbreath and Derland Moore
1992 -- George Rogers, Jake Kupp and John Hill
1993 -- Joe Federspiel
1994 -- Henry Childs and Jim Finks
1995 -- Doug Atkins and Bob Pollard
1996 -- Dave Whitsell and Dave Waymer
1997 -- Stan Brock and Rickey Jackson
1998 -- Dalton Hilliard and Sam Mills
1999 -- Bobby Hebert and Eric Martin
2000 -- Pat Swilling and Vaughan Johnson
2001 -- Jim Wilks and Hoby Brenner
2002 -- Jim Mora and Frank Warren
2003 -- Jim Dombrowski and Wayne Martin
2004 -- Rueben Mayes and Steve Sidwell
2006 -- Joel Hilgenberg
2007 -- Joe Johnson
2008 -- William Roaf
2009 -- Morten Andersen
2010 -- Joe Horn
March, 3, 2011
3/03/11
5:33
PM ET
It's already been a busy day in the NFC South and all around the NFL and that's probably going to continue long into the night as we wait to see if there will be a labor lockout or perhaps an extension of the deadline for negotiations.
But things just got a little busier. The
New Orleans Saints
just sent out an announcement that the Saints Hall of Fame selection committee has selected the franchise's all-time team as the franchise looks ahead to its 45th season. The committee is a collection of local media members and it selects an all-time Saints team every five years.
The latest version is out and here it is. Players with asterisks after their name were unanimous selections. The years after the players' names indicate their time with the Saints.
Offense
DEFENSE
SPECIALISTS
COACH
Sean Payton (2006-present)
August, 5, 2010
8/05/10
10:59
AM ET
Over the next few days, you're going to hear a lot about Rickey Jackson from Rickey Jackson. And you're going to hear a lot about Jackson from Tom Benson.
[+] Enlarge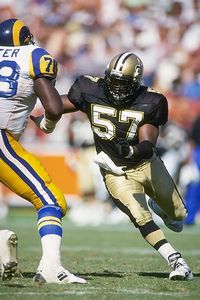 Stephen Dunn/Getty ImagesRickey Jackson compiled 128 sacks over his 15 seasons in the NFL.
That's because Jackson will be inducted into the Pro Football Hall of Fame on Saturday. He'll give his acceptance speech and Benson, the owner of the New Orleans Saints, will introduce him. You'll hear Jackson's thoughts and you'll hear accolades from Benson about a linebacker who helped make the Saints good for the first time in franchise history.
You'll hear analysts talk about Jackson. You'll see his career numbers flashed across the screen and you'll see highlights from his playing career. That's all going to be great. But let's do something different here. To fully understand why Jackson is going into the Hall of Fame, let's go back to the New Orleans locker room, practice fields and sidelines back in the team's first glory days.
Let's turn to Bobby Hebert, the quarterback through much of Jackson's time with the Saints, for an inside look at what it was like to play with the franchise's first Hall of Famer.
"Rickey and I always had a special bond because, even though I grew up in Louisiana and he grew up in Florida, we basically came from the same place,'' Hebert said. "We were driving down Highway 90 outside of New Orleans one time and Rickey was looking around at the sugar-cane fields and he said, "This is home''. It was just like Pahokee, Florida. They call it "the muck'' in Pahokee, but it was all the same. Rickey was as blue collar as you can get.''
Jackson was so blue collar that his body should have been black and blue and bruised throughout his career. It wasn't.
"He never taped his ankles,'' Hebert said. "Coach (Jim) Mora would get on him, but he wouldn't do it. Not for practice and not for games and he never had a sprained ankle. You're supposed to have official pads, but Rickey wouldn't do that. He'd take the real pads out of his thigh pads and knee pads and put in these little sponges like you use for doing the dishes so he'd be faster. So it was like he wasn't playing with any pads. But he was so good with his forearms and using his hands, that they weren't ever going to get to his knees or his thighs. He'd wear kicker shoulder pads when he could get away with it. He was basically a rugby player.
"Mora used to threaten him that he would fine him if he got hurt, but he never got hurt. He was a man among boys.''
And Jackson was "the man'' in the New Orleans locker room.
"You can't look at the NFL like war because, unless there's a freak accident, you're not going to die,'' Hebert said. "So I don't want to talk about going to battle. But, if I was in a fight, I want Rickey Jackson by my side. I can remember Rickey in the locker room. He would challenge guys. He'd walk up to guys and say if you're scared, say you're scared. Rickey was such a vocal leader. The coaches didn't even have to address things because Rickey ran that locker room and nipped everything in the bud.
"I can remember him telling him Pat Swilling, "Come on, you've got to step it up. You're having your big games and getting all your sacks against the Jets and the Bucs. Let's see you get sacks against a tough opponent''. He'd challenge players like no one else I ever saw and they would respond to it.''
Using a 3-4 defense, New Orleans' linebackers were called the "Dome Patrol''. Sam Mills, Swilling and Vaughn Johnson all had wonderful careers. But Jackson was the best of the bunch, Hebert said, and that's why he's going into the Hall of Fame.
"Sam Mills was the brains, calling the defense,'' Hebert said. "Pat Swilling and Vaughn Johnson were great players too. But Rickey was the heart and soul of the linebackers. Rickey was the heart and soul of the defense. Rickey Jackson was the heart and soul of the New Orleans Saints.''
September, 19, 2009
9/19/09
6:06
PM ET
Posted by ESPN.com's Pat Yasinskas
The Pro Football Hall of Fame released the
preliminary nominees
for the Class of 2010 on Saturday and there are plenty of candidates with NFC South ties.
I'd say the NFC South candidates clearly are headed by former New Orleans linebacker
Rickey Jackson
. After that, there's a pretty far drop off.
Sam Mills
and Dan Reeves might be legitimate candidates. Doug Williams might even fall into that category.
The rest of the list of guys with NFC South ties is
Cornelius Bennett
,
Chris Doleman
,
Kevin Greene
,
Jay Hilgenberg
,
Mike Kenn
, Dexter Manley,
Clay Matthews
,
Eric Metcalf
,
Hardy Nickerson
, Bum Phillips, Gerald Riggs,
Reggie Roby
, George Rogers,
Pat Swilling
and
Darryl Talley
.
July, 22, 2009
7/22/09
1:16
PM ET
Posted by ESPN.com's Pat Yasinskas
In the year or so since ESPN.com started this blog network, I've gotten a steady stream of questions from Saints' fans asking why linebacker Rickey Jackson isn't in the Hall of Fame.
That's why Jackson's name popped quickly to mind this afternoon when one of my editors approached me about a future assignment. It's for our Double Coverage feature, in which two writers debate a topic. The concept for this future installment was to take a player from my division who has been overlooked for the Hall of Fame and debate his case against that of another player from another division.
I know the basics on Jackson: He was a great linebacker and part of a great unit with Pat Swilling and Sam Mills.
But here's where you (Saints fans) come in: Help me out, so I can make as strong a case for Jackson as possible. Write to my mailbag and tell me why Jackson belongs in the Hall of Fame. I'm not sure yet who the other debater will be or who he will be making a case for. That doesn't matter. Just go ahead and give me all the ammo you've got for Jackson.
April, 30, 2009
4/30/09
3:20
PM ET
Posted by ESPN.com's Pat Yasinskas
Former New Orleans linebacker Pat Swilling has been elected to the 2009 College Football Hall of Fame.
Swilling helped rebuild the program at Georgia Tech during the mid-1980s. He joined the Saints in 1985 and was named to five Pro Bowls. Swilling also was the NFL Defensive Player of the Year in 1991. He was inducted into the New Orleans Saints Hall of Fame in 2000.
October, 6, 2008
10/06/08
3:44
PM ET
Posted by ESPN.com's Pat Yasinskas
NEW ORLEANS -- I got to speak with former New Orleans Saints linebacker Pat Swilling before the ESPN Monday Night Football Chalk Talk Luncheon at the Superdome.
Swilling also is taking part in the Alltel "My Circle Gridiron Getaway" sweepstakes and will be sitting with winner Sheila Severin and 10 of her friends in a suite at tonight's game. Fans can enter future contests by texting the word JET to 57533 or logging on to alltelfootball.com.
Here's my conversation with Swilling:
What have you been up to lately?
Pat Swilling: I've got a real estate development company. I've been real busy since Katrina, trying to help the city turn around. We've come a long way in three years, but it's still ongoing.
How big a role have the Saints played in the recovery?
PS: Tom Benson and the Saints have been real important, especially with the first Monday night game and how they got the community to rally around them. Players like Deuce McAllister are always doing something for the community. Guys like that play a big role in keeping the mood of the city up.
The Saints sometimes are mentioned as a candidate for relocation. Do you see that ever happening?
PS: When I was in the legislature, we stepped up and put together a $260 million package for them. I think that will always happen. This is not the biggest media market, but the Saints belong to New Orleans and to the state and to the region. We all want to keep it that way.
What's your take on the Saints this year?
PS: I'm a big fan of Sean Payton. He's energetic and a really good head coach. I think he's a brilliant football mind. He believes in discipline and all that, but he's taken Drew Brees to a different level. Drew was already good, but he and Sean really get along well. He understands what Sean wants and really executes that offense.
With Tom Brady out and Peyton Manning not having his typical year, is Brees the best quarterback in the league?
PS: I think right now he is without a doubt. Peyton is somewhat struggling and he's been hurt. I don't think there's any better than Peyton Manning. But, right now, as far as a guy who's commanding respect, running the offense and doing everything it takes to be a great quarterback, I think Drew Brees is the guy right now.