September, 2, 2011
9/02/11
6:08
PM ET
On what's been a very busy day across the NFC South, let's go to the headlines to catch up on some other items of interest.
The
Carolina Panthers
reportedly have
shown interest
in
Pat Williams
(and presumably about 100 other defensive tackles). It's very logical because Williams is known as a run-stuffer and the Panthers are desperate for one. But there's one small problem with this. It's likely Williams would face the same
two-game suspension
that was handed out to
Kevin Williams
and
Will Smith
in the StarCaps case. In other words, the earliest Williams could help the Panthers would be the third game of the season. I'd keep an eye on
Trey Lewis
, who was just cut by the Falcons. I know some people in Carolina's personnel office who have always respected Lewis' play.
Steve Reed has his
projection
of Carolina's 53-man roster and correctly points out it's likely the Panthers will bring in at least a few guys from outside.
Stephen Holder has his
projection
on Tampa Bay's roster.
Falcons owner Arthur Blank and his wife
have separated
.
D. Orlando Ledbetter writes that the Falcons
took a medical risk
when they signed cornerback
Kelvin Hayden
. He had a neck injury and was unable to pass physical examinations given to him by other teams. General manager Thomas Dimitroff said the Falcons were comfortable with Hayden's condition.
New Orleans running back
Chris Ivory
, who missed much of the preseason with a foot injury and surgery on a sports hernia, said he's ready to
test out his body
. But it's possible he'll be given more time because the Saints could put him on the physically-unable-to-perform list to start the season.
The Saints haven't announced any roster cuts yet, but it appears defensive back
Trumaine McBride
has been told
he's gone.
September, 1, 2011
9/01/11
2:20
PM ET
We're up to second place (we're going in reverse order) in our NFC South predictions and I'm going with the
Atlanta Falcons
.

Here's
the link
to their complete preview page.
This was the toughest call of all. A big part of me wanted to go with the Falcons to win the NFC South. They were 13-3 last season and, on paper, they've gotten better. I think the Falcons will make the playoffs, but I think New Orleans will win the NFC South.
Here's what I wrote about Atlanta.
Five things you need to know about the Falcons:
1. Julio Jones is going to be the real deal:
The Falcons paid a hefty price to trade up for the rights to draft the receiver from Alabama. But this was a very well-researched decision. Last season's playoff loss to Green Bay showed the Falcons needed a receiver who could stretch the field and take some of the defensive attention away from
Roddy White
. Former starter
Michael Jenkins
was not a downfield threat and defenses knew that. Jones' speed means defenses have to account for him on every play. That's going to help White enormously, and Jones' presence is also going to have a trickle-down effect that will help quarterback
Matt Ryan
, tight end
Tony Gonzalez
and running back
Michael Turner
.
2. Harry Douglas will have a big year:
The undersized wide receiver finally will get to enjoy a full season playing the position where he's best. That's slot receiver and Douglas can thank Jones for allowing that to happen. The Falcons wanted to use Douglas exclusively in the slot last season, but Jenkins was hurt early in the season. That forced Atlanta to play Douglas outside, where he's not nearly as effective. With White and Jones on the outside, Douglas should be able to get some favorable matchups against third corners, safeties or linebackers.
3.
The gloves are coming off Ryan:
His first three seasons have been very nice, but Ryan has yet to win a playoff game. That's something the Falcons are painfully aware of and all of their offensive moves this season were designed to help make him more dangerous. The lockout also might have been a blessing in disguise. It gave the coaching staff more time to evaluate its decisions and one of the realizations was it's time to allow Ryan to do more. The Falcons have openly admitted they're going to look to throw downfield more often, and you also might see more of the no-huddle offense.
4.
It all starts up front:
The Falcons repeatedly used the word "explosive'' when they added Jones, but they also wanted to add an explosive player on defense. In their eyes, they did with the signing of defensive end
Ray Edwards
. They first made a run at Carolina's
Charles Johnson
, but backed off because the price was too high. Edwards has never been a dominant pass-rusher. His career high in sacks was 8.5 and that came while he was playing on a defensive line with
Jared Allen
,
Pat Williams
and
Kevin Williams
. Can he suddenly become a double-digit sack guy? Maybe, but that's not absolutely necessary. The Falcons simply want a decent pass-rusher to line up opposite
John Abraham
. If Edwards can take a little blocking off Abraham, the Falcons would be happy if he produces somewhere around 8.5 sacks.
5.
This finally might be Mike Smith's defense:
It's a bit ironic that Smith is a coach with a defensive background, but he's never been able to fully play the aggressive style of defense he wants. In 2008, the team was focused on building an offense first. In 2009 and '10, some parts were added, but injuries got in the way of big results. Defensive tackle
Peria Jerry
, a first-round pick in 2009, and linebacker
Sean Weatherspoon
, last year's top pick, are healthy now and cornerback
Dunta Robinson
should have more passes thrown his way now that
Brent Grimes
is established as a solid starter. Smith might have the pieces now to truly play his style of defense.
DIVISION FINISH:
2 Drafting Jones and signing Edwards show the Falcons believe they were only a few players away from contending for a Super Bowl title. They might be right, but I'm not picking the Falcons ahead of the Saints until they win a playoff game.
August, 23, 2011
8/23/11
6:05
PM ET
It doesn't sound like anything's definite just yet, but there's a
report by the St. Paul Pioneer Press
that says New Orleans defensive end
Will Smith
may only have to serve a two-game suspension. The report goes on to say that it's possible the suspension might not come at the start of the season.
Smith, Minnesota defensive tackle
Kevin Williams
and former Minnesota defensive lineman
Pat Williams
were among a group of players the NFL said tested positive for the banned diuretic "StarCaps'' in 2008. Initially, they were supposed to serve four-game suspensions. Legal action prevented the league from enforcing any suspensions the past few years. But a decision by the Minnesota Supreme Court in recent months cleared the way for the suspensions.
But the report says that this case is being used as a "bargaining chip'' in negotiations for a new drug-testing policy. An NFL official told the newspaper there was nothing to report on the situation.
June, 24, 2011
6/24/11
11:42
AM ET
We already have talked quite a bit about players from the NFC South who are expected to become unrestricted free agents. We're going on the assumption that players not under contract who have at least four accrued seasons can become unrestricted free agents.
With that in mind, and with some help from ESPN Stats & Information, let's take a look at some of the more prominent potential free agents from the rest of the league.
QUARTERBACKS:
Marc Bulger
,
Kerry Collins
,
Rex Grossman
,
Matt Hasselbeck
,
Patrick Ramsey
,
Alex Smith
,
Billy Volek
,
Kellen Clemens
,
Brodie Croyle
,
Trent Edwards
,
Bruce Gradkowski
, Tarvaris Jackson,
Matt Leinart
,
Troy Smith
and
Tyler Thigpen
.
RUNNING BACKS:
Cedric Benson
,
Ronnie Brown
,
Kevin Faulk
,
Mewelde Moore
,
Sammy Morris
,
Clinton Portis
,
Dominic Rhodes
,
Tony Richardson
,
Kevin Smith
,
Darren Sproles
,
Fred Taylor
,
Brian Westbrook
,
Ricky Williams
,
Joseph Addai
,
Ahmad Bradshaw
,
Jerome Harrison
,
Brandon Jackson
,
Laurence Maroney
and LeRon McClain.
WIDE RECEIVERS
:
Mark Clayton
,
Braylon Edwards
,
T.J. Houshmandzadeh
,
Randy Moss
,
Santana Moss
,
Terrell Owens
, Donte' Stallworth,
Steve Breaston
,
Malcom Floyd
,
Santonio Holmes
,
James Jones
,
Sidney Rice
,
Mike Sims-Walker
,
Brad Smith
and
Steve Smith
(of the
New York Giants
, not the Steve Smith of Carolina).
TIGHT ENDS:
Desmond Clark
,
Donald Lee
,
Randy McMichael
,
Bo Scaife
,
Kevin Boss
,
Owen Daniels
,
Daniel Fells
,
Zach Miller
,
Ben Patrick
and
Matt Spaeth
.
OFFENSIVE LINEMEN:
David Baas
,
Jammal Brown
,
Robert Gallery
,
Adam Goldberg
,
Kyle Kosier
,
Olin Kreutz
,
Matt Light
,
Sean Locklear
,
Casey Rabach
,
Chris Spencer
,
Langston Walker
,
Casey Wiegmann
,
Floyd Womack
,
Damien Woody
,
Chris Chester
,
Jeromey Clary
,
Daryn Colledge
,
Willie Colon
,
Doug Free
,
Jared Gaither
,
Charlie Johnson
,
Deuce Lutui
,
Samson Satele
,
Lyle Sendlein
and
Marshal Yanda
.
DEFENSIVE TACKLES:
Aubrayo Franklin
,
Tommie Harris
,
Chris Hoke
,
Chris Hovan
,
Kris Jenkins
,
Bryan Robinson
,
Gerard Warren
,
Jamal Williams
,
Pat Williams
,
Alan Branch
,
Barry Cofield
,
John McCargo
and
Brandon Mebane
.
DEFENSIVE ENDS:
Jason Babin
,
Dave Ball
,
Raheem Brock
,
Andre Carter
,
Shaun Ellis
,
Cullen Jenkins
,
Travis LaBoy
,
Trevor Pryce
,
Marcus Spears
,
Ray Edwards
and
Mathias Kiwanuka
.
LINEBACKERS:
Akin Ayodele
,
Keith Bulluck
,
Kevin Burnett
,
Dhani Jones
,
Kirk Morrison
,
Julian Peterson
,
Matt Roth
,
Takeo Spikes
,
Jason Taylor
,
Mike Vrabel
,
Stewart Bradley
,
Bobby Carpenter
,
Manny Lawson
,
Paul Posluszny
,
Ernie Sims
and
Stephen Tulloch
.
CORNERBACKS:
Nnamdi Asomugha
,
Phillip Buchanon
,
Chris Carr
,
Drayton Florence
,
Ellis Hobbs
,
Carlos Rogers
,
Lito Sheppard
,
Ike Taylor
,
Fabian Washington
,
Drew Coleman
,
Antonio Cromartie
,
Chris Houston
,
Johnathan Joseph
,
Dimitri Patterson
,
Josh Wilson
and
Eric Wright
.
SAFETIES:
Aaron Francisco
,
Ken Hamlin
,
Michael Lewis
,
Brandon McGowan
,
Quintin Mikell
,
Lawyer Milloy
,
Brodney Pool
,
Gerald Sensabaugh
,
Roy Williams
,
Gibril Wilson
,
Atari Bigby
,
Melvin Bullitt
,
Abram Elam
,
Dashon Goldson
,
Michael Huff
,
Dawan Landry
,
Danieal Manning
,
Bernard Pollard
,
Eric Weddle
and
Donte Whitner
.
February, 9, 2011
2/09/11
9:06
AM ET
The StarCaps saga that's been playing out for more than two years finally could end up with New Orleans defensive end
Will Smith
serving a four-game suspension.
Smith was one of five players to reportedly test positive for a banned diuretic back in 2008. Retired running back Deuce McAllister and defensive end Charles Grant, who was released after the 2009 season, also were initially supposed to be suspended. But Minnesota's Kevin and
Pat Williams
also were among the players involved.
Legal action by the Minnesota players put the suspensions on hold as the case went through the court system. The latest development came Tuesday when the Minnesota Court of Appeals
ruled against the players
. The court affirmed a lower-court ruling that the NFL didn't violate state law by trying to discipline the players.
An appeal to the Minnesota Supreme Court still could come, but it's unclear if that will be pursued.
This likely means the Saints will at least have to prepare for being without Smith at some point this season. Adding help at defensive end already was a possibility because
Alex Brown
and
Jimmy Wilkerson
weren't all that productive last season.
The Saints hold the 24th overall pick in the April draft.
May, 5, 2010
5/05/10
10:21
AM ET
Don't know if this will resolve it, but we're at least on the verge of seeing the next move in the StarCaps case, which has been going on since 2008.
A judge in Minnesota is
expected to decide
Thursday if the NFL violated state drug-testing laws when it suspended Vikings
Pat Williams
and
Kevin Williams
. They've never served those suspensions because the case has been hung up in the legal system.
The
New Orleans Saints
will be watching the outcome of this one closely as they have with every step of the StarCaps saga. Defensive end
Will Smith
also was facing a four-game suspension, but the NFL has held off on enforcing that while the case goes through the legal system. If the judge rules in favor of the NFL, it could lead to Smith being suspended for four games this season.
The Saints have braced themselves for that possibility by signing veteran defensive ends
Alex Brown
and
Jimmy Wilkerson
as free agents. Former New Orleans players
Charles Grant
and
Deuce McAllister
also were initially involved in this and reportedly tested positive for banned supplements. McAllister since has retired. The Saints released Grant after last season, but he could still face a suspension if he signs with another team.
February, 18, 2010
2/18/10
1:15
PM ET
There are developments in Minnesota that the
New Orleans Saints
are probably keeping a very close eye on.
There's a new development in the StarCaps case. A judge
has ruled
that Minnesota defensive linemen Kevin and
Pat Williams
can sue the NFL for allegedly violating state drug-testing laws. A trial has been scheduled for March 8.
The Williams' reportedly tested positive for a banned substance in 2008. The NFL wanted to suspend them for four games in 2009, but that got delayed when a judge issued an injunction against disciplinary action. It was at that point that the NFL said it would not take any immediate action against New Orleans defensive ends
Charles Grant
and
Will Smith
. They reportedly tested positive for the same substance and also faced the possibility of suspensions.
The legal system can move slowly, but this latest news means we're at least moving closer to a resolution. If the Williams' win the suit, it may eliminate any chance of suspensions. If they lose, the NFL may go ahead with suspensions for all of the players involved.
Former New Orleans running back
Deuce McAllister
also reportedly had a positive test. McAllister didn't play last season. He briefly re-signed with the Saints as a ceremonial gesture during their playoff run, but was placed on the reserve/retired list.
January, 17, 2010
1/17/10
4:04
PM ET
Three things to know about next Sunday's NFC Championship Game between the Vikings and Saints.


1. This one will be a dream matchup of quarterbacks.
Brett Favre
is an official legend and icon around the world. Even at 40, he's been playing great football.
Drew Brees
is a legend and an icon in New Orleans. But this game may be his chance to take that legend beyond New Orleans. Brees has been very good for quite some time now. But to truly get the recognition he deserves, he needs to go out and be the best quarterback on the field.
2. The New Orleans coaching staff has to be a little nervous after watching Minnesota's pass rush against Dallas.
The Vikings have more than just
Jared Allen
. They have
Ray Edwards
and Kevin and
Pat Williams
in the middle. New Orleans' offensive line has done a great job all season, and guard
Jahri Evans
and right tackle Jon Stinchcomb earned Pro Bowl berths. Center
Jonathan Goodwin
and guard
Carl Nicks
also have been very good. But the question mark is
Jermon Bushrod
at left tackle. He's filled in for Pro Bowler
Jammal Brown
, who has missed the entire season with an injury. Bushrod has been adequate at times and has struggled at other times. You can be sure the Vikings are going to come after him very hard. The Saints need to give him lots of help from tight ends
David Thomas
and
Jeremy Shockey
and probably will use reserve tackle
Zach Strief
as a blocking tight end in some situations.
3. Darren Sharper's been waiting for this game all season.
The veteran safety left the Vikings for the Saints in the offseason. Concerns about his age were part of the reason the Vikings let Sharper go. Since joining the Saints, Sharper has shown no signs of slowing down. He's had a huge year and wants to show his old team that he still can play.
September, 15, 2009
9/15/09
6:40
PM ET

Posted by ESPN.com's Pat Yasinskas
Last year, it seemed like everything that could go wrong for the
New Orleans Saints
did. So far this year, it's been just the opposite.
Commissioner Roger Goodell said Tuesday defensive ends
Will Smith
and
Charles Grant
won't
be suspended
at this time. It remains unclear if suspensions still could come, but it's unlikely it will happen this season.
Smith and Grant drew suspensions last year for reportedly testing positive for a banned substance. But the suspensions were put off and expected to be enforced this year. Minnesota's
Kevin Williams
and
Pat Williams
also drew suspensions for similar violations, but have challenged them in the legal system.
A federal court recently sided with the NFL on the matter, but allowed the Minnesota players to continue their challenge in state court. Goodell said his decision not to suspend Smith and Grant at this time is because he wants to be fair to the Saints and not treat players differently on conduct matters.
That should be a big boost for the Saints, who spent much of the offseason expecting to be without Grant and Smith for four games. With their two starters in the lineup for the foreseeable future, they can let
Anthony Hargrove
focus mostly on playing defensive tackle and let
Bobby McCray
play the role he's most effective in as a situational pass rusher.
The Saints, who were troubled by injuries last season, already caught a positive break by drawing Detroit in the season opener and they face the
Philadelphia Eagles
, who could be without injured quarterback
Donovan McNabb
, on Sunday.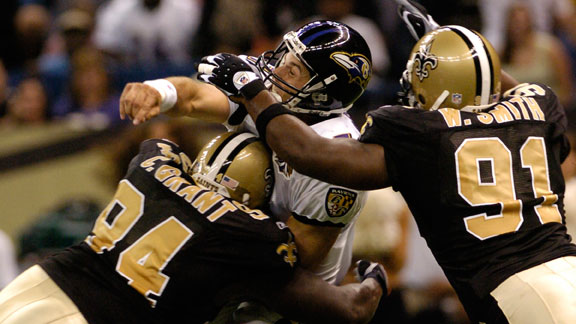 September, 11, 2009
9/11/09
11:38
AM ET

Posted by ESPN.com's Pat Yasinskas
Although Minnesota's
Kevin
and
Pat Williams
had a victory Friday in their lingering battle to avoid suspensions, it doesn't sound like that's going to help New Orleans defensive ends
Will Smith
and
Charles Grant
.
A federal appeals court ruled the two Vikings can ask a state court to overturn four-game NFL suspensions by claiming a violation of Minnesota drug-testing laws. Grant and Smith have been cleared to play in Sunday's opener against Detroit, but the St. Paul Pioneer Press reports the judges
upheld a previous ruling
that the NFL didn't violate any federal laws with the suspensions.
That could clear the way for Grant and Smith to be suspended early next week.
June, 2, 2009
6/02/09
1:26
PM ET
Posted by ESPN.com's Pat Yasinskas
Time for another mailbag and we're going to start this one off with two back-to-back questions that are similar in a weird sort of way.
Jim in Tampa writes: Pat i hate how you love matt ryan so much! Would he be so great if he didnt have Turner or roddy??
Justin in Mount Airy, N.C., writes: Well hello, I have a question concerning the Carolina Panthers. Why does it seem that you always hate on Jake Delhomme? Jake has what the fourth best winnning percentage of NFL starters, been to two NFC Champioships, an 1 Superbowl. He also led his team to a 12-4 record last year, and there is nothing to show he is declining in winning, one bad playoff game in a career of great playoff games dosnet make me believe a QB is awful. Just concerned for QB as TO would say.
Pat Yasinskas: Wow, this is kind of funny because I feel like I've spent half my life being accused of defending Jake Delhomme and now I'm being accused of hating him. Truth is, I don't "love'' or "hate'' any player. I get paid not to be biased. I write my opinions and you're welcome to interpret them however you want. But, from my side, none of it's personal.
---
Kevin in Kelowna, B.C., Canada: Pat, great blog. I love the frequency with which you post new articles and all interesting stuff. I'm confused about the StarCaps issue. How come it seems that the two Williams' from the Vikings are being treated differently than the Saint's guys? Is there some evidence or some state law differences that make their case different? Thanks.
Pat Yasinskas: Yeah, here's the deal. A federal judge last week threw out most of the claims by the five players involved. But, at the same time, that judge also sent a couple of issues involving Kevin Williams and Pat Williams back to a Minnesota State court. So the two Vikings players remain in limbo. Barring some sort of successful appeal, it looks as if New Orleans' Charles Grant and Will Smith will be suspended for the first four games of this season. Same deal for Deuce McAllister -- if he signs with anyone.
---
JT in Nashville writes: Pat- with respect to your top q.b.s in the nfc south, I found your comments of why you put Redman above Leftwich interesting and convincing. One question though, why would you put Harrington above Redman? All 3 of those quarterbacks played on that same '07 Falcons team and Redman was by far the most productive.
Pat Yasinskas: That's just my opinion. But my logic is that, if you put Joey Harrington with New Orleans' skill-position players, he'd produce pretty good numbers. Harrington got a bad rap in Detroit early in his career and some of that was deserved. But he is a guy who has talent and he's had time to be around the league and get comfortable. If he somehow had to play in New Orleans, I think he could do well because of the system and the players around him. Not saying he's Drew Brees, by any means, but I think he could be decent in the right situation.
---
AlDogg in D.C. writes: Pat - When I saw that the Packer's Aaron Kampman is unhappy, I had the same idea as Bobby from your last mailbag: Peppers for Kampman? But then I remembered that Trgovac is in Green Bay. Not to mention, Peppers still hasn't signed his tender as far as I know, so the Panthers still can't even talk about a trade unless it is facilitated by Pep's agent. Three questions: Would Trgovac be a hurdle?
Pat Yasinskas: Let's just say, I think there's a big misconception among Carolina fans about Julius Peppers and Mike Trgovac. Reminds me a bit of the scene from "Hoosiers" (the greatest sports movie ever) where the Hickory faithful just assume Jimmy will rejoin the team if the coach is fired. But that wasn't the case in "Hoosiers" and it wasn't the case with Peppers and Trgovac. Peppers' issues are elsewhere. If they were with Trgovac, I think Peppers would be working out with his teammates right now. In fact, I could see Peppers playing for Trgovac, who is regarded as one of the best defensive line coaches in the league, in Green Bay -- if the Panthers and Packers somehow worked out a trade. But we don't speculate about trades here.
December, 3, 2008
12/03/08
1:40
PM ET
Posted by ESPN.com's Pat Yasinskas

Again, sorry for having to delay the Atlanta and New Orleans mailbags yesterday, but we'll make up for it now. Fans of the Saints and Falcons really overloaded the mailbag last night and it was already pretty full.
Sorry that I can't answer every question. But I tried to select questions that represented what's on the mind of a lot of fans. Here's the Atlanta version of the mailbag and the New Orleans edition will follow this afternoon.
Adam in Columbia writes: Pat, I was looking at the rushing stats. today and realized that Turner has 282 touches through 12 games. I'm not very versed in the average touches a RB gets in a season, but that seems to be a lot. At the rate he is going he will have nearly 400 carries for the year. I know he is playing well this season, but do you think he can carry on at this rate?
Pat Yasinskas: Michael Turner leads the league in carries and Adrian Peterson (270 carries) is the only guy even close to him. Turner is averaging 23.5 carries a game. As a general rule, you don't want a running back coming anywhere close to 400 carries in a season, but Turner might be a bit of an exception. First, he's running very well and he's one of those backs who seems to get better as the game goes on. Second, after sitting behind LaDainian Tomlinson in San Diego for four years, his legs are relatively fresh. But you do have to worry about him wearing down and I wouldn't want to see him getting this many carries every year because his career wouldn't last very long. I, like a lot of Atlanta fans, would like to see a little bit more of backup Jerious Norwood. He looks very good when he gets chances. Not sure the Falcons will make any dramatic changes the rest of this season, but I think they'd be wise to develop more balance between Turner and Norwood next season.
---
DaculaJones writes: My Falcon Kool-Aid! The Falcons are under the national radar. And that's a good thing. I'm not sure how this young team handles the added press coverage. They might start believing they are better than they are. The reason they are under the national radar is that they don't dominate enough stats. They just dominate their opponents. The youth of this Falcon team allows the stats to lie about how good this team really is. The youthful mistakes that allow teams that have been dominated for 3 qtrs. to gain mega stats at the end of games. We saw this in the New Orleans, Chicago & Green Bay games. And this past week where, without the turnovers, it would have been another game like Oakland. Only people who witness the Falcons can appreciate the team's growth week over week. It's more than just a happy story about coming back from last year. It's about a team on the steep rise through the NFL. They dominate games like only a few other NFL teams. The next 2 weeks will be a true test for this team. I like their chances to continue turning heads one game at a time.
Pat Yasinskas: Every point you make is very valid. The thing that impresses me most about the Falcons is they get better each week and they're setting themselves up to be good for a very long time.
---
Brian in Urbandale, IA writes: Pat, As previously published in a mailbag, I've moved from considering 'cautious optimism' to having actual 'cautious optimism' about the Falcons. I guess the next step is to consider having hope for the playoffs, considering how competitive the team has been even in their 4 losses. Is this reasonable considering their schedule? Is the play of the O-line the root of Matt Ryan's and the teams success and is that the reason for hope for the playoffs? Thanks, Pat,
Pat Yasinskas: Playoffs are no longer a pipedream. Pencil in a win against St. Louis and that gives the Falcons nine wins. Win one of the other three and they're 10-6 and probably in the playoffs. Win two of those other three and they're 11-5. That's not at all impossible.
---
Jay in Oklahoma City: Hey Pat,love your blog. Okay falcons question here.Not including the Big 3(Turner,Ryan,White)who are some names having career years for the falcons?
Pat Yasinskas: I think receiver Michael Jenkins and cornerback Chris Houston have really blossomed. Also, I know it's hard for a defensive tackle to really stand out, but coaches and scouts keep telling me that Jonathan Babineaux is having an outstanding season.
---
Zach in Atlanta writes: You'd think everyone would've figured out the Falcons were for real by now. How is NO favored this weekend? How are they still considered so far behind the Panthers after the beating they put on them? They've consistently improved with each and every week, which is more than most other teams can say. Isn't it about time people stop being surprised by the Falcons success? Shouldn't it be expected at this point?
Pat Yasinskas: No argument here. If there's anybody out there that doesn't take the Falcons seriously at this point, that's their problem.
---
Casey in Atlanta writes: Send a shout out to the Falcon's Strength and Conditioning unit: They've done a fine job, especially keeping Abraham healthy. But my question is: What do you see on film from Jamal Anderson? I think he is retarding the full potential of this team and would've thought that Coach Smith would've made a change by now. Do they place that much stock in 1st round picks? There has to be something fishy about this situation. The only thing I can think of is Coach Smith likes his mix of reserves on the line, who pay huge dividends when playing fresh in the fourth quarter. Bierman and Davis are simply better players than Anderson, so there must be something else, whether it be an issue of endurance or reps in practice. Andreson seems to just take up space and wear opposing tackles down for 3 quarters with his size, then the real rushers come in and finish the job. Please expound on this, because I need to know why backups are racking up more sacks in 1 game than he in his entire career. Thanks.
Pat Yasinskas: Consider it done on the strength and conditioning staff and the trainers, too. They've done a nice job. As far as Jamaal Anderson, I was defending him early on because I thought he would develop under Smith and the new coaching staff. But I really haven't seen any progress to speak of and that's been about the only disappointment with this team. He's still playing because Smith rotates his defensive linemen. But I think Anderson's future will be something they'll look at long and hard after the season. If you gave the Falcons a strong defensive end in Anderson's place, that line could be outstanding.
---
Kyle in Athe
ns: Don't know if this is bad to wish a suspension on someone, but the Falcons are living right with 2 of their next 3 opponents being hit hardest with the suspension and not losing anyone. Do you think these suspensions help the falcons win a game that they may have not won before?
Pat Yasinskas: Not sure the suspensions will make that much difference to the Saints. Deuce McAllister hasn't been much of a factor and Charles Grant already was out with an injury. They lose Will Smith, but he wasn't having that great a season. However, I think the loss of Kevin Williams and Pat Williams for Minnesota could have a huge impact. Minnesota's been a tough team to run on. Without those two, Michael Turner could go up to Minnesota and have a very big day.
---
Ellis in Longwood FL writes: Pat, When I read the AJC online and read the comments on some of the articles about the Falcons there is always 1 or 2 people who still think Vick made the Falcons who they are and think they will be back. My question is to you is why are people still all about Vick and thinking he will come back, or the Falcons will regret getting rid of him? And why are they always down on Ryan? I have only seen highlights of him and to me he looks really good.
Pat Yasinskas: To borrow a line from one of the "Vacation'' movies (can't remember which one), that's just crazy talk. Matt Ryan's the best rookie quarterback since Dan Marino and the $70 million contract the Falcons gave him shows they're fully committed to him. Also, owner Arthur Blank is on record as saying Vick won't be coming back to the Falcons. It's way past time to move on from this situation.

NFC SOUTH SCOREBOARD
Friday, 8/22
Saturday, 8/23