NFC South:

Patrick Murray
December, 1, 2014
12/01/14
5:13
PM ET
TAMPA, Fla. -- By his standards,
Tampa Bay Buccaneers
coach Lovie Smith had some strong words about his team's penalties in Sunday's
14-13 loss
to the Cincinnati.
"No defense for [penalties]," Smith said. "They're killing our team."
The Bucs were penalized 13 times for 94 yards. A crucial penalty at the end of the game prevented the Bucs from attempting what could have been the winning field goal.

Smith
Known as a calm, low-key personality, Smith admitted he was upset about the penalties.
"Am I angry right now?" Smith said. "I guess the only way I wouldn't be angry was if I was satisfied with what's going on right now. I'm not going to start throwing stuff, kicking guys around, getting physical on the sideline. But I'm disappointed in where our football team is right now. I'm doing everything I possibly can to get this fixed."
Smith said the penalties have tested one of his basic philosophies. He believes it's critical for the defense to come up with takeaways. The Bucs had three Sunday and that's what Smith expects. What he doesn't expect is losing games where his team comes up with takeaways.
"Normally, I preach turnover ratio," Smith said. "If you win that, then you're going to win the football game. What I've found out this year is that that many penalties can offset anything you do with the turnovers."
Penalties were a problem for the Bucs throughout the game. But one in particular was extremely costly. That came with 26 seconds left in the game. It appeared as if
Josh McCown
had just completed a pass to
Louis Murphy
that would have given the Bucs the ball at the Cincinnati 20-yard line.
McCown said he was prepared to let the clock run down until about four seconds and then spike the ball. After that, the plan was for
Patrick Murray
to attempt a field goal. But Murray never got the chance.
Officials reviewed the play and determined the Bucs had 12 men on the field.
"It's a sin, kind of as simple as that," Smith said. "Can't do it. We have a lot of safeguards in place for that not to happen, but they all fell through, starting with me not seeing it. That's why we have two wins right now and we haven't won at home based on how we've played at the end of the game."
What happened on the play was that offensive tackle
Oniel Cousins
entered the game as an extra tight end, but
Robert Herron
, the fourth wide receiver, didn't come out of the game.
With injuries at tight end, the Bucs knew all week they'd be using Cousins as a blocking tight end. Smith said the team went over the procedure for getting the proper personnel grouping on the field.
"Quite a bit," Smith said. "It happened at the end of the game. A lot is going on then. Keep in mind, we did that throughout the game and we didn't have 12 guys on the field. We had a week to put [Cousins] in a different role. I can't give you an excuse why. That's not it. We did go over it last week. It was a mistake that we made in the heat of the battle."
November, 30, 2014
11/30/14
7:21
PM ET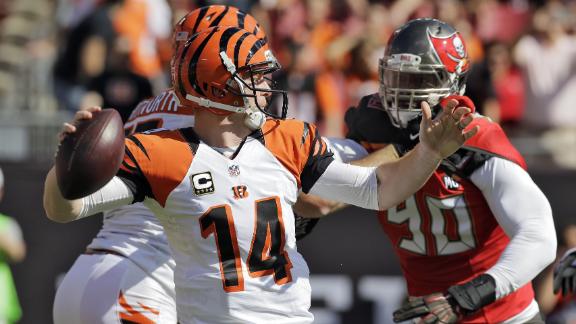 TAMPA, Fla. -- Just when you think you've seen every possible way to lose a football game, the
Tampa Bay Buccaneers
surprise you.
Sunday's
14-13
loss to the
Cincinnati Bengals
was an appropriate outcome for a franchise that now has 23 seasons of double-digit losses since coming into the league in 1976. The latest loss is up there with any others in the team's history because it came in a home game the Bucs appeared to be on the verge of winning.
Until, of course, they got in their own way. Seattle's fans are referred to as the 12th Man. Tampa Bay fans should be called the 13th Man because they're so unlucky.
[+] Enlarge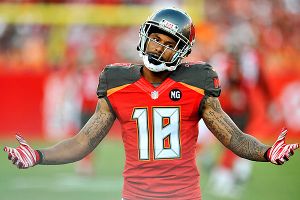 AP Photo/Steve NesiusA bizarre error wiped out a completion to Louis Murphy as the Bucs found another way to lose.
Before we get into the ins and outs of how it all fell apart, let's tell you where the Bucs were sitting. With 26 seconds left in the game,
Josh McCown
completed a pass to
Louis Murphy
that appeared to give Tampa Bay the ball at Cincinnati's 20-yard line.
All that remained to be done was to let the clock run down to less than five seconds, spike the ball and bring on
Patrick Murray
for a chip-shot field goal and a victory.
"The script was written right for us to pull it out at the end," coach Lovie Smith said.
But the script got thrown off as the completion to Murphy was wiped out by a penalty for having 12 men on the field. The Bucs had a few shots after that but were unable to get back into field goal range.
"That sums up our whole season," offensive tackle
Demar Dotson
said.
So what went wrong to result in 12 men on the field?
Smith didn't want to get into specifics. But McCown said the Bucs brought in offensive lineman
Oniel Cousins
, who had been working as a tight end all day. Rookie receiver
Robert Herron
was supposed to come out of the game but did not.
Who's to blame? The logical candidates were pointing the finger at themselves.
"Coaching error on our part," Smith said. "We didn't catch it. Kind of as simple as that. Shouldn't happen. Miscommunication. Blame the head coach. Bad move on my part of not seeing it."
But McCown said all the blame shouldn't fall on the coaching staff.
"We can all help out," McCown said. "We were in a bit of a muddle huddle there, getting guys on and off and playing with the extra tackle. The transition of that from going four wides to bringing Oniel back into the game, we've just got to handle it better. I certainly own it. I didn't see it. I called out protections and other things and didn't get my eyes over there to double-check to see where we were at."
Where the Bucs are at is a 2-10 record and last place in the NFC South.
"That's how 2-10 football teams play," Smith said. "We found a way to lose it in the end."
November, 2, 2014
11/02/14
8:15
PM ET
CLEVELAND -- The running game looked better than it has most of the season and the passing game was decent. The defense also did some good things.
So why did the
Tampa Bay Buccaneers
lose 22-17 to the
Cleveland Browns
on Sunday?
The easy and most accurate answer is the special teams. The Bucs had three catastrophic special-teams plays that each led to Cleveland points.
[+] Enlarge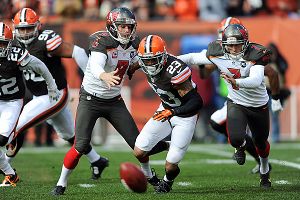 Ken Blaze/USA TODAY SportsPatrick Murray's field goal attempt in the first-quarter was blocked, leading to Cleveland points on the ensuing drive.
"Special teams really hurt us today," coach Lovie Smith said. "Can't have a punt blocked, a field goal blocked, jump offsides and let them continue a drive to score a touchdown. All those plays really hurts us."
Let's run through the litany of errors. The first came early in the game when
Patrick Murray
's 31-yard field-goal attempt was blocked by
Billy Winn
. That came with 9:43 left in the first-quarter and the Browns followed it up with a field goal.
The more costly plays came in the second half. The one that seemed to anger Smith the most came with 10:10 left in the third quarter. The Bucs had shut down Cleveland in the red zone and the Browns were about to settle for a field goal.
But that's when
William Gholston
was called for a neutral-zone infraction. That gave the Browns a first down. Three plays later, Cleveland scored a touchdown to take a 16-10 lead.
It didn't end there. With 9:42 left in the fourth quarter,
Michael Koenen
lined up to punt. Officially, the play was not called a blocked punt, but it had the same impact. A Cleveland player deflected the ball and Koenen was credited with a 1-yard punt.
That gave the Browns possession at the Tampa Bay 35-yard line. Two plays later,
Brian Hoyer
hit
Taylor Gabriel
with the game-winning touchdown pass.
"Good plays on their part," Smith said. "One jumped over us. Got to be able to get that. A guy coming up the middle, we should have him blocked. And then, you move on the snap of the ball and let a drive keep going. Those were all blunders that really cost us in the end."
September, 1, 2014
9/01/14
1:58
PM ET
TAMPA, Fla. – The new kicker for the
Tampa Bay Buccaneers
is a believer -- in himself.

Murray
While just about everyone assumed incumbent
Connor Barth
would keep his job,
Patrick Murray
had a different vision.
"I came in here and I believed I was going to be the starter," Murray said. "I believe if you come in thinking a different way it's just not going to happen. Credit to Connor. He pushed me every single day. He's a great kicker and I know he's going to land somewhere really soon."
But it's Murray, who came into the league as an undrafted free agent, that ended up winning Tampa Bay's kicking job. Barth didn't have a bad preseason, but Murray had an excellent one.
"The fact that I came in from day one that I was going to win the job and nobody was going to beat me no matter what they threw at me," Murray said. "Coach [Lovie Smith] put me in some difficult situations and I excelled at them and, thankfully, I'm a part of this organization."
Murray said his positive attitude and work ethic come from his father, Aidan.
"To be a kicker in this league, you have to have a mental edge," Murray said. "You have to be mentally tough and that comes from my father. He's a hard-working man from Northern Ireland. We grew up pretty tough ourselves. He wasn't easy on us, that's for sure. That helps and it's going to help me throughout my career."
August, 30, 2014
8/30/14
7:26
PM ET
Most significant move:
The
Tampa Bay Buccaneers
took a leap of faith when they released kicker
Connor Barth
and decided to go with
Patrick Murray
. Barth was a proven veteran. Murray is an unknown. But Murray had an excellent preseason to win the job. Barth didn't look quite as sharp and didn't seem to have as much distance as he did before missing all of last season with a torn Achilles tendon. Barth also was scheduled to make more than $3 million this season. Murray will only cost the team $420,000.
Not so fast:
A lot of people were under the assumption running back
Jeff Demps
would make the roster because the Bucs were so infatuated with his speed. But Demps was released Saturday. The former Olympic sprinter was given every opportunity as a running back and a return man, but he never was able to make things happen in space. Still, Demps has rare speed and the Bucs likely will try to get him signed to the practice squad, where he might be able to develop into something.
What's next:
The Bucs likely aren't done with roster moves. They're likely to bring in some players who were released elsewhere. Depth at linebacker, safety and on the offensive line still could be priorities.
Bucs' cuts:
Released WR
Solomon Patton
, RB Jeff Demps, QB
Mike Kafka
, DT
Matthew Masifilo
, DT
Ronald Talley
, K Connor Barth, TE
Cameron Brate
, DE
Larry English
, G
Jamon Meredith
, DB
Marc Anthony
, LB
Nate Askew
, T
Edawn Coughman
, CB
Kip Edwards
, DE
T.J. Fatinikun
, CB
Anthony Gaitor
, LB
Ka'Lial Glaud
, CB
Keith Lewis
, LB
Brandon Magee
, OL
Andrew Miller
, FB
Lonnie Pryor
, DL
Ronald Talley
, S
Major Wright
and OL
Jeremiah Warren
.
August, 29, 2014
8/29/14
3:26
PM ET
TAMPA, Fla. -- The Buccaneers pulled a bit of a surprise on Friday afternoon by releasing kicker
Connor Barth
.
Barth
Presumably, the kicking job now belongs to
Patrick Murray
, who had a strong training camp. Barth had been with the Buccaneers since 2009. But he missed all of last season after tearing his Achilles tendon in a charity basketball game.
The decision also might have been influenced by economics. Barth was scheduled to earn $2 million in base salary. Plus, he was slated to earn $1.15 million in weekly bonuses if he made the 53-man roster. The Bucs take no cap hit for releasing Barth.
Murray is scheduled to make $420,000 this season.
August, 5, 2014
8/05/14
8:24
PM ET
TAMPA, Fla. -- A daily review of the hot topics coming out of
Tampa Bay Buccaneers
training camp:
The camp with no controversy finally had a little bit Tuesday; just a little. It came during a goal-line drill at the end of practice. There was a play where running back Doug Martin ended up very near the goal line. Martin and the rest of the offensive players signaled it was a touchdown. But the team was divided. The defensive players said Martin came up short. "There's no replay," coach Lovie Smith said. "I have final say and I thought it was good." Smith said he was pleased with the offense's showing in the goal-line drill. "Last time we went goal line I thought the defense kind of got the better of it," Smith said. "I thought the offense came back out there strong today down there. We've got to get touchdowns when we get down there. We say we want to have balance. We've got to be able to run the ball, especially in those types of situations."
Although cornerback Alterraun Verner (hamstring) has missed most of training camp and been ruled out of Friday's preseason opener at Jacksonville, Smith said he's not all that concerned about the veteran missing so much practice time. "You can't do much about it," Smith said. "I've seen too many good football players miss time in training camp. I think it has very little bearing on what happens later on. He's been through a lot of work with us. We feel pretty confident that he'll be able to get our defense down and be able to play at a high level."
The first unofficial depth chart of the year came out Tuesday, but Smith had some words of caution. "Don't put too much into the depth chart," Smith said. "The league says we have to put out a depth chart today, so we put out a depth chart today. The depth chart will mean a little bit more once we play a football game against someone else." The initial depth chart was generous to the veterans and sold some rookies short. Receiver Mike Evans and Austin Seferian-Jenkins continue to get some work with the first team, but they were listed as backups on the depth chart.
A couple of guys that have had trouble catching the ball came up with nice catches Tuesday. Rookie Robert Herron had a nice catch in traffic. Running back Jeff Demps made a nice catch on a deep pass from Mike Glennon. Demps also had a nice run.
The Bucs signed defensive ends Ryne Giddins and James Ruffin. Linebacker Jeremy Grable and safety Mycal Swaim were waived.
The Bucs will practice at 2 p.m. Wednesday. The session is closed to the public.
August, 1, 2014
8/01/14
10:38
PM ET
TAMPA, Fla. -- A daily review of the hot topics coming out of
Tampa Bay Buccaneers
training camp:
Early in camp, the defense clearly was ahead of the offense. That's not the case anymore. The offense had a good showing at Friday night's practice at Raymond James Stadium. The first- and second-team offenses each drove for successful field goals in the two-minute drill. "It's about scoring points, and that's what the offense was able to do," coach Lovie Smith said. "Somebody can't look good in that situation. Most games come down to that two-minute drive at the end of the game. (Quarterbacks) Josh [McCown] and Mike [Glennon] both did a great job with us."
Many fans had to be pleasantly surprised by their first look at coordinator Jeff Tedford's offense. It didn't look nearly as conservative as what the Bucs have run in recent years. The play of the night was a trick play. Running back Mike James took a pitchout and threw a touchdown pass to Vincent Jackson. The deep passing game also looked good, with Chris Owusu catching a long touchdown from Glennon in an 11-on-11 drill.
Center Evan Dietrich-Smith missed practice with a foot injury, and his absence was obvious. The one blemish for the offense was that three snaps between center and quarterback were botched. "One time on the ground is too many," Smith said.
The practice drew just under 15,000 fans, according team officials. "It's a fanbase that deserves to see a good football team on the field, and we plan on giving them that," Smith said.
The Buccaneers have the day off from practice Saturday. Smith and many team employees will travel to the Pro Football Hall of Fame in Canton, Ohio, to attend the induction ceremony for Derrick Brooks. The team will return to practice Sunday at 4:30 p.m. "All week, I've been thinking about Derrrick going in," Smith said. "I can't wait to get up there tomorrow. A special day for him. You know Derrick Brooks. Who deserves to be in the Hall more than him? It's a special time for his family, and we can't wait to get there.''