NFC South:

Patrick Willis
January, 16, 2013
1/16/13
11:31
AM ET
It's not as big or as centralized as the Super Bowl's media day, but Wednesday will serve the same purpose for the NFC Championship Game.
Once upon a time, things were structured so that news conferences were held the Friday before championship games in the host city. The head coach and selected players from visiting teams would have to fly in early to take part. But technology has changed that and moved the schedule up.
The Falcons and the 49ers each will hold news conferences at their own facilities Wednesday. Atlanta coach Mike Smith, quarterback
Matt Ryan
, center
Todd McClure
and linebacker
Sean Weatherspoon
will meet with the media at 4 p.m. ET and the interviews will be carried live on NFL Network.
Nice choice by the Falcons to put McClure out there. He doesn't get a lot of attention due to the nature of his position. But he's the longest-tenured member of the Falcons and he's a very good quote.
The 49ers will start their news conference at 2:55 p.m. ET and it will feature coach Jim Harbaugh, quarterback
Colin Kaepernick
, linebacker
Patrick Willis
and defensive lineman
Justin Smith
.
I'll be monitoring both news conferences and will bring you the highlights.
December, 13, 2012
12/13/12
1:00
PM ET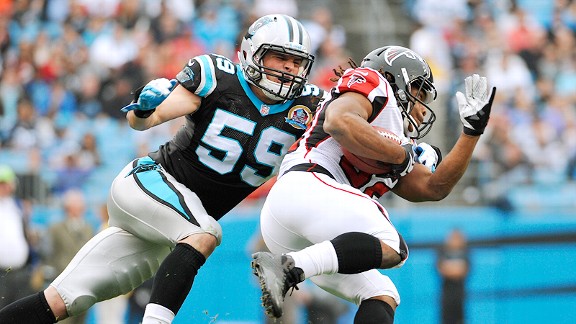 AP Photo/Rainier EhrhardtRookie linebacker Luke Kuechly has a league-best three games with 15 or more tackles.
There's a lot of talk out there about who should be the NFL's Offensive Rookie of the Year.
Andrew Luck
?
Robert Griffin III
?
Russell Wilson
?
Doug Martin
?
You could go on for days with that one. But there's another, less-talked-about question out there.
Who should be the Defensive Rookie of the Year?
I say that one's much clearer than the offensive award. Carolina middle linebacker
Luke Kuechly
is the best defensive rookie in the NFL.
Think about it for a second and see if you can come up with someone better than Kuechly, who has flown under the radar, mainly because Carolina's season has left the Panthers largely ignored.
I look at players such as Seattle's
Bobby Wagner
, Denver's
Derek Wolfe
, Green Bay's
Casey Hayward
, Minnesota's
Harrison Smith
, Tampa Bay's
Lavonte David
and
Mark Barron
, New England's
Chandler Jones
, St. Louis'
Janoris Jenkins
and Cincinnati's
Vontaze Burfict
and nobody blows me away.
Kuechly does.
Amid the rubble that has been Carolina's disappointing season, Kuechly has been a huge bright spot -- and he seems to be getting better as the season goes on. He had a career-high 16 tackles in Sunday's victory against Atlanta.
His 130 tackles (we're using press-box stats, not revised numbers from coaches) lead the league. Kuechly has a shot to be the first rookie since
Patrick Willis
in 2007 to lead the league in tackles and to at least challenge Willis' record for tackles by a rookie (174).
Not bad for a guy who freely admits he's still getting used to his new job.
"The theme of what I've learned from the older guys since I've been here is that it's a job now and you have to treat it like one," Kuechly said in a telephone interview Wednesday afternoon. "You're not in college anymore. You don't leave practice and go back to the dorm and hang with your buds. You put in a full day here and you go home and rest. You have to take care of yourself mentally and physically because, at this level, you have to stay on top of everything."
"

He's always around the ball somehow, some way. When he gets a little bit more wisdom, it's going to be amazing what he's going to do.

"

-- Steve Smith, on Luke Kuechly
The main thing Kuechly has been staying on top of has been whomever has the ball. He leads the league with three games recording at least 15 tackles. No other player has more than one such game. Go back and watch any Carolina game and Kuechly always seems to be around the ball.
"The guy he reminds me of -- that's had this much success so quickly -- would be Dan Morgan," veteran receiver
Steve Smith
said. "Very smart. He's always around the ball somehow, some way. When he gets a little bit more wisdom, it's going to be amazing what he's going to do."
I like Smith's comparison of Kuechly to Morgan a lot. That's mainly because that's the first thing I thought of when I first watched Kuechly go through a workout and interviewed him at IMG Academy as he was preparing for the scouting combine last February.
After the interview, I talked to IMG Academy director of football operations Chris Weinke, who came in the same 2001 Carolina draft class as Morgan and Smith. When I mentioned the comparison, Weinke nodded in agreement and said, "They're both all about football."
Carolina fans might not like the comparison of Kuechly to Morgan, but it's meant as a huge compliment. Morgan is a bit of a tragic figure because persistent injuries prevented his career from truly blossoming and cut it way too short. But when he was on the field, Morgan was as good as any linebacker.
I look at Kuechly and I see what Morgan could have been.
Apparently, so does Smith.
"He just makes plays," Smith said. "He's a young guy that came in, didn't come in entitled, real eager to learn."
Much like Morgan, Kuechly has a low-key personality. He is quiet and exceedingly polite -- until you put him in pads and have people run at him. That's when Kuechly tackles anything that moves.
That shouldn't come as a surprise. Kuechly led the nation in tackles in two of his three seasons at Boston College and finished second in the other season. That's why the Panthers used the ninth overall pick in the draft on him.
The Panthers opened the season with
Jon Beason
in the middle and Kuechly on the weak side. That lasted four games before Beason went down with an injury and Kuechly shifted to the middle, the position he played in college, and took over the role of the leader of the defense.
Carolina's defense has drawn a lot of criticism this season. But there has been a noticeable difference since Kuechly moved to the middle. In the first four games, the Panthers allowed an average of 393.8 yards. In the past nine games, the average has dropped to 328.9 yards, which ranks eighth in the league during that span.
"You see his leadership,'' coach Ron Rivera said. "You see his maturity as far as leading the defense. You see how he rallies his teammates, how he handles his teammates. How his teammates work with him, how he works with them.''
If it continues, you could see a Defensive Rookie of the Year in Carolina.
May, 29, 2012
5/29/12
9:43
AM ET
I hope everyone had a great holiday weekend. Let's take a look at the top headlines from around the division.
April, 11, 2012
4/11/12
11:01
AM ET
Carolina Panthers
quarterback
Cam Newton
has taken another step toward being on the cover of "Madden NFL 2013."
Newton
Newton has advanced to the final four of the
Madden 13 Cover Vote
. He's up against San Francisco linebacker
Patrick Willis
in this round. Green Bay quarterback
Aaron Rodgers
and Detroit receiver
Calvin Johnson
are squaring off in the other semifinal.
I'll leave it up to you if you want to vote for Newton or not. I know there is a contingent of Carolina fans that are apprehensive about this due to the
alleged Madden Curse
. It's understandable because a fair amount of players who have graced the cover have had injuries or down seasons. But there have been exceptions, including one from the NFC South. That was
Drew Brees
, who was on the 2011 cover. Brees had a very good 2011 season, although the Saints were eliminated in the first round of the playoffs by Seattle.
I understand the fear Carolina fans have about seeing Newton on the cover. But I'm all for seeing him on there. I think it would be good national exposure for a franchise that has had a few down years. I also think it would be good for the NFC South, a division in which fans sometimes have a bit of complex about other divisions and teams in larger markets getting more attention.
The Panthers never have had a player featured on a Madden cover. Brees and former Atlanta quarterback
Michael Vick
(2004) are the only NFC South players that have earned the honor.
January, 10, 2012
1/10/12
1:15
PM ET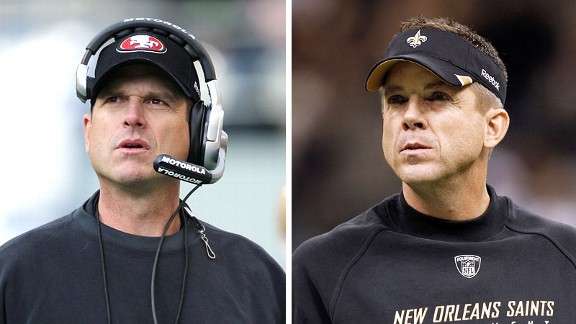 Getty ImagesCoaches Jim Harbaugh and Sean Payton will go head-to-head on Saturday (4:30 p.m. ET).
OK, so the
New Orleans Saints
' and
San Francisco 49ers
' head coaches won't be
bonding over the phone
this week.
No problem.
NFC South blogger Pat Yasinskas and I are here to set the record straight heading into the Saints-49ers divisional playoff game Saturday.
We'll get right to the pressing issues, starting with those preseason blitzing shenanigans 49ers coach Jim Harbaugh brushed off Monday.
Mike Sando:
I've got no reason to think the Saints' radio voice, Jim Henderson, was anything but truthful when he said Sean Payton ordered extra blitzes against the 49ers in the preseason opener after Harbaugh supposedly failed to call Payton before the game. I've also never heard of protocol requiring coaches to work out a "gentleman's agreement" regarding how to approach preseason games.
Pat Yasinskas:
We're talking about two coaches with very strong personalities. Payton and Harbaugh both are extremely competitive, and you can include New Orleans defensive coordinator Gregg Williams in that category. The Saints blitzed more than any team during the regular season. But there's no doubt all the blitzing in the preseason game was a bit over the top. There's also no doubt Harbaugh and the 49ers will remember that and that could provide some extra motivation. I expect both teams to be very feisty. That's not a bad thing for the Saints. Their defense hasn't been great and the extra edginess could help them.
Mike Sando:
Shall we step outside, you and me? I kid, but count me among those questioning the Saints' performance outdoors. I realize New Orleans has won plenty on the road, but the Saints averaged only 23.8 points in their four most recent outdoor games (Tennessee, Tampa Bay, Carolina and Jacksonville). They averaged 41.1 points at home during the regular season and nearly as much in all their 11 indoor games. What's the truth about the Saints' offense and how well it travels?
Pat Yasinskas:
The numbers don't lie. Tennessee was a decent team. The Bucs had not yet fallen apart when they beat the Saints. The level of competition was fairly high in those games. But the Panthers and Jaguars were not good teams. That shows there definitely is something to the perception the Saints aren't the same team outdoors. Obviously,
Drew Brees
and the passing game are best suited for a dome. But I think the one thing that's overlooked, and something that could be a big factor, is the New Orleans running game. The Saints run the ball well and have gotten better in that area as the season has gone on.
Darren Sproles
,
Pierre Thomas
and
Chris Ivory
bring a nice mix of speed and power. I think we could see more of the Saints' running game than usual in this one.
Mike Sando:
The 49ers will welcome the challenge.
Arian Foster
,
Felix Jones
,
LeGarrette Blount
,
Jahvid Best
and
Montario Hardesty
are among the NFL backs the 49ers have injured since preseason. They roughed up
LeSean McCoy
, too. Unless
Marshawn Lynch
suddenly shows up in this game -- and, hey, the Saints wouldn't want to see him, either -- the 49ers' run defense should be OK. I still think getting to Brees is the key. But as John McTigue of ESPN Stats & Information pointed out, Brees has completed a league-high 52.1 percent of his passes over the past two seasons while throwing under duress.
Pat Yasinskas:
Although Brees is good against the blitz, believe it or not, he is human. He can make mistakes when pressured. He threw 22 interceptions in 2010. The 49ers' best chance to slow Brees is to pressure him.
[+] Enlarge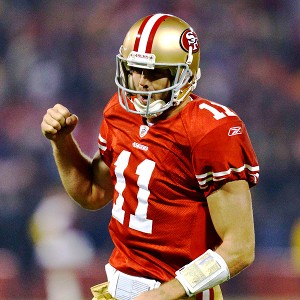 Jason O. Watson/US PresswireThe Saints should have their hands full preparing for the likes of 49ers QB Alex Smith.
Mike Sando:
Two contributors to the NFC West blog,
ArmedWithWings
and
ncannelora
, suggested the 49ers' All-Pro inside linebackers,
Patrick Willis
and
NaVorro Bowman
, would give San Francisco the personnel and flexibility to defend Brees' passes to tight end
Jimmy Graham
and the Saints' running backs. That would separate the 49ers from just about every Saints opponent this season.
Pat Yasinskas:
The Saints are going to score some points, even against good defenses. But I'm thinking outside the box on this game. I'm thinking the New Orleans defense could determine this game. This is not a defense that's going to shut anyone down. But Williams' defenses are built around the theory that coming up with turnovers is the key. That was a strength in the 2009 season, when the Saints won the Super Bowl. The Saints have not been as opportunistic this season or in 2010. If they're going to win, that needs to change. If the Saints can come up with a turnover or two, they'll win. If they don't, they could be in trouble.
Mike Sando:
San Francisco has committed only 10 turnovers all season, fewest in the league. The 49ers also led the NFL in turnovers forced. I wonder, though, if the 49ers will have to take more chances offensively to keep pace with the Saints. And as
Scott Kacsmar noted recently
, teams with historically strong turnover numbers during the regular season have often made quick postseason exits. In fact, the five teams with the fewest regular-season turnovers since 2008 have gone 0-5 in the playoffs, committing 17 turnovers in those games. The 49ers cannot follow that pattern. Conventional wisdom says they need to run the ball with
Frank Gore
and
Kendall Hunter
. That is true. But keep an eye on
Alex Smith
. He has quietly relished proving the doubters wrong this season. He has only five interceptions all season and has played a role in five fourth-quarter comeback victories.
Pat Yasinskas:
We must be fairly persuasive guys. We've managed to talk each other into thinking the other teams can win. Should be a good one Saturday. See you at the Stick.
January, 7, 2012
1/07/12
11:45
PM ET
Three things to know about next Saturday's New Orleans Saints-San Francisco 49ers divisional playoff game:


1. On a roll:
The Saints have not lost since Oct. 30 when they inexplicably dropped a game to St. Louis. Although that loss was a big reason why the Saints now have to go on the road, it brought about some positives. The Saints made some major adjustments in their pass protection to give tackles
Jermon Bushrod
and
Zach Strief
help. Since then, the offense has been unstoppable. Everyone talks about the passing game and that's understandable. But the running game has been almost as impressive with
Darren Sproles
,
Pierre Thomas
and
Chris Ivory
sharing the carries. People like to label the Saints a "dome'' team, but that's not necessarily true. With this running game, the Saints can also play outdoors and still be able to move the ball if the weather is an obstacle.
2. A different breed:
New Orleans' offense has had a record-setting year. But look back at the opponents. The Saints have yet to face a defense as good as San Francisco's. Coach Sean Payton will have to be more creative than ever. San Francisco linebackers
Patrick Willis
and
NaVorro Bowman
are playing as well as any duo in the game right now. Defenses generally have no idea how to match up with New Orleans tight end and
Jimmy Graham
and Sproles. But the 49ers might have the personnel to do that.
3. Some help from the defense:
The offense has carried the Saints throughout the regular season and there was nothing wrong with that because no defense could slow the Saints. But the 49ers have the potential to keep the Saints under some sort of control. That means
Drew Brees
and the offense could benefit from some help from the defense. Back in the 2009 championship season, the Saints were opportunistic on defense. They produced turnovers in bunches. This year's defense hasn't done much of that. But producing a turnover or two -- or at least generating a little bit of a pass rush -- could be a big help in a road playoff game.
December, 2, 2011
12/02/11
2:29
PM ET
Let's take a look at some of the highlights from Friday's NFC South chat:
Ben (Atlanta GA)
Pat will Cam be ROY? I know Dalton has some wins, but CIN is playing a cupcake schedule.
Pat Yasinskas:
If you've followed the NFC South blog, you know that I think Cam wins it easily. No offense to Dalton, who is having a nice year. But I think Cam had ROY sewn up after first two games.
Orlando (Baton Rouge, La):
Hey Pat, everyone's saying that the Saints have no shot at out throwing Green Bay outdoors in January but Green Bay hasn't done that well throwing outside either hence, relying on their running game to win which I believe New Orleans has their number at. your thoughts
Pat Yasinskas:
An excellent point. Was talking to a scout the other day, who made the point that these aren't the Bart Starr Packers. The current Packers aren't necessarily built for playing in Lambeau in January.
Rob (Tampa):
Pat, I am a Falcons fan living in Tampa. I go to all of the Falcons games at Ray Jay, it is a great stadium and the fans that show up are very passionate. I know you live in Tampa as well. Why do people here just not show up to games?
Pat Yasinskas:
Agree, one of best stadiums in league and fans that do come are passionate. Biggest reason I hear from those who don't go is the economy. But it also would help if the team was winning.
Eliot (New York, NY):
Ok Pat, let's assume the Saints win the division. Do you really think they are guaranteed a trip to the NFC Championship? Are you forgetting what happened last season? They'd have to play (in all likelihood) CHI/SF or ATL/SF first.. All of whom are better than 7-9 SEA..
Pat Yasinskas:
I don't think anything is guaranteed. But I'd say this year's Saints are far better than last year's Saints. At least at this point, they haven't had a lot of big injuries.
David W (Atlanta):
Pat - it seems that the Falcons are beginning to hit a stride (third quarter not withstanding) and their remaining schedule seems pretty generous. I know all the talk is about Green Bay and New Orleans, but do you see the Falcons being a playoff sleeper if they continue playing the way they have been?
Pat Yasinskas:
Yep, certainly possible. Look at roll Packers went on last year. They were No. 6 seed. Am I seeing signs Falcons might be getting hot at the right time? Yes, they've been better lately.
Ben (Atlanta GA):
Armanti Edwards
just hasnt gotten launched this year and it may not be his fault per se, but do you think he gets cut as a result?
Pat Yasinskas:
Think they'll bring him to training camp and give him one more chance.
KTV (ATL):
Curtis Lofton
and
Sean Weatherspoon
better tandem than
Patrick Willis
and Navarro Bowman?
Pat Yasinskas:
Maybe not yet, but moving in that direction.
David (Ak):
Brees ever win an MVP? Doubt it myself.
Pat Yasinskas:
Not this year. I mean, he's having a great year. But so is Rodgers and Rodgers plays for the Packers, who are a national team. So that's tough for Drew to overcome.
Here's the
complete transcript
of Friday's NFC South chat.
April, 11, 2011
4/11/11
12:36
PM ET
January, 24, 2011
1/24/11
11:04
AM ET
January, 5, 2011
1/05/11
9:48
AM ET
Time for a morning trip through the headlines across the NFC South.
Stephen Holder
ponders the future of center Jeff Faine
with the Buccaneers. It's a very valid question. Faine is 30 and he's missed a lot of time with injuries the past two seasons. With some young linemen showing promise, Faine might not fit into Tampa Bay's youth movement.
The Bucs
signed the eight guys on their practice squad
to futures contracts.
The Panthers reportedly
have asked for permission to interview
San Francisco defensive coordinator Greg Manusky. They also are expected to interview New York Giants defensive coordinator Perry Fewell and San Diego defensive coordinator Ron Rivera in the near future.
Jeff Duncan has his
weekly film review
on the Saints and attributes their loss to the Buccaneers to some bad breaks, injuries and a few questionable calls by the officials.
New Orleans linebacker Jonathan Vilma
has been added to the Pro Bowl roster
. Vilma initially was a first alternate, but an injury to San Francisco's Patrick Willis cleared a roster spot.
D. Orlando Ledbetter has a list of the Falcons'
10 most memorable plays
of the season. You can't argue with his choice for No. 1 – Roddy White's strip of Nate Clements against San Francisco. That play saved the Falcons from what would have been an embarrassing loss.
January, 29, 2010
1/29/10
2:17
PM ET
We've got another NFC South player headed to the Pro Bowl. That's Carolina linebacker
Jon Beason
.
He's been added as an injury replacement for San Francisco's
Patrick Willis
. With the Saints not allowed to play in the game as they get ready for the Super Bowl and no Buccaneers invited, Beason will join Carolina teammates
Ryan Kalil
,
Julius Peppers
and
DeAngelo Williams
and Atlanta's
Roddy White
as the only NFC South representatives.