NFC South:

Payton Manning
November, 27, 2012
11/27/12
9:04
AM ET
FALLING
Tampa Bay's pass rush.
Aside from a cornerback blitz by
E.J. Biggers
, the Bucs put almost no pressure on
Matt Ryan
on Sunday.
Michael Bennett
has put himself in position for a nice contract extension or a decent deal somewhere else. But Bennett could make his market value explode if he produces sacks in key times against good teams.
Tampa Bay's secondary.
The Bucs gave up 353 passing yards to Ryan. Then, things got even worse on Monday when starting cornerback
Eric Wright
, who sat out with an injury Sunday, received a four-game suspension. That leaves the Bucs dangerously thin at cornerback, with Biggers,
Leonard Johnson
and
LeQuan Lewis
as the top three cornerbacks. The pass rush better get straightened out in a hurry because this secondary is facing a big mismatch when it goes up against
Peyton Manning
and the Denver Broncos offense Sunday.
Jabari Greer, cornerback, New Orleans.
For the last several seasons, I thought Greer was one of the most underrated players in the division, maybe even the league. But he gave up a big pass play to San Francisco's
Mario Manningham
and missed several tackles Sunday. Come to think of it, Greer hasn't looked to be at the top of his game much of this season.
RISING
Cam Newton, quarterback, Panthers.
He turned in his best performance, by far, of the season in Monday night's win against Philadelphia. Newton completed 18 of 28 passes for 368 yards and two touchdowns and rushed 14 times for 52 yards and two touchdowns. More importantly he was efficient and poised and he didn't make any major mistakes. Makes you wonder why he didn't play like this more often earlier in the season.
Julio Jones, receiver, Falcons.
If you haven't seen his 80-yard touchdown catch from Sunday,
here is the replay
. Jones did a tremendous job adjusting to Ryan's throw without ever losing his concentration or track of the ball. He finished with a career-high 147 receiving yards. For some reason, I think he'll end up topping that mark many times before all is said and done.
Sean Weatherspoon, linebacker, Falcons.
I already thought Weatherspoon was very good, probably the best linebacker in the NFC South. But I didn't recognize his true value until he came back Sunday after missing three games with an ankle injury and suddenly made Atlanta's run defense solid.
January, 20, 2010
1/20/10
1:00
PM ET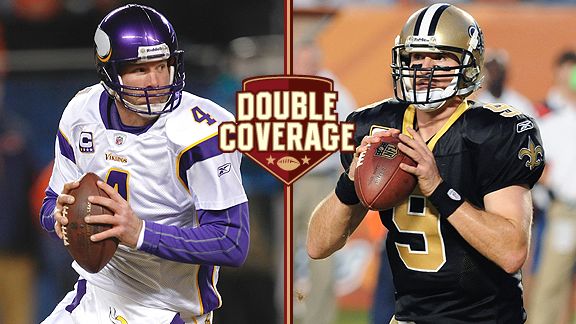 Getty ImagesBrett Favre, left, and Drew Brees will meet Sunday in the NFC Championship Game.
There was Ali-Frazier. Hulk Hogan-Andre the Giant. The Coke-Pepsi taste test. The status of the most highly anticipated competitive matchups in American history will be threatened this weekend in the NFC Championship Game, which will feature the two teams that spent most of this season jockeying for conference supremacy. Minnesota-New Orleans should be so good, why, it'll be better than "Cats."
ESPN.com bloggers Pat Yasinskas (NFC South) and Kevin Seifert (NFC North) broke down the matchup during an orderly phone call this week. We kept it professional, although we occasionally screamed at each other to practice communicating in what we expect will be ear-splitting noise Sunday at the Superdome.
Kevin Seifert:
PAT, IT WAS SOMEWHERE AROUND THE ... oh, sorry, I'll stop yelling. It was somewhere around the third week of September when we realized Minnesota had the potential to be a special team this season. And yet at every point along the way, it seemed the Saints were one step ahead. The Saints were 13-0 at one point and absorbed the conference limelight.
The Vikings had plenty of big games on their schedule, but after they essentially clinched the NFC North in November by completing a season sweep of Green Bay, their eyes privately turned south. I think they knew their path to the Super Bowl would have to go through the Saints, and they've been thinking about them ever since. Coach Brad Childress even admitted to watching a few games out of "admiration" for the way Saints coach Sean Payton runs his offense.
Be it admiration or early game planning, this matchup has been on the horizon here for a long time. How about in New Orleans?
Pat Yasinskas:
Absolutely. The Saints have kept an eye on the Vikings all season. They were very conscious of everything Minnesota did, because they wanted the home-field advantage in the playoffs and recognized the advantage of playing the NFC Championship Game at the Superdome.
I think they also realize how important hosting this game is to the city of New Orleans. They've waited a long time for this game to come.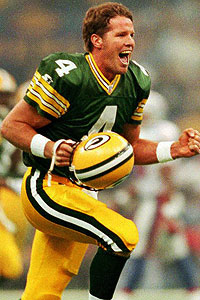 Don Emmert/AFP/Getty ImagesOne of Brett Favre's career highlights came at the Superdome in Super Bowl XXXI.
KS:
Indeed, they've waited forever. This is the first time the Saints have ever hosted an NFC Championship Game. Their history is long, sordid and not worth recounting here. We could always ask
Brett Favre
to do it, though.
The Vikings quarterback grew up a Saints fan in nearby Mississippi. He claims he never wore a bag on his head, but more than any player currently in the NFL, Favre knows how far the Saints have come. He also had one of his greatest NFL moments in New Orleans, winning the Super Bowl in January of 1997.
He'll arrive at the Superdome playing arguably the best football of his career. Counting the playoffs, Favre has thrown 37 touchdowns and seven interceptions this season. Over his last nine quarters, dating back to halftime of the Vikings' Dec. 28 game at Chicago, Favre has a 140.4 passer rating.
So what do you think, Pat: How do people in New Orleans regard Favre?
PY:
Favre is a local hero for the entire Gulf Region. He's on par with
Peyton Manning
, a New Orleans native,
Deuce McAllister
and
Drew Brees
. But Favre obviously will not be the local favorite for this game. He won't even be the most-popular quarterback, not by a long shot.
That title belongs to Brees, who could be mayor of New Orleans and governor of Louisiana if he wanted to be.
January, 11, 2010
1/11/10
1:56
PM ET
Derrick in Marrero, La., writes:
Pat-You know we all love
Peyton Manning
here in NOLA, but I really need some clarity on why every pundit around the network circle didn't even bat an eye when he ran away with the MVP award.
Drew Brees
led Manning in all passing categories with the exception of yards (Comp % which was an NFL record, passer rating which was I believe the 7th highest ever, yards per attempt, TDs and Ints) His team lost only 1 more game than Manning's? In addition everyone stated "Look who Manning is doing it with?" I ask , Who in the world is Drew throwing to? I just would like to see someone ask nationally just why was the vote so lopsided? The MVP cannot be a popularity vote?
Pat Yasinskas:
You're preaching to the choir here. I though the vote should at least have been closer. I don't think there's a player in the NFL who does more for his team than Brees. But I don't have a vote. Also, and I am by no means saying this is fair or right, but I think the award, much like the Pro Bowl, is somewhat of a popularity contest. The Manning name does carry a lot of weight.
---
Firat in Wesley Chapel, Fla.,
asks if the Bucs should take a safety or defensive tackle with the No. 3 overall pick.
Pat Yasinskas:
I'm a big believer in that it all starts up front, and I think Tampa Bay's defensive line was a weakness there. I think the Bucs almost have to go with a defensive tackle. You can find competent safeties later in the draft.
---
Charlie in Union Beach, N.J.,
asks why the Panthers didn't simply lock up
Julius Peppers
to a long-term deal several years ago.
Pat Yasinskas:
That's a good point because locking up Peppers earlier would have prevented the Panthers from having to use the franchise tag on him in 2009 and probably in 2010. I know for a fact there was an attempt by the Panthers to sign Peppers to a long-term deal in 2008. The Panthers offered to make Peppers the highest-paid defensive player in NFL history. He turned that deal down. That was during a time when Peppers apparently wanted out of Carolina.
---
Falcon Fan in Germany
asks about the possibility of the Falcons drafting a tight end this year as an eventual replacement for
Tony Gonzalez
.
Pat Yasinskas:
I don't think it's a huge priority because Gonzalez is still going strong. I doubt you'll see the Falcons taking a tight end in the early in the draft, simply because they've got other needs that are more pressing. But I could see them looking for a tight end in the middle rounds and grooming him behind Gonzalez for a year or two.
December, 13, 2009
12/13/09
3:00
PM ET
ATLANTA -- We're running a poll over on NFL Nation Live about who should be the NFL's Most Valuable Player. It's very close between
Drew Brees
and
Peyton Manning
so far.
I'm not telling anyone what to do, but if you're a New Orleans fan, you might want to cast a vote. Here's the
link
.
July, 24, 2009
7/24/09
10:30
AM ET
| | |
| --- | --- |
| | |
| | Al Messerschmidt/Getty Images |
| | Former Falcons quarterback Michael Vick may get conditionally reinstated, but even if he does, will any team want him? |
Posted by ESPN.com's Pat Yasinskas
Anybody want Michael Vick?
That's not a question. It's a plea. Seriously, I'd be thrilled to trade you the former Atlanta quarterback for anything. Heck, for nothing. Take him and the mountain of baggage he carries, please.
Still no takers?
Don't feel isolated. It appears nobody is lining up to take Vick. Selfishly, I'm not real happy about that because I've had more than my share of the ugly Vick saga, which has dragged on seemingly forever.
As the NFC South blogger, my territory includes Vick until he signs with a team in another division. My readers write me every day to ask me to stop writing about Vick because they're so tired of hearing about him. That's probably not going to change any time soon.
Yes, Vick is out of prison and done with home confinement. Yes, ESPN's Sal Paolantonio is reporting Commissioner Roger Goodell has decided to grant Vick a conditional reinstatement for training camp, although there remains a chance the quarterback could face a four-game suspension.
Even with the conditional reinstatement, there's no guarantee an NFL team will step forward to take an immensely talented athlete, who may or may not be suited to play quarterback or some other position and is certain to bring a swarm of media and protesters if he shows up anywhere near a stadium. And the cloud of a possible four-game suspension doesn't make Vick any more appealing.
Still, I thought there was a chance some owner (Jerry Jones? Al Davis?) might take a shot. Now, I'm thinking there's a very real chance 32 owners will pass on Vick.
June, 1, 2009
6/01/09
11:46
AM ET
Posted by ESPN.com's Pat Yasinskas
Time for a quick trip through the mailbag.
Matt in Athens, GA writes: Pat, I gotta know, depending on how well the Falcons do this year (I'm saying 10 to 11 wins against that schedule), how much longer can this team hold together their superstar coaching staff? You've got Musgrave and Mularkey, and any Dawg fan worth their salt knows Coach Van Gorder is a superstar waiting to to explode on to the scene, possibly at a FBS school (and not, say, Georgia Southern). While the Falcons have a great core of players and front office people, I really believe it's this coaching staff that's their true ace in the hole. Losing Mularkey would mean an upgrade for Musgrave, but losing both could be catastrophic for Ryan's further development. And we saw last year what BVG did with all of those old wheels on the Falcons defense. Losing his smarts and emotional fire from that side of the ball would leave a gaping hole not easily patched. How do you see this playing out after this year?
Pat Yasinskas: Worrying about losing assistant coaches to other jobs is a nice problem to have. There's no question the Falcons have some rising stars on their staff. In fact, I think Mike Smith has one of the best coaching staffs in the league. But the good news is that staff is in place for this season. Another successful year could change that, but that's the nature of the business.
---
Sam in Oympia Wa writes: What will the Saints do to replace Deuce? Is Thomas the future and what will Bush's role be this year? Also are there any palyers at the position who could make an impact this year who didn't last year?
Pat Yasinskas:
I think it's pretty obvious the Saints are planning to go with
Pierre Thomas
as the main guy in their running game. He did a nice job last year and
Reggie Bush
will mix in to take some carries, but I think you'll see Bush more involved in the passing game. The Saints still aren't sure who their short-yardage runner will be, but don't count out
Mike Bell
.
---
Bobby in Charlotte writes: Hey Pat, I am a big panthers fan and I recently noticed a post that Aaron Kampman was not very happy playing his new position playing linebacker in the new 3-4 defensive scheme that the packers are installing and well I had a brilliant idea for a trade and wanted to know what your thoughts are on the possibility of the chances of this trade taking place. I am think that because Peppers would like to play that position and Kampman had made a name for himself as a DE that maybe there could be a trade between Green Bay and Carolina.
Pat Yasinskas: To be clear, I've not heard any talk about this possible trade, but it does make some sense. But trades aren't all that common in the NFL and I'm not sure the Packers would have that much interest in Peppers and the prospect of paying him a fortune.
---
sensiblefan in Detroit writes: Pat, Not sure if you've gotten a chance to look at Scott Reynolds' Fab 5 on Pewter Report but Fab #2 is VERY enlightening concerning the DT position in Jim Bates' scheme. It seems that the technique required to play the position has been truly downgraded from the Warren Sapp-like talent level necessary to play the Tampa 2. The requisite skills to play the position appear to be: be 300 lbs...and that's it; there's no thinking or even penetration required. I'd venture to say that the DT position is not really an issue anymore and passing on Peria Jerry and Ziggy Hood was not as egregious as most Buc fans (including myself) thought.
Pat Yasinskas: As always, Scott Reynolds makes a good point. Jim Bates is looking for guys to eat up space. The Bucs don't need a superstar defensive tackle, but I'd like to see them get one more guy with experience because Roy Miller has none, Chris Hovan is aging and Ryan Sims is ordinary.
---
Craig in Atlanta writes: hey Pat, i have been a falcons fan my whole life, good times and bad. i have, along with the rest of atlanta, fallen in love with mat ryan, but there is this concern in the back of my head that he could just be a rookie mistake. part of me thinks he could be the next Tom Brady, or Payton Manning, but another part of me thinks he could be the next cris wienkee, or joey harrington. what are your thoughts and do you have my same concern?
Pat Yasinskas: I understand your concern, but think about this: Chris Weinke and Joey Harrington never even came close to playing like Matt Ryan did last year. Ryan is the real deal and he's got a good offense around him. It's even better than last year with Tony Gonzalez on board.
---
GFalcons in Miami FL writes: Hey Pat how you doing? I'm concern everybody's talking about the corners the Falcons have but nobody is talking about Chris Houston are starting corner from last year.
Pat Yasinskas: In this case, it's a good thing nobody's talking about Chris Houston. It means he's set at one starting spot while Brent Grimes, Chevis Jackson, Chris Owens and Von Hutchins compete for the other one.