January, 10, 2014
Jan 10
12:00
PM ET
SEATTLE -- Six weeks ago, the
New Orleans Saints
came to Seattle in a big Monday night showdown with the Seahawks to see which team would gain the upper hand in homefield advantage for the playoffs.
The Seahawks steamrolled past the Saints 34-7 that night. So here the Saints are again, back in Seattle with hopes of a different outcome in the playoffs.
ESPN.com Saints reporter Mike Triplett and Seahawks reporter Terry Blount take a detailed look at how these two teams match up for Saturday's NFC divisional round game at CenturyLink Field:
Blount:
Mike, the Saints took it on the chin at Seattle six weeks ago. How much of a motivational factor do you think that is this week for the team?
Triplett:
I'd say this game is about as big as it gets in the motivation department. That was really one of the two or three most humbling defeats in the Sean Payton-
Drew Brees
era. I might rank it No. 1 considering how high the expectations were going into that game. But more important than those emotions is the fact that this is the second round of the playoffs -- which is pretty good motivation for any team. The Saints haven't advanced past this point since their 2009 Super Bowl season. And a big win here would instantly erase all the little regrets from earlier this season.
I'll also say this: The Saints are a very confident bunch. I think they expected to get back in this situation at some point, and they relish the opportunity. They certainly respect the Seahawks, but I think they're fully expecting a much more competitive game. As am I.
On the flip side, Terry, do you see a repeat performance coming from the Seahawks? They were pretty lights-out that night, especially
Russell Wilson
.
Blount:
I certainly don't see a repeat performance if you mean a 27-point Seattle victory. It's hard to beat any team twice in the same season, much less two blowouts. But I do see Wilson having another strong performance. He's coming off a good game in the season finale against St. Louis and he typically plays at a much higher level at home. Obviously, having
Percy Harvin
on the field would help, but Wilson is battle-tested with two tough playoff games last year when he really showed a lot of people what he can do.
Mike, Wilson had one of his best games of the season against the Saints with three TD passes and 310 yards passing. He burned the Saints a couple times on their blitzes. Do you think they will have a different approach this time?
Triplett:
They'll definitely tweak the approach. But I think the execution is even more important. That night, it was pretty obvious that the Saints' top priority was containing
Marshawn Lynch
-- which they did a good job of. But they got burned too often by play-action fakes (big pass plays and big runs by Wilson). I've never seen them have so many undisciplined breakdowns, before or since. They've been much better playing in similar-style games against the
Carolina Panthers
and
Philadelphia Eagles
since. They were outstanding against both
LeSean McCoy
and
DeSean Jackson
last week.
The Saints defense is much better than what people saw that night -- though they did lose talented safety
Kenny Vaccaro
to a season-ending ankle injury since then, which hurts against both the pass and run.
A two-part question for you: When defenses have had success against Seattle's offense this year, what have they done to cause problems? And how much do you think the Saints will have to worry about Harvin in this game?
Blount:
In the late-season losses to the 49ers and the Cardinals, both teams did a great job of keeping Wilson in the pocket. If Wilson was going to run, they wanted to make him run up the middle, and it worked. They didn't blitz a lot, but they made sure to cut off Wilson's outside angles. Both teams also stacked the box and did a good job of stopping Lynch and limited the running game.
If Harvin is on the field, that changes a lot of things. Seattle free safety
Earl Thomas
told me last week that if he had to play against Harvin, he would need to account for him on every play because of Harvin's exceptional speed. So if Harvin's out there, even if he isn't 100 percent healthy, he changes the way a defense plays. You have to pick your poison. Load the box to stop Lynch and you risk Harvin beating someone one-on-one. Pay more attention to Harvin and Lynch might break a big run. Either way, it makes things better for Wilson.
Mike, I thought a big factor in the victory at Philadelphia was New Orleans' success at running the ball with
Mark Ingram
. How confident are you they can repeat that performance against the Seahawks?
Triplett:
The Saints are still a pass-first, pass-often team. But I think they've been even better this year than usual at staying patient and "taking what the defense gives them." Last week, the Eagles were practically begging the Saints to run the ball, so they did. They'll still take their shots down the field, but they're smart enough to attack the matchups they find most favorable in any given game. It's also a pick-your-poison offense with so many versatile weapons like
Jimmy Graham
,
Darren Sproles
,
Marques Colston
,
Lance Moore
,
Kenny Stills
and a deep group of running backs.
Graham, however, said Seattle's defense causes a lot of problems because the defensive backs and linebackers are all so fast (not to mention physical). Are there any weaknesses the Saints might be able to exploit?
Blount:
Honestly Mike, I just don't see it. The front seven held the Rams to 13 yards rushing in the season finale. The secondary is the best I've seen in 30 years. However, one man who had a big impact in the Monday night game six weeks ago was linebacker
K.J. Wright
, who did a superb job covering Saints tight Graham.
Wright is out for this game after undergoing foot surgery.
Malcolm Smith
has played lights out in his place, but Smith is only 6 feet tall. I can't see him covering the 6-7 Graham the way Wright (a lanky 6-4) was able to do. Strong safety
Kam Chancellor
likely will get those duties, but Graham might make some big plays he didn't make in the first meeting.
November, 29, 2013
11/29/13
12:00
PM ET
For a Monday night game in early December, this is as good as it gets. The 10-1
Seattle Seahawks
play host to the 9-2
New Orleans Saints
in a game that could decide home-field advantage for the NFC playoffs.
The last time these teams faced each other was in a playoff game following the 2010 season, which Seattle won 41-36.
Drew Brees
passed for 404 yards and two touchdowns for the Saints, and
Marshawn Lynch
rushed for 131 yards, including the legendary 67-yard "Beast Quake" touchdown run in the fourth quarter for the Seahawks.
If this game is anything like that one, it will be one heck of a show.
The Seahawks will have to try to stop Brees with a reworked secondary after a week in which two Seattle cornerbacks (
Walter Thurmond
and
Brandon Browner
) ran afoul of the NFL's substance-abuse policy. Thurmond was replacing Browner as a starter due to Browner's groin injury.
The whole suspensions issue put a damper on a big week. Now everyone will see whether the Seahawks can overcome it or whether Brees will make them pay.
ESPN.com Seahawks reporter Terry Blount and Saints reporter Mike Triplett look at the key issues entering the game:
Blount:
Mike, this is a great matchup between the veteran Brees and a young quarterback who idolized him in
Russell Wilson
. Wilson always saw Brees as someone he could emulate, a player who, like him, wasn't tall but had a great arm and great leadership qualities. As someone who sees Brees every week, how do you compare them?
Triplett:
I don't know that much about Wilson, but I certainly see why he would choose Brees to emulate. It's remarkable how Brees, at just 6-foot, has been able to not only succeed in the NFL but truly dominate. It would take me too long to rattle off all the reasons why Brees is so successful. For one thing, he's as competitive and driven as any athlete I've ever been around. That shows in his work ethic both in the offseason and during the season. He also sees the field (through passing lanes since he can't peek over the top) and anticipates things about as well as any quarterback who has ever played the game. He's not as mobile as Wilson, but he's elusive in the pocket and avoids sacks. I'd say both guys are proof that those intangible qualities count for a lot in the NFL, even if you don't have prototypical size.
I haven't seen the Seahawks' offense light up scoreboards in the few games on national TV this season, especially early in games. Can Wilson keep pace if the Saints are able to put points on the board?
Blount:
Most of the time, he hasn't needed to because the defense has played so well. However, after watching him now for two seasons and seeing his growth, I believe Wilson is capable of doing whatever he needs to do to win football games. He has proven it over and over. Three times this season he has led the team to a fourth-quarter comeback, and he's done it seven times in his brief NFL career. Wilson never is going to be the type of guy, like Brees, who puts up huge passing numbers. That's not what they want him to do in an offense that wants to run the football with Lynch. But Wilson has demonstrated he can adjust the game plan to fit the needs of the moment. Frankly, he is one of the best I've ever seen at finding a way to win.
The Seahawks have a lot of weapons on offense, and now have added
Percy Harvin
to the mix. Obviously, Rob Ryan has a done a good job in getting New Orleans' defense back on track. How do you see him approaching this game against Seattle's power running game with Lynch and a mobile quarterback in Wilson?
Triplett:
I know this: Ryan will definitely have a plan. He is one of the league's most innovative game-planners. Former player Scott Fujita described him as a "mad scientist." We saw that quality more than ever two weeks ago when the Saints played the
San Francisco 49ers
. Ryan unveiled two new packages for that game, including a five-linebacker formation to corral the 49ers' run game and the threat of the read-option. We may see the same thing this week, or maybe a new wrinkle since he likes to be unpredictable. I know the Saints' defensive players will be amped to prove they're just as good as the more-hyped Seahawks defense. Ends
Cameron Jordan
and
Akiem Hicks
, outside linebacker
Junior Galette
and cornerback
Keenan Lewis
are having breakout years, in particular.
Seattle's defense has obviously been outstanding this year as well. How do you think they'll hold up against the Saints' versatile offense? Who might match up against tight end
Jimmy Graham
and running back/receiver threats
Darren Sproles
and
Pierre Thomas
, among others?
Blount:
The first thing to watch is how the backups in the secondary handle going against a wily veteran like Brees. No doubt he's going to test
Byron Maxwell
and
Jeremy Lane
. And Graham is a major concern. The Seahawks have struggled at times this season against tight ends. In this case, they might have cornerback
Richard Sherman
shadow Graham as much as possible. And this is a big test for strong safety
Kam Chancellor
. The key for the Seahawks is the defensive line, much improved over last year, getting to Brees and taking some of the pressure off the depleted secondary.
Mike, if you had to name one area in which the Saints must outplay the Seahawks in order to win the game, what would you pick?
Triplett:
Easy one: turnovers. I know you could say that about every team in every game. But it's especially huge in this matchup. For one, the Seahawks lead the NFL with 26 takeaways. I imagine that's why they're second in the NFL in points scored (27.8 per game) even though they don't have a prolific offense. The Saints need to set the pace in this game and try to force Seattle to keep up with their offense. They can't afford to give away any freebies or short fields. And based on what we've seen from the Saints this season, I think they can do that. Their run game started slowly but has improved. And they showed a patient offensive approach in a Week 5 victory at Chicago and in their last two wins against San Francisco and Atlanta. The Saints have turned the ball over just 13 times, and they lead the league in average time of possession.
Terry, how do you think the Seahawks will handle this game if they don't set the tone? To be honest, I expected a bit of a sophomore slump from Wilson and the Seahawks, since we see it so often in the NFL. Why have they been able to avoid that? And do you think there's any risk of the pressure affecting them in a game of this magnitude?
Blount:
None whatsoever, Mike. In fact, Wilson thrives on games like this. He is at his best when things seem their worst, along with playing at a high level in the most difficult situations and the high-pressure games. That character trait is what makes Wilson such an exceptional athlete. He never gets rattled. Seattle fullback
Michael Robinson
said Wilson has the one trait all great quarterbacks need: "A short memory."
November, 1, 2013
11/01/13
12:00
PM ET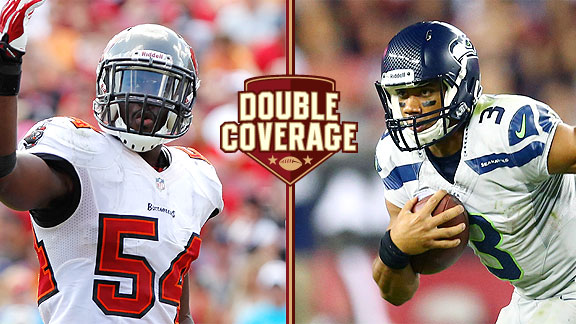 USA Today SportsThe key for Lavonte David and the Bucs is to try to pressure Russell Wilson and to attack a line that gave up seven sacks on Monday.
Despite getting outplayed in almost every statistical category Monday night at St. Louis, the
Seattle Seahawks
defeated the Rams 14-9 and reached the midpoint of the season at 7-1 after a rough stretch of four road games in five weeks.
Now Seattle returns to CenturyLink Field against the winless
Tampa Bay Buccaneers
, hoping to win at home for the 12
th
consecutive time. It looks like a mismatch, but so did the Rams game.
The Seahawks still have backups starting at both offensive tackle spots and now are missing receiver
Sidney Rice
, who tore an ACL on Monday night. Rice is in the last year of his contract with the team and probably has played his last game with Seattle.
Receiver
Percy Harvin
should return soon after undergoing hip surgery three months ago, but it probably won't be this weekend. Nevertheless, the Seahawks should win this game.
Blount:
Pat, a lot of people thought the Bucs would have a new head coach by the time the team got to Seattle, but Greg Schiano is hanging on. If Tampa Bay comes here and loses by a big margin, is that the end for him?
Yasinskas:
Terry, I've been pointing to the Seattle game for several weeks as a possible end for Schiano. I think he's still employed in large part because the Bucs are putting forth an effort. But I could see that changing on a long road trip against a good team and in a hostile environment. The interim route rarely works out well. But if this team lies down in Seattle, I can see ownership pulling the plug on Schiano.
Aside from the loss to Indianapolis, Seattle seems to have been nearly perfect. But there's no such thing as perfect in the NFL. What are the Seahawks' biggest weaknesses?
Blount:
Without question, it's the offensive line. It's not just weak right now. It's awful. Obviously, missing
Russell Okung
and
Breno Giacomini
is a big part of it, but having to go with backups at the tackle spots is not the only issue. Neither starting guard has played well, and center
Max Unger
, who had an arm injury earlier this season, hasn't played up to his Pro Bowl level of last year. It will improve when Okung and Giacomini get back in a few weeks, which will enable the Seahawks to move
Paul McQuistan
back to one of the guard spots instead of being out of position at left tackle. But it has to improve dramatically if Seattle hopes to live up to the Super Bowl expectations.
Pat, speaking of the Seattle line, it's obvious right now that the way to stop the Seattle offense is to load the box and blitz like crazy against the backup tackles, along with the rest of the offensive line that hasn't played well.
Russell Wilson
didn't have time to breathe at St. Louis. Do you see this as Tampa Bay's strategy on Sunday?
Yasinskas:
I think the Bucs will try a similar approach, but I'm not sure they'll have as much success as St. Louis did. The defensive line hasn't been generating much of a pass rush. Linebackers
Lavonte David
and
Mason Foster
have been effective as blitzers, and I think you'll see the Bucs use them as pass-rushers.
Terry, how much does losing Rice hurt the receiving corps?
Blount:
When Harvin gets on the field, assuming he's healthy, the Seahawks won't miss Rice. In fact, they'll be much better with Harvin's speed and versatility. Rice never has lived up to expectations here. He hasn't played nearly as well this season as receivers
Golden Tate
and
Doug Baldwin
. But if Harvin still isn't ready to come back, it hurts Seattle's depth at the receiver spot and enables any defense to use more double coverage on Tate and/or Baldwin. But this also could be an opportunity for
Jermaine Kearse
to shine. He's been a big surprise this season in limited play.
Pat, obviously, the Bucs aren't going anywhere this season. They spent a ton of money to bring in some top players on defense like
Darrelle Revis
and
Dashon Goldson
. What do you see as the team's goal for the rest of the season, and what do the Bucs hope to accomplish going forward in 2013?
Yasinskas:
It's been a hugely disappointing year for a team with eight players on the roster who have been to the Pro Bowl. This team's struggles aren't entirely due to a lack of talent. Schiano prides himself on being a disciplinarian, but this team has struggled with mental mistakes and penalties. The thinking is that playing smarter will translate into some wins. But those might be coming too late to save Schiano's job. There is a segment of the fan base that wouldn't mind seeing the Bucs go winless so that they get the first overall pick in the 2014 draft.
Terry, the Seahawks are third in the league in pass defense, and we've heard a lot about their secondary. Is rookie quarterback
Mike Glennon
walking into the ultimate ambush?
Blount:
That's what everyone thought Monday night for Rams backup quarterback
Kellen Clemens
, but he played pretty well most of the game. Clemens made two overthrows that became interceptions but came within one goal-line play of upsetting the Seahawks at the end of the game. The Seahawks do a great job of mixing things up and disguising coverages, but they do take chances to come up with turnovers. If Glennon doesn't recognize things quickly, they will make him pay.
February, 13, 2013
2/13/13
10:01
AM ET
There are a lot of rumors out there that the
Minnesota Vikings
could be looking to trade receiver
Percy Harvin
.
Any time there are rumblings about a player of Harvin's magnitude (and sometimes far less than his magnitude), the questions start coming about if he could end up with the NFC South teams.
I think we can go ahead and scratch Carolina and New Orleans off the list. The Panthers and Saints simply don't have the salary-cap room for Harvin. You can also scratch Tampa Bay, for a different reason. Can you really see Harvin, who had issues with Leslie Frazier and Brad Childress, getting along with Greg Schiano?
But check out this
Insider piece
that lists the
Atlanta Falcons
as a potential landing spot for Harvin. In some ways, it makes sense. The Falcons are all about surrounding quarterback
Matt Ryan
with quality weapons and Harvin, at least in theory, would be a huge upgrade over
Harry Douglas
as the slot receiver and he also has return skills. The Falcons also have shown a willingness to trade for veterans in the past (see
Tony Gonzalez
and
Asante Samuel
). Atlanta also has a strong locker room and that potentially could keep Harvin from having some of the same problems he's had in the past.
Still, I'd say Harvin to Atlanta is a long shot at best. Any team trading for Harvin likely would have to give him a big, new contract. The Falcons aren't in horrible cap shape. But they will be attempting to re-sign potential free agents
William Moore
,
Sam Baker
and
Brent Grimes
. They also could bring back Gonzalez and veteran center
Todd McClure
.
With so much money already invested in
Julio Jones
and
Roddy White
, it's tough to see the Falcons paying big money for another receiver. It's also tough to imagine the Falcons, who are all about team chemistry, taking a chance on a guy who has caused some headaches in the past.
October, 25, 2012
10/25/12
10:01
PM ET
I saw the
Tampa Bay Buccaneers
jump out to a 14-0 lead against the
New Orleans Saints
on Sunday.
I remember thinking, "This one's far from over."


Well, the Bucs now have a 20-10 halftime lead on the
Minnesota Vikings
.
I think there's a decent chance Tampa Bay's lead is safe this time.
Why the difference? Minnesota quarterback
Christian Ponder
is not
Drew Brees
. Not even close.
Aside from one nice touchdown pass to
Percy Harvin
on a fade route, Ponder has looked terrible. Give the Tampa Bay defense plenty of credit for that, but Ponder never will be confused with Brees. Plus, Tampa Bay's run defense has done a decent job against
Adrian Peterson
.
Ronde Barber
, who had a tremendous first half, forced a Peterson fumble by stripping the ball loose. Barber also forced another fumble earlier, but stripping the ball from a receiver. With this kind of deficit, the Vikings might not have enough time to try to let Peterson carry them back into the game. They may have to put it all on Ponder's shoulders and that's probably good news for the Bucs.
The flip side there is you may see the Bucs go heavily with their running game in the second half. They've had good success with it so far. Rookie running back
Doug Martin
is having what looks like a breakout game and his numbers could end up being huge.
I'll be back with a wrap-up as soon as the game ends. If you're not already participating, please join us in the Countdown Live chat in the second half.
October, 25, 2012
10/25/12
9:05
AM ET
We usually run our Final Word post on Fridays and it includes nuggets on all the NFC South teams that are playing on Sunday or Monday.


We will still do that this Friday, but we need to have a special (slightly abbreviated) edition of Final Word because the
Tampa Bay Buccaneers
are playing the
Minnesota Vikings
on Thursday night:
Three nuggets of knowledge about the Bucs and Vikings:
The deep game:
I think the Bucs are starting to learn to play to the strengths of quarterback
Josh Freeman
, and that's why I think you'll see a fair number of deep passes against the Vikings. According to ESPN Stats & Information, Freeman has completed 56 percent of his passes of 20 yards or more down the field. That percentage ranks second in the league. Freeman's chemistry with
Vincent Jackson
,
Mike Williams
and
Tiquan Underwood
seems to continue to get better, so why not ride the hot hand -- or hot arm?
Strength vs. strength:
The area that's turned around most dramatically since the arrival of coach Greg Schiano has been the run defense. It was a major problem under Raheem Morris. But the Bucs now have one of the league's best run defenses. The Bucs have allowed a league-low 3.0 yards per rush between the tackles. But they're in for a big challenge. Minnesota's
Adrian Peterson
has run between the tackles 90.4 percent of the time this season. Peterson is particularly hot right now. He's coming off a 153-yard rushing game against the Cardinals.
A hint for Schiano and his defensive staff:
The Bucs might be wise to line their defensive backs very close to the line of scrimmage, or at least the defensive backs that are going to be covering
Percy Harvin
. He leads all NFL receivers with 27 receptions at or behind the line of scrimmage.
November, 28, 2011
11/28/11
6:34
AM ET
Let's take a look at some of the statistical superlatives from Atlanta's
24-14
victory against Minnesota on Sunday.
The Falcons now are 8-2 against NFC North opponents since coach Mike Smith arrived in 2008.


Cornerback Christopher Owens stopped Percy Harvin at the Atlanta 3-yard line on a fourth-quarter kickoff return. Owens followed that by sacking Christian Ponder on the next play.
Second-year linebacker Sean Weatherspoon continues to emerge as one of the defense's brightest spots. He had a team-high 10 tackles, one sack, three tackles for a loss and one quarterback hit.
Speaking of emerging players, receiver Harry Douglas had his first touchdown catch of the season. In the past three games, Douglas has 14 catches for 229 yards.
Roddy White moved into sole possession of third place in team history in career touchdown catches. White has 41 touchdown receptions. He's behind only Terance Mathis (57) and Andre Rison. White finished with 120 yards on a season-high 10 catches. He now has had over 100 receiving yards in each of the past two games.
Quarterback Matt Ryan, who passed for three touchdowns, now has thrown at least one touchdown pass in 10 straight games. He has thrown for more than one touchdown in three of the past four games.
Ryan's 128.2 NFL passer rating was a season best. It also was the fourth-highest rating of Ryan's career. The Falcons are 20-0 when Ryan has a rating over 100.
Tight end Tony Gonzalez had a season-high nine catches for 69 yards. He now has 13,093 yards, which moved him past Steve Largent (13,089) and into 12th place on the league's all-time list for receiving yards.
Defensive end Lawrence Sidbury had perhaps the best day of his career. Sidbury recorded two sacks. That gives him four for the season and he's tied for the team lead.
Minnesota rushed for just 64 yards on 24 carries. The Falcons now are allowing 83.5 rushing yards per game, which would qualify for the second-best average in franchise history. The Falcons have not allowed a 100-yard rusher in 14 consecutive games, dating back to last season.
November, 27, 2011
11/27/11
7:12
PM ET
Atlanta cornerback Christopher Owens never has been a big name. He's spent most of his career as a backup. But Owens made the play of the day for the Falcons on Sunday and it could end up being the biggest play of Atlanta's season.


The Falcons had built a 17-0 lead, but they allowed the Vikings to get back into the game late. Atlanta led by 10 with just under seven minutes remaining in the fourth quarter when
Percy Harvin
took a kickoff in his own end zone and returned it 104 yards, but Owens was able to chase Harvin down at the 3-yard line. Atlanta's defense then came up with a goal-line stand and the Falcons won
24-14
.
Had Harvin scored and the Falcons had lost, their playoff hopes would have taken a big hit. Instead, they're 7-4 and kept with the
New Orleans Saints
, who are 7-3 and host the
New York Giants
on Monday night.
"That was the most pivotal play in the ballgame in my opinion,'' Atlanta coach
Mike Smith
said. "For (Owens) and the effort that he put forth to run Percy Harvin down, and get him down on the 3-yard line, it allowed us to put our defense out there and have an opportunity to live to play another play. We were able to have a goal-line stand. There were a number of guys that made some significant plays in that goal-line stand, but I believe it was (linebacker)
Sean Weatherspoon
from my vantage point that knifed in on the fourth down and was the first one to make the hit. You can't say enough about our effort. If you have that type of effort, you are going to greatly enhance your chances of winning. You can overcome some of your shortcomings and some of the mistakes you make by hustling. That was a great play by
Chris Owens
."
November, 27, 2011
11/27/11
4:07
PM ET
Thoughts on the
Atlanta Falcons
'
24-14 victory
against the
Minnesota Vikings
on Sunday at the Georgia Dome.
What it means:
The Falcons continue to be a hard team to figure out. They came out and started fast. They looked like they were going to have a very easy time with the Vikings. But Atlanta let Minnesota back in the game in the third quarter and that made things more interesting than they should have been. That's kind of been the story of Atlanta's entire season. The Falcons have been maddeningly inconsistent and nothing has come easy for them. But the bottom line is the Falcons are 7-4. They've pulled even with the Saints, who play Monday night, and they're very much a factor in the NFC South race.


Roddy's on a roll:
After starting the season very slowly, receiver
Roddy White
has come on strong in the past two games. White had his second straight 100-yard receiving game and caught a touchdown pass. Fellow receiver
Julio Jones
also returned from a hamstring injury. Jones didn't show up big on the stat sheet, but his presence helped White,
Harry Douglas
and
Tony Gonzalez
have big games. That's a big part of the reason the Falcons traded up in the draft to get Jones.
What I didn't like:
I don't think it was by design, but middle linebacker
Curtis Lofton
wound up in deep coverage on
Percy Harvin
on a fourth-down play in the fourth quarter. Lofton is a solid linebacker, but he shouldn't ever be put in a situation where he has to cover a speed receiver downfield.
Defense rising:
I've said several times throughout the season that the NFC South race will come down to defense. I realize the Vikings were playing without
Adrian Peterson
and were starting rookie quarterback
Christian Ponder
. But the Atlanta defense shut the Vikings down. Minnesota had only two first downs in the first half. It took some time to get it together, but Atlanta's defense has played well in recent weeks and seems to be improving. If that continues, it could help the Falcons tremendously down the stretch.
What's next:
The Falcons travel to Houston to play the Texans next Sunday at Reliant Stadium.
November, 17, 2011
11/17/11
1:00
PM ET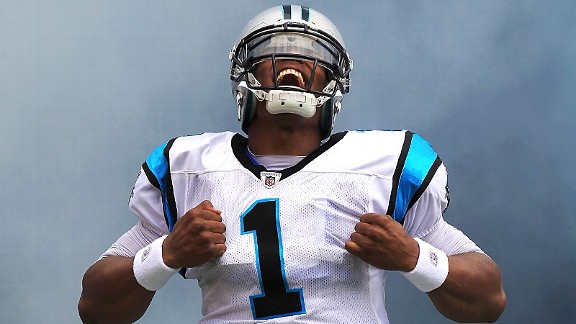 Streeter Lecka/Getty ImagesCam Newton made a statement early, accumulating 854 passing yards in his first two games.
On the surface, it looks like there's a great argument brewing out there about who should be the NFL's Offensive Rookie of the Year.
The names
Cam Newton
,
Andy Dalton
and
DeMarco Murray
are getting tossed around. It makes for great conversation, but let's face reality.
Newton won the award a long time ago. This race was over two weeks into the season. Despite some really nice deeds by Dalton and Murray, nothing really has changed and it's not going to.
As the first overall pick in the draft, Newton came with all sorts of flash and glitter. He was a Heisman Trophy-winning quarterback on a national championship team at Auburn and that made him a strong favorite to win Rookie of the Year before the season ever started.
Newton settled it in two weeks. He threw for more than 400 yards in each of his first two games. No rookie quarterback had ever done that, and that's the kind of thing that's going to stick in the mind of voters.
Speaking of voters, let's be very clear. We're talking about the Associated Press NFL Offensive Rookie of the Year award. There are other rookie honors out there and they matter. Just not as much as the one by the Associated Press.
If you don't believe me, consider this: If a player gets an incentive clause in his contract for winning a Rookie of the Year award, it almost always is stipulated that he only gets paid if it's the one from the Associated Press.
[+] Enlarge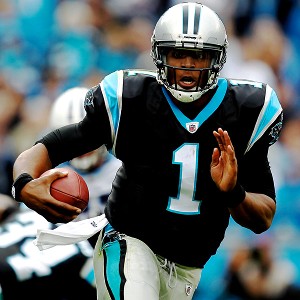 Streeter Lecka/Getty ImagesCam Newton has passed for 2,605 yards this season and 11 touchdowns, and has also rushed for 374 yards and seven more scores.
The way it works is the voters are writers from every NFL city. Majority rules and, unless Newton suffers a season-ending injury very soon, he's going to win.
Yeah, I can hear the arguments coming from Dallas and Cincinnati and I respect them. But those folks can save themselves some pain later by realizing now that Murray and Dalton aren't going to win the award.
I know everything is bigger in Texas and that's why Dallas fans are going crazy about Murray. He has been incredible since
Felix Jones
went down with an injury in mid-October. Murray has 674 rushing yards this season with 601 of them coming in the past four games.
And I understand that the Cowboys are "America's Team,'' and Dallas is a much bigger media market than Charlotte or Cincinnati. But that actually could end up working against Murray. For a long time, there have been grumbles that it's harder for Cowboys to get into the Pro Football Hall of Fame because voters feel saturated by anything to do with Dallas.
A lot of those voters are the same ones who select the Rookie of the Year. The Cowboys haven't had one of those since
Emmitt Smith
in 1990.
Murray is good, but he's not Emmitt Smith. You could make the case that we saw Murray last year. Tampa Bay's
LeGarrette Blount
rushed for 1,000 yards in basically half a season (and for his next trick he's trying to learn how to pass block) and he didn't even come close to winning the award.
Sam Bradford
did.
That's because Bradford is a quarterback. Let's face it, quarterbacks generally are going to win popularity contests simply because they're quarterbacks. Four of the past seven winners have been quarterbacks. Heck, even
Vince Young
won it in 2006.
Once in awhile, as happened in 2007, an
Adrian Peterson
comes along. And in the years when no rookie quarterback does much, the award goes to a
Percy Harvin
or a
Cadillac Williams
. This isn't one of those years.
That brings it down to Dalton and Newton.
Dalton is doing what Bradford did last year and what
Matt Ryan
did in 2008. He's come in, played very well and his team is winning. The Bengals are 6-3 and Dalton has thrown for 1,866 yards and 14 touchdowns. He's smart, doesn't make big mistakes and there's no doubt Dalton is a big reason Cincinnati is one of the league's most surprising teams.
But he's not the only reason. Cincinnati's defense has been shockingly good. Dalton really hasn't been shocking. He has only had one 300-yard game, and only one game in which he's thrown more than two touchdown passes.
Is anybody really ready to call Dalton a franchise quarterback? Yeah, I know it might be a little tempting because it's been tough to even call the Bengals a franchise for most of the time they've been in the league. But Dalton is not Newton. He's not even close.
By about halftime of the opener, the world knew Newton was a franchise quarterback. He threw for 422 yards that day in Arizona. Then, he came back the next week and threw for 432 against Green Bay, and, suddenly, the Panthers had hope for the first time in a long time. They've still got it.
Yeah, both those games were losses, and, despite Newton's play, the Panthers have continued to do a lot of losing. They're 2-7 and we are talking about a game that's supposed to be the ultimate team sport.
But Rookie of the Year isn't a team award, which is significant because if you factored in the play of Carolina's defense, Newton would be wearing heavy anchors on both his legs.
Rookie of the Year is an individual honor, and even if it wasn't, Newton still would have the edge. He's thrown for about 800 yards more than Dalton. Oh, and since we mentioned Newton's legs, let's take a look at rushing stats. Newton has rushed for 374 yards and seven touchdowns.
Dalton has run for 26 yards. If you really want to pad his stats, you could say he's run for 78 feet, which is nice. But we've seen Dalton before. He compares nicely to guys like Ryan, Bradford,
Joe Flacco
and
Mark Sanchez
as rookies.
We've never seen anything like Newton before. You could say he runs like
Tim Tebow
or
Michael Vick
. Or you could say he throws like
Dan Marino
or
Peyton Manning
. You've never been able to say both things about any single quarterback. Until now.
Yeah, Newton's not perfect. He has thrown 10 interceptions (but Dalton has thrown nine on 40 less attempts). It also would be nice to see Newton get some wins. But those will come next season when the Panthers have had time to rebuild a defense that got shredded by injuries.
This is about this year. There's no question Newton and Dalton have turned heads. But Newton is the only rookie who has had heads spinning.
January, 25, 2010
1/25/10
1:23
AM ET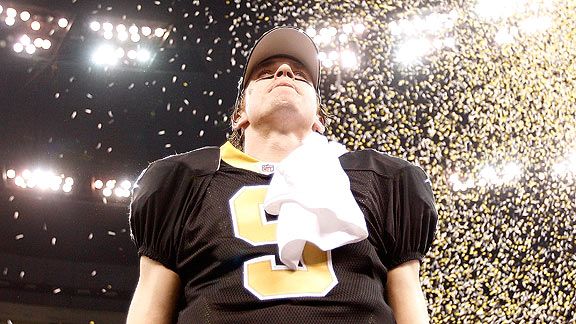 Chris Graythen/Getty ImagesDrew Brees and the Saints are going to the Super Bowl for the first time in franchise history.
NEW ORLEANS -- If you weren't in the Superdome on Sunday night, and a lot of
New Orleans Saints
fans are going to claim that honor for years, let's make you feel as if you were.
Let's turn it over to Jerry Romig, the official public address announcer in the Louisiana Superdome. If you've been to a Saints game, you've heard the voice because Romig has been here for a long time. Here's the microphone, Jerry:
"Ain't this beautiful?" Romig said over the speakers a couple of minutes after the Saints defeated the
Minnesota Vikings
31-28
in overtime in the NFC Championship Game. "The Saints are going to the Super Bowl.''
There, you heard the official word -- and isn't it kind of ironic that Romig used the word "ain't"? Yes, the team that once was called the Aints and had fans wearing bags over their heads, is going to the Super Bowl. They'll play the
Indianapolis Colts
-- and New Orleans native
Peyton Manning
-- in Super Bowl XLIV in Miami on Feb. 7.
It's over now, but what a strange path the Saints took to get there -- both Sunday night and throughout their history.
"Anybody want a rejuvenated ulcer?'' an elevator operator in the Superdome press box asked a few minutes after the game.
"I'm just trying to congest all this,'' a fan said as she walked down a Superdome tunnel.
Congest it, ingest it, digest it or whatever, but enjoy it. This was about more than one of the best postseason games in NFL history. This was about the city of New Orleans, really the whole Gulf region. From Bogalusa to Lake Charles, La., from Biloxi, Miss., to Mobile, Ala., and even into parts of extreme northwest Florida, they're celebrating more than the first Super Bowl trip in franchise history.
They're celebrating a way of life -- a way of life that's helped this region come back from one of the worst natural disasters in history.
"Brett Favre is a great story,'' New Orleans linebacker
Scott Fujita
said. "But the New Orleans Saints are a better story.''
Fujita's right. What happened Sunday night was about history and legacies, but not about Favre. Sure, the stage was set for another legendary Favre moment. You know, something like the old gunslinger comes home (he grew up just up the road in Kiln, Miss.), takes an incredible beating, spends most of the game limping around and, in the end, makes a play to take his team to the Super Bowl.
Another chapter in the storybook. And all of it except the very last part came true. On a night when
Adrian Peterson
and
Percy Harvin
were bouncing balls off the Superdome floor, Favre almost overcame them.
But you want to talk about overcoming things? Let's go back to the Saints and the community around them.
"This is for everybody in this city," coach Sean Payton said as he raised the George S. Halas Trophy over his head. "This stadium used to have holes in it and be wet. It's not wet anymore."
No, it's not. Looking out at the Superdome floor afterward, all you could see was confetti. Lots and lots of it. You also could see Payton dressed in a suit, throwing passes to his son and a few of his friends.
It's playtime for the Paytons and party time for Saints fans everywhere. The days of rooting for lovable losers are over. The misery is over. At least for one night, what happened a little over four years ago is a distant memory, kind of like Archie Manning and Tom Dempsey.
What happened was the world changed for New Orleans. Hurricane Katrina hit. The city and the region were devastated.
"The city is on its way to recovery and in a lot of ways it's come back better than ever," New Orleans quarterback
Drew Brees
said.
The Saints have come back better than ever, after temporarily seeking shelter in San Antonio, and that has done a lot to boost morale. But this moment is, without a doubt, the highest point yet.
"We said we were going to keep fighting until they kick us off the field and go home,'' New Orleans linebacker
Jonathan Vilma
said.
That's exactly what the Saints did Sunday night and, really, what their fans have been doing since the hurricane. The Saints beat the heck out of Favre, repeatedly stripped the ball from the hands of Peterson and Harvin and won the turnover battle five to one.
Still, in the end, they needed Favre to try to throw a cross-field pass that turned into an interception near the end of regulation, and a 40-yard field goal by 23-year-old kicker
Garrett Hartley
to win it nearly five minutes into overtime.
Hartley's kick replaces Dempsey's 63-yard field goal as the most famous kick, and probably the most famous play, in New Orleans history.
But you want one play to define this moment and the history of the Saints and New Orleans? Turn back to just before the end of the first half, with the score tied 14-14 and
Reggie Bush
standing near his own end zone waiting to field a punt.
Bush failed to catch the ball and the Vikings recovered at the New Orleans 10-yard line with 1:13 left in the first half.
"That's a gut-wrenching feeling," Bush said.
Bush could have been the goat to top all goats in Saints' history had the Vikings punched in a quick touchdown and gone on to win. Thing is, this time, it didn't happen.
Two plays later, Favre and Peterson messed up an exchange on a handoff and Fujita recovered. Payton made it a point to have Brees hand the ball to Bush on the next two plays as the Saints ran out the clock.
That was about keeping confidence and a shot at redemption. We're not just talking about Bush's confidence or about Bush's redemption, although he did score the final New Orleans touchdown. We're talking about redemption for a franchise, a city and an entire region. Bush just happened to sum it all up perfectly in what he did on the field and what he said after the game.
"For anybody who thinks we didn't deserve to win, they weren't watching the same game we were," Bush said.
April, 24, 2009
4/24/09
12:46
PM ET
Posted by ESPN.com's Pat Yasinskas
It's time for Tampa Bay's selection in the readers' mock draft.
This was one of the closest races in the entire NFC South as 14 different players received votes to be taken as the No. 19 pick. Let's put it in your hands to announce the pick.
John in Orlando writes: With pick #19 of the 2009 NFL draft, the Tampa Bay Buccaneers select, Defensive Tackle Peria Jerry out of The University of Mississippi. In addition, the Bucs also take Smokin Joe Burnett somewhere in the 5-7th rounds. Perfect replacement to Ronde Barber, just saying
Kevin in Tampa writes: Buccaneers should take Peria Jerry. No question this is the Bucs biggest need. If they can't stop the run up the middle this could be a long season.
Eric in Paris writes: The Bucs should take The DT Peria Jerry from Ole Miss. Even if he's not the really big kind of tackle that Bates wants in his system, we really need help in the D-Line. Not sure Michael Johnson is worth this spot.
As I said, the voting was close. Peria won this election by eight votes. Illinois cornerback Vontae Davis finished second and Kansas State quarterback Josh Freeman was third. There also was pretty strong support for Florida State defensive end Everette Brown, but many of you pointed out you think he might be gone before Tampa Bay's pick and I think that's entirely possible.
Florida receiver Percy Harvin and Boston College defensive tackle Ron Brace also were very much in the mix and a lot of you suggested the Bucs could trade down and still draft Brace. I like that scenario, but we'll deal with trades when they happen.
I'll be back in a little while with your pick for Atlanta at No. 24.
March, 25, 2009
3/25/09
12:21
PM ET
Posted by ESPN.com's Pat Yasinskas
I spent a good chunk of the morning on a conference call with ESPN draft guru Mel Kiper Jr. He covered a lot of ground on stuff I'll be writing over the next few weeks.
But I just wanted to share Kiper's assessment of Florida wide receiver Percy Harvin.
"He's Reggie Bush as a Saint," Kiper said. "Not Reggie Bush at USC, but Reggie Bush as a Saint."
The translation is that Kiper views Harvin as a guy who can do a lot of different things -- line up at receiver or in the backfield and as a return man. Kiper said that versatility could give Harvin an edge over other receivers ranked near him. The part about USC is a reminder that Bush hasn't been nearly as dominant as he was in college, but still has been able to contribute in a lot of areas in the NFL.
Kiper said he expects Harvin to go in the middle of the first round. The Saints hold the No. 14 pick, but you can scratch Harvin from their list. They've already got one Bush and plenty of other receivers.
But don't rule out Tampa Bay at No. 19. Kiper still thinks quarterback Josh Freeman is a possibility there, but said he might not be ready to start as a rookie. The Bucs could go defense with their first pick. But adding someone like Harvin might make Luke McCown, who already is in place, look a lot better as the starting quarterback.