NFC South:

Pete Carmichael Jr.
January, 10, 2014
Jan 10
8:00
AM ET
METAIRIE, La. -- The
New Orleans Saints
denied the
Miami Dolphins
permission to interview director of player personnel Ryan Pace for their general manager vacancy, according to FOX's Jay Glazer and later confirmed by ESPN.com. The reasons were not specified -- though teams can generally deny such interviews if the promotion isn't substantial enough. Different teams give different levels of power to their general managers.
Pace is obviously highly valued in the Saints organization. He was promoted this year to his current role, where he oversees all pro and college scouting. Previously, he served as the team's pro scouting director. Before he joined the Saints in 2001, Pace played defensive end at Eastern Illinois from 1995-1999 (coincidentally the same alma mater as coach Sean Payton, since Pace predates Payton in New Orleans).
Pace, who works under longtime Saints general manager Mickey Loomis, has long been in charge of the Saints' evaluation of pro talent available from other teams and in free agency -- as well as scouting upcoming opponents.
Meanwhile, there have been no reports of any Saints coaches being requested for interviews around the league. Offensive coordinator Pete Carmichael Jr. and defensive coordinator Rob Ryan have both been head-coaching candidates in the past, but neither has surfaced as a candidate so far this year.
Ryan is a particularly fascinating candidate since he has such a colorful personality. But considering the remarkable job he has done with the Saints defense, the way he is beloved by players and appreciated by the rest of the organization, he could resurface as a prospect in the near future. He's even shown more restraint than past years with the media -- while remaining an extremely entertaining and insightful interview.
Carmichael, meanwhile, does not have a dynamic public personality. But his offensive mind and pedigree has made him an attractive candidate. And the recent success of similar-style offensive thinkers like Marc Trestman and Joe Philbin can't hurt his chances.
Quarterbacks coach Joe Lombardi got some looks as an offensive coordinator candidate last year, as well. That's a promotion that seems inevitable at some point.
Worth repeating:
Ryan has made no secret about how thrilled he's been to wind up with a winning organization like the Saints this year. He stressed that again Thursday when asked about being in the playoffs for the first time as a defensive coordinator (though he was quick to point out that he had won six playoff games in the past as a linebackers coach with the
New England Patriots
).
"This is a great place to come to work. I have a smile on my face every day," Ryan said, "because I've been on other roads that weren't quite as much fun to get to work to, I can promise you."
Galette the 'Good Guy':
Saints outside linebacker
Junior Galette
was named the 2013 winner of the Jim Finks Good Guy Award -- as voted on by the local media each year. The award recognizes a player for his professionalism and cooperation with reporters in doing their jobs.
Galette was a deserving winner in a locker room loaded with deserving candidates. He's always available during the week, after wins or losses. He's honest. And he's colorful, too, which doesn't hurt. As I wrote about Galette earlier this year, I'm not sure I've ever met a player
as fired up about football
as he has been since the day he arrived as an undrafted free agent in 2010.
Past winners on the current roster include
Zach Strief
,
Malcolm Jenkins
and
Drew Brees
.
Road rituals:
As Saints coach Sean Payton
tweeted on Thursday
, the Saints stuck with many of the new road rituals that served them well on their trip to Philadelphia last week -- with some slight tweaks. The Gatorade bottles in his picture were blue and orange, instead of green. And the travel sweat suits were new. This time they're gray -- and they have a No. 3 on it instead of a No. 4. Clearly, players are eager to earn the sweats with No. 2 and No. 1 on them.
Worth a click:
ESPN.com's Kevin Seifert examines whether or not Payton and the Saints put
too much emphasis
on dealing with the crowd noise in Seattle the last time around.
In this article that
requires Insider access

, ESPN.com's Mike Sando takes a look at what a fearsome player Seattle safety Kam Chancellor is -- and how that affected tight end Jimmy Graham on one play in the first matchup.
ESPN.com Seahawks reporter Terry Blount expects quarterback Russell Wilson to remain
cool under pressure
in his second playoff appearance -- since he was already that way as a rookie last year.
January, 9, 2013
1/09/13
5:26
PM ET
Time for an afternoon look at some odds and ends from around the division:
TAMPA BAY BUCCANEERS
Scott Reynolds
mentions
Florida State cornerback Xavier Rhodes, LSU linebacker/defensive end Barkevious Mingo and Texas A&M defensive end Damontre Moore as players the Bucs could target with the No. 13 overall pick in the draft. A lot can change with the college all-star games and the combine. But I don't think it's a stretch to expect the Bucs to look long and hard at a bunch of defensive prospects.
NEW ORLEANS SAINTS
General manager Mickey Loomis had a season
wrap-up session
with the local media. There were a fair amount of questions about the future that he couldn't touch. But Loomis did say that contracts have been offered to the assistant coaches whose deals are expiring. There have been reports that offensive coordinator Pete Carmichael Jr. and offensive line coach Aaron Kromer no longer are under contract. Carmichael has interviewed for the spot as the head coach in Chicago.
The Saints made the
official announcement
that coach Sean Payton has signed a contract extension. The two sides agreed to the terms of a deal more than a week ago, but it took some time to work out the final details.
CAROLINA PANTHERS
The Panthers have hired Dave Gettleman as their general manager. I'll have analysis on this shortly.
ATLANTA FALCONS
Defensive end John Abraham (ankle) and safety William Moore (hamstring) each
practiced on a limited basis
Wednesday. Coach Mike Smith said he expects both players to be ready for Sunday's playoff game with Seattle.
January, 3, 2013
1/03/13
9:28
AM ET
Let's take a look at the top headlines from around the division:
TAMPA BAY BUCCANEERS
Mark Cook writes that the Bucs
likely will release
cornerback Eric Wright sometime this offseason. No surprise there. Ever since Wright's suspension for using a banned substance voided his guaranteed salary for 2013, it's been pretty obvious Wright's on his way out of Tampa Bay. The Bucs can free up $7.75 million in salary-cap space by releasing him.
In this
radio interview

with Mike & Mike, coach Greg Schiano previews the playoffs by talking about the Falcons, Vikings, Redskins and Broncos. He makes them all sound like Super Bowl contenders.
NEW ORLEANS SAINTS
Offensive coordinator Pete Carmichael Jr. reportedly will
interview
for the spot as head coach with the Chicago Bears on Thursday. Carmichael is sort of a quiet guy, but he's recognized as one of the best offensive minds around the league and it could be his time to take the next step.
CAROLINA PANTHERS
Joseph Person writes that the fate of coach Ron Rivera remains
a mystery
. That may be cleared up soon. Rivera is supposed to meet with owner Jerry Richardson soon, perhaps as early as Thursday. If Richardson is making a move, he better act fast. Other teams already are interviewing candidates for their vacancies.
ATLANTA FALCONS
We've talked a lot about how the Falcons have increased their use of screen passes since the arrival of offensive coordinator Dirk Koetter. Quarterback Matt Ryan said the screen game has become
an extension
of the running game. He has a good point. Atlanta's running game hasn't done a lot this year. But, if you factor in the screen passes that have been thrown, the performance of the running backs becomes a little more impressive.
There's been a lot of talk about how the Falcons are a different team than they were in 2010 when they also went 13-3 and held the No. 1 seed in the playoffs. That team got beat by Green Bay. Linebacker Sean Weatherspoon said the
lessons learned
from that painful experience are what make this team different from the 2010 squad.
July, 18, 2012
7/18/12
9:51
AM ET
A look at Wednesday morning's top headlines from around the division.
May, 17, 2012
5/17/12
1:00
PM ET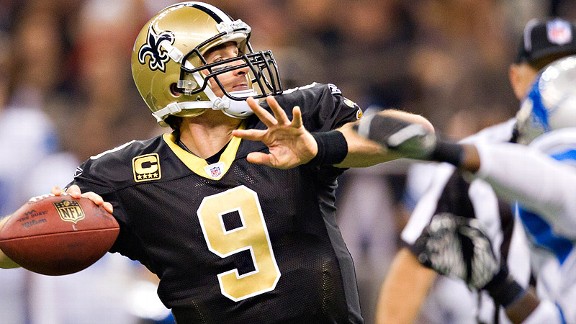 Wesley Hitt/Getty ImagesThe Saints may have lost coach Sean Payton, but they still have quarterback Drew Brees.
There's been a lot of speculation that all the offseason turmoil is going to cause the
New Orleans Saints
to crumble.
I'm not buying that at all. Neither are the other three NFC South teams.
Just take a look at what the
Atlanta Falcons
,
Carolina Panthers
and
Tampa Bay Buccaneers
have done this offseason. I think you can look at every major move they've made and see they all have a common root. Everything the Falcons, Panthers and Bucs have done is at least partially designed to counter the team that has won the NFC South two of the last three seasons.
Yes, you can take suspended coach Sean Payton away from the Saints for the season, but you can't take Payton's influence out of an offense that put up record-setting numbers and has been piling up points since his arrival in 2006. Offensive coordinator Pete Carmichael Jr. simply will pick up the remote control, hit a button, and
Drew Brees
will start throwing deep for
Marques Colston
,
Devery Henderson
and
Lance Moore
and dumping off shorter passes to
Darren Sproles
and
Jimmy Graham
and letting them do their damage in open space.
And, yes, middle linebacker
Jonathan Vilma
is suspended for the season and defensive end
Will Smith
will be suspended for the first four games. But the Saints may be better off with former Atlanta middle linebacker
Curtis Lofton
than they were with Vilma, who was slowed by knee problems last year. New defensive coordinator Steve Spagnuolo is putting together successful and consistent defenses. If he can do that in New Orleans, the Saints could be every bit as good -- or better -- than they have been in recent seasons.
The rest of the NFC South knows it and has acted accordingly.
[+] Enlarge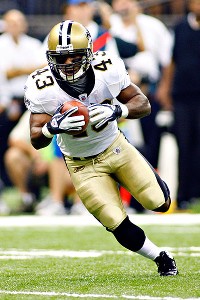 John David Mercer/US PresswireLast season, the other NFC South teams struggled to find an answer for running back Darren Sproles.
The Panthers and Bucs are generally viewed as teams on the rise, but they still have a long way to go to catch the Saints. The Falcons have been good the last four years, but they haven't been able to overtake the Saints as the division's dominant team.
Everybody's still chasing the Saints, particularly Sproles and Graham, who each present unique matchup problems. That's because Graham isn't the typical tight end and Sproles is unlike any other running back. Graham's a former basketball player, who had 99 catches for 1,310 yards and 11 touchdowns last season – his first full season as a starter.
Sproles joined the Saints last season and Payton figured out more ways to use him than the Chargers ever did. Sproles had a career-best 603 rushing yards, while sharing carries with
Pierre Thomas
,
Mark Ingram
and
Chris Ivory
. Sproles isn't just a running back. He sometimes lines up at wide receiver or in the slot and caught 86 passes last season for 710 yards and seven touchdowns.
It's safe to say Sproles and Graham are a big part of the reason Carolina used its first-round draft pick on linebacker
Luke Kuechly
. Even with
Jon Beason
and
Thomas Davis
coming back from injuries that kept them out most of last season, the Panthers still craved another linebacker with the speed to stay with Graham for brief stretches and bring some hope of sometimes being able to bring down Sproles before he can accelerate in empty space. Carolina showed some offensive life with the arrival of
Cam Newton
last season and the Panthers are going to score their share of points.
But they know they have to slow the New Orleans offense to have any shot at winning the division.
It's kind of a similar story in Tampa Bay. The Bucs used the No. 7 overall pick in the draft on Alabama strong safety
Mark Barron
. They then used a second-round pick on Nebraska linebacker
Lavonte David
. Barron's known as a big hitter and has the size to potentially cover Graham and the speed to potentially chase Sproles. The Bucs have a similar vision for David, who is known for his quickness.
In some ways, Atlanta's offseason also was spent on trying to counter Sproles and Graham. They let Lofton depart as a free agent, mainly because he wasn't viewed as a three-down player in the scheme being put in by new defensive coordinator Mike Nolan. The Falcons would rather let outside linebackers
Sean Weatherspoon
and
Stephen Nicholas
stay on the field every down and try to stay with Sproles and Graham.
But Atlanta's offseason went beyond dealing with just Sproles and Graham. When teams have had success keeping those two in check, they usually pay for it by getting burned by Brees throwing deep to Colston, Henderson and Moore.
The Falcons have had first-hand experience with that in the past. That's why one of the first things Nolan said upon taking the job is that he believes it's necessary to have three starting-caliber cornerbacks. That wasn't just idle talk. The Falcons laid low through free agency, but just before the NFL draft, they went out and traded with Philadelphia for Pro Bowl cornerback
Asante Samuel
. Throw him on the field with
Dunta Robinson
and
Brent Grimes
and the Falcons at least have a chance against Brees and the deep game.
The gap between the Falcons and Saints isn't as big as it is for the Panthers and Bucs. That's a reason why the Falcons were able to go one step further and address an area where they might be able to exploit one of New Orleans' few weaknesses. The Saints aren't known for having a dominating defensive line. The Falcons went out and drafted
Peter Konz
, who they plan to use at guard, and offensive tackle
Lamar Holmes
. The Falcons want to get younger and more athletic on the offensive line. They want to give quarterback
Matt Ryan
an opportunity to throw downfield more often.
Ryan will probably never get the chance to put up Brees-like numbers, but the Falcons are looking at every way possible to pull closer to the Saints.
So is the rest of the NFC South. Despite everything that's happened with New Orleans in recent months, the Falcons, Panthers and Bucs are still looking like they're chasing the Saints.
May, 14, 2012
5/14/12
7:46
PM ET
We're finally reaching the point where there's some football news out of the
New Orleans Saints
.

The team had its rookie minicamp over the weekend and assistant head coach Joe Vitt, who is stepping in for suspended coach Sean Payton, and the coordinators met with the New Orleans media Monday afternoon. There was no major news, but I'm looking at the transcripts and seeing several items that are worth discussing.
The veteran Saints have yet to hit the field in their offseason workouts, but that will come next week. With the contract situation of quarterback
Drew Brees
still very much up in the air, the Saints have to prepare to take the field without their leader. The Brees situation could change with a phone call, but the Saints are preparing to begin their on-field workouts with
Chase Daniel
and
Sean Canfield
as their quarterbacks.
"We're going to throw the volume of offense at them that we would in a normal week,'' offensive coordinator Pete Carmichael Jr. said. "It won't be any different in that aspect."
The Saints aren't ruling out the possibility of adding another quarterback before they hit the field. They had
Brian Brohm
in for a tryout during the camp and could possibly sign him or someone else in the coming days. But, for the moment, they're looking at proceeding with the quarterbacks they have under contract.
"This is going to be an opportunity for Chase and Sean to get more reps and get a good look at those guys,'' Carmichael said.
There have been reports the Saints and Brees have made no progress toward a long-term contract. Vitt said the negotiations are between general manager Mickey Loomis and Brees' agent, but still remained optimistic that the quarterback will have a contract before training camp.
"I've never been a math major and I'm not an accounting major so there's nothing I could advise Mickey to do that what he already knows how to do,'' Vitt said. "Those guys are both on the same page and have the same aspirations and same goals. This is going to get done. I don't (believe) anybody ever thought it was going to be easy. I think they're both working to the same goal."
Vitt and the coordinators also addressed several other topics of significance.
The Saints have re-signed veteran kicker
John Kasay
, who stepped in last year when
Garrett Hartley
was injured. Special teams coordinator Greg McMahon said neither kicker is guaranteed a roster spot.
"We're going to make it competitive, absolutely,'' McMahon said. "All phases of our team are. We re-signed John for a reason. Garrett knows that and it will certainly be good competition. It's healthy. It's good for us."
Uncertainty remains about the status of linebacker
Jonathan Vilma
and defensive end
Will Smith
. The NFL has suspended Vilma for the entire 2012 season and Smith is scheduled to be suspended for the first four games of the season for their roles in the bounty program. But those suspensions are on hold because both players have appealed.
"Both of those players were in the building today and we're moving forward,'' Vitt said. "We had a great film session with these guys. I think I have to go back to what we said a couple weeks ago. We're trying to win today. Today, we got a little bit better than yesterday. This weekend we got a little bit better than the previous weekend. We're going to adjust those challenges when we have to face them."
Vitt also said the Saints will open training camp at their facility in Metairie, but suggested they will spend some time practicing against one of their preseason opponents. The Saints open the preseason by playing in the Hall of Fame game in Canton, Ohio against the
Arizona Cardinals
. They follow that with a road game in New England, home games with Jacksonville and Houston and close out the preseason with a game at Tennessee.
"We'll open up (camp) a little early because we have the Hall of Fame game and then we'll probably go and practice against one of our upcoming opponents in training camp,'' Vitt said. "I think Mickey's ready to talk about it in a week when it gets settled, but we'll go away, kind of like we did in California (last preseason) for a week. We did it two years before that in Houston. We'll go away and practice with an opponent that we have in our preseason schedule."
Vitt also addressed the status of running back
Mark Ingram
, who recently had arthroscopic knee surgery.
"I think anytime you see a player limping around with a late-season offseason surgery like he had, you're concerned,'' Vitt said. "What I'm not concerned about is his dedication to getting better and his accountability to his teammates. He's shows up to treatment on time every day. He's not late. He's taken a good business approach to this thing. The surgery is probably something that he didn't have to get done, but as an organization we all agreed that he should get it done to make him a stronger player. Mark a dependable guy now. He's not going to miss his treatment. He gets his work done. You're concerned obviously with this, but not much with him."
Vitt said the Saints may proceed cautiously with Ingram at the start of training camp, but have no doubt he'll be ready for the beginning of the regular season.
May, 14, 2012
5/14/12
12:21
PM ET
There already has been a lot of media coverage out of the weekend rookie minicamps held by the
Atlanta Falcons
and
Carolina Panthers
.
The
New Orleans Saints
also had a rookie camp over the weekend, but there's been very little talk about that. There's a reason for that -- the camp wasn't open to the public or the media.
But the Saints will have a media session late Monday afternoon, where assistant head coach Joe Vitt, defensive coordinator Steve Spagnuolo, offensive coordinator Pete Carmichael Jr. and special teams coordinator Greg McMahon are scheduled to review the minicamp.
According to the minicamp roster sent out by the Saints last week, the more than 20 rookie free agents were scheduled to take part on a tryout basis. Draft picks and undrafted rookies previously signed also were scheduled to take part. The Saints also were scheduled to bring in some veterans for tryouts. That list was highlighted by quarterback
Brian Brohm
. Other players with NFL experience who were scheduled to try out included linebacker Tressor Baptiste, defensive end Alex Daniels, defensive end William Davis, offensive tackle Hutch Eckerson, cornerback
Brian Jackson
, punter Kenneth Parrish, tight end
Derek Schouman
, fullback
Frank Summers
and linebacker Lawrence Wilson.
The Saints are likely to sign some of the rookies and veterans that were in for tryouts. We'll have more on that and a wrap-up of the Saints' minicamp after Vitt and the other coaches meet with the media.
August, 21, 2010
8/21/10
11:20
AM ET
Mario in Panama writes:
The last time I checked, the Saints had the best offense on earth, but the 20th+ defense, yet everybody speaks about Gregg Williams and no one seems to care a bit about the work of Pete Carmichael. I guess the results of the Saints offense is not the sole responsibility of Sean Payton and
Drew Brees
, and if you take a careful look you'll see that the level of talent (draft) on the defense is higher. What's your opinion?
Pat Yasinskas:
You brought up an excellent point. While Sean Payton certainly plays a big role in the offense and calls the plays, Pete Carmichael Jr. is the offensive coordinator. A lot of people don't know much about him or just overlook him. Part of that's because he's not a very flashy guy. But he's very respected by the players and other coaches. Here's a
story I did on Carmichael
back in January.
---
Panthers fan in Charleston, S.C., writes:
There has been talk about the development of receiver
Armanti Edwards
, who is transitioning from college quarterback to NFL receiver. There are three more pre-season games left to play for the Panthers. What, in your opinion, is a relevant time-table to bring Edwards up to speed?
Pat Yasinskas:
Edwards is making a major position switch. A lot of rookie wide receivers who played that position in college struggle to adjust to the NFL. That means there are a lot of obstacles for Edwards to overcome and a lot for him to learn. The Panthers are realistic about him. They believe he has great potential, but I've been told we probably won't see much of him at wide receiver until at least the second half of the season.
---
Jerry in Fort Myers, Fla., writes:
I've been disappointed recently on how much attention
Matthew Stafford
,
Mark Sanchez
and now
Sam Bradford
are getting in the national media compared to
Josh Freeman
. I think you've done a great job pointing out that Freeman has looked like he's made a lot of strides this off season and might be poised to have an improved season, but I'm wondering why you think Freeman gets so much less attention. Do you think it has to do with the small market? Disrespect for the NFC South? Or are the other young signal callers just that much better?
Pat Yasinskas:
I think Freeman can be as good – or better – than any of the quarterbacks you mention. Markets and draft position can play a factor in how much attention a player gets. But, if I had to put my finger on one reason why Freeman's not getting a lot of attention right now, it would be Tampa Bay's 3-13 record last season. That pretty much made them disappear from the national radar. If they go out and win some games, Freeman and the Bucs will get attention.
---
Alan in New Orleans writes:
I must say I've been surprised to see you enthusiastic about cutting the preseason down to two games in favor of an 18-game season. As a Saints season ticket holder and a general NFL fan, I'm all for more meaningful games (especially when I'm paying to attend). Having watched a fair amount of preseason football these past two weeks though, I don't recall seeing a single team that looks ready for the real thing yet. After watching the Falcons last night, for instance, can you say they're ready to play a game that counts next Sunday? In my view, having four preseason games gives coaches time to evaluate players, plays, schemes, and packages that they might not be willing to experiment with in a regular-season game, making the product on the field for weeks 1-16 that much better. I'm not sure the trade-off is worth it for two additional mediocre games between teams that are still trying to find a rhythm.
Pat Yasinskas:
Your points are all taken. But I think the NFL is headed for an 18-game season. The league's been making a lot of noise about that and cutting two preseason games would be part of that package. I'm not a big fan of preseason football, and neither are most coaches and players. If the preseason is cut to two games, I think you'll see coaches treat the exhibitions a little differently. There will be more urgency to get the starters ready. I also think that you would see a lot more teams doing combined practices or scrimmages. Some coaches think those are as valuable as preseason games.
January, 26, 2010
1/26/10
1:00
PM ET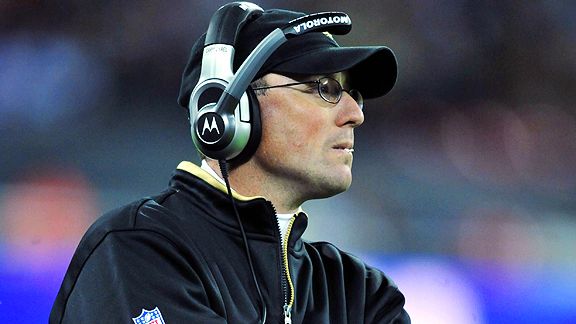 Kirby Lee/US Presswire
He may not call the plays, but coordinator Pete Carmichael Jr. plays a very important role in the Saints' record-setting offense.
If you saw Pete Carmichael Jr. sitting behind the table in the
New Orleans Saints
practice facility last Friday, you never would have guessed he was the coordinator of the No. 1 offense in the NFL.
He appears even younger than his 38 years and, with the baseball hat and glasses, you might have mistaken him for a high school coach. But let's not sell Carmichael short.
This guy might be close to invisible to the public, but he's a key reason the Saints are in their first Super Bowl in franchise history. Carmichael is the guy between head coach Sean Payton and quarterback
Drew Brees
, a liaison from great to great. Some of that has to rub off. Heck, if Carmichael didn't have something special of his own, he wouldn't be in this position in the first place.
"He's invaluable,'' Payton said. "He's had two opportunities to leave (to become) coordinator elsewhere. Prior to becoming coordinator here, I think he was very instrumental in Drew Brees' success and I think Drew would tell you the same. He's done a great job.''
If you don't know much about Carmichael, you probably should. It's that time of year when coordinators who are still coordinating get mentioned as possible candidates for head coaching jobs, but there's a pretty good chance you've never heard Carmichael's name before you started reading this column.
Just minutes after defensive coordinator Gregg Williams finished a news conference Friday that sounded like a job interview or infomercial, Carmichael spoke to the media. It seemed like he wanted to hide. For 15 minutes, he answered questions softly and with a slight New England accent. He was polite, but Carmichael didn't appear all that comfortable talking about himself. There definitely wasn't a lot of salesmanship coming out in his words.
"From my perspective, it's great to be a part of it, and I'm working with two of the best minds in the game,'' said Carmichael, a native of Medway, Mass. "Really, every day, I'm seeing myself learn just little coaching points that Sean has or maybe even after a play, "Hey, Drew, what were you thinking?'' He has his reasoning for doing what he does. And you'll see Sean and him communicate that to each other.''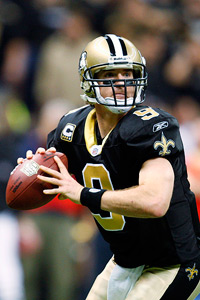 John David Mercer/US PresswireCarmichael was Drew Brees' quarterback coach for three years before being promoted to offensive coordinator.
You've heard all about the Payton-Brees relationship and how they both are great offensive minds. You know this is Payton's offense and the head coach is the play-caller. But don't fall into the easy trap of thinking that Carmichael is simply some "gofer'' with a title.
You don't get to be the offensive coordinator of the Saints unless you bring something pretty strong to the table. Even if he doesn't call the plays, Carmichael plays a critical role in running one of the most efficient offensive machines we've seen in recent years.
"Pete does a great job handling the meetings,'' Payton said. "Oftentimes, I'm not there preparing the lists. He deals with Drew on a day-to-day basis. He's extremely bright. He's got a great grasp of what we're doing and the changes we might make week to week in regards to what we're seeing defensively.''
When former offensive coordinator Doug Marrone left to become the head coach at Syracuse University late last season, Payton easily could have gone out and brought in a big name. Just about any coach would have loved to be the guy between Payton and Brees.
But Payton didn't take long to make a decision and he didn't do anything dramatic. Payton believed he already had a good thing going with Carmichael, a former Boston College baseball star, who started his career on the coaching staffs of New Hampshire and Louisiana Tech football before landing in the NFL.
Carmichael had been the Saints quarterbacks coach since this staff arrived in 2006. His relationship with Brees and his knowledge of the offense already was strong. Payton simply shifted Carmichael, who previously had been an assistant with the Browns, Redskins and Chargers, into the coordinator's role and promoted offensive assistant Joe Lombardi to take over as quarterbacks coach.
There has been no drop off. If anything, this offense is better than a year ago, in large part because the Saints have more balance between the running and passing games.
Carmichael's not jumping forward to take any of the credit, mainly because it doesn't seem like that's in this former math major's nature. Ask him about his role and he makes it sound like it's not all that important.
"With the title, when Sean's not around, he's doing these things or whatever he's got to be doing as a head coach to make sure what he wants getting done is getting done,'' Carmichael said. "So going into the offensive staff rooms, if he's not around [I'm] just making sure, 'Hey, guys, this is what Sean's thinking. Let's make sure we're getting it coached.' Really, you know, going into the quarterback meetings with Drew. Sean's not always able to be a part of that and communicating to Drew, 'Hey, this is what the head coach is thinking on this subject.'''
That might be the real key in Carmichael's job description -- knowing what Payton is thinking. If you do something like that long enough, maybe you become it. You know what one of the best offensive minds in football is coaching and you know how to communicate that to Brees.
"Yeah, I would say among a head coach and a quarterback, this is a place that relationship may be as good as I've ever seen,'' Carmichael said. "They're two similar people. Obviously, Sean's a great head football coach, but he's a great offensive mind. But the two of them, both of their brains are always working, you know. Looking to attack, attack, attack. I think the two of them have such a similarity outside the building, too, they enjoy doing the same thing, so their relationship is vital to our success."
Overlook Carmichael because he doesn't call the plays, if you want. But I think he's a very big cog in a very good offensive machine. Carmichael is the bridge between Payton and Brees.
To me, that doesn't sound like some minor role. That sounds like one of the most important jobs in the NFL.
January, 21, 2010
1/21/10
9:08
AM ET
METAIRIE, La. -- It's going to be another busy day out at the Saints' facility. Here's a quick rundown of what's going on.
The Saints will practice from 10:45 a.m. CT to 1:30 p.m. That's not open to the media, but coach Sean Payton will address the media as soon as practice is over and we'll give you whatever injury updates he has as soon as possible.
After Payton's news conference, defensive coordinator Gregg Williams, offensive coordinator Pete Carmichael Jr. and special teams coordinator Greg McMahon will meet with the media. The Saints will open their locker room from 2:15 p.m. to 3 p.m. for player interviews.
I'll bring you news and notes on all of that and I'll also be working on an extensive story about
Jahri Evans
, who seemingly has come from nowhere to become perhaps the best guard in the NFL. That story will run Friday afternoon and you'll find out all of the details about where "nowhere'' really is.
January, 12, 2009
1/12/09
6:47
PM ET
Posted by ESPN.com's Pat Yasinskas
Here's the full update to the previous item we had on assistant coach Bret Ingalls joining the Saints. That move is one domino in a series of moves the Saints just announced to solidify and offensive coaching staff that was shaken up late last season when coordinator/offensive line coach Doug Marrone left for the head job at Syracuse.
Ingalls has been added to the staff as running backs coach. Along with that move, the Saints have made three other moves, promoting Pete Carmichael Jr. to offensive coordinator and Aaron Kromer to offensive line coach and naming Joe Lombardi quarterbacks coach.
Carmichael has been with the Saints since 2006, when coach Sean Payton took over. He previously was quarterbacks coach. Kromer had been the running backs coach, although he also took over the offensive line when Marrone left before the final two games last season.
Ingalls was at Northwestern the last three seasons, starting as offensive line coach and taking on the title of running game coordinator last year.
"My philosophy in hiring coaches has always been to make finding teachers of the game and enthusiasm the biggest priorities during the interview process," Payton said. "Bret is well respected for his knowledge and communication skills with players. He has a wealth of experience working with several position groups and as a coordinator and I am very excited with what he will bring to our coaching staff."
Promoting from within on offense is a wise move since the Saints have been excellent in the passing game throughout Payton's tenure. Payton is heavily involved in the offense, so there shouldn't be much difficulty with the transition.
"Pete's promotion is well-deserved and I can't say enough about his ability, and Aaron did a great job with the running backs last year, particularly with the development of Pierre Thomas,'' Payton said. "Moving to the offensive line, where the majority of his NFL experience is, was a natural progression on our staff, and he'll also contribute to our game-planning with the running game.
"Joe worked closely with Pete last season and has a strong understanding of our philosophy on offense. I like the way these moves complete our offensive staff, and the promotions from within maintain our continuity on an offense that has been extremely successful."
Still waiting to hear what the Saints are going to do on defense, where they fired coordinator Gary Gibbs.