January, 28, 2014
Jan 28
10:00
AM ET
TAMPA, Fla. -- The NFL Nation survey asked 320 players around the league which coach they would most like to play for.
Seattle's Pete Carroll was the winner at 22.5 percent. I'm pretty sure former
Tampa Bay Buccaneers
coach Greg Schiano came in at 0.0. Schiano was known for being very stern and detail-oriented. Since his firing, cornerback
Darrelle Revis
has said Schiano's style created a lot of tension, and players didn't enjoy coming to work. I'm sure we'll hear similar tales from other members of the Bucs when they start minicamp and the offseason program.
But the good news is new coach Lovie Smith is viewed as being a lot more player-friendly than Schiano. Smith has high expectations for his players, but he also was known for giving his team some freedom when he was the coach of the
Chicago Bears
.
November, 26, 2013
11/26/13
12:00
PM ET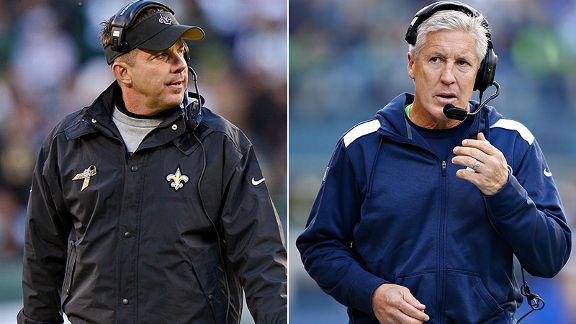 Getty ImagesSean Payton and Pete Carroll say their teams do not struggle on the road.
The road to the Super Bowl could run through Seattle or New Orleans. It's no secret that both the
Seattle Seahawks
and the
New Orleans Saints
have an edge when playing at home.
ESPN.com Seahawks reporter Terry Blount and Saints reporter Mike Triplett break down what winning Monday night's matchup might mean for each team.
Seattle Seahawks, CenturyLink Field:

Considering that the Seahawks have an NFL best 13-game home winning streak, which also is a franchise record, home-field advantage in the playoffs couldn't be more important for Seattle.
At least that's how most people perceive it. But the Seahawks' reputation as a bad road team is ancient history. Well, maybe not ancient, but it hasn't been true since December.
Seattle is 8-2 on the road since a 23-17 victory at the
Chicago Bears
on Dec. 2, 2012. That includes a 24-14 playoff win at the
Washington Redskins
.
The Seahawks are 5-1 away from home this season, which already has tied a franchise record. A victory in either of the last two road games -- at the
San Francisco 49ers
on Dec. 8 or the
New York Giants
one week later -- would produce the most road wins in a season in team history.
"I think that's a big accomplishment," Seahawks coach Pete Carroll said of the team's 5-1 road record. "We were 2-3 on the road last year at this time. I think that's a big improvement on a football team. I can totally feel it and see it in the way we approach it, the way we show up on game day and in the way we have played.
"It's been a much more consistent mentality, and it's given us a chance to win the games that have been very hard. We get stronger, we get smarter, and we have more resolve, I think, as we move forward."
The only two road losses since December were a playoff game at the
Atlanta Falcons
, a 30-28 defeat on a Falcons field goal with 23 seconds to play, and a 34-28 defeat at the
Indianapolis Colts
this season when Seattle led 28-23 in the fourth quarter before Colts quarterback
Andrew Luck
engineered a late comeback.
The Seahawks have outscored their opponents 259-180 in those 10 road games. And there's one other key point to bring up here. The road curse for the Seahawks over the years was games that started at 10 a.m. PT. Entering this season, Seattle was 19-34 in those games since 2001.
But the Seahawks are 3-1 in those games this season. Clearly, this is a different Seattle team on the road than the ones of the past. So having to play a playoff game on the road isn't a guaranteed season-ender that some people might think.
If the road to the Super Bowl goes through New Orleans, the Seahawks lost the last time they played there -- 34-19 in 2010.
Everyone knows the Saints are tough to beat at home, but no team has a home-field advantage like the Seahawks, something the Saints may find out the hard way Monday night. During the 13-game home winning streak, Seattle has outscored its opponents by an average of 30-13.
The Seahawks can win anywhere, but for this team, there's no place like home.
-- Terry Blount
New Orleans Saints, Mercedes-Benz Superdome:

Saints coach Sean Payton bristles at the notion that his team struggles away from home.
"I think it's a typical stereotype with a dome team," said Payton, who knows the topic will come up often this week as the Saints prepare for a Monday night road game in chilly weather against the Seahawks. "Someone needs to do a little research on it so that we don't spend time answering dumb questions."
The research shows that Payton is partly right. The Saints actually have the best regular-season road record in the NFL since 2009, at 24-13.
But they're 0-3 on the road in the playoffs in the Payton-
Drew Brees
era. And they're 5-7 overall in outdoor games in December and January when their starters have played.
The Saints aren't a bad road team. They're just a lot more human.
Meanwhile, it's obvious that the Saints are an entirely different monster inside the Superdome, where they routinely rout opponents -- especially in prime-time games. The Saints have won 12 straight home night games, including the playoffs, by an average score of nearly 20 points per game.
Thanks to the volume and the passion of the Saints' rabid fan base, it might be the best home-field advantage going in the NFL today -- unless that honor belongs to Seattle. Which makes this race for home-field advantage in the NFC playoffs doubly important for these two teams.
One of the Saints' three playoff losses infamously took place in Seattle three years ago, when the Seahawks sneaked into the postseason with a 7-9 record. The Saints weren't really done in by the weather or the crowd noise. Brees still threw for more than 400 yards. But New Orleans' defense broke down too many times in a 41-36 loss.
The Saints' other road playoff losses came at Chicago after the 2006 season and at San Francisco after the '11 season. The 49ers game was the same story as the Seattle game. The Saints still put up some monster numbers on offense, but they couldn't overcome early turnovers and late defensive breakdowns in a 36-32 loss.
The regular-season outdoor games have been a mixed bag: Since 2009, wins at Washington in '09, Cincinnati in '10 and Tennessee in '11; losses at Baltimore in '10 and at the New York Giants in '12.
Weather doesn't automatically shut down the Saints' precision passing attack. But clearly wind and rain can cause problems. (Some games at Tampa Bay come to mind, including a narrow 16-14 win earlier this year.) Especially frigid temperatures can also affect receivers' hands.
And although the Saints have been running the ball a lot more consistently over the past month, Seattle has been the better rushing team of the two this season.
I certainly think the Saints are capable of winning at Seattle -- either next week or in January, if needed. And I believe the confidence of guys like Payton and Brees, who insisted earlier this month, "It's not like we dread going on the road. Not one bit."
But it's pretty obvious why the degree of difficulty will skyrocket for either road team in this matchup.
-- Mike Triplett
January, 8, 2013
1/08/13
12:00
PM ET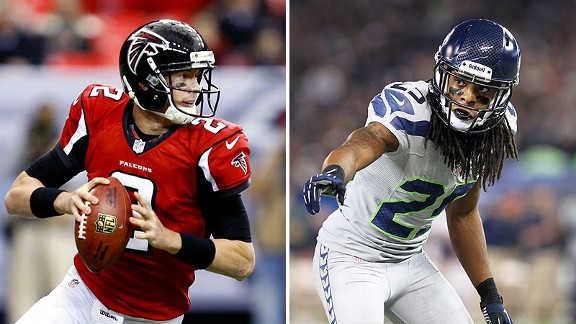 USA TODAY SportsIf Matt Ryan and the Falcons come out throwing, Seattle CB Richard Sherman stands ready.
Northwest meets Southeast when the
Seattle Seahawks
visit the
Atlanta Falcons
in an NFC divisional playoff game Sunday.
Seattle is fresh off its first road playoff victory since 1983, having won 24-14 at Washington in the wild-card round. The Seahawks are now 2-1 in postseason play during Pete Carroll's first three seasons as head coach.
As for the Falcons, well, you know the story. They're the No. 1 seed in the NFC and they'll be playing at home. But as NFC South blogger Pat Yasinskas can attest, they haven't accomplished anything yet.
That's where we pick up the conversation.
Yasinskas:
The world knows the Falcons have yet to win a playoff game in the Mike Smith-
Matt Ryan
era. That places enormous pressure on the Falcons, and the Seahawks look a little reminiscent of Atlanta's past two playoff opponents -- the Packers and Giants, who each went on to win the Super Bowl. The Seahawks won their last five regular-season games and seven of their past eight. Throw in their playoff victory against Washington on Sunday and you've got a team that's red hot. Atlanta has the better record and home-field advantage, but the playoff drought brings tremendous pressure. If the Falcons don't win this time around, the patience of owner Arthur Blank will become very thin.
Sando:
The Falcons' past struggles in playoff games have invited skepticism from a lot of us. I've taken heat from some Falcons fans this season for allegedly underrating Atlanta in the power rankings. How good is this team right now and how much confidence should Falcons fans have in this team against Seattle?
Yasinskas:
Yes, Atlanta fans have shared their opinions with me about where you ranked the Falcons on your ballot. But you might not have been that far off. The Falcons were a bit of an enigma much of the season. They were winning a lot of games, but weren't winning them impressively. They did come on late in the season, aside from a meaningless loss to Tampa Bay in the season finale. This is a team with a tremendous amount of individual talent, and the Falcons are very good at home. But they can't afford to revert back to their early-season ways of playing just well enough to win, because that might get them beat.
Sando:
The Seahawks are playing without the burden of expectations. They are very good at quarterback, running back and in the secondary. The read option has added an unconventional element to their offense. Still, winning a 10 a.m. PT game on the road against a very good offensive team will be tough. The Seahawks have started slowly in their past two games. I think they'll have a harder time if that happens again. Along those lines, have the Falcons been able to jump on teams early at home and finish them off? One memory I have is watching Arizona pick off Ryan five times.
Yasinskas:
The Arizona game was the only time in Ryan's life (including college, high school and youth league) when he's thrown five interceptions in a game. That was a fluke. Some of those balls were tipped. Ryan generally is very efficient. And starting fast is one of the trademarks of Ryan and the Falcons. Since Ryan entered the league in 2008, the Falcons have scored more points on their first offensive drives than any team in the NFL. They pride themselves on starting fast, and they're particularly good at that in the Georgia Dome.
Sando:
The Seahawks fell behind St. Louis and Washington early. They have shown an ability to come back. They were down by 13 to New England and won. They trailed Washington by 14 points and won. They're not slow starters by rule. Seattle was tied with Atlanta for seventh in first-quarter touchdown drives (11) during the regular season. It has been in only the past couple weeks that teams have thrown off the Seahawks early with their blitzes. Seattle came out passing against the Redskins. We'll see heavier early doses of
Marshawn Lynch
on Sunday.
Yasinskas:
I'm certain we will see heavier doses of Lynch. Stopping the run is not Atlanta's strength. The Falcons ranked 21st against the run in the regular season and they've been known to have problems with power runners. That's why it's crucial for the Falcons to get an early lead and force the Seahawks to pass. The other thing I think you'll see is a lot of middle linebacker
Akeem Dent
. The Falcons used a lot of the nickel package in the regular season, and that kept Dent on the sidelines. But against the Seahawks, I think it's more important for the Falcons to focus on stopping the run, and they'll want Dent on the field for that.
Sando:
Interesting. Seattle could counter by shifting into its three-receiver offense and then going with its read-option package. Lynch scored the winning 27-yard touchdown against the Redskins on an option run from three-receiver personnel against Washington's nickel defense. The option has become a reliable tactic for Seattle. Opponents have a tough time determining whether Lynch or
Russell Wilson
is going to run with the ball. They also must respect the play-action passing game. The Seahawks had 11 rushes for 110 yards on option runs on Sunday. They had 224 yards rushing overall. I noticed
Cam Newton
had 202 yards rushing in two games against the Falcons this season. What was the nature of those rushes and do you see anything Seattle can cull from that?
Yasinskas:
Newton did have success against Atlanta, but the Falcons still were able to split with the Panthers. They also held
Robert Griffin III
to one carry for 7 yards in an early victory at Washington. They won against another mobile quarterback in
Michael Vick
. So the Falcons have some experience in facing mobile quarterbacks and the read option. I'm sure they used the bye week to prepare to see it again because they knew they'd be facing Wilson or Griffin. Outside linebacker
Sean Weatherspoon
is the key player against the read option. He's the leader of the defense and probably the best player on the unit.
Sando:
The Panthers had 21 carries for 120 yards and a touchdown using the option against Atlanta in Week 4. There will be other keys to this game. Wilson's ability to deal with the Falcons' blitzes could be one of them. Wilson had seven touchdowns, no picks, three sacks and the NFL's third-best Total QBR score (87.2) against five-plus pass-rushers from Week 8 through Week 16. That included going 6-of-6 for 91 yards and a score with a perfect 100.0 QBR against the 49ers' blitzes during a 42-13 victory in Week 16. Wilson wasn't quite as good in this regard against the Rams in Week 17, taking three sacks against their pressure. The Redskins held Wilson to a season-low 9.7 QBR against the blitz. Wilson has taken eight sacks against the blitz over the past two games after taking eight total over the previous 15 games.
Yasinskas:
Wilson is incredibly poised. But he still is a rookie coming into a tough venue in a playoff game, so I'm pretty sure defensive coordinator Mike Nolan will try every way possible to pressure him.
Drew Brees
and
Matthew Stafford
were the only quarterbacks all season to have much success against Atlanta's blitzes. Nolan likes to mix things up. The Atlanta pass rush starts with defensive end
John Abraham
, but Nolan has found ways to complement him. Nolan's not afraid to drop defensive end
Kroy Biermann
into pass coverage and let a linebacker or a defensive back blitz. The Falcons often talk about "disguising" their pass rush, and I'm sure they'll try to do lots of that against a rookie quarterback.
Sando:
Wilson has generally improved as the season has progressed, but he has been hit-and-miss all season against DB pressure. Wilson has three touchdowns, two picks, four sacks and a 17.9 QBR score when opponents rush a member of the secondary. He did make Minnesota, Miami and San Francisco (twice) pay for the tactic, however.
There's so much to consider in this matchup, Pat, that we haven't even gotten to one of the most crucial ones. Seattle's 6-foot-4
Brandon Browner
and 6-3
Richard Sherman
can be dominant cornerbacks. They disrupt receivers' timing and generally get under their skin. You might recall Carolina's
Steve Smith
just about losing it against Sherman earlier this season. Even the Redskins' left tackle went after him Sunday. If the Falcons win this game, Ryan is going to be the reason, I think. Should the Falcons' receivers like their chances? Or could we see Ryan becoming a bit tentative against big, physical, ball-hawking corners?
Yasinskas:
I think the Falcons have to come out and be very aggressive with their passing game. It's the strength of their offense. This is a different team from those of the past.
Michael Turner
is at the end of his career and this is not a running team any longer.
Roddy White
and
Julio Jones
are big, physical receivers, so I say let's see strength on strength with Seattle's corners. I think White and Jones can get open against anyone, so the Falcons need to take their chances. Plus, this passing game is about more than just Jones and White. They command so much attention that tight end
Tony Gonzalez
and slot receiver
Harry Douglas
could be forgotten. I think Douglas and/or Gonzalez could end up being key players in this game.
Sando:
Seattle has been very good against tight ends for the most part. I'd be surprised if Gonzalez factored in a big way. Seattle has allowed three touchdown passes to tight ends this season, tied for second-fewest in the NFL. The Seahawks have allowed 10 scoring passes to wide receivers, the fifth-fewest in the league. Sherman had eight picks and three forced fumbles this season, joining
Ed Reed
,
Charles Woodson
and
Walt Harris
as the only players to reach those totals in a season over the past decade. The Seahawks are not as strong at nickel corner, however. And with leading sacker
Chris Clemons
likely out with a knee injury, life could get tougher for Seattle in the secondary.
Yasinskas:
Mike, like just about everyone in the media, I'm skeptical of the Falcons because of their recent playoff losses. But I think this is the year they finally get a victory in the postseason. This is a different team from past years. I think the Falcons will put the game in Ryan's hands and I think they'll win 28-20.
Sando:
I think the Falcons are finally ready to break through and win in the postseason. I'm just not sure they've drawn the right opponent to make that happen. Seattle is the more physical team. The Seahawks have beaten seven teams that finished the regular season with a winning record (the number is two for Atlanta). While Seattle was posting the NFL's best strength-of-victory percentage, the Falcons were fattening up on the NFL's easiest schedule. Atlanta is at once the No. 1 seed and the team stepping up in class. Ryan's going to need a great game to prove wrong my 27-20 prediction for another Seahawks victory.
March, 29, 2012
3/29/12
1:24
PM ET
Time for a trip through some NFC South headlines.
There has been some talk about how the Saints' woes could open the door for the rest of the NFC South. Here's
some more
and it focuses on the Panthers and Buccaneers. The Panthers clearly are a team on the rise. I like what the Bucs have done so far and Greg Schiano seems like the kind of coach that could build a winner. I also think the Falcons have a loaded roster and might be motivated by the fact they underachieved. Oh, by the way, I'm not ready to count out the Saints. As long as they have
Drew Brees
, you know they're going to score points.
Speaking of the Panthers, Seattle coach Pete Carroll was
singing the praises
of Carolina quarterback
Cam Newton
.
Bill Parcells said he'd be
a hypocrite
if he doesn't consider coaching the Saints. He obviously has strong ties to and a friendship with Sean Payton. Here's one other thought I had on this. If Parcells doesn't want to return to the rigors of coaching, maybe he could step into some sort of special assistant role like Butch Davis did in Tampa Bay. Davis has said he'll work with the coaching staff and front office. Parcells easily could do the same because he has experience in coaching and in the front office. That kind of role also could keep Parcells eligible for immediate election to the Pro Football Hall of Fame.
Detroit coach Jim Schwartz called
"the Race to 10'
' that former Tampa Bay coach Raheem Morris talked so much about foolish. Schwartz said it doesn't make sense to lock in on a specific number of regular-season victories. Schwartz said getting to the postseason is important, but what really matters is what a team does once it's in the playoffs.
Commissioner Roger Goodell said the Buccaneers
did not violate
the "spirit of the rule'' by spending so little on payroll in the uncapped 2010 season. The Cowboys and Redskins have been penalized for using too much cap space that year. Goodell said the Bucs and any other teams that had low payrolls are not facing any consequences because they didn't gain any competitive advantage from their approach.
February, 22, 2012
2/22/12
5:56
PM ET
There's been a lot of talk about Tampa Bay coach Greg Schiano bringing so many of his Rutgers assistants to the Buccaneers and the tone is generally skeptical.

The Bucs haven't officially announced their full staff of assistants yet, but it has been widely reported that Schiano has hired at least six coaches that were on Rutgers' staff with him last year. It also was reported that he has hired P.J. Fleck, who had just left Rutgers to become offensive coordinator at Northern Illinois. So we'll say Schiano is bringing seven assistants that were with him at Rutgers last season. Schiano also has officially hired defensive coordinator Bill Sheridan, who recently had been hired for the same job at Ohio State.

That's really not all that unusual. I just took a look back to 2010 when Pete Carroll left Southern California to take over the Seattle Seahawks. He brought eight members of his Southern California staff and hired wide receivers coach Kippy Brown away from Tennessee. So roughly half of Carroll's first staff, and we're including strength and conditioning coaches, came from the college ranks.

Butch Davis, who was hired as a special assistant to Schiano, talked about how it was important for Schiano to bring some coaches he had worked with before. That sort of includes Davis. Schiano was his defensive coordinator at the University of Miami.

I don't think it's a bad thing to bring in a bunch of coaches from the college ranks. These are guys Schiano knows he can work with and has enjoyed success with.

In some ways, that's better than what predecessor Raheem Morris did when he got the job in 2009. He hired offensive coordinator Jeff Jagodzinski and defensive coordinator Jim Bates from outside. He had never worked with either, although he knew Bates through Bates' son. But Morris was going mostly on reputations, not first-hand experience.

Jagodzinski was fired before the first training camp ended and Bates was fired 10 games into the first season.
January, 26, 2012
1/26/12
6:31
PM ET
By
Patrick Yasinskas
| ESPN.com
With Greg Schiano leaving Rutgers to take over the
Tampa Bay Buccaneers
, it naturally brings to mind other college coaches who have gone to the NFL.
The general rule of thumb, at least in recent years, is most of those guys don't have a lot of success. But San Francisco's Jim Harbaugh kind of broke that rule in 2011.
With some help from ESPN Stats & Information, let's take a look at some notable coaches who have jumped from college to the NFL and their records in their first pro year:
2011 Jim Harbaugh, 49ers, 13-3
2010-11 Pete Carroll, Seahawks, (Carroll previously was an NFL head coach twice)
2007 Bobby Petrino, Falcons, 3-10
2005-06 Nick Saban, Dolphins, 15-17
2002-03 Steve Spurrier, Redskins, 12-20
2001-04 Butch Davis, Browns, 24-34
1999-2001 Mike Riley, Chargers, 14-34
January, 8, 2011
1/08/11
10:30
PM ET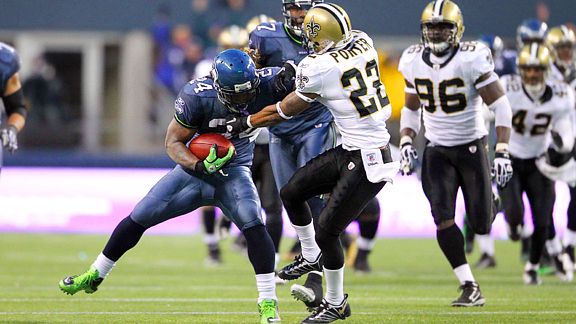 Mike Nelson/US PresswireMarshawn Lynch pushed Tracy Porter and the Saints' defense around on his 67-yard score.
SEATTLE -- The memories of their Super Bowl season will last forever. The magic did not.
The feel-good story of last season -- or maybe the past decade or two -- is over. It ended unexpectedly and more than a little embarrassingly for the
New Orleans Saints
. The defending Super Bowl champions came into Qwest Field on Saturday to play the first team in NFL history to make the playoffs with a 7-9 record.
It ended with the
Seattle Seahawks
, a team that stumbled to the NFC West championship, defeating the Saints
41-36
. Just like that, the magic and miracles that carried the Saints all the way to Miami and last year's Super Bowl are over.
"After you experience raising that trophy, you don't want to see anyone else lift it,'' New Orleans linebacker
Scott Shanle
said. "There wasn't a person in this locker room that didn't think we would be lifting that trophy again.''
That's not going to happen. Some other team will be hoisting the Lombardi Trophy in February and it will come in a season in which the Saints generally looked like they were avoiding "the curse'' that has dethroned so many recent Super Bowl champions.
They went 11-5 in the regular season, again riding the arm of
Drew Brees
and using a defense that looked better overall than it did a year ago. Then, against a team the Saints handled easily in the regular season, it all fell apart.
Instead of looking like the Saints of the regular season or the champion Saints of the 2009 season, the Saints looked a lot more like the New Orleans teams of 2007 and 2008. Those teams could move the ball, but didn't play much defense. Those teams were mediocre, sort of like the Seahawks.
"We'll have a chance to look at the film,'' Saints coach Sean Payton said when asked to explain why his team suddenly collapsed.
Payton's right. There will be no Super Bowl parades or even any more games this season. The Saints will have months to reflect on what happened.
There will be painful weeks to watch the film of
Matt Hasselbeck
throwing for 272 yards and four touchdowns. That's a lot of time to see safety
Darren Sharper
looking like he waited too long to retire. Time to watch strong safety
Roman Harper
looking even worse than Sharper and time to watch rookie cornerback
Patrick Robinson
making a season's worth of rookie mistakes.
That's not going to look good on the résumé of Gregg Williams. He's the defensive coordinator and the man many credit for putting the Saints over the top last season. He has been mentioned as a possible head-coaching candidate in other places in recent weeks. He now will have time to interview. If Williams doesn't get another job, he and Payton can watch the horror movie together.
[+] Enlarge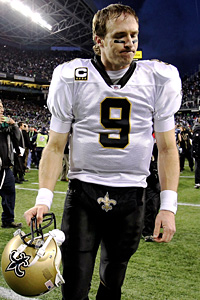 Jonathan Ferrey/Getty ImagesA season after winning their first Super Bowl, Drew Brees and the Saints were ousted in the wild-card round.
"Our eyes were not very good in coverage,'' Sharper said.
Throw in their legs and their minds too, and don't limit the blame to the secondary. The front four and the linebackers also got destroyed. Hasselbeck, who couldn't even play a week ago because of a hip injury, completed 22 of 35 passes and finished with a 113.0 passer rating.
Marshawn Lynch
ran over the New Orleans defense for 131 yards and a touchdown on 19 carries.
"I think we might have taken for granted the success they had throwing against us earlier in the season,'' Sharper said.
That's a reference to the Nov. 21 regular-season game in the Superdome. Hasselbeck threw for 366 yards in that game, but the Saints won 34-19. So what changed between the regular-season game and now? And what happened between last year's Super Bowl and now?
A team that took pride in saying the only real losses from the Super Bowl were linebacker
Scott Fujita
and backup running back
Mike Bell
somehow lost a lot more. Yes, injuries were a factor. The Saints were forced to play Sharper because starting free safety
Malcolm Jenkins
was injured. Running backs
Pierre Thomas
and
Chris Ivory
didn't play because of injuries and fellow running backs
Reggie Bush
and
Julius Jones
got so banged up in the second half that the Saints had to play
DeShawn Wynn
, who was signed last week.
But the problems started long before Bush and Jones got hurt. The Saints, who had to fly across the country and had only six days between games, started off playing like champions. They jumped out to a 10-0 lead and Seattle was looking every bit the part of a 7-9 team. Then everything changed.
"It's only appropriate to start off with congratulating [coach] Pete Carroll and the Seattle Seahawks for a big win,'' Payton said. "They played a real good game.''
Yes, give the Seahawks credit, but the Saints gave them a whole lot of help. Although Brees threw for 404 yards on 60 attempts, any attempt at offensive balance was abandoned in the second and third quarters when the Seahawks outscored the Saints 27-10.
Lynch and the Seattle receivers ran all over Williams' defense. Things got so bad that Payton had to call for a desperation onside kick near the end of the game instead of using it as a surprise as he did in the Super Bowl win.
The Saints, who danced their way out of Miami after the Super Bowl and posed for pictures on the Atlanta Falcons' logo in the Georgia Dome a few weeks ago, lost their swagger in Seattle.
The locker room was quiet.
"We knew we had a team we thought could repeat,'' Sharper said.
"This stings a lot,'' cornerback
Jabari Greer
said.
The silence and the sting will last the long flight back home and probably spill over into the coming weeks and months. The Saints lost more than just a playoff game.
They lost their chance at repeating as Super Bowl champions and they did it against a team that had a losing record in the regular season. Instead, they're left to think about preventing a repeat of what happened in Seattle.
"If we're ever in this position down the road, we have to remember this experience so it doesn't happen again,'' Shanle said.
December, 7, 2010
12/07/10
11:27
AM ET
When it comes to replay challenges, New Orleans coach Sean Payton is clearly the king of the NFC South and one of the best in the entire NFL.

Payton has used eight challenges and been successful on six of them. That's 75 percent and only Kansas City's Todd Haley, who has been successful on all four of his challenges, and Indianapolis' Jim Caldwell (four out of five) have better percentages.

Payton's six overturned calls tie him with Tom Coughlin and Pete Carroll for most in the league, but both of those coaches have challenged more frequently than Payton. After Payton, there's a sharp drop off in challenge success for NFC South coaches.

Tampa Bay's Raheem Morris is next at 42.9 percent as he has had three of seven challenges overturned. Atlanta's Mike Smith is three of eight (37.5 percent). And, finally, Carolina's John Fox is at 20 percent (two of 10).
December, 5, 2010
12/05/10
9:59
PM ET
A very quick review of the
Carolina Panthers
'
31-14 loss
to the
Seattle Seahawks
.


What it means:
Basically, nothing. Although the Panthers traveled all the way across the country and jumped out to a 14-0 lead, they still ended up getting drubbed by a mediocre team.
Light at the end of the tunnel
: The Panthers remained in the lead to have the first pick in the 2011 draft.
Positive Panther stat of the day:
Jimmy Clausen
completed more than 50 percent of his passes (18 of 34), which isn't always a given for this rookie.
By the numbers:
Four. It is the number of games left for John Fox as Carolina's coach, unless of course, the Panthers decide to pull the plug early and go the interim route.
Changing stereotypes
: There's a perception (largely justified) that college coaches don't succeed in the NFL. Well, if Jerry Richardson and Marty Hurney were watching Pete Carroll and the Seahawks on Sunday, maybe that planted a seed. Heck, they might be able to get a package deal on Stanford coach
Jim Harbaugh
and quarterback Andrew Luck.
What's next:
It doesn't get any easier for the Panthers. They host the
Atlanta Falcons
, who have the NFC's best record next Sunday.
September, 4, 2010
9/04/10
10:43
AM ET
As we wait for teams around the league to announce their roster cuts (that will probably come late this afternoon in most cases), let's take a trip through the mailbag. Questions about
T.J. Houshmandzadeh
landing in the NFC South seem to be the dominant topic, so we'll deal with that first.
Chris in Knoxville, Tenn., writes
: What are the chances Carolina trades
Dwayne Jarrett
to Seattle for T.J. Houshmanzadeh?
Pat Yasinskas:
I'm not going to totally rule this one out. The reports say Seattle is ready to trade or cut Houshmandzadeh and Jarrett hasn't made himself a centerpiece in the Carolina receiving corps. But I think this one is a long shot for several reasons. Trades are easy to talk about, but don't happen all that often in the NFL. Bringing in an aging wide receiver doesn't exactly fit with Carolina's youth movement and there must be a reason Seattle is ready to part with Houshmandzadeh. Also, what makes anyone think any team is going to give up something for Jarrett? Yeah, I know he played for Pete Carroll at USC, but it's not like he's shown anything since he's been in the NFL.
---
Bhavik in Atlanta writes:
What do you think of the Falcons signing T.J. Houshmandzadeh? He's getting old, which is something against the Falcons philosophy but he can have a solid year.
Pat Yasinskas:
I'm having a tough time figuring out why so many Atlanta fans think there's a big need for help at wide receiver. Roddy White's a very good No. 1.
Michael Jenkins
is a role player at No. 2 and the Falcons are excited about having a healthy
Harry Douglas
in the slot.
Eric Weems
and
Brian Finneran
provide solid depth and
Troy Bergeron
may even make the roster. I know a lot of Atlanta fans are down on Jenkins because he doesn't put up big numbers, but that's not really his role in this system. His role is to be a safety valve as a possession receiver and a blocker in the running game and he does those things well. With tight end
Tony Gonzalez
, it's almost like the Falcons have an extra wide receiver. Gonzalez and White are going to be the main targets in the passing game and I don't think the Falcons want someone cutting into their opportunities.
---
Todd in Indianapolis writes:
I'm going to be the first to ask,what are the chances the Bucs go after TJ Housh? .f not Carolina probablyy will and we can't have that!!!
Pat Yasinskas:
I really don't see that one, Todd. It just doesn't fit with Tampa Bay's plan. The Buccaneers are going with youth. They drafted
Arrelious Benn
and
Mike Williams
this year and
Sammie Stroughter
last year and they traded for
Reggie Brown
with five years remaining on his contract. That gives them four young receivers and the plan is to let them grow up with
Josh Freeman
.
---
Kenneth in Boston writes:
Do you think the Saints could possibly think about switching to a 3-4?
Junior Galette
seems like the perfect man for an outside linebacker/pass rush specialist and the team can use all their depth, especially to stop 4 receiver sets. Casillas is a great start, but I'd like to see the Saints use more of their young LBs and
Clint Ingram
in some mixes. Also, Tony Hargrove could definitely play a defensive end in a 3 man front, lined up next to
Will Smith
and
Sedrick Ellis
. Your thoughts?
Pat Yasinskas:
You may see Gregg Williams throw a 3-4 front out there now and again just to confuse other teams. But the Saints are a 4-3 defense at heart and they're not about to switch from that. Their personnel is set up for the 4-3 scheme. Besides, I wouldn't go projecting too much of a role for Ingram. I think there's a decent chance he won't even be on the roster by the end of today.