March, 13, 2012
3/13/12
5:09
PM ET
It appears as if things are lining up for the
Tampa Bay Buccaneers
to land one of free-agency's biggest stars.
ESPN's John Clayton reports the Bucs are going hard after San Diego receiver
Vincent Jackson
, as many expected.
The Bucs were expected to have competition for Jackson from the
Washington Redskins
and
Chicago Bears
, but those two teams are apparently out of the mix after landing other receivers.
Pierre Garcon
said he's
planning to sign
with the Washington Redskins and the Chicago Bears
traded for
wide receiver
Brandon Marshall
.
Stay tuned, but it looks like the Bucs, who last won a game in October, finally might have something to celebrate.
October, 4, 2011
10/04/11
9:15
AM ET
To borrow a phrase from DeMaurice Smith, I'm really starting to "dig" the new Total QBR feature.
If you looked just at the NFL passer rating, you'd think Indianapolis'
Curtis Painter
had a better game than Tampa Bay's
Josh Freeman
on Monday night. That would be wrong, even though Painter's NFL passer rating was 99.4 and Freeman's was 94.7. Total QBR tells the truth.
Freeman had a 48.4 Total QBR. Painter's was 37.8. Freeman's team won the game. Painter's team did not, and it was about much more than simply passing the ball. Winning a game is the most important part of a quarterback's job description and Freeman did what it took to make that happen.
Total QBR takes things other than pure passing statistics into account and that's important.
Freeman made some big things happen with his legs. He rushed for 26 yards and four first downs. He rushed for a 1-yard touchdown (the second of his career) in the first half. He also had two critical scrambles on Tampa Bay's final scoring drive and had two runs for first downs on that drive.
Freeman was sacked twice, while Painter was sacked four times. One of Painter's sacks resulted in a fumble the Bucs recovered in the first quarter. Painter's other three sacks came in the fourth quarter with the score tied.
Painter threw for 281 yards and two touchdowns, which sounds nice. But those numbers are a bit inflated when you consider that Painter's two touchdown passes to
Pierre Garcon
covered 146 yards, but 129 of those came after the catch.
Painter only threw for 74 air yards, while Freeman threw for 108. The bottom line here is Painter played a nice game, but Freeman did more and he helped his team to a victory.
October, 4, 2011
10/04/11
2:27
AM ET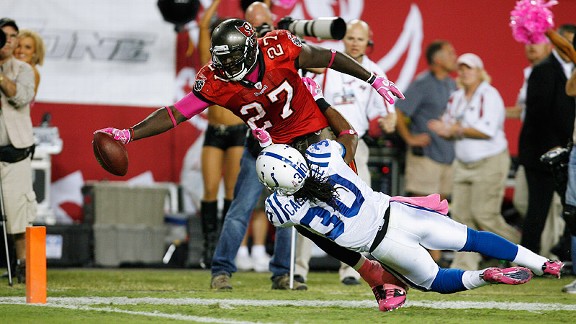 Matt Stamey/US PresswireIt wasn't pretty, but LeGarrette Blount and the Bucs managed to get the win against the Colts.
TAMPA, Fla. -- Before we pick this one apart, and there's a ton to work with on that end, let's be clear about one thing: The
Tampa Bay Buccaneers
won a football game before a prime-time audience on Monday night.
They defeated the
Indianapolis Colts
,
24-17
, at Raymond James Stadium, put together their first three-game winning streak since Raheem Morris took over as coach in 2009, sold out a home game for the first time in a long time, and also kept pace with the
New Orleans Saints
(3-1) atop the NFC South.
Let's pause with the positives right there, because the way things transpired Monday night left lots of room to wonder whether the Bucs really are ready for prime time and whether they really can hang with the Saints for the long haul. Let's turn it over to rookie defensive end
Adrian Clayborn
, who capsulized his fourth NFL game accurately.
"Things were very ugly,'' said Clayborn, who was credited with a sack, two quarterback hurries and a tackle for loss. "We battled through it. It was sloppy. But it's about whoever comes out with a win, and we did.''
With time, the ugliness Clayborn talked about might fade. If the Bucs keep winning, this one will look a lot better in the standings come playoff time.
"We've got a goal,'' said second-year defensive tackle
Gerald McCoy
, who finished with a team-high six tackles, one sack, three tackles for loss and two quarterback hurries. "We want to win our division.''
That's a great goal, but the Bucs aren't going to win against the Saints -- and maybe not even against the
Atlanta Falcons
or the
Carolina Panthers
-- if they continue to play the way they did most of the night against the Colts. Let the record show that Indianapolis was not quarterbacked by
Peyton Manning
. Or even
Kerry Collins
.
They started
Curtis Painter
at quarterback. They were forced to play third-stringer Mike Tepper, signed off the practice squad a few days ago, at left tackle in the second half after injuries took their toll. The Colts also lost defensive tackle
Eric Foster
to an ankle injury that looked even more gruesome than most of the ugliness on the field.
Despite all that, the Colts (0-4) outplayed the Bucs much of the night. The Colts jumped out to a 10-0 lead and led 17-10 midway through the third quarter when Painter hit
Pierre Garcon
with a 59-yard touchdown pass. Tampa Bay's tackling ability looked like that of a youth-league team on that play.
The Buccaneers were penalized 14 times for 106 yards. For the longest time the highlight of their offense seemed to be a short dump play to running back/fullback
Earnest Graham
. They ran that play a number of times and amassed 27 yards on three completions, although there were several passes to Graham that were called back because of penalties.
Speaking of penalties, there was a strange one in the final seconds of the first half. With the Colts leading 10-7, the Bucs tried to get a quick field goal as the clock ran down. Kicker
Connor Barth
actually got on the field and put the ball through the uprights.
But the field goal didn't count because the Bucs were penalized for having 12 men on the field as they tried to get the offense off the field and the field-goal unit on it. That call led to a rather strange halftime scene. Tampa Bay general manager Mark Dominik, normally a pretty calm guy, came into the press box to talk to replay officials.
Without ever truly losing his temper or fully raising his voice, Dominik questioned the call. He argued that receiver
Dezmon Briscoe
was jumping off the field before the ball was snapped.
"It was as clear as day,'' Dominik said loud enough to be overheard by a large portion of the media contingent. He also suggested the Colts had 12 men on the field as well. He later came back at the start of the third quarter and had a quieter and more diplomatic conversation with the officials.
But all the murkiness didn't really clear up until running back
LeGarrette Blount
broke free on a 35-yard run for a touchdown up the middle with 3 minutes, 15 seconds left in the game. That's when Tampa Bay scored the final points and took the lead for the first time.
[+] Enlarge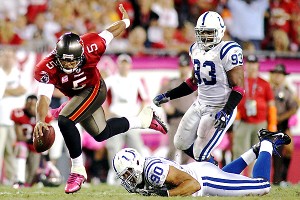 Marc Serota/Getty ImagesDespite sharing a lead with the Saints in the NFC South, it's unclear whether Tampa Bay is for real.
"It wasn't pretty at all times, but that's kind of us,'' said quarterback
Josh Freeman
, who completed 25 of 39 passes for 287 yards and a touchdown. "Whatever the adversity, we continue to play through the fourth quarter and persevere.''
That's been the story of Tampa Bay's three victories and even their opening loss to Detroit. The Bucs start slowly, but they hang around and, more often than not, they've found a way to win it at the end.
That formula works against struggling teams like the Colts. But here's the thing to keep in mind: Although the nation got to see the Bucs on Monday night, we still really don't know what they're all about.
We're going to find out very soon. The Bucs travel to San Francisco on Sunday to play a 49ers team that's started better than a lot of people expected. They then get to fly back across the country for a home game with the Saints, who are every bit as good as people expected. After that, the Bucs fly out of the country to take on the
Chicago Bears
in a "home game'' in London on Oct. 23.
After that, they get a bye week before facing the Saints again -- in New Orleans.
Between now and then, we'll find out what we didn't find out Monday night. We'll discover whether the Bucs are any good.
This is the NFL's youngest team and there have been some positive signs. McCoy, Clayborn and a very young defensive line continue to show promise. Second-year receiver
Preston Parker
is becoming a playmaker. Blount can wear down a defense and Freeman usually seems to have a steady hand when it matters most.
"A win is a win,'' center
Jeff Faine
said. "As long as we keep stacking them up, we're headed in a positive direction.''
Faine is absolutely right. But the wins aren't going to be so easy to stack up in the coming weeks unless the Bucs take more steps in a positive direction. The wins aren't going to come unless the Bucs do a lot of cleaning up quickly.