NFC South:

Preseason Week 3
August, 29, 2010
8/29/10
11:25
AM ET
Let's hit the links to review Carolina's preseason 15-7 victory against Tennessee on Saturday night.
Tom Sorensen writes that the continued
lack of offensive production now is a legitimate concern
. With the starters getting extensive playing time in the third preseason game, that's when you get the best glimpse of what the regular season will look like. If this is what Carolina's offense is going to look like in the regular season, the Panthers could be in big trouble. But, keep in mind, they've been playing without receiver
Steve Smith
and running back
Jonathan Stewart
, who are expected back for the start of the season.
Carolina's
defense continues to play exceptionally well
. That's a little surprising, because the Panthers have a bunch of no-names up front, they'll probably be without injured linebacker
Thomas Davis
for the entire season, and the secondary, aside from
Chris Gamble
, doesn't appear to be anything special on paper. But always remember that John Fox can coach, especially on the defensive side of the ball.
Three guys that likely are on the roster bubble
suffered injuries
against the Titans. Receiver
Wallace Wright
(shoulder), running back
Tyrell Sutton
(shoulder) and receiver
Trent Guy
(hamstring) were the players Fox said were injured in the game. We probably won't know the severity of any of the injuries for another day or two.
Steve Reed points out that
the Panthers have spent most of their preseason working on the passing game
. They've virtually ignored the run. While there's no doubt they need improvement in the passing game, and Smith's return should help, do you really think Fox is going to continue to abandon the running game in the regular season?
August, 27, 2010
8/27/10
10:22
PM ET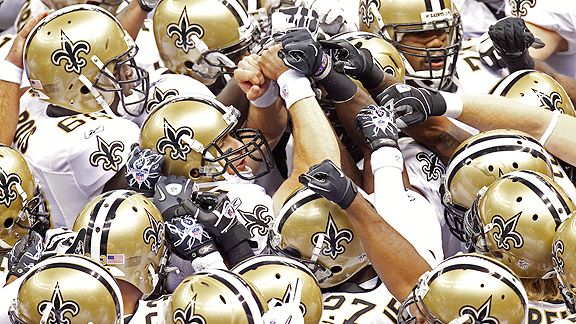 AP Photo/Gerald HerbertEven though it's still the preseason, Drew Brees completed 18 of 27 passes for 240 yards and two touchdowns against San Diego.
The
New Orleans Saints
and
San Diego Chargers
are turning things over to the backups as we approach the end of the third quarter of Friday night's
preseason game in New Orleans
. I'll keep an eye on what happens the rest of the way, but since the important part's over, I wanted to get my observations up here as quickly as possible.
For the most part, I'm not a fan of preseason football and think it's worthless. But give Drew Brees less than two minutes and put him about 90 yards from the end zone and I'll gladly watch that any day of the year. That shovel-pass to Reggie Bush that went to 38 yards was special. The Saints had to settle for a field goal, but Brees could have put the Saints in the end zone if Marques Colston wasn't called for a couple of penalties on the drive.

Speaking of Brees, he appeared in a pre-recorded interview at halftime that dealt quite a bit with how the Saints have helped overcome the horror of Hurricane Katrina, which hit the region five years ago Sunday. I'd just like to say one thing about Brees. We in the media, and you as fans, have a tendency to glorify or worship guys because of what they do on the field and some guys come off looking a lot better as people than they really are. I've been around Brees quite a bit the past three years and can honestly say this guy is totally genuine. Everything you've seen and heard about him is true.

I wrote the other day that Jabari Greer is the best cornerback in the NFC South. I felt good about that decision then because it was based on what I've heard from numerous coaches, scouts, general managers and players. But I felt even better about that decision very early in the game when Greer almost had an interception. If you saw it, what you saw was the text book version of how a cornerback should go after the ball while totally staying away from any chance of getting called for interfering with the receiver.

I've been saying from the first day of New Orleans' training camp that Bush looks healthier now than at any point I remember since he's been in the NFL. I also thought he looks faster -- and he wasn't slow to begin with. Watching Bush against the Chargers only added to my hunch that we're going to see a big season from this guy. He did everything well Friday night -- and I'm not just talking running the ball or catching it. I saw Bush make a couple of very nice blocks. By the way, Pierre Thomas also looked good and so did Chris Ivory. Do the Saints still really need to go out and add another running back?

[+] Enlarge

AP Photo/Dave MartinDevery Henderson's tip for a touchdown showed just how deep the Saints are at receiver.

Anytime the Saints have their offense on the field, there is the potential for a spectacular play. The best of Friday night? When Devery Henderson caught a touchdown pass from Brees. Sounds simple, but it wasn't. The ball was basically a toss-up between Henderson and a defensive back at the goal line. There was no way Henderson could catch the pass as it was. The cornerback had a shot at intercepting it. But Henderson sort of reached around the cornerback with his right arm, tipped the ball up like you would in volleyball (right over the cornerback's head) and backed up a couple yards and caught it in the end zone.

Watching Henderson, Robert Meachem and Colston each make nice catches and remembering the Saints also have Lance Moore, Courtney Roby, Adrian Arrington and a few other prospects made me think of how a lot of readers have been asking if the Saints should trade one of their receivers. After all, they've got an abundance of depth. But I say they should stick with what they've got. The Saints have strength in numbers at wide receiver and, with the way Brees spreads the ball around, this is a beautiful situation.

Nice hit by New Orleans long-snapper Jason Kyle on punt returner Darren Sproles. I covered Kyle for a lot of years in Carolina and know him pretty well. Anytime someone suggests he's no more than a specialist, Kyle gladly will remind you he played some linebacker early in his career. If Sproles didn't know that before Friday, he does now.
August, 27, 2010
8/27/10
9:17
PM ET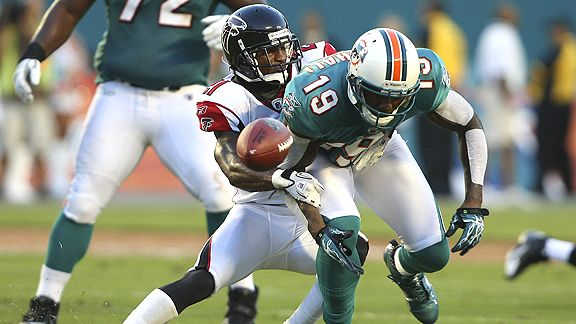 AP Photo/Hans DerykCornerback Christopher Owens' preseason performance may have earned him a starting job.
I had to get very creative because
Atlanta's game at Miami
wasn't available on local television at NFC South Blog Headquarters. I'm watching the Saints and Chargers on local television, but I kept up on the Falcons throughout the night.
With a little help from satellite radio, the wonderful work of my buddies Daniel Cox and Jay Adams at the Falcons' team website, some live stats and play-by-play and a bunch of text messages from a Falcons official who is in the press box in Miami, I was able to get a feel for what the Falcons did. Here are my thoughts and observations:
Cornerback Dunta Robinson didn't play for the third straight preseason game, even though there was some speculation he might go against Miami. I wouldn't be too worried about this one. My Atlanta official in the press box said the team is just being cautious with its high-priced free agent. The main goal is to make sure Robinson's healthy for the start of the regular season.

Speaking of cornerbacks, it sure seems like Christopher Owens has done what he needed to in order to earn the starting job opposite Robinson. Owens stripped a ball away from Brandon Marshall and brought enough pressure on a blitz to allow Kroy Biermann to sack Chad Henne.

Speaking of Biermann, he's had a sack in each of the first three preseason games. Could be part of what the Falcons need to upgrade their pass rush.

Speaking of the pass rush, it sounded like the Falcons were using lots of blitzes, including a couple by rookie linebacker Sean Weatherspoon. Hope we see a lot more of that in the regular season. The defense looks a lot faster and that's largely because of Weatherspoon's arrival.

It's only the preseason and you never should read too much into that. However, if you're going to try to read anything into one preseason game, do it for the first half of the third game, when most of the starters play all the way. That's why Atlanta fans should be encouraged by the following defensive numbers from the first half: The Dolphins converted on only one third down in the first half. The Falcons also held Miami to 10 rushing yards.

Trey Lewis got the start at defensive tackle next to Jonathan Babineaux, but Peria Jerry came into the rotation and got his first playing time since tearing up his knee early in his rookie season. Didn't sound like Jerry made any big plays, but all indications were he seemed to be moving around quite nicely. He also got to play against his brother, John, who is a rookie offensive guard for the Dolphins.

Eric Weems had a big kickoff return to set up Atlanta's first-quarter touchdown. This guy's got a roster spot as a backup receiver. But, more importantly, he's become a core special-teams player.

Quarterback Matt Ryan started off a little rough and his receivers had a few drops. But Ryan came on and threw a touchdown pass to Roddy White. He also had a nice throw to Harry Douglas, who is coming back from injury, and made some other nice plays. Once again, Ryan looked good in the no-huddle offense. I hope we see a lot more of that this season and I hope we don't see any more of that ugly 2-yard run Ryan had Friday night.

Good to hear defensive backs Brian Williams and William Moore, who both had major injuries last year, made their preseason debuts early in the second half.

All right, I'm going to go ahead and post this now that the backups are taking over, so I can focus in on the New Orleans game because I'll also have an observation package on the Saints later Friday night.