NFC South:

Professional Football Hall of Fame
August, 9, 2010
8/09/10
12:06
PM ET
The New Orleans Saints continue to be a positive centerpiece for a region that's had more than its share of bad luck in recent years. The Saints
visited the White House on Monday
and drew praise for their on-field success and off-field work from President Barack Obama.
With Rickey Jackson now in the Professional Football Hall of Fame, Jimmy Smith takes a look at
who might be the next
former New Orleans player to join him. Willie Roaf and Morten Andersen are the two guys he talks about. I think both have a chance. But if you're looking for the next automatic pick from the Saints, I think Drew Brees is the safest bet.
Charlotte Business Journal takes a look at how and why the Panthers
have shown a more fan-friendly side
in training camp this year. I see two reasons for this. One is the enthusiasm of new team president Danny Morrison. The other is the economy. In the present climate, it may be more important than ever to reach out to the fan base.
The Panthers are
back in camp
after having Sunday off, like the rest of the NFC South.
With a schedule that includes three teams (Pittsburgh, Cincinnati and Cleveland) that use the 3-4 defense, the Tampa Bay offense is putting in a lot more time
working against and preparing for that scheme
in the preseason.
June, 2, 2010
6/02/10
12:48
PM ET
Eder in Harlingen, Texas, writes:
I could not help but notice the Bucs gave Jermaine Phillips' number 23 to rookie
Myron Lewis
? Is this a sign that they are not going to re-sign Phillips. I myself hope we keep Phillips, I feel Tampa's backfield was better with
Tanard Jackson
and Phillips. I feel like
Sabby Piscitelli
has to develop a lot more. I know the Bucs singed
Sean Jones
, so what do you think is going to happen with the Bucs backfield?
Pat Yasinskas:
I tend to agree with you that the Bucs had decent safeties when Phillips and Jackson were the starters. Then, they messed around with switching Phillips to linebacker last year and that didn't really work out. I thought Phillips would go back to strong safety and take Piscitelli's place. But the fact the Bucs signed Sean Jones as a free agent is the main reason Jackson is hanging out there as a free agent apparently not drawing a lot of interest.
---
Brett in Atlanta writes:
The return of
Peria Jerry
and
Harry Douglas
from injury are much anticipated but filled with question marks. Can you shed some light on their recovery times?
PY:
The Falcons, like a lot of NFL teams, treat injuries like military secrets. Coach Mike Smith and general manager Thomas Dimitroff are especially reluctant to put timetables on injuries, so there is no official word. But sources in Atlanta tell me the "soft'' target date for Douglas is the start of training camp. The Falcons have been especially guarded with Jerry, but word is he should be able to hit the field some time during the preseason and should be ready for the start of the preseason as long as he has no setbacks.
---
Nathan in Cary, N.C., writes:
I understand the frustration on the part of Carolina fans at not seeing some of the bigger names locked up to long term contracts. However, I do not understand how
Richard Marshall
has made this list. He is a decent corner, sufficient would be a good word, but he is certainly not a centerpiece to this team. I even thought thatCaptain Munnerlyn outplayed him for a good bit of last season (the AZ game was the best example). I guess my question is, why are people upset that the Panthers have not re-signed a guy who is, at best, a good nickel corner?
PY:
To be fair, let's go with Marshall as a starting corner because he is one. Next, let's rank him as a player and I think the logical answer is decent. He's got a second-round tender on him as a restricted free agent and will make about $1 million this year if he plays for the tender. But Marshall's made some noise about wanting a long-term deal and I'm not sure that's the best tact to take in this situation. First off, as Nathan says, Marshall's not exactly a cornerstone of the team, so it's not like holding out would give him tremendous leverage over the Panthers. Second, maybe Marshall hasn't been paying attention, but owner Jerry Richardson, concerned about the labor situation, isn't giving out big contracts to anyone.
---
Rob in Fort Mill, S.C., writes
: Per your
Tuesday mailbag
, "He's not paying people like Marshall or Williams big money now because he doesn't want to give big signing bonuses as he prepares his franchise for the possibility of a lockout. " If he doesn't have to pay the players during the lockout, how can that be a reason for not signing new contracts to core players?
PY:
Because the way contracts are done is so they usually have a large chunk of the money up front in the form of a signing bonus. Richardson would have to lay out money now. That's money he's conserving or avoiding going into debt to get. He's saving what he's got and hoping that's enough for the Panthers to weather the storm of a possible lockout.
---
Nate in Palmer, Alaska, writes:
I do believe
Ronde Barber
one day he will be in the HOF. The only thing Ronde is lacking compared to a guy like
Deion Sanders
who is almost guaranteed the HOF is some height (4 inches)and a big mouth. Barber unfortunately had the luck of playing for a semi-sour Bucs squad for a lot of his years, a lack of playoffs and, National media coverage. I don't believe he is 1st ballot HOF but I believe in looking at him as a player and person in the NFL, he has the HOF stats, he's played hard, he's a classy guy, and he is a positive representation of the NFL. Maybe that isn't what gets a person to the HOF though.
PY:
All valid points. Ronde got some national exposure back when his twin brother, Tiki, still was playing. He also got plenty of attention when the Bucs were good. But the Bucs weren't all that good when Barber first joined them and it took him a few seasons to make a real impact. He then went into a very productive stretch that forms the basis of his argument to be a Hall of Fame candidate. The problem I see there was the Bucs won only one championship and a lot of people view Barber as a system player, who benefited from playing Tampa Two in Monte Kiffin's scheme with
Warren Sapp
,
Derrick Brooks
and
John Lynch
there to help him look good. I respect Barber's durability, but 3-13 seasons with no interceptions aren't the best way to put the final touches on your résumé.
February, 6, 2010
2/06/10
5:53
PM ET
MIAMI -- Let's go ahead and consider this an omen for the Super Bowl. Times really have changed for the New Orleans Saints.
[+] Enlarge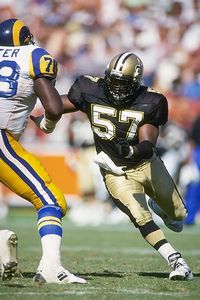 Stephen Dunn/Getty ImagesRickey Jackson compiled 128 sacks over his 15 seasons in the NFL.
Rickey Jackson
has been selected to the Pro Football Hall of Fame.
That announcement came moments ago and it's another sign that a franchise that has spent most of its existence as loveable losers no longer fits that image. The day before the Saints play in their first Super Bowl, they've got their first Hall of Famer.
Coincidence?
Maybe, maybe not. We don't know exactly what was on the minds of voters. But the fact is Jackson never had even made it to finalist stage before this year. The fact that "Who Dat Nation" suddenly became more than a regional thing might have had some sort of subconscious impact on the voters and it certainly increased Jackson's visibility.
But the fact is Jackson has deserved this honor for a long time. He was part of the famed "Dome Patrol'' of the late 1980s and early '90s. Before this magical season, the Saints of Jackson's era were the only truly proud time in franchise history. That era's finally getting the recognition it deserves.
Maybe this won't be the only truly memorable event of the weekend for the Saints and their fans.
July, 27, 2009
7/27/09
4:15
PM ET
Posted by ESPN.com's Pat Yasinskas
Just moments after he walked into One Buccaneer Place (the old dump out on the airport runway) in 1996, Tony Dungy showed Lamar Thomas and Tyji Armstrong the door.
Thomas was going through some ugly domestic issues and Armstrong had run up a lengthy rap sheet under former coach Sam Wyche. That was Dungy's way of telling his team he wasn't going to put up with trouble.
He never went out and sought guys with character questions, and he even kept Warren Sapp in check. In the early days of Dungy's regime in Tampa, watching practice often gave you the feel you were at a church league flag football game. I think it stayed that way into his later days in Tampa and on to Indianapolis.
If a player played for Dungy or a coach coached under him, he was almost always a nice, well-behaved guy with no character issues.
So what is Dungy doing now? He's reaching out to Michael Vick.
Dungy and Vick is a mismatch if ever there was one, it seems. But this pairing could turn out to be great.
Dungy is going to work as Vick's mentor as the former Atlanta quarterback tries to get fully reinstated into the league. When Dungy left coaching last year, he said it was partly because he wanted to do something more than coach. The fact is, Dungy always was a mentor while he was a coach, maybe even more of a mentor than a coach.
Here comes his next challenge. I've got no doubt about what Dungy brings to the table. I had the pleasure of covering him for The Tampa Tribune and learned a lot about life just by watching how the man conducts himself. That was from a distance.
Vick's going to get the up-close class and they're going to be cramming. It's actually a wonderful opportunity for Vick. Say what you want about the horrible things he did to put himself in this spot. They were despicable and then some.
But if Vick really is contrite and really wants to straighten out his life, there's no one better to help him than Dungy. I've had a chance to talk with former Atlanta coach Dan Reeves several times and some other people who have been with the Falcons. They're all sour on what Vick did, but they also say he's a young man with some good qualities if he can just make better decisions and stay away from some of his friends who drag him down.
If Vick can just reach out to Dungy, the coach is going to pull him up higher than he's ever been. I've long said Dungy should be in the Hall of Fame when his time comes. If he gets Vick to fly right and resurrect his career, Dungy's got an automatic pass to Canton.
Virginia Tech coach Frank Beamer talks about Vick's conditional reinstatement.