NFC South:

Quinn Ojinnaka
July, 31, 2013
7/31/13
4:37
PM ET
Time for a spin through some odds and ends from around the division:
TAMPA BAY BUCCANEERS
The team moved punter Michael Koenen to the
active roster
. Koenen had been on the inactive list at the start of camp due to a toe injury.
Martin Fennelly has a nice
column
on Annie Roberts. She's the mother of soon-to-be Hall of Famer Warren Sapp and undoubtedly played a big role in shaping his career.
NEW ORLEANS SAINTS
Forbes reports that Saint owner Tom Benson will
collect about $400 million
in state subsidies through 2025. The report says the lease agreement Benson signed for the Mercedes-Benz Superdome four years ago is one of the most complex and lucrative in NFL history.
Seneca Wallace, who is competing with Luke McCown for the backup quarterback job,
missed Wednesday's practice
with a groin injury.
CAROLINA PANTHERS
Scott Fowler writes that defensive end Greg Hardy could end up being the most outlandish character in franchise history. Read Fowler's
column
and you'll understand why. The Panthers haven't gotten a lot of attention in recent years. But, if they start winning, Hardy has the potential to become a darling for the national media.
ATLANTA FALCONS
Daniel Cox has a story on former Atlanta offensive lineman Quinn Ojinnaka, who is pursuing a
career in professional wrestling
.
The team had the
day off
and will return to practice Thursday.
October, 1, 2010
10/01/10
11:02
AM ET
Carolina receiver Dwayne Jarrett said his agent approached the Panthers about
trading him during the offseason
. Nothing happened. But, then again, do you really think another team would have given up anything for Jarrett?
New Orleans coach Sean Payton said Carolina coach John Fox
will be a top free agent
if he becomes available after this season. That's probably true. But keep in mind Fox and Payton are extremely close and there's a code among coaches that you try to help out your buddies.
The Saints are going to take it right down to game time to
make a decision
on running back Pierre Thomas, who has an ankle injury. Get ready to see a lot of Chris Ivory and Ladell Betts if Thomas can't go.
The NFL has
sent warning letters
to bars and restaurants that showed Tampa Bay's game against Pittsburgh despite a local television blackout. The league is threatening fines of $150,000 for future violations.
There
won't be any local television blackout
in Atlanta Sunday when the Falcons host the 49ers.
Although neither side would confirm the compensation when the deal was made, Mike Reiss reports the Falcons will
receive a seventh-round pick
for offensive lineman Quinn Ojinnaka, who the Patriots recently released. By getting anything for Ojinnaka, Atlanta general manager Thomas Dimitroff has the early lead in the battle for Executive of the Year.
August, 23, 2010
8/23/10
10:10
AM ET
The
Atlanta Falcons
just made the official announcement that they have traded offensive lineman
Quinn Ojinnaka
to the
New England Patriots
for an undisclosed draft pick.
We don't know exactly what the draft pick will be, but it's pretty safe to assume it's a very late-round choice. Whatever, give Atlanta general manager Thomas Dimitroff credit for getting anything in exchange for Ojinnaka. A fifth-round pick in 2006, Ojinnaka has been a non-factor throughout his career, and his future with the Falcons was less bright than ever.
The team had used mid-round draft picks on
Mike Johnson
and
Joe Hawley
this year, and there was a good chance Ojinnaka wasn't going to make the team. He's already been suspended for this season's first game for violating the league's conduct policy.
But Dimitroff used to work for the Patriots, and he might have used his relationship there to help pull off this deal. With
Logan Mankins
holding out and some other members of the offensive line injured, the Patriots were desperate for offensive line help. It's possible the draft pick the Falcons get could be contingent upon Ojinnaka making the New England roster.
July, 8, 2010
7/08/10
1:00
PM ET
By
Scouts Inc.'s Matt Williamson
| ESPN.com
»
NFC On the Radar
:
East
|
West
|
North
|
South
»
AFC
:
East
|
West
|
North
|
South
A player, coach or issue that should be on your radar as training camp approaches.
The
Atlanta Falcons
used third- and fourth-round selections on offensive linemen in this past draft, but it looks like they will enter the 2010 season with the same starting line from a year ago. That sort of continuity up front often pays dividends, but this group took a step backward last season after a very strong 2008 campaign. This held true for pretty much the whole Atlanta offense, though the Falcons did battle a lot of injuries last season on this side of the ball, especially at the skill positions.
[+] Enlarge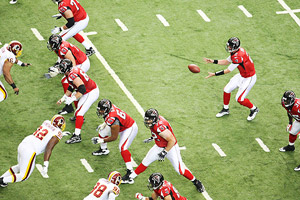 Kevin Liles/US PresswireAtlanta's offensive line took a step back last season after a solid 2008 campaign.
The Atlanta offense could be poised for a rebound season in 2010, but the line has to do its part. One year ago, I thought the Falcons' offense could be as good as any in the league. While my opinion as a whole isn't quite as strong now, this group does have the ability to be dominant and score a ton of points.
When you look at the Falcons' offensive front from left to right, there really isn't anyone who stands out as an elite player at his position. Still, this group is well-coached, tough and nasty and really holds its own both as run blockers and in protection of quarterback
Matt Ryan
. Atlanta allowed only nine sacks in its first seven games last year.
Ryan gets the ball out of his hands quickly and has a very good understanding of timing with an excellent internal clock -- especially for such a young quarterback. Obviously this helps the line's protection quite a bit. But collectively, they are no slouches in protection either. Left tackle
Sam Baker
is quite possibly the weakest link in this area. Baker has been injured a lot in his short career and plays a very difficult position, but he has to step up in 2010. He is a good technician in protection, but doesn't have elite agility or body length. He also could stand to add more power in the run game.
At the other tackle spot,
Tyson Clabo
has a reputation as a mauling run blocker, but his protection was much stronger than his ability to pave the way in the run game in 2009. Although not spectacular, he is a very solid all-around right tackle.
In the run game, left guard
Justin Blalock
was the greatest liability, but like Baker in protection, he does have impressive physical attributes and could quickly improve. Plus, like Baker, he is young. But Blalock needs to play up to this potential or he could be watching from the sideline.
No one ever mentions
Todd McClure
among the better centers in this league, but he is a very solid all-around player. He isn't always pretty, but he gets the job done. McClure deserves much more credit than he receives.
Atlanta is also set in terms of offensive line depth after drafting
Mike Johnson
and
Joe Hawley
to improve its interior depth and potentially provide dividends as starters down the line. Blalock should worry that his play won't be tolerated much longer. Meanwhile,
Quinn Ojinnaka
and
Will Svitek
are pretty solid backups on the edges. Ojinnaka is also able to play guard without being a liability on a week-to-week basis.
Garrett Reynolds
, a 2008 fifth-rounder, could also show improvement as a depth player. Those depth linemen don't sound stellar, but when compared to what most of the other teams have, it is extremely strong.
Overall, this is a good -- and vastly underrated -- unit. Expect the Falcons' offensive line to play more like it did in 2008 than it did a year ago.
June, 6, 2010
6/06/10
1:16
PM ET
Nate in Rock Hill, S.C. writes:
Do you see the Panthers going after
John Henderson
? It's not looking like he's getting much interest on the FA market. Do you think they could ink him to a short, relatively cheap deal and see what happens? I know Jerry Richardson isn't writing checks this offseason, but isn't worth the small risk for a formerly dominant DT for a team that needs help at the position?
Pat Yasinskas:
I follow your logic and it makes sense. But it's not going to happen and it's not just about money. The Panthers are very serious about going with youth. Besides, I think general manager Marty Hurney still has nasty flashbacks to when George Seifert made him work contracts for
Reggie White
and
Eric Swann
.
---
Donny in Jacksonville, Fla. writes:
Up to this point, I agree that
Dwayne Jarrett
has been a major bust for Carolina. However his whole time had been with
Jake Delhomme
at QB and we all know he only locked on to
Steve Smith
and forced it or took a sack if he wasn't open. Do you think that with
Matt Moore
or
Jimmy Clausen
at QB he has a chance to at least do a little something? Moore has shown the willingness to spread the ball so theoretically it could happen (I'm not counting on it though).
Pat Yasinskas:
I saw a story somewhere the other day about Jarrett and the theme of it was how this might be his breakout year. Funny, but it seems like that story gets written every year and I know I've written a time or two. Is this year any different for Jarrett? It might be. Your point about the quarterback switch is a good one. More than anything, I think the coaching staff needs to turn Jarrett loose and give him a chance. There are some people with the Panthers who believe Jarrett is talented, but has been held back by a coaching staff that's too conservative to allow him to just go out and play.
---
Scott in Covington, LA writes:
Thanks for
posting about Alex Yoncak from Saintsreport.com
. I didn't personally know the guy, but he was a friend to everyone on that site, including me. He was a true Saint. The fact that you took out time from your busy schedule to share his story with the world means a ton to his family, and all of his friends and e-friends. You are a true class act Pat.
Pat Yasinskas:
Alex was the class act on this one. I didn't know the man either. But I got emotional reading Jeff Duncan's
outstanding column about a very dedicated Saints' fan
, who had done a lot of great things in his life. Alex also lived in an area of Pennsylvania very close to where I grew up, so the story hit close to home. I thought it was a story worth sharing with all NFC South fans.
---
Evan in Long Beach Miss. writes:
What do you think the future holds for
Pierre Thomas
? I noticed that he has yet to sign his waiver and did not show up to training camp. Do you think there is a reasonable chance that he won't be wearing the Black and Gold next year, do you think he will sign his waiver, or do you think he might get the bigger deal he's hoping for? Do you think he deserves it?
Pat Yasinskas:
I'm not sure this little holdout is really in Pierre Thomas' best interest. I understand he wants a long-term contract and his performance last season probably earned him a nice raise. But the rumblings are he's looking for a contract that will make him one of the league's top-paid running backs. Let's be realistic here. Thomas is a good running back, but not one of the best in the league. I can see the Saints playing hard ball with him. They've got
Reggie Bush
and
Lynell Hamilton
. If Thomas' demands don't drop some, I could see the Saints letting him go and going with Bush and Hamilton and adding another running back from somewhere else.
---
Keaton in Myrtle Beach S.C. writes:
With the suspension of
Quinn Ojinnaka
of the Falcons coming so soon, does this mean that
Jonathan Babineaux
will get away with a 'slap on the wrist?' I hope so given that Ojinnaka was accused of arguably a harsher crime than Babs.
Pat Yasinskas:
Still waiting on that. I think there still remains a chance the league will discipline Babineaux, but nothing's happened yet. By the way, not sure Ojinnaka even makes the team. The Falcons used a couple of draft picks to build up there depth on the offensive line and Ojinnaka was on the bubble even before the suspension.
---
Tripp in Washington, D.C. writes:
Love your blog and frequently posted mailbags, Pat. Keep up the great work. I am baffled by the idea that Tampa Bay's metropolitan area population exceeds 2.7 million people, yet has trouble selling out eight home games...this is pathetic. The Greater New Orleans area barely contains 1.1 million people, and every last seat of every game is sold out ad infinitum. I understand they just won the Super Bowl and that their popularity is at an all time high; but still, NOLA has faithfully sold out every game since at least 2006, when the team was coming off years of mediocrity. Get it together Tampa! Lest you want your team to move to LA.
Pat Yasinskas:
Technically, Tampa Bay has sold out every game since Raymond James Stadium opened, but team officials are bracing for local television blackouts this season. That will be reminiscent of the bad old days of the 1980s and '90s. Tampa Bay is a unique market. I live here now and have spent about half my life here. Any Florida city is going to have lots of transplants from up North, who hold onto their allegiances. The weather also presents lots of opportunities to do other things on a Sunday. This isn't New Orleans where children are born and raised to be Saints fans. The Bucs have a great crew of die-hard fans. But the nature of this market means there also are a lot of fringe fans and they show up only when the Bucs are playing well and going to games becomes trendy. Even then, this is a tough market. Just ask the Tampa Bay Rays. They're having a great season, but Tropicana Field doesn't draw huge crowds.
April, 15, 2010
4/15/10
4:56
PM ET
The Falcons just announced that four of their restricted free agents have signed their tenders. Tackle
Tyson Clabo
, guard
Harvey Dahl
, running back
Jason Snelling
and guard
Quinn Ojinnaka
have signed.
That comes before tonight's deadline for other teams to make offers to restricted free agents. This is pretty much just a formality. Once the window closes tonight on potential offers from other teams, restricted free agents don't really have much choice other than to sign their tenders -- unless they want to try a holdout without a lot of negotiating power.
March, 5, 2010
3/05/10
12:42
PM ET
There have been a lot of reports out there in recent days about restricted free agents and the tenders they received. Most of the reports were accurate, but a few were not. For clarity's sake, I thought I would share with you the NFC South portion of the official list of restricted free agents and tenders sent out by the NFL this morning. ROFR stands for right of first refusal.

Atlanta
Carolina
New Orleans
Tampa Bay

March, 4, 2010
3/04/10
10:27
AM ET

Atlanta Falcons
Potential unrestricted free agents:
CB
Brian Williams
, WR
Marty Booker
, QB
Chris Redman
.
Potential restricted free agents:
RB
Jason Snelling
, RB
Jerious Norwood
, P
Michael Koenen
, CB
Brent Grimes
, OL
Quinn Ojinnaka
, T
Tyson Clabo
, G
Harvey Dahl
.
Franchise player:
None.
What to expect:
General manager Thomas Dimitroff repeatedly has used the phrase "fiscally responsible'' when talking about the approach to free agency. In other words, the Falcons aren't going to go on some wild spending spree. This organization prefers to build through the draft. But history has shown the Falcons aren't afraid to make a strategic strike or two in free agency. They have a huge need at defensive end and that's a tough spot to get guaranteed production from when you've got the No. 19 overall pick in the draft. The Falcons aren't likely to target elite free-agent DE
Julius Peppers
, but you could see them make a move for another pass-rusher.

Carolina Panthers
Potential unrestricted free agents:
DE Julius Peppers, WR
Muhsin Muhammad
, QB
Josh McCown
, QB
A.J. Feeley
.
Potential restricted free agents:
LB
Thomas Davis
, QB
Matt Moore
, TE
Jeff King
, CB
Richard Marshall
, DT
Louis Leonard
, LB
James Anderson
, DT
Tank Tyler
, CB
C.J. Wilson
.
Franchise player:
None.
What to expect:
Owner Jerry Richardson is very concerned about the uncertain labor situation and that may keep him from spending big money in free agency. The Panthers avoided a $20 million hit by not placing the franchise tag on Peppers, but that doesn't mean all of that money is going to be used in free agency. The Panthers traditionally are a team that builds through the draft and they didn't sign a single UFA last year. But look for at least a few smaller moves because coach John Fox has to win this year and needs to improve this roster, especially on the defensive line, at wide receiver and perhaps at quarterback.

New Orleans Saints
Potential unrestricted free agents:
QB
Mark Brunell
, S
Darren Sharper
, TE
Dan Campbell
, TE
Darnell Dinkins
, DT
Kendrick Clancy
, LB
Scott Fujita
, S
Pierson Prioleau
, LS
Jason Kyle
.
Potential restricted free agents:
G
Jahri Evans
, RB
Mike Bell
, RB
Pierre Thomas
, WR
Lance Moore
, TE
David Thomas
, T
Jermon Bushrod
, S
Roman Harper
, S
Usama Young
, DT
Remi Ayodele
, DT
Anthony Hargrove
, T
Zach Strief
, S
Chris Reis
, WR
Courtney Roby
, LB
Marvin Mitchell
.
Franchise player:
None
What to expect:
As a final-four team the Saints aren't allowed to sign any unrestricted free agents unless they lose one of their own at a similar price tag. That's likely to keep the Saints from being big players in free agency. But the good news is they don't have a lot of dramatic needs. They will have to keep a protective eye on some of their restricted free agents, who may draw interest from other teams.

Tampa Bay Buccaneers
Potential unrestricted free agents:
WR
Antonio Bryant
, DE
Jimmy Wilkerson
, S
Will Allen
, LB
Angelo Crowell
, S
Jermaine Phillips
.
Potential restricted free agents:
RB
Cadillac Williams
, LB
Barrett Ruud
, T
Donald Penn
, WR
Maurice Stovall
, T
Jeremy Trueblood
.
Franchise player:
None.
What to expect:
The Bucs haven't spent a lot of money in free agency in recent years and they've been sending out signals this year won't be much different. They're focused on the 10 draft picks they hold. But the Bucs could pull a small surprise or two. They've got a restless fan base and more needs than those draft picks can handle. A couple of signings in free agency could energize the fan base and help the rebuilding process. The Bucs really need a No. 1 wide receiver and they're not truly positioned to get that in the draft.
November, 2, 2009
11/02/09
7:35
PM ET
October, 11, 2009
10/11/09
3:00
PM ET
September, 20, 2009
9/20/09
11:51
AM ET
September, 5, 2009
9/05/09
6:55
PM ET

Posted by ESPN.com's Pat Yasinskas

Biggest surprise:
Wide receiver
Eric Weems
seemed to have no chance to make the roster at the start of camp. But this former practice-squad player made the most of every chance he got. When
Harry Douglas
went down early in camp with a knee injury, the Falcons were scrambling for depth at wide receiver while
Roddy White
was going through a contract holdout. The Falcons brought in veteran
Marty Booker
and he's made the team. Booker and
Brian Finneran
give the Falcons experience behind White and
Michael Jenkins
. But Weems gives them some young legs and some potential as a return man.
No-brainer:
Quarterback
D.J. Shockley
might have been a local hero, but that didn't help him when it came to make a decision on his future. Shockley got hopes up with a good performance in the offseason program, but his progress stalled there. Shockley was hugely disappointing when he got playing time in the preseason. That's why the Falcons elected to go with undrafted rookie
John Parker Wilson
behind
Matt Ryan
and
Chris Redman
.
What's next:
Atlanta has a solid starting offensive line, but the depth is still a bit shaky with
Brett Romberg
,
Will Svitek
and
Quinn Ojinnaka
as the only backup linemen on the roster. The Falcons could look to add one more veteran to give them some flexibility. Even after trading for cornerback
Tye Hill
earlier this week, the Falcons still could look to upgrade their secondary.
December, 28, 2008
12/28/08
12:00
PM ET