September, 9, 2011
9/09/11
1:50
AM ET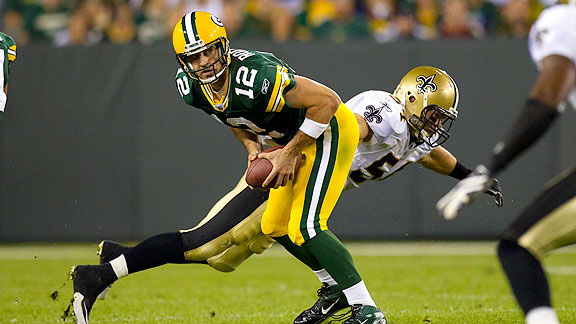 Jeff Hanisch/US PresswireAaron Rodgers and the Packers eluded the Saints defense for 399 yards and 42 points.
GREEN BAY, Wis. -- The
New Orleans Saints
spent most of the preseason talking about how they wanted to get their defense back to its 2009 form.
It looked like they punched the wrong code into their time machine in Thursday's
42-34 season-opening loss
to the
Green Bay Packers
at Lambeau Field.
Instead of the opportunistic defense that helped the 2009 team win the Super Bowl, what we saw against the Packers was the same defense we saw in last season's playoff loss to Seattle, the 2008 defense or the 2007 defense. That's not nearly good enough if you want to get back to the Super Bowl or be an elite team.
Sure, it's only one loss and it came on a night when one of the league's strongest fan bases was out in force to watch as the Packers unveiled their Super Bowl banner from last season. The Saints weathered an early storm and the game came down to one play -- rookie running back
Mark Ingram
getting stuffed at the goal line after the clock had run out.
"You play this game six months later, and it may end up with a different result,'' New Orleans coach Sean Payton said.
That's entirely possible, but only if the Saints start playing better defense. They can't go on like they did against the Packers.
"When you have
Drew Brees
as your quarterback, you always have a chance,'' safety
Malcolm Jenkins
said.
Yeah, but that's not an attitude you want your defense falling back on. You can't afford to put everything on Brees' shoulders all the time and expect to be mediocre. That's what happened in 2007 when the Saints went 7-9 and in 2008 when they went 8-8. It's also what happened in the playoff loss to Seattle.
Three first-quarter touchdown passes by
Aaron Rodgers
, all sorts of blown assignments and missed tackles helped the Packers make history. They scored the second-highest point total in a season opener in franchise history. The first was 53 in 1919, the first year the Green Bay franchise existed.
I have no idea what the 1919 Green Bay offense looked like, but I have no doubt it could have scored some points against this New Orleans defense. Second-year pro
Patrick Robinson
struggled as the nickelback,
Roman Harper
looked like he never left Seattle's Qwest Field and the pass rush wasn't all that much of a factor.
"The progress we make from Week 1 to Week 2 will be very important,'' Payton said.
There's no doubt about that. The Saints face another tough NFC North team Sept. 18 when they play host to the
Chicago Bears
. If there aren't improvements by then, the Saints could be in bad shape. The Texans, who have some offensive weapons, are third on the schedule. The Falcons and Buccaneers, who have some offensive talent of their own, each are on the schedule twice, and there's no doubt those NFC South opponents got some film from this game that could come in handy down the road.
"There will be a lot of things we see on tape we've got to clean up,'' Payton said.
Some of it will have to do with fundamentals and some of it with the scheme. With top pass-rusher
Will Smith
serving a two-game suspension to start the season, the front four weren't able to generate a lot of pressure. The Saints, who blitzed more frequently than any other team in the league last season, did throw some blitzes at Rodgers, who has a history of being successful against the blitz. Rodgers completed 27 of 35 passes for 312 yards and was sacked twice.
[+] Enlarge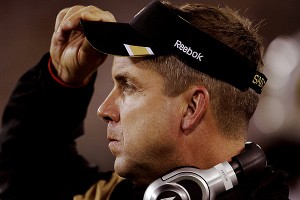 Jonathan Daniel/Getty Images"There will be a lot of things we see on tape we've got to clean up,'' Saints coach Sean Payton said.
"It's a little bit of a cat-and-mouse game,'' Payton said. "He's got a quick release and a lot of targets. You recognize that you want to throw him off balance to some degree, and it's a lot more challenging than it sounds.''
Not every opposing quarterback is going to be as good as Rodgers, and not every offense is going to be as good as Green Bay's.
"He's as good a quarterback as we've gone against in a while,'' linebacker
Scott Shanle
said.
But the Saints, who failed to produce a turnover, are starting off in dangerous territory.
They can't afford to wait for Smith's suspension to end to get their defense on track. That process has to start immediately, or the Saints run the risk of another 2007 or 2008.
In those days, Brees would put up big numbers every week, but the defense didn't do much. That led to the firing of defensive coordinator Gary Gibbs after the 2008 season and the hiring of Gregg Williams to replace him in 2009. That first season, Williams brought a new attitude to the defense.
The championship team didn't have a dominating defense that could shut down a team. What it had was an opportunistic defense that created a bunch of turnovers. That's the form the Saints need to get back to quickly, or their season could slip away.
It could slip back to the point where Brees needs to be perfect every week for the Saints to even have a chance to win. He wasn't perfect against the Packers. Instead, Brees was merely very good. He completed 32 of 49 passes for 419 yards and three touchdowns.
When you're getting that kind of production from your quarterback and scoring 34 points, you should be able to win a lot of games. The Saints don't have to be perfect on defense. They just have to do something they didn't do against the Packers. They need to shut down a drive or two and make a few big plays. If they do that, they won't have to rely on Brees to pull out miracles at the end.
If they can stop an offense every now and then, the Saints can get back to 2009. If not, they'll go straight back to 2007 or '08.
April, 14, 2011
4/14/11
2:16
PM ET
To all those who think the four NFC South teams are so set at running back they don't need to touch that position in the upcoming draft, I give you
DeShawn Wynn
.
In the second half of the
New Orleans Saints
' playoff loss to Seattle, Wynn was getting much of the playing time and serving as the last-resort blocker for
Drew Brees
as the Saints tried to come from behind and keep their dream of back-to-back Super Bowls alive. It didn't happen, and that's largely because the Saints simply ran out of running backs.
[+] Enlarge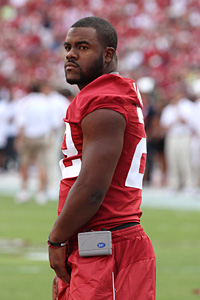 Marvin Gentry/US PresswireThe Bucs and Saints brought in Alabama's Mark Ingram for a pre-draft visit.
Wynn, who had been with the Saints earlier in the season, had been re-signed in the week leading into the game. Same for
Joique Bell
, who didn't make the active roster that day, but the Saints could have used him. They went into the game with
Julius Jones
and
Reggie Bush
as their running backs.
Jones was a retread from coach Sean Payton's Dallas days and was with the Saints only because there already were problems at running back. Bush spent much of last season on the sideline, but was healthy enough to at least set foot on Qwest Field. That's more than can be said for
Pierre Thomas
and
Chris Ivory
, who weren't available because of injuries.
Jones and Bush quickly got banged up by a Seattle defense that didn't scare too many people last season. That left the Saints with Wynn and a loss.
There's a lesson in that for the entire NFC South. No matter how set you think you are at running back, you're probably not as well off as you think. As they head into the draft, the Falcons, Buccaneers and Panthers all seem to have at least an immediate feature back, and the Saints look to have plenty of options in an offense that relies on playing a variety of running backs.
But none of the NFC South teams can afford to ignore running back in this draft. Here's a team-by-team look at why:
Falcons.
Michael Turner
's coming off a season in which he ran for 1,371 yards and 12 touchdowns and
Jason Snelling
's a solid backup with the ability to function as a power runner and catch passes out of the backfield. But that's not enough.
The Falcons got only two games out of
Jerious Norwood
before he went down with a season-ending injury. Norwood is the guy the Falcons always have envisioned as their speed back, but he's never been able to stay healthy, and his time in Atlanta looks to be over.
[+] Enlarge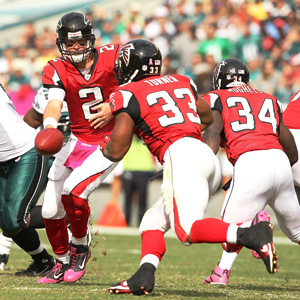 Al Bello/Getty ImagesMichael Turner logged over 700 carries combined during the 2008 and 2010 seasons and could be wearing down.
The Falcons could look for a pure speed back like Kentucky's
Derrick Locke
or North Carolina's
Johnny White
in the middle rounds. But there's been talk in mock-draft circles that Alabama running back
Mark Ingram
could be available when the Falcons pick at No. 27. There are seemingly larger needs at defensive end and wide receiver, but would the Falcons be wise to pass on Ingram if he's available?
Ingram's not a pure speed back and he's not a true power back. He's somewhere in between, and he's the closest thing to a surefire feature back in this year's draft. The Falcons have been pushing their luck with Turner. He carried 334 times last season and 376 times in 2008. He missed five games because of injury in 2009. There were times last season when Turner seemed to lack the pop he showed early in his Atlanta days, and you have to wonder if he's starting to wear down.
It might be time to get an heir apparent in Atlanta. Even if Turner stays healthy, the Falcons could use someone to pick up some of his carries or else they might end up with an empty backfield like the Saints in Seattle.
Buccaneers.
Tampa Bay fans are excited about
LeGarrette Blount
and rightfully so. The undrafted rookie was cut by the Titans in training camp, and Tampa Bay took a shot by picking him up. By midseason, Blount was Tampa Bay's feature back. He ran for 1,007 yards on just 201 carries.
Blount's role and statistics should only continue to improve next season. But it's tough to look objectively at Tampa Bay's backfield situation and say the Bucs are just fine.
Cadillac Williams
is a potential free agent. If he returns, it will be only in the role of third-down back he filled the second half of last season. There's a chorus of fans in Tampa Bay who believe
Kareem Huggins
is the perfect complement to Blount.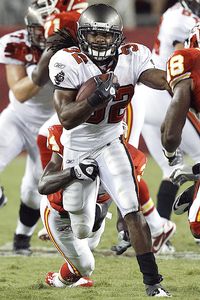 AP Photo/Chris O'MearaKareem Huggins, who figures to be LaGarrette Blount's backup, is coming off a major knee injury.
He might be. Huggins is one of those guys who flashes promise in the preseason. But he has only four regular-season carries in his career and he's coming off a major knee injury. Before the lockout, the Bucs weren't overly optimistic Huggins would be ready for the start of training camp.
Then, there is Blount. His physical style and habit of trying to hurdle defenders could leave him open to injury. Also, Blount went undrafted for a reason. He had a violent altercation with an opponent after a college game, and questions remain about his ability to keep his emotions in check over the long haul. Maybe that's why the Bucs had Ingram in for a pre-draft visit earlier this week.
Panthers
. On paper, they've got the best backfield in the division. They've got
DeAngelo Williams
and
Jonathan Stewart
, and either one could be the feature back for most teams. They also have
Mike Goodson
, who emerged last season when there were injuries in the backfield.
But, depending on how the labor situation plays out, Williams will be either a restricted or unrestricted free agent. Stewart came into the league with foot problems and rarely has been completely healthy. If Williams goes, the Panthers suddenly are on thin ice. They'd be one Stewart injury away from having to use Goodson, who is ideal as a part-time player, as their full-time running back.
Saints.
This circle started and will end with New Orleans. The Saints re-signed Thomas before the lockout. They've given indications they plan to extend Bush's contract and keep him. All signs are that Thomas, Bush and Ivory should be recovered from their injuries. Promising young running back
Lynell Hamilton
also is coming back from injury.
The numbers say the Saints are just fine at running back. But recent history tells another story. The Saints also had Ingram in for a visit, and he has to be a consideration if he's available at No. 24. Even if it's not Ingram, the Saints need to add a running back somewhere in the draft.
Of all the NFC South teams, the Saints know best that you never can have enough good running backs. If they had one more last year, they might have gone back to the Super Bowl.
January, 8, 2011
1/08/11
10:30
PM ET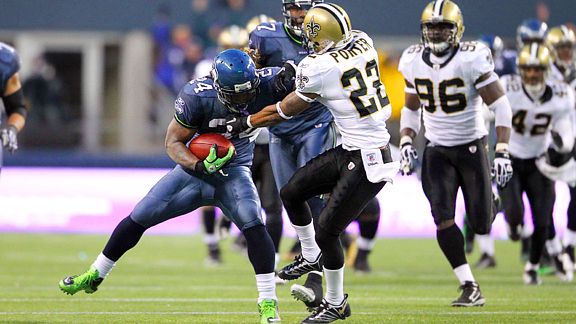 Mike Nelson/US PresswireMarshawn Lynch pushed Tracy Porter and the Saints' defense around on his 67-yard score.
SEATTLE -- The memories of their Super Bowl season will last forever. The magic did not.
The feel-good story of last season -- or maybe the past decade or two -- is over. It ended unexpectedly and more than a little embarrassingly for the
New Orleans Saints
. The defending Super Bowl champions came into Qwest Field on Saturday to play the first team in NFL history to make the playoffs with a 7-9 record.
It ended with the
Seattle Seahawks
, a team that stumbled to the NFC West championship, defeating the Saints
41-36
. Just like that, the magic and miracles that carried the Saints all the way to Miami and last year's Super Bowl are over.
"After you experience raising that trophy, you don't want to see anyone else lift it,'' New Orleans linebacker
Scott Shanle
said. "There wasn't a person in this locker room that didn't think we would be lifting that trophy again.''
That's not going to happen. Some other team will be hoisting the Lombardi Trophy in February and it will come in a season in which the Saints generally looked like they were avoiding "the curse'' that has dethroned so many recent Super Bowl champions.
They went 11-5 in the regular season, again riding the arm of
Drew Brees
and using a defense that looked better overall than it did a year ago. Then, against a team the Saints handled easily in the regular season, it all fell apart.
Instead of looking like the Saints of the regular season or the champion Saints of the 2009 season, the Saints looked a lot more like the New Orleans teams of 2007 and 2008. Those teams could move the ball, but didn't play much defense. Those teams were mediocre, sort of like the Seahawks.
"We'll have a chance to look at the film,'' Saints coach Sean Payton said when asked to explain why his team suddenly collapsed.
Payton's right. There will be no Super Bowl parades or even any more games this season. The Saints will have months to reflect on what happened.
There will be painful weeks to watch the film of
Matt Hasselbeck
throwing for 272 yards and four touchdowns. That's a lot of time to see safety
Darren Sharper
looking like he waited too long to retire. Time to watch strong safety
Roman Harper
looking even worse than Sharper and time to watch rookie cornerback
Patrick Robinson
making a season's worth of rookie mistakes.
That's not going to look good on the résumé of Gregg Williams. He's the defensive coordinator and the man many credit for putting the Saints over the top last season. He has been mentioned as a possible head-coaching candidate in other places in recent weeks. He now will have time to interview. If Williams doesn't get another job, he and Payton can watch the horror movie together.
[+] Enlarge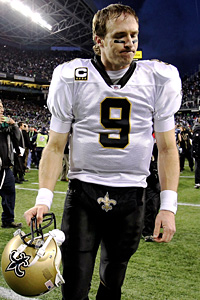 Jonathan Ferrey/Getty ImagesA season after winning their first Super Bowl, Drew Brees and the Saints were ousted in the wild-card round.
"Our eyes were not very good in coverage,'' Sharper said.
Throw in their legs and their minds too, and don't limit the blame to the secondary. The front four and the linebackers also got destroyed. Hasselbeck, who couldn't even play a week ago because of a hip injury, completed 22 of 35 passes and finished with a 113.0 passer rating.
Marshawn Lynch
ran over the New Orleans defense for 131 yards and a touchdown on 19 carries.
"I think we might have taken for granted the success they had throwing against us earlier in the season,'' Sharper said.
That's a reference to the Nov. 21 regular-season game in the Superdome. Hasselbeck threw for 366 yards in that game, but the Saints won 34-19. So what changed between the regular-season game and now? And what happened between last year's Super Bowl and now?
A team that took pride in saying the only real losses from the Super Bowl were linebacker
Scott Fujita
and backup running back
Mike Bell
somehow lost a lot more. Yes, injuries were a factor. The Saints were forced to play Sharper because starting free safety
Malcolm Jenkins
was injured. Running backs
Pierre Thomas
and
Chris Ivory
didn't play because of injuries and fellow running backs
Reggie Bush
and
Julius Jones
got so banged up in the second half that the Saints had to play
DeShawn Wynn
, who was signed last week.
But the problems started long before Bush and Jones got hurt. The Saints, who had to fly across the country and had only six days between games, started off playing like champions. They jumped out to a 10-0 lead and Seattle was looking every bit the part of a 7-9 team. Then everything changed.
"It's only appropriate to start off with congratulating [coach] Pete Carroll and the Seattle Seahawks for a big win,'' Payton said. "They played a real good game.''
Yes, give the Seahawks credit, but the Saints gave them a whole lot of help. Although Brees threw for 404 yards on 60 attempts, any attempt at offensive balance was abandoned in the second and third quarters when the Seahawks outscored the Saints 27-10.
Lynch and the Seattle receivers ran all over Williams' defense. Things got so bad that Payton had to call for a desperation onside kick near the end of the game instead of using it as a surprise as he did in the Super Bowl win.
The Saints, who danced their way out of Miami after the Super Bowl and posed for pictures on the Atlanta Falcons' logo in the Georgia Dome a few weeks ago, lost their swagger in Seattle.
The locker room was quiet.
"We knew we had a team we thought could repeat,'' Sharper said.
"This stings a lot,'' cornerback
Jabari Greer
said.
The silence and the sting will last the long flight back home and probably spill over into the coming weeks and months. The Saints lost more than just a playoff game.
They lost their chance at repeating as Super Bowl champions and they did it against a team that had a losing record in the regular season. Instead, they're left to think about preventing a repeat of what happened in Seattle.
"If we're ever in this position down the road, we have to remember this experience so it doesn't happen again,'' Shanle said.
January, 8, 2011
1/08/11
2:39
PM ET
SEATTLE -- I'm at Qwest Field and there already are about 15 Saints out on the field loosening up.

We'll be back with the inactives as soon as we get them. Again, keep an eye on the weather. It's not raining right now, but there are dark clouds all around. Local television weather forecasts have said rain or snow is expected later in the day. But, at the moment, it's just cold with a light wind.

Another reminder to join Mike Sando, Matt Williamson and me on Countdown Daily once the game starts.
January, 8, 2011
1/08/11
1:04
PM ET
SEATTLE -- I'll be heading over to Qwest Field shortly for Saturday afternoon's game between the Saints and Seahawks.
One thing to keep an eye on today will be the weather. Outside the window of my hotel, which is just a few miles from the stadium, it's been very cloudy all morning. It's not raining at the moment, but it rained much of last night and the forecast says there is a chance of rain, maybe even snow, all day. Game-time temperature is expected to be somewhere between 35 and 40 degrees, so that could force the Saints, who are short on running backs, to run the ball more than they'd like.
I'll get you the inactives after I get into the stadium, but we already know the Saints will be without injured safety
Malcolm Jenkins
, tight end
Jimmy Graham
, linebacker
Danny Clark
and defensive tackle
Anthony Hargrove
.
NFC West colleague Mike Sando and I will bring you news, notes and analysis on our blogs before and after the game. During the game, we'll join Scouts Inc.'s Matt Williamson on Countdown Daily, which essentially is a live chat, where we'll throw out our thoughts and you can hit us with questions. All the information you'll need for Countdown Daily will be posted on this blog an hour or two before kickoff.
January, 7, 2011
1/07/11
12:30
PM ET
SEATTLE -- The
New Orleans Saints
likely will wait until pretty close to game time to decide if injured safety
Malcolm Jenkins
and tight end
Jimmy Graham
will play in Saturday's playoff game with the Seahawks.
Graham has an ankle injury and Jenkins has a knee injury and
neither has practiced this week
. The Saints will hold a walk-though practice at Qwest Field in a couple of hours. I wouldn't expect the Saints to let Jenkins or Graham do much in that practice and that's largely due to the weather conditions.
As you might expect, today looks like the typical January day in Seattle. It's raining, it's cool and it's foggy. My guess Jenkins and Graham will continue doing whatever rehab work they've been doing and the real test will come before the game tomorrow.
January, 7, 2011
1/07/11
12:10
PM ET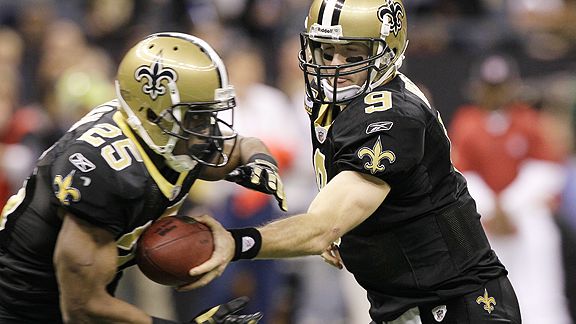 AP Photo/Patrick SemanskyWith a depleted backfield, Reggie Bush might take a lot more handoffs than usual in the playoffs.
If you go by record or reputation, you can look at Saturday's playoff game and say the
New Orleans Saints
should be able to win with one arm tied behind their back.
That might be exactly what the Saints have to do.
They're heading into Seattle's Qwest Field without running backs
Chris Ivory
and
Pierre Thomas
. Both were placed on injured reserve this week. Ivory has a foot injury that will require surgery. Thomas has an ankle injury that kept him out much of the season and finally sidelined him after a brief, but promising, late-season comeback.
On the surface, Ivory and Thomas aren't superstars, but they were important cogs in an offense that's known more for the passing game than the running game. Thomas was the closest thing to a complete running back the Saints had during last season's Super Bowl run. With Thomas and
Reggie Bush
injured early in the season, Ivory, an undrafted rookie free agent, stepped up and was the team's leading rusher during the regular season.
Quarterback
Drew Brees
might be good enough to put the team on his back and simply use the passing game to get by the 7-9 Seahawks, who are in the playoffs only because they were slightly less mediocre than the rest of the teams in the NFC West.
As good as Brees is, though, that's a lot to ask. Qwest Field is known as one of the league's loudest outdoor venues, and weather frequently can be a factor. Scratch the running game out of New Orleans' offense, and Seattle's defense simply will load up against the pass.
Even when Bush and Thomas were hurt early in the year, New Orleans coach Sean Payton made it a point not to abandon the running game completely. Even Brees needs help and balance, and the Saints will have to turn to some unusual suspects to provide at least some threat of a running game.
"We've gone through this before and really it's not uncommon,'' Payton said. "It's more of the norm and making sure that through preparation that the players that maybe haven't played more significant roles at one point or another are now ready to play those roles. More than anything else, I think it's the preparation and the teaching and the coaching that goes on. The players work week-to-week regardless of what their status might be that week, and it's understanding that all of these guys are on hand and ready to contribute."
What the Saints have on hand is a unique collection of running backs, all with different strengths and weaknesses. They have Bush, who could be more important than ever,
Julius Jones
,
DeShawn Wynn
and
Joique Bell
. Wynn and Bell were signed this week to fill the roster spots of Thomas and Ivory. Wynn had a brief stint with the Saints this season, and Bell was signed off Philadelphia's practice squad.
At least one of them will be active Saturday, but it probably will be only as a third running back. That leaves Bush and Jones as New Orleans' two best options in the running game and, as the only two backs with much experience, they'll also be needed in the passing game.
"The protections are the big issue,'' Payton said.
In recent weeks, opponents have been trying to beat the Saints by blitzing Brees frequently. That strategy worked well for Baltimore and Tampa Bay, and you can bet the Seahawks have studied film of those games closely.
Neither is an exceptionally big back and neither is known as a blocker. Jones, who was signed by New Orleans this year after three mostly disappointing seasons in Seattle, hasn't done much with the Saints. Ivory vaulted over Jones on the depth chart. In a backup role, Jones has carried 48 times for 193 yards and caught 17 passes for 59 yards. He has not scored a touchdown.
The Saints might use Jones as a blocker, but it's not likely they'll suddenly put the entire running game in his hands. That's why Bush could be the wild card in this game.
The No. 2 overall pick in the 2006 draft, Bush never has been the type of running back to handle 20 or 25 carries a game. Instead, he's been used in tandem, first with
Deuce McAllister
, then with Thomas and most recently with Ivory. Bush has been part running back, part wide receiver and part return man throughout his career.
But this could be the one game where the Saints use Bush almost exclusively as a running back because they really don't have many other choices.
"We just have to package him the right way and look at the snaps and what we're trying to do when we put him in that position,'' Payton said.
Bush missed eight games earlier this season with a broken leg, and the Saints have gradually worked him back into the rotation. But it might be time to take the limitations off Bush, and there were some encouraging signs in the regular-season finale against Tampa Bay. Bush had season highs with 70 rushing yards on nine carries.
"I thought he played well last week,'' Payton said. "He's healthy and is doing well. Coming back off of the injury, he's fully recovered now and I thought the carries and the touches he had last week were encouraging."
Although Bush finished the regular season with just 36 carries for 150 yards, there is a precedent for his stepping up in the postseason. That's what happened last season as the Saints won the Super Bowl. The Saints were cautious with Bush, who was dealing with a knee injury most of the regular season.
But he was healthy for the postseason, and the Saints unleashed him. Bush averaged 6.9 yards per carry in the postseason and was at his best in a divisional round victory against Arizona in which he ran for 84 yards, including a 46-yard touchdown run. Bush also returned a punt 83 yards for a touchdown.
Still, the Saints were pairing Bush with a healthy Thomas throughout the postseason, and Bush never got more than seven carries in a game.
The Saints aren't going to suddenly hand the ball to Bush 25 times on Saturday, but it's pretty safe to assume he'll get more than seven carries. Jones probably will get more carries than usual, and Wynn and/or Bell could end up handling a few carries.
The Saints have used Bush basically as a hybrid throughout his career. On Saturday, they might have to ask him to be just a running back.
January, 6, 2011
1/06/11
5:30
PM ET
I'm about to begin the cross-country trip to Seattle for Saturday's playoff game between the Seahawks and Saints.
I'll be in the air the rest of the evening, so keep an eye on the "headlines'' section of our NFL page for any developments on Carolina's coaching search or any other NFC South breaking news.
On Friday, we'll conduct the usual NFC South chat at 1 p.m. ET, which translates to 10 a.m. where I'll be. Here's the
link for the chat
. I'll also have a column on where the Saints might turn for a running game with
Pierre Thomas
and
Chris Ivory
out with injuries, and we'll also have our Final Word segment on the Saints and Seahawks.
On Saturday, NFC West colleague Mike Sando and I will be at Qwest Field to provide coverage on Seattle and New Orleans.
January, 6, 2011
1/06/11
4:12
PM ET
Two pretty major pieces of news came out as I was making the drive to Tampa International Airport. Neither one of them is good news for either of the NFC South teams involved.
First, quarterback Andrew Luck is
staying at Stanford and declining to enter the NFL draft
. Second, the
Seattle Seahawks
said
Matt Hasselbeck
will start at quarterback in Saturday's playoff game
.
The Luck news is pretty close to devastating for the
Carolina Panthers
. They hold the No. 1 pick in the 2011 draft and the team was fully intent on taking Luck if he chose to come out following his red-shirt sophomore season. Luck is viewed as most experts as a can't-miss prospect and the Panthers didn't disagree with that.
Without Luck, the draft lacks a quarterback that is clearly worthy of the No. 1 overall pick. So what do the Panthers do now?
Well, the easy answer is to try to trade the pick and add extra draft picks. But that's much easier said than done. There is a possibility no labor agreement will be in place before the draft and teams might be hesitant as they wait to see if a new agreement might include a rookie wage scale.
The Panthers could be stuck with the No. 1 pick. They'll have to use the Senior Bowl, scouting combine and personal workouts to come up with a guy to put in Luck's place at the top of their wish list. Chances are, that won't be a quarterback.
The Panthers still have hope that
Jimmy Clausen
can develop into a decent quarterback, but they're not going to go into next season without a viable alternative to Clausen. They might have to use the top pick on a player at another position and look to free agency for quarterback help.
The Hasselbeck news directly impacts the
New Orleans Saints
, who play the Seahawks on Saturday. While you still can argue the Saints are fortunate they drew a 7-9 team in the wild-card round, a healthy Hasselbeck will make things a bit more difficult.
Charlie Whitehurst
played for an injured Hasselbeck in the final regular-season game against St. Louis and helped the Seahawks get the win and the playoff berth. But Whitehurst is a career backup with very little starting experience. Hasselbeck is a proven veteran and probably provides the Seahawks with their best chance of staying with the Saints. Remember, Hasselbeck threw for 366 yards in a regular-season game against New Orleans.
Finally, we'll close this post with a bit of good news. I got a copy of Jeff Duncan's book "From Bags To Riches'' about the Saints and plan to read that on the plane to Seattle. It's a long flight, so I might get time to finish the entire book. Plus, I'll have a return flight Sunday, so I'll go ahead and promise you a book review by next week. And Duncan better have a pen ready to autograph my copy when I see him at Qwest Field on Saturday.
January, 2, 2011
1/02/11
11:28
PM ET
Three things to know about next Saturday's New Orleans Saints-Seattle Seahawks wild-card game:


1. Is Seattle's home-field advantage really a disadvantage for the Saints?
Qwest Field can be very loud and the weather could be a factor. But this Saints team doesn't seem to know the difference between home and the road.
In the 2009 and 2010 seasons, the Saints have lost only three games on the road. One of those losses was at Carolina at the end of the 2009 season when the Saints were resting their starters. The Saints played perhaps their worst game of the last two years at Arizona earlier this season. But the only other road loss this year was against a quality opponent (Baltimore) and the Saints won in the Georgia Dome, one of the league's toughest venues.
The logistics of a short week and traveling to the Pacific Northwest are a challenge. But the Saints are experienced at handling inconvenient situations. They traveled to London in 2008 (and won) and have practiced on the road several times in recent years when hurricanes were approaching New Orleans. Playing a team that was only 7-9 in the regular season isn't the biggest challenge the Saints have faced.
2. Don't look for a repeat of the regular-season matchup in which the New Orleans defense allowed 424 yards of offense to Seattle.
The Saints won that game 34-19, but the Seahawks moved the ball with ease.
Matt Hasselbeck
passed for 366 yards in that game.
But the Saints have been better on defense recently. They always are aggressive on defense, but they may be even more aggressive than usual against Seattle. Hasselbeck has been banged up and
Charlie Whitehurst
doesn't have a lot of experience. Defensive coordinator Gregg Williams is likely to throw a lot of blitzes at whoever is playing quarterback for the Seahawks.
3. The running game will be a key
.
Chris Ivory
ran for 99 yards in the regular season meeting. Seattle's run defense has been among the weakest in the league. The Saints need to exploit that weakness to keep the Seahawks from devoting too much attention to the passing game.
But Ivory and
Pierre Thomas
both have been banged up and
Julius Jones
hasn't done much when given playing time. The Saints have brought
Reggie Bush
back slowly from his broken leg. But it might be time to give Bush a little added work.
November, 28, 2010
11/28/10
5:49
PM ET
Time for a quick wrap-up of Carolina's
24-23
loss to Cleveland.


What it means:
We're going to focus on the positive here. There is no quit in these Panthers, and they came very close to getting a win. But, at this point, getting to 10 losses was much more important than getting a win. This one keeps the Panthers firmly on place to get the No. 1 overall pick in next year's draft and, if they were going to win one of their remaining games, it probably would have been this one.
Positive Panthers stat of the day:
Rookie quarterback
Jimmy Clausen
only threw one interception. Former Carolina quarterback
Jake Delhomme
started for the Browns and only threw two interceptions.
Positive Panthers stat of the day II:
Running back
Mike Goodson
had eight catches. Carolina wide receivers have done that only twice this season.
Steve Smith
has one nine-catch game and
David Gettis
has an eight-catch game.
What's next:
The Panthers get to make a cross-country trip to play the Seahawks at Qwest Field. That five-hour flight should give the Panthers enough time to throw their Christmas party and coach John Fox's farewell party. Heck, general manager Marty Hurney should make a side trip down the West Coast and present an honorary Stanford degree to Andrew Luck so the quarterback can go ahead and enter the 2011 draft.