December, 4, 2013
Dec 4
5:20
PM ET
METAIRIE, La. – Although the
New Orleans Saints
didn't practice on Wednesday, they were required to submit a projected injury report. Five players were listed as "Did Not Practice" – offensive tackle
Zach Strief
(ankle), defensive tackle
Brodrick Bunkley
(ankle), defensive end
Glenn Foster
(knee), outside linebacker
Keyunta Dawson
(calf) and safety
Rafael Bush
(ankle).

Strief left Monday night's game early because of the ankle injury and was limping noticeably on his way back to the locker room. But after the game he said he's optimistic he won't be out long.
"We'll see," Strief said Monday night. "I'm not a guy that has to be 100 percent; I'm a bad enough athlete. I think it scared me a good bit on the field, but it's not as bad as it could have been."
Strief will certainly be missed if he can't play Sunday night against the
Carolina Panthers
. But second-year backup
Bryce Harris
has gotten a decent amount of experience as a fill-in and extra blocker this season, and should be capable of stepping up to fill the void.
Bunkley and Bush are new to the injury report this week. The severity of their injuries is unknown. Foster and Dawson were held out of Monday's game with their injuries.
October, 16, 2013
Oct 16
3:00
PM ET
There were a ton of highs and lows for the
New Orleans Saints
' defense in their 30-27 loss to the
New England Patriots
in Week 6. That will happen when you're on the field for a whopping total of 86 snaps. So I decided to break down the defensive film review into two parts -- focusing first on the last drive, since that's ultimately all that mattered.
It's a shame that things ended so poorly for the Saints' defense after it had played so well throughout the second half. But quarterback
Tom Brady
made it look too easy as he marched his team 70 yards on eight plays in just 1:08 to win the game.
[+] Enlarge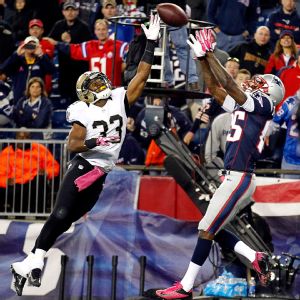 Stew Milne/USA TODAY SportsJabari Greer just missed breaking up Kenbrell Thompkins' game-winning touchdown catch.
What's that old saying? The only thing a prevent defense does is prevent you from winning? That's not exactly how things played out for the Saints on this drive (they blitzed once, went with a four-man rush four times and three-man rush twice; the other snap was a spike). But it was surprising how much of a cushion Patriots receivers
Julian Edelman
and
Austin Collie
had on the first two pass plays that gained 23 and 15 yards. The first one was especially damaging since Brady barely got the throw off while being hit by end
Cameron Jordan
. Brady then followed up with a quick 6-yard completion to receiver
Aaron Dobson
that didn't do much damage -- but cornerback
Keenan Lewis
probably regretted letting him get out of bounds at the end of the tackle.
The Saints actually dodged a couple of bullets on the next two plays. Edelman got a step behind linebacker
David Hawthorne
for a potential catch at the 1-yard line with 30 seconds remaining. But that was the play the Saints blitzed on, and pressure from outside linebacker
Junior Galette
altered Brady's throw just enough. On the next play, Edelman started to catch a similar pass inside the 2-yard line, but Saints safety
Kenny Vaccaro
came in with a big hit that popped the ball loose. That set up a fourth-and-4, which Brady converted on a short comebacker to Collie against decent coverage by safety
Malcolm Jenkins
.
After a spike, Brady finally found the end zone when he hit receiver
Kenbrell Thompkins
with a beautifully placed 17-yard pass, up high in the back left corner over cornerback
Jabari Greer
's head, with five seconds left. Greer's coverage wasn't that bad, but he couldn't get a hand up on the ball. Thompkins (6-foot-1) got much better leverage after briefly jostling for position with Greer (5-foot-11) and caught the ball at its high point. It was almost identical to the Saints' own touchdown catch by receiver
Kenny Stills
just minutes earlier across the field.
Ideally, Saints safety
Rafael Bush
would have gotten over to help Greer, since the Saints had seven men in coverage against four receivers spread across the field. But Bush first had his eyes on Collie coming out of the slot against Jenkins. Not sure if that was a mistake or if Thompkins appeared to be well-covered enough since he was pinned into the back corner of the end zone.
As for whether or not Patriots left tackle
Nate Solder
got away with holding on that touchdown throw, I mentioned this earlier in the week. Clearly Solder was hooking his arm around Galette's neck at the end of the play -- and he easily could have earned a flag. But I'm not surprised that there was no flag thrown. When you watch the replay at full speed, the hook is brief and comes just as Brady is about to deliver the ball. I'm sure it wasn't as blatant to the naked eye on the field as it is in still pictures or slow-motion replays. But Solder and the Patriots definitely got away with one.
March, 13, 2013
Mar 13
3:12
PM ET
New Orleans center
Brian De La Puente
, who quietly has become a very solid anchor of the offensive line, was the biggest winner on the Saints when it came to the performance-based pool for the 2012 season.
The performance pool is designed to reward players with low base salaries who get significant playing time. De La Puente earned an extra $289,000, according to league sources.
The other New Orleans players to earn at least $100,000 from the pool were safety
Isa Abdul-Quddus
($232,000), cornerback
Corey White
($196,000), tight end
Jimmy Graham
($146,000), safety
Rafael Bush
($135,000), fullback
Jed Collins
($134,000), defensive tackle
Akiem Hicks
($129,000), defensive tackle
Tom Johnson
($114,000), defensive end
Junior Galette
($114,000), defensive end
Martez Wilson
($113,000) and receiver
Joe Morgan
($111,000).
February, 14, 2013
Feb 14
6:18
PM ET
Time to take a run through some odds and ends from around the division:
TAMPA BAY BUCCANEERS
Pete Prisco tops his list of
under-the-radar free agents
with Arizona cornerback
Greg Toler
. In a year when there aren't a lot of big-name cornerbacks available (and those that are come with question), Toler is a guy worth keeping an eye on. The Bucs have a desperate need at cornerback. They need to add several and they aren't all going to come through the draft.
There has been some previous talk about a reunion of the Bennett brothers before and
this
will fuel it more.
Martellus Bennett
, the tight end for the Giants, tweeted that he would like to stay in New York. But he added that his next choice would be to play with his brother Michael, who has been with the
Tampa Bay Buccaneers
, but can also become an unrestricted free agent. The Bucs are likely to make a strong attempt to keep
Michael Bennett
. They also could be in the market for a tight end if they don't re-sign
Dallas Clark
, and Martellus Bennett could be a nice fit.
NEW ORLEANS SAINTS
The Saints have
re-signed
safety
Rafael Bush
, tight end Michael Higgins and guard
Eric Olsen
. This was a mere formality. All three were exclusive-rights free agents and didn't have any alternative. But this shows the Saints' front office is hard at work and that means some moves to free up more than $20 million in salary-cap space will be coming soon.
CAROLINA PANTHERS
Bryan Strickland writes that the recent signing of
Colin Cole
doesn't mean the Panthers will
ignore defensive tackle
in the draft. Cole hasn't played in the NFL since 2010. If he gives the Panthers anything at all, it's a bonus. Defensive tackle still remains one of this team's biggest needs and the Panthers better address it in the draft.
ATLANTA FALCONS
Owner Arthur Blank will serve as
honorary chairman
Saturday when the Black College Football Hall of Fame holds its annual enshrinement.
February, 12, 2013
Feb 12
1:33
PM ET
Back when
Curtis Lofton
left the
Atlanta Falcons
for the
New Orleans Saints
as a free agent, he did it because he wanted to be an every-down linebacker.
Lofton has said the Falcons made it clear to him shortly after the arrival of new defensive coordinator Mike Nolan that he'd come off the field on passing downs. The Saints lured Lofton largely by telling him he'd be an every-down linebacker in their system.
He ended up coming very close to literally being an every-down linebacker. The Saints had 1,137 defensive plays. Lofton was on the field for a team-high 1,121 (98.59 percent) of those plays.
Let's take a look at the playing-time percentage breakdown for the rest of the New Orleans defense:
February, 11, 2013
Feb 11
6:03
PM ET
Let's take a run through some odds and ends from around the division:
ATLANTA FALCONS
Remember Ray Edwards, the free-agent bust the Falcons released in the middle of last season? Well, after no other team signed him, Edwards apparently turned to boxing. Check out
the video
of his recent fight in North Dakota.
Since Dave Caldwell left to become the general manager of the Jacksonville Jaguars, the Falcons have readjusted their personnel department by promoting from within. The latest example is the team's announcement that Tukunbo Abanikanda has been promoted to
area scout
. In 2012, he worked as a scouting assistant.
CAROLINA PANTHERS
In his latest
mock draft
, Charlie Campbell has the Panthers taking Ohio State defensive tackle Jonathan Hankins. Defensive tackle has been a problem spot for the Panthers for years and veteran Ron Edwards appears to be a likely salary-cap cut.
NEW ORLEANS SAINTS
Safety Rafael Bush said he has
re-signed
with the team. Bush played mostly on special teams last season. But, with new defensive coordinator Rob Ryan taking over, Bush could have a shot at more playing time at safety.
TAMPA BAY BUCCANEERS
Stephen Holder reports that the Bucs have had
no substantial contract talks
with defensive tackle Roy Miller. That's a little surprising because Miller was a key part of a solid run defense last season. But there's still a month before the start of free agency, so talks could start up at any time.
February, 11, 2013
Feb 11
1:17
PM ET
Time to continue our look at the NFC South's potential free agents with the
New Orleans Saints
.

Their list includes left tackle
Jermon Bushrod
, linebacker
Jonathan Casillas
, backup quarterback
Chase Daniel
, defensive tackle
Sedrick Ellis
, receiver
Devery Henderson
, linebacker
Ramon Humber
, cornerback
Elbert Mack
, defensive end
Turk McBride
, tackle
Will Robinson
, receiver
Courtney Roby
and linebacker
Scott Shanle
. Center
Brian De La Puente
, center
Justin Drescher
, defensive end
Junior Galette
and running back
Chris Ivory
can be restricted free agents. Safety
Rafael Bush
, guard
Eric Olsen
and tight end
Michael Higgins
can be exclusive-rights free agents.
The big names are Bushrod, who has made himself into a Pro Bowler, and Ellis, a former first-round pick. Although the Saints have major salary-cap issues, they are likely to at least make an attempt to keep Bushrod. But it's important to remember the Saints aren't like most other teams when it comes to their philosophy on paying offensive linemen. They have a history of paying more to guards (see
Jahri Evans
and
Ben Grubbs
) than they do to tackles and Bushrod could get big money on the open market.
Ellis never has lived up to his draft status and, with the Saints switching to a 3-4 defense, I'm not sure he's a good fit for the scheme.
Henderson and Shanle used to be key players. But age started to catch up to them last season and I don't see the Saints making a big push to keep them.
September, 2, 2012
9/02/12
12:02
PM ET
Let's catch up on a bunch of roster moves around the NFC South.
-- The
Carolina Panthers
signed veteran defensive tackle
Dwan Edwards
and released defensive tackle
Terrell McClain
. Edwards was a second-round pick by Baltimore in 2004 and most recently was with Buffalo. The release of McClain comes as a bit of surprise. He was pressed into starting duty by injuries as a rookie last season and showed some promise. But the move shows the Panthers want more experience to go with veteran
Ron Edwards
up front.
The Panthers also signed guard
Bryant Browning
, receiver Lamont Bryant, defensive tackle Nate Chandler, receiver Jared Green, tight end Nelson Rosario, running back
Armond Smith
and guard Zack Williams to their practice squad.
-- The
New Orleans Saints
claimed safety
Rafael Bush
off waivers from the
Denver Broncos
and waived safety
Jonathon Amaya
.
Isa Abdul-Quddus
emerged as New Orleans' top backup safety and Amaya wasn't much more than a special-teams player. Amaya's claim to fame was that he came as part of the
Reggie Bush
trade in 2011.
-- The
Tampa Bay Buccaneers
have signed running back
D.J. Ware
and released cornerback
Brandon McDonald
. The Bucs already seemed set at running back with
Doug Martin
,
LeGarrette Blount
and
Michael Smith
. Ware has history with offensive coordinator
Mike Sullivan
from their time together in New York. Makes you wonder if the Bucs might be looking to trade Blount.
The Bucs signed defensive tackle
Corvey Irvin
guard
Julian Vandervelde
and guard/center Cody Walllace. They also released defensive tackle
Wallace Gilberry
and
Cody Wallace
. The fact that the Bucs still are bringing in guards is a strong sign they haven't made a firm decision on how they'll replace Pro Bowl guard
Davin Joseph
, who suffered a season-ending injury.
-- The Falcons signed receiver Drew Davis, tackle Bryce Harris, receiver Marcus Jackson, cornerback Peyton Thompson and defensive tackle Micanor Regis to their practice squad.
September, 3, 2011
9/03/11
5:11
PM ET
August, 17, 2011
8/17/11
4:34
PM ET
Time for an afternoon run through the headlines around the NFC South.
The
Carolina Panthers
wrapped up their first training camp
under coach Ron Rivera on Wednesday. The team will return to its facility at Bank of America Stadium for the rest of the preseason after Friday night's exhibition in Miami. Rivera said he's pleased with what coaches and players were able to accomplish during a hectic few weeks at Wofford College. The Panthers have remained the only NFC South team to hold training camp away from their regular-season facility.
The Bucs also have
wrapped up the camp portion
of their preseason. They're off Wednesday as they prepare for Thursday night's home game with New England. Coach Raheem Morris pointed to the preseason opener against Kansas City to say he thinks camp was a success.
Carolina defensive end
Charles Johnson
, who signed a $76 million contract soon after the lockout was lifted,
expects to play
in Friday's preseason game at Miami. Johnson missed the opener with a minor shoulder injury.
New Orleans coach Sean Payton said he's
yet to hear from the NFL
on whether or not defensive end
Will Smith
will be suspended for the first four games of the regular season.
Tampa Bay's
Kregg Lumpkin
is trying to
make the most of his opportunity
to be the top backup running back behind
LeGarrette Blount
.
Jay Adams takes a look at
the storylines
as the Falcons get ready for Wednesday night's practice with the Jaguars. He points to the competition at nickel back among Christopher Owens,
Dominique Franks
and
Rafael Bush
. I agree that this one is key and I think the coaching staff will give each of those three guys plenty of reps to see them in a setting that's almost like a game.
September, 5, 2010
9/05/10
4:33
PM ET
The Falcons just announced their eight-man practice squad and you're going to recognize a lot of the names if you followed Atlanta through training camp and the preseason.
The list includes tight end Robbie Agnone, receiver
Tim Buckley
, running back
Dimitri Nance
, receiver
Andy Strickland
, offensive tackle
Jose Valdez
, safety
Rafael Bush
, defensive end
Emmanuel Stephens
and linebacker
Bear Woods
.
Buckley, Nance, Bush, Stephens and Wood all were signed as rookie free agents and were cut near the end of the preseason. Strickland spent part of last season on the practice squad and Agnone was signed by Atlanta just before camp started.