August, 5, 2011
8/05/11
7:14
AM ET
FLOWERY BRANCH, Ga. -- You think of Deion Sanders and your first image of him might be as a member of the Cowboys, 49ers, Redskins or Ravens.
But as Sanders gets ready to enter the Pro Football Hall of Fame on Saturday, let us not forget that his NFL career actually began as a member of the Atlanta Falcons. Drafted fifth overall in 1989, Sanders played for the Falcons through 1993. He hasn't forgotten his time in Atlanta and neither have the Falcons.
[+] Enlarge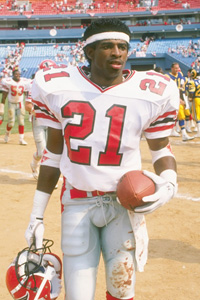 Allen Steele/Allsport Deion Sanders will become the first player drafted by the Falcons to enter the Pro Football Hall of Fame.
"When I was dreaming as kid, I couldn't often times share those dreams because I thought they were so out of the box. Never would people think that a kid from Ft. Myers, Fla., who was small in stature, but big on confidence, would ever have his name recognized in a stadium in the only place he played in which he called home,'' Sanders said last year when he was inducted into the Falcons' Ring of Honor. "I want to thank the Atlanta Falcons, ironically 21 years later [from the year he was drafted and also the jersey number he wore in Atlanta], for making my dreams come true.''
This isn't like the Baseball Hall of Fame, where a player has to declare what team's hat he wants on his plaque. Members of the football Hall of Fame represent all the teams they play for.
This will be a big moment for the Falcons because Sanders is the first player they've drafted to make the Hall of Fame. Although Rankin Smith owned the team when Sanders played for the Falcons, new owner Arthur Blank has developed a strong bond with the player who was nicknamed "Prime Time.''
Blank already is in Canton and he and Sanders have agreed to carve out some private time to sit and talk Saturday morning. Although the Falcons are in the middle of training camp, the team will send a large contingent to Ohio.
Blank's son, Josh, also will be on the trip. Other members of the organization who will be in attendance include player programs director Kevin Winston, vice president of communications Reggie Roberts and senior director of media relations Frank Kleha.
Winston has worked closely with Sanders, who maintains a youth foundation in Atlanta. That's not his only lasting bond with the city. Sanders also hosted a "Thank You Atlanta'' party at 200 Peachtree on July 16, with proceeds going to his foundation.
Sanders' only rule for the party was that all attendees had to wear red and black.
May, 25, 2010
5/25/10
6:18
PM ET
A little update since my last post, where I said it was sunny and 90 degrees in Tampa. It's now raining and probably about 89 degrees.

But, hey, weather doesn't really matter anymore. NFL owners have voted to give New York the 2014 Super Bowl. For the record, that'll be in February of 2014. Isn't there some saying about how it's always sunny is Piscataway?

Anyway, I just got off a conference call with Tampa Bay Buccaneers co-chairman Bryan Glazer and members of the Tampa Bay Super Bowl bid committee that finished a close second to New York. Glazer said he was not told the final tally of the vote, but said he was told by league officials and several owners that the vote was much closer than expected.

"Under normal circumstances, we probably would have walked away with the trophy,'' said Sandy MacKinnon of the Tampa Bay Super Bowl bid committee. "But the NFL was interested in making history with New York City and a new stadium. I think the odds were stacked against the traditional sunshine climate.''

That's probably the strongest statement out of the call. The Tampa Bay group was very careful not to point fingers at NFL commissioner Roger Goodell, who many in the media have said steered this game to New York and I share that opinion. Glazer and the members of the bid committee seemed to take some consolation in making the vote closer than many expected.

"This has gotten us well positioned for getting another Super Bowl in Tampa,'' Glazer said. "The Tampa Bay area is a great area for the Super Bowl and the owners know it.''

That's a very good point and it made me reflect a bit on history. Many years ago, I was covering the Bucs for The Tampa Tribune, when Tampa Bay was putting in a bid on the Super Bowl following the 1999 season. The Bucs wound up losing that game to Atlanta, almost entirely because there was sentiment by owners to give a Super Bowl to former Falcons owner Rankin Smith.

After the vote went down, Tampa Bay owner Malcolm Glazer, usually a very quiet man, got up and got very loud. He started reminding former commissioner Paul Tagliabue and the rest of the owners that Tampa Bay had delivered on getting a new stadium. Glazer's pitch wound up getting Tampa Bay the Super Bowl the following year.

Malcolm Glazer's health isn't so good these days. Sons Bryan, Joel and Ed run the team now and many fans view them as quiet. They are, to a degree. But they can be very firm when they have to be. I know for a fact Bryan was in that room when his father stood up and I'm sure he remembers it well.

"There are no guarantees,'' Bryan Glazer said. "We are a strong contender for next year or the year after. I feel like we came out of this feeling very strong.''

True, there are no guarantees. But I'm thinking the Glazers and the Tampa Bay folks have sent a message to the owners and it goes something like this: "We took one for the team. You owe us one''.

Another quick weather update: The rain has now stopped. It's still in the upper 80s. The sun is back out.