NFC South:

Rashard Mendenhall
September, 26, 2013
9/26/13
12:00
PM ET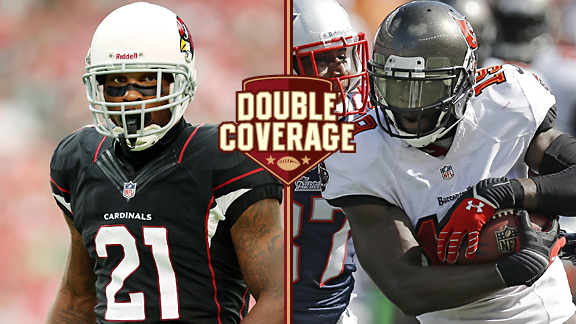 Getty ImagesMike Williams will be called on to help jump-start Tampa Bay's offense, while Patrick Peterson will be charged with helping to keep him in check.
The
Tampa Bay Buccaneers
aren't the only NFL team practicing in the Tampa Bay area this week.
The
Arizona Cardinals
are practicing at IMG Academy in Bradenton, Fla., as they get ready for Sunday's game.
Cardinals reporter Josh Weinfuss and Buccaneers reporter Pat Yasinskas talk about Sunday's game.
Yasinskas:
Josh, I know IMG has great facilities. The Buccaneers used them during the lockout, and the
Carolina Panthers
worked out there last year to avoid the congestion from the Democratic National Convention before playing the Bucs. But why did the Cardinals elect to come east early?
Weinfuss:
Having just adjusted to the two-hour time difference in New Orleans, Bruce Arians didn't want his players' bodies to get totally out of whack going back to Pacific time (technically, Arizona is on Mountain time, but the state doesn't change its clocks when the rest of the country does) and then five days later fly cross-country to the East Coast, another three hours ahead. I'm tired from thinking about it. This way, the Cardinals can adjust their body clocks to playing what would be a 10 a.m. home game in Arizona. We'll see whether it works. There's a pretty significant contingent inside the locker room that's not a fan of this, but those players might be after they realize what their bodies would have gone through. And then there's playing in the Florida humidity, which takes more than a day or two to adapt to. In Arizona, it's a dry heat (yeah, I know, everyone doubts it, but it really is), and the Cards neither practice nor play outside, so the added time in the elements could help.
Speaking of elements, is the Bucs' locker room in as much disarray right now as the perception makes people believe?
Yasinskas:
It might be in even more disarray than people realize.
Wednesday's news
that the Bucs are benching quarterback
Josh Freeman
in favor of rookie
Mike Glennon
was just more evidence of how much dysfunction is going on with this team. Freeman and coach Greg Schiano never were firmly on the same page, and Freeman's fate was sealed the moment Schiano used a third-round draft pick on Glennon in April. But the fact that Schiano now is going with "his guy" isn't going to instantly solve all the problems. Freeman is a popular figure in the locker room, and some teammates might not agree with his benching. There also have been multiple reports about players not liking Schiano's militaristic style. The Bucs have denied those reports, but I think there's something to them. I believe that where there's smoke, there's fire.
Speaking of coaching styles, it's early in the Arians era, but what is his persona and how has he been received by the players?
Weinfuss:
He's a no-nonsense type of guy, and the players love it. Well, maybe they loved it. Having a lackluster offense and starting 1-2 wasn't what this team projected out of Arians. There haven't been any signs of the players losing faith in their coach. They all raved about him during organized team activities, minicamp and training camp. The players appreciated his candidness with them. If they ever want to know where they stand, he'll tell them the truth, the whole truth and nothing but the truth. Whether they like it or not.
He has been there for only three games, but is the
Darrelle Revis
acquisition working out and how has he changed the Bucs' defense?
Yasinskas:
Revis has been everything the Bucs hoped for. They brought him in to fix a defense that led the league in passing yards allowed last season, and the early results have been good. Revis is the kind of player who makes those around him better, and his arrival really has helped strong safety
Mark Barron
. I'd imagine the Bucs will put Revis on
Larry Fitzgerald
for most -- or all -- of this game.
If Revis can neutralize Fitzgerald, do the Cardinals have enough other offensive weapons to win?
Weinfuss:
That's the $10,000 question. The short answer is yes, they do. The long answer is only if the other weapons -- most notably receivers
Michael Floyd
and
Andre Roberts
-- are not double-teamed. If they are and Revis can shut down Fitzgerald, it could be a long day for Arizona's offense. But Arians is a smart enough offensive mind, so I'm sure he has accounted for this. Expect tight end
Rob Housler
to play an integral role Sunday, and look for the Cardinals' stable of running backs --
Rashard Mendenhall
,
Alfonso Smith
,
Andre Ellington
and
Stepfan Taylor
-- to come out of the backfield for passes and to create mismatches.
Aside from Revis, how has the rest of Tampa Bay's defense looked?
Yasinskas:
The defense has been a bright spot for Tampa Bay. In addition to the secondary, linebackers
Mason Foster
and
Lavonte David
, defensive end
Adrian Clayborn
, and defensive tackle
Gerald McCoy
are off to very good starts. But the Patriots were able to run the ball against the Bucs, and Tampa Bay had trouble with the tight ends against the Jets and the Saints. The Bucs could be susceptible if Arizona can get some production from the running game or its tight ends.
November, 1, 2010
11/01/10
12:44
AM ET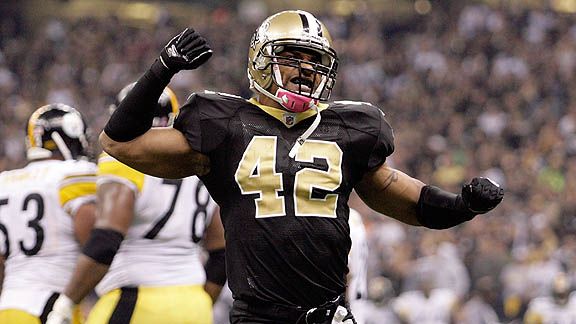 Matthew Sharpe/Getty ImagesDarren Sharper and the Saints got a much-needed win over the Steelers Sunday night.
NEW ORLEANS -- Two Dat? Well, it's still possible.
If you saw the
New Orleans Saints
on Sunday night, you saw a very good football team. Maybe they weren't the high-scoring juggernaut they were when they won their first 13 games last year on the way to a Super Bowl title. But for the first time this season, the Saints looked like a team capable of doing real damage in January and February.
Just a week after an embarrassing home loss to Cleveland,
the Saints defeated
the
Pittsburgh Steelers
20-10 in a Halloween party at the Superdome. In a matchup of the past two Super Bowl champions, it was the Steelers who looked like they were masquerading as a contender.
Memo to the rest of the NFL: The Saints still are contenders. Yes, they've got some flaws, some injuries and nothing's going to be easy. But they've got a shot, if they can continue playing like this.
Had they lost, the season would have been well on its way to being over. Instead, the Saints are 5-3 at the season's midpoint and they've got a game at Carolina next week and a bye after that before beginning a stretch where they don't play a team that currently has a winning record until they go to Baltimore on Dec. 19.
But the biggest reason for encouragement might be that the Saints beat a good team for perhaps the first time this season. The Saints also defeated Tampa Bay on Oct. 17, but there's still room to debate if the Bucs are a good team. There's no doubt the Steelers are a good team.
"It was good for us to get a win,'' coach Sean Payton said. "We'll keep working. We'll recognize that it is what it is and we've got a lot of things to work on.''
Yes, there's plenty to work on. But this win came against a good team and in prime time with part of the world watching to see if the Saints were done. Other than the Bucs and Steelers, the Saints have defeated Minnesota, San Francisco and Carolina -- three teams that are a combined 5-17 -- and most of those wins weren't pretty.
"We needed this,'' said wide receiver
Lance Moore
, who had a fourth-quarter touchdown catch. "After playing so poorly last week, it was important for us to come out and play well.''
That's exactly what the Saints did. It wasn't the same game plan they used last year when they were steamrolling opponents. This time, they did it mostly with defense.
Despite playing without injured starting cornerbacks
Jabari Greer
and
Tracy Porter
, having nickelback
Randall Gay
on injured reserve and rookie
Patrick Robinson
suffering an ankle injury early in the game, the Saints held
Ben Roethlisberger
to 195 passing yards.
The Saints moved
Malcolm Jenkins
from safety to cornerback for the second straight week and he started opposite Robinson. Once Robinson went down, the Saints turned to seldom-used
Leigh Torrence
, who held up well in coverage and intercepted Roethlisberger to end Pittsburgh's final drive.
"When you get nicked up like that, you're down one corner and we came up big all night,'' Payton said.
The Steelers reached the end zone only once, when
Rashard Mendenhall
broke off a 38-yard run early in the fourth quarter. The defense also had a huge goal-line stand early in the second quarter to hold Pittsburgh to a field goal.
"The defense is carrying us,'' said Moore, who finished with a game-high seven catches. "There hasn't been one game where the offense has showed up and done what we're capable of.''
But the offense suddenly became capable in the fourth quarter after being held to a pair of field goals through the first three periods. Quarterback
Drew Brees
brushed off a four-interception debacle against Cleveland and completed 34 of 44 passes for 305 yards and two touchdowns. Both touchdowns came in the fourth quarter: a 16-yarder to
Marques Colston
to give the Saints a 13-3 lead and an 8-yard strike to Moore with 2:37 remaining to provide the final margin.
"Talk about must wins,'' said safety
Darren Sharper
, who came up with a key fumble recovery in the fourth quarter. "You can put that in the category of a must win.''
There's no doubt the Saints had to win that game to keep hopes of a repeat alive.
"I'd say it was the best overall performance by our team,'' middle linebacker
Jonathan Vilma
said. "It was a statement game for us as well.''
A statement that the Saints are still the Super Bowl champions and could end up keeping that title.
Yes, maybe they'll slip back to their struggles from earlier in the season. But there's hope now because the Saints showed how good they can be -- and there could be help on the way. Porter and Greer could be back soon. Injured running backs
Reggie Bush
and
Pierre Thomas
also could be returning before long.
"There were definitely things we can reference and build on as we move forward,'' Brees said.
At a midseason point where they could have been in big trouble, the Saints appear to be moving forward.
"We've got high expectations,'' Brees said. "We're disappointed with the 4-3 start, especially because of the way we lost some of those games. It was really about sticking together. Everybody outside the building was like, 'What's wrong with the Saints?' But we knew in our locker room that we had to stick together. We played as complete a football game -- offense, defense and special teams -- as we have all year.''
September, 15, 2010
9/15/10
2:37
PM ET
A lot of the hype leading into the opener between Atlanta and Pittsburgh centered on the suspension of Steelers quarterback
Ben Roethlisberger
.
But the Falcons were also without a key player. Defensive tackle
Jonathan Babineaux
was serving a one-game suspension for violating the league's conduct code. Babineaux has returned to practice and is expected to play Sunday against Arizona.
Atlanta's defense had a pretty solid outing against Pittsburgh, but
Trey Lewis
, who started in place of Babineaux, was taken out of the play on a block that helped spring
Rashard Mendenhall
on the touchdown run that decided the game in overtime.
In
this radio interview
, defensive end
John Abraham
talked about how much he's looking forward to having Babineaux back on the field.
"I missed him on the field and having him in my presence and on the field with me. It makes me a lot more comfortable,'' Abraham said.
September, 14, 2010
9/14/10
11:03
AM ET
The Falcons just formally cleared a roster spot for the return of defensive tackle
Jonathan Babineaux
from a one-game suspension.
They released center
Rob Bruggeman
. Babineaux had been suspended for one week for violating the NFL's conduct code last season. His absence was obvious in Sunday's season-opening loss to Pittsburgh.
On
Rashard Mendenhall
's 50-yard touchdown run in overtime,
Trey Lewis
, who was playing in Babineaux's spot, was thrown to the ground by a blocker at the line of scrimmage. Mendenhall started his romp through that hole.
Babineaux is expected to return to practice Wednesday and start Sunday against Arizona.
September, 12, 2010
9/12/10
6:33
PM ET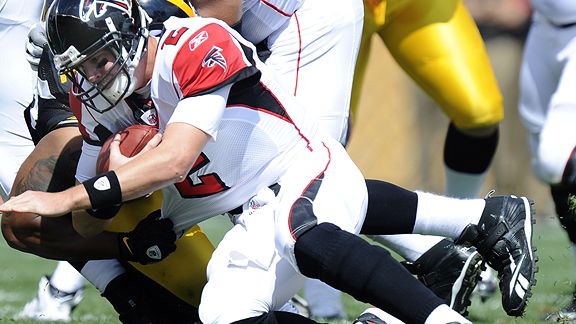 AP Photo/Don WrightMatt Ryan and the Atlanta offense wasted a strong performance by the Falcons defense.
PITTSBURGH – Rise up? How about falling flat?
That's what the
Atlanta Falcons
did Sunday at Heinz Field. The team that made the phrase "Rise Up'' the centerpiece of its offseason marketing campaign, at very least, stumbled badly in the season opener.
When you've got a good young core of players that you think is about to take the next step, there's nothing wrong with promoting the idea of rising up. Seems like everyone else in Atlanta got the message, except the Falcons.
"I thought it was a well-fought game,'' Atlanta coach Mike Smith said.
Well fought? Yeah, we'll give Smith that. But well played? No, not even close.
If you truly aspire to be a playoff team, you don't go on the road and lose 15-9 in overtime to a
Pittsburgh Steelers
team that's playing its third-string quarterback. With
Ben Roethlisberger
suspended and
Byron Leftwich
out,
Matt Ryan
easily should have been the best quarterback on the field.
He wasn't.
Dennis Dixon
was, and that's a huge problem for the Falcons. One loss doesn't make a season, but it sure can set a tone. Three hours after the season started for the Falcons, they already were one game behind the
New Orleans Saints
… and the
Tampa Bay Buccaneers
. You've got to figure the Bucs will run into reality at some point, but the Saints aren't the kind of team you can give an early lead and expect to come back.
Especially when you lose a game you should have won.
"They were the better team today,'' Smith said.
I'm not buying that. With Roethlisberger, sure. With Leftwich, maybe. But, with Dixon and not much else but a good defense, the Falcons had a big opportunity. It wasn't like Dixon tore Atlanta's defense apart. He completed 18 of 26 passes for 236 yards with one interception. He appeared frazzled at times, made some bad throws and only led the Steelers to three field goals in the 60 minutes of regulation time.
So where was Atlanta's new-look defense, which is supposed to be so much better than last season, and what about all the rumors that the Falcons would have an actual pass rush this year?
Well, the Falcons did record three sacks. But two of those came on back-to-back plays near the end of regulation, and the other one came earlier in the second half. When the Falcons had a chance to really rattle a young quarterback early on, they failed.
Let's hit the defense with one more thing before we move to the real culprit. Overall, the defense wasn't that bad until its first play of overtime. That's when
Rashard Mendenhall
broke off a 50-yard touchdown run to win the game.
"To have a big play at the end like that just makes you sick to your stomach,'' Atlanta linebacker
Curtis Lofton
said.
That was the only time either team got into the end zone all day, and that was Atlanta's real crime.
"Our defense played well,'' receiver
Roddy White
said. "We let them down as an offense.''
What White said pretty much sums up the game. When you've got an offense that features Ryan, White,
Tony Gonzalez
and
Michael Turner
, you shouldn't have such trouble scoring points.
"We've got to make more big plays,'' White said.
He's right. The Falcons had only two pass plays go for 20 yards or more, and the longest was 23 yards. The Falcons didn't have a run go for more than seven yards. Aside from White, who caught 13 passes for 111 yards, the Falcons really had no offensive bright spots.
Did the absence of injured receiver
Michael Jenkins
really make that much difference? It shouldn't. Jenkins is a role player, a guy who's supposed to catch some possession passes and make some blocks in the running game.
[+] Enlarge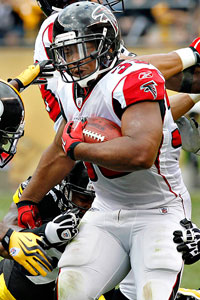 AP Photo/Keith SrakocicAfter a subpar 2009 season, Michael Turner is off to another slow start in 2010.
Where Jenkins is important in the running game is down the field. But the Falcons never came close to getting down the field in the running game. Turner carried 19 times for 42 yards. That's a 2.2-yard average.
That's hugely disappointing, especially after we heard so much in the offseason about how Turner was in such better physical condition than last season. Turner admitted he let himself get out of shape after a huge 2008 season and has claimed he's on a mission to prove he was not a one-season wonder.
I'm not ready to write Turner off just yet, because it didn't look like his offensive line was doing him any favors. Then again, Turner wasn't making anything happen on his own.
Same with Ryan. The conventional wisdom among the Falcons was that Ryan didn't have a bad season in 2009 -- that he was just the victim of injuries to Turner and receiver
Harry Douglas
. I bought it at the time and repeatedly argued that Ryan didn't have what many called a "sophomore slump."
But now I'm starting to wonder about that and about Turner perhaps being a one-season wonder. That makes me wonder about the whole idea of Atlanta rising up.
Sure, the defense looked pretty good, and that's encouraging even against an inexperienced quarterback. But the offense, which seems so talented on paper, really hasn't played to its full potential in a very long time. Was 2008 just a mirage?
"It's one game,'' Ryan said. "Our objective has to be to get back to work and fix some things.''
Ryan's right. It is only one game. But there are a lot of things to fix and the
Arizona Cardinals
come to the Georgia Dome next week and the Falcons go to New Orleans in Week 3. If the Falcons don't fix things quickly and find an offense, they won't be rising up.

NFC SOUTH SCOREBOARD
Friday, 8/22
Saturday, 8/23