May, 9, 2013
5/09/13
6:30
PM ET
TAMPA, Fla. -- Because of the Gulf of Mexico and Tampa Bay, there are a lot of bridges in this area.
A new one opened Thursday. This one doesn't span water. Instead, it covers the history of an NFL franchise.
That's the picture I got as
Ronde Barber
posed for photos at the conclusion of his
retirement news conference
. There was one in particular that struck me.
It came with Barber flanked by Greg Schiano and Tony Dungy on one side and Jerry Angelo and Mark Dominik on the other. The present, the past and the future -- and everything else in between -- all mixed perfectly into one snapshot.
No one but Barber could bridge all of the gaps that are represented in that photo.
[+] Enlarge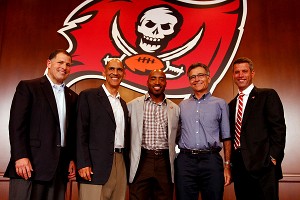 Photo/Tampa Bay BuccaneersRonde Barber, center, poses with Greg Schiano, Tony Dungy, Jerry Angelo and Mark Dominik during Barber's retirement news conference.
"Over the last 16 years, we've seen a lot of changes," Buccaneers co-chairman Joel Glazer said. "We've seen a new stadium go up. The uniforms have changed. Coaches, we've seen different players come and go. We've seen change upon change upon change. But over those years, there has been one constant here in Tampa. A true professional in every sense. What I consider the definition of greatness on and off the field. When we talk about Buccaneer Men, I say if you could put a picture on the wall and say, 'True Buccaneer Man,' it would be Ronde Barber."
Actually, the photo represented more than the 16 years Barber played defensive back for the Buccaneers. It represented the entire history of the franchise. It dates back to 1976 and extends way into the future.
Let's start with the past. Angelo worked in the personnel department back in the days of Ray Perkins, Richard Williamson and Sam Wyche when the Bucs were piling up double-digit losses most years, wearing those Creamsicle uniforms and trying for the better part of their first two decades to grow out of the expansion phase. Dungy is the coach who came in and finally got the team on the right track.
One year into Dungy's tenure, he, Angelo and former general manager Rich McKay drafted Barber in the third round out of the University of Virginia.
The rest is history that you already know, so we'll keep it short. Barber became a perfect fit in the Tampa 2 defense. Along with Derrick Brooks, Warren Sapp and John Lynch, Barber was a central figure in a defense that turned the fortunes of the franchise.
Angelo left in 2000 to become general manager of the
Chicago Bears
. Dungy was fired after the 2001 season because his offense didn't produce nearly as well as his defense.
Barber just kept on playing at a high level.
Jon Gruden came in and won a Super Bowl in his first season, with Barber providing the signature moment of his career (and of franchise history) with an interception return for a touchdown against Philadelphia in the NFC Championship Game.
Gruden and the Bucs bobbed up and down for the next six seasons. After Gruden was fired and Raheem Morris was hired, Barber just kept on playing at a high level.
When Morris was fired after three rocky seasons, Barber just kept on playing at a high level.
That brings us to Schiano and Dominik. Schiano is getting ready to enter his second season as coach of the Buccaneers and Dominik is entering his fifth season as general manager.
They're also the coach and general manager who made it clear they wanted Barber back for a 17
th
season. But Barber, 38, said he woke up one morning about a month ago and decided it wasn't worth it to go through another offseason program and training camp.
"I love football, but football is not who I am," Barber said. "I'm ready to move on, ready to do what's next."
Barber said the next likely step will be a career in broadcasting. But he has no plans to leave Tampa.
"I'm not going anywhere," Barber said. "I've got nowhere else to go."
Barber's influence still will be felt in Tampa Bay's young locker room by his former teammates.
That brings us to the future of this franchise -- and the past. As Barber talked about the teams of the late 1990s and early 2000s, he talked about how there was an "imminent feeling of success."
Barber said he walks away with a similar feeling about the current Buccaneers. Maybe the Bucs will go out and do something special this year.
Whatever happens, Barber will be a part of it in some way.
He still will be the bridge that spans every generation of the team's history.
January, 4, 2013
1/04/13
2:32
PM ET
The passion of NFC South fans never ceases to amaze me.
Although the Falcons don't play until next week (and we don't know yet who they'll play) and the other three teams are done for the season, Friday's NFC South chat was even more active than a lot of our chats during the regular season.
Let's take a team-by team look at some of the highlights:
ATLANTA FALCONS
Johnny B/ sw Florida [via mobile]:
Do you feel that Mike Smith's approach for the week 17 game against the Bucs was more about staying sharp than actually (to the dismay of Herm Edwards) "winning" the game? Does that bode well for falcons starters in the divisional round or does this loss cause regression?
Pat Yasinskas:
Don't think it will cause regression. If anything, it might have been a bit of a wake-up call.
Thomas (ATL):
Think
Harry Douglas
could have more catches if the o-line gave Ryan more time to go through his progressions. With Jones, White and Gonzo, hea??s usually a last ditch effort.
PY:
Yeah, but might also be because Jones, White and Gonzo always get open.
Jeremy Cartersville GA [via mobile]:
What do the falcons do at RB in the off season this feels like turners last year?
PY:
No doubt it's Turner's last year with Falcons. They'll bring in an RB to go with Rodgers. Just don't know if it will be through draft or free agency.
CAROLINA PANTHERS
justin (Woodruff South Carolina):
hey pat, honestly do you feel that ron rivera will return to the carolina panthers in 2013 and with the same coaching staff?
PY:
I'm not saying that's the right call, but it is what I think is going to happen. However, I think there probably will be some changes on the coaching staff. Not necessarily the coordinators.
Paul (Charlotte):
Hi Pat, what do you know about Brandon Beane's background? Does he have scouting experience? Don't want a Hurney re-tread in Charlotte.
PY:
Brandon Beane is a great guy. But, no, no scouting experience. He's been their logistics guy -- setting up travel, setting up training camp, etc.
mike (greensboro):
pat, why would panthers let williams go? look what he did when stuart got hurt (which is always!). i like stuart, but williams, even with a big contract is a better runner in my opionon
PY:
I've said all along I think Williams is better than Stewart. But the fact is they need salary cap room. They can get it by letting Williams go. They'd lose cap room if they let Stewart go.
NEW ORLEANS SAINTS
Ronen (México):
Is it only me or did you also see flash of greatness in the young Akeem Hicks, for a third round in a awful defence, he had some good plays right?
PY:
He certainly showed some promise. One of the few bright spots for that defense.
Mookie (Snellville):
I know it's Spagnuolo's first year, but in my mind 7,042 yards given up in his first season means he has to get fired. I don't want this team, while trying to figure out Spags defense, ruin the 4 years Brees has left on his contract, Any chance they take that into consideration and fire him ?
PY:
I think anything is possible on that one. That story that came out the other day certainly didn't reflect well on Spags.
Davis (Virginia):
It seems like the Saints have lots of needs on defense and another WR and have no cap room, what is the best we can hope for next year?
PY:
Difference between the Saints and Panthers is there are reasonable ways for the Saints to free up some cap room. They're not completely buried under long-term contracts. Loomis will get them to a spot where they can at least bring in some free-agent help.
TAMPA BAY BUCCANEERS
Brandon (Vancouver):
I really can't believe how many Buc fans are calling for Freeman's head because he had two bad games. The Bucs didn't make the playoffs this year because our secondary and pass rush were awful.
PY:
I'm with you on that. Freeman was far from perfect. But, at times, he did some good things. That team had much bigger problems in other places.
Kevin (Tallahasseee):
Greg Schiano seems to be a reincarnation of Ray Perkins...Perkins was also known to run his teams ragged and the teams fade throughout the season.
PY:
Yeah, but it's not quite the same. Perkins was doing three-a-day practices in training camp. The new rules don't allow Schiano to do anything close to that.
Mario (Tampa):
But in Tampa, isn't there a lack of leadership in Freeman? I know there are problems in other areas, but starts from QB, don't you think?
PY:
Lack of leadership??? Never seen or heard anything to suggest that about him. You certainly can question his play, but not his leadership.
Here's the
complete transcript
of Friday's NFC South chat.
December, 27, 2012
12/27/12
12:30
PM ET
»
NFC Season Wraps
:
East
|
West
|
North
|
South
»
AFC
:
East
|
West
|
North
|
South
Five things to know and my all-division team.
Division MVP:
Matt Ryan
, Falcons. You can make a case for him as the MVP of the entire league. With one game remaining in his fifth season, Ryan already has career highs in completions (394), passing yards (4,481) and touchdown passes (31). His 69.0 completion percentage also is far above his career average.
[+] Enlarge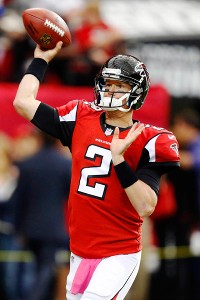 Josh D. Weiss/US PresswireFalcons QB Matt Ryan has made a case to be the league's MVP.
But the most impressive thing about Ryan's season might be the 13 wins he already has led the Falcons to. It all has come in a season in which the Falcons have overhauled their offense to make the passing game a priority. With the running game posing almost no threat, Ryan has carried this offense.
Biggest disappointment:
The
Carolina Panthers
. Back in the preseason, the Panthers were a trendy pick as a team on the rise. The media, myself included, thought quarterback
Cam Newton
would only build on a fantastic rookie season and that Carolina had fixed its defense. Fans got giddy, and even center
Ryan Kalil
joined the fray, taking out a full-page ad in The Charlotte Observer that promised a Super Bowl victory.
Instead, the Panthers didn't even come close to making the playoffs. They started so poorly that general manager Marty Hurney was fired in October and coach Ron Rivera clearly is on the hot seat. The current three-game winning streak might get Rivera another year. But you have to wonder why a team with this much talent didn't open the season playing the way it is now.
The story that never stopped:
The
New Orleans Saints
dominated the offseason headlines for the entire league (maybe the entire sports world) when the NFL exposed their three-year bounty program. Coach Sean Payton drew a season-long suspension, general manager Mickey Loomis got eight games, and assistant head coach Joe Vitt was suspended for the first six games. Linebacker
Jonathan Vilma
was given a season-long suspension and defensive end
Will Smith
was hit with a four-game suspension.
While all that was going on, fans also started sweating as contract negotiations between quarterback
Drew Brees
and the team dragged on far too long. Brees finally signed, and Vilma and Smith tied things up in the appeals process before eventually having their suspensions vacated. All the drama took a toll as the Saints started 0-4 before getting on a bit of a roll and briefly entering the playoff picture. But the soap opera isn't over. During the season, it was revealed that the NFL had voided the contract extension Payton signed last year. He could end up being a free agent when he is reinstated.
Has the window closed?
Even if Payton does return to the Saints, they might not automatically be the winning team they were the previous three seasons. This team will face major salary-cap issues in the offseason, and veterans such as Vilma, Smith and
Roman Harper
could be gone.
The defense needs lots of work up front and more help in the secondary. Left tackle
Jermon Bushrod
is eligible to be a free agent, and the wide receivers are getting older. No matter who is coaching the Saints, they're going to need some major work in the offseason.
The turnaround that wasn't:
Right from the start of the season, it appeared that new Buccaneers coach Greg Schiano was having a huge positive impact. At first, the Bucs were piling up moral victories by playing close against good teams. Then they started winning and got to 6-4; the playoffs looked like a possibility and
Josh Freeman
was looking like a franchise quarterback.
But things have gone horribly wrong the past five games. Freeman suddenly reverted to his 2011 form, the pass defense has been ridiculously bad, and the Bucs are having a second straight miserable December. That makes you wonder whether the team is buying into Schiano's hard-line style. It works for guys such as Bill Belichick and Tom Coughlin because they win. But when a coach like that is losing, you have to wonder if he's another Nick Saban or Ray Perkins.
All-Division Team
You will quickly notice that the Falcons dominate the All-NFC South team. That's largely because they ran away with the division, and winning counts for a lot in my eyes. That's why I took
Julio Jones
as the second receiver over
Vincent Jackson
,
Steve Smith
and
Marques Colston
. Those three had stats as good or better than Jones, but his play has helped the Falcons win 13 games so far. I also used that logic in choosing both of Atlanta's starting cornerbacks, although it certainly helped that the other three teams had major problems at cornerback.
September, 10, 2012
9/10/12
11:19
AM ET
With some help from the Tampa Bay media relations department, let's take a look at some of the statistical superlatives on the Buccaneers' 16-10 victory against Carolina on Sunday.
Cornerback Ronde Barber made his 200th consecutive start, the longest active streak in the NFL and the most starts ever by a cornerback.
Barber recorded the 28th sack of his career. He also had his 44th career interception. He is the only player in NFL history to record 25 or more sacks and 40 or more interceptions.
This marked only the second time in his career that Barber has recorded both a sack and an interception in the same game. The other time he did it was also against Carolina, on Dec. 11, 2005.
The Bucs held the Panthers to 10 yards rushing. That ties the franchise record for fewest rushing yards allowed. On Dec. 4, 1994, the Bucs held Washington to 10 rushing yards.
Connor Barth made all three of his field-goal attempts. He now has made 18 consecutive attempts, a franchise record. Martin Gramatica and Michael Husted shared the previous team record of 16 consecutive successful field goals.
Aqib Talib recorded the first blocked punt of his career. It also was the first blocked punt by the Bucs since Nov. 29, 2009.
Greg Schiano became the fourth coach in franchise history to win his first game. Sam Wyche, Richard Williamson and Ray Perkins were the others.
The Bucs did not have a turnover against the Panthers. Since 2002, the Bucs are 25-5 in games in which they did not have a turnover.
The Bucs started three rookies -- safety Mark Barron, running back Doug Martin and linebacker Lavonte David.
August, 14, 2012
8/14/12
1:16
PM ET
TAMPA, Fla. –- The toughest training camp the
Tampa Bay Buccaneers
have faced since Ray Perkins left more than 20 years ago is about to end.

Greg Schiano's first camp as coach of the Bucs concludes Wednesday and I think it's safe to say the collective-bargaining agreement that was put in place last year might have been the only reason his camp wasn't quite as grueling as the ones Perkins ran when he was coaching the Bucs from 1987 through 1990. In those days, it wasn't unusual for Perkins to put his team through three practice sessions a day (and the Bucs usually were worn out by October).
Schiano is playing by new league-wide rules that limit practice time, but it's pretty obvious he pushed his team as much as possible. Schiano has said you have to "suffer'' to build a successful team and the Bucs aren't disputing that's what they've done in recent weeks.
"Suffer, yeah,'' wide receiver
Mike Williams
said with a big chuckle. "I don't know what he means by suffer, but putting in the work, breaking us down lifting weights and then coming back and getting us ready to come off a practice, I guess that's the suffer part. So I guess we did suffer.''
The Bucs have put up with tough practices and the Florida heat, but they're not complaining.
"Coach always talks about this heat is our friend,'' defensive end
Michael Bennett
said. "It's definitely becoming our friend and it's going to be other people's enemy. Right now, he's showing us the way and it's coming out pretty good, so I guess we have no choice but to follow.''
In past years, in Tampa Bay and other places, coaches have thrown their teams a bone near the end of training camp. When his team was training in Jackson, Miss. a few years back, New Orleans coach Sean Payton skipped a practice and took his team to a water park. Former Carolina coach John Fox took his team bowling a couple of times.
When asked if some sort of "bonding'' activity was planned for the final day of camp, Schiano didn't sound like there was any rest or relaxation in the plans.
"Which player put you up to that?'' Schiano said.
Programming note -- my Camp Confidential profile on the Buccaneers is scheduled to run Wednesday.
June, 15, 2010
6/15/10
8:00
AM ET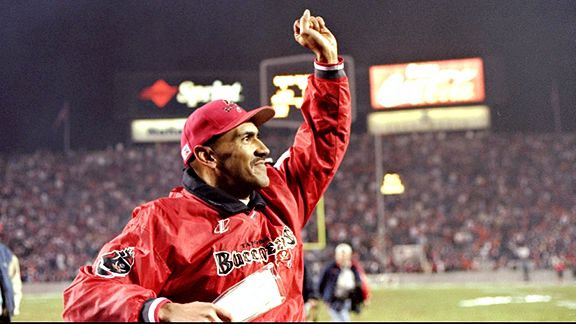 Jamie Squire/AllsportTony Dungy's influence on the Buccaneers can still be felt today -- almost nine years after he coached his final game for Tampa Bay.
In the end, I went with my gut. My heart and head, too. In the end, I went with Tony Dungy.
Yes, I'm going to go ahead and declare Dungy the greatest coach in NFC South history. (For background purposes, here's
how all this started and some of the ground rules we laid out
. And here are
some of your opinions
on the topic.)
Let me make it clear, I came real close to going with New Orleans' Sean Payton. I agonized over this one for days and I don't think going with either one would have been a wrong decision.
But I know going with Dungy is right. I looked at win-loss records, Super Bowl titles and all that stuff. But I'm not really a numbers' guy. I like to look at the big picture and have some flexibility outside the lines. That's why, even though I gave some thought to guys like Jon Gruden, John Fox, Dan Reeves, Jim Mora, John McKay and Ray Perkins (well, not really on Perkins), I knew right away they belonged a little further down my list.
This was a two-man race between Dungy and Payton. In a lot of ways, they're the same guy. Cover your eyes toward times, dates and places and Dungy and Payton did basically the same thing.
They came into franchises that were beyond destitute. They built winning teams, shaped character, pulled communities together and completely changed the way their franchises were viewed from up close and afar.
When it came right down to it, I guess the main reason I'm giving Dungy the slightest of edges over Payton might not even be fair. It's mainly because Payton is still coaching and Dungy's legacy in Tampa Bay already has plenty of angle and distance. In fact, there probably is way too much distance and angle between where the Bucs are at right now and where they were under Dungy.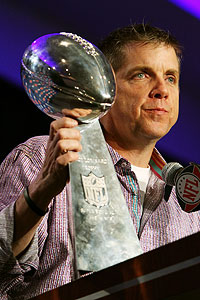 Doug Benc/Getty ImagesBy the end of his career, Sean Payton will probably top this list.
Payton probably can put himself as the undisputed winner of this argument with another Super Bowl title or even a couple more playoff years. But, for the moment at least, I'm going with Dungy.
Yeah, Dungy never won a Super Bowl until he got to Indianapolis (and that factored into my thought process). Dungy did set the table for Gruden, but he did so much more than that. He came into a franchise that hadn't had a winning season in a generation, was beyond dysfunctional and was on the verge of moving to Cleveland, Sacramento, Orlando or anywhere that would give the Bucs a new stadium.
The Bucs stayed in Tampa Bay. They started winning games with Dungy. They got a sparkling new stadium built and, for the first time in franchise history, made it fashionable for people to go to games on Sundays.
That trend has lasted and the Bucs have sold out every game since the opening of Raymond James Stadium. That streak probably is going to come to an end this season, unless Raheem Morris suddenly becomes the second coming of Dungy.
The Saints and New Orleans are as high as a franchise can be right now and fans should be grateful they're watching history in the making. That's why I'm going with Dungy because I see fans in Tampa who remember how it used to be. They remember how it was when Dungy coached the Bucs. They don't even remember what it was like before him, even though the team is playing like that again.
Beyond Dungy and Payton, my list of the greatest coaches in the history of the NFC South goes like this:
3. John Fox, Carolina Panthers.
Yep, I did it. I picked Fox over a guy who won a Super Bowl (Gruden). If I wanted a guy to come in and draw up one offensive play, it would be Gruden. If I wanted a guy to come in and provide consistent excellence for a franchise, well, let's just say I already have three guys ahead of him. I'll explain what I view as the downside of Gruden in a minute, but, first, let's talk about the virtues of Fox.
He's the only head coach who has been with a single NFC South team for the entire existence of the NFC South. If Fox could have put together back-to-back winning seasons once or twice, he might even be higher on my list. But Fox has kept the Panthers at least respectable for the entire time he's been in Carolina and that's a pretty big accomplishment these days. Fox cleaned up George Seifert's 1-15 mess and had Carolina in a Super Bowl two seasons later. When Fox is at the top of his game, he's as good as any coach in the league.
4. Jim Mora, New Orleans Saints.
I'm doing it again. I'm looking at the big picture. Remember what I said about Dungy and Payton about how they changed the climate of their franchises? Well, Mora did the same thing in New Orleans in the 1980s. He came out of the United States Football League and made the Saints respectable -- something they never had been before.
5. Jon Gruden, Tampa Bay Buccaneers.
All right, Gruden won a Super Bowl and you can never take that away from him. He put Tampa Bay over the top after Dungy couldn't. He won a Super Bowl with
Brad Johnson
as his quarterback and no true superstars on offense. I'm not going to say Dungy or defensive coordinator Monte Kiffin deserve the credit for that Super Bowl. Gruden deserves the credit. But what did Gruden really do beyond that? He was supposed to be an offensive guru, but he never could find a franchise quarterback or anyone to truly build his offense around. General manager Bruce Allen made some questionable personnel moves, but Gruden was heavily involved in each one. In the big picture, Gruden deserves credit for the Bucs winning the Super Bowl. He also deserves credit for them being where they are right now.
6. Dan Reeves, Atlanta Falcons.
There was a part of me that wanted to put Reeves ahead of Gruden for this simple fact: He reached a Super Bowl with
Chris Chandler
as his quarterback. What Reeves and the Falcons did in the 1998 season came before the official birth of the NFC South, but they won 14 games and were spectacular. If Reeves could have followed up that season with something better than the 5-11 and 4-12 years that followed, he might have been much higher on this list.
June, 10, 2010
6/10/10
3:22
PM ET
I was browsing through my mailbag and saw a question that I think is more than worthy of standing on its own. In fact, it's one of the most thought-provoking questions I've ever received (and you've always provided very good questions).
The question is so good, I don't have an immediate answer because there is so much room for debate. That's why I want to throw it out to the readers and your opinions.
Here's the question:
Stephen in Houma, La., writes: I've seen the question who is the best coach of all time -- Bill Belichick or Bill Parcells? How about an article on the best NFC South coach of all time -- Sean Payton or Jon Gruden? Would you add Jim Mora to that list or is there anyone else I'm missing? The coach that led Atlanta to its first Super Bowl?
All right, the coach that led Atlanta to its Super Bowl berth was Dan Reeves and he at least belongs in the argument. Let's set some parameters here. The NFC South didn't come into existence until 2002, but let's leave this open to all coaches who ran a team that now is in the NFC South.
Payton's got to be near the top of the list, even though he's been a head coach for just four seasons. He's got a Super Bowl win. So does Gruden. I could end up going with one of them and my gut leans toward Payton because of where his franchise was at when he took over. But I want to ponder this one a bit more and consider guys like Reeves and Mora (the one that coached the Saints, not the one who coached the Falcons).
I also want to step back a bit from my days as a newspaper beat writer because part of my initial reaction to Stephen's question was to think about the two coaches I covered the most on a daily basis -- Tony Dungy and John Fox.
I think they both belong in any list of top-five coaches in NFC South history, but I want to consider their accomplishments from a bit of a fair distance and compare them to guys like Gruden, Payton, Reeves and Mora. Heck, I'm even going to factor in John McKay, who definitely was the most quotable coach in the history of the NFC South teams. I'm going to go ahead and scratch George Seifert, Sam Wyche, Ray Perkins and Mike Ditka from the list right now.
Go ahead and
send your opinions to the mailbag
. I'll share some of your opinions in a future post and, sometime in the next few days, I'll finalize my list of the best coaches in NFC South history.
November, 24, 2009
11/24/09
11:34
AM ET
Ah, for those tranquil days of the Sam Wyche regime or the Ray Perkins era.
Back then, you could only go as far as speculating that the Bucs were a franchise out of control and adrift on Tampa Bay.
These days, all that's official.
You already know Jim Bates has been demoted from his job as defensive coordinator. But now we've got more brewing out of One Buccaneer Place.
The Bucs just announced that they've signed quarterback Rudy Carpenter off Dallas' practice squad and receiver Terrence Nunn from New England's practice squad. To borrow a cleaned-up quote from the classic movie "Major League'', "Who are these guys?''
I have no argument with the Bucs placing veteran quarterback
Byron Leftwich
on injured reserve or releasing cornerback
Mike Mickens
. But, seriously, we're into late November and the Bucs are trying to solve their problems by signing guys who were on the practice squads of other teams?
July, 31, 2009
7/31/09
3:34
PM ET
| | |
| --- | --- |
| | |
| | Al Messerschmidt/Getty Images |
| | The Buccaneers plan to bring rookie quarterback Josh Freeman along slowly. |
Posted by ESPN.com's Pat Yasinskas
TAMPA, Fla. -- The Tampa Bay Buccaneers rolled out their history Friday morning. Hopefully, they were taking notes and thinking of Josh Freeman.
He's their future and maybe even their present. Keep that in mind as we recap the show the Bucs put on in their auditorium at the sparkling palace that is One Buccaneer Place.
It was short and sweet -- a press conference to announce that the Bucs would wear their orange jerseys from 1976 as part of a throwback promotion for the Nov. 8 game against Green Bay. They had current players Antonio Bryant, Gaines Adams, Barrett Ruud and Earnest Graham walk out on stage as models. They also showed a video of the early years of the Bucs. Understandably, it was very brief.
But there was one shining moment in the video. It came as No. 12 flashed by a couple of times.
That's Doug Williams, the only true franchise quarterback in Bucs history. Let's remember that because it relates directly to Freeman.
A lot of people prefer to forget the early Bucs years, when the team lost its first 26 games and was headquartered at a bunker right off an airport runway. So why bring out the orange and white -- even as a ceremonial gesture -- when the pewter has worked pretty well the last dozen years?
"The answer is simple,'' Bucs co-chairman Ed Glazer said. "This is our history. This is where it all started.''
Truly, it started in 1978 when the Bucs drafted Williams out of Grambling in the first round. Former owner Hugh Culverhouse told Williams he'd have to start off as a backup and earn his job as he handed the quarterback a contract that was below standards even at the time.
Then, coach John McKay turned around and handed Williams the starting job. Throwing Williams to the wolves worked. The Bucs came darn close to getting to the Super Bowl the next season.
| | |
| --- | --- |
| | |
| | Takashi Makita/NFL/Getty Images |
| | Quarterback Doug Williams started immediately for the Buccaneers. The franchise might do well to follow the same blueprint with Josh Freeman. |
That's the lesson. You don't have to coddle a franchise quarterback.
Even though the Bucs have talked a lot about bringing Freeman along slowly, maybe that's not a formula for success. Stick with the history here. Coddling didn't work the other two times the Bucs thought they were getting a franchise quarterback.
Say what you want about Vinny Testaverde and Trent Dilfer. They both did some good things later in their careers. But neither turned out to be the savior the Bucs thought they were getting when the quarterbacks were drafted.
In 1987, Ray Perkins drafted Testaverde with the top overall pick and elected to sit him behind Steve DeBerg. In 1994, Sam Wyche selected Dilfer and followed a plan to play him behind Craig Erickson. What did the Bucs get from going with DeBerg and Erickson when it was common knowledge that they were only there for the short term?
Only a bunch of losses. It's nice to think long term and believe that a quarterback can gain more by sitting safely on the bench. But I'm not sure Testaverde and Dilfer benefitted from that and I know the Bucs didn't.
That's all part of what Tampa Bay coach Raheem Morris and general manager Mark Dominik need to decide as they ponder the plan for Freeman over the next few weeks. They've got Luke McCown and Byron Leftwich as alternatives.
Both have some experience. Both have some skills. But is McCown any different from Erickson? Is Leftwich any different than DeBerg?
No, they all are -- and were -- just "guys."
Morris and Dominik just invested $26 million (maybe as much as $36 million) in Freeman because they believe he's more than a "guy." Freeman was looking awfully good by the end of June workouts and he stuck around One Buc Place for much of the time his teammates were off.
"I'm going to try to give them every reason I can to start me," Freeman said as he checked into camp Friday morning.
That is going to be up to Freeman as the Bucs begin practice Saturday morning. Although the decision to draft Freeman was booed by Bucs' fans in April, there are some reasons to believe he can succeed -- and do so quickly.
He has the arm and the size and he seems to have the charisma of a franchise quarterback. He may be a little unpolished after coming out of Kansas State a year early. But there are general managers and coaches around the league who will tell you they thought more highly of Freeman than they did of Matthew Stafford and Mark Sanchez, the first two quarterbacks taken in this year's draft.
Morris, who spent a year coaching at Kansas State, and Dominik fall firmly into that category. They traded up a few spots to grab Freeman at No. 17 because they believed someone else would beat them to the punch.
So why turn around and sit him?
Especially when you've got a good offensive line, solid running backs in Derrick Ward and Graham, and targets like Bryant and Kellen Winslow. Perkins and Wyche didn't have luxuries like that when they sat Testaverde and Dilfer. Heck, McKay didn't have an offense like that (although the Bucs were pretty good on defense) when he tossed Williams out there and it worked.
If Freeman shows much of anything in camp and the preseason, just start him.
There's a school of thought among some fans that the Bucs will open with McCown or Leftwich. Maybe they go about halfway through the season and then hand it off to Freeman. It makes plenty of sense because they play an Oct. 25 game in London against the Patriots. After that, they have a bye week followed by the unfreezing of the Creamsicles against Green Bay.
You just might see Freeman making his starting debut in orange and white. Then again, why not Week 1 against Dallas in pewter and red?
November, 24, 2008
11/24/08
4:12
PM ET
Posted by ESPN.com's Pat Yasinskas
Atlanta's Mike Smith and Matt Ryan already have made history together. With Sunday's victory against Carolina, the rookie head coach/quarterback tandem has paired for seven wins. Baltimore's John Harbaugh and Joe Flacco matched that mark.
That puts the two rookie coach/quarterback combos at the top of the record books. Carolina's Dom Capers and Kerry Collins won seven games together in 1995 to become the first rookie combo to reach seven wins since 1966, or "the Super Bowl era'' as our friends at ESPN Stats & Information call it.
That leaves Ray Perkins and Phil Simms, who won six games with the New York Giants in 1979, in fourth place.