NFC South:

Reggie Roberts
August, 5, 2011
8/05/11
7:14
AM ET
FLOWERY BRANCH, Ga. -- You think of Deion Sanders and your first image of him might be as a member of the Cowboys, 49ers, Redskins or Ravens.
But as Sanders gets ready to enter the Pro Football Hall of Fame on Saturday, let us not forget that his NFL career actually began as a member of the Atlanta Falcons. Drafted fifth overall in 1989, Sanders played for the Falcons through 1993. He hasn't forgotten his time in Atlanta and neither have the Falcons.
[+] Enlarge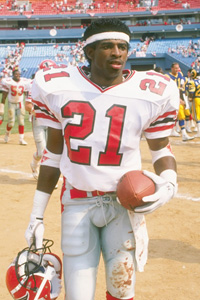 Allen Steele/Allsport Deion Sanders will become the first player drafted by the Falcons to enter the Pro Football Hall of Fame.
"When I was dreaming as kid, I couldn't often times share those dreams because I thought they were so out of the box. Never would people think that a kid from Ft. Myers, Fla., who was small in stature, but big on confidence, would ever have his name recognized in a stadium in the only place he played in which he called home,'' Sanders said last year when he was inducted into the Falcons' Ring of Honor. "I want to thank the Atlanta Falcons, ironically 21 years later [from the year he was drafted and also the jersey number he wore in Atlanta], for making my dreams come true.''
This isn't like the Baseball Hall of Fame, where a player has to declare what team's hat he wants on his plaque. Members of the football Hall of Fame represent all the teams they play for.
This will be a big moment for the Falcons because Sanders is the first player they've drafted to make the Hall of Fame. Although Rankin Smith owned the team when Sanders played for the Falcons, new owner Arthur Blank has developed a strong bond with the player who was nicknamed "Prime Time.''
Blank already is in Canton and he and Sanders have agreed to carve out some private time to sit and talk Saturday morning. Although the Falcons are in the middle of training camp, the team will send a large contingent to Ohio.
Blank's son, Josh, also will be on the trip. Other members of the organization who will be in attendance include player programs director Kevin Winston, vice president of communications Reggie Roberts and senior director of media relations Frank Kleha.
Winston has worked closely with Sanders, who maintains a youth foundation in Atlanta. That's not his only lasting bond with the city. Sanders also hosted a "Thank You Atlanta'' party at 200 Peachtree on July 16, with proceeds going to his foundation.
Sanders' only rule for the party was that all attendees had to wear red and black.
September, 3, 2010
9/03/10
2:34
PM ET
I just came across
this radio interview
with Falcons owner Arthur Blank. There was one part where Blank was asked about being accessible to the media. As a media member, I found this interesting and I think fans will, too.
"That's very much a part of our culture, is to be available, and frankly to be even more available when times are difficult,'' Blank said. "It's easy to be available when things are going great. Sometimes when you're facing adversity, some folks go off and hide someplace. We don't think that's the best thing to do."
Applause for Blank. There's no doubt he is the NFC South's most accessible owner. Nobody else is even close. Blank isn't Jerry Jones or Daniel Snyder. In other words, he's not constantly out there seeking attention, but he's willing to be out front with the media and, in turn, his fans. Blank gets it when it comes to dealing with media and fans, and I give Falcons public relations guru Reggie Roberts and his staff a lot of credit for creating a very media-friendly environment.
It's really not that way with the other NFC South owners. Carolina's Jerry Richardson is by no means an unfriendly man. In fact, he'll often stop on the practice field to talk with reporters. It's off the record and just basic conversation, and Richardson treats media members as real people. But he just doesn't like being in the spotlight. When I covered the Panthers for The Charlotte Observer, Richardson usually would agree to go on the record once a year, and usually it was at the spring owners meeting. He'd talk extensively about the state of his team. At the end, I'd always say something like, "See, it's not that difficult''. He'd laugh and say, "Yeah, but we won't do it again until next year''. It's just the way he operates.
New Orleans owner Tom Benson has been a bit more visible since the Saints won the Super Bowl, but he's never been the type to hold court with the media. His granddaughter Rita LeBlanc, who seems to be gaining more and more power in the operation of the franchise, is more media friendly and has become the face of the franchise, from an ownership perspective.
Tampa Bay owner Malcolm Glazer used to be called a recluse, and I don't think that was inaccurate. In fact, I can only remember him speaking twice in the early years of his ownership when I was covering the Bucs for The Tampa Tribune. I believe once was when he officially bought the team, and the other time was when the Bucs signed Warren Sapp to a huge contract extension. Glazer is not in great health these days, and sons Bryan, Joel, and Ed are running the team. They take a lot of heat locally for not being very media friendly. But I don't think that label is entirely accurate. The Glazers might not be outgoing personalities, but they know every reporter in their market by name and they'll make small talk when they run into media members. They also have taken the Richardson approach at times and done some state-of-the-union addresses at league meetings. There also is a new effort inside One Buccaneer Place to make the Glazers more visible, and we've seen some evidence of that with the brothers playing big roles in Derrick Brooks' retirement ceremony and the announcement that John McKay will join the team's Ring of Honor. Look for that to continue, but don't ever expect the Glazers to become like Blank.
May, 3, 2010
5/03/10
9:59
AM ET
I just sent in my final ballot for the Pro Football Writers of America annual awards and it's fair to say there were a number of NFC South votes on there.
The ballot had been narrowed down to five finalists for each award. I had made an NFC South nomination in each of the five categories and I do have to admit I'm a little disappointed that former Tampa Tribune sports editor Tom McEwen was not a finalist for the McCann Award and former Carolina fullback
Brad Hoover
didn't make the final cut for the Good Guy Award. I had nominated both and felt very strongly about those nominations.
Anyway, we'll move on to the people who are finalists for each of the awards. Tampa Bay running back
Cadillac Williams
, who has overcome two major knee injuries, is a finalist for the Halas Award, which is given to the person who overcomes the most adversity.
Atlanta's top-notch public relations staff of Reggie Roberts, Frank Kleha, Matt Conti and Brian Cearns is a finalist for the Rozelle Award, for the league's most helpful PR staff, for the second straight year.
Longtime New Orleans Times-Picayune columnist Peter Finney is a finalist for the McCann Award, which goes to a writer for long-term contributions to the business. That helped me absorb the McEwen blow. Finney is to New Orleans what McEwen is to Tampa Bay -- a sports face of the area. McEwen gave me my first job in the business, so I'm admittedly partial. But I've gotten to know Finney through the years and he's a fine gentleman and a very worthy candidate.
New Orleans quarterback
Drew Brees
is a finalist for the Good Guy Award, which goes to the player who does the most to help the media do its job. No argument against Brees. One other thing on Brees I should share with you: A lot of times, the media might paint a guy to be better than he is just because he can throw a football -- or run fast or whatever. But Brees is one of those guys who is every bit as good of a person as you'd imagine.
There is no NFC South tie to the five finalists for the Horrigan Award, which goes to a person who is not a player or public relations worker, who does the most to help the media do its job. I made a nomination for a certain NFC South executive. He didn't make the cut, so I won't name him. He'd be embarrassed (and turn red) anyway because he doesn't like attention.