August, 20, 2014
Aug 20
8:00
AM ET
METAIRIE, La. --
New Orleans Saints
coach Sean Payton and
Indianapolis Colts
receiver
Reggie Wayne
go way back. Well, sort of.
Wayne, a New Orleans-area native, was among the ones who got away when Payton was recruiting the area for the University of Illinois in his final year as a college coach in 1996.
Wayne
Payton brought up that memory Tuesday when asked for his general impressions of Wayne throughout his stellar 13-year career and what he thinks of Wayne now trying to come back from a torn ACL at the age of 35.
It's possible that Wayne will make his preseason debut against the Saints on Saturday night, though that hasn't been decided yet.
"He's an extremely talented player," Payton said. "I know him a little bit uniquely because I was here in Louisiana recruiting high school players for the University of Illinois, C.J. and I."
That "C.J." refers to Curtis Johnson, the current Tulane head coach and former Saints receivers coach, who had a recruiting stranglehold on the New Orleans area back in those days. Johnson helped woo Wayne and safety
Ed Reed
, among others, to the University of Miami. Johnson also helped lure Hall of Fame running back Marshall Faulk to San Diego State, where Johnson and Payton first worked together.
"We spent a better part of a week going in and out of these schools," Payton continued. "I would say we got to about 30, 35 schools. Had I been just solo with a map, I probably would have gotten to 12. But Curtis would drive in, parking lot, back door, in a gymnasium, right to the coach, where normally you might go to the front desk and get a pass and go through all the correct steps. But that year, Reggie Wayne was coming out, that year Ed Reed was coming out. There was another good player coming out of St. Augustine High School, I think a defensive tackle, I can't think of his name. There were a handful of good players coming out. So I remember his recruitment, I remember hearing what I heard from Curtis and then over the years followed him.
"Look, he is very competitive. He's the type of player that could do that, that could recover from an injury like that. And he has had a great career."
I asked Payton if he ever beat out Johnson for a New Orleans-area prospect.
"Not while he was at Miami. No," said Payton, who remains close with Johnson and the Tulane program. "Every year there is great talent (in the New Orleans area). And one of the things he is doing so well at Tulane is identifying, recruiting, and those guys are winning their battles. It starts with the procurement of talent. He is very good at that."
May, 14, 2014
May 14
7:00
AM ET
Atlanta Falcons
general manager Thomas Dimitroff said he would revisit contract extensions after free agency and the NFL draft.
Well, the free-agency frenzy and draft have concluded.
White
Dimitroff and the Falcons can now address unfinished business regarding some of their veterans. One player who immediately comes to mind is receiver
Roddy White
, who anticipated receiving an extension after the draft, not anytime sooner.
White, a former first-round pick, is signed through the 2014 season. He has a base salary of $5 million and a cap figure of $6.35 million in 2014.
Signing White to an extension would help lower his cap number, making it a win for both sides. He could be looking at an extension similar to the one
Indianapolis Colts
receiver
Reggie Wayne
got in March of 2012. But being that it's two years later with an increased salary cap, White no doubt wants more.
Wayne, then 33, signed a three-year extension worth $17.5 million with $7.5 million guaranteed. He received a $6.5 million signing bonus, and his cap figures were the following: $3,167,171 in 2013, $8,167,191 in 2014, $6,166,668 in 2015.
White, who turns 33 in November, previously told ESPN.com he wants to play three or four more years. He had his consecutive streak of 1,000-yard seasons snapped at six last year as hamstring and ankle injuries limited him to 711 receiving yards in 13 games. He also had a consecutive games streak end at 133.
The Falcons understand White's value despite last year's drop-off. Not drafting a receiver probably emphasized their belief in him as well as their faith in
Julio Jones
' full recovery from foot surgery. Jones, signed through 2015 after a fifth-year option worth $10.176 million was executed, is sure to be rewarded with a lucrative new deal at some point.
As for White, he showed flashes of his old self toward the end of last season when he caught 38 passes for 449 yards and two touchdowns over the final four games.
His teammates respect him. Fellow receiver
Harry Douglas
constantly refers to him as a big brother. And White has every intention to finish his career in Atlanta.
"I want to be here, no doubt about it," White told ESPN.com in December. "I've spent my whole career here. And I love the organization. I love everyone in it."
March, 17, 2014
Mar 17
8:00
AM ET
The
Carolina Panthers
made an offer to
Hakeem Nicks
thinking they had a legitimate shot to sign the former
New York Giants
receiver.
That was until the
Indianapolis Colts
stepped in and not only offered Nicks a one-year contract worth up to $5.5 million, but also an opportunity to be on the receiving end of passes from quarterback
Andrew Luck
and be a part of a team that could be one of the best in the AFC next season.
ESPN.com Panthers reporter David Newton and Colts reporter
Mike Wells
talk about Nicks' decision to sign with Indianapolis
[+] Enlarge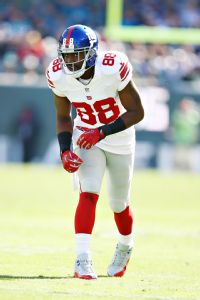 Al Bello/Getty ImagesHakeem Nicks chose the Indianapolis Colts over the Carolina Panthers.
Wells:
David, Carolina quarterback
Cam Newton
proved last season that he's one of the best young quarterbacks in the league. But Luck has proven in just two years -- with 22 victories -- that he has the complete package: arm, foot speed and mental toughness. So it seems Nicks made the right decision to sign with the Colts. What are your thoughts?
Newton:
Totally agree. When Nicks picked Indy over Carolina I mentioned one of the reasons may have been Luck was the more proven quarterback. It didn't sit well with Carolina fans. My argument was simple. Two trips to the playoffs to one. But the bigger reason is Nicks will be surrounded by proven receivers in Indy. Maybe that would have happened at Carolina, but at the time of the decision the Panthers didn't have a receiver on its roster with an NFL catch. When
Brandon LaFell
signed with New England on Saturday that guaranteed Newton won't have any of his top four wide receivers from last season. At Carolina, Nicks risked the possibility of being double-teamed because there wasn't anybody proven to take coverage away. He would have been the clear-cut No. 1, and I'm not sure he's a No. 1. Luck also has a more established offensive line. So when I said Luck was more proven there were other factors around that.
Having said that, if you were starting a team from scratch would you pick Luck or Newton?
Wells:
I like how Newton played last season, but I've still got to give Luck the edge over him and players such as Seattle's
Russell Wilson
and San Francisco's
Colin Kaepernick
. Luck's résumé speaks for itself. He led the Colts to an 11-5 record during a rookie season when his coach, Chuck Pagano, missed 12 games while battling cancer. He repeated that record last season while losing five offensive starters by Week 7. Luck has led the Colts on 11 fourth quarter or overtime game-winning drives in his young NFL career. Should I continue? It also helps that Luck's Colts have already beaten the Seahawks and 49ers. Maybe you and I can corner Rob Chudzinski somewhere after the season and ask him his thoughts because he obviously coached Newton in Carolina and he's about to coach Luck with the Colts next season.
It seems like the Panthers don't seem to know which direction they're headed with players like receiver
Steve Smith
being released. Am I wrong to think that could sway a free agent's decision?
Newton:
It would have to cast doubt. It certainly casts doubt in my mind. It'll all come down to how convincing general manager Dave Gettleman is on selling his plan. And yes, there's a plan.
Jerricho Cotchery
is coming in for a visit on Monday and
James Jones
says he'd like to play for Carolina. If the Panthers can get a couple of solid veterans -- even if they aren't bona fide No. 1s, and select a dynamic receiver with either their first- or second-round pick, the receiving corps potentially could be better than last season. Even Smith admitted he's not a No. 1 anymore. So for all the grief I've given Gettleman for making a mistake in dumping Smith, in the long run it could work out. I mean, the beef on LaFell last season was he wasn't a bona fide No. 2.
Ted Ginn
Jr. had a nice season, but he had only two catches the year before.
Domenik Hixon
had only one catch that impacted a game. So big picture, they didn't really lose a lot.
So how do you expect Nicks to fit in at Indianapolis? Can he help put Indy over the top?
Wells:
Colts fans are a little leery because there was high hope last year when
Darrius Heyward-Bey
, the No. 7 pick in the 2009 draft, signed a one-year contract the same way Nicks did. Heyward-Bey, to put it as nice as possible, was brutal last season. So brutal that he ended up being demoted to special teams where he actually did a great job downing punts inside the 20-yard line. I think Nicks will fit in nicely because he doesn't have the pressure of being the No. 1 receiver. He simply has to just fit in alongside of fellow receivers
Reggie Wayne
and
T.Y. Hilton
. Tight ends
Dwayne Allen
and
Coby Fleener
are also receiving options for Luck. The fact that Nicks had almost 900 yards receiving last season and that was considered a down year for him is a good thing for the Colts. Luck will find him as long as he can get open.
Newton needs somebody to throw the ball to. What are the Panthers going to do since Smith is gone and Nicks decided playing with the Colts was a better option?
Newton:
As I mentioned above, Cotchery is coming in for a visit and I still believe they'll get Jones. The plan is to find a few bargains and blend them in with a draft pick. Smith would have made a nice No. 2 receiver in this package in my opinion. But from everything I gather Newton won't be heartbroken to see his top receiver gone. Smith has gotten in Newton's face more than a few times the past few years. As much as that may have been needed, there is a belief on the team that Smith might have been a distraction to Newton as the central leader of the offense. It will be interesting to hear how Newton spins it when we finally hear from him.
Now that the Colts have Nicks, what's the rest of their free-agency plans?
Wells:
General manager
Ryan Grigson
has put an emphasis on defense so far. They still need to find a safety to replace
Antoine Bethea
, who signed with San Francisco last week. The interior part of the offensive line could use some help, too. They signed former Dallas center
Phil Costa
last week. The Colts haven't completely shut the door on Cleveland center
Alex Mack
even though it is a longshot that they'll be to get him because the Browns used the transition tag on him. Adding another guard wouldn't be a bad idea, either.
November, 3, 2013
11/03/13
11:47
PM ET
HOUSTON -- A few thoughts on the
Indianapolis Colts
' 27-24
victory
against the
Houston Texans
at Reliant Stadium:

What it means:
Reggie Wayne
or not, Colts quarterback
Andrew Luck
simply knows how to win. Luck shook off a brutal first half that saw him constantly pressured, and his receivers didn't do him any favors by dropping passes, but he rebounded to pick up his 10
th
come-from-behind victory in just 24 NFL games. All three of Luck's touchdown passes were to second-year receiver
T.Y. Hilton
, who said he had to step up in Wayne's absence. Luck was only 3-of-12 for 56 yards in the first half. He responded by going 15-of-28 for 215 yards and three touchdowns in the second half. Hilton finished with seven catches for 121 yards.
Stock watch:
Texans receiver
Andre Johnson
had his way against the Colts' secondary in the first half.
Vontae Davis
,
Cassius Vaughn
,
Antoine Bethea
and Darrius Butler all were burned by Johnson at one point in the half. Johnson had seven catches for 190 yards and three touchdowns in the first half. The Colts did a better job on Johnson in the second half, when he had two catches for 25 yards.
Special teams experience:
It was interesting first half on special teams for the Colts. Texans defensive lineman
J.J. Watt
blocked
Adam Vinatieri
's 42-yard field.
D.J. Swearinger
picked up the loose ball and ran it back 37 yards before
Pat McAfee
made the touchdown-saving tackle. McAfee dropped the snap on a punt two series later, gathered the ball, eluded the defender and got the ball off for a 55-yard punt. The play ended up not counting because the Colts had an ineligible player down field. It's not over yet. McAfee managed to get the punt off on the next play despite
Bryan Braman
running into him. Replays showed the officials missed a roughing the kicker penalty on the play, because Braman didn't touch the ball on the play. The Colts thought they recovered a
Keshawn Martin
fumble on a kickoff, but the play was reversed because the officials ruled that
LaVon Brazill
was out of bounds.
What's next:
The Colts return home to host the
St. Louis Rams
at Lucas Oil Stadium on Nov. 10.
December, 23, 2012
12/23/12
7:02
AM ET
DETROIT -- With some help from ESPN Stats & Information and the Falcons' media relations department, let's take a by-the-numbers look back at how Atlanta defeated Detroit, 31-18, Saturday night at Ford Field.
The Falcons won for the fourth time on prime-time television this season. Since 2008, the Falcons are 8-4 in prime-time games.
Coach Mike Smith posted his 56th career win. Smith's record is 56-23. That's the second-best record in five seasons in NFL history. Former San Francisco coach George Seifert is No. 1 at 62-18.
Quarterback Matt Ryan completed 25 of 32 passes for 279 yards with four touchdowns and a 142.6 passer rating. That's the exact same passer rating Ryan posted in last week's win against the New York Giants.
The Falcons are 32-1 when Ryan has a passer rating of 100 or better. His passer rating is 100.2 for the season and he has a chance to become only the second quarterback in franchise history to post a passer rating of at least 100 for a season. Chris Chandler had a 100.9 passer rating in the 1998 season -- the only time the Falcons reached the Super Bowl.
The four touchdowns matched Ryan's career high and he now is tied for the franchise record for touchdown passes in a season (31) with Steve Bartkowski.
Ryan was especially good on play-action passes. He completed all seven of his attempts for 109 yards and three touchdowns.
Only three of Ryan's passes (excluding throwaways) were incomplete due to an overthrow or underthrow. Ryan leads the NFL with only 13.4 percent of his passes falling off target.
Receiver Roddy White joined Marvin Harrison, Torry Holt, Jerry Rice, Tim Brown and Reggie Wayne as the only players in NFL history to record six straight seasons with 80 catches and 1,000 yards.
White finished with eight catches for 153 yards and two touchdowns. It marked the 35th 100-yard game of his career, and White tied his franchise record for 100-yard games in a season (seven).
With one game remaining, White is 81 yards shy of breaking the franchise record for receiving yards in a season (1,389) that he set in 2010.
Detroit's Matthew Stafford didn't have a passing touchdown. That marked the fifth time in the last six games the Falcons have not allowed a touchdown pass.
The defense had three takeaways and the Falcons produced points each time. Atlanta now has 96 points off 29 takeaways this season.
November, 24, 2012
11/24/12
12:00
PM ET
Five nuggets of knowledge about the Monday night game between the Carolina Panthers and Philadelphia Eagles:
Hard road ahead.
The Panthers are 1-3 on the road this season, but their three losses have come by a total of nine points. The game at Philadelphia is the start of a stretch in which the Panthers will play four of their final six games on the road.
[+] Enlarge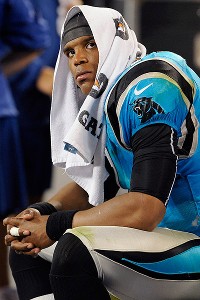 Jeff Siner/Getty ImagesCam Newton has struggled in his second year in the NFL.
Sophomore slump.
A quick look at Total QBR might be the best way to sum up Carolina quarterback
Cam Newton
's second NFL season. After ranking 17th in the league with a 55.0 Total QBR his rookie year, Newton ranks 29th this season with a 40.4 Total QBR. He's had four games this season with a Total QBR lower than 20 after not having any games below that mark last season.
No need to blitz.
The Eagles don't blitz a lot to begin with. According to ESPN Stats & Information, no team has rushed four or fewer defenders more often than the Eagles, who have used that tactic 80.5 percent of the time over the past two seasons. But the Eagles might be wise to scrap the blitz completely against the Panthers. Newton has struggled far more against a pass rush of four or fewer than he has against the blitz. Over the past two seasons, Newton has a minus-4 touchdown-to-interception differential when facing four of fewer pass-rushers (only three quarterbacks have a worse differential). Over that same span, Newton has a plus-8 touchdown-to-interception differential when opponents have blitzed.
Milestone time.
In a season in which there have been few positive milestones, the Panthers should hit one Monday night.
Steve Smith
needs just 12 receiving yards to become the fourth active player with 11,000 receiving yards. The only players ahead of him are
Randy Moss
(15,124),
Tony Gonzalez
(13,988) and
Reggie Wayne
(12,711).
Fourth-quarter woes.
Over the past two seasons, the Panthers have lost five games in which they've held a lead entering the fourth quarter. But the good news is the Eagles have squandered a fourth-quarter lead six times in that same span. The Eagles and Dolphins are tied for the league lead in losing games in which they led at the start of the fourth quarter over the past two seasons. The Panthers are tied for third with the
Cleveland Browns
.
November, 29, 2011
11/29/11
1:00
PM ET
»
NFC Stock Watch
:
East
|
West
|
North
|
South
»
AFC
:
East
|
West
|
North
|
South
FALLING
1. Raheem Morris, Buccaneers coach.
Morris is becoming a fixture in this category and that's only because he has earned it. Predecessor Jon Gruden got fired largely because his run defense couldn't stop anything in the last four games of the 2008 season. Morris and the front office have used a lot of draft picks and money on defensive linemen and linebackers to try to fix this problem. Three years later, the run defense might be worse than it was in Gruden's final days.
[+] Enlarge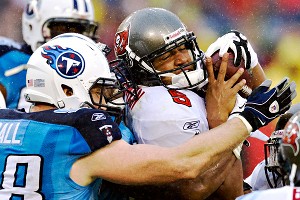 Wesley Hitt/Getty ImagesJosh Freeman couldn't come through in the clutch as the Bucs dropped their fifth game in a row.
2. Kellen Winslow, Buccaneers tight end
. As we've noted many times this season, Winslow's not putting up big numbers as a receiver. In Sunday's loss to Tennessee, Winslow hurt the Bucs in another way. He was called for a holding penalty that wiped out a nice run by
LeGarrette Blount
.
3. Josh Freeman, Buccaneers quarterback
. I've got to make it a complete sweep for the Bucs, since they were the only NFC South team to lose this week. I still think Freeman is more a victim of problems around him than anything. But last year and early this season, if the Bucs just stayed close to an opponent into the fourth quarter, it seemed as though Freeman found a way to win. He had that chance against Tennessee, but didn't come close to generating any miracle.
RISING
1. Drew Brees, Saints quarterback
. I know, I've been heaping all sorts of praise on Brees. But I'll do it again. Since we started the ESPN.com Blog Network in 2008, I've seen every game Brees has played. He has played a bunch of great ones. But I've never seen him better than he was Monday night. In fact, I'll go as far as to say I've never covered a quarterback who had a better game. Well, maybe
Craig Erickson
back in Tampa Bay or
Chris Weinke
in Carolina. No, seriously, I've never seen anything as impressive as what Brees did Monday night.
2. Sean Weatherspoon, Falcons linebacker.
With Carolina's
Jon Beason
and
Thomas Davis
and New Orleans'
Jonathan Vilma
all injured and no Tampa Bay linebackers doing much of anything, Weatherspoon might be the NFC South's best linebacker at the moment. Teammate
Curtis Lofton
is the only other player even in the conversation. After dealing with injuries as a rookie, Weatherspoon has emerged as a star in his second season. He had a huge stop on a goal-line stand in Sunday's victory against Minnesota.
3. Sherrod Martin, Panthers safety.
He redeemed himself with an interception to seal a victory. Moments before, Martin had missed a tackle as
Reggie Wayne
went for a long touchdown. Sunday was a day of redemption for Martin and a Carolina defense that has struggled most of the season. This defense is far from perfect and several key players are out for the season with injuries. This defense isn't going to experience any major turnaround until next season, when the injured guys come back and some new talent has been added. But the fact that Carolina's defense is showing something that looks like improvement at this point in the season is encouraging.
April, 26, 2011
4/26/11
12:34
PM ET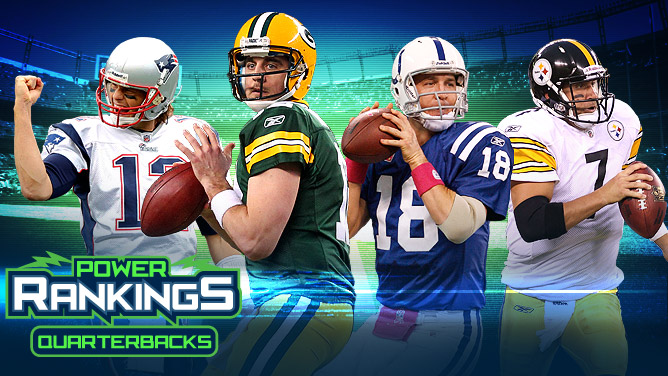 ESPN.com IllustrationNew England's Tom Brady received six of the eight first-place votes to edge out Peyton Manning.
ESPN.com's NFL writers rank the top 10 quarterbacks in the league today.
Next week: Top 10 safeties.
Take eight football writers scattered from Seattle to Tampa and ask them to come up with a list of the top 10 quarterbacks in the National Football League.
Sounds easy enough, in theory. You take the golden gunslingers,
Tom Brady
and
Peyton Manning
, and let everyone else fall naturally into order after that. Well, it didn't quite work out that simply in ESPN.com's Power Rankings for quarterbacks.
Heck, we couldn't even come up with a top 10. We're going with a top 11 because Baltimore's
Joe Flacco
and Dallas'
Tony Romo
tied for No. 10 with five points each in our voting system.
Even at the top, there was more disagreement than you might expect. Brady emerged as No. 1, but it wasn't unanimous and, although Manning finished a strong second, two ballots had a man some consider the best quarterback ever at No. 3.
But let's start analyzing the rankings by focusing on just Brady and Manning. Six voters put Brady at No. 1, but Paul Kuharsky and Mike Sando put Manning in the top spot. Let's hear them out.
"Brady's fantastic, let's start with that,'' said Kuharsky, who covers the AFC South, also known as "The Division Manning Built and Owns." "But no one is asked to do more or does more as a quarterback than Peyton Manning. He almost plays a different position. And while Brady's got three rings to Manning's one and is the reigning MVP, look at their touchdown and interception numbers in their last four playoff games. Manning's are better.''
Sando has no horse in this race, because voters unanimously agreed the NFC West is the division that forgot quarterbacks, at least until
Sam Bradford
gets another season under his belt.
"Brady has the better stats over the last couple seasons, but the Colts would undoubtedly be far worse off than the Patriots if both teams had backups under center,'' Sando said. "Once that was established, Brady's recent postseason struggles became a deciding factor. These quarterbacks have, to an extent, switched roles recently. Manning has won a championship more recently than Brady has won one. Brady has seven touchdowns, seven picks and one victory in his last four playoff games. Manning has seven touchdowns, two picks and two victories in his last four.''
For rebuttal, let's head up to the AFC East, to the man who covers Brady and the
New England Patriots
.
"I'm not sure why everybody needs to consider career achievements when filling out a Power Rankings ballot,'' Tim Graham said. "Power Rankings are a snapshot of the moment and are expected to change regularly, not encompass years of work. But if the reason for selecting Manning ahead of Brady is recent playoff performances that go back a few years, then
Ben Roethlisberger
should be ahead of Manning with that logic. Roethlisberger has been to a pair of Super Bowls and won his second title more recently than Manning's only championship.''
We'll come to Roethlisberger in just a moment, but nobody put him ahead of Manning on his ballot. Kevin Seifert and I each put a quarterback ahead of Manning.
Seifert put Green Bay's
Aaron Rodgers
at No. 2.
"Mostly, I didn't think I could face NFC North blog readers if I voted any other way,'' Seifert said. "Seriously, I think the big advantage Manning and
Drew Brees
have over Rodgers is time. They've been playing longer and therefore have mostly better career numbers and a bigger frame of reference for knowing how they will perform in the long term. But when you take out longevity, Rodgers is right there with them. All three have one Super Bowl victory. Rodgers has a higher career passer rating than any quarterback in the history of the NFL with qualified attempts, better than Manning and Brees and Brady for that matter. So to break the tie, I think you can look at what they did most recently. I think Rodgers had a better 2010 season than Manning or Brees, and that's how I would justify this order.''
I put Brees at No. 2 and don't really want to write a story in which I quote myself, so I'll just say Brees and Manning each have one Super Bowl ring and Brees' numbers over the last four years are just as good or better in most categories. Plus, Brees hasn't spent most of his career surrounded by the likes of
Marvin Harrison
,
Reggie Wayne
,
Dallas Clark
and
Edgerrin James
.
In the final analysis, Brees finished third and Rodgers fourth. Roethlisberger, who has two Super Bowl rings, came in at No. 5. San Diego's
Philip Rivers
, who has zero Super Bowl rings and some gaudy statistics, is No. 6. Relatively speaking, the order from Brees to Rivers, the guy who took his place with the Chargers, was pretty clear-cut.
After that, we had some close calls, strong differences of opinion and one very big coincidence. At No. 7, we've got a tie between Philadelphia's
Michael Vick
and Atlanta's
Matt Ryan
, who each finished with 26 points. For those who don't see the irony in that, Vick was the face of Atlanta's franchise for a long time and Ryan now holds that role.
Eli Manning
of the
New York Giants
came in at No. 9, and Flacco and Romo tied for the final spot. Only three other quarterbacks received votes. They were Tampa Bay's
Josh Freeman
, who I think could be near the top of this list in another year or two, Houston's
Matt Schaub
and Kansas City's
Matt Cassel
.
On to some other notes about the Power Rankings.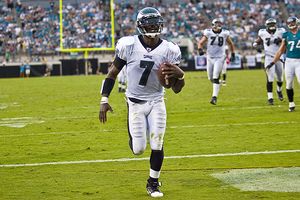 Michael DeHoog/Sports Imagery/Getty ImagesOne recent year of success wasn't enough to put Eagles quarterback Michael Vick on John Clayton's ballot.
The Vick factor
. Despite a hugely productive season last year, Vick was left off one very important ballot. John Clayton, the dean of all of us, didn't have the Philadelphia quarterback on his ballot and was the only one of us who didn't.
"The only reason Michael Vick didn't make my top 10 is because I, after an offseason of thinking, have Michael Vick as my No. 11 quarterback,'' Clayton said. "That still makes him elite. I have 12 elite quarterbacks. Vick moved into the elite category with his performance last year, but it's just one year. He can clearly move up the list this season, but he's in the mix and knocking on the door of the top 10. A year ago, he wasn't a consideration.''
Fighting the Eli fight.
Speaking of Clayton, let's continue to ride that train as we discuss Eli Manning. Seifert, Sando, Graham and I didn't even include Manning in our top 10, but he still made the list.
"I will continue to fight the argument Eli Manning is an elite quarterback,'' Clayton said. "I moved him to No. 8 above Tony Romo, but if Romo had a full season last year, he might have been ahead of Eli. Remember that
Carson Palmer
,
Brett Favre
and
Donovan McNabb
dropped from my elite quarterback categories, which moved guys like Eli up in the mix. Eli has a Super Bowl ring. He's a 4,000-yard quarterback. He wins.''
No tiebreaking here.
Speaking of Romo: Clayton and Sando each had him at No. 9. AFC North blogger James Walker had Romo at No. 10. That was good enough to get Romo five points and a tie with Flacco. One interesting note here: Flacco wasn't on Walker's ballot. I respect James for not doing the easy thing and being a "homer," although I'm sure some Baltimore fans might have different opinions.
"Joe Flacco is a good quarterback, but I don't consider him an elite, top-10 quarterback just yet,'' Walker said. "I need to see more consistency, especially in the playoffs and other big games against the Steelers. Flacco has a lot of natural ability, and I believe he's ready to break through. But, in my book, Flacco needs to first prove it on the field in the biggest games to be elite."
The final analysis.
If you look at this list from a distance, you could say the
Atlanta Falcons
,
San Diego Chargers
and New England Patriots are the big winners. The Patriots, of course, have Brady, but they also drafted Cassel, whom they later traded to Kansas City. If you want to get really technical, the Chargers drafted Brees and Eli Manning and worked a draft-day trade with the Giants to end up with Rivers. If you count the few minutes Manning and Rivers were crossing paths, you could say the Chargers, at one time or another, had three guys on this list. You also could say the Falcons drafted Vick, Ryan and Schaub, who finished in a tie with Freeman for No. 12.
December, 9, 2010
12/09/10
2:08
PM ET
I was just taking a look through the list of drops by receivers that ESPN Stats & Information updates each week. The NFC South started off the season pretty well in this category, but that's starting to change a bit. We've got some NFC South receivers climbing up a not-so-positive list.
Although he's having a stellar rookie season by just about every measure, there's one area where Tampa Bay's
Mike Williams
can improve. You can pretty much bet Williams will be spending a lot of time catching passes from the Jugs machine and quarterbacks in the offseason.
Williams is tied with
Reggie Wayne
for second place in the league with eight drops.
Steve Johnson
leads with nine. For the sake of comparison, Johnson has been targeted 103 times and has 61 catches. Williams has been targeted 97 times and has 51 receptions. Wayne has been targeted 143 times and has caught 90 passes.
A couple of very big names in the NFC South also are pretty high on the list. Carolina receiver
Steve Smith
and Atlanta tight end
Tony Gonzalez
each have six drops. Carolina rookie
Brandon LaFell
and New Orleans veteran
Marques Colston
each have five.
We won't run through the list of individual guys with less than five drops because it's too lengthy. However, let's take a look at drops by team in the division. Carolina leads with 26 and that ranks fifth in the league.
The Saints have 22 drops, tied for 11th in the NFL. The Buccaneers have 20, tied for 14th.
Atlanta receivers have shown the best hands in the division. They've dropped 16 passes. Only five teams around the league have fewer drops. And let's give quarterback
Matt Ryan
a little credit here, because his accuracy is probably a reason why his receivers aren't dropping a lot of passes.
Now, let's flip over to the anti-drop side and look at some positives. There are only four receivers in the league who have been targeted at least 25 times that don't have a drop, and none are from the NFC South.
But New Orleans'
Lance Moore
and Atlanta's
Roddy White
are right behind the guys that have been perfect. Moore has only one drop and a 98.0 catch percentage. White has two drops and a 97.8 catch percentage. They're the only two receivers from the division in the top 10 in catch percentage. Atlanta's
Michael Jenkins
(96.3) is next at No. 18 in the league.
February, 18, 2010
2/18/10
9:32
AM ET
You can vote for
Drew Brees
to be on the cover of "Madden NFL 11'', but, if you believe in curses, you might want to think twice.
Brees, along with
Jared Allen
and
Reggie Wayne
are the finalists to grace the cover of the video game. For the first time ever, fans are voting to decide who gets the honor. You can
vote here
.
It would be a nice honor for Brees, who some fans think gets short-changed because he plays in a small market. But it also could be dangerous. There are a lot of previous cover boys who have suffered from the "Madden Curse" -- getting hurt or having a bad season after appearing on the front of the box.
February, 7, 2010
2/07/10
9:45
PM ET
MIAMI –- Mardi Gras can start early on Bourbon Street.


The
New Orleans Saints
have
won the Super Bowl
for the first time in franchise history. Second-year cornerback
Tracy Porter
had a huge interception return for a touchdown in the fourth quarter Sunday night as the Saints defeated the
Indianapolis Colts
in Super Bowl XLIV at Sun Life Stadium.
Porter's interception gave the Saints a 31-17 lead with 3:05 remaining. Porter jumped a route and picked off a pass by New Orleans native
Peyton Manning
that was intended for
Reggie Wayne
.
That gave the Saints a lead that was too big for even Manning to overcome.
The victory not only gave New Orleans its first championship in any major sport, but also validated Sean Payton and
Drew Brees
. The victory gives Payton a Super Bowl title and a trip to another NFC Championship Game in his first four seasons. That should move him into the league's list of elite coaches.
Even more so, the victory clearly puts Brees at the top of his field. He had been mentioned with Manning and New England's
Tom Brady
as one of the top quarterbacks in recent years. But the argument against Brees always was that he lacked a Super Bowl ring.
That argument is over because Brees now will have a Super Bowl ring and the city of New Orleans and the Gulf region, which was so crushed by Hurricane Katrina in 2005, has something to celebrate.
No need to wait for Mardi Gras.
I'm heading to do interviews. Will be back with lots more in a bit.