NFC South:

Reidel Anthony
January, 3, 2013
1/03/13
1:00
PM ET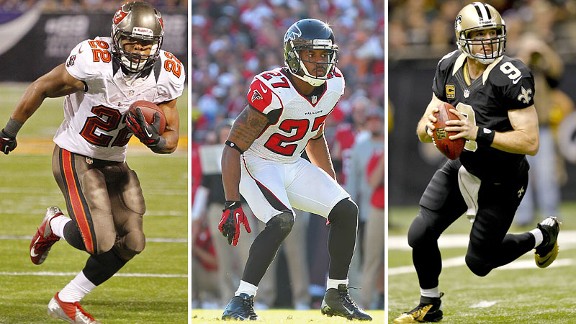 USA TODAY SportsThe NFC South may not get a lot of recognition come awards time, but Tampa Bay's Dough Martin, Atlanta's Robert McClain and New Orleans' Drew Brees all deserve some attention.
Although we in the NFC South sometimes have an inferiority complex when it comes to recognition, there will be no shortage of it in what follows.
I already rolled out my
All-NFC South team
and named Atlanta quarterback
Matt Ryan
the division's Most Valuable Player. But let's take this time to hand out some other awards for the 2012 season.
Comeback Player of the Year:
I'm starting with this one because it's probably my favorite story of the season. I'm going with Carolina linebacker
Thomas Davis
. He probably won't win the league-wide award because
Peyton Manning
and
Adrian Peterson
are bigger names (there's that NFC South inferiority complex again). But nobody came back from more than Davis. The guy tore his ACL three times. As far as anyone knows, no NFL player had ever come back from three torn ACLs -- until Davis did it. And he did more than come back and just play. He turned in a very solid season.
Offensive Rookie of the Year:
This one is easy. Tampa Bay running back
Doug Martin
is the only choice. On the night they drafted him, coach Greg Schiano and general manager Mark Dominik talked about how Martin would be an all-purpose back. He was precisely that. He ran inside and outside, caught passes and made
LeGarrette Blount
disappear.
Defensive Rookie of the Year:
This one is not quite as easy. I'm giving the nod to Carolina linebacker
Luke Kuechly
, but only by a slight margin. Tampa Bay linebacker
Lavonte David
also had an excellent first season, but Kuechly led the NFL in tackles, and Carolina's defense was better than Tampa Bay's.
Coach of the Year:
Hmmm, I'll go way out on a limb and take Atlanta's Mike Smith. In a year when the other three teams went 7-9 and the Falcons went 13-3, Smith is the only option. Aside from throwing a challenge flag on a play that would have been automatically reviewed and trying to force the ball to
Michael Turner
too much, I can't think of very many mistakes Smith made. Of course, the real test for Smith will be whether he can get the first postseason win of his career.
General Manager of the Year:
Atlanta's Thomas Dimitroff wins in a landslide for the same reason Smith did. You just can't argue with 13-3. Plus, I've got to give Dimitroff a lot of credit for not listening to public sentiment (that's not a strong point for every general manager in this division) during the free-agency period. Fans were screaming for the Falcons to go after
Mario Williams
and other big-name free agents. Dimitroff didn't listen and simply re-signed most of his own free agents. You can't argue with the result.
Best free-agent signing:
Receiver
Vincent Jackson
cost the Buccaneers a fortune, but he was worth every penny of it. Almost instantly, he became the best receiver the Buccaneers have ever had (yep, he edged out the likes of
Alvin Harper
,
Reidel Anthony
and
Jacquez Green
). He gave Tampa Bay a big-play threat, and he also made
Mike Williams
perhaps the best No. 2 receiver the Buccaneers have ever had.
Best trade:
Dimitroff's biggest move of the offseason was a trade to get
Asante Samuel
, even though there were rumblings the veteran cornerback was in steep decline. That turned out to be far from the truth. Samuel showed he has plenty left. More importantly, he has brought a swagger that Atlanta's defense lacked in recent years.
Second-best trade:
I know there is a segment of Tampa Bay fans that thought the midseason trade of
Aqib Talib
to New England was a horrible move. I understand that the Bucs' pass defense was bad and trading away your best cornerback isn't going to provide immediate help in that department. But I think Dominik deserves kudos for looking at the big picture and for getting anything in return for Talib. Let's be honest: Talib was nothing but a headache throughout his time in Tampa, and there was no way Schiano was going to want him around in 2013. Talib would have walked away in free agency, and the Bucs wouldn't have had anything to show for him. The trade at least gave them a 2013 fourth-round pick.
Best release:
A lot of people think Smith is too nice a guy. That's mainly because the Atlanta coach genuinely is a nice guy. But that doesn't mean he's soft. Smith can be very firm when it's in the best interest of his team, and that's what happened at midseason when he and Dimitroff released defensive end
Ray Edwards
. Let's not sell Edwards short and say he was a slouch. The 2011 free-agent signing was a tremendous slouch. He had lost his starting job to
Kroy Biermann
, and he was causing problems in the locker room. Instead of letting things fester and spread to other corners of the locker room, Smith simply told Edwards to hit the road.
Best defensive player on the worst defense in history:
The New Orleans defense shouldn't get too many accolades because it allowed more total yards than any defense in history. But middle linebacker
Curtis Lofton
deserves some praise. He came over from Atlanta, where he no longer was viewed as an every-down linebacker and showed that, at least for the Saints, he still was an every-down linebacker.
Best assistant coach:
Atlanta offensive coordinator Dirk Koetter wins, although Tampa Bay offensive coordinator Mike Sullivan and Atlanta defensive coordinator Mike Nolan got consideration. Koetter came in and did a better job than predecessor Mike Mularkey of letting Ryan go out and do the things he does best.
Best off-field tactic:
Appeal anything and everything. That's the approach New Orleans linebacker
Jonathan Vilma
took throughout the entire bounty scandal. There were plenty of twists and turns, and former NFL commissioner Paul Tagliabue, who oversaw the final appeal, did not clear Vilma of wrongdoing (no matter what Saints fans think), but Tagliabue ultimately did vacate what was supposed to be a season-long suspension for Vilma.
Most underrated player:
Robert McClain
. If you haven't heard of him, you're not a Falcons fan. Even Atlanta fans had no idea who McClain was until
Brent Grimes
went down with a season-ending injury. McClain stepped up and gave Atlanta quality play as the No. 3 cornerback and sometimes even as the No. 2 cornerback. For the record, McClain was a seventh-round draft pick by Carolina in 2010 and spent some of 2011 in Jacksonville. He probably will be sticking around Atlanta for a long time.
Best performance by a guy that had a "down" season:
Drew Brees
might be the only guy in the world who can go out and throw for 5,000 yards and have people still think he had a bad season. Brees wasn't horrible. But when you've been almost flawless for several seasons, anything less is viewed as an off year.
September, 25, 2010
9/25/10
7:32
AM ET
Lloyd in Charleston, S.C., writes:
I'm a huge
Carolina Panthers
fan and I just wanted to know if the rumor of
Michael Vick
going to the Panthers was ever true because if it was then we missed out on the new and improved Vick. Not only does he still has the moves but he looks better in the pocket and looks to have improved accuracy as well. Do you think the Panthers made a mistake in not pursuing Michael Vick when they had the opportunity?
Pat Yasinskas:
I can tell you unequivocally that the Panthers had absolutely no interest in ever pursuing Vick. That came from a reliable source pretty high up the ladder in Carolina. Owner Jerry Richardson instituted a policy of staying away from troubled players after the
Rae Carruth
saga and he's made sure his organization has followed it with only a few minor exceptions. Signing Vick after all his problems would have violated that policy in a big way and it was never going to happen. In hindsight and in fairness to Vick, he has handled things well in his new life. In spite of all that, I don't think the Panthers have any regrets.
---
Rob in Orlando writes:
I haven't read any news about Tampa Bay selling out this week's game hosting the Steelers. Have you heard if it sold out?
Pat Yasinskas:
Rob, I'm not trying to be sarcastic here. But the reason you haven't heard any news about the Bucs selling out is because they didn't. The game will be blacked out in the Tampa Bay area. Kind of sad because the Bucs are 2-0 and playing an undefeated Pittsburgh team. But it is what it is.
---
Ryan in Wilmington, N.C., writes:
With the Panthers WR corps in total disarray once you get past #89, why not put
Dante Rosario
at wideout and let
Jeff King
handle the full time TE positions?
Pat Yasinskas:
Ordinarily, I'd laugh and try to blow a theory like this out of the water by saying a tight end is too big and too slow to play wide receiver. But I'm not going to do that this time because it's not a ridiculous idea in Carolina's current situation. They really have nothing besides
Steve Smith
at wide receiver and we know that Rosario can at least catch the ball a little. I'm not saying this will happen, but it's not a bad idea.
---
Joey in Bloomington, Ill., writes:
I heard you used "small market" about the Saints quite a few times lately. What does it really mean? I don't understand because lately every time you have Saints on TV, they drew very high record rating. Small market?
Pat Yasinskas:
In its annual Record and Fact Book, the NFL includes the rankings of the top 100 television markets in the country. I'm looking at it right now. New Orleans is ranked No. 51 with 633,930 television households. The only television markets in NFL cities that are smaller are Buffalo (No. 52) and Green Bay-Appleton (No. 70) and you could argue that Milwaukee (No. 35) is part of the Green Bay market. Non-NFL cities like Orlando, San Antonio, Harrisburg, Pa, Grand Rapids, Mich. and Oklahoma City all are ranked well ahead of New Orleans, so there's no doubt it's a small market. That said, the penetration factor in New Orleans is outstanding. The numbers I saw for the opener said that 60 percent of the households in the New Orleans market were tuned into the game. But it's still 60 percent of the households in the nation's 51st largest market. For other NFC South readers, Atlanta is No. 8, Tampa/St. Petersburg/Sarasota is no. 14 and Charlotte is No. 24.
---
Jon in Montreal writes:
Should Bucs fans be worried that we're not seeing
Arrelious Benn
on the field (other than on special teams)? It's too early to call a rookie a bust but...
Pat Yasinskas:
No, from what I've heard out of the Bucs, they believe Benn is making progress and has lots of upside. Yes, he's being overshadowed by fellow rookie
Mike Williams
, but Williams is off to an uncommon start. More often than not, it takes rookie receivers time to make an impact. If you want to talk about drafting wide receivers who turned out to be busts, talk to Carolina fans. Or go back to Tampa Bay's days of
Reidel Anthony
and
Jacquez Green
. But nobody with the Bucs is even close to thinking Benn will be a bust.
---
Gabe in Washington, D.C. writes:
As a Saints fan I've been very excited about how
Chris Ivory
played in the preseason but know nothing about his status or his injury. Given
Reggie Bush
's setback and the Saints' penchant for finding starters in UDFAs like
Pierre Thomas
, I am surprised we haven't heard more about Ivory. Have you heard anything about if and when Ivory might make it into the mix?
Pat Yasinskas:
Hang loose just a bit. I think you might see Ivory this Sunday. He had a knee injury that had sidelined him. But he practiced this week and is listed as probable. With Bush out, I think you'll see Ivory as part of the backfield rotation.
June, 3, 2009
6/03/09
1:05
PM ET
Posted by ESPN.com's Pat Yasinskas
Back in 1997, when the Bucs were going to the playoffs for the first time in a generation, I remember doing a story for The Tampa Tribune that was centered on how popular the Packers (Tampa Bay's playoff opponent) were and how anonymous the Bucs were.
One of the facts in the story was about how many Packers had their own television or radio shows. I can't remember the exact number, but I'm pretty sure it was in the teens. I do remember precisely the number of Bucs who had their own show. It was one -- linebacker Hardy Nickerson, who had a local radio show.
Today's news that John Lynch will broadcast Tampa Bay preseason games and Tony Dungy will be a studio analyst for NBC is further evidence of how far the Bucs have come in a little over a decade. Look at the television or listen to the radio and former Bucs are all over the national -- and local -- scene.
Besides Lynch and Dungy, Jon Gruden, Keyshawn Johnson, Warren Sapp and Trent Dilfer are on the national stage. Ian Beckles and Dave Moore do local radio and I'm probably -- inadvertently -- leaving out some other guys. Oh, can't forget Brad Culpepper, whose law firm ads are all over the local airwaves and on billboards.
Seems like only a matter of time before some former Buc gets his own reality show. Some possibilities: "Dropping Passes with Reidel Anthony and Jacquez Green," "Manicuring with Alvin Harper," "Deep Thoughts with Jim Pyne" or "Adventures in Boating with Tyji Armstrong."