NFC South:

Reliant Stadium
December, 18, 2011
12/18/11
4:09
PM ET
Thoughts on the
Carolina Panthers
'
28-13 victory
against the
Houston Texans
on Sunday at Reliant Stadium:


What it means:
A lot more than you think. This was a turning point for Ron Rivera and his young team. The Panthers went on the road and beat a good team. That's a step toward bigger and better things for next season. The Panthers had come close to doing something like this a bunch of times this season, but they always built a lead and let it slip away. This time they didn't. A defense that's been decimated by injuries and struggled all season stepped up and held a good offense to 13 points. Imagine what Rivera, a defensive coach, can do next season when he gets some injured defenders back and fills a few holes through the draft and free agency? Even the present is much brighter than it was before. The Panthers are 5-9 and no longer are in last place in the NFC South. That honor now belongs exclusively to the
Tampa Bay Buccaneers
.
Play of the day:
DeAngelo Williams
' 24-yard touchdown run in the fourth quarter. It came at a time when the Panthers looked like they were starting to collapse again.
Unsung hero:
Jordan Senn
, who would have been about seventh on Carolina's depth chart at the start of training camp, came up with a huge interception. Carolina lost linebackers
Thomas Davis
and
Jon Beason
to injuries early in the season. The Panthers then went through a bunch of linebackers. But Senn finally earned a starting role. Even when the Panthers get healthy at linebacker next season, Senn should have a job.
Disappointment of the day:
Cam Newton
came in needing only 167 yards to break
Peyton Manning
's record for passing yards by a rookie. Newton came up a bit short, getting 149 against Houston. I think it's a safe bet Newton will get the record in his next game. Newton threw for two touchdowns and no interceptions.
What's next:
The Panthers host the Buccaneers at Bank of America Stadium on Saturday.
December, 16, 2011
12/16/11
9:14
AM ET
ATLANTA – Time for a look at the top headlines from around the NFC South.
New Orleans quarterback
Drew Brees
said talks about a new contract
have been tabled
until after the season. Smart move. The Saints are down to crunch time and the team and Brees don't need any distractions.
Atlanta linebacker
Stephen Nicholas
, who returned Thursday night after missing two games with a quadriceps injury,
suffered a knee injury
in the victory over Jacksonville. The severity of the injury isn't known yet, but the Falcons don't play again until Dec. 26.
Atlanta coach
Mike Smith
will undergo a stress test
Friday at Emory Hospital. Smith was taken to a Charlotte hospital Sunday after experiencing chest pains. After Thursday night's game, Smith said he's fine and politely said he doesn't want to discuss his health any further.
Carolina receiver
Steve Smith
said there's
no comparison
between
Cam Newton
and Denver quarterback
Tim Tebow
. Smith said Newton is a more complete player. No argument here.
The Panthers play at Houston on Sunday. Reliant Stadium was the site of Carolina's only Super Bowl, a loss to New England in Super Bowl XXXVIII. The
only current Panthers
who were on that team are tackle
Jordan Gross
and Smith.
Jake Delhomme
was the quarterback of that team. Ironically, he now is with the Texans.
Former Tampa Bay defensive lineman
Chidi Ahanotu
wrote a guest column
for PewterReport.com that's very interesting. Not sure I agree with his opinion that the Bucs shouldn't fire coach Raheem Morris. But Ahanotu is a smart guy and has spent a lot of time in locker rooms. His opinion is at least worth a look.
Gary Shelton has
a column
that asks a very valid question – if the Bucs fire Morris, does general manager Mark Dominik go as well? Dominik's had his share of hits and misses and he certainly deserves blame for a season gone awry. But my best guess is Dominik stays. Some coaches and general managers are package deals. I think the Bucs provided a big hint that they don't view Morris and Dominik that way after last season. They gave Dominik a four-year contract extension and simply picked up two option years on Morris' contract.
December, 4, 2011
12/04/11
4:17
PM ET
Thoughts on the
Atlanta Falcons
'
17-10
loss against the
Houston Texans
on Sunday at Reliant Stadium.


What it means:
This one's not going to help Atlanta's chances of getting to the playoffs or catching the Saints in the NFC South. The Falcons are 7-5 and could fall two games behind the Saints in the win column if New Orleans wins on Sunday night against Detroit.
What I didn't like:
The Falcons came out and tried to be very aggressive on offense early on. Nothing wrong with that. But
Matt Ryan
and his receivers weren't in sync, and that got Atlanta off to a rough start. Ryan was intercepted twice in the first half. The Falcons never really got running back
Michael Turner
and the running game on track.
Wasted opportunities:
The Falcons had two 12-play drives in the second half that didn't result in any points. The defense played a decent game, but wasn't able to force many mistakes by rookie quarterback
T.J. Yates
, who was making his first NFL start.
The streak is over:
The Falcons had a streak of 14 consecutive games without allowing a running back to rush for 100 yards. That's over.
Arian Foster
rushed for 111 yards.
Festival of flags:
The Falcons were their own worst enemy. They had two apparent defensive touchdowns wiped out by penalties. They also weren't able to get a play off before the play clock expired on a fourth down in the fourth quarter. Rookie
Julio Jones
also had a critical penalty late in the game as he made an apparent catch that was wiped out because he went out of bounds and came back inbounds.
What's next:
The Falcons travel to Carolina to play the Panthers next Sunday at Bank of America Stadium.
November, 27, 2011
11/27/11
4:07
PM ET
Thoughts on the
Atlanta Falcons
'
24-14 victory
against the
Minnesota Vikings
on Sunday at the Georgia Dome.
What it means:
The Falcons continue to be a hard team to figure out. They came out and started fast. They looked like they were going to have a very easy time with the Vikings. But Atlanta let Minnesota back in the game in the third quarter and that made things more interesting than they should have been. That's kind of been the story of Atlanta's entire season. The Falcons have been maddeningly inconsistent and nothing has come easy for them. But the bottom line is the Falcons are 7-4. They've pulled even with the Saints, who play Monday night, and they're very much a factor in the NFC South race.


Roddy's on a roll:
After starting the season very slowly, receiver
Roddy White
has come on strong in the past two games. White had his second straight 100-yard receiving game and caught a touchdown pass. Fellow receiver
Julio Jones
also returned from a hamstring injury. Jones didn't show up big on the stat sheet, but his presence helped White,
Harry Douglas
and
Tony Gonzalez
have big games. That's a big part of the reason the Falcons traded up in the draft to get Jones.
What I didn't like:
I don't think it was by design, but middle linebacker
Curtis Lofton
wound up in deep coverage on
Percy Harvin
on a fourth-down play in the fourth quarter. Lofton is a solid linebacker, but he shouldn't ever be put in a situation where he has to cover a speed receiver downfield.
Defense rising:
I've said several times throughout the season that the NFC South race will come down to defense. I realize the Vikings were playing without
Adrian Peterson
and were starting rookie quarterback
Christian Ponder
. But the Atlanta defense shut the Vikings down. Minnesota had only two first downs in the first half. It took some time to get it together, but Atlanta's defense has played well in recent weeks and seems to be improving. If that continues, it could help the Falcons tremendously down the stretch.
What's next:
The Falcons travel to Houston to play the Texans next Sunday at Reliant Stadium.
November, 25, 2011
11/25/11
1:30
PM ET
»
NFC Final Word
:
East
|
West
|
North
|
South
»
AFC
:
East
|
West
|
North
|
South
Five nuggets of knowledge about Week 12:
[+] Enlarge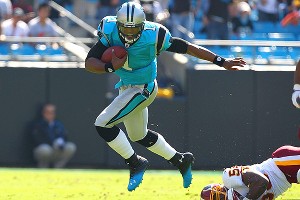 Joe Robbins/Getty ImagesCarolina quarterback Cam Newton has excelled under pressure this season.
Newton's better under pressure.
Carolina rookie quarterback
Cam Newton
has been far better this season when opposing teams have blitzed. When opponents have sent five or more pass-rushers, Newton has averaged 8.1 yards per attempt with seven touchdowns and three interceptions. But when opponents have sent four or fewer pass-rushers, Newton has averaged 7.9 yards per attempt with five touchdowns and 11 interceptions.
Sweet Dome Atlanta.
The home game with the Vikings will mark the seventh straight game the Falcons have played in a dome. That could reach eight next week when the Falcons travel to Houston, where Reliant Stadium has a retractable roof that probably will be closed. The Falcons have only one definite outdoor game left on their schedule. That comes in Week 14 when Atlanta travels to Carolina.
Defensive woes.
The Bucs were 3-1 after four games, but now are 4-6 and have lost four straight. They haven't lost five straight since 2009. You can blame most of Tampa Bay's problems on the defense. Since Week 5, it has been particularly bad. In that span, the Bucs have allowed an average of 31.8 points per game. Only Indianapolis (32.0 points per game) has been worse.
Chasing 2009.
Any time you talk about the Saints, the 2009 season is the ultimate measuring stick. That's the season in which New Orleans won its only Super Bowl. In one regard, this year's team is keeping pace with the 2009 squad. The Saints are 4-0 at the Mercedes-Benz Superdome this season. If they win against the Giants on Monday night, it will mark only the second time in history the team has started 5-0 at home. The other time, of course, was in 2009.
Playing to the camera.
The Saints have won five straight Monday night games. They've played the Giants twice on Monday night and lost both. But those losses came before quarterback
Drew Brees
and coach Sean Payton arrived in 2006. Since then, the Saints are 7-2 on Monday night.
April, 9, 2011
4/09/11
8:23
AM ET
Let's take a look into the NFC South mailbag and hit on some of the questions that seem to be on a lot of minds.
Justin in San Francisco
wrote to say, with talk of teams cutting staff members due to the lockout, how many people does an NFL team employ beyond players and coaches?
Pat Yasinskas:
Very good question, because a lot more people behind-the-scenes are being affected by the lockout. To the best of my knowledge, the NFC South teams seem to be doing a pretty good job of protecting most of their employees so far, and I don't know of any major cuts within the division. With coaching staffs and players alone, you're generally talking about 80 people. Then, you have to throw in personnel people and scouts. After that, there are all sorts of people ranging from business executives to groundskeepers and people in the equipment department, and we won't even go into the part-time people who are brought in for game days. There is no exact number for full-time employees because it varies from team to team. But I would say 300 is probably somewhere close to the average.
---
Michael in Baltimore
asks why no one is talking about the
Carolina Panthers
bringing back
Matt Moore
next season.
Pat Yasinskas:
Michael also points out Moore played better than
Jimmy Clausen
last year, and I don't disagree with that. But Moore's contract is up, and I don't think the Panthers will bring him back. They're probably going to draft a quarterback, and they might even bring in a veteran to mix with Clausen and
Tony Pike
. Those two were drafted by the Panthers last year and are still under contract. Harsh as this may sound, Moore got his shot last year, however brief, and things didn't fall into place. I know that wasn't entirely his fault by any means. But I think he'll probably move on and try to land a backup job somewhere else.
---
Dan in Houston
wrote to say he read our post about Tampa Bay's Super Bowl bid and said he agrees with my
suggestion on rotating Super Bowls
among Miami, Tampa, New Orleans and Arizona, but wonders why I didn't include Houston on the list.
Pat Yasinskas:
Good point. I'll be totally honest and admit that Houston slipped my mind. I'm glad you reminded me. I was covering the Panthers for The Charlotte Observer when they played in the Super Bowl hosted by Houston after the 2003 season. Can't say I got to spend a lot of time out on the town because that was a hectic week. But that Super Bowl seemed to go off very well, Reliant Stadium is first-class and Houston's weather rarely gets too cold that time of year. I'll add Houston to my list.
---
Stan in Thomaston, Ga.
wrote to ask why Atlanta isn't bidding for the 2015 Super Bowl and if the city would have a chance if it bid on that or any future Super Bowl.
Pat Yasinskas:
As far as I know, Atlanta hasn't entered the mix for the 2015 Super Bowl, which is expected to be awarded in the fall. We all know the Falcons are seeking a new, outdoor stadium, and Atlanta may be awaiting the outcome of that before pursuing any future Super Bowls. But I'm not sure the idea of an outdoor stadium works in Atlanta's favor when it comes to getting another Super Bowl. The last Super Bowl in Atlanta didn't go off that well, even though the game was played indoors in the Georgia Dome. That wasn't the fault of the people in Atlanta or the people running the logistics for the Super Bowl. It just so happened that week was exceptionally cold, and Atlanta got hit hard by an ice storm that caused many problems. It was very similar to what happened in North Texas this year, and I think the NFL is going to be a little more cautious about going to cities where there's the potential for bad weather when awarding future Super Bowls. As I've said before, it's not just about game day. The week leading into the Super Bowl is all part of the event, and weather can cause problems with that. If Atlanta gets an outdoor stadium, that could make future Super Bowls a tough sell.
---
Charles in Metairie, La.
says he's disappointed in the people who are down on
Drew Brees
because of his involvement in the labor situation. He adds that Brees always has been a leader and is simply following through on that.
Pat Yasinskas:
No argument here. Brees accepted his role on behalf of the players four years ago. I would expect him to handle that the same way he handles everything else -- by doing his job to the best of his ability.
---
Brandon in Houston
asks if
Lynell Hamilton
is still in the plans for the Saints.
Pat Yasinskas:
He hasn't been forgotten. He scored some points with the coaching staff before last year's injury and there's still hope for him. That said,
Chris Ivory
emerged last season,
Pierre Thomas
got a new contract and the Saints have made it sound like
Reggie Bush
is staying. There's plenty of speculation the Saints could draft another running back, and I don't disagree with that. But, even if someone is added in the draft, Hamilton still has a shot. All the injuries at running back last year showed the Saints the importance of depth at that position.
---
Michael in Perry, Ga.
wrote to say he thinks many in the media are wrong for portraying Carolina as a team with no talent.
Pat Yasinskas:
I agree. It's not the typical 2-14 team. Now, there still are some questions to play out as far as free agency, possible trades and possible contract extensions once the lockout is over. But you look at Carolina's roster right now, and it includes guys like
Jordan Gross
,
Steve Smith
,
Ryan Kalil
,
DeAngelo Williams
,
Jonathan Stewart
,
Charles Johnson
and
Jon Beason
. Heck, if healthy, you might be able to include
Thomas Davis
and
Jeff Otah
on that list. Those are guys most people would qualify as "core players,'' and the Panthers aren't that far off other teams in terms of core players. What they need, however, is a quarterback and some spark on offense. If they can add that, I see no reason why this team can't instantly be a lot more competitive than last season.
---
Tyler in Florida
wrote to say he knows players can't be traded during a lockout, but wonders if draft picks can be exchanged.
Pat Yasinskas:
Teams can still trade draft picks in a lockout. But there can't be any transactions involving current players until the lockout is resolved.