February, 28, 2012
2/28/12
11:51
AM ET
We frequently talk here about how the NFC South might be the league's only division with four franchise quarterbacks.
I'm in agreement with that because New Orleans'
Drew Brees
and Atlanta's
Matt Ryan
are well established as franchise quarterbacks. Cam Newton's rookie season in Carolina was a pretty strong indication that he also fits the profile. I still believe Tampa Bay's
Josh Freeman
has the talent to be a franchise quarterback but needs to bounce back from a rough 2011 season and get some help from his supporting cast.
Newton

Freeman
But, even with all that set, there is room for major improvement among NFC South quarterbacks in one area. Freeman and Newton were among the league leaders in one significant category that didn't reflect very well on them. According to ESPN Stats & Information's Keith Hawkins, Freeman and Newton ranked way too high when it came to quarterback turnovers (interceptions plus fumbles lost) in 2011. Here's a look at the league leaders.
What's disturbing here about Freeman and Newton are their interception totals. Freeman was second in the league with 22. That comes after a 2010 season in which he threw only six interceptions. What was the difference? Some of it was simply bad decision making by Freeman. But I think he was also the victim of an offense that was in total chaos. Everything was going wrong for the Bucs offensively. Their play calling wasn't great, there wasn't good balance between their running and passing game and their receivers often failed to get open and dropped a lot of passes. With new offensive coordinator
Mike Sullivan
and what should be a more disciplined and organized team all the way around under new coach Greg Schiano, I think you'll see big improvement from Freeman.
Newton wasn't too far off Freeman with 17 interceptions. I don't think the blame here falls on the supporting cast or the offensive scheme and play calling. I think it falls on Newton. He was a rookie and there naturally will be some mistakes. Newton also played with a great deal of confidence and tried to force some throws that weren't there. That's something that can easily be worked on in the offseason.
That's why I don't think you'll see Freeman and Newton as high on this list in 2012.
December, 21, 2011
12/21/11
10:00
AM ET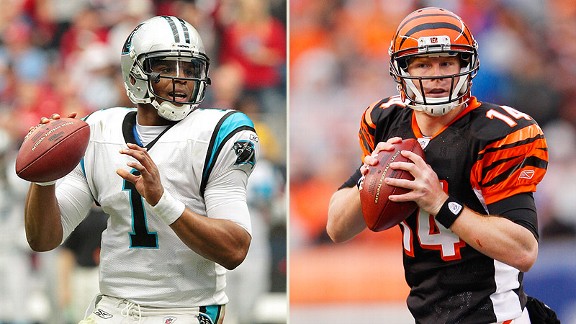 US PresswireThe Panthers (with Cam Newton) and Bengals (with Andy Dalton) are two examples of teams that successfully used the draft to fill a void at quarterback.
In the past few months, we've seen the Panthers, 49ers and Bengals discover they're just fine at quarterback. In those same few months, we've seen even more teams discover that they're not in great shape.
That's why the 2012 draft and free-agency period could provide a shopping spree for teams looking for starting quarterbacks. I'm looking around the league and seeing that roughly a quarter of the 32 teams could change starters in 2012.
Maybe they'll find solutions in the draft, as the Panthers did with
Cam Newton
and the Bengals with
Andy Dalton
. Or maybe they'll take a guy who has been around for a while, put him in the right situation and find out he can play, the way the 49ers did with
Alex Smith
.
But neither method is foolproof. Drafting a quarterback early doesn't always work. That's why I'm putting the Vikings and Jaguars on my list of teams that might look for a starter in the offseason. Bringing in a veteran, as the Cardinals did with
Kevin Kolb
, didn't bring any dramatic changes, and that's why Arizona also is on my list of teams with uncertain quarterback futures.
Let's run through the list, in no particular order.
Redskins
. Who really thought it was a good idea to go into a season with
John Beck
and
Rex Grossman
as your only options? Owner Daniel Snyder and coach Mike Shanahan must realize now that they're going nowhere with journeyman quarterbacks. That's why they have to find someone who can be a franchise quarterback.
Seahawks
. Same story as the Redskins. Pete Carroll generally had more talent and depth in his quarterback groups at USC than he did when he decided to go with
Tarvaris Jackson
and
Charlie Whitehurst
. Letting
Matt Hasselbeck
go wasn't necessarily a bad move, but heading into a season with guys who never have been and never will be any good made no sense.
Dolphins
. The tandem of
Chad Henne
and
Matt Moore
was as uninspiring as what the Seahawks and Redskins brought to the table. That's why the Dolphins will be looking for a new coach. Moore has played pretty well at times, but ownership seems intent on making a big splash to bring some life back to this franchise. The quickest way to make waves is to add a high-profile quarterback, but keeping Moore around as a backup is a nice insurance policy.
Colts
. Had Indianapolis had a backup like Moore, this season wouldn't have been so disastrous. Everything fell apart as soon as it became apparent that
Peyton Manning
wouldn't play because of a neck injury. The Colts could get a healthy Manning back, or they could draft Andrew Luck. But, if they let Manning go and draft Luck, they should go out and get a backup who is capable of starting.
Vikings
. They tried to use
Donovan McNabb
as a bridge to first-round draft pick
Christian Ponder
. The bridge quickly collapsed, and Ponder was thrown in over his head. Ponder may eventually turn into a decent starter, but we've seen no solid evidence that will happen. That's why the Vikings need to have an alternative.
Jaguars
. You can put
Blaine Gabbert
in the same category as Ponder. The jury is still out on him. Like Miami, this is another franchise that will hire a new coach and try to energize a fan base. Just a thought here, but there's a hometown guy who could sell out the stadium every week, if he somehow becomes available. (See below.)
Broncos
.
Tim Tebow
has pulled off miracles by putting the Broncos in playoff contention. The guy has all sorts of intangibles, but he doesn't throw like an NFL quarterback. That's why it looks as though John Fox and John Elway are forcing smiles every time Tebow leads them to an awkward victory. You get the sense that, deep down, Fox and Elway would rather have a conventional quarterback.
Cardinals
. The Cardinals thought they found their franchise guy when they traded for Kolb. He hasn't played like a franchise quarterback, but the Cardinals don't necessarily have to go outside on a shopping trip.
John Skelton
has played pretty well in relief of Kolb. Come training camp next summer, let Kolb and Skelton compete and settle this thing once and for all.

TRENDING UP

TRENDING DOWN
October, 21, 2011
10/21/11
1:30
PM ET
»
NFC Final Word
:
East
|
West
|
North
|
South
»
AFC
:
East
|
West
|
North
|
South
Five nuggets of knowledge about Week 7:
[+] Enlarge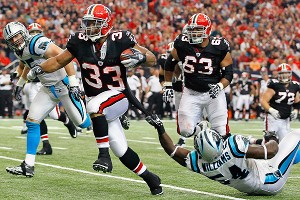 Kevin C. Cox/Getty ImagesMichael Turner appeared to have lost a step, and there's speculation that the RB may not be back in Atlanta in 2012.
Magic number:
It might be harder to accomplish than it sounds, but there's a very simple formula for success for the
Atlanta Falcons
. In the three games they've won, the Falcons have scored at least 30 points. In the three games they've come up short of 30 points, they're 0-3. One wise move for the Falcons might be to establish the ground game. Detroit has allowed 100 rushing yards in each of its last five games. Atlanta is 22-3 when
Michael Turner
rushes for at least 100 yards.
Lucky charm?
The
Carolina Panthers
might be catching a huge break with Washington's decision to bench quarterback
Rex Grossman
and replace him with
John Beck
. Grossman was having his problems, but there's no real evidence to indicate that Beck will be the solution. Beck's career record as a starter is 0-4. He hasn't started a game since Week 14 of the 2007 season.
Pressure's not the problem:
Added pass-rushers haven't really been a problem for Atlanta quarterback
Matt Ryan
. His numbers against the blitz have been better than when facing a standard defense. When facing four or fewer pass-rushers, Ryan has thrown five interceptions and been sacked 13 times, according to ESPN Stats & Information. The bad news is that the Lions blitz less than any team in the league. They've sent four or fewer pass-rushers on 83.3 percent of opponent dropbacks.
History in London?
The last two meetings between the Buccaneers and Bears have gone to overtime. If that were to happen again Sunday, it would mark only the third time since overtime was instituted in 1974 that two teams have had three straight meetings go to overtime.
Going for five:
New Orleans quarterback
Drew Brees
will be attempting to collect his fifth straight game with at least 350 passing yards. He would be breaking his own NFL record, which was set last week when his streak reached four games.
October, 19, 2011
10/19/11
12:00
PM ET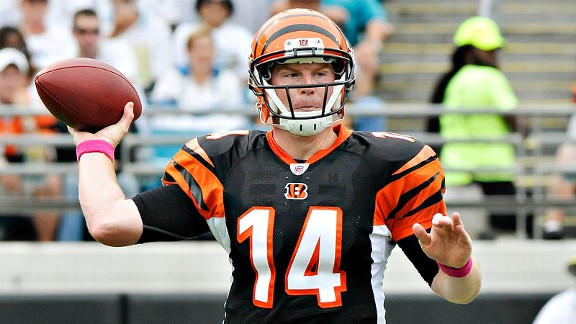 Fernando Medina/US PresswireWhile his numbers aren't off the charts, Andy Dalton has helped lead his team to a 4-2 start.
With Carolina's
Cam Newton
, there's been shock, awe and a lot of losing. With "the other'' rookie quarterback that's been starting all season, there simply has been a lot of winning.
That's Cincinnati's
Andy Dalton
, who, very quietly, has his team off to a 4-2 start. Jacksonville's
Blaine Gabbert
was tossed into the starting role after opening the season on the bench, and the same is about to happen with Minnesota's
Christian Ponder
.
Newton's had 400-yard passing games and turned heads with his feet. That's great, but the only rookie quarterback who is winning regularly so far is the guy who was drafted in the second round. Dalton was taken with the 35th overall pick at a time when it still looked as if
Carson Palmer
might return and the rookie could develop slowly behind him.
Instead, Palmer stuck to his demand to be traded or released and stayed away from the Bengals. That cleared the way for Dalton to be the No. 1 quarterback right away. The numbers haven't been quite Newtonesque, but Dalton has had games where he threw for 332 and 298 yards and the Bengals have won their past three games.
It's not like Dalton was thrown in as a game manager and the Bengals are winning in spite of him. This was a team that couldn't win with Palmer last season and Dalton has come in and made an immediate difference.
"The quarterback, he is our centerpiece, and we develop offense through Andy,'' Cincinnati coach Marvin Lewis said. "Everything we do comes through Andy. People asked me, 'How are you going to be with a young quarterback?' Well, a young quarterback is going to be our offense and he is going to be what our offense is. You can see what we do and we do it through him. That's why we felt so good about this guy."
What Dalton did at Texas Christian was throw accurate passes and win. After an 8-5 record as a freshman, Dalton was 34-3 the next three seasons.
It's been more of the same since Dalton took over the Bengals. He's completing 62.4 percent of his passes. Tight end
Jermaine Gresham
and rookie receiver
A.J. Green
have made Dalton look good by catching some passes that weren't exactly where they were supposed to be. But there haven't been off-target throws.
But the best thing the Bengals might have done for Dalton was to pair him with offensive coordinator Jay Gruden. A longtime Arena Football League coach, Gruden puts an emphasis on getting rid of the ball quickly.
That helps limit the pressure on Dalton and eliminates room for potential mistakes, and Dalton's only getting better. In the past two games, he's thrown just one interception and been sacked twice. In Sunday's victory against Indianapolis, Dalton completed a season-high 78.1 percent of his passes and he's singing the praises of Gruden.
"There is a lot of give and take,'' Dalton said. "We don't know anything different. With he and I coming here at the same time, we were both going to have new people around us. It has been great. He's done a great job calling plays."
It's all worked out so well with the arrival of Dalton and Gruden that the Bengals finally put Palmer in their past. They
traded Palmer to Oakland on Tuesday
because they already had moved on so nicely without him.

TRENDING UP

TRENDING DOWN
September, 21, 2011
9/21/11
12:00
PM ET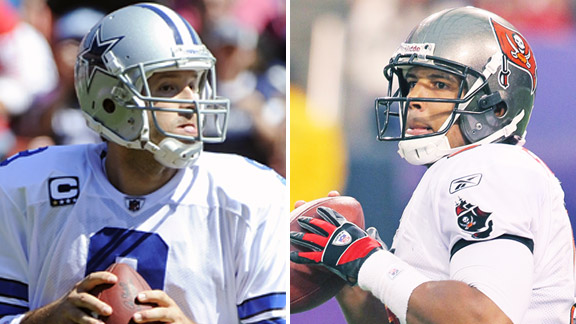 Getty ImagesTony Romo, left, and Josh Freeman both led fourth-quarter comebacks in Week 2.
If there's a lesson to be learned from Week 2 of this NFL season, it might be the more you smack a quarterback around and the deeper a hole you put him in, the more danger you're in.
Take the cases of
Tony Romo
,
Matt Ryan
and
Josh Freeman
. All three were battered, Romo to the point at which he had to leave the game with a fractured rib. Freeman was bleeding from his mouth and Ryan was flailing on the turf of the Georgia Dome at one point.
Yet, all three were part of what was a great week for quarterback comebacks. In all, there were five fourth-quarter comebacks in Week 2. Buffalo's
Ryan Fitzpatrick
and Washington's
Rex Grossman
also led their teams to victory after being down in the fourth quarter.
This is nothing new for Ryan. In defeating former Atlanta quarterback
Michael Vick
and the
Philadelphia Eagles
, Ryan notched his 10th fourth-quarter comeback since the start of the 2009 season. No other quarterback has had more fourth-quarter comebacks in that time.
Peyton Manning
and
David Garrard
are tied for second with nine.
Ryan, who took a lot of hits in the game, was rocking back and forth briefly after taking a hit early in the fourth quarter with the Eagles leading, 31-21. Soon after Ryan got up, he seemed to get into rhythm. He promptly led two touchdown drives to give the Falcons a 35-31 victory.
"I thought our quarterback really showed his toughness," coach Mike Smith said. "He took a number of shots and he kept going. When you've got guys like that, you've got a chance to be successful.''
It was kind of a similar scene in Minnesota, where Tampa Bay fell behind 17-0 in the first half. Freeman was getting knocked around pretty good, but he never lost his composure and led the Bucs back into the game and on to victory.
"He looked me right in the face, 'We got this; we're OK,'" coach Raheem Morris said. "I'm looking at my quarterback's mouth bleeding. It's kind of a situation you don't want to look at too often. He got things rolling for us and able to come back in the fourth quarter. It's becoming a signature move for him."
In the same time span as Ryan's 10 comebacks, Freeman is tied with
Drew Brees
and
Jay Cutler
with eight fourth-quarter comebacks. There's a bit of a catch here. Freeman didn't get to play until halfway through his rookie season. Freeman has had 27 career starts and his eight comebacks are the most ever for a quarterback in such a span.
As impressive as Ryan and Freeman were, Romo's comeback might have been the best of the week. Romo left the field after taking a shot from
Carlos Rogers
and was replaced by
Jon Kitna
.
A Kitna interception helped the 49ers take the lead, and that's when Romo came back into the game. He promptly threw a touchdown pass to
Miles Austin
, then drove the Cowboys for a field goal to send the game to overtime.
Romo ended the game by hitting
Jesse Holley
for a 77-yard gain to set up the winning field goal.

TRENDING UP

TRENDING DOWN
June, 24, 2011
6/24/11
11:42
AM ET
We already have talked quite a bit about players from the NFC South who are expected to become unrestricted free agents. We're going on the assumption that players not under contract who have at least four accrued seasons can become unrestricted free agents.
With that in mind, and with some help from ESPN Stats & Information, let's take a look at some of the more prominent potential free agents from the rest of the league.
QUARTERBACKS:
Marc Bulger
,
Kerry Collins
,
Rex Grossman
,
Matt Hasselbeck
,
Patrick Ramsey
,
Alex Smith
,
Billy Volek
,
Kellen Clemens
,
Brodie Croyle
,
Trent Edwards
,
Bruce Gradkowski
, Tarvaris Jackson,
Matt Leinart
,
Troy Smith
and
Tyler Thigpen
.
RUNNING BACKS:
Cedric Benson
,
Ronnie Brown
,
Kevin Faulk
,
Mewelde Moore
,
Sammy Morris
,
Clinton Portis
,
Dominic Rhodes
,
Tony Richardson
,
Kevin Smith
,
Darren Sproles
,
Fred Taylor
,
Brian Westbrook
,
Ricky Williams
,
Joseph Addai
,
Ahmad Bradshaw
,
Jerome Harrison
,
Brandon Jackson
,
Laurence Maroney
and LeRon McClain.
WIDE RECEIVERS
:
Mark Clayton
,
Braylon Edwards
,
T.J. Houshmandzadeh
,
Randy Moss
,
Santana Moss
,
Terrell Owens
, Donte' Stallworth,
Steve Breaston
,
Malcom Floyd
,
Santonio Holmes
,
James Jones
,
Sidney Rice
,
Mike Sims-Walker
,
Brad Smith
and
Steve Smith
(of the
New York Giants
, not the Steve Smith of Carolina).
TIGHT ENDS:
Desmond Clark
,
Donald Lee
,
Randy McMichael
,
Bo Scaife
,
Kevin Boss
,
Owen Daniels
,
Daniel Fells
,
Zach Miller
,
Ben Patrick
and
Matt Spaeth
.
OFFENSIVE LINEMEN:
David Baas
,
Jammal Brown
,
Robert Gallery
,
Adam Goldberg
,
Kyle Kosier
,
Olin Kreutz
,
Matt Light
,
Sean Locklear
,
Casey Rabach
,
Chris Spencer
,
Langston Walker
,
Casey Wiegmann
,
Floyd Womack
,
Damien Woody
,
Chris Chester
,
Jeromey Clary
,
Daryn Colledge
,
Willie Colon
,
Doug Free
,
Jared Gaither
,
Charlie Johnson
,
Deuce Lutui
,
Samson Satele
,
Lyle Sendlein
and
Marshal Yanda
.
DEFENSIVE TACKLES:
Aubrayo Franklin
,
Tommie Harris
,
Chris Hoke
,
Chris Hovan
,
Kris Jenkins
,
Bryan Robinson
,
Gerard Warren
,
Jamal Williams
,
Pat Williams
,
Alan Branch
,
Barry Cofield
,
John McCargo
and
Brandon Mebane
.
DEFENSIVE ENDS:
Jason Babin
,
Dave Ball
,
Raheem Brock
,
Andre Carter
,
Shaun Ellis
,
Cullen Jenkins
,
Travis LaBoy
,
Trevor Pryce
,
Marcus Spears
,
Ray Edwards
and
Mathias Kiwanuka
.
LINEBACKERS:
Akin Ayodele
,
Keith Bulluck
,
Kevin Burnett
,
Dhani Jones
,
Kirk Morrison
,
Julian Peterson
,
Matt Roth
,
Takeo Spikes
,
Jason Taylor
,
Mike Vrabel
,
Stewart Bradley
,
Bobby Carpenter
,
Manny Lawson
,
Paul Posluszny
,
Ernie Sims
and
Stephen Tulloch
.
CORNERBACKS:
Nnamdi Asomugha
,
Phillip Buchanon
,
Chris Carr
,
Drayton Florence
,
Ellis Hobbs
,
Carlos Rogers
,
Lito Sheppard
,
Ike Taylor
,
Fabian Washington
,
Drew Coleman
,
Antonio Cromartie
,
Chris Houston
,
Johnathan Joseph
,
Dimitri Patterson
,
Josh Wilson
and
Eric Wright
.
SAFETIES:
Aaron Francisco
,
Ken Hamlin
,
Michael Lewis
,
Brandon McGowan
,
Quintin Mikell
,
Lawyer Milloy
,
Brodney Pool
,
Gerald Sensabaugh
,
Roy Williams
,
Gibril Wilson
,
Atari Bigby
,
Melvin Bullitt
,
Abram Elam
,
Dashon Goldson
,
Michael Huff
,
Dawan Landry
,
Danieal Manning
,
Bernard Pollard
,
Eric Weddle
and
Donte Whitner
.
March, 28, 2009
3/28/09
4:38
PM ET
Posted by ESPN.com's Pat Yasinskas
Next stop on our tour of team-by-team mailbags is Tampa Bay.
Marc in Pittsburgh writes: I'm a big Buccaneers fan and there is plenty of talk about the Buccaneers wanting to get a veteran quarterback. They keep wanting to add to their offense but they don't add to their defense. What do you think the possibility would be that the Buccaneers would try to trade with the Browns again and get Derek Anderson and a defensive tackle Shaun Rogers since he wants out of Cleveland.
Pat Yasinskas: I like both Anderson and Rogers and think they could be nice fits with the Bucs. But I haven't heard any indications that the Bucs are pursuing either one. That could change between now and the draft. But the potential barrier I see to this is the cost. A package of Anderson and Rogers likely would require several draft picks. The Bucs already traded their second-round choice to Cleveland for tight end Kellen Winslow. I'm guessing they'd have to give up a first- and third-round draft choice (at least) for Anderson and Rogers. I don't see general manager Mark Dominik and coach Raheem Morris wanting to be without a pick in the first three rounds in their first draft.
---
Christopher in parts unknown: I know the Bucs are in the middle of a youth movement still, but with quality guys like Torry Holt, Jason Taylor, and Marvin Harrison still available do you think it's possible for any of them to come to Tampa?
Pat Yasinskas: That doesn't fit the profile of what the Bucs are doing so far. They're going with youth just about everywhere. However, if they go through the draft without addressing all their needs, you could see a veteran or two come in. But, again, I think that will be limited to veterans who are sitting out there after the draft.
---
Chris in Honolulu writes: Hey Pat... I was just woundering do the Bucs really believe that Josh Johnson can be the QB of the future, and if they do why would they spend their first pick on a guy like Josh Freeman dont they have about the same amount of potential?
Pat Yasinskas: I don't think the Bucs can count on Josh Johnson as their quarterback of the future right now. He could develop into something, but it's premature to really think that can happen this year. Johnson was drafted as a project last year. Now, the Bucs are going with a whole new offensive system, so he'll be starting almost from scratch. I know there's speculation the Bucs might draft Freeman at No. 19, but I don't think that will happen. I think the Bucs need to be competitive right away and they don't have the luxury of a lot of time for Freeman to develop. I still think the Bucs will bring in a quarterback to compete with Luke McCown, but I think it will be someone with experience. Some names out there (and these probably won't excite you) are Byron Leftwich, Rex Grossman and Kyle Boller.
---
Saood in Tampa writes: Pat, What kind of options do the Bucs have left at DT in the free agency and what DTs would be suitable for the Bucs this upcoming draft. I have heard a lot of good things about Raji out of Boston College, he must also be somewhat familiar with Jeff Jags, any chance we can land him?
Pat Yasinskas: I think B.J. Raji would be a tremendous pick for the Bucs, who need to solidify the middle of their defensive line some more. The problem is, it looks like Raji probably will be gone before the Bucs pick at No. 19. If he's somehow there, I've got to think he's a real possibility. If the Bucs really want to go with a defensive tackle in the first round and Raji is gone, Mississippi's Peria Jerry could be a possibility.
March, 20, 2009
3/20/09
11:31
AM ET
| | |
| --- | --- |
| | |
| | US Presswire |
| | If the Buccaneers can't land Jay Cutler, could they make a play for Cleveland's Brady Quinn (center) or Derek Anderson? |
Posted by ESPN.com's Pat Yasinskas
All those Tampa Bay Buccaneers fans begging for Jay Cutler might want to examine the quarterback's right hand.
The window on Cutler and the Bucs might have slammed almost a month ago. Tampa Bay's best -- and perhaps only -- shot at landing the Denver quarterback might have come on the day in late February, when the Bucs were, at very least, involved in some talks about a possible three-way trade.
Reports of what actually transpired are sketchy. But we do know for sure there was at least some talk of a deal that would have sent Cutler to Tampa Bay, Matt Cassel to Denver and Tampa Bay's first-round pick to New England. It didn't transpire as the Patriots traded Cassel to Kansas City for a second-round draft pick.
| | |
| --- | --- |
| | |
| | NFL.com Video |
| | Highlights of the best moments from Jay Cutler in 2008. |
The wreckage of that day still is flying in Denver, with Cutler and the team reportedly at odds about his future with the Broncos. Cutler reportedly wants out, and the Broncos may or may not grant his wish.
Even if the Broncos do decide to deal Cutler, it might be way too late for Tampa Bay. Whatever happened on that February day, the rest of the league suddenly found out that there's a chance Cutler could be available. That simple fact might have closed this case for the Bucs.
Maybe they could have had Cutler for their first-round pick (No. 19 overall) back in February. Now that the rest of the league is watching the Cutler situation, the price tag suddenly has gone up and the Bucs probably don't have the ammunition to play in this game.
All they've really got is that first-round pick. Their second-round pick already is gone in a trade with Cleveland for tight end Kellen Winslow. Tampa Bay does have a third-round pick, but that and a first-rounder are probably not nearly enough to get Cutler.
Detroit, a potential landing spot for Cutler, has two first-round picks (Nos. 1 and 20), and there are a whole bunch of teams with picks in the first and second rounds. Then there's Cleveland, which has the No. 5 overall pick, disgruntled defensive tackle Shaun Rogers (who sure would look good in Denver) and two, young quarterbacks in Brady Quinn and Derek Anderson.
You think some combination of what Cleveland has in the cupboard could be tempting?
March, 7, 2009
3/07/09
4:34
PM ET
Posted by ESPN.com's Pat Yasinskas
It's shaping up as a very quiet weekend in the NFC South. No visits or imminent signings that I'm aware of at the moment. That could always change, but indications are it will stay quiet until Monday.
But that hasn't stopped you from filling up the mailbag. So let's take a look at some of your questions.
Brent in Bozeman MT writes: Hey love the info Pat Two questions, Do you really think Jamaal Anderson is a bust, if i remember right it took him three years to make any noise in college he had like 3,8,then 11 sacks his junior year, plus it took Roddy White, Jenkins, even Chauncy Davis three years to make any noise, Second question i believe you said we were some where around 25 million under cap is that included the horrible Vick contract or not since he is suspended.
Pat Yasinskas: Although a lot of Falcons fans are ready to give up on Jamaal Anderson, the coaching staff isn't. There's still a lot of untapped talent and the Falcons are hoping the proverbial light comes on in Year Three. But I also think the Falcons believe Chauncey Davis could be ready to take over as the starter if Anderson doesn't step up. The Falcons had about $20 million in cap room at the start of free agency. Don't have an exact update for you, but that figure has dropped with the re-signing of some of their own players. Michael Vick's contract doesn't count against the cap as long as he's suspended. If he's reinstated, he'll start counting and there's still about $15 million in pro-rated bonuses that have to be accounted for.
---
Devin in Dallas writes: I feel like the Bucs are making some great additions to the team but I still feel uncomfortable with Luke McCown under center...is there any chance the Bucs can get solid QB to lead the team for years to come?
Pat Yasinskas: A lot of Tampa Bay fans share your uncertainty about Luke McCown and that's very understandable because he's barely played. But the Bucs have seen him in practice for several years and they must feel good about him if they re-signed him. That said, they're not done at quarterback. The Broncos have said they're not trading Jay Cutler, but you never know if that could change. There are some decent free agents remaining (Rex Grossman, Kyle Boller, etc.) and drafting a quarterback is certainly a possibility. From what I know, the Bucs will add another quarterback to the mix at some point.
---
Ian in Atlanta writes: Pat, Great job with the nfc south blog. I'm a big Falcons fan, and its been killer in the past getting one article every month or so about them in the offseason (usually negative). This offseason, they haven't done much at all, but you've done great keeping us fans fed on any updates, i especially love when you let us know they aren't interested in certain big name free agents because fans always wonder about those big name guys for the preseason hype if anything, even if they are washed up i.e. roy williams, T.O. I know you said the Falcons are going young on D this year, but any chance they will pick up a couple veteran back ups/starters out of the recently cut FA's?
Pat Yasinskas: The Falcons have been very clear that they want to continue building through the draft and there's no reason to doubt that. I don't see them pursuing any of the big-name free agents still available. But I think you could see a veteran or two added to the defense later on. I'm talking after the draft, when the Falcons see what exactly they have to work with and where there might be some holes. I don't think it will be anything dramatic and you won't see them signing any 35-year-olds, but it wouldn't hurt to bring in a little bit of experience and leadership.
---
Trevor in Hickory NC writes: Pat do you think the panthers would use their 2nd round pick on a QB? if so what do you think about Josh Freeman?
Pat Yasinskas: I have a tough time seeing John Fox and Marty Hurney using their second-round pick on a quarterback. They have long been believers that it takes too long for a rookie quarterback to develop. They don't have a first-round pick this year (at least as of now) and they've got some other needs to fill. I do like Josh Freeman, but I think he'll go in the first round.
---
AD in Raleigh writes: So its been relatively quiet here in Carolina during the first parts of FA, but now Holt says he wants out of St. Louis. He is an NCSU alum and he already said he would like to play here so what are the odds that Carolina can get something done? I think if it's possible, he would be a great fit and he would make Carolina's offense even better. How crazy would it be having that kind of running game AND Smith across from Holt?
Pat Yasinskas: Don't rule this one out. Like you said, Torry Holt has Carolina ties. The Panthers also have a history of bringing in players from the Carolinas (Stephen Davis, Ricky Proehl). The Panthers don't have a lot of cap room to work with, but Holt might come at a reasonable price. Keep an eye on this one.
---
Mookie in parts unknown writes: Hey Pat, 2 quick questions, Have you heard about any team showing interest in Lance Moore and has he been in any serious talks with any of them ? I'd hate to lose him. Also, It seems like the Saints and Gerald Sensabaugh talks has come to a stand still, Is he entertaining other options, Or are they crunching the numbers with him and his agent?
Pat Yasinskas: I haven't heard any rumblings of any teams making an offer to restricted free agent Lance Moore. That could happen, but I don't think you have to worry too much about this one. The Saints would have the chance to match any offer (and get a second-round pick if Moore goes elsewhere). But I think the Saints like Moore a lot and will do what they have to do to prevent him from going anywhere. They also may still be looking at signing him to a long-term contract. As for safety Gerald Sensabaugh, the Saints had him in for a visit this week. They also had safety Darren Sharper in. I think both remain possibilities and there could be some movement in that area next week.
---
Mark in Covington, LA writes: Do you think the Saints really believe Dan Morgan is the answer to weak side linebacker?
Pat Yasinskas: Mark, let me start by saying I covered Dan Morgan throughout his career in Carolina and he truly is one of the best human beings in the league. When Morgan was healthy, he was one of the best linebackers I've ever seen. Sadly, we all know Morgan had lots of problems staying healthy and that's always going to be a
concern. But when Morgan told me he was ending his retirement, he said he feels better than he has at any point since he came into the league and that's a good sign. I don't think the Saints can put all their eggs in one basket here. But, if Morgan can stay healthy and give them a full season, it would be a huge boost for that defense.