December, 6, 2013
12/06/13
8:00
AM ET
TAMPA, Fla. – Give Buccaneers kicker
Rian Lindell
credit for one thing. He's honest.
All too often in the NFL, a player is asked about facing his former team and says it's no different than any other game.
"It will feel a little strange seeing guys that you grew up with football-wise and even the equipment guys,'' Lindell told WDAE's Tom Krasniqi on Thursday. "It's a little different.''
That's understandable. Lindell spent the past 10 seasons kicking for Buffalo. But this game is more than a reunion.
Once again, Lindell went with the honest approach. He has missed four field goal attempts in the past three games.
"It's pretty disappointing because I felt better on them,'' Lindell said. "Sometimes, I can look back on my career and I was sick or the laces weren't turned right or there was weird wind. But I felt better than the results.''
Lindell realizes this is a results-based business.
"I need to start making some field goals,'' Lindell said. "I need to make my kicks.''
October, 3, 2013
10/03/13
8:00
AM ET
The
Tampa Bay Buccaneers
are in their bye week after finishing the first quarter of their season at 0-4. That means it's time for a report card.
Quarterbacks:
Josh Freeman
was dismal before getting benched after three games. Replacement
Mike Glennon
wasn't any better in his debut.
Grade: F
Running backs:
Doug Martin
is fourth in the league with 342 rushing yards. But he was bottled up by Arizona and future opponents are going to load up against the run until the Bucs develop a passing game. Martin hasn't caught the ball out of the backfield as well as the Bucs would have liked. Martin also is on pace for 400 carries.
Grade: C+
Receivers:
Despite the quarterback struggles,
Vincent Jackson
and
Mike Williams
have had some bright moments. The problem is the Bucs haven't gotten anything out of the rest of their receivers.
Grade: C-
Tight ends:
Injuries to
Luke Stocker
and
Tom Crabtree
have prevented the Bucs from getting much of anything out of their tight ends.
Grade: F
Offensive line:
It took a few weeks to get
Carl Nicks
healthy. This unit hasn't been bad, but it hasn't hit its potential.
Grade: C
Defensive line:
Tackle
Gerald McCoy
is playing like a Pro Bowler and end
Adrian Clayborn
has been very good. The only downside is that end Da'Quan Bowers has not developed as expected.
Grade: B
Linebackers:
This group might be the highlight for the entire team.
Mason Foster
,
Lavonte David
and
Dekoda Watson
all have come up with big plays. But the grade is dragged down a bit due to David's late hit on
Geno Smith
, which helped the Bucs lose the opener.
Grade: B
Defensive backs:
This unit is much improved over last year. The coverage has been decent, but there have been too many costly penalties.
Grade: C+
Special teams:
Kicker
Rian Lindell
has missed two field-goal attempts at very inopportune times.
Grade: D+
Coaching:
The Freeman situation has been handled as poorly as possible. The offensive game plans and play calling have been highly questionable. And there have been persistent rumblings that some players aren't buying into coach Greg Schiano's ways.
Grade: F
September, 29, 2013
9/29/13
4:16
PM ET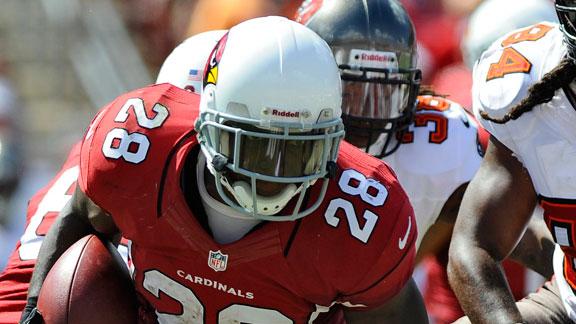 A few thoughts on the
Tampa Bay Buccaneers
' 13-10
loss
to the
Arizona Cardinals
at Raymond James Stadium on Sunday.

What it means:
You can change quarterbacks, but not results. Rookie
Mike Glennon
started in place of
Josh Freeman
and looked adequate for most of the game. But Glennon was intercepted with 3:12 remaining to set up Arizona's tying touchdown. The Bucs, who controlled the game most of the way before squandering a 10-0 lead, are 0-4, and it's pretty clear their problems go well beyond the quarterback. Coach Greg Schiano is officially on the hot seat.
So much for the defense:
The Tampa Bay defense was outstanding much of the day. But two fourth-quarter turnovers gave the Cardinals prime field position, and the defense couldn't hold up.
Suspension time?
Safety
Dashon Goldson
appealed a previous one-game suspension and won. But he probably won't be as lucky this time around. Goldson was called for a personal foul that set up the winning field goal. He probably will get a suspension, because he is very much on the NFL's radar.
Stock watch:
Rising -- Kicker
Rian Lindell
entered the game on the hot seat after missing a field goal attempt in each of the previous two games. He put himself back on good footing with a 50-yard field goal.
Stock watch:
Falling -- The one thing the Cardinals did well was bottle up
Doug Martin
. They put a lot of defensive focus on Martin, and he wasn't able to do much. Martin also lost a fourth-quarter fumble that led to an Arizona field goal.
Demps' debut:
Recently signed running back
Jeff Demps
got his first playing time of the season. Demps had a 14-yard run in the first quarter, three kickoff returns and a catch out of the backfield for 8 yards.
What's next:
The Buccaneers have a bye week. They'll return to action Oct. 13 at home against Philadelphia.
September, 23, 2013
9/23/13
12:00
PM ET
An examination of four hot issues from the
Tampa Bay Buccaneers
' 23-3
loss
to the
New England Patriots
:
Freeman's future:
After the season-opening loss to the
New York Jets
, I laid out a
hypothetical scenario
for quarterback
Josh Freeman
to be replaced by rookie
Mike Glennon
coming out of the bye week. Well, that scenario seems to be becoming more plausible. If the Bucs lose to Arizona on Sunday, they'll be 0-4 heading into their bye week. As long as the Bucs stay winless, coach Greg Schiano is going to have to start thinking about saving his own job. His best bet to buy another season might be inserting Glennon and hoping the rookie shows some promise.
[+] Enlarge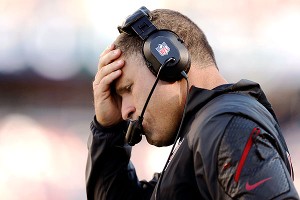 Winslow Townson/Getty ImagesFans are already calling for Greg Schiano to be fired after an 0-3 start.
Schiano's future:
During our in-game chat Sunday, a lot of fans were very vocal in saying Schiano should be fired after (and some were saying during) this season if things don't change dramatically. The thing to keep in mind is that Schiano has three more years on his contract. Unless things continue to go really badly, ownership likely will be hesitant to fire him.
A kicking dilemma:
The Bucs basically are on their third kicker and they soon could be on their fourth.
Rian Lindell
has missed a field goal attempt in each of the last two games and both have hurt the Bucs badly.
Connor Barth
was supposed to be Tampa Bay's kicker, but he suffered a torn Achilles tendon in an offseason charity basketball game. The Bucs replaced him with
Lawrence Tynes
, who came down with a staph infection and will miss the season. Lindell is a veteran who has made some big kicks in his career. But there are other experienced kickers available and the Bucs have to decide if they're going to stick with Lindell.
Nothing from the tight ends:
The Bucs got two catches for 9 yards from their tight ends against the Patriots. They need more production out of that position because it would take some of the defensive attention from
Vincent Jackson
and
Mike Williams
. But there might be some reason for hope. Schiano said
Tom Crabtree
, who probably is Tampa Bay's best pass-catching tight end, is progressing well from his ankle injury. Crabtree isn't going to fix all that ails the offense, but he can make it a little more diversified.
September, 22, 2013
9/22/13
6:10
PM ET
FOXBOROUGH, Mass. -- This time, it was not some last-second loss. This time, the bulk of the blame cannot fall on
Josh Freeman
.
This time, the
Tampa Bay Buccaneers
simply played a horrible game and showed that, contrary to popular belief, Freeman isn't the root of all their troubles.
[+] Enlarge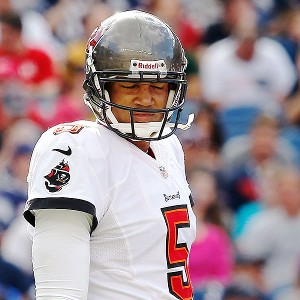 Jim Rogash/Getty ImagesJosh Freeman and the Buccaneers are now 0-3 after falling to the Patriots 23-3.
Sunday's 23-3 loss to the
New England Patriots
at Gillette Stadium showed the 0-3 Bucs have major problems in many areas. Their season already has been a soap opera with reports that Freeman and coach Greg Schiano don't get along and that some prominent players don't like Schiano's militaristic approach.
Now, there's material for many more episodes of the soap opera.
Start with kicker
Rian Lindell
, who set the tone for the day by missing a 38-yard field goal on Tampa Bay's first drive. Lindell also missed a field goal in last week's loss to the
New Orleans Saints
and you have to wonder if his shakiness was why Schiano decided not to go for it, rather than attempt a long field goal, twice in the first half.
Don't be surprised if the Bucs have a new kicker next week. Some new receivers also might be a good idea. There receivers failed to catch four very catchable balls. The biggest drop came on Tampa Bay's second drive -- when Freeman had the team moving better than it has all season -- as a pass in the end zone went off tight end Tim Wright's hands and the Bucs had to settle for a field goal.
"The plays you have control over, you have to make," Schiano said. "When you have a situation that you're in control of and you don't make it, then you're living on borrowed time.''
Tampa Bay's time to win the game disappeared in the second quarter. That's when
Tom Brady
and his young receivers started clicking and that's when Tampa Bay's defense showed some holes.
"You can't pinpoint any one thing,'' defensive tackle
Gerald McCoy
said. "The defense, we gave up 23 points. If we hold them to zero, we win, 3-0. We didn't do what we were supposed to do.''
Holding the Patriots to zero points would be a major accomplishment for any defense. You cannot pin this one on the defense, just like you cannot pin it all on Freeman, who completed 19-of-41 passes for 236 yards.
Freeman is not completely blameless. He did throw an interception to former Buccaneer
Aqib Talib
late in the second quarter to set up a field goal that helped the Patriots to a 17-3 halftime lead.
Throw in an offensive game plan, some play calling that was questionable, and a rib injury that kept top receiver
Vincent Jackson
out of the game for most of the second half and the Bucs seem to have all the elements of disarray.
"We've got to get better,'' Schiano said. "There's no magic pill."
It's hard to look at the Bucs and see this season suddenly turning around. The first two losses were close. This one wasn't and it looks like things are only getting worse for the Buccaneers.
September, 16, 2013
9/16/13
12:00
PM ET
An examination of four hot issues from the Tampa Bay Buccaneers' 16-14 loss to the New Orleans Saints:
The soap opera continues.
If you thought last week was bad with rumblings flying about coach Greg Schiano and quarterback
Josh Freeman
not being on the same page, wait until you see what's next. Things are only going to get uglier after Freeman threw an interception, lost a fumble and again failed to complete even 50 percent of his passes. There is some sort of dysfunction going on between the coach and the quarterback, and that's why the Bucs are 0-2. There has been a report that Freeman might demand a trade. The rumors aren't going to fade away. Instead, they'll keep growing.
[+] Enlarge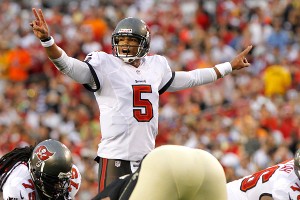 Kim Klement/USA TODAY SportsAfter another subpar game, quarterback Josh Freeman is on the hot seat.
No trust?
Schiano didn't even have enough trust in Freeman to throw a pass on third-and-6 late in the game. Instead, the Bucs called a running play and
Rian Lindell
then missed a field goal. In short, Schiano showed more trust in a kicker who was signed off the street than he did in his quarterback. If the Bucs go into their bye week at 0-4, which looks like a real possibility at this point, I think there's a very good chance Schiano will pull the plug on Freeman and hand things over to rookie
Mike Glennon
. And, based on what I saw from Glennon in the preseason, I don't think he's going to provide any sort of instant solution.
The vanishing tight ends.
The Bucs targeted their tight ends just once the entire game. That resulted in a 34-yard completion to
Nate Byham
. But the Bucs need more than that out of their tight ends to take the pressure off receivers
Mike Williams
and
Vincent Jackson
. Tampa Bay has been playing without the injured
Tom Crabtree
. But the lack of production from this position so far makes you wonder if the Bucs should have added another pass-catching tight end in the offseason.
The defense isn't bad.
For the second straight week, the defense played well enough to win. Linebackers
Lavonte David
,
Dekoda Watson
and
Mason Foster
, defensive tackle
Gerald McCoy
, defensive end
Adrian Clayborn
and the secondary are all playing well. If you can hold
Drew Brees
& Co. to one touchdown, you should be able to win. The Bucs came up with four sacks and two interceptions, but it all was for naught because the offense didn't do its part.
September, 8, 2013
9/08/13
4:33
PM ET
EAST RUTHERFORD, N.J. -- My thoughts on the
Tampa Bay Buccaneers' 18-17 loss
to the
New York Jets
on Sunday at MetLife Stadium:


What it means:
This was a horrible opening for the Bucs against a rookie quarterback (
Geno Smith
) and a Jets team that appeared to be heading into the season in disarray. But it was the Buccaneers who were dysfunctional on Sunday. The Bucs were undisciplined on defense and unimaginative on offense. Quarterback
Josh Freeman
was dismal as well. It all cost them dearly. Tampa Bay desperately needed a fast start to its season because the
New Orleans Saints
and
New England Patriots
are the next two teams on the schedule. All of a sudden, the Bucs are staring down the barrel at a potential 0-3 start.
Play of the day:
Linebacker
Lavonte David
was a bright spot most of the day. But he ended up costing the Bucs the game. David was flagged for a late hit on Smith, and that set up the winning field goal by the Jets.
Stock watch falling:
The run blocking. Aside from the touchdown run in the second quarter, running back
Doug Martin
didn't seem to have any holes to work with. Sure, it's easy to say guard
Carl Nicks
was out, but the offensive line needs to be able to open some holes.
Fine time?
Tampa Bay safeties
Dashon Goldson
and
Mark Barron
probably will be getting letters from the league office. Each of them was called for an unnecessary roughness penalty that more than likely will lead to fines. By the way, the league has made it abundantly clear that officials will be policing that type of play, so the Bucs don't have any excuses.
What's next:
The Bucs host the Saints at Raymond James Stadium next Sunday.
September, 1, 2013
9/01/13
8:00
AM ET
After making their cuts Saturday, the
Tampa Bay Buccaneers
have a roster that looks a lot like what I
projected
Friday.

I hit on 51 of 53 roster spots. Defensive tackle
Gary Gibson
and offensive lineman
Cody Wallace
were the two guys I had making the team who didn't make the final cut. I didn't have tight end
Tim Wright
and safety
Keith Tandy
making the roster, but they did.
Let's take a brief overview of the composition of Tampa Bay's roster:
QB (3):
Josh Freeman
,
Mike Glennon
and
Dan Orlovsky
Comment: The question is whether Glennon or Orlovsky will be the No. 2 quarterback. My thinking is the Bucs wouldn't have held onto Orlovsky if he's going to be No. 3.
RB (5):
Doug Martin
,
Erik Lorig
,
Brian Leonard
,
Mike James
and
Peyton Hillis
Comment: Leonard, James and Hillis all looked good in the preseason. They all can be used to help keep Martin fresh.
WR (5):
Vincent Jackson
,
Mike Williams
,
Kevin Ogletree
,
Tiquan Underwood
and
Eric Page
Comment: The first four were pretty much set in stone. Page made the roster mostly because he's going to be the return man.
TE (4):
Luke Stocker
,
Tom Crabtree
,
Nate Byham
and Tim Wright
Comment: Presumably, the Bucs kept Wright around because they expect Crabtree to miss some time with an ankle injury.
OL (8):
Donald Penn
,
Carl Nicks
,
Jeremy Zuttah
,
Davin Joseph
,
Demar Dotson
,
Gabe Carimi
,
Ted Larsen
and
Jamon Meredith
Comment: By carrying only three backups, the Bucs appear to be optimistic that Nicks won't miss too much time due to a staph infection.
DL (9):
Adrian Clayborn
,
Da'Quan Bowers
,
Daniel Te'o-Nesheim
,
Trevor Scott
,
William Gholston
,
Steven Means
,
Gerald McCoy
,
Akeem Spence
and
Derek Landri
Comment: McCoy, Spence and Landri are the only true defensive tackles. The Bucs must be planning to use at least one of their ends on the inside at times.
LB (6):
Lavonte David
,
Mason Foster
,
Jonathan Casillas
,
Dekoda Watson
,
Najee Goode
and
Adam Hayward
Comment: The starters have a chance to be one of the league's best units, and the backups aren't bad either.
DB (10):
Darrelle Revis
,
Johnthan Banks
,
Leonard Johnson
,
Danny Gorrer
,
Rashaan Melvin
,
Michael Adams
,
Dashon Goldson
,
Mark Barron
,
Ahmad Black
and Keith Tandy
Comment: This should be the most improved area on the team.
Specialists (3):
Rian Lindell
,
Andrew Economos
and
Michael Koenen
.
Comment: Lindell is the third projected kicker the Bucs have had.
Connor Barth
and
Lawrence Tynes
both are out with injuries.
August, 22, 2013
8/22/13
3:29
PM ET
Tampa Bay general manager Mark Dominik told ESPN's Chris Mortensen that the team recently
treated its facility
to erase any existence of MRSA, a serious staph infection which has sidelined guard
Carl Nicks
and kicker
Lawrence Tynes
.
The Bucs previously said Tynes was dealing with a toe injury and that Nicks had a blister on his foot that became infected.
You can read much more about MRSA in
this article
about how the University of Southern California dealt with an outbreak. But the short version is that MRSA can be particularly dangerous because it is resistant to some antibiotics.
"We had a company come in and nuke the building a week ago after the cultures taken from Nicks and Tynes confirmed it was MRSA," Dominik said. "It was a precautionary move, but we didn't want to fool with it. Our owners said spare no expense; we had the facility treated, and the league office approved of our actions."
ESPN injury expert Stephania Bell said other college and NFL teams have dealt with MRSA outbreaks. She said high school and college wrestling programs also have frequent problems with MRSA.
"It's an issue in sports and it's talked about more and more,'' Bell said. "Most teams have all sorts of procedures in place to prevent it, but it still happens. What you're seeing Tampa Bay do now in treating the facility is the right thing, and the only thing to do, once there's been an outbreak.''
It's unclear how long Nicks and Tynes will remain sidelined. The Bucs signed veteran kicker
Rian Lindell
this week.
On Thursday, tackle
Gabe Carimi
was working with the first team at left guard during the portion of practice that was open to the media.
Ted Larsen
and
Mike Remmers
also could fill in for Nicks.
August, 21, 2013
8/21/13
5:04
PM ET
Time for a quick spin through some odds and ends from around the division:
ATLANTA FALCONS
Former Atlanta defensive end Claude Humphrey might finally get into the Pro Football Hall of Fame. It was announced Wednesday that Humphrey and Ray Guy are
the two candidates
nominated by the senior committee for the Class of 2014. The final selection will come the day before the Super Bowl.
CAROLINA PANTHERS
Former Carolina quarterback Jake Delhomme
addressed the team
Wednesday. Most of the current players never played with Delhomme, but they'd be wise to listen to the only quarterback ever to take the team to a Super Bowl. I'm glad Delhomme still has a relationship with the team. His time in Carolina didn't end well, but fans need to get over that and remember that there were a lot of good times with Delhomme.
NEW ORLEANS SAINTS
The team
released
offensive tackle Jason Smith on Wednesday. The Saints took a shot on Smith, who was the second overall pick of the 2009 draft by St. Louis because they thought he still might have some upside. They gave him a look first at left tackle, but Charles Brown and rookie Terron Armstead quickly moved ahead of him. Smith later switched to right tackle, but fell behind Bryce Harris as the backup to starter Zach Strief.
TAMPA BAY BUCCANEERS
Kicker Rian Lindell, who was signed by the Bucs on Wednesday, sent a
classy letter
to the fans of the Buffalo Bills, the team he played for the previous 10 seasons.
Quarterback Josh Freeman
took the high road
when asked about recent criticism by Hall of Famer Fran Tarkenton. Freeman said the important thing is to have the respect of his coaches and teammates.
August, 21, 2013
8/21/13
9:18
AM ET
With
Lawrence Tynes
slow to recover from a toe injury, the
Tampa Bay Buccaneers
have brought in another veteran kicker.
The team announced Wednesday morning that it has signed
Rian Lindell
.
The Bucs previously lost
Connor Barth
for the season when he suffered a torn Achilles tendon while playing in a charity basketball game during the offseason. They signed veteran Lawrence Tynes, thinking he would take Barth's place for the season.
But Tynes has been unable to get health and the Bucs have gone through the early stages of the preseason with only one healthy kicker,
Derek Dimke
.