NFC South:

Richard Williamson
May, 9, 2013
5/09/13
6:30
PM ET
TAMPA, Fla. -- Because of the Gulf of Mexico and Tampa Bay, there are a lot of bridges in this area.
A new one opened Thursday. This one doesn't span water. Instead, it covers the history of an NFL franchise.
That's the picture I got as
Ronde Barber
posed for photos at the conclusion of his
retirement news conference
. There was one in particular that struck me.
It came with Barber flanked by Greg Schiano and Tony Dungy on one side and Jerry Angelo and Mark Dominik on the other. The present, the past and the future -- and everything else in between -- all mixed perfectly into one snapshot.
No one but Barber could bridge all of the gaps that are represented in that photo.
[+] Enlarge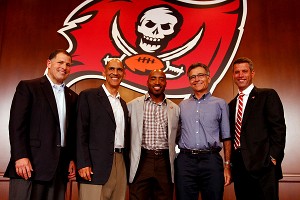 Photo/Tampa Bay BuccaneersRonde Barber, center, poses with Greg Schiano, Tony Dungy, Jerry Angelo and Mark Dominik during Barber's retirement news conference.
"Over the last 16 years, we've seen a lot of changes," Buccaneers co-chairman Joel Glazer said. "We've seen a new stadium go up. The uniforms have changed. Coaches, we've seen different players come and go. We've seen change upon change upon change. But over those years, there has been one constant here in Tampa. A true professional in every sense. What I consider the definition of greatness on and off the field. When we talk about Buccaneer Men, I say if you could put a picture on the wall and say, 'True Buccaneer Man,' it would be Ronde Barber."
Actually, the photo represented more than the 16 years Barber played defensive back for the Buccaneers. It represented the entire history of the franchise. It dates back to 1976 and extends way into the future.
Let's start with the past. Angelo worked in the personnel department back in the days of Ray Perkins, Richard Williamson and Sam Wyche when the Bucs were piling up double-digit losses most years, wearing those Creamsicle uniforms and trying for the better part of their first two decades to grow out of the expansion phase. Dungy is the coach who came in and finally got the team on the right track.
One year into Dungy's tenure, he, Angelo and former general manager Rich McKay drafted Barber in the third round out of the University of Virginia.
The rest is history that you already know, so we'll keep it short. Barber became a perfect fit in the Tampa 2 defense. Along with Derrick Brooks, Warren Sapp and John Lynch, Barber was a central figure in a defense that turned the fortunes of the franchise.
Angelo left in 2000 to become general manager of the
Chicago Bears
. Dungy was fired after the 2001 season because his offense didn't produce nearly as well as his defense.
Barber just kept on playing at a high level.
Jon Gruden came in and won a Super Bowl in his first season, with Barber providing the signature moment of his career (and of franchise history) with an interception return for a touchdown against Philadelphia in the NFC Championship Game.
Gruden and the Bucs bobbed up and down for the next six seasons. After Gruden was fired and Raheem Morris was hired, Barber just kept on playing at a high level.
When Morris was fired after three rocky seasons, Barber just kept on playing at a high level.
That brings us to Schiano and Dominik. Schiano is getting ready to enter his second season as coach of the Buccaneers and Dominik is entering his fifth season as general manager.
They're also the coach and general manager who made it clear they wanted Barber back for a 17
th
season. But Barber, 38, said he woke up one morning about a month ago and decided it wasn't worth it to go through another offseason program and training camp.
"I love football, but football is not who I am," Barber said. "I'm ready to move on, ready to do what's next."
Barber said the next likely step will be a career in broadcasting. But he has no plans to leave Tampa.
"I'm not going anywhere," Barber said. "I've got nowhere else to go."
Barber's influence still will be felt in Tampa Bay's young locker room by his former teammates.
That brings us to the future of this franchise -- and the past. As Barber talked about the teams of the late 1990s and early 2000s, he talked about how there was an "imminent feeling of success."
Barber said he walks away with a similar feeling about the current Buccaneers. Maybe the Bucs will go out and do something special this year.
Whatever happens, Barber will be a part of it in some way.
He still will be the bridge that spans every generation of the team's history.
September, 10, 2012
9/10/12
11:19
AM ET
With some help from the Tampa Bay media relations department, let's take a look at some of the statistical superlatives on the Buccaneers' 16-10 victory against Carolina on Sunday.
Cornerback Ronde Barber made his 200th consecutive start, the longest active streak in the NFL and the most starts ever by a cornerback.
Barber recorded the 28th sack of his career. He also had his 44th career interception. He is the only player in NFL history to record 25 or more sacks and 40 or more interceptions.
This marked only the second time in his career that Barber has recorded both a sack and an interception in the same game. The other time he did it was also against Carolina, on Dec. 11, 2005.
The Bucs held the Panthers to 10 yards rushing. That ties the franchise record for fewest rushing yards allowed. On Dec. 4, 1994, the Bucs held Washington to 10 rushing yards.
Connor Barth made all three of his field-goal attempts. He now has made 18 consecutive attempts, a franchise record. Martin Gramatica and Michael Husted shared the previous team record of 16 consecutive successful field goals.
Aqib Talib recorded the first blocked punt of his career. It also was the first blocked punt by the Bucs since Nov. 29, 2009.
Greg Schiano became the fourth coach in franchise history to win his first game. Sam Wyche, Richard Williamson and Ray Perkins were the others.
The Bucs did not have a turnover against the Panthers. Since 2002, the Bucs are 25-5 in games in which they did not have a turnover.
The Bucs started three rookies -- safety Mark Barron, running back Doug Martin and linebacker Lavonte David.
January, 21, 2010
1/21/10
3:37
PM ET
We've got some quick news from elsewhere in the NFC South.
The
Carolina Panthers
have hired Tyke Tolbert as their wide receivers coach. The job came open after Richard Williamson retired.
Tolbert has spent the last six seasons as the wide receivers coach with Buffalo and also spent time with the
Arizona Cardinals
. Tolbert played wide receiver at Louisiana State and made several stops as a college assistant before joining the Cardinals in 2003.
That was the same season Arizona receiver
Anquan Boldin
earned Offensive Rookie of the Year honors and was the only rookie in the Pro Bowl.
January, 18, 2010
1/18/10
4:35
PM ET
I just sent a story to our news side that made me kind of sad. Richard Williamson, the longtime wide receivers coach for the
Carolina Panthers
, is retiring, the team announced Monday.
This is what Williamson wanted, and he had been pondering retirement for quite a few years. But it still is sad to see one of the classiest people who ever has been part of the NFL walk away.
Williamson was very good at what he did. He joined the Panthers in 1994, a year before they started play, and he was widely considered one of the best receivers coaches around. He deserves a lot of credit for helping
Steve Smith
develop from a guy who was supposed to be nothing more than a kick returner into one of the league's top receivers.
Williamson also guided
Muhsin Muhammad
, Patrick Jeffers, Raghib Ismail and Mark Carrier to at least one 1,000-yard receiving season each. More than that, Richardson was a rock on the coaching staffs of Dom Capers, George Seifert and John Fox.
He stepped in as offensive coordinator when Bill Musgrave abruptly walked away during the Seifert years and didn't complain a bit when he went back to coaching receivers.
That's mainly because coaching receivers was what Williamson did best. He had a stint as a head coach in Tampa Bay, but had no chance to succeed there at the time. Williamson truly found his niche as a receivers coach after that.
I know the general rule is that assistant coaches don't make the Pro Football Hall of Fame, and I'm not suggesting Williamson should be an exception. But he should forever be remembered as an excellent receivers coach and a very nice man.