March, 6, 2013
Mar 6
9:40
AM ET
Time for a look at some odds, ends and headlines from around the division:
ATLANTA FALCONS
Recently released defensive end John Abraham
issued a statement
thanking the organization and fans. Abraham also said he wants to play several more years in the NFL. I know there are some fans out there that believe Abraham might come back to the Falcons at a lower price. I think that's a real long shot. If this had been purely about money, the Falcons would have restructured Abraham's contract instead of releasing him.
Falcons owner Arthur Blank and former linebacker Coy Wire will be among the guest speakers at a career and franchise event in Atlanta on Wednesday.
CAROLINA PANTHERS
Wide receivers coach Ricky Proehl said he's looking forward to taking a more
hands-on approach
after spending last season as the assistant receivers coach.
NEW ORLEANS SAINTS
Coach Sean Payton said he envisions veterans Jonathan Vilma, Will Smith and Roman Harper
remaining with the team
. But Payton added that there are salary-cap concerns. I still think it's possible the Saints will have to release at least one member of the trio.
TAMPA BAY BUCCANEERS
Mark Cook runs through some
potential defensive end targets
in free agency. Most of these guys are older or are expected to cost a lot of money. The Bucs might be better off re-signing Michael Bennett.
February, 10, 2012
2/10/12
2:21
PM ET
We are in one of the quietest times of the NFL offseason. But Friday's NFC South chat was anything but quiet.
In fact, the pace at which your questions were coming in was right up there with a typical regular-season week. Let's take a look at some of the highlights:
Kasy ( Hattiesburg):
Hey pat, could you clarify what role a senior offensive or defensive assistant is?
Pat Yasinskas:
Excellent question, in light of the Butch Davis situation. Technically, it's a non-coaching position and more of an advisory position. Not sure exactly how Bucs are structuring this one, but there have been lots of examples in the past. To name just a couple, Tressell as a consultant with Colts last year. Ricky Proehl as an offensive consultant with Panthers last season.
Mike (Panama City, FL):
Do you believe
Drew Brees
will continue having record breaking and just flat out phenomenal seasons? Or is he on the downward slope of his career. Also on that note when should New Orleans start looking for a replacement.
Pat Yasinskas:
I don't see Brees slowing down immediately. He's got a good five years in him -- at least that's my guess.
Cameron (Atl):
Do you think the Falcons will be significant players in free agency this year? Any ideas who they'll go after?
Pat Yasinskas:
History shows they usually go after one big player a year. Obvious needs are DE and LT. As I said earlier, I'd take DE in the second round. Left tackle might be the spot they go for in free agency. There's not a lot out there, but
Marcus McNeill
should become available. His health might be a question. There are some other LTs that also could come available.
John (pa):
Is it time for smith and ryan to go. Watching atlanta in the playoffsis like watching a marty shothiemer coach team and carson palmer at qb. there i said ryan has topped out never going to be a frachise qb just a very good one like carson palmer was in his prime.
Pat Yasinskas:
Think you're a little premature on that. They've had four straight winning seasons. But you are correct that the pressure now is turned way up. They need to start winning playoff games.
Richard (Ann Arbor, MI):
Will Smith
came back from suspension and was instantly the Saints' best D-lineman, despite missing time, and he has to know that. That seems to complicate matters with regards to what to do with him.
Pat Yasinskas:
Yep, that one is a very tough call. His cap figure is outrageous. But he's their best pass rusher up front and that becomes even more important because Spags relies mostly on front four for pressure. Could save a lot of cap room by letting Smith go. But it's not like they are loaded with other pass rushers. Best approach might be restructuring his deal and knocking that cap figure down.
Robert (Shreveport, LA):
Do you think
Cameron Jordan
will improve next season? And if he doesn't how long do you see the Saints giving him before they go out and try and replace him?
Pat Yasinskas:
I think having Spagnuolo running the defense should help him considerably. But I don't know that Jordan ever will be one of those guys that will go out and give you 12 or 15 sacks in a season.
Andrew drace (one buc place,):
have you heard how the bucs are doing on ticket sales? are season tickets up or down? i was hoping for excitement with a new head coach.
Pat Yasinskas:
I have not heard anything on that. I'll ask. But I didn't see any big lines outside the ticket office last few times I drove by the stadium. Their hire wasn't the kind that will generate instant excitement. Going the Schiano route means he'll have to come in and win before they really see results at the box office.
Dan (Charlotte, NC):
Do you think the Panthers would really draft a OT in the first round this year instead of going defense?
Pat Yasinskas:
I'd say defense is priority, obviously. But you're sitting there with a top 10 pick, which in general terms is the one place where you can get a sure-fire LT. Gross is getting older. They might not have a top-10 pick again for a long time, so I think they at least have to consider it.
Here's the
complete transcript
of Friday's NFC South chat.
December, 12, 2011
12/12/11
10:57
AM ET
CHARLOTTE, N.C. -- Carolina's
Steve Smith
became the 35
th
player in NFL history to reach the 10,000-yard receiving mark.
Smith got very reflective after Sunday's loss to Atlanta as he talked about the milestone.
"It's a lot of people, a lot of men and a lot of boys' dream,'' Smith said. "But there are few men who get the opportunity to live out their dream, so I'm fortunate enough. I've had the opportunity for about a decade to do it and it's been enjoyable. I've had fun. I've also had some bonehead situations, but that's the opportunity to live and so it's pretty cool.''
Smith then went on to thank just about every quarterback he ever has played with. He mentioned
Chris Weinke
,
Rodney Peete
,
Jake Delhomme
,
Vinny Testaverde
,
Cam Newton
,
David Carr
,
Brian St. Pierre
,
Jimmy Clausen
and
Matt Moore
.
Smith went on to mention a bunch of receivers he played with through the years.
"Isaac Byrd,
Karl Hankton
,
Ricky Proehl
,
Muhsin Muhammad
and
Donald Hayes
because when I first came here, they were the guys who took me under their wing and showed me how to play,'' Smith said. "There were times I was annoying to them and I followed them and watched them.''
May, 12, 2011
5/12/11
12:00
PM ET
The NFL draft is long over and all we have to look forward to now is free agency, though we don't know when or how it will come or exactly what it will look like.
But if there is a 2011 season, it will have to be preceded by some sort of free-agency period, one last window for teams to fine-tune their rosters with what they couldn't get in the draft.
We'll spare you most of the boring details of the labor negotiations, but we do have to point out that the rules for a potential free-agency period aren't set. They could be determined if a new labor agreement is reached and that probably would include some tweaks to past rules. It has long been assumed that if the lockout is lifted before an agreement that free agency rules will be the same as they were in 2010. But word has started to trickle out in the past few days that might not be the case.
At this point, we only can look at hypothetical situations -- all you can do is dream and you might as well dream big. With that in mind, let's take a look at one free-agency dream scenario for each NFC South franchise.

Atlanta Falcons
-- This is the easiest call in the division because you can see it coming like a slow-moving storm or Arthur Blank strolling to the sideline late in a game. Let's go ahead and make Atlanta's dream move signing Minnesota defensive end
Ray Edwards
.
Some of our coming moves are pie-in-the-sky scenarios that probably won't happen, but this one has serious potential. Edwards has five seasons in the league, which could make him a restricted or unrestricted free agent, depending on the rules of free agency. If at all possible, I think the Falcons will pursue a player who had eight sacks in 14 games last season and 8.5 the season before that.
Edwards is just hitting his prime and sure looks like the one missing link between the Falcons being a team that exits the playoffs early and one that can challenge for the Super Bowl. Blank and general manager Thomas Dimitroff already put most of their chips on the table when they traded up on draft night to get wide receiver
Julio Jones
. He's the explosive player they wanted on offense.
Edwards can be the explosive guy on defense. Carolina's
Charles Johnson
, a probable restricted free agent, and Green Bay's
Cullen Jenkins
could be fall-back options. But the Falcons already have shown strong signs this offseason they're not interested in falling back.

Carolina Panthers --
Let's imagine for a moment that Carolina owner Jerry Richardson opens his free-agent checkbook for the first time in several years to bring in cornerback
Johnathan Joseph
, who has been playing with Cincinnati and is another five-year player.
If Joseph is a free agent, this move would make all sorts of sense. He's a local product, from just over the border in Rock Hill, S.C. He also has nine interceptions the past two seasons. Carolina has
Richard Marshall
and
Chris Gamble
, but their futures are very uncertain.
Richardson has had some success in the past bringing local products home --
Stephen Davis
,
Kevin Donnalley
,
Ricky Proehl
-- and Carolina has invested a lot in its young defensive line and has a good group of linebackers. Joseph could solidify the secondary and new coach Ron Rivera suddenly could have a nice defense. By the way, I know there's speculation about defensive tackle
Tommie Harris
ending up with the Panthers because of his Chicago ties to Rivera. That could happen. But I don't view Harris as a dream scenario. I view him as a guy with questions about his knees, who could be a decent pickup if he can stay healthy.

New Orleans Saints
-- This one's tough because the Saints have a bunch of young and talented, but totally unproven players at outside linebacker. Plus, veteran outside linebacker
Scott Shanle
can become an unrestricted free agent. The list of players at outside linebacker who definitely will be unrestricted is pretty thin. You could take a veteran such as Detroit's
Julian Peterson
and gamble that he'll regain some of his early-career magic the way some other veterans have with the Saints in recent years. The Saints have shown willingness to gamble on injured guys in the past and Carolina's
Thomas Davis
has huge upside.
But Peterson's no long-term solution and Davis is a total unknown because he's had two major knee injuries. In a best-case scenario, the Saints will re-sign Shanle. Then, they'll go after Buffalo's
Paul Posluszny
. He's a four-year player and could end up being restricted. But hey, we can dream.
Put Posluszny with Shanle and
Jonathan Vilma
and the Saints would be better off at linebacker than they were in 2009, when Shanle and Vilma were joined by
Scott Fujita
.

Tampa Bay Buccaneers --
The Bucs spending big money in free agency? Well, they haven't done it in some time unless you count
Derrick Ward
, and that didn't work out. But there's one sure-fire move that could excite a fan base that wasn't buying tickets during a 10-6 season in 2010 and put this team over the top: sign cornerback
Nnamdi Asomugha
.
Asomugha's the one true gem we know will be in this free-agent class and his price tag is going to be astronomical. But if there is a salary cap, the Bucs will have more room under it than any team in the league. The Bucs showed a willingness to spend big money once before, offering more to defensive tackle
Albert Haynesworth
than the Redskins did before Haynesworth went to Washington. There are strong rumors Asomugha will end up in the NFC East, but Tampa Bay can use the lack of a state income tax in Florida, a great natural-grass field, the weather, a team on the rise and coach Raheem Morris (a former defensive backs coach) as selling points.
The future of
Aqib Talib
is unsure because of off-field problems. Sign Asomugha and the Bucs have a corner more talented than Talib who doesn't come with the headaches. Put him out there with veteran
Ronde Barber
, who still plays at a high level, and younger players such as
E.J. Biggers
and
Myron Lewis
. If the pass-rushers taken in the draft (
Adrian Clayborn
and
Da'Quan Bowers
) work out, Tampa Bay's corners suddenly could be dominant.
Remember, it's all hypothetical. But wouldn't the NFC South be a better and more exciting place if these dream scenarios actually came true?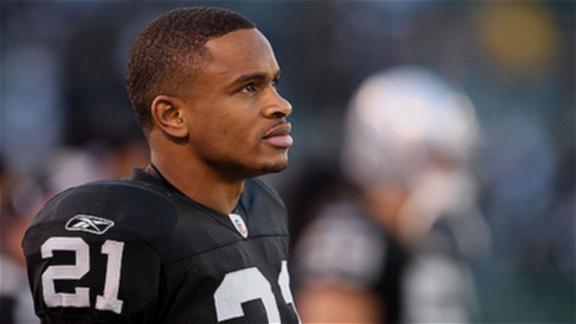 March, 22, 2011
3/22/11
3:10
PM ET
NEW ORLEANS -- Carolina coach Ron Rivera revealed one interesting detail about the recent workout by Missouri quarterback
Blaine Gabbert
.
Missouri only had a handful of senior receivers taking part in its pro day, so Gabbert got to make some throws to another receiver. That was Ricky Proehl.
The long-time NFL receiver, who spent three years near the end of his career with Carolina, ran some routes for Gabbert. I wish I had a chance to see that because Proehl, 43, always worked very hard to keep himself in good shape. Even after retiring after spending part of the 2006 season with Indianapolis, Proehl stayed very active, running a fitness business in Greensboro, N.C.
But Proehl recently returned to football. After Rivera was hired, Proehl reached out to ask about joining the coaching staff.
"Just listening to his passion when he talked, Ricky reminded me so much of myself when I got into it,'' said Rivera, who also entered coaching after an NFL playing career. "That was probably the biggest thing that attracted me. I'd known Ricky before. When I started my coaching career, Ricky was in Chicago.
"I really got a big kick out of how much he reminded me of myself wanting to start, saying, 'Hey, look, I'll do whatever. I'll start at the bottom''. I used to want that opportunity because I really thought I could help. We were really intrigued by that.''
The Panthers hired Proehl as an offensive coaching consultant. His main job will be to help coach the wide receivers. But I wouldn't be surprised if Proehl ends up running some routes if the Panthers have a few practices where they're a little shorthanded at receiver.
February, 2, 2011
2/02/11
12:29
PM ET
With all eyes focused on the Super Bowl, things are very quiet in the NFC South right now. So let's jump into the mailbag and see what's on your mind.
David in Mobile, Ala
., says he believes
Drew Brees
has three to five years left and wonders when the Saints should draft his replacement. He also asks if
Chase Daniel
could be that guy.
Pat Yasinskas:
Brees just turned 32 a few weeks ago, so I'd lean more toward the five years. I don't think the Saints need to do anything desperate or anytime soon. They like Daniel, but I think it's too early to tell if he can eventually be a starter. General manager Mickey Loomis is pretty good at looking a few years down the road in the draft. I would expect that in a few years he'll start looking for an eventual replacement, but it's not that time yet.
---
Kevin in Tampa:
Asks about the possibility of the Buccaneers going after
DeAngelo Williams
and
Nnamdi Asomugha
.
Pat Yasinskas:
As I've said before, I think the Bucs will be a little more active in free agency than they have been in recent years. But that's assuming a new labor agreement gets done. They'll have a ton of salary-cap room. But I'm thinking the price tag on Asomugha may be too high because there are likely to be a lot of bidders. As far as Williams, we're getting ahead of the game and assuming he does hit free agency. I'm not so sure that happens. I think the Panthers re-sign him. I think Tampa Bay's approach in free agency will be to target a few mid-level players. I know that might not excite fans, but that's what I'm expecting.
---
Joe in Wilmington, N.C.,
asks if the recent hiring of Fred Graves as receivers coach and Ricky Proehl as an offensive consultant will be enough to keep
Steve Smith
in Carolina.
Pat Yasinskas:
Those moves certainly can't hurt. But I'm not going to try to read Smith's mind. He obviously was frustrated by last season and so were a lot of other people with the Panthers. But Smith, to my knowledge, has never said he wants out of Carolina. It would be understandable if he asked to be traded some place with an established quarterback and a strong offense. It looks like the Panthers are trying to improve things and I'm sure they've given Smith some indication of what they hope to do at quarterback.
---
Cody in parts unknown
asks if a player who has split his career between teams goes into the Hall of Fame, how is it decided which team he represents and which team he retires with.
Pat Yasinskas:
That's a misconception. In football, a player doesn't go into the Hall of Fame representing one specific team. He just goes in as himself. A lot of people confuse that with baseball, where a player has to choose which cap he wants on his plaque. As far as retiring with a team, a lot of players don't do any sort of official retirement ceremony. If they do, it's their choice as to which team they retire with. Bottom line: If
Willie Roaf
gets elected Saturday, he doesn't officially go in as a member of the Saints or the Chiefs. Same for
Deion Sanders
, who wouldn't officially go in as a member of the Falcons. But their time with those teams would be a part of their Hall of Fame legacy.
February, 1, 2011
2/01/11
4:37
PM ET
Some interesting news out of Carolina this afternoon. Soon after hiring Fred Graves as wide receivers coach, the Panthers have announced they've also added Ricky Proehl as an offensive consultant.
The team said Proehl's role primarily will be to work with Graves. I'll editorialize here since I covered Proehl during his playing days with the Panthers and say this is an excellent move.
Proehl was at the end of his career when he played in Carolina and had a strong presence in the locker room. He was a team leader and often served as a mentor to
Steve Smith
early in his career. The fact the Panthers are hiring Proehl right after Graves could be taken as a sign that they want to keep Smith happy and in Carolina.
Smith often was frustrated last year as the Panthers struggled to a 2-14 record and endured some horrible quarterback play. Smith has been told by team officials to think about his future. If he wants out, the team will consider trading him.
But Smith never has publicly said he wants to leave Carolina and he already reportedly had a meeting with new offensive coordinator Rob Chudzinski.
January, 21, 2011
1/21/11
11:22
AM ET
Scott Reynolds reports the Buccaneers have
fired offensive line coach Pete Mangurian
.
Interesting quote from Atlanta owner Arthur Blank as he
spoke to a business group
. "You judge a quarterback on how he does in the fourth quarter and the postseason. You judge a golfer on not what he does on Saturday, but how does he close it out on Sunday." Blank didn't specifically mention Matt Ryan, but that is his quarterback. Ryan's shown outstanding play in fourth quarters, but he now is 0-2 in the postseason.
New Orleans defensive backs coach Dennis Allen reportedly
will interview with Philadelphia and Denver
for defensive coordinator positions.
Ricky Proehl reportedly
interviewed with the Panthers
for the job as receivers coach. Proehl has no coaching experience, but he was a longtime NFL receiver and spent a chunk of time with Carolina at the end of his career. During the stretch Proehl was viewed almost as an extra coach and showed a willingness to help young players. Proehl also enjoyed a good relationship with Steve Smith. That could be a factor in Proehl possibly getting the job and it could help make Smith, who has been frustrated by the team's recent losing, more comfortable.
The Panthers
hired John Matsko as their offensive line coach
. He most recently held the same role with the Ravens.
The Buccaneers
officially promoted
former linebacker Shelton Quarles to director of pro scouting. Quarles had been with the scouting department and had essentially taken over those duties when Doug Williams left the team after the 2009 season.
June, 28, 2010
6/28/10
10:30
AM ET
Notable players:
RB
Stephen Davis
, QB
Jake Delhomme
, WR
Steve Smith
, WR
Muhsin Muhammad
, DE
Julius Peppers
, DT
Kris Jenkins
, LB
Dan Morgan
.
Analysis:
When owner Jerry Richardson talked about how the life had been drained from his franchise during a disastrous 1-15 season in 2001 under coach George Seifert, he couldn't have expected how dramatic the turnaround would be. Nobody saw the Panthers going to the Super Bowl within two years, but that's exactly what happened with first-time head coach John Fox.
[+] Enlarge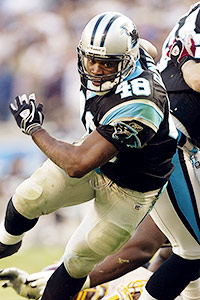 Craig Jones/Getty ImagesStephen Davis rushed for a career-high 1,444 yards in 2003.
In 2002, Fox's team showed some promise, but there was no real reason to think the Panthers were ready for an incredible run. They had the makings of a very good defensive line, but nobody really knew how much Davis had left when the Panthers brought him in and nobody had a clue what Delhomme, who had spent his career on the bench in New Orleans, might bring.
Rodney Peete
opened the season as the starting quarterback and that lasted all of two quarters before Delhomme came on to rally the Panthers and take over the job. With Davis carrying the offense and the defensive line dominating, Delhomme continued to show a knack for leading comebacks.
The Panthers caught lightning in a bottle and also rode the emotion of preseason news that linebackers coach and former team captain
Sam Mills
and starting linebacker
Mark Fields
each had cancer. Carolina finished the regular season 11-5 and won its first NFC South championship.
A playoff victory at home against Dallas wasn't a big surprise, but the Panthers stunned just about everyone by going on the road and winning at St. Louis (in double overtime) and completely dominating the Eagles on a frigid night in Philadelphia.
That put the Panthers into the Super Bowl against New England. A touchdown pass to
Ricky Proehl
with one minute, eight seconds remaining tied the score. But Carolina's chances of pulling the upset faded as
John Kasay
followed up by kicking the ball out of bounds to give New England good field position. The Patriots kicked the game-winning field goal with four seconds remaining.
Most impressive win:
It's tough to top the image of Steve Smith scoring a touchdown on the first play of the second overtime in St. Louis, but players and coaches will tell you the key moment of the season came in Week 2 at Tampa against the defending Super Bowl champions. The Bucs scored a late touchdown and needed only to kick the extra point to win the game. The Panthers blocked the kick, forced overtime and won 12-9.
Research room:
This team was known as the "Cardiac Cats." The reason was simple. The Panthers won seven games in the last two minutes or in overtime.
Honorable mention
1996
: In only the second year of the franchise's existence, coach Dom Capers, quarterback
Kerry Collins
and a great defense took the Panthers all the way to the NFC Championship Game in Green Bay. A home playoff victory against Dallas provided a truly monumental moment for an expansion team and the city of Charlotte.
2005
: Fox's 2004 team underachieved, but the 2005 team overachieved more than any in franchise history. Give the credit to Smith for carrying the Panthers all the way to the NFC Championship Game in Seattle. Injuries to the running backs kept the Panthers from running like Fox wanted to, but Smith and Delhomme had a special chemistry that year.
2008
: A 12-4 record, an NFC South crown and a first-round bye added up to absolutely nothing. In what easily is the most disappointing game in franchise history, Arizona came into Bank of America Stadium and routed the Panthers 33-13. Starting with that game, the normally reliable Delhomme began turning the ball over so frequently that he played his way out of Charlotte.
May, 31, 2010
5/31/10
1:20
PM ET
For what I believe is the first time since his heart transplant surgery more than a year ago,
Carolina Panthers
owner Jerry Richardson has spoken publicly.
Richardson
spoke with the team's official magazine
and addressed a number of issues. Good move by Richardson and the team to finally do this because fans have been waiting to hear from the owner and they're unclear about the reasoning behind some of the moves this offseason.
Richardson is one of the league's more engaging and fascinating owners. But he prefers to keep a low profile and doesn't speak publicly with the media very often. I had a 45-minute chat with him when I was in Charlotte for minicamp and a shorter visit during the NFL owners meeting. But Richardson didn't want any of those conversations on the record, so we'll leave it that.
I'm glad that Richardson finally has addressed his fan base. Among the highlights, Richardson talked about the Panthers not being a big player in free agency.
"We have never been a big player in free agency under Marty Hurney,'' Richardson said. "Many of our best free agent signings have not received much attention when we signed them.
Jake Delhomme
did not come with a lot of attention when he was signed. Players like
Ricky Proehl
,
Mark Fields
,
Marlon McCree
and
Tyler Brayton
came to the team with little notice, but were starters and big contributors. The years when we were big players in free agency did not seem to turn out as well. The approach has worked well over eight years and we still have the goal of a championship.''
That part's very true. Under Hurney and coach John Fox the Panthers have followed a philosophy of building through the draft. Their fans seem to have forgotten that as there has been outrage about the Panthers letting a lot of aging players go this offseason.
"They have been difficult for everybody -- the players released, the coaches and management, the staff, the fans,'' Richardson said. "You can't make the changes we have this offseason without feeling pain. Each of those players had a role in the success we enjoyed. However, we have young players who performed well for us at the end of the season and it is now time for their opportunity. It is a young roster but not one that is inexperienced.''
Richardson also is one of the leaders most involved in the negotiations for a new labor agreement. He sounded somewhat optimistic that a new deal can be reached and help avoid a lockout in 2011.
"I can only say we are seeking a fair agreement that will be good for the players, our teams, and the fans,'' Richardson said. "While I cannot predict the course of collective bargaining, I do know that we will have a new agreement, hopefully before the 2011 season.''
April, 30, 2010
4/30/10
5:54
PM ET
CHARLOTTE, N.C. -- As much as we've talked about Carolina's youth movement, it was kind of ironic to walk out to the Panthers' afternoon minicamp session and see
Steve Beuerlein
,
Wesley Walls
and a whole bunch of other former players.
It was nothing formal, really, but it was a nice little touch. New team president Danny Morrison came up with the idea to invite a bunch of past players out to watch practice. In addition to Beuerlein and Walls, I also saw
Kevin Donnalley
, Tshimanga Biakabutuka,
Matt Willig
,
Dwight Stone
,
Jeff Mitchell
and
Ricky Proehl
. Heck, Kevin "The Rocket'' Hurney, who used to work in the equipment department, even came down from North Carolina State, where he now runs the equipment department, for the day.
The players were scattered around the edges of the practice field and most of them got to spend some time speaking with team owner Jerry Richardson, who was watching practice from his golf cart.
Speaking of Richardson, I got to catch up with him after practice. He didn't want to do any formal interviews because he likes to stay out of the spotlight. But I got to visit with him a bit and am glad to see him continuing to get stronger after having a heart transplant more than a year ago.
March, 2, 2009
3/02/09
3:00
PM ET
Posted by ESPN.com's Pat Yasinskas
Best match: LB Angelo Crowell
While letting linebackers Keith Brooking and Michael Boley and cornerback Domonique Foxworth walk, the Falcons have been the NFC South's quietest team in free agency. General manager Thomas Dimitroff cautioned that the Falcons won't be big players.
But Atlanta can't sit still forever. The big moves likely will come through the draft, but there are some guys out there who the Falcons could move on to start patching some holes. There are some fans calling out for Derrick Brooks. But that doesn't make a lot of sense in the plan of Dimitroff and coach Mike Smith. They just let a veteran linebacker (Brooking) go. It would make more sense to add a younger linebacker like Crowell.
Best match: WR Ike Hilliard
The saga of disgruntled franchise player Julius Peppers is the big story for Carolina, but it's likely to drag on. Peppers' $17 million franchise tender has the Panthers strapped for cap room. If Peppers gets traded, the Panthers probably will seek his replacement with the first-round pick they'd like to get in return.
But there is some other business the Panthers can take care of in free agency. They could use a little depth at wide receiver. They've got one of the best in Steve Smith, but Muhsin Muhammad is aging and Dwayne Jarrett remains an uncertainty. Again, the Panthers don't have a lot to spend, but a veteran receiver like Hilliard won't cost a lot. The Panthers had a great deal of success when they brought in Ricky Proehl a few years back. Hilliard is very similar to Proehl and could solidify the receiving corps nicely.
Best match: S Darren Sharper
Re-signing linebacker Jonathan Vilma was the first key move of free agency. But even though the Saints don't have a lot of cap room to work with, they're not sitting still. They know they still have big needs in the secondary and they're working hard in that area.
They've got an offer in to cornerback Ron Bartell and are courting Sharper and Gerald Sensabaugh, a pair of safeties. Something should play out with those players in the very near future and that could be a huge boost to a defense that's rebuilding with new coordinator Gregg Williams. Add Bartell and either of those safeties to the current roster and -- at least on paper -- the defense suddenly looks a lot better.
Best match: RB Derrick Ward
The free-agent frenzy so many expected hasn't materialized -- yet. The Bucs made a strong run at Albert Haynesworth before he landed with the Redskins and made an attempt to trade for quarterback Jay Cutler. They still may be in the market for Cutler or another quarterback.
But there are other big needs to be filled in the meantime. After trading for tight end Kellen Winslow and placing the franchise tag on receiver Antonio Bryant, the Bucs still are looking to load up at the skill positions and it appears running back is the next target. The Bucs don't have much besides Earnest Graham and they know it. They've got Ward scheduled for a visit Tuesday and also are considering Kevin Jones. Look for the Bucs to make a big play for Ward. They've been cautious with the purse strings so far, but they have lots of cap room to work with. They can't afford to keep finishing second for prized free agents.
February, 1, 2009
2/01/09
5:16
PM ET
Posted by ESPN.com's Pat Yasinskas
TAMPA, Fla. -- Had an interesting chat with former NFL receiver Ricky Proehl the other day about Kurt Warner.
The Arizona quarterback played with Proehl when the two were with the Rams. Proehl played with numerous quarterbacks throughout his career and said Warner is the best.
"Kurt throws such a nice ball,'' Proehl said. "It's easy to catch his passes. He always anticipates where to put the ball. Some guys throw a heavy ball. His is easy to catch. His knowledge of the game is incredible and he knows what defenses are trying to do and how to beat them. If you give him time, he'll pick you apart.''
But Proehl said what sets Warner apart more than anything comes off the field.
"Kurt is probably the most confident person I've ever met,'' Proehl said. "The more you get to know him, the more you realize it. Everybody knows the story about Kurt bagging groceries and then playing in Europe. But I'll bet you that, even when he was bagging groceries, Kurt was telling people he could play in the NFL.
"I think you can best summarize Kurt with a story I heard about (former baseball pitcher) John Wetteland. He gave up a grand slam once and his response was, 'Hey, the guy hit a great pitch.' Kurt's the same way. He'll throw an interception and he'll say the defender made a great play. He can throw 20 bad balls, but the next one is going to perfect.''